Whether you are an avid hiker or just getting into the game it is always important to do your research before you attempt a trail. Here we have provided a comprehensive trail guide for anyone who wants to hike to Colchuck lake.
The Colchuck lake hike is one of the most beautiful in the US repertoire. It can be done either as a day-hike or a short camping trip (if you have the appropriate wilderness pass). The Colchuck lake hike is not suitable for beginners as certain parts of the trail is quite rocky and involves traversing quite a few serious switchbacks. There is also a considerable rise in elevation to consider as this might affect people who are sensitive to altitudes.
Lake Colchuck is a truly beautiful alpine lake, whether you are attempting it as a day-hike or spending the night. Take a camera, enjoy the scenery, and breathe in some fresh mountain air!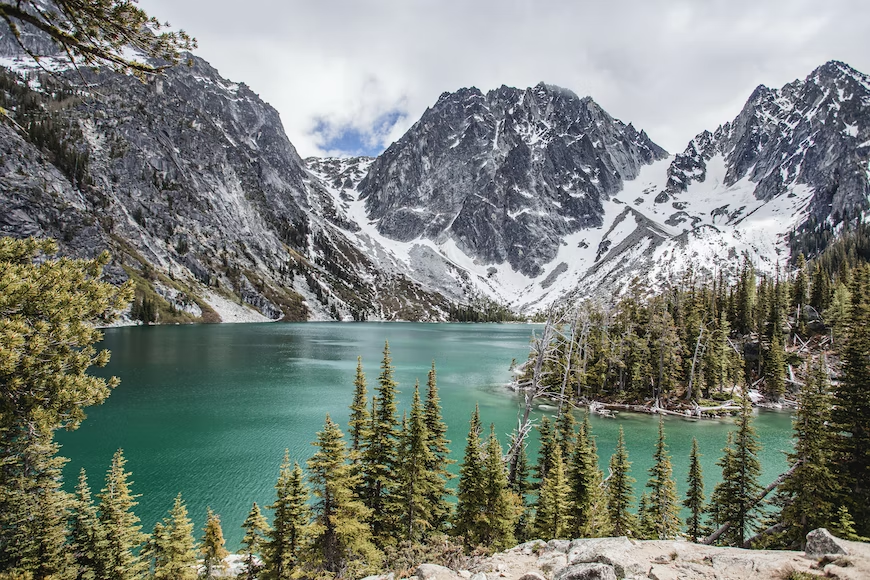 Details on the Cholchuck Lake Trail
What is the best time to go: July to October
Elevation gain: 2,280 ft.
Difficulty: Moderate to hard
Colchuck Lake Trail Length: 8.5 Miles
Trail Type: Out and Back
Dog Friendly: No, this rule is strictly enforced.
Pass Required: An Alpine Lake Wilderness Permit is required for camping overnight, or a Northwest Forest Pass, or a $5 day pass which can be purchased at the parking lot.
Where does the Colchuck lake trail start?
The Colchuck lake hike starts in Leavenworth at the Stuart Lake Trailhead. It is about a 35-minute drive from downtown Leavenworth.
What is the hike like?
The Colchuck lake trail starts gradually and slowly. There is some rocky terrain, exposed roots, steps, and switchbacks along the way. There are breathtaking intermittent valley views as you go. And it ends with a steep incline for the last mile.
What's the payoff?
This is the home of one of the most stunning alpine lakes in the Cascade mountains. Around this beautiful alpine lake you can also see some resident mountain goats.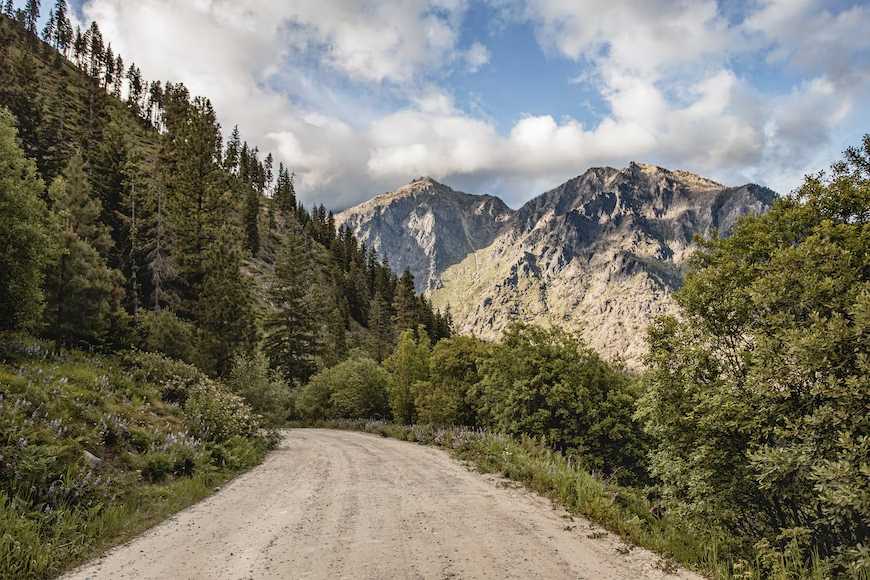 When to Hike to Colchuck Lake
Hiking Colchuck lake trail is not possible from November to May as it is closed due to snowfall. The specific dates when the official closing and reopening occur vary each year. Regardless, you are very likely to encounter some snow-covered areas by November until roughly the end of June.
The best time to attempt the Colchuck lake hike is both fall and summer – we strongly suggest you try both if possible.
Peak season is July to August, which is an excellent time of year to go, but you might never see what the upper basin reveals in October.
The base of Asgard Pass and its surrounds, as well as the lake shore, boast magnificent evergreens and deciduous conifers, as well as alpine larch trees that look like tiny evergreens.
In the summertime, the color pallet of the Colchuck lake trail is dominated by hues of green and blue whereas fall brings forth a cacophony of golden yellows, reds, and earthy browns.
Pro Tips for the Colchuck lake Hike
Arrive early: Aim for a time between 4 and 6 am. The parking lot fills up FAST and you would do best in a high-clearance vehicle, although some have made it in sedans and minivans at a really slow pace.
Aim for July to October: if you are looking for a sunny and snowless hike. Mid-October will be the best time for foliage.
Keep an eye on trail conditions: At the beginning or end of season there might be some issues to take note of. Also keep your eyes open for forest fire warnings that might be a danger to the area or might cause smokey conditions.
Come prepared: Wear sturdy hiking boots and use trekking poles. Also be prepared to use bug sprays or other insect repellants on the way.
There are toiletsat the trailhead and the lake.
Camping at the lake requires a lottery permit between May 15th and October 31st. If you are lucky enough to camp overnight we advise a visit to Stuart Lake on the way down the Colchuck lake trail; just remember to turn at the Stuart Lake trail junction for an easy flat two-mile walk.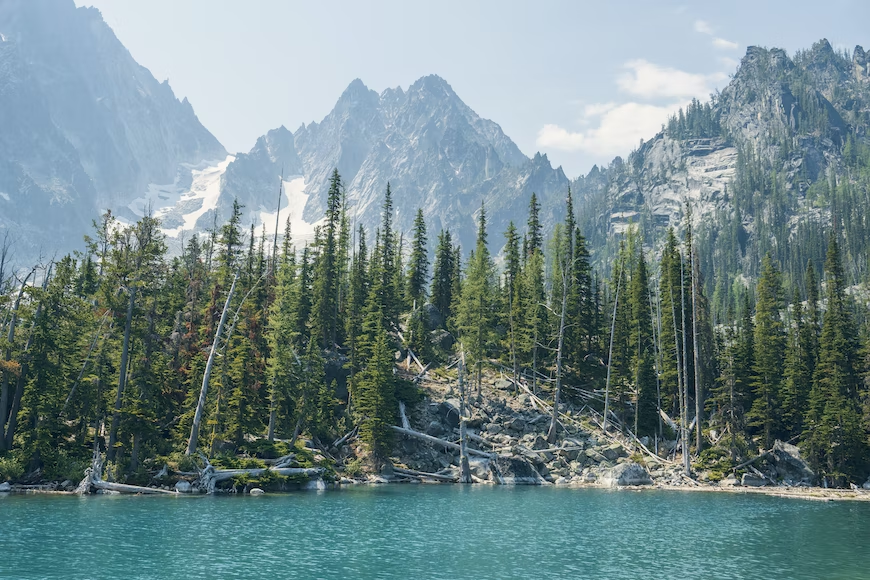 Getting to the Colchuck Lake Trailhead
From Leavenworth
On the western edge of Leavenworth, turn down Icicle Creek Road and follow it for 8.4 miles.
Coming from Seattle, you need to turn right off US-2.
From downtown Leavenworth, you turn left.
There is a 76 gas station on the corner.
You will then turn left onto Forest Service Road 7601 and continue for 3.7 miles until you get to the parking lot. This is where the road becomes a little more challenging.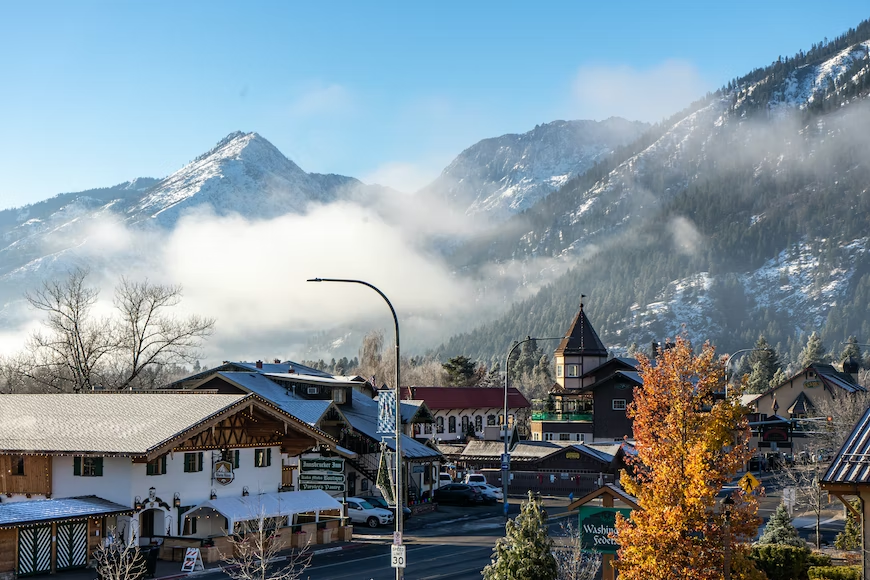 Parking at the Colchuck Lake Trailhead
Parking is highly competitive and the parking lot will fill up quickly, especially over the summer and over weekends. You will need a $5 day pass or an Annual Northwest Forest Pass. If you plan to stay overnight you will need the appropriate wilderness permits.
The area is heavily monitored. Parking without a pass will get you a ticket. If you park in an overnight spot but you do not have an overnight permit, you will also be fined. Parking is also allowed along the right side of the forest road between Eightmile and Stuart Lake trailhead.
Trail Report
If you are lucky enough to get a parking spot make sure that you hang your day pass or Northwest Forest Pass on your mirror so it is easily visible. On this pass you can take a gander at all the helpful tips available for those who are not that familiar with the Alpine Lakes Wilderness.
There is also a "Keeping Wilderness Wild" board to the right that you should pay attention to as it includes some very helpful safety information.
Before you plan any kind of hiking trip, remember the "leave no trace" principles which always need to be adhered to:
Minimize Fire Impacts – the Colchuck lake trail allows no fires at all.
Be considerate.
Respect wildlife.
Leave what you find.
Dispose of waste properly.
Travel and camp on solid ground.
Plan ahead and be prepared.
Now the Trail Begins
The first mile and a half (give or take) is a gradual and easy incline. This is a great time to take note of the lush forest around you; there will be some drastic changes to the landscape upon reaching Colchuck lake. This is largely due to the high elevation of this truly stunning hike.
While hiking Colchuck lake trail in the early season when there is still some snow around that needs to melt you will likely hear the roar coming from the Mountaineer Creek. It will be visible throughout the early stages of the hike and you will eventually come to a log bridge that you need to cross. Do not get caught up too much with the destination while hiking. You are hiking to one of the most beautiful alpine lakes in Washington state, but do not let this distract you from the beauty of the journey itself. Take a moment on this log bridge and appreciate the views of the world around you.
This marks the point where the trail gets harder.
This next part of the hike is exactly why we recommend hiking boots and hiking poles as there are a lot of rocks and exposed roots to traverse. Be careful of the many tripping hazards that the forest floor has to offer.
You will carry on for ¾ of a mile before reaching an area where the trail flattens out. This is where you reach the Colchuck and Stuart Lake trail junction. If you are not paying attention it is easy to take the wrong turnoff. Take a close look at the sign and go left as indicated "Colchuck Lake Trail #1599"
A short distance from this junction you cross Mountaineer Creek again over another log bridge. There is a notable shift in terrain here where you can see an impressive ridge line and large boulder field. It is also important to pay attention here as it is not clear where the trail continues. As soon as you step off the bridge you have to turn right and climb through some rocks. The trail then becomes more visible along the creek bank. If you need a rest, this is a great place to cool off and catch your breath.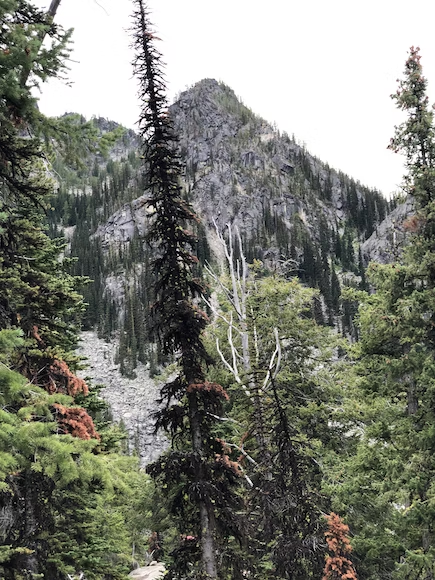 The Climb
This is the point where Colchuck becomes a challenging hike. The switchbacks get rockier and steeper as you go and may seem like there is no end. Keep going and bear in mind that you are really close to Colchuck Lake.
The mountain valley will be visible at certain points and there is no real opportunity to get lost; you can place all your focus on where you are stepping to ensure that you do not trip. The first sign that you are within a stone's throw from Colchuck lake will be toilet signs.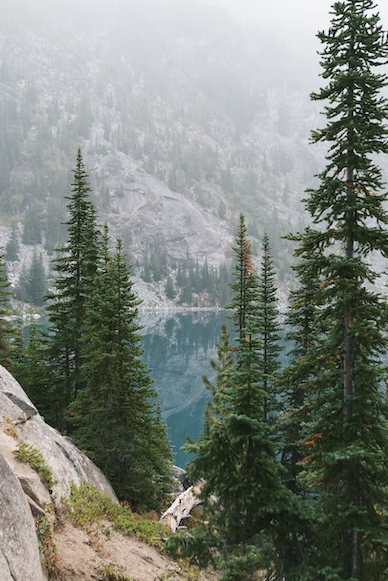 Reaching the Lake!
Right before you reach the lake, the trail banks right and then dips down. And when you look up again you will be face-to-face with the magnificence of Colchuck lake to your left. The view of Colchuck lake is extraordinary and the elevation gain only adds to the reward with unique flora, including some wild huckleberry bushes in mid-August which paint red swatches into the otherwise lush green landscape of the Pacific Northwest.
If you are looking for the perfect spot to eat lunch or just grab a snack, head down the massive granite slab and pick a spot to set up your station. In many places, the rock face sinks away into the water which makes it easy to just wade into Lake Colchuck if you are looking to cool down.
Exploring the area is essential. The views can be quite different depending on where you go around Lake Colchuck. Take in the landscapes of the Western shore and the Colchuck Glacier. Appreciate the little forest trails around the lake and Colchuck Peak and just take in the moment.
If you venture closer to Dragontail peak you might see some other hikers making it up to Asgard pass (which is a further elevation gain of 2,000 feet in less than a mile).
Should you have an overnight camping permit when you hike the Colchuck lake trail it might be wise to find a camping spot before you check out the area. Campsites are scattered toward Asgard for about 2/3 of a mile. Remember that even when camping overnight, no campfires are allowed.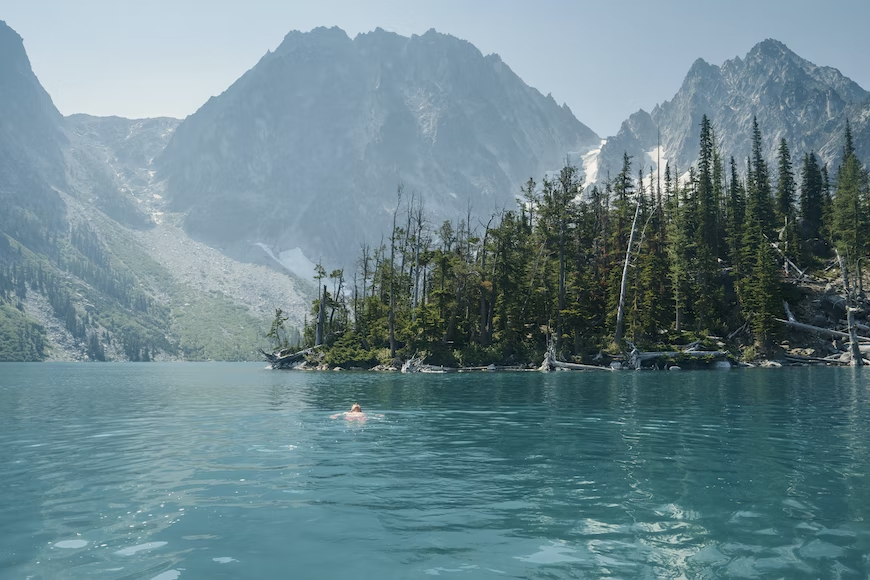 Where to Stay Near Colchuck Lake
Accommodation near Colchuck Lake is plentiful and there are options that cater to a variety of needs.
Camping Options
If you are looking for a perfect camping spot from which to rise early and secure a parking spot at the trailhead then these are the two best options that we can suggest:
Eightmile Campground
This spot is located 8 miles outside of Leavenworth off Icicle Creek. It can be quite busy as it is open to RV and tent camping and allows for about 40% first-come campers in addition to 60% reservations.
Bridge Creek
This is a very small campground and has only six spots available. No reservations are accepted for single sites, but reservations are needed for the few group sites that are available.
Hotel Options Near Leavenworth
In addition to some amazing B&Bs there are also some big hotels to choose from in Leavenworth.
Abendblume
This cozy hotel has a real old-world charm to it, offering seven unique rooms and a traditional Austrian breakfast which is included in the price.
Sleeping Lady Mountain Resort
This resort is in a secluded spot just outside of town. Here you will find rustic private rooms, a unique gift shop, spa treatments, and gourmet dining.
Loge Downtown
This option provides more classic hotel rooms, a cafe, and a beer garden. There will also be full access to Riverside and its outdoor facilities.
Loge Riverside
Here you can find private cabins next to the river, an outdoor kitchen, grassy lawns, and communal fire pits.