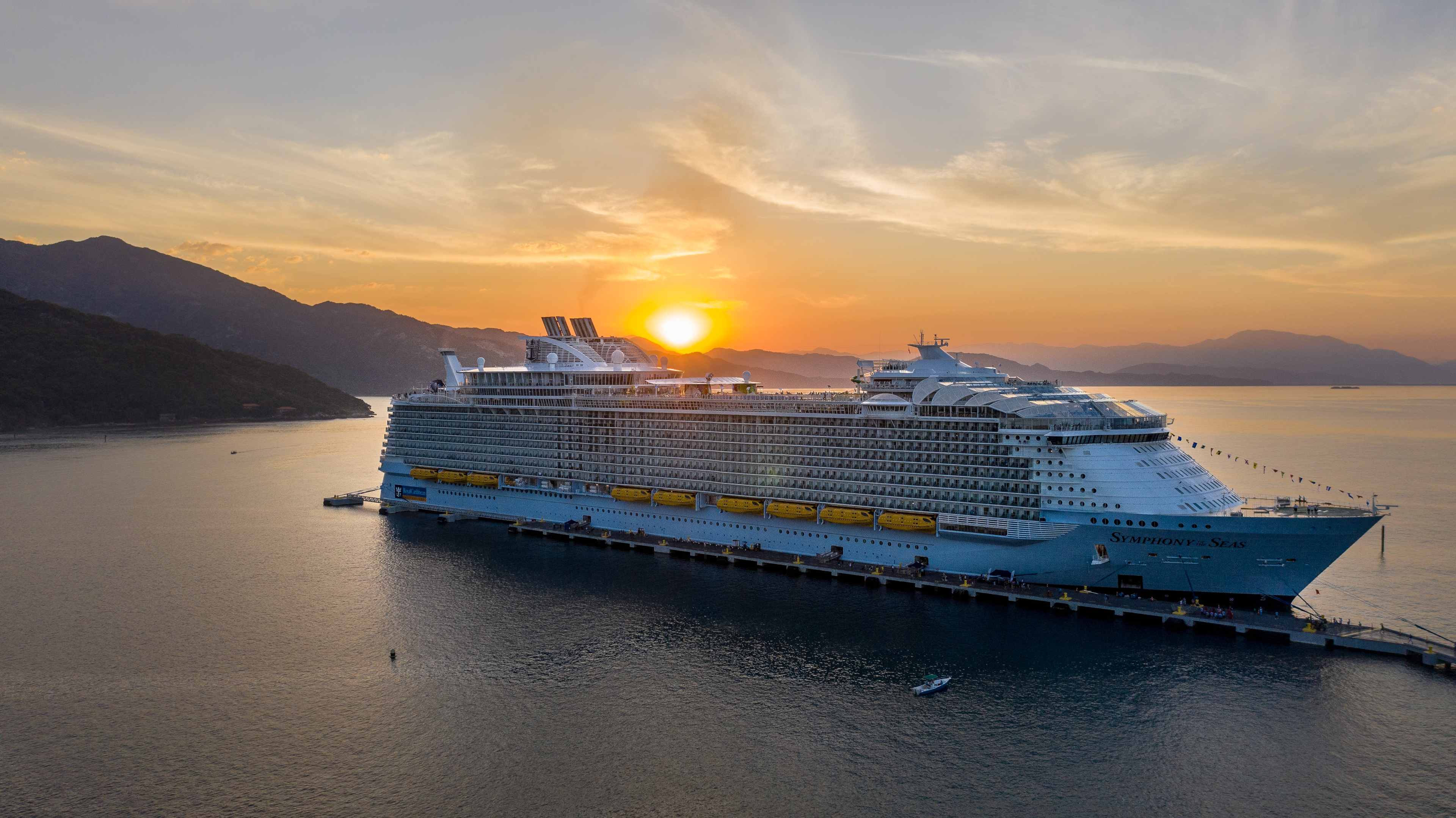 Passengers who want a step up from a regular balcony stateroom on a Royal Caribbean cruise ship should consider booking a Junior Suite. While they do not provide nearly as many perks as a traditional suite stateroom, Junior Suites do offer a lot more space than balcony staterooms and come with a few extra amenities – without the hefty price tag of a more extravagant suite.
All the Royal Caribbean cruise ships have Junior Suite staterooms, although their exact size and layout will vary from one ship to the next.
To help you weigh up the pros and cons of booking a Royal Caribbean Junior Suite, we've compiled a guide with everything you need to know about this type of cabin.
Royal Caribbean's Junior Suites: The Basics
All the ships in the Royal Caribbean fleet have several types of suites. Junior Suites are on the lowest tier and are essentially upgraded balcony cabins. In other words, they are more similar to balcony staterooms than suites.
While the exact size and configuration of a Junior Suite will differ from ship to ship, they all consist of a spacious cabin with a private balcony plus more amenities than a traditional balcony stateroom.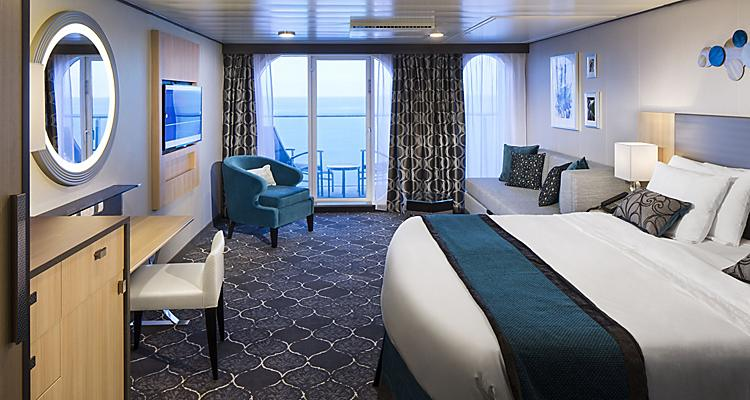 Most Junior Suites on Royal Caribbean ships can accommodate up to four people, featuring a King-size bed that converts into two twin beds plus a sitting area with a double sofa bed. Some Junior Suites can also sleep a fifth guest on a Pullman bed. They usually (but not always) come with a full-size tub and a walk-in closet. Like balcony staterooms, all Junior Suites have their own private balcony.
As mentioned above, Junior Suites don't come in one standard size, but rather vary between the different classes of ships in the Royal Caribbean fleet. As such, a Junior Suite can range between 112 and 299 square feet, although they tend to average around 290 square feet.
Junior Suites also have more or less balcony space depending on the ship, ranging between 40 and 161 square feet.
Royal Caribbean Junior Suite Benefits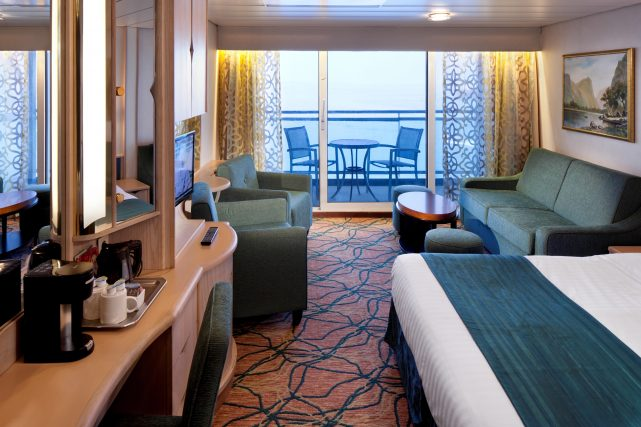 While a balcony stateroom is typically considered the most value for money, the additional perks that come with a Junior Suite make it an attractive option for many guests.
The main reason why passengers opt for a Junior Suite is for the extra space that this type of cabin provides. As many people who have been on cruise ships will tell you, having some extra living space can make all the difference while at sea. This is especially true for anyone who plans to spend a lot of time relaxing in their cabin, or for families.
In addition to the extra square footage, there is also the perk of having a full-size bathtub for those who want to indulge a little on their cruise vacation, plus the walk-in closet.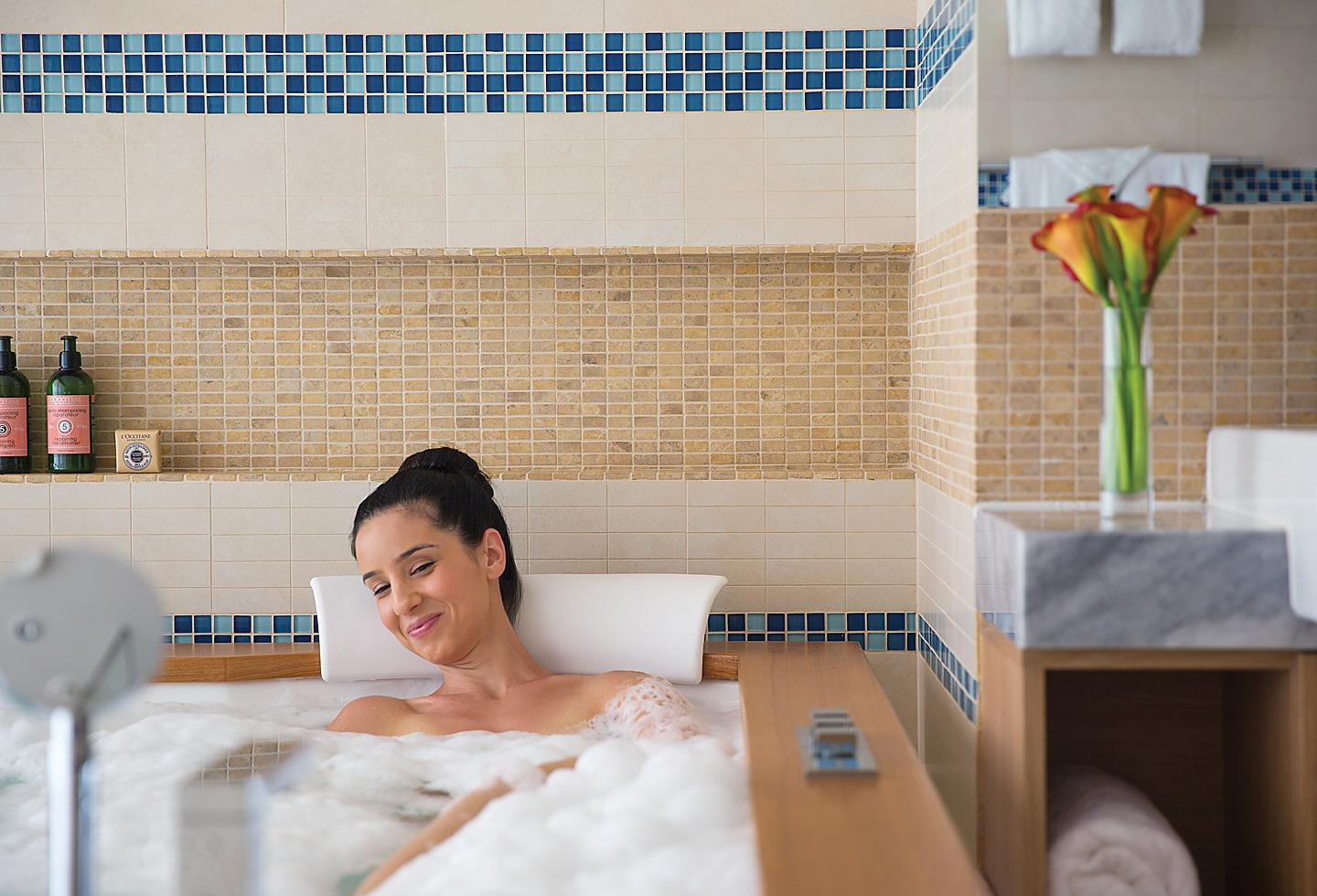 Another benefit of staying in a Royal Caribbean Junior Suite is that guests can obtain double Crown and Anchor Society points, allowing them to climb the ranks of the cruise line's loyalty program at a faster rate.
Junior Suites also come equipped with a Lavazza Espresso Coffee Machine, a Royal Caribbean bathrobe (for use onboard), and luxury branded toiletries. Additionally, Junior Suite guests are entitled to silver SeaPass cards, which distinguishes them as Junior Suite guests to Royal Caribbean staff.
Junior Suites Are Now Included In Royal Caribbean's Royal Suite Class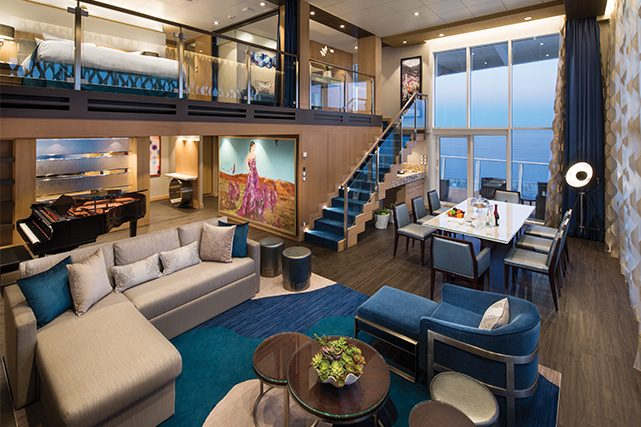 The Royal Suite Class is a suite benefits program available on Royal Caribbean's Quantum- and Oasis-Class ships. It was revamped in 2016 to include Junior Suite guests.
This means that guests staying in Junior Suites are now entitled to Sea Class benefits, which include:
Dinner at the Coastal Kitchen (subject to availability)
Luxury Pillow Top Mattress
Luxury Branded Toiletries
What Do Junior Suites Exclude?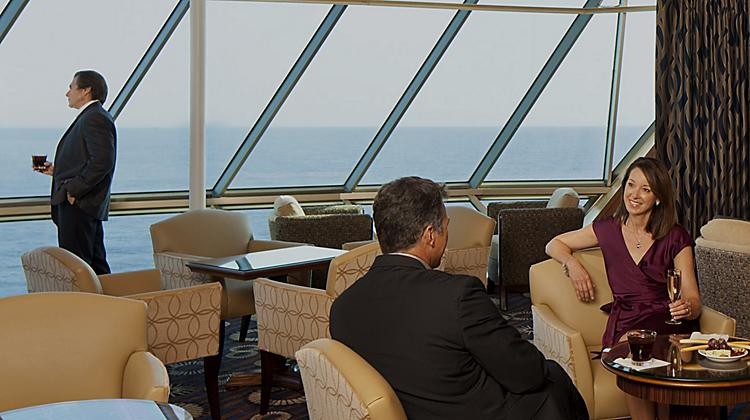 Although Junior Suites are classified as "suites", guests staying in this type of stateroom do not qualify for full suite benefits.
In other words, Junior Suite guests are not entitled to the same perks as guests staying in Grand Suites or higher stateroom categories. Most specifically, this includes use of the concierge service, concierge lounge, and other restricted areas of the ship that require a gold SeaPass card to enter.
What is the Cost of a Junior Suite?
The prices for cabins on a cruise ship are influenced by several factors, including time of year, cabin location, cabin availability, and the class of ship you choose to sail on. The price of a Junior Suite on Royal Caribbean is no exception.
This means that a Junior Suite for two people for a seven-night cruise in the Caribbean could cost as little as $2,000 or upwards of $10,000.
Verdict: Is a Junior Suite Worth It?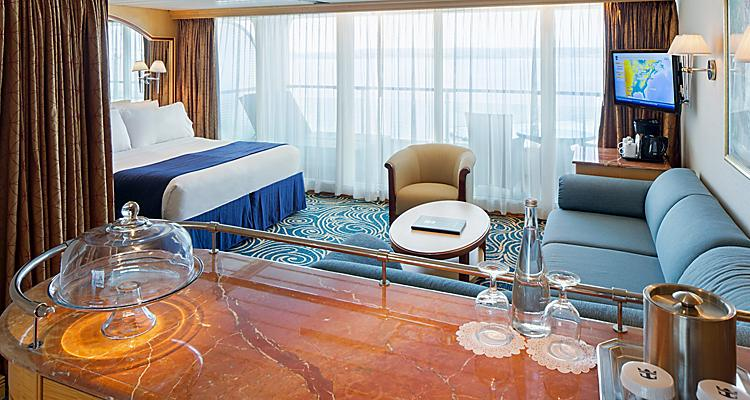 Junior Suites are essentially oversized balcony staterooms that offer guests a taste of the benefits of a suite without the hefty price tag, contributing to a more enjoyable experience onboard. These come in the form of bathroom upgrades, extra living space, a larger balcony, and priority boarding, to name a few.
That said, the decision to book a Junior Suite as opposed to a regular balcony stateroom is almost always a question of price.
As many veteran cruisers will tell you: if the price difference between a balcony stateroom and a Junior Suite is nominal, then the Junior Suite upgrade cost is generally worth it. Conversely, if the price difference is substantial, then a regular balcony stateroom is the more cost-effective option for most guests.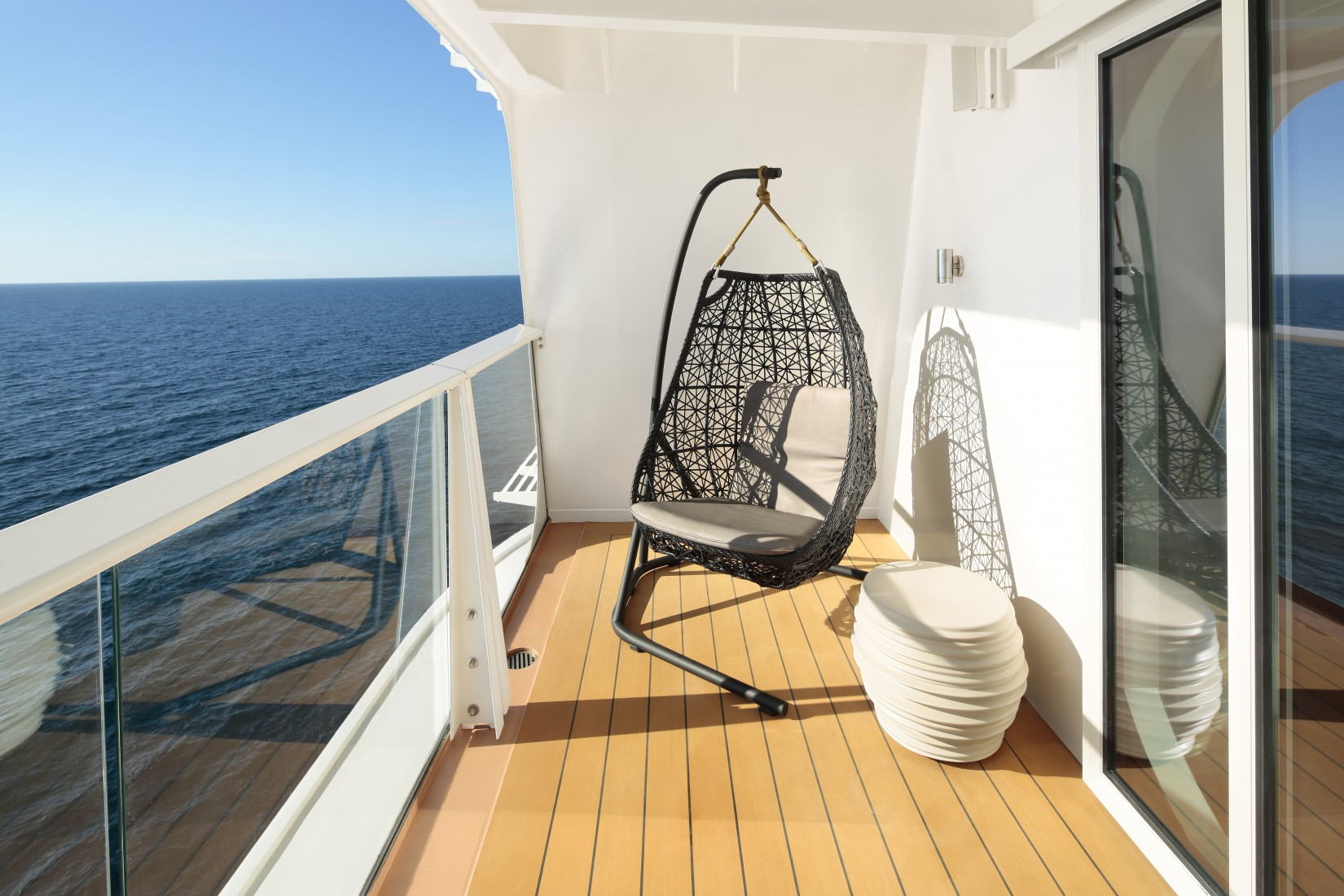 In conclusion, a Junior Suite offers enough advantages to satisfy the needs of the majority of passengers seeking an upgrade from a regular balcony stateroom who are either unable or unwilling to pay for a more luxurious suite.