When one thinks of Miami, the first few things that come to mind are the city's strong Cuban influence, its pristine beaches, and its famed summer heat. However, that list covers only the best parts of Miami during the daytime. Everything after dark is a whole different story.
Once the sun goes down, Miami turns into a paradise marked with bright neon signs, glittering LED lights, and rows upon rows of entertainment venues. At the heart of Miami's vibrant nightlife are its strip clubs.
What Makes Miami Strip Clubs Unique?
Miami strip clubs are incredibly unique, in that no two have exactly the same offers. Where one Miami strip club might be known for its over-the-top pyrotechnic shows, another may be famous for its aerialists.
In addition, not all strip clubs offer heart-pounding music, aerialists, and packed dance floors. Other strip clubs offer a friendlier and more laid-back atmosphere.
Whether you're looking for a place to hold your bachelorette or bachelor party, or just a nightclub where you can peruse the liquor bar with your friends, here are the top strip clubs in the city.
Cheetah Gentlemen's Club
100 Ansin Blvd, Hallandale Beach
Cheetah Gentlemen's Club is a full nudity strip club that has been open for years. The club has six stages, three different levels, a wide range of cigar selections for patrons, and plenty of talented dancers.
Cheetah is best known for its free lunch, which happens every day from 11:30 a.m. to 3 p.m. Admission into the club is also on the more affordable end: free entrance until 7 p.m., $10 from 7 p.m. to 9 p.m., and $20 after 9 p.m.
Bella's Cabaret
885 SE 14th St, Hialeah
Located near the Miami International Airport, Bella's Cabaret is a gentlemen's club offering a fine selection of spirits, a substantial cigar menu, and fully nude women. Additionally, the bar features dancers hailing from both local and international locations, including Brazil and Cuba.
Bella's Cabaret is well known in the area, which means there will likely be a long line of patrons waiting to get into the club. If you're not eager to wait in line, Bella's Cabaret offers a VIP Bottle Service, which grants patrons immediate admission into the club where there will be bottles of drinks already waiting on their table.
E11even
29 NE 11th St
E11even markets itself as the only strip club marked as a 24/7 Ultraclub. The night club had previously been given with the prestigious "Best New Concept" award and also named as one of the "Top-10 Nightclubs in America," so you're surely in for a treat.
There are many pole strippers marking the floors of E11even. Dancers can also be called up to private rooms upstairs. But what makes E11even a unique hotspot is its live aerial acrobatics shows, crazy lights, and huge music bookings, which see the likes of Usher, Nicki Minaj, Big Sean, and The Chansmokers performing live on its stage.
Tootsie's Cabaret
150 NW 183rd St
Tootsie's Cabaret is a classic Miami strip club known to serve some of the best eats, including breakfast, lunch, and dinner items. Allegedly, American rapper and record executive Rick Ross loves their lemon pepper wings.
The club itself is huge and features a full-service restaurant, four fully-stocked full nudity bars, three stages with a 400+ square foot main stage, about 300 HD TVs, champagne, sky boxes and a sports bar. If you're lucky enough, maybe you'll get the chance to rub shoulders with Miami strip club enthusiast Drake on Tootsie's second floor, which houses VIP areas.
Tootsie's Cabaret follows a dress code, which means no patron wearing a skull cap, house slippers, offensive clothing, sleeveless shirts, and athletic wear is permitted entry to the establishment.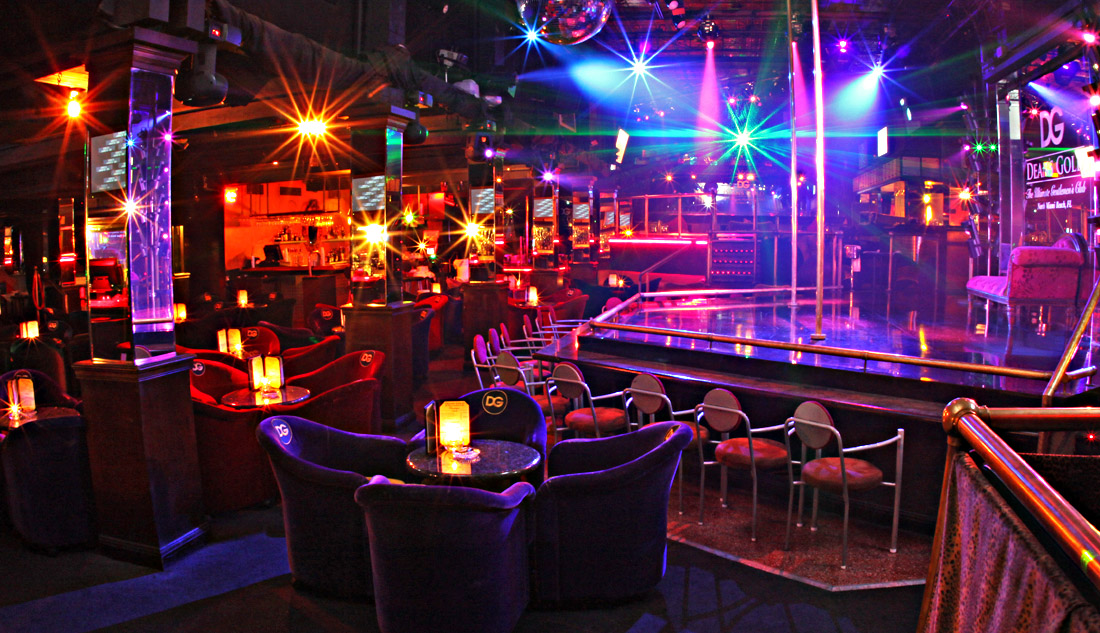 Dean's Gold
2355 NE 163rd St, North Miami Beach
Dean's Gold is an upscale gentlemen's club featuring 15 lavishly decorated VIP areas and Champagne rooms, a cigar bar, and live music. The club also offers guests top-shelf liquor, wine, and champagne on a nightly basis.
If you're looking for private party venues in South Florida, Dean's Gold has a "New Side" area perfect for bachelor parties, bachelorette gatherings, and other kinds of celebrations. The venue can hold up to 350 guests.
LaBare
5325 NW 77th Ave
Miami's nightlife isn't just all about hot girls. LaBare, for example, is a male strip club offering the hottest strippers to patrons celebrating their bachelorette party, birthdays, girls' night out, and even divorce.
The club offers free entry and a complimentary bottle of house champagne to all honorees, regardless of the occasion.
King of Diamonds
Miami Gardens
The King of Diamonds is known for making it rain dollar bills like nowhere else. This is because the club's best clients include rap stars and pro athletes. Additionally, the club's pole dancers have a few tricks up their sleeves.
In addition to the club's stages, the King of Diamonds also features a barber shop, a full basketball court, and a ladies' fight night on Mondays.