Sipping on refreshing cocktails decorated with little umbrellas in stylish designer bikinis with your feet in the pool and the sun kissing your skin. Doesn't that sound amazing?
There is no better place on earth for a rocking pool party than Miami, where the sun is always out and the locals are always looking for a fun way to pass the day. Miami pool parties are unlike anything you've experienced before, and one such event will show you why.
Although pool parties are one of the biggest tourist attractions in Miami, the locals also have a soft spot for them, so you can expect to meet fellow pool party lovers from all walks of life at the best pool parties in Miami listed below.
Nikki Beach, Miami Beach
Featuring an impressive outdoor space lined with sophisticated decor and boasting breathtaking ocean views, Nikki Beach is an award-winning restaurant and nightclub that has been coined The Sexiest Place on Earth.
Nikki Beach hosts front-running Miami pool parties and massive celebrations you simply cannot miss during your time in the city. Famous among celebrities, VIP guests, and jet setters alike, Nikki Beach brings a summer vibe and exuberating nightlife together to offer the perfect pool party experience, day or night.
Hyde Beach, South Beach
Hyde Beach has long been known to host some of the most extravagant Miami pool parties. Nothing compares to the oceanfront day and nightlife at Hyde Beach, and with an impressive outdoor pool and lounge-inspired indoor spaces to indulge in, it's easy to see why Hyde Beach is so highly regarded.
This venue also offers some of the most creative mixed drinks you'll ever find, and its food menu does not fall short of excellence. Hyde Beach hosts several world-renowned names, including Nervo, Afrojack, and Adventure Club, among a number of others, attracting thousands to this premium destination every year.
Hotel Hyde of SLS South Beach is both a nightclub and the host of a Vegas-style pool party that will soak all your troubles away.
Images Sourced from Flickr – ChrisGoldNY
The Confidante, Miami Beach
Looking for some Instagram-worthy pictures in enviable surroundings? You should definitely check out The Confidante, Collins Ave, Miami Beach, FL, where the pools are decorated in an Art Deco style, and the beach is less than a stone's throw away.
The Confidante is arguably the best place in Miami Beach for an authentic summer pool party experience, and the best part is you don't have to pay an arm and a leg to enjoy it. With day passes starting from $15, you'll be tempted to spend every minute of the day in this luxurious setting.
Strawberry Moon, Miami Beach
When the sun is down, Strawberry Moon is an elegant lounge and restaurant, but during the day, it doubles as an unparalleled pool party destination. The significant outdoor pool area is drenched in gorgeous colors and designs, adding to the elite atmosphere of the pool parties hosted here.
The world-renowned David Grutman and Pharrell Williams opened this Mediterranean restaurant in The Goodtime Hotel, a glamorous outpost serving creative cocktails and dishes in a relaxed setting.
From such big names, you can expect nothing but the highest standards at Strawberry Moon and its pool parties, which will give Ibiza a run for its money. If you're an avid music lover, Strawberry Moon provides an unrivaled music scene year-round, comparable to the famous Miami Music Week.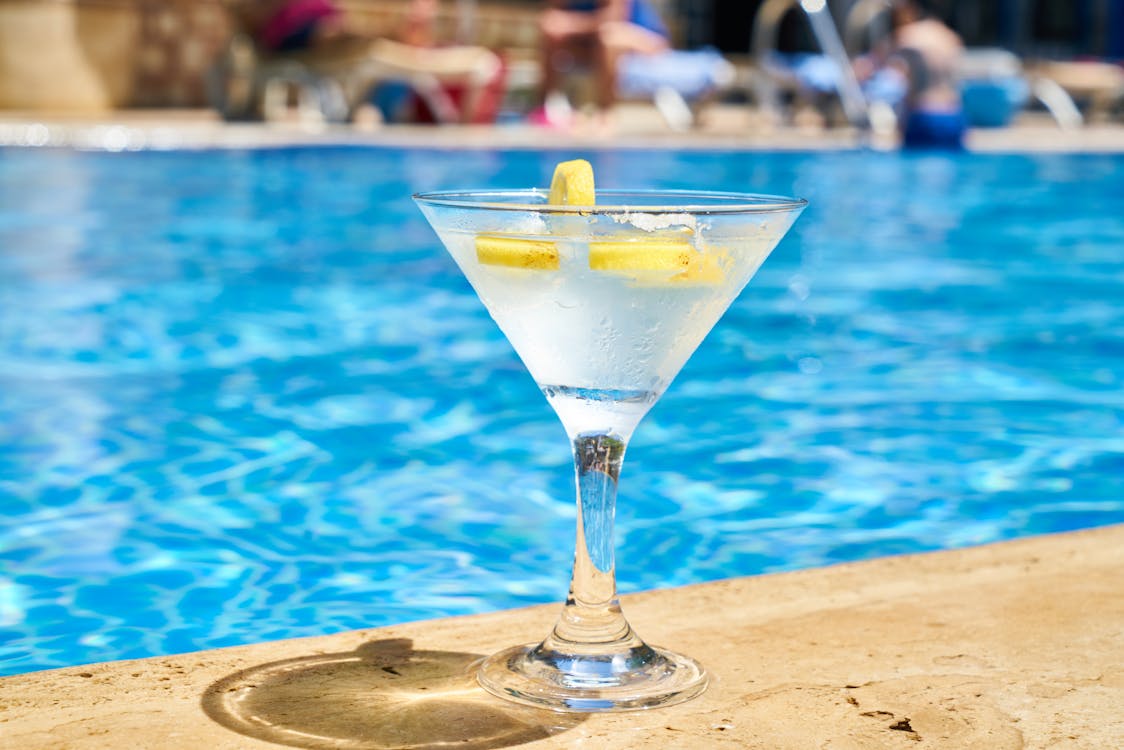 Clevelander, South Beach
Don't want to wait till the weekend to get your party on? Clevelander, South Beach, has you covered with weekday pool parties that are sure to leave you wanting more.
Beat the heat while still getting your fair share of vitamin D by spending your weekdays lounging by the pool with a frozen technicolor cocktail in hand at Clevelander. This amazing destination on 1020 Ocean Dr, Miami Beach, does not die down on weekends, however, as they feature the longstanding South Beach pool parties Sunday Funday and SPLASH hosted in the patio and pool area.
The new addition to the pool party selection at Clevelander, The Play Pool Party, is the ideal setting for a competitive game of beer pong with your best bikini on, although no dress code is imposed.
Baia Beach Club, Miami Beach
The recently renovated Baia Beach Club is a stunning Tulum Mediterranean restaurant and day club that hosts some of the best pool parties in Miami.
The extensive bar, pool deck lined with day beds, and lounge area guarantee a spectacular time among other party enthusiasts in a paradise-like setting. This trendy pool party hub is the result of a vast renovation project of Mondrian South Beach, so you can expect nothing but the best quality.
Although Baia Beach Club members and hotel guests primarily dominate the main pool deck, day visitors can also rent the poolside day bed and private cabanas for a fun day in the sun.
Surfcomber Pool, Miami Beach
Set on 1717 Collins Ave, Miami Beach, FL, Entering Surfcomber Pool Club feels like walking right into a lush jungle, with beautiful landscapes and colorful flowers everywhere you look.
The palm tree-lined pool area is designed for relaxation and offers a sensory experience like no other. If you reserve a cabana through Discotech, you're entitled to a free bottle of champagne at Surfcomber to enjoy by the pool overlooking the pristine ocean.
As the Surfcomber pool parties are hosted by the Kimpton Surfcomber Hotel, only the highest quality is guaranteed as the hotel offers all the luxurious amenities you could need during your day at the poolside.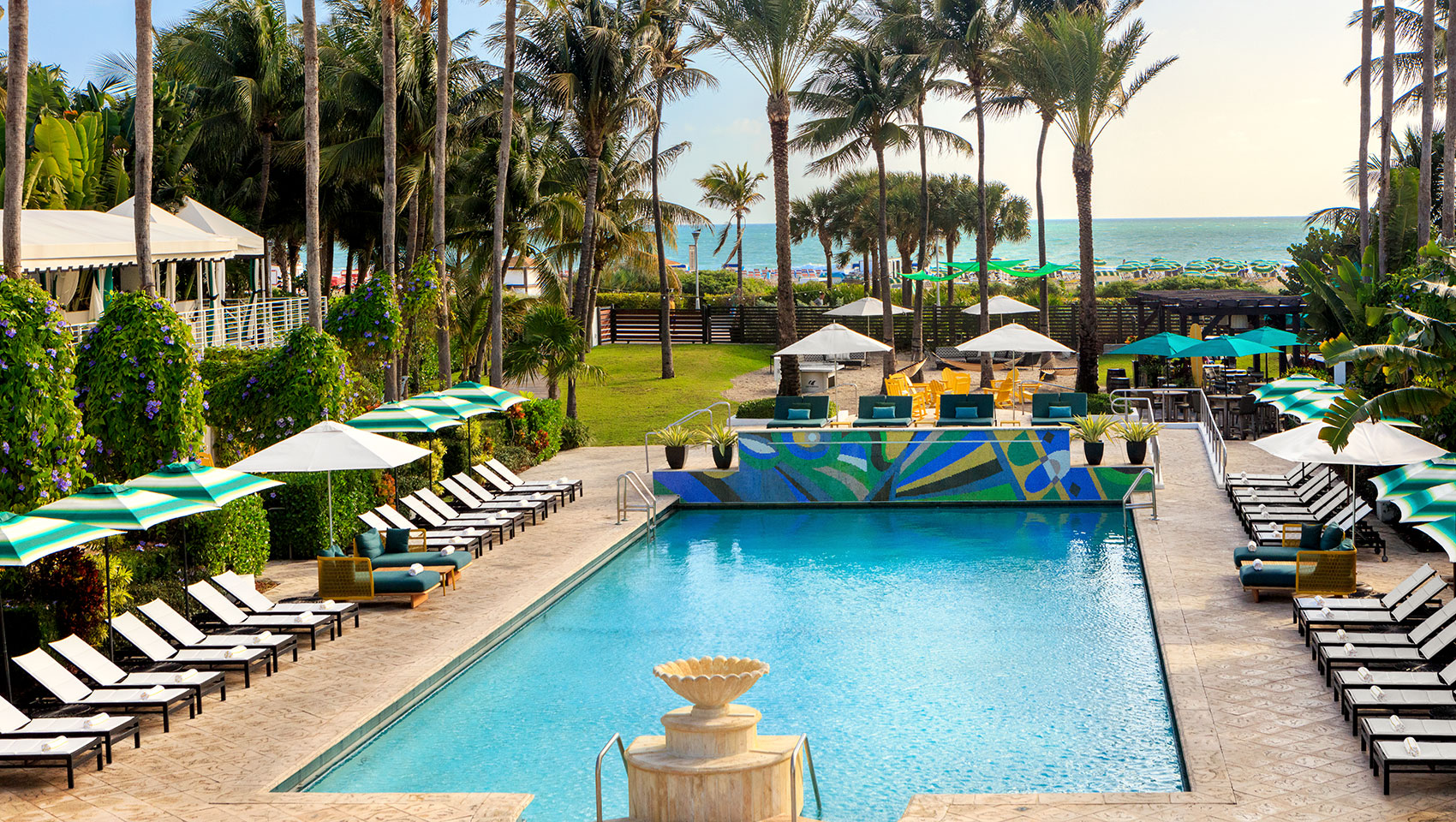 Kimpton Surfcomber Hotel – https://www.surfcomber.com/
Daer Dayclub at Seminole Hard Rock Hotel and Casino, Hollywood FL
Set a short drive from charming downtown Miami, the Daer Dayclub at Hard Rock Hotel is undoubtedly worth the trip if you're looking for one of the best pool party spots in the city.
Playing host to iconic artists like Steve Aoki, Chainsmokers, Zedd, Tiesto, and countless others, the Daer Dayclub really knows how to take poolside fun to the next level.
This pool party features over 21 thousand square feet of adrenaline-fueled space, a large main pool, two dipping pools, and abundant cabanas and day beds on which to enjoy limitless cold drinks.
Novotel Miami Brickell Sunset Sessions
Novotel is one of those destinations that not many know of, but once you try it, you won't be able to stay away.
Hosting some of the most elegant pool parties in Miami, Novotel is dedicated to providing relaxation and quality in everything from mouth-watering cocktails and craft bites to live music and views over Biscayne Bay.
Hotel guests are free to join these pool parties at no additional cost, and day guests can pay $75 for an unforgettable day at some of the best pool parties in Miami.
Nautilus by Arlo Weekend Pool Parties, Miami Beach
The boutique brand Arlo has broken ground once again by deputing one of the most luxurious and upper-class spots for Miami pool parties, the Nautilus, set on Collins Ave, Miami Beach, FL.
This thrilling destination has everything from cabanas and bottle service to a saltwater pool with an underwater sound system. Impressive, right? These impeccable pool parties run from Fri to Sun, with parties on Sun continuing till sunset, which, by the way, overwhelms the Atlantic Ocean with stunning golden hues.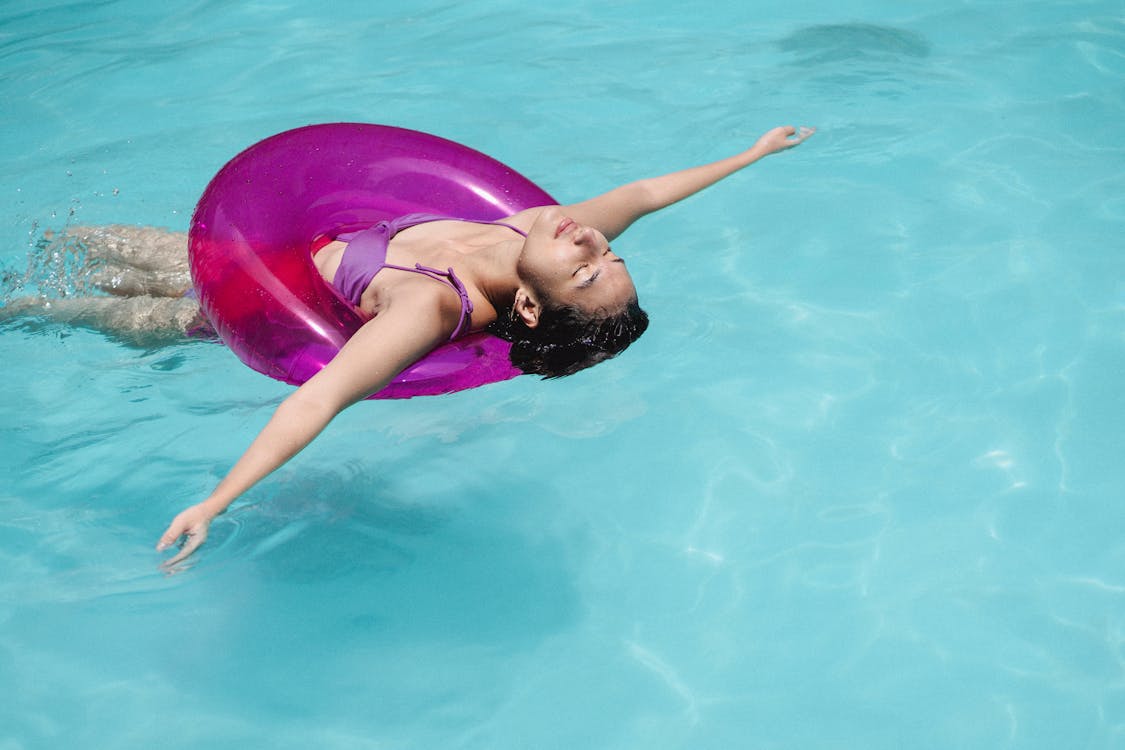 Fontainebleue Arkadia Day Club, Miami Beach
The world-class Fonteinebleue in Miami Beach has a pool area for any occasion, but the adults-only Arkadia Day Club pool is the place to be if you're looking for a classic Miami pool party in a lively atmosphere.
Friday through Sunday is always brimming with avid pool party enthusiasts, dancing to upbeat music and sipping on delicious cocktails. The historic charm of the hotel adds an interesting twist to the extravagant pool parties hosted here, and the high prices attract a particular crowd, contributing to the bougie feel.
Freehand, Miami Beach
Locals are drawn to the pool at the Broken Shaker for its chic feel, top-quality cocktails, and jungle island atmosphere.
Freehand, Miami, opens this magnificent pool area to the public on Sunday afternoons, so this is hands-down the best place to revive your mind before the start of the week. The chill vibe on the pool deck is the ideal spot to enjoy the low-key music by the resident DJ, and the upstairs restaurant ensures you don't have to leave the premise for an excellent dinner.
Kimpton Epic Hotel Miami
Whether you're looking for a classy day of sipping champagne or going all out on cocktails, Kimpton EPIC is the place to be.
As one of the biggest tourist traps in South Florida, the EPIC pool parties at this hotel have everything from loud music and extravagant themes to premium cabanas and comfy day beds, ideal for soaking up the warm weather.
While hotel guests can join for free, day guests can buy tickets on the hotel's website but be sure to do it quickly, as these pool parties are very popular.
Mondrian South Beach
The pool parties at Mondrian Hotel guarantee a blast, whether you join on a Saturday afternoon or a Friday night. Mondrian South Beach pool parties draw thousands of hyped-up sun seekers from all over the city, with the Sundance Series being particularly popular.
This venue boasts picturesque views of the beautiful Miami skyline from Biscayne Bay to be enjoyed while soaking in the crystal blue pool waters. The entertainment is of the highest standards, and guests often remember the mouth-watering bites and cocktails above all.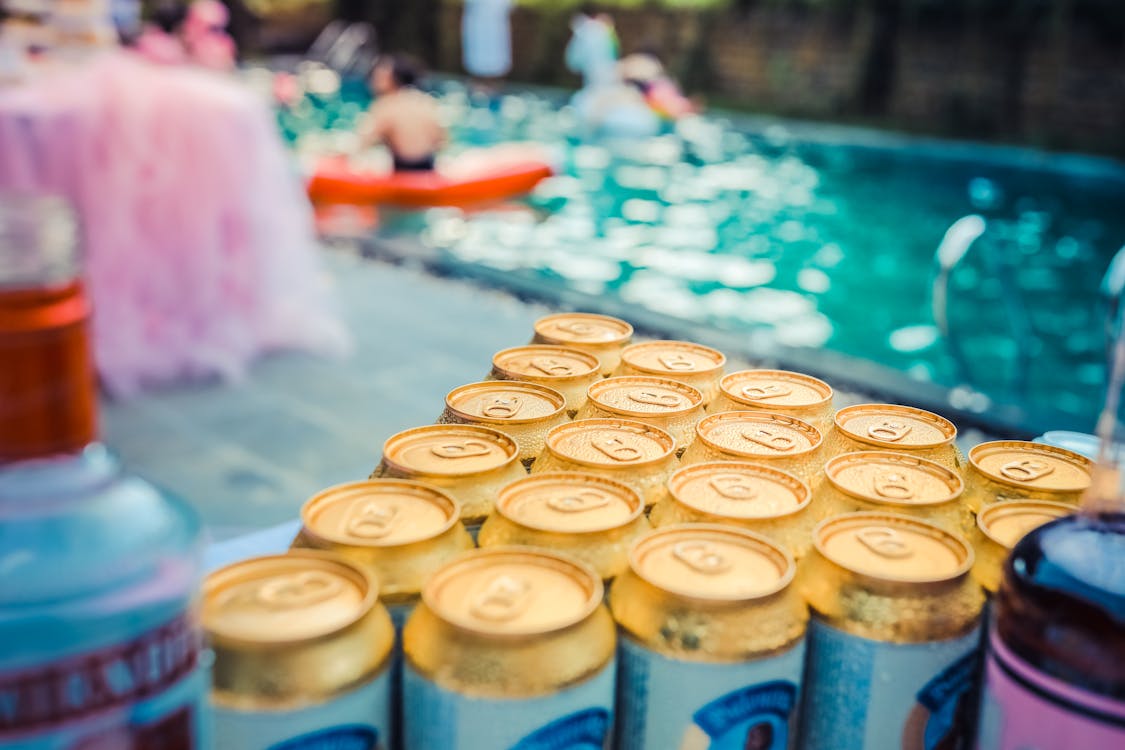 In Closing
If you've always wanted to experience a bustling social scene at an unrivaled pool party, Miami won't disappoint, and with idyllic weather year-round, these parties never cease to amaze.
Arguably the best way to make the most of a sunny day is lounging out by a transparent pool with a colorful cocktail and chill music in the background. If there was ever a good reason to flaunt your designer bikinis, it is certainly at a pool party in Miami.
Don't waste another second on combatting the heat with air conditioning and shade but rather head to one of the many pool parties in Miami to cool off and make some memories at the same time.