Every cruise ship has a cruise ship captain who is in charge of general cruise ship duties like sailing the ship, but in truth, a cruise ship captain's duties extend far beyond that.
In this post, we will explore all the different things a cruise ship captain does on board, as well as the average salary range of this position. So if you've ever wondered what the average cruise ship captain salary is, look no further.
What are Cruise Ship Captains?
A cruise ship captain is a fully licensed mariner who oversees the ship's overall operation. Being a ship captain is a demanding job that entails many responsibilities and long hours.
The captain of a cruise ship is responsible for ensuring the safety of the crew, passengers, and any cargo that is stored onboard. Beyond their expected formal duties, cruise captains participate in and host social events that take place on all cruise ships.
What is a Cruise Ship Captain's Salary?
According to Payscale, a compensation software and data company, the average salary of a cruise ship captain can be up to around $96 000 annually, and the salary range includes anything between $48 000 and $181 000.
The average annual salary of a cruise ship captain can vary dramatically, but the cruise ship captain is undoubtedly one of the highest-paid members of the ship's crew, generally speaking.
A cruise ship captain salary largely depends on the experience of the captain, the ship's size, and the particular cruise line. A typical cruise ship captain will spend around two months onboard and two months off, but while on the ship, they are on call all hours of the day and night.
What Other Benefits Do Cruise Captains Receive?
In addition to a cruise ship captain salary, some other perks are also on offer:
Free accommodation on the cruise ship
Free meals onboard
Family can stay onboard
Laundry and housekeeping discounts
Discounts at onboard shops and other cruises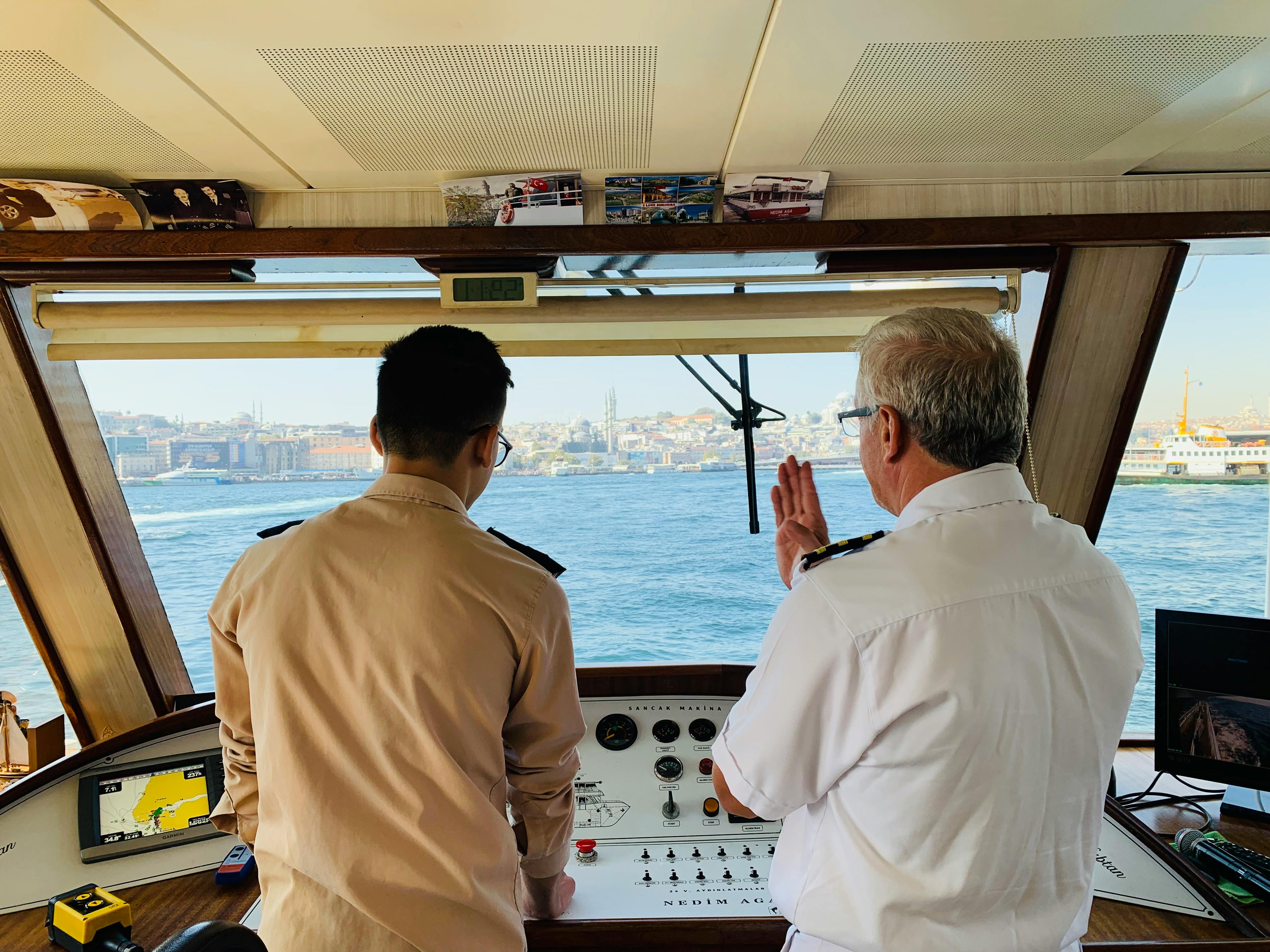 The Cruise Ship Captain's Responsibilities
Avoid Hazards and Pilot Cruise Ships
A cruise ship captain also has the primary focus of ensuring all crew members and passengers arrive at their destination safely. All the duties and activities of a cruise ship captain are motivated by safety.
A tragic example of a cruise ship captain who did not fulfill this prominent role was the 2012 Costa Concordia disaster. The cruise ship captain opted to sail closer to land, where the cruise ship hit a sea bed abundant in rocks. 32 Passengers lost their lives after the ship capsized.
According to tradition, the ship captain is supposed to go down with the ship. This means that the cruise ship captain may not get off the ship until every last person is off the ship. Sadly, this duty was not fulfilled in the Costa Concordia because the cruise ship captain left the ship when there were still many passengers onboard.
Supervision of Onboard Equipment Maintenance
There are various teams onboard every cruise ship that are in charge of looking after the different parts of the cruise ship, including navigational equipment and the engines.
Generally speaking, the cruise ship captain is in charge of overseeing all these duties and has the final say on the majority of matters. Therefore, all cruise ship captains are required to have extensive knowledge of a wide range of topics.
It comes as no surprise that the position of cruise ship captain comes with its fair share of paperwork.
Marrying Couples Onboard
It's quite popular for most cruise ship captains to play a big role in the weddings of passengers who wish to get married on the ship. Cruise ship captains are also known to perform wedding renewal ceremonies.
Social Activities
The captain is responsible for attending many social events while on board the ship. During the cruise, the captain regularly interacts with guests, and at the beginning of the journey, they often deliver a speech welcoming passengers onboard. A select group of guests may dine with the captain, and he will have photos taken with them.
If you would like a free drink, the cruise ship captain's welcoming drink is where you'll find one, so it's certainly worth attending.
Manage the Large Team of Crew Members and Officers
There are various teams and a large variety of staff members on every cruise ship who work on the bridge, and there are typically quite a few officers, cadets, and safety officers who all cooperate to yield a safe and smooth journey. At the head of it all is the cruise captain, who manages all the crew members and the duties expected of them. Every crew member generally has a set of tasks to fulfill, and the crew works in shifts so that there are always staff members on the bridge.
Beyond the official ship officers, the chief engineer, hotel manager, and cruise director also report everything back to the captain.
Security planning
Every crew member on a cruise ship has to practice for emergencies, whether it's a fire, medical emergency, or anything else. There are drills for every situation onboard cruise ships, including terrorist threats and hijacking.
The ship's captain devises the safety and security plans for a cruise ship. A fire or flood, for example, would be the most likely scenario. Piracy defense drills are also practiced in case of pirate attacks.
All guests must attend a muster drill, and the captain usually plays a big part. Muster is required by law, and the captain is responsible for ensuring that their ship complies. The captain will address the guests over the ship's overhead tannoy system.
Copyright © 2006 by Mark Mauno
Requirements of Becoming a Cruise Ship Captain
In general, a cruise ship captain is required to have a high school diploma, post-secondary education, and preferably but not necessarily a Master's degree in either Marine Science or Maritime Engineering acquired from a maritime academy. Physics, naval science, specialized sea training, maritime science, and mathematics are among the subjects covered by a marine transportation degree.
Although a degree from an excellent maritime academy is beneficial, field experience is also a crucial part of becoming a cruise ship captain. Cruise ship captains often work in an entry-level position, such as a third mate or a deck officer, after graduating to obtain much-needed experience.
A prospective cruise ship captain has to pass a Captain Licensure Exam before stepping into their position, but the requirements regarding certification vary between countries. However, most cruise lines make a Transportation Worker Identification Credential and a Merchant Mariner Credential mandatory.
If someone wants to become a cruise ship captain, they must also do a drug and vision test, along with a full physical examination, in order to obtain the certifications needed.
Only after passing the Captain Licensure Exam can someone officially become a cruise ship captain. To be eligible to take the exam, which is issued by the U.S. Coast Guard, a prospective cruise ship captain must have ten years of ship experience. If the person passes the exam, they can start applying for the position of cruise ship captain with a cruise line of their choosing.
It is worth noting that one cruise line might offer a much higher salary than another. The well-known cruise lines, including Carnival Cruise Line, MSC Cruises, Norwegian Cruise Line, and Royal Caribbean Cruise Line, all offer substantially larger salaries than lesser-known cruise lines.