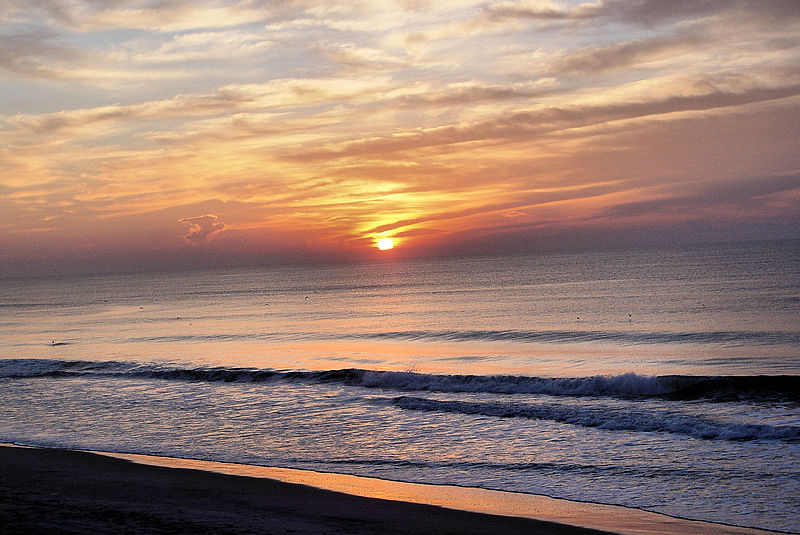 Situated off the coast of eastern North Carolina is this barrier island that offers more than 20 miles of sandy beaches to explore. Topsail Island, pronounced "Tops'l" by locals, is comprised of three distinct coastal towns: the largest is Surf City, located in the center of the island; North Topsail Beach occupies the northernmost part, while Topsail Beach can be found at the southern end.
With its quiet charm and small-town feel, it's not hard to see why so many visitors return to Topsail Island year after year. Topsail Island is also known as a haven for loggerhead sea turtles, which come ashore to lay their eggs between April and September. The island also boasts a rich nautical history, making it a great destination for nature lovers and history buffs alike.
Of course, there are dozens of vacation rentals to choose from here, from luxury condos with oceanfront views to cozy cottages offering all the comforts of home. Whether you're looking for Topsail Island rentals in Surf City, Topsail Beach, or North Topsail Beach, we've got you covered!
Check out our list of Topsail Island beach rentals for inspiration below and start planning your vacation here today!
Beach Rentals on Topsail Island
Beach Rentals in Surf City
Salty Haven
Sleeping up to 12 guests, this glamorous contemporary coastal home has all the amenities you could wish for.
It features a bright and airy open-plan living area on the second floor, which includes a spacious modern kitchen with high-end stainless steel appliances, plus the living and dining rooms.
This oceanfront rental also boasts three decks across multiple levels, including one with a hot tub, from which you can enjoy the spectacular ocean views.
3 By The Sea
Boasting five bedrooms, four-and-a-half bathrooms, direct beach access, and amazing views, this spacious oceanfront rental is perfect for a family beach vacation or a relaxing getaway with a large group of friends.
There are three master bedrooms, each with en suites and oceanfront deck access, plus two additional bedrooms with twin/bunk beds. The house also has two living rooms, so there's plenty of space for everyone to spread out.
A Grande Green
This breezy oceanfront rental has all the makings of an unforgettable beach vacation home with direct beach access via a private walkway, multiple deck spaces, and incredible ocean views.
There are a total of seven bedrooms that can accommodate up to 14 guests, a spacious kitchen, and an open and inviting living/dining room that's ideal for spending time with family and friends. The ground level also boasts a large den area with a TV, ample seating, a game table, and a mini-fridge.
Overboard
Relaxation awaits you at this modern seaside family home that offers panoramic views of the Atlantic Ocean from every room!
Featuring a cool gray-and-white color scheme, the house comes fitted with all the modern amenities you need for a laid-back yet luxurious stay. The chef in the family will enjoy rustling up delicious meals in the bright and airy kitchen, while those looking for a quiet retreat will find it in one of the four beautifully decorated bedrooms.
The living room comes complete with a wet bar and guests can also take advantage of the private hot tub and Tiki Bar on the ground floor.
Beach Rentals in North Topsail Beach
Topsail Manor
Boasting a private pool, a hot tub, and a Tiki Bar, this grandiose oceanfront manor in North Topsail Beach is ideal for weddings, reunions, multi-generational family vacations, and corporate events.
It offers eight bedrooms, a well-appointed kitchen with an enormous island, a large dining area with two twelve-seat wooden tables, a spacious formal living area, plus a private movie theater on the first floor.
Coppertop
Conveniently located near the shops and restaurants in North Topsail Beach, you can't get much better than this expansive oceanfront vacation rental with amenities galore!
The bright and airy interior features a large open living area with a sectional sofa and armchairs, a den with additional seating, multiple dining areas, and a kitchen with stainless steel appliances. There are nine bedrooms and seven-and-a-half bathrooms. The house has a maximum occupancy of 30.
Outside is a private pool with loungers, two oceanfront deck areas where you can enjoy the fresh ocean breeze, and a private walkway that provides direct access to the beach. The walkway also leads to a picnic area with a hot tub which is perfect for watching the sun go down with a refreshing cocktail or a glass of bubbly.
Sun-Kissed
This charming oceanfront vacation rental is located right on the sand, boasting uninterrupted views of the Atlantic Ocean. The house also happens to be near the film location of the romantic drama, Nights in Rodanthe.
Featuring seven bedrooms with a laid-back coastal atmosphere, there's plenty of space for the entire family to kick back and relax. The house also has several expansive entertainment areas and amenities for everyone to enjoy, including a pool table, a hot tub, and direct beach access. There's also a community pool nearby.
Forever and a Day
Forever and a Day is a luxury oceanfront vacation rental that features nine bedrooms, each with its own en-suite bathroom, plus an additional guest room with a daybed that sleeps two more guests. The house can comfortably accommodate up to 26 people, making it an excellent option for a multi-generational family vacation.
The house has a reverse floor plan with the main living level being located on the third floor, right below the luxurious rooftop hot tub. Downstairs is where you'll find the bedrooms and the entertainment area, which features a home theater, a bar, and a fully-equipped kitchenette. Each level also has a deck from which you can enjoy the spectacular oceanfront views.
Beach Rentals in Topsail Beach
Surfside Cottage
Located in Topsail Beach, this oceanfront delight boasts a sprawling deck with a hot tub overlooking the beach, plus a private boardwalk that leads onto the sand.
The house has six welcoming bedrooms featuring a restful coastal theme, a cozy living/dining area, and a well-appointed kitchen with all the appliances you need to rustle up some delicious meals while on vacation! There's also a grill out on the deck that's perfect for BBQing on those warm coastal evenings.
Sunshine Daydreams
Occupying a great location just south of downtown Topsail Beach, this gorgeous oceanfront property has something for everyone!
The house has five bedrooms, four of which are oceanfront and another that's bayside. There is a spacious living and dining area, as well as a large modern kitchen with granite countertops and stainless steel appliances; all with spectacular ocean and sunset views. There are also multiple deck areas for sunbathing and dolphin watching or just taking in the ocean breeze.
To top it all off, there is a Foosball table, an outdoor shower, and a grill. Boogie boards, beach toys, and beach chairs are also available for guests to use during their stay.
Bermuda Watch
Boasting oceanfront views from every room, this quaint vacation rental is within walking distance of all the shops and restaurants in downtown Topsail Beach, making it a great option for anyone who wants to be near the center of all the action.
The house features a contemporary nautical theme and rattan furnishings, a well-appointed kitchen, and plenty of living space, as well as a multi-level deck that can be accessed from all the bedrooms via sliding glass doors.
Oceans 111
Occupying a prime location in Topsail Beach is this luxury oceanfront vacation rental with all the modern conveniences you could ask for.
Oceans One-Eleven offers over 3,000 square feet of well-appointed living space, including five bedrooms, each with private en-suite bathrooms; a gourmet kitchen with a Viking gas stove, a microwave, and an oven; plus a living room with a flat-screen TV and two seating areas.
Multiple open and covered decks/balconies on three sides of the house provide ample outdoor space and opportunities for viewing beautiful sunrises and sunsets across the sound, while a private walkway provides direct access to the beach. Another deck on the ground level provides an excellent location for playing board games or grilling on warm evenings.
Overall, if you're looking for the ultimate beachfront experience in Topsail Beach, Oceans 111 is sure to please.