Often referred to as one of the best beer cities in the U.S., Portland, Oregon has recently made headlines for its underrated and top-quality pizza. The city offers a wide variety of quality pizzas in the traditional NYC style, artisanal Neapolitan style, and deep-dish Chicago style.
No matter what kind of pizza you prefer, Portland has something to satisfy any pizza lover. Keep reading to find out why Portland, Oregon, is considered the best pizza destination in the U.S., and plan your lunch today!
Origins of Pizza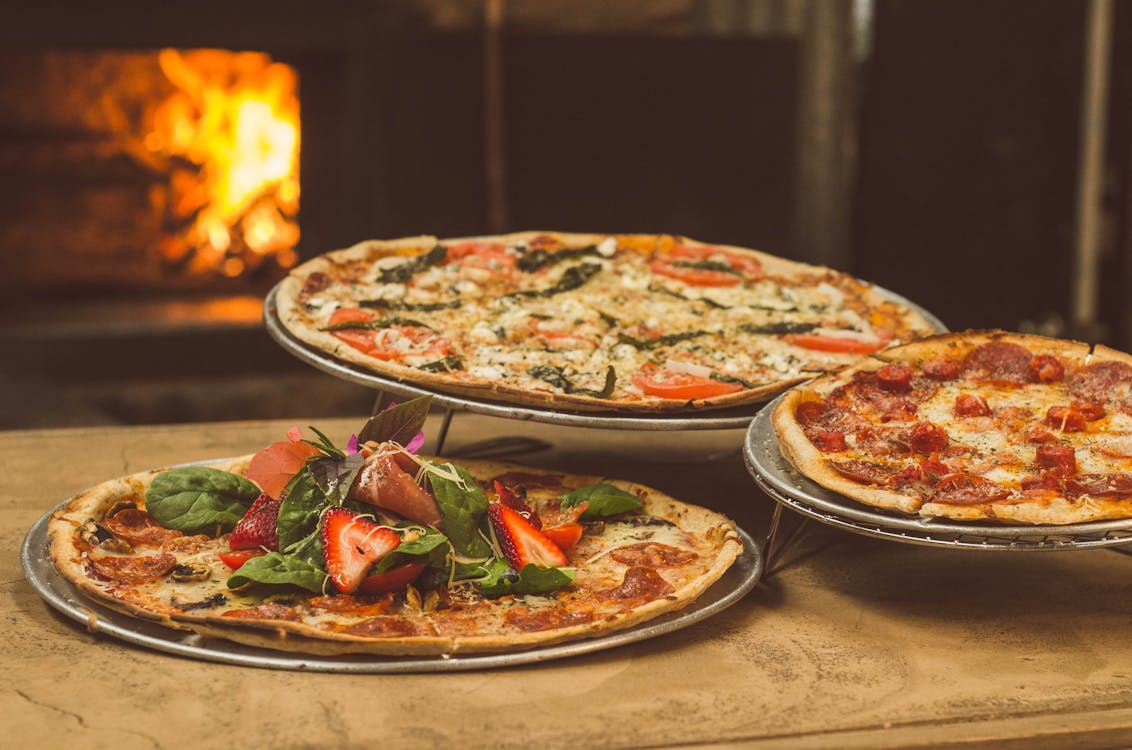 While records have been found of ancient Greeks, Egyptians, and Romans consuming flatbreads with topics, pizza only truly originated in Italy.
In the 1700s and 1800s, Naples was a thriving, independent kingdom. It was home to a dense population of working poor, and as a result, required food that could be made and consumed quickly and inexpensively. It is here that pizza began, as flatbreads with various toppings and sold by vendors in the street.
These original pizzas also featured toppings that are still used today, such as oil, cheese, garlic, and tomatoes.
New York Style Pizza
Typically, a New York-style pizza is hand-tossed to create a large, thin crust. It is not uncommon for slices to be big and sold separately – which means you don't have to buy a whole pie. Many people enjoy folding the slices in half before eating.
Apizza Scholls
Apizza Scholls is known for its delicious east-coast pie. It is one of the most popular Portland pizza places and has become an institution, drawing visitors from all over the country because of its iconic NYC-style pizzas.
It was founded in 2005 and has been serving tourists and residents of Portland for nearly twenty years. The pizzeria includes two quaint dining areas, which means it fills up quickly over the weekends.
However, if you're lucky enough to snatch a table, you will find that the large pizzas are well worth the trouble. They are simple and cooked fast in an electric oven, and the menu is carefully curated to offer everything someone could want, with just the right amount of toppings.
Some of the best pizzas served at Apizza Scholls are the classic Pepperoni and the New York White, which is deliciously cheesy and garlicky. The restaurant also serves one of the best Caesar salads in Portland, so be sure to order that as a starter.
Pizza Jerk
5028 NE 42nd Ave. / 621 SE Morrison St.
This old-school pizzeria is run by a New York native, Tommy Habetz, and offers an inviting atmosphere with checkered tablecloths and simple, delicious pizzas. The restaurant also has a wide range of innovative toppings, like clams, served on crispy crusts.
Another pro of visiting Pizza Jerk is the vegan pizza. And, if you're fond of Chicago-style pizzas, there are also several cast-iron deep-dish options to choose from.
We recommend ordering the classic Pepperoni on your first visit to Pizza Jerk.
Scottie's Pizza Parlor
If you're naturally nostalgic, you will love Scottie's Pizza parlor. Founded by Brooklyn-born Scottie Rivera, it brings Portland residents the joy of NYC-style pizzas.
The slices are big and foldable, as one would expect from New York pies, and the restaurant is very popular among locals. There are two favorites on the menu, including a unique take on the classic Margherita and the Defino – named after the owner's grandmother.
The Defino is a Sicilian pizza that is made using local ingredients and naturally leavened dough in grandma-style. It is then baked twice in an electric oven, first to char the crust and then to ensure it becomes crispy.
The crust includes a generous amount of garlic and olive oil, deliciously fragrant Pecorino Romano, and fresh basil. Many frequent visitors consider this one of Portland's best deep-dish pizzas.
Handsome Pizza
Handsome Pizza is known for supporting their community by only using local ingredients for their exceptional pizzas, and offering their employees very fair wages.
The pizzas it produces are named after local icons, and no pizza ordered at this restaurant will ever disappoint its customers. There is also an entire breakfast menu, made in conjunction with the next-door Seastar Bakery, that includes things like an Everything Breakfast Pizza. It has delicious toppings like kale, onion, hot sauce, cheddar, and bacon.
Handsome Pizza is well worth a visit if you're looking for a charming local establishment that provides unfussy, yummy food.
East Glisan Pizza Lounge
Located in a revamped Mexican restaurant, East Glisan Pizza Lounge offers a relaxed, laid-back atmosphere. The pizzeria also doubles as a bar, with great drinks for visitors to try. It specializes in New York-style pizzas, but also has some delicious deep-dish and vegan options. Many guests come exclusively for the Detroit-style pizza.
Some of the favorites include the Pepperoni and Sausage, as well as seasonal specials that come and go on the menu. Visitors can also customize a Sicilian pizza, which is perfect for sharing, or enjoy the Five Cheese, which includes tasty toppings like asiago, rosemary, ricotta, and garlic oil.
With the big slices and great vibe, East Glisan Pizza Lounge is the ideal place to hang out with friends. Regardless of which menu item you choose, you are bound to find your new favorite pizza here.
Baby Doll Pizza
Opened in 2012 by a native New Yorker, Baby Doll Pizza prides itself on serving proper New York pizza by the slice. The pizza is beloved by locals and tourists alike for its quality ingredients, tangy tomato sauce, and thin, crispy crust.
Many of the ingredients, such as the tomato sauce, mozzarella, and ricotta cheese, are made fresh in-house by the owner himself. He also grinds his own meat.
The most popular menu item is a simple Pepperoni and Cheese pizza, which is an indication of how good the sauce and toppings are. However, if you're looking for something more adventurous, you could also try the White Pie.
Another great part about Baby Doll Pizza is the fact that they offer vegan and vegetarian options, as well.
Neapolitan Pizzas
Neapolitan pizzas are light, tender, and moist. They are typically cooked in a wood-burning oven and include Italian ingredients like fresh mozzarella cheese. While it is still considered a thin-crust pizza, the outer edge of the Neapolitan pizza usually puffs up, giving it a thicker appearance than New York-style pies. Neapolitan pizzas often include a sourdough crust.
Ken's Artisan Pizza
Owned by the two-time James Beard Award-winning baker, Ken Forkish, Ken's Artisan Pizza is the ideal place if you're looking for something a little different. The pizzeria is iconic and takes inspiration from Italian cuisine, creating some of the best pizza in Portland.
Before relocating to Hawaii, Forkish perfected his pizza crust recipe. It consists of a sourdough and yeast blend, that is fermented for a long time to create something soft, airy, and crispy. The pizzas are baked in a wood-fired oven and topped with delicious ingredients that are sourced locally, such as hand-stretched cheese.
All the items on the menu are well worth trying, but the most popular include the Brooklyn pizza and the Fennel Sausage pizza. Caesar Salads are also delicious, and the pizzeria serves great cocktails.
Lovely's Fifty Fifty
If you're fond of truly unique pizzas, be sure to stop by Lovely's Fifty Fifty on your next trip to Portland. This pizzeria combines exceptional quality with innovation to create top-notch pizzas that are as tasty as they are beautiful.
Toppings are locally sourced, usually bought from farmers' markets, and depend on the season. In some cases, you will even see edible flowers or apricots on the menu. While that may seem risky, all the pizzas that come from the blazing wood-fired oven at Lovely's Fifty Fifty are carefully and thoughtfully created.
The pizzeria is very popular and often considered the best place in Portland to buy Neapolitan pies, so be sure to get there early before they sell out.
Red Sauce Pizza
Red Sauce Pizza is known for creating some of the best Neapolitan and deep-dish pizzas in Portland, to the delight of locals and tourists alike. Visitors from far and wide come to the pizzeria to try their pan pies, and for good reason.
The dough is slow-fermented, and the pizzas are created with top-notch ingredients that are produced in-house. It has a chewy crust once baked, making it the perfect base for a variety of innovative and classic toppings.
One of the best pizzas here is the Jill of All Trades. While anchovies may not be everyone's cup of tea, they are paired with Castelvetrano olives and ricotta cheese to create a truly unique taste.
Nostrana
Owned by the finalist for the James Beard Award, chef Cathy Whims, Nostrana is a high-end restaurant that specializes in Italian cuisine. It is known for its delicious pizzas, made with local, seasonal ingredients.
The restaurant's authentic Italian recipes have been highly praised in publications like Bloomberg and Eater, and the New York Times. Handmade cheese and delicious seasonal toppings are expertly added to traditional Neapolitan thin-crust pizzas.
One of the best pies to enjoy here is the Funghi Verde. It includes citrusy olive oil, garlic, arugula, pecorino, mozzarella, and shiitake mushrooms. The best part about it is that it's a great vegetarian option.
Gracie's Apizza
If you're looking for personalized service and affordable pizzas, you can't go wrong with Gracie's Apizza. Located in a charming neighborhood, Gracie's Apizza consists of a food truck that offers specialty pizzas in a Neapolitan style. All the pies are made personally by the owner, Craig Melillo.
The crusts are perfectly charred and chewy and topped with homemade mozzarella and tomato sauce. Some of the most popular pizzas include the Very Vegan pizza, one of the best vegan pies in Portland, and the Ricotta Pie.
He makes an average of seventy pizzas a night but still sells out fast. Be sure to get there early. You can also order online in advance.
Life of Pie Pizza
1765 NW 23rd Ave. / 3632 N Williams Ave.
Located in two areas, Life of Pie Pizza is one of the best places to go for Happy Hour pizzas. The Happy Hour starts at eleven AM and runs until six PM. During Happy Hour, guests pay a mere seven USD for a classic Margherita pizza.
And, if a Margherita pie is not your favorite, don't worry! There is a wide variety of toppings to choose from at Life of Pie, from classic cheese to Ezzo pepperoni.
The atmosphere is inviting, with the smell of a wood oven, and guests can watch their pizzas being made. The restaurant serves some of the best pizza available in Portland. Their crusts are chewy, and toppings often include tangy tomato sauce, aged mozzarella, and fragrant basil.
Deep-Dish Pizzas
Often referred to as Chicago-style pizza, deep-dish pizzas are (as the name suggests) cooked in a deep-dish cake pan as opposed to a flat pan. The result is a thick, pie-like pizza with a lot of filling and high sides to keep it all in place.
Ranch PDX
916 NW 21st Ave. / 2239 SE 11th Ave. / 1760 NE Dekum St. / 12960 SE 162nd Ave. Suite 202 Happy Valley
If you're fond of really good pizza and homemade ranch dressing, you'll love this pizzeria.
Ranch PDX is one of the most popular deep-dish pizza restaurants and is beloved by locals. Found in four different locations, each more lively than the next, it prides itself on its hearty specialty pies. Everything on the menu is delicious, especially the deep-dish ranch pizza.
The classic Pepperoni is one of the favorites here. We also recommend trying the Number Four pizza, which comes with chilies, ricotta cheese, and deliciously spicy port sausage.
Ex Novo
Ex Novo is a brewery that not only produces some of the best IPAs in Portland but also specializes in amazing deep-dish pizzas. With a delicious crust and excellent sauce, Ex Novo creates a harmonious union that is sure to satiate the palate of even the harshest food critic. Many people who come for the beer end up returning for the pizzas.
In fact, Ex Novo's deep-dish pies have become so popular that a second location opened with the sole focus on pizza.
Dove Vivi
What sets Dove Vivi apart from its competition, is the buttery, cornmeal-crusted, deep-dish pizzas baked in a skillet. These pizzas include toppings like roasted eggplant, creamy goat cheese, and homemade sausage. It's a great pizza restaurant to try something out of the ordinary!
Some of Portland's best vegan pizza can be found at Dove Vivi, such as the signature Cashew Mozzarella. These pies are also quite large, so come with an empty stomach.
Best Pizza in Portland FAQs
Where in Portland can I get the best gluten-free pies?
Baby Doll Pizza is often considered the absolute best pizza restaurant to get gluten-free options. There are also some delicious gluten-free options at East Glisan Pizza Lounge that are well worth trying.
What is Detroit-style Pizza?
Perhaps the most recognizable characteristic of Detroit-style pizzas is that they are typically rectangular instead of round. They often have a thick crust and are baked in a deep rectangular pan. Be sure to stop by East Glisan Pizza Lounge to try out a Detroit-style pie.