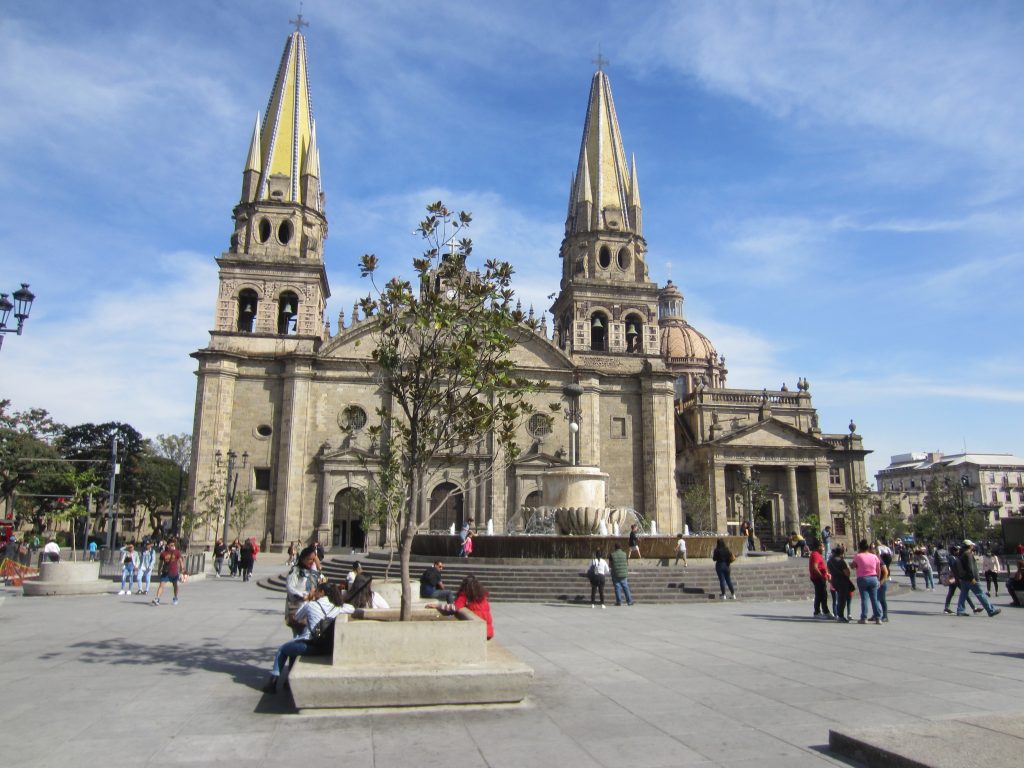 "Jalisco is Mexico," so goes the state's motto. While the claim may seem a little too bold, just taking the time to visit the state will show you that Jalisco indeed embodies Mexican culture and living.
Jalisco is home to some of the country's most famous cultural traditions, agricultural heritage, and folk customs. In fact, some of the globally recognized Mexican traditions—such as mariachi bands, charros, and tequila.
With so many different places to visit and plenty of traditions and cultures to experience, it can be very overwhelming to plan a trip to the Mexican state. We created this article to help you plan out an itinerary for your trip, including where to go, what to eat, and some travel advice to ensure your vacation goes as smoothly as possible.
Jalisco Quick Facts
Capital City: Guadalajara
Major Cities: Guadalajara, Zapopan, Tlaquepaque, Tonalá, Puerto Vallarta
Population: 8.348 million (as of 2020)
History of Jalisco
Located on the West Coast, with the Pacific Ocean bordering one side, Jalisco is nestled within a range of places, each of which has a unique landscape and cultural opportunities.
It is unclear who founded Jalisco, but early pieces of evidence (such as bones and small tools) suggested that nomadic tribes moved through the Mexican state about 10,000 to 12,000 years ago. Evidence also suggested that the tribes were passing from the north to the south, perhaps in an effort to follow a game such as mammoths.
Simple settlements began emerging along Jalisco's lakeshores and riversides years later. Ceramic figures found in both Jalisco and the neighboring state of Michoacan points suggested the first settlements emerged 3,500 years ago. The city of Ixtépete, which reached its zenith between the 7th and 10th century AD, was the earliest pre-Hispanic city recorded in the state.
In the 1500s, Spanish explorers who conquered the Aztec capital of Tenochtitlán (now Mexico City) began arriving in the state. Nuño Beltrán de Guzmán followed seven years later, bringing with him 300 Spaniards and 6,000 indigenous warriors.
Under de Guzmán, the city we now know as Guadalajara was founded on February 14, 1542. However, his rule also saw hundreds to thousands of Mexico's native people, most especially in the Jalisco area, exposed to brutal treatment. This led to the Mixtón Rebellion in 1541, which was only put down by forces supplied by the viceroy, Antonio de Mendoza.
Guadalajara began increasing its wealth and influence by importing goods throughout the 17th and 18th centuries. The region of Jalisco also began achieving greater stability during the same period after negotiating peaceful settlements with indigenous tribes.
Like most of the country, Jalisco suffered throughout much of the 19th century due to uprisings, most of which were launched by indigenous tribes. The government also changed hands dozens of times until the year 2000 when the establishment of the Partido Nacional Revolucionario (Institutional Revolutionary Party) brought stability to the region and the rest of the country.
Today, Jalisco has the third-richest economy in the country. In fact, at least 30 of the largest companies in Mexico are based in the state. Additionally, Jalisco is also one of the most famous tourist destinations in the country.
Major Cities and Towns in Jalisco
Jalisco is home to some of the best cities and towns in Mexico. Many of the cities in the state offer a range of great flavors and a unique mix of cultures that would leave tourists in awe. If you're planning on visiting Jalisco, here are some of the cities to consider adding to your list.
Guadalajara
Often overlooked by travelers, the capital city of Guadalajara (which is also the second-largest city in Mexico) offers a fascinating wealth of cultural sights, vivid nightlife, and incredibly rich culinary culture. The city exemplifies Mexican tradition and modern-day living at the same time.
Tourists who visit Guadalajara often get lost in its timeless flavor of authentic Mexican tequila and mariachi music. Others find themselves breathing avant-garde through the city's art, design, and gastronomy.
Traversed through by the volcanic Sierra Madre Occidental and Sierra Madre del Sur , Guadalajara has many interesting buildings and experiences to offer. Here are some things you can do in Western Mexico.
Historic Sites and Architecture
Guadalajara Cathedral. This is an iconic double-spired cathedral built between the 16th and 17th centuries. The cathedral overlooks the plaza in the Guadalajara metro area, making it the perfect spot to begin your explorations.
Teatro Degollado. The Teatro Degollado is a neo-classical theater located in the historical center of the city. The inside of the building is full of incredible murals. Additionally, the theater is free to enter. Apart from the murals, the theater hosts regular performances of operas and symphonies. If you're lucky, you can even score tickets to gala performances during the city's mariachi festival.
Hospicio Cabañas. Built in the 18th century, the Hospicio Cabañas (referred to by locals as Instituto Cultural de Cabanas) is one of the city's most iconic cultural centers. The eye-catching landmark previously served as an orphanage and an almshouse. Today, it is a hub for arts and culture showcasing works from a range of local artists, including the late muralist José Clemente Orozco.
Panteón de Belén. Cemeteries don't usually make travel lists. However, you may want to reconsider if it's the Panteón de Belén, Guadalajara's most famed cemetery. This graveyard serves as the final resting place of many famous people from Jalisco. The cemetery offers special tours at night and certain events during the Day of the Dead.
Museums and Galleries
Museo Trompo Magico. Located in a wealthy suburb of Zapopan, the Museo Trompo Magico is a great place to go if you are traveling with kids. The museum is as much of a playground as it is a museum. All exhibits are made kid-sized and are designed to be manipulated.
Museo Regional de Guadalajara. If you're visiting the cathedral, then you should also visit the regional museum. Located next to the cathedral, the museum features unique fossil exhibits and items dating back to the Spanish era, including maps from hundreds of years ago.
Centro Cultural El Refugio Tlaquepaque. Also called the El Refugio Cultural Center, this museum hosts concerts, plays, and a variety of community-oriented workshops.
Museo de Paleontología de Guadalajara. The Paleontology Museum of Guadalajara features exhibits dedicated to the region's prehistoric history. The exhibits include fossilized skeletons of wooly mammoths and saber-tooth tigers. The museum is also home to the Parque Agua Azul where some of the most beautiful orchids and butterflies are found.
Dining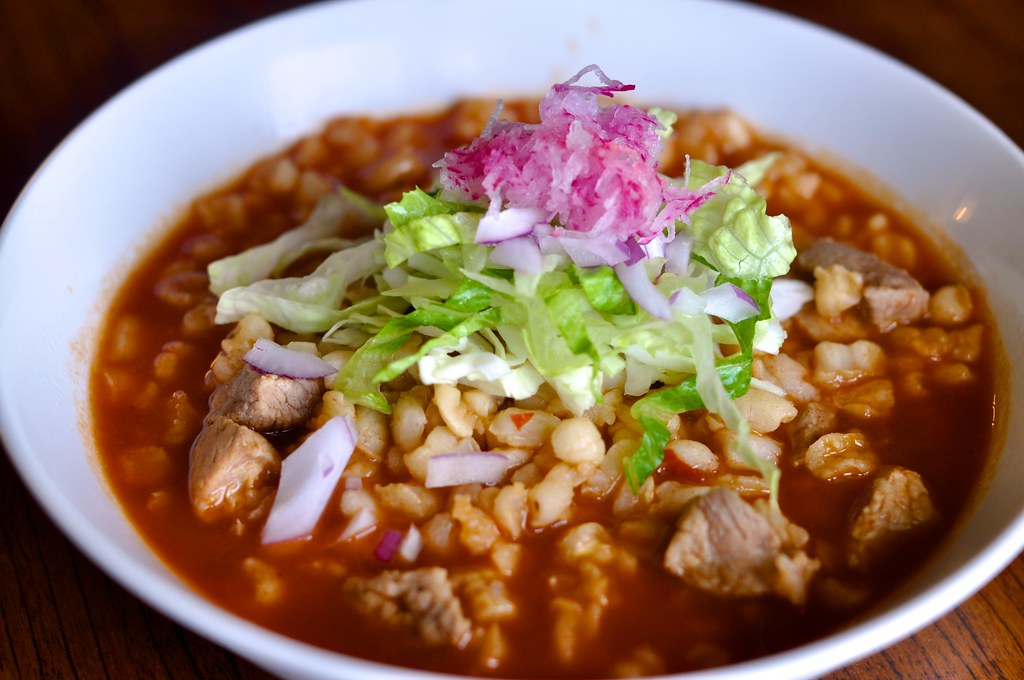 Foodies who flock to Guadalajara are in for a treat. The region is rich in culinary finds, with regional stews and protein-rich snacks inspired by the people's Aztec roots. Here are some local delicacies to try.
Pozole – Pozole (pictured above) is a Guadalajara soup featuring cooked dried corn, meat, and either pork or chicken. This comforting soup is a classic local dish sold in two versions: red (which is more spicy) and white (which does not have salsa).
Birria – Birria, also known as goat stew, is one of the most emblematic Guadalajara food. The recipe traditionally uses goat meat braised slowly in a number of spices to give off that savory flavor. The dish is then garnished with onions, cilantro, limes, tortillas, and beans.
Tortas Ahogadas- You can't leave Guadalajara without trying their Tortas Ahogadas, which literally translates to "drowned sandwich." This dish, as mentioned, features a pork-stuffed birote sandwich drowned in a spicy chile de arbol sauce. The dish is a popular hangover cure among locals.
Bionico – Cap off your meal with Guadalajara's famous Bionico. Invented by a street vendor in the 1990s, the dish features a fruit cocktail made with chopped-up fresh fruits, cream or yogurt, and granola, shredded coconut, or nuts. The fruits change depending on what is in season.
Puerto Vallarta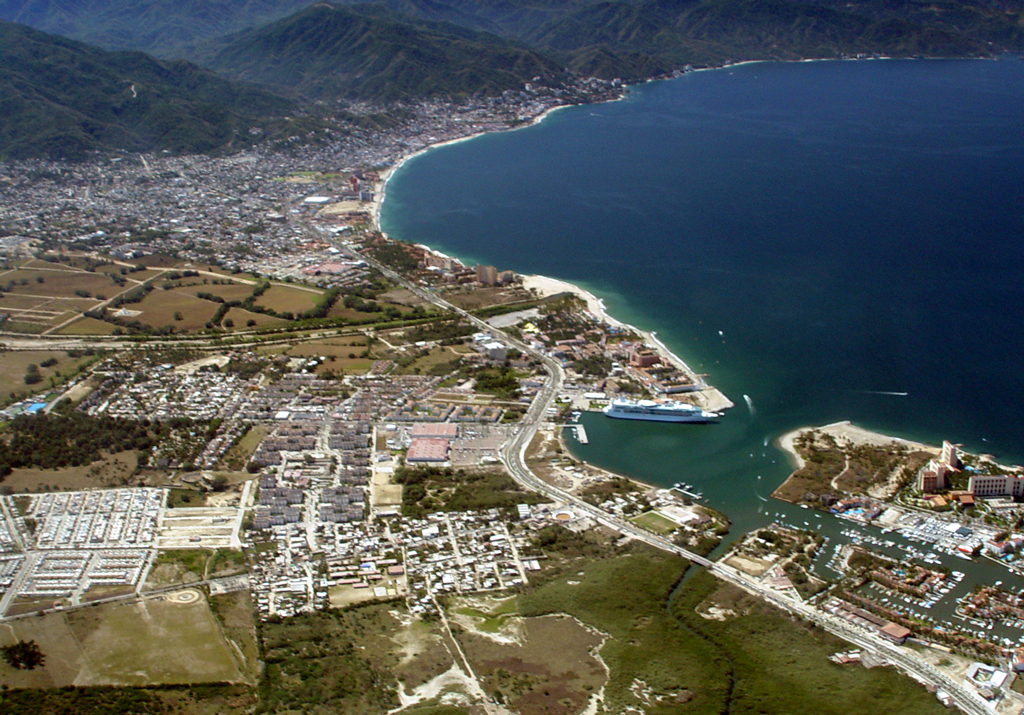 Where the Guadalajara Metro Area is filled with stunning architecture, Puerto Vallarta is defined by the charm of its beaches and the towering Sierra Madre mountains. There are plenty of water activities to enjoy in the area, including swimming with dolphins, whale watching, snorkeling, sailing, and scuba diving.
Apart from beaches, Puerto Vallarta also offers excellent nightlife and entertainment. This gives tourists and locals the perfect way to end the night.
Beaches
Las Caletas – Las Caletas is one of the top private beaches in Puerto Vallarta where guests are offered stunning views of crystal-clear waters and a jungle-clad mountain backdrop.
Yelapa and Mahajuitas – While these are technically coves, they are home to sandy beaches only accessible by sea. In addition, the Yelapa and Mahajuitas coves are also home to beautiful hidden waterfalls.
Islas Marietas – Islas Marietas is a protected state park teeming with exotic sea life and nature sceneries.
Nightlife and entertainment
Swell Beach Bar – Located south of the Los Muertos pier, Swell Beach Bar is easily one of the top bars in the area. The bar offers casual meals for lunch and dinner, all of which goes well with their margarita and ceviche.
Blue Chairs Rooftop Bar – At the end of the Los Muertos beach sits the Blue Chairs Rooftop Bar, famously known for their—you guessed it—blue chairs. This is the most famous gay bar in Puerto Vallarta that hosts nightly events, including karaoke and "drag queen bingo."
Monzon – If you're looking for craft beer, there is no better place than Monzon. The owners of the bar personally brew creative beers, with options ranging from coconut stouts and jalapeño margaritas.
Incanto – If you're looking for an escape from the noise and crowds, Incanto is a great choice located in a beautiful location overlooking the Cuale River. The bar often features piano music, but it also hosts open mic nights, salsa lessons, and musicals.
Ecotourism and adventure activities
Los Arcos Marine Park – Los Arcos is a gorgeous place featuring a fascinating natural rock arch accessible via boat or kayak. The area serves as a natural habitat for marine birds and sea life, such as blue-footed boobies, parrots, manta rays, sea turtles, and pufferfish.
Islas Marietas – The Marietas Islands are remote islands home to one of the best eco preserves in Mexico. Accessible via a two-hour boat ride, the islands are famous for their incredible beaches and crystal-clear waters. Guests who visit the islands can encounter dolphins and humpback whales during the season from December through March.
Banderas Bay – Every year, locals participate in conservation efforts to release baby turtles to the sea for the first time. The bay is home to plenty of sea turtle nesting sights, with the most famous turtle camp located in Boca de Tomates just right behind the airport. Further, the Banderas Bay was and remains to be one of Mexico's favored diving destinations.
Tequila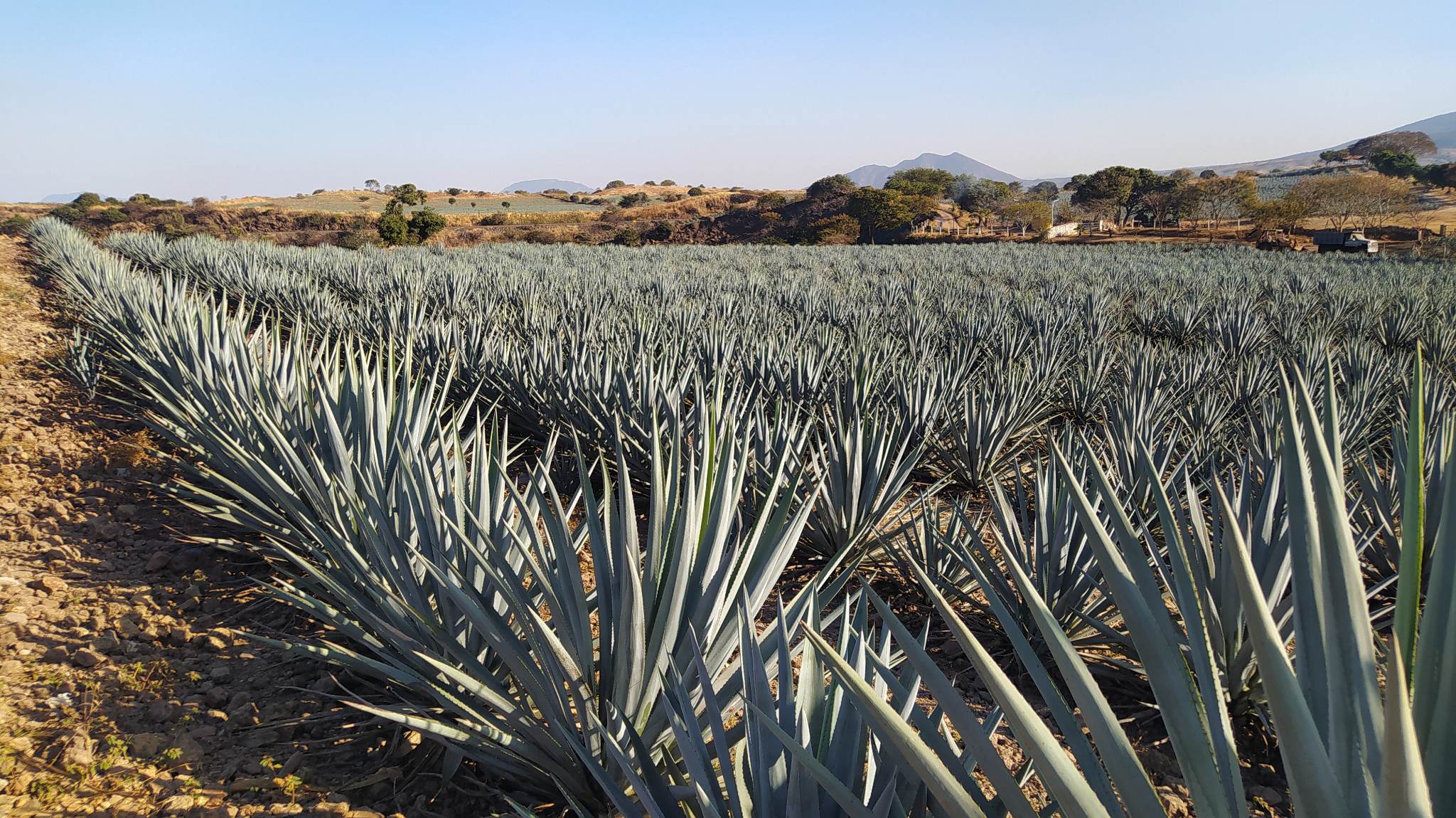 Tequila is a small town in Jalisco that is famous for none other than tequila. There is nowhere better to learn about and savor tequila than in the tequila valley area. Just like champagne must come from the French region of Champagne, tequila can only be produced in Mexico's Tequila County.
The best way to explore this region is by participating in various tequila distillery tours. Some distilleries offer a taste of top-shelf Tequila during the tours. In fact, one of the most famous tourism attractions of the state is the "Tequila Express," which runs from Guadalajara to Tequila and comes with a tour. Although, be prepared to possibly leave the tour drunk on the best shots of tequila.
If you're looking for a more engaging and interactive experience, some distilleries offer farm tours and opportunities for guests to plant their own blue agave.
Things to Do in Jalisco
Home to many iconic regions, Jalisco is a fascinating place to go to for a wealth of cultural sights and unique, mouth-watering cuisines. There are endless things to do in Jalisco to keep you busy on your vacation.
Mariachi music and performances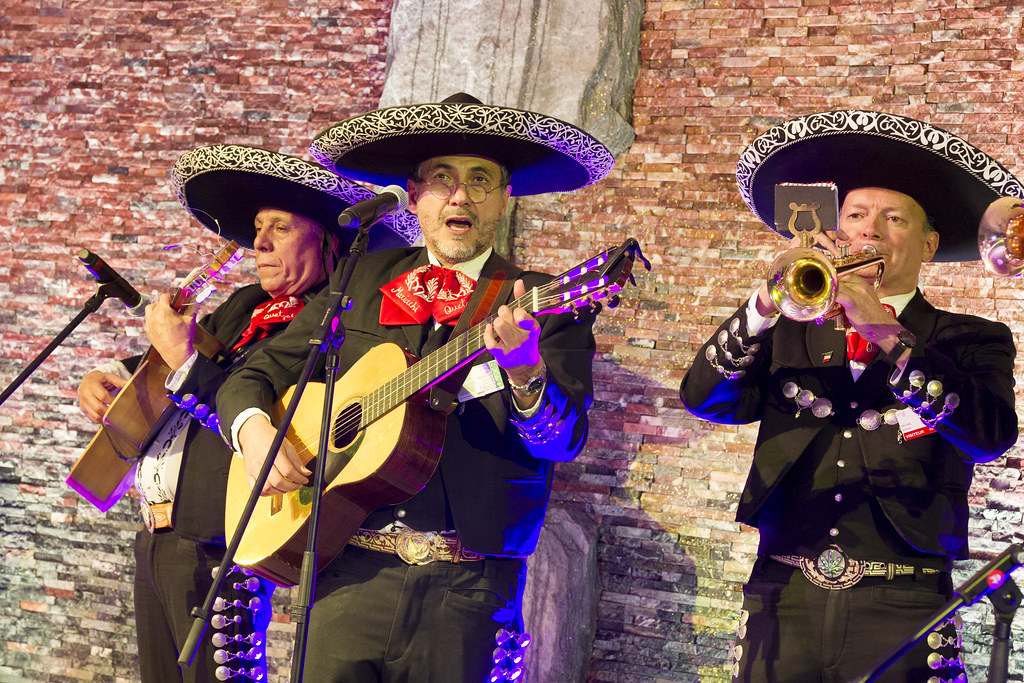 There is perhaps no type of Mexican music more famous than Mariachi. In fact, it's so popular that it is even listed on UNESCO's Intangible Culture Heritage of Humanity.
While it may sound exaggerated, it is almost impossible not to be exposed to mariachi music in Jalisco. The sounds of mariachi music will follow you everywhere you go, regardless of whether it's blasting on stereo speakers or a roaming band.
Charrería (Mexican rodeo)
A Charrería, also known as charreada, is a Mexican rodeo that some locals regard as their version of NASCAR. The rodeo is incredibly popular, enough that it is even recognized as a real recognized sport with strict rules and competitions.
When you watch a Charrería, you'll see men and women wearing colorful Mexico cowboy costumes with silver studs. The horsemen and horsewomen then show off their incredible lasso skills. Many horsemen and horsewomen also make their mounts dance to a live Mariachi band.
Local Cuisine
Apart from the dishes we mentioned above, Jalisco is known for its other plates. One of the most famous options for meat lovers includes the Carne en su Jugo (Meat in its juice). The dish features a beef consommé with beans, meat, and bacon. The dish is then garnished with chopped onion, cilantro, salt, and lemon juice.
For dessert, Jalisco locals will often celebrate "Jericalla," a dish that is similar to creme brulee. The dish was very common in the 19th century, specifically in the old San Juan de Dios neighborhood where it was served to orphans from Cabañas Hospice.
Another great dessert option you should try in Jalisco is Cocadas. This typical dessert features grated coconuts, milk, cinnamon, and sugar. The dessert dates back to the Spanish civil war when soldiers ate this delicious dessert to stave off hunger amid food shortages in the military.
Festivals and events
Jalisco is one of those Mexican states with deeply-rooted traditions. As such, tourists can expect to see a lot of festivals during their visit, each of which celebrates Jalisco in all its glory.
Between January and March, locals and tourists alike flock to Banderas Bay where they are treated to views of humpback whales migrating to the Bay's calm waters. During these months, the whales are seen breaching the waters along with their baby calves.
Every November, Puerto Vallarta hosts a gourmet festival that brings national and international chefs to host cooking classes for locals. In addition, the festival also allows eventgoers to participate in wine tasting and special menus.
Jalisco Travel Tips
When is the best time to visit?
There is no bad time to visit Jalisco as it enjoys warm, spring-like weather for most of the year. However, the best time to visit the region is in the fall, which runs from September through December.
Safety and health considerations
In general, Jalisco is safe to visit, especially during the day. Most people would advise traveling in an official tour group with friends to maintain safety. It is also advised to avoid traveling at night, especially if you are walking alone or inebriated.
On health precautions, people are advised to avoid drinking water from the tap or eating any unwashed fruits and vegetables. While you can eat food from stalls, it is best to eat at restaurants and food booths where people are eating.
Local customs and etiquette
Mexicans are generally polite and formal when interacting with people, especially those they do not know well. When you are speaking to an elder or someone with whom you will have a professional relationship, it is advised to use formal pronouns.
When shopping, it is not a common practice to bargain or ask for lower prices. While it's not necessarily looked down upon, discounts are almost always at the shop owner's discretion and not the employees'. One place where you should never bargain is the food market, even if you are buying in bulk. The prices are usually already low to begin with, which means very few vendors can afford to drop their prices.