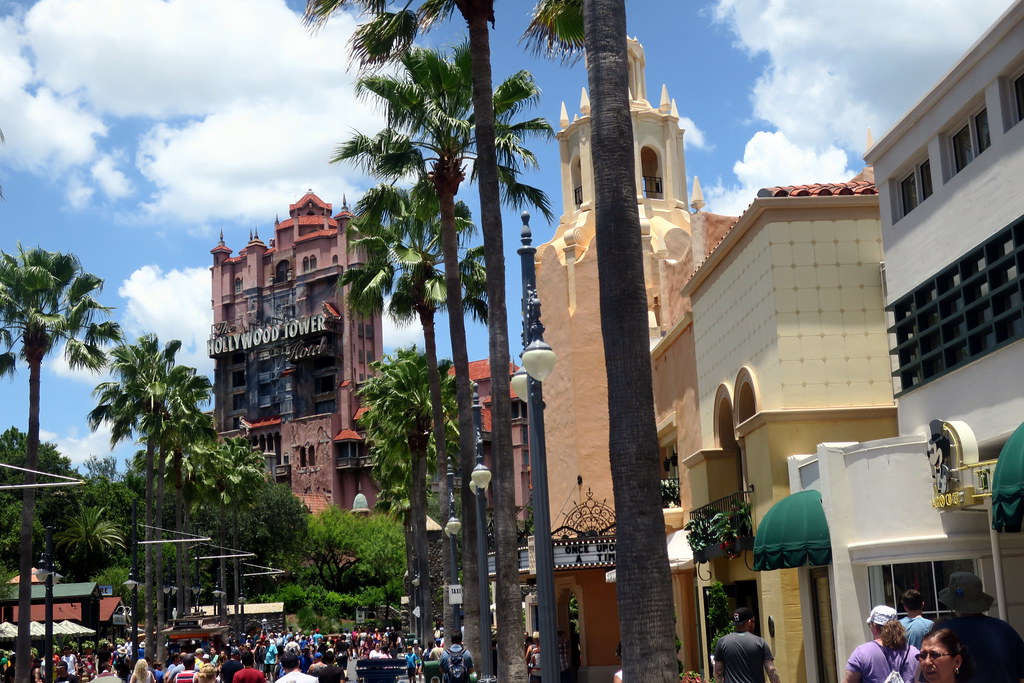 Walt Disney's Hollywood Studios is a film and Hollywood theme park located in the Walt Disney World Resort in Florida. The park, which opened in 1989, is home to great Hollywood classics over the years and the atmosphere and sounds of Disney universes, including Andy's backyard.
Our guide contains basic information about Disney's Hollywood Studios, including rides and shows. We'll also include travel information and commonly asked questions on Hollywood Studios.
Getting To Hollywood Studios
There are plenty of ways to get to Disney's Hollywood Studios, including by driving, by monorail, or by boat (among other modes of transportation). We'll outline everything below.
By Car
If you are driving a car to Hollywood Studios, you will want to put "351 S Studio Dr, Lake Buena Vista, FL 32830" or "Hollywood Studios" on your maps app so you can get to the parking lot.
There is only one entrance to the Hollywood Studios' parking lot, and that is through the Hollywood Studios Toll Plaza located across from Disney's Art of Animation and Pop Century Resorts.
The theme park's parking lot is divided into five smaller lots, with the Minnie and Mickey parking lots the closest to the entrance. If you arrive a bit later in the day, you are unlikely to find any slots in the Minnie and Mickey lots. Not to worry, however, there are three other lots, namely Jessie, Buzz, and Olaf parking lots.
All parking lots are first come, first serve.
By Walking
It is possible to walk to Hollywood Studios from any of the nearby Epcot area resorts. Visitors who are walking to the theme park would have to go through the back International Gateway entrance.
There is also a long waterside pathway stretching from Hollywood Studios to Epcot's International Gateway Entrance via the Boardwalk Resort. This trail, however, is longer than if you are coming from the Epcot resort area.
By Boat
If walking is not up your alley, you have the option of boarding one of the many Friendship Boats from several locations to the Hollywood Studios.
Here are the places where you can board Disney's Friendship Boat:
Disney's Boardwalk Resort
Disney's Yacht Club Resort
Disney's Beach Club Resort
Epcot
Walt Disney World Swan Hotel
Walt Disney World Dolphin Hotel
The Swan Reserve
The Friendship boats run through a number of routes, including:
Epcot International Gateway Entrance
Disney's Boardwalk
Disney's Yacht and Beach Club Resorts
Walt Disney World Swan and Dolphin Hotels
Disney's Hollywood Studios
By Skyliner
Disney World's Skyliner is a relatively new way to get around the area and get to Hollywood Studios. Depending on where you are coming from and where you want to go, your Skyliner trip can take between 3 to 15 minutes.
The Skyliner goes pretty high above Disney World, which might not be good for people who are afraid of heights. You will, however, get amazing views of the area.
The Disney Skyliner has stations in the following areas:
Epcot International Gateway (End of Line)
Disney's Hollywood Studios
Disney's Caribbean Beach Resort
Disney's Riviera Resort
Disney's Pop Century Resort / Disney's Art of Animation Resort (End of Line)
By Bus
There is a bus station near Skyliner Station located just outside the Hollywood Studios entrance. If you are coming from the following locations, boarding a bus may be your best bet:
Magic Kingdom / TTC
Disney's Animal Kingdom
Disney Resorts
Disney Good Neighbor Hotels
By Minnie Van
Minnie Vans are Disney World's official on-demand ride-share vehicles. These paid, private cars can take you anywhere on Disney property. You can hail Minnie vans via an app similar to an Uber or a Lyft.
Minnie Van dropoffs and pickups are limited to Disney World properties. That being said, it is not possible to take Minnie Vans from your resort to Universal Studios.
---
Best Rides At Disney's Hollywood Studios
There are plenty of rides to try out when you visit Disney's Hollywood Studios. However, five rides truly stand out. That being said, these rides are also the ones with the longest queues, so plan accordingly.
Star Wars: Rise of the Resistance
Type: Thrill Ride, Small Drops, Dark, Loud
Height: 40 in (102 cm)
Star Wars: Rise of the Resistance was one of the most anticipated rides at Disney's Hollywood Studios, and it has delivered. The heavily-themed immersive attraction uses one of the most technologically advanced systems Disney has ever created, so you're surely in for a treat.
Guests who line up for the Star Wars ride will be placed in the heart of the action and tasked to help the Resistance succeed in their secret mission to escape the Star Destroyer. The 20-minute ride shows familiar faces from the Star Wars films, including Rey and Kylo Ren.
Rise of the Resistance integrates four different ride experiences to take guests through the entire ride, including trackless vehicles, a motion simulator, walk-through environments, and an elevator drop.
Do note: Tickets for Rise of the Resistance typically sell out minutes after the park opens. It would be best to get an Early Entry pass to make sure you can experience the ride.
The Twilight Zone Tower of Terror
Type: Thrill Ride, Big Drops, Dark, Scary
Height: 40 in (120 cm)
The Twilight Zone Tower of Terror is a simulated freefall drop tower thrill ride that took inspiration from the classic anthology television series The Twilight Zone. In fact, the attraction is allegedly based on a lost Twilight Zone episode, according to its promo videos.
The legend goes that on a gloomy Halloween night in 1939, some hotel guests went missing after riding an elevator during a violent storm. The guests were never seen again since… or were they?
If you're up for mystery adventure, we suggest lining up for the Tower of Terror, getting yourself strapped on the "rickety, elevator-style life," and discovering the secrets that lie inside the abandoned hotel.
Mickey and Minnie's Runaway Railway
Type: 2.5D Dark Ride
Height: Any
First opened in March 2020, Mickey and Minnie's Runaway Railway is the park's first 2.5D movie-themed family dark ride attraction that uses modern projection technology and beautiful hand-crafted physical sets.
During the ride, guests follow Mickey and Minnie as they go on a wild adventure. You'll board Goofy's train that runs on a trackless route and go through many scenes, including the carnival and underwater. While it is essentially a kiddy ride, be prepared for unexpected twists and mind-boggling transformations.
It is important to note that while the ride isn't designed to be scary for little kids, some parts might have an intensity that could upset young riders.
Slinky Dog Dash
Type: Kiddie Coaster
Height: 38 in (97 cm)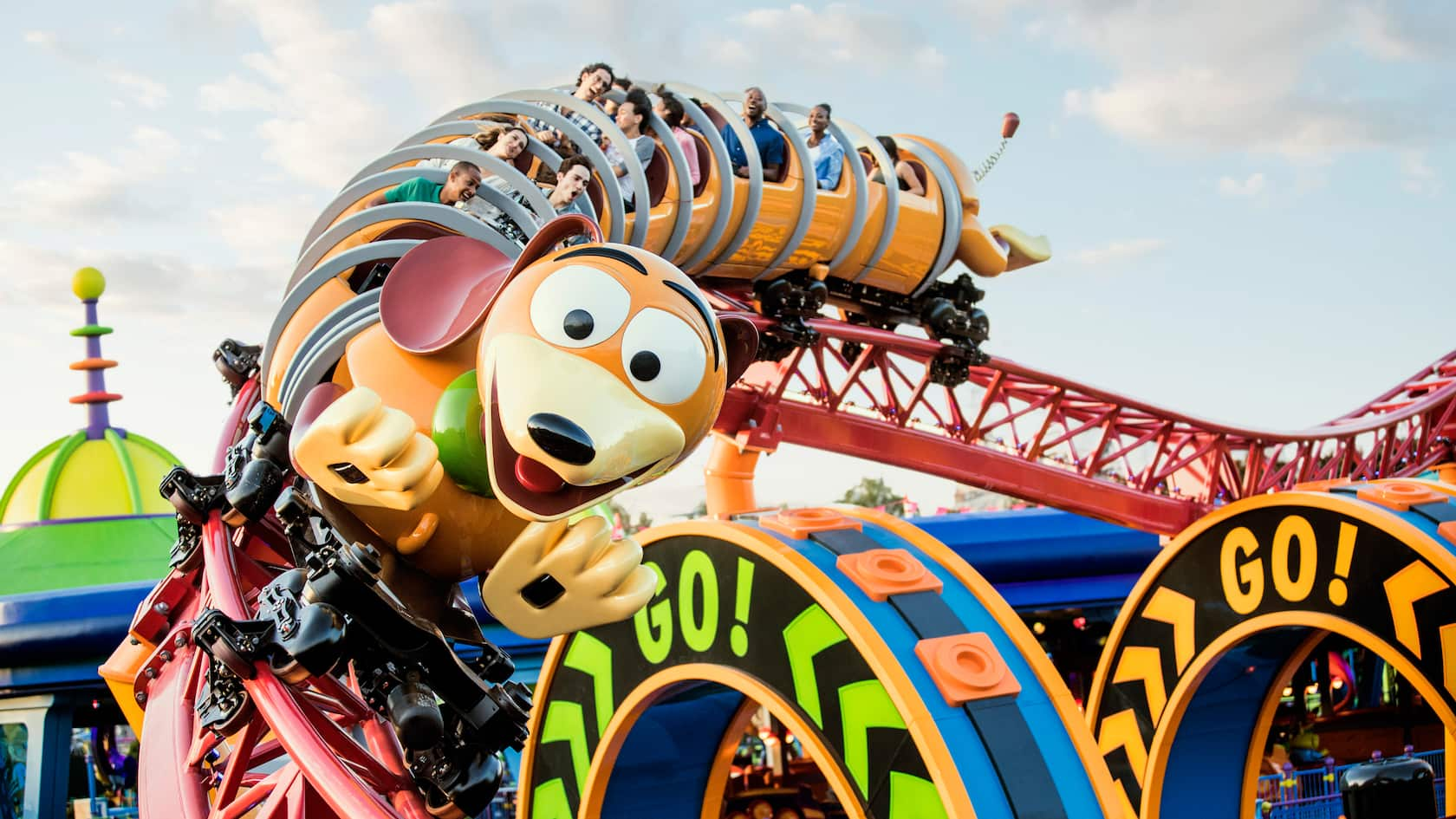 Have you ever wondered what it's like to live the secret lives of Andy's toys? You'll get the chance to experience that when you go for a ride on Slinky Dog Dash in Toy Story Land. Slinky Dog Dash features perhaps one of the most beloved characters in the Toy Story movie franchise. The attraction will run on a track built all over Andy's backyard.
There are plenty of things to love about Slinky Dog Dash. First, guests will see Andy's blueprint sketched out in Crayola crayon on notebook paper stuck near the ride's entrance. Glue bottles, empty toy boxes, and stray coaster parts are strewn near the attraction.
Slinky is not the only character to appear at this attraction. Wheezy, the squeaky penguin toy on the bookshelf from the Toy Story films, also makes an appearance at the end of the ride and treats guests to his rendition of "You've Got A Friend In Me."
Millennium Falcon: Smugglers Run
Type: Thrill Ride, Motion Simulation
Height: 38 in (97 cm)
If you've ever dreamt of being the captain of your own ship, then Millenium Falcon: Smugglers Run is an attraction you should visit. In this ride, you get to experience leading the ship on a daring flight as its pilot, fixing the hull to ensure the mission's success as the engineer, or defeating intergalactic warriors as the gunner.
Everything about the ride is made to be as realistic as possible. In fact, Disney's Hollywood Studios features a full-sized, 100-foot replica of the Millenium Falcon to give guests the full experience.
The Millenium Falcon is located in Star Wars: Galaxy's Edge and is one of the only two attractions in the area.
---
Other Notable Attractions
There are other attractions to try out at Hollywood Studios. While they aren't the most popular choices, you should still expect to see a queue, especially during the holidays and weekends.
Muppet*Vision 3D
Type: Indoor 3D Show
Height: Any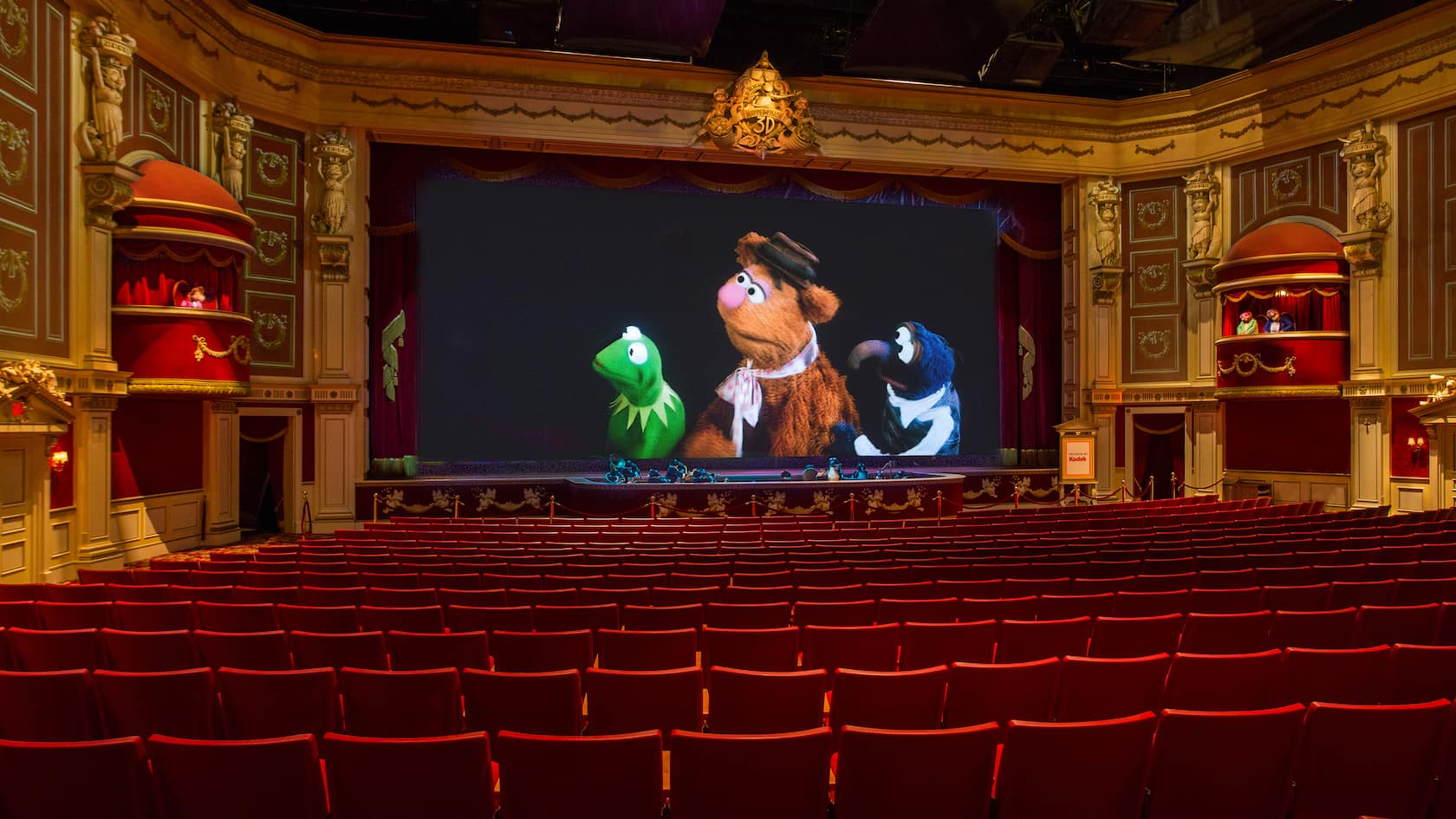 Adults and kids alike will enjoy this 3D Show by none other than the Muppets. The show features beloved characters such as Kermit, Miss Piggy, Dr. Bunsen Honeydew, and Beaker in an attempt to resolve a string of disastrous events.
The attraction takes place in a perfect replica of the Muppet Theater from the classic television series The Muppet Show that aired from 1976 to 1981.
Walt Disney Presents
Type: Walkthrough Museum
Height: Any
Walt Disney Museum is a small walkthrough museum full of exhibits that span 100 years, including sketches, photos, and artwork that show how Mickey Mouse was conceptualized and beyond.
Guests who enter the museum will also be treated to a screening of Walt Disney: One Man's Dream, a 15-minute documentary showing the incredible life and times of the visionary creator. At times, the museum also shows sneak peeks of upcoming Disney and Pixar films.
Toy Story Mania!
Type: 3D Game, Dark, Indoor
Height: Any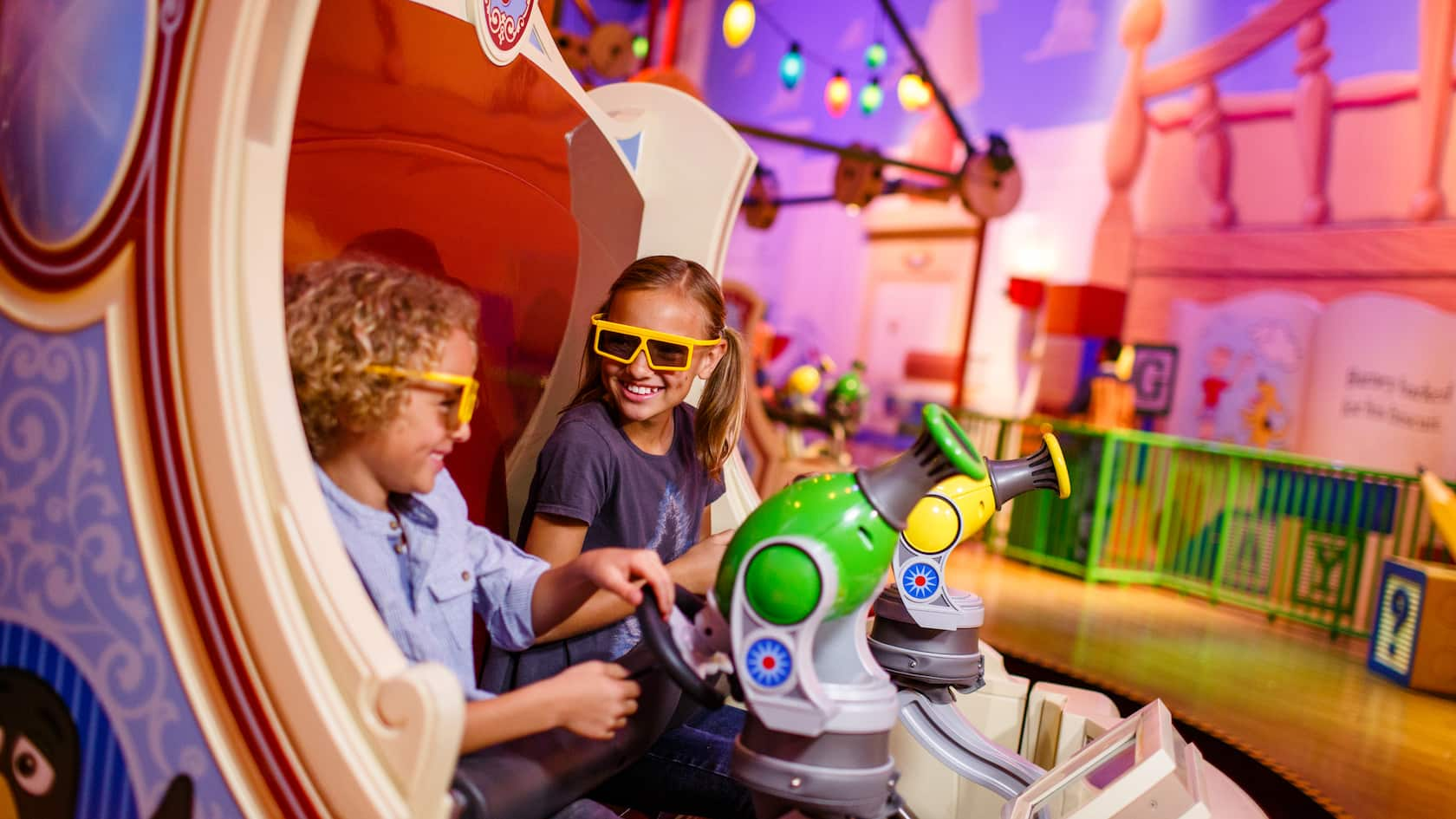 Toy Story Mania! is a fun attraction offering 3D carnival-style games for guests of all ages. People who line up for the attraction can participate in several carnival games where they need to use the cannon on their vehicle to throw or shoot at targets and score points.
The games at Toy Story Mania! include:
Hamm & Eggs – Guests fire hardboiled eggs at targets in the barnyard
Rex & Trixie's Dino Darts – Fire darts at balloons floating in front of a prehistoric volcano
Green Army Men Shoot Camp – Fire baseballs at dinner plates at the firing range
Buzz Lightyear's Flying Tossers – Toss rings to catch floating aliens
Woody's Rootin' Tootin' Shootin' Gallery – Shoot darts at targets based on "Woody's Roundup" TV Show
Star Tours – The Adventures Continue
Type: Small Drops
Height: 40 in (102 cm)
Star Tours – The Adventures Continue is a flight simulator featuring a digital 3D video that allows guests to board Starspeeder 1000 and play a role in resolving a series of mishaps that resulted from your starship launching too soon.
This thrilling ride immerses you in the world of the Star Wars mythology and sees you battling and escaping members of the First Order that intercepted your ship in search of a Rebel spy. You'll come face-to-face with Kylo Ren, Boba Fett, Poe Dameron, Princess Leia and Jedi Master Yoda.