In Michigan's Upper Peninsula you will find the breathtaking picturesque Pictured Rocks National Lakeshore. It comprises a 42-mile-long geological masterpiece down the Southern Coast of Lake Superior. You will find no end to the activities to enjoy and sights to see here, so be ready to spend a few hours, if not multiple days basking in the beauty of the lakeshore.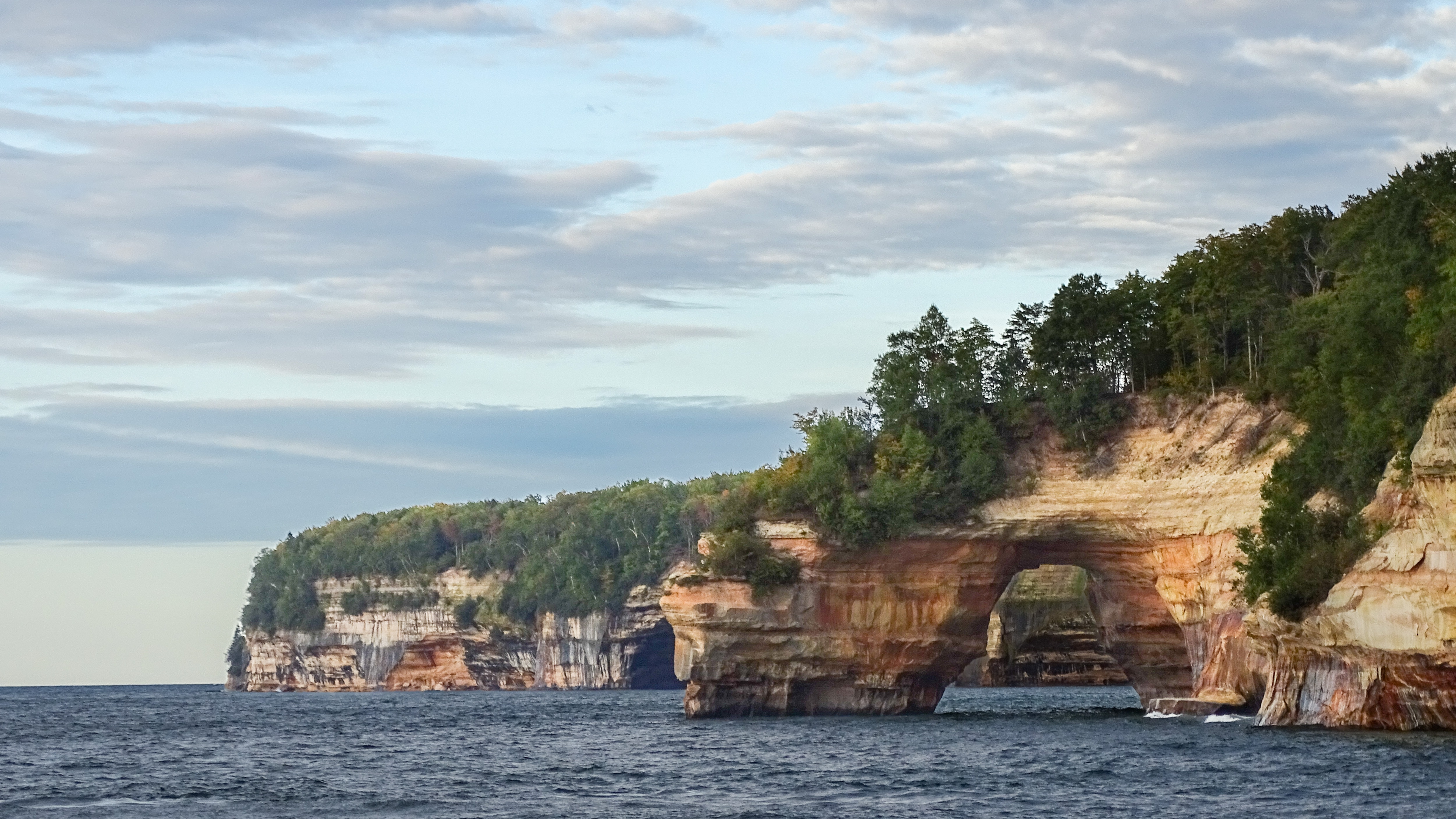 Quick Facts about Pictured Rocks National Lakeshore
There is more to Pictured Rocks than scenic overlooks and rock formations.
There are a number of historically significant sights around the Pictured Rocks area, including the Civil War-era Schoolcraft iron blast furnace site, Grand Marais U.S. Coast Guard, the town of Munising, and the 1874 Au Sable Lighthouse.
The park itself is peppered with hiking and biking trails (about 100 miles total), woodlands, beaches, and rocky cliffs. In the winter, snowshoeing and cross-country skiing are common.
Towards the end of the 1800s, sandstone cliffs from Grand Island were quarried for use in buildings because people found the cliffs at Pictured Rocks Lakeshore so beautiful.
At times groundwater trickles down through the cracks which paints stunning colors all over the sandstone cliffs that frame about 15 miles of the Lake Superior shoreline.
The colorful sandstone cliffs of Pictured Rocks have the honor of being the very first National Lakeshore in the United States in 1966. Today it is one of four.
Park entrance passes for Pictured Rocks
The requirement for an entrance pass is relatively new, but anyone over the age of 16 who visits the park will require a Park Entrance Pass. This is regardless of whether they want to enter with any kind of private vehicle, including a bicycle, or whether they want to enter on foot.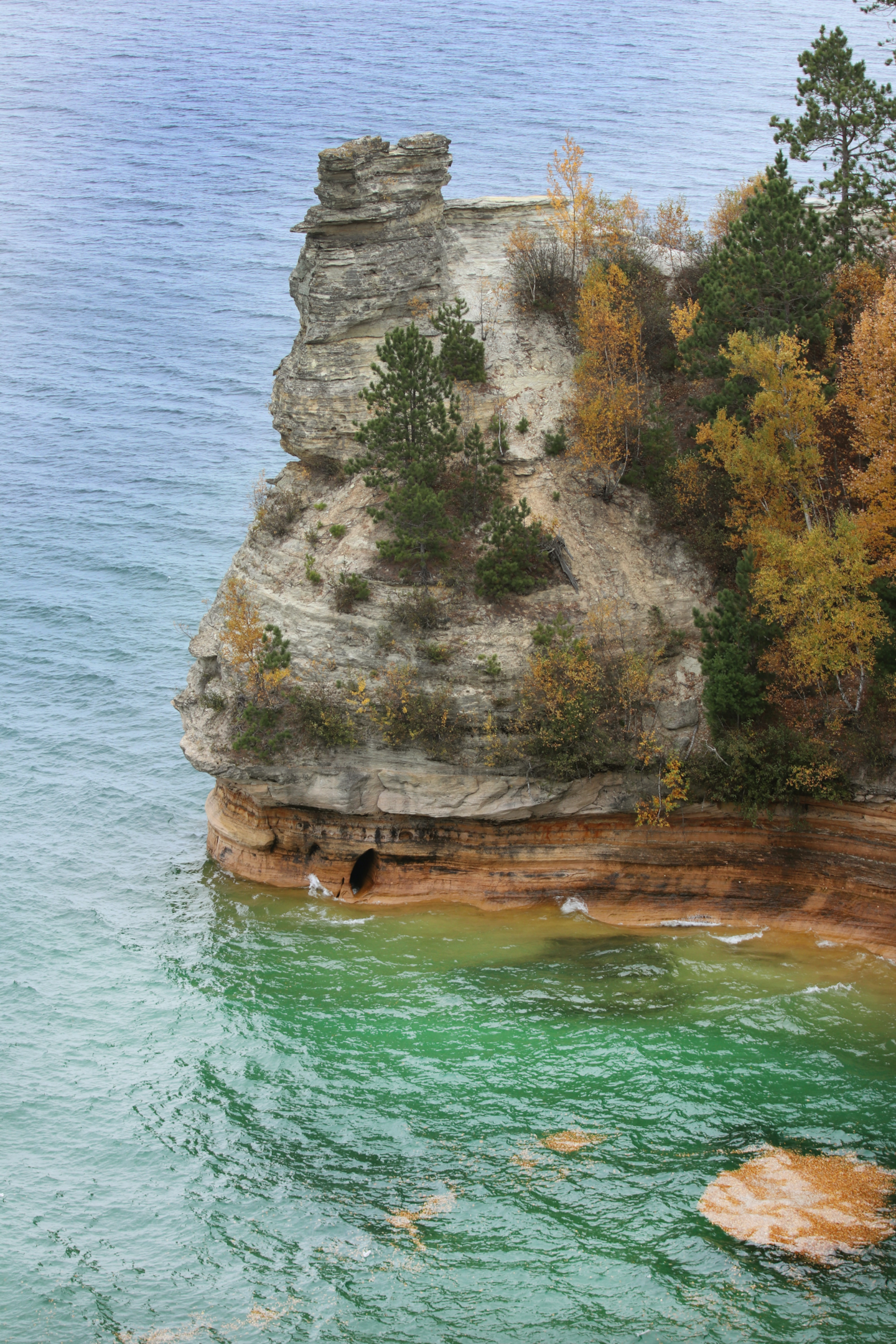 The best time to visit Pictured Rocks National Lakeshore
The park is busiest in fall and spring, but it is open all year round. Winter brings breathtaking ice formations and glittering blankets of snow. In fall, there is a burst of brilliant colors, and spring peppers the landscape in wildflowers. While summer brings long days of sunshine and water sports. Although the park will remain open throughout the year you should be prepared for some road closures in the Lake Superior area during winter months.
You can get Wi-Fi service at Pictured Rocks National Lakeshore
While unwinding and unplugging are part of the reason why you visit such a park in the first place, there is some tower access in the surrounding areas for emergencies or business retreats. From Munishing to Sand Point you can find a pretty good signal. The Grand Marais, Grand Sable Dunes, and Munising Falls areas all have service.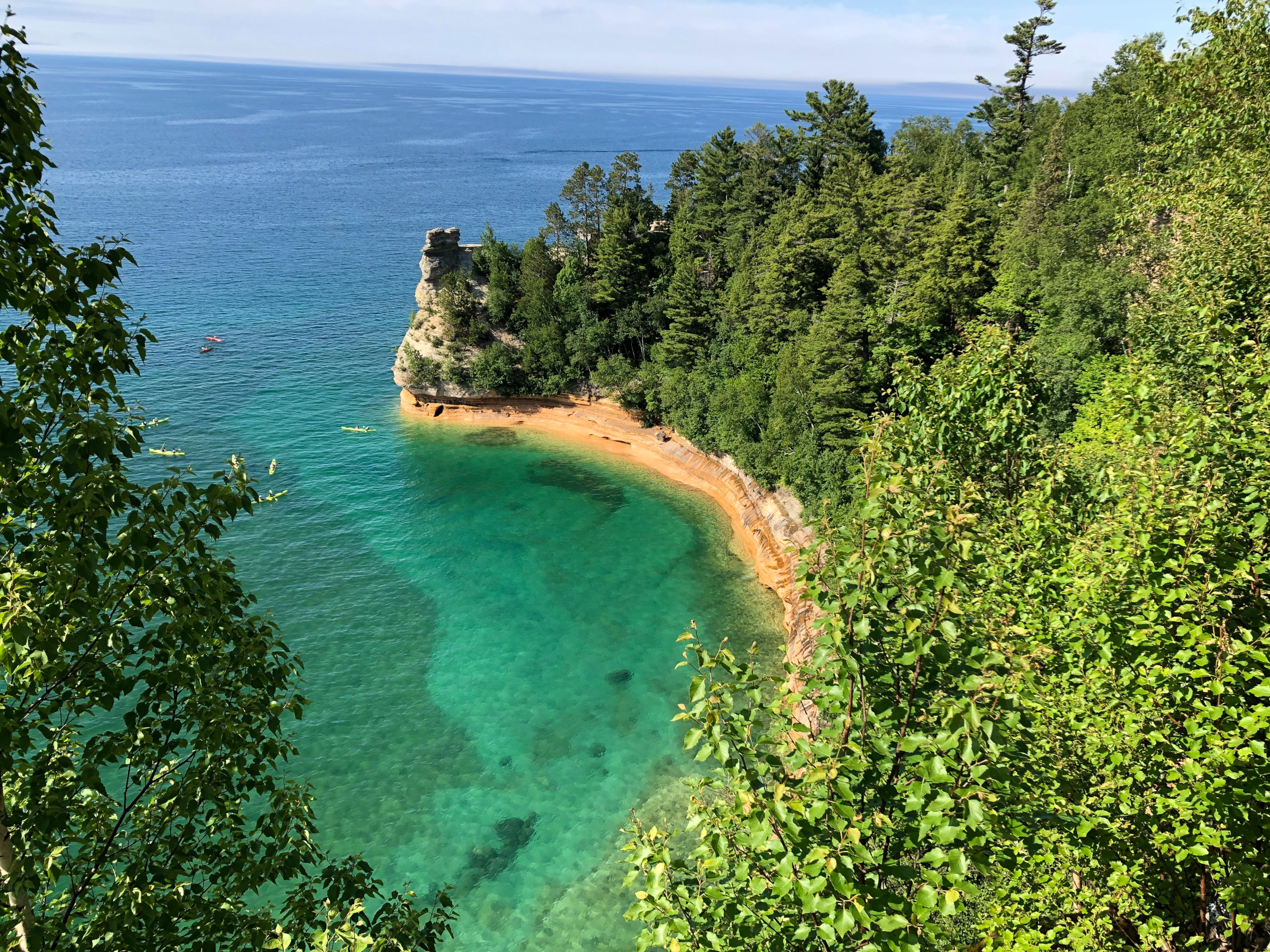 Things to do at Pictured Rocks National Lakeshore
Indulge your outdoor enthusiasm at Pictured Rocks
Lake Superior and its surroundings are a veritable winter wonderland where visitors can even go ice fishing. There are also snowmobiles for hire, cross-country skiing, and snowshoeing in abundance. Between Sand Point and Munising Falls are 50-foot-high ice curtains that make for great winter viewing. You can also go ice climbing on these curtains.
Pictured Rocks National Lakeshore is full of cedar swamps and hardwood forests that are home to a variety of wild game species. Hunting is allowed here from Labor Day to 31 March. Common prizes are snowshoe hare, bear, woodcock, grouse, and white-tailed deer which are primarily hunted with muzzleloaders and bows.
Fishing is also a highly popular pastime here as there are several streams, inland lakes and Lake Superior itself. You can expect species like coho salmon, lake trout, rainbow trout, brook trout, smelt, whitefish, yellow perch, walleye, northern pike, and smallmouth bass. If you want to fish in the park, you will require a valid Michigan fishing license.
Although the waters in Pictured Rocks and the rest of Lake Superior are cold throughout the year, it remains an extremely popular destination for water sports. Pictured Rocks National Lakeshore also has snorkeling and scuba diving activities. You may do both of these in the park – provided you have a valid license to scuba dive. However, it is both dangerous and illegal to jump off the cliffs and rocks in the Pictured Rocks National Lakeshore. Lake Superior also has some rip currents.
Mountain biking is not allowed on the park trails, but E-bikes and bicycles are allowed on the visitor-use roads.
Lake Superior is an inland freshwater sea, so sea kayaking or boating is allowed along the Pictured Rocks, but you will need to check weather and water conditions ahead of time. These change very quickly. You also need to make sure that your equipment is up to standard and you have the required skills to make this a safe trip. If you are not that advanced there is a guided kayak tour and boat cruises that you can utilize instead.
There are also camping spots throughout the park along with 100 miles of hiking trails.
The North Country Scenic Trail spans 42 miles and comprises two separate sections: Log Slide to Au Sable Light Station or Miners Castle to Sand Point. There are no pets allowed on this trail.
The Munising Falls Trail is a short walk, about 800 feet, but it is completely accessible. The trail goes to an observation deck from which the waterfalls can be seen. This trail also does not allow any pets.
The Miners Castle area is extremely popular in the park. Just a short walk from the parking lot leads visitors to three separate viewing platforms. Two of these three platforms are accessible and allow leashed pets. There is an extension of this hike going downhill from Miners Castle to Miners Beach. The round-trip is about 2 miles, but this portion of the hike does not allow pets.
The Chapel Falls Trail is the ideal hike for the fall months. It is a round-trip of about 2.5 miles and goes along an old roadbed and through a maple forest. It also leads to a 60-foot waterfall. No pets are allowed on this trail.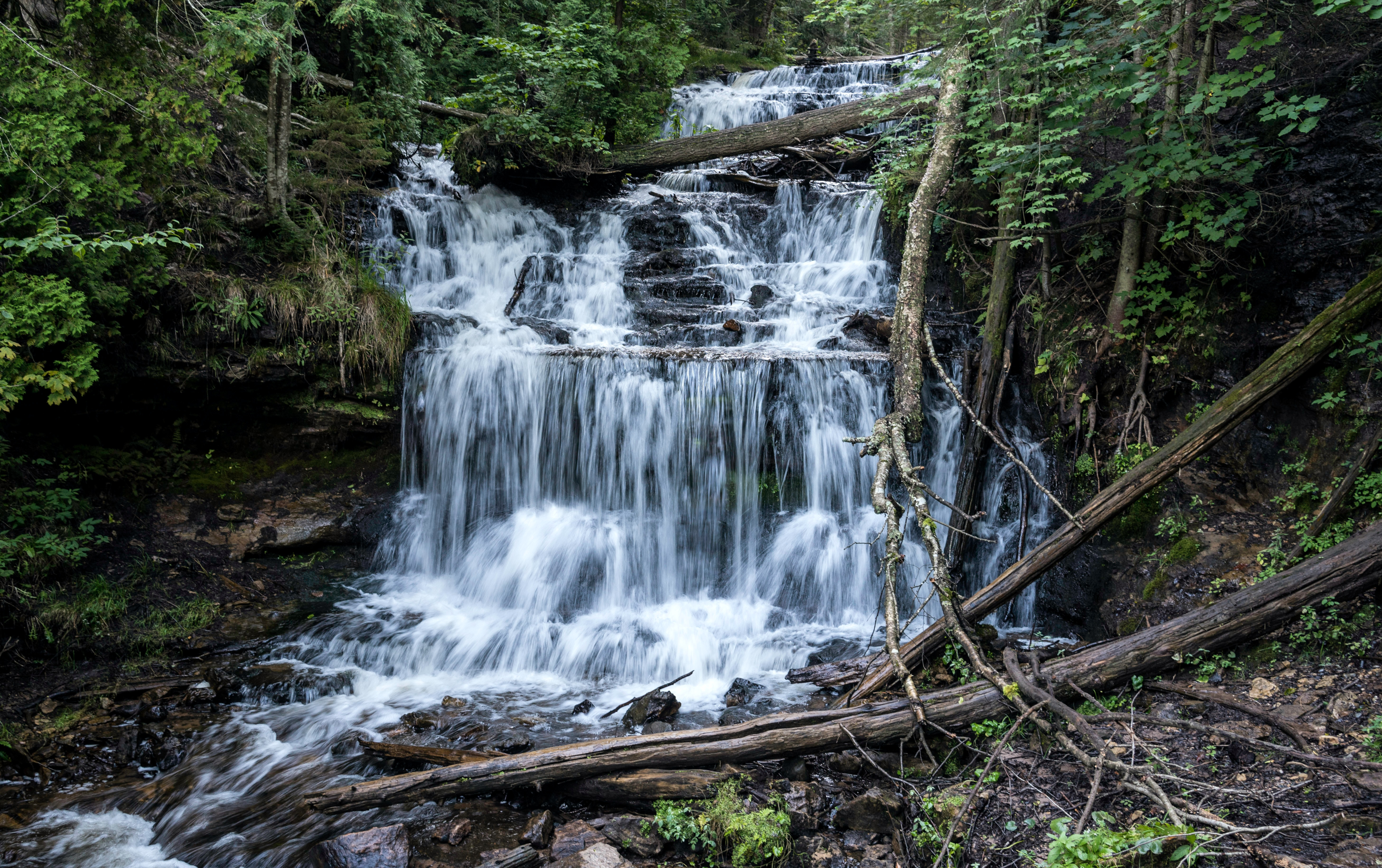 Make memories with your children and teens at Pictured Rocks National Lakeshore
Teens like challenging outdoor adventures
Teenagers are unlikely to be drawn to the historical or conservation appeal of the area, but there is much to do at Pictured Rocks National Lakeshore which they will love. They can share dreams and laughs with their family or friends and make memories here. There are ice columns to scale, along with scuba diving, glass bottom boat shipwreck tours, and kayaking along the Pictured Rocks shoreline. There is also backcountry hiking and camping.
Children enjoy playing on beaches, seeing waterfalls and hiking
Kids love the beach, and this area has some really beautiful beaches for the whole family to enjoy. We recommend Twelve Mile Beach, Miners Beach, and Sand Point Beach. Munising Falls is great for kids to visit as the walk is quite short and allows them to feel the spray along the way. The Sand Point Marsh Trail is quite short and kid-friendly and if you go late afternoon or early morning you stand a good chance of seeing some wildlife. There are small ponds, a black spruce and cedar swamp, and a cattail marsh along the way.
Enrich your Pictured Rocks visit with these guided boat and paddle tours
From Memorial Day Weekend until the second week of October, there are Glass Bottom Shipwreck Tours. You will probably need to make a reservation to ensure a tour boat is available for you. This trip is around two hours and you visit two separate shipwrecks. The tour takes you through caves and near rock cliffs on the way, so you also get quite a good look at the natural beauty of the lakeshore. Along the way you also see Munising Bay, Grand Island, and a historic lighthouse. The most impressive of the two shipwrecks you will see is a wooden sailing ship from before the Civil War. It is not very deep and fully intact.
If you want to see the sandstone cliffs of Pictured Rocks up close you will need to do so in a kayak. Lake Superior is not the easiest kayak track, so it is essential that you only attempt kayaking here if you have enough experience. You can get close enough to the cliffs to touch them, and will need to navigate through some of the sandstone caves. There is a short boat ride to get to the launch point.
Pictured Rocks Cruises traverse several historic sites including the Spray Falls, Chapel Rock, Chapel Cove, Indian Drum, Flower Vase, Battleship Rocks, Gull Rookery, Indian Head, Rainbow Cave, Lovers Leap Arch, Caves of All Colors, Miners Castle, Grand Island, and East Channel Lighthouse. Pictured Rock cruises include a sunset cruise option.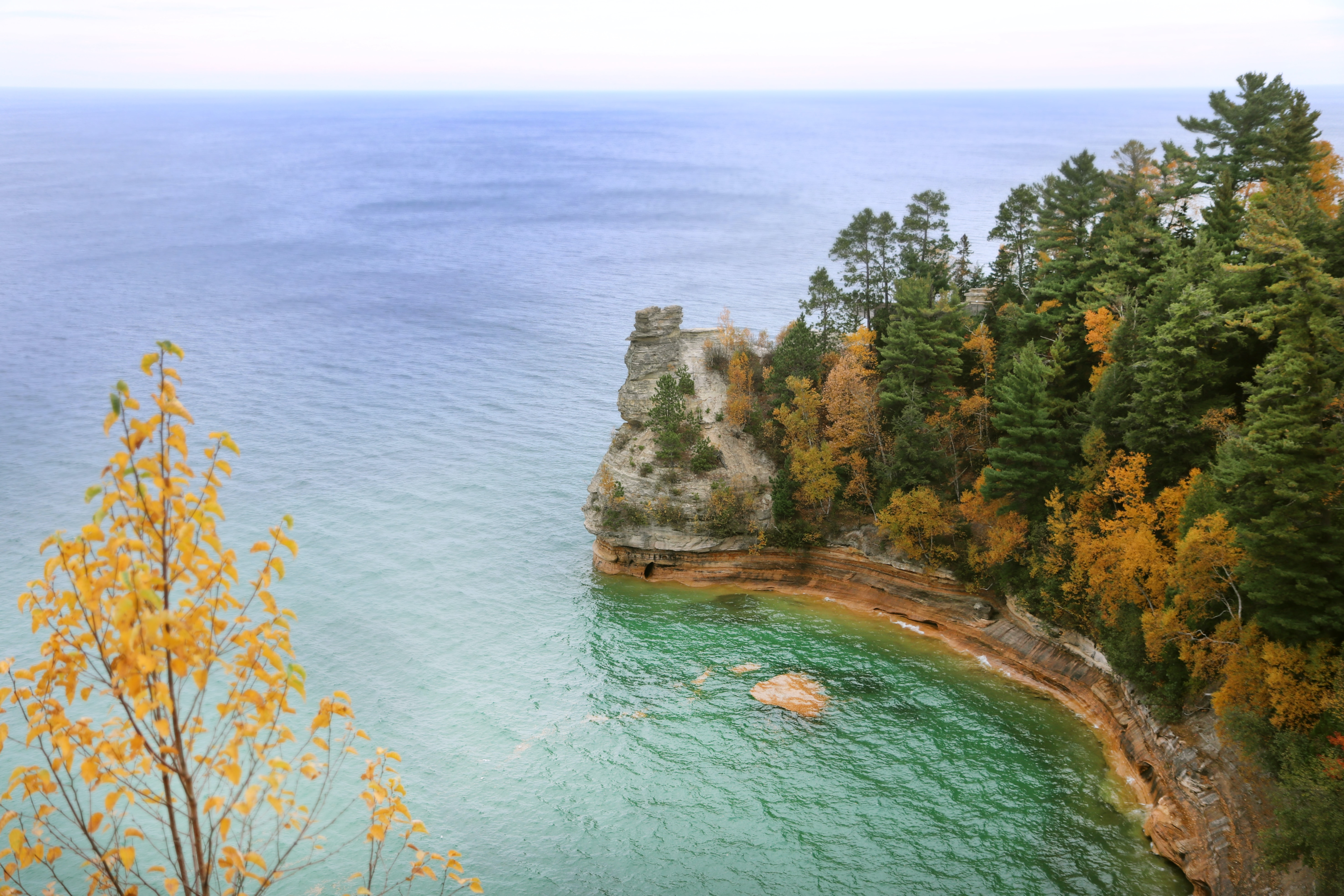 Pictured Rocks National Lakeshore is service animal and pet-friendly
Service animals are always welcome at Pictured Rocks National Lakeshore, presuming they are fully trained as service animals. Emotional support animals or pets are only allowed in designated areas within the park. They must be kept on a leash at all times, even when swimming.
Locations where the National Park Service allows pets:
Lake Superior beaches by the campground and day areas.
All drive-in campgrounds; Hurricane River, Twelve Mile Beach, and Little Beaver Lake.
Sable Falls Trail and Sable Falls Beach
Lake Superior Beach and Overlook
Au Sable Access Road
Miners Beach
Miners Castle
Miners Falls Trail
Munising Falls Trail
Sand Point Beach
All Picnic Areas, Parking Lots, and Roads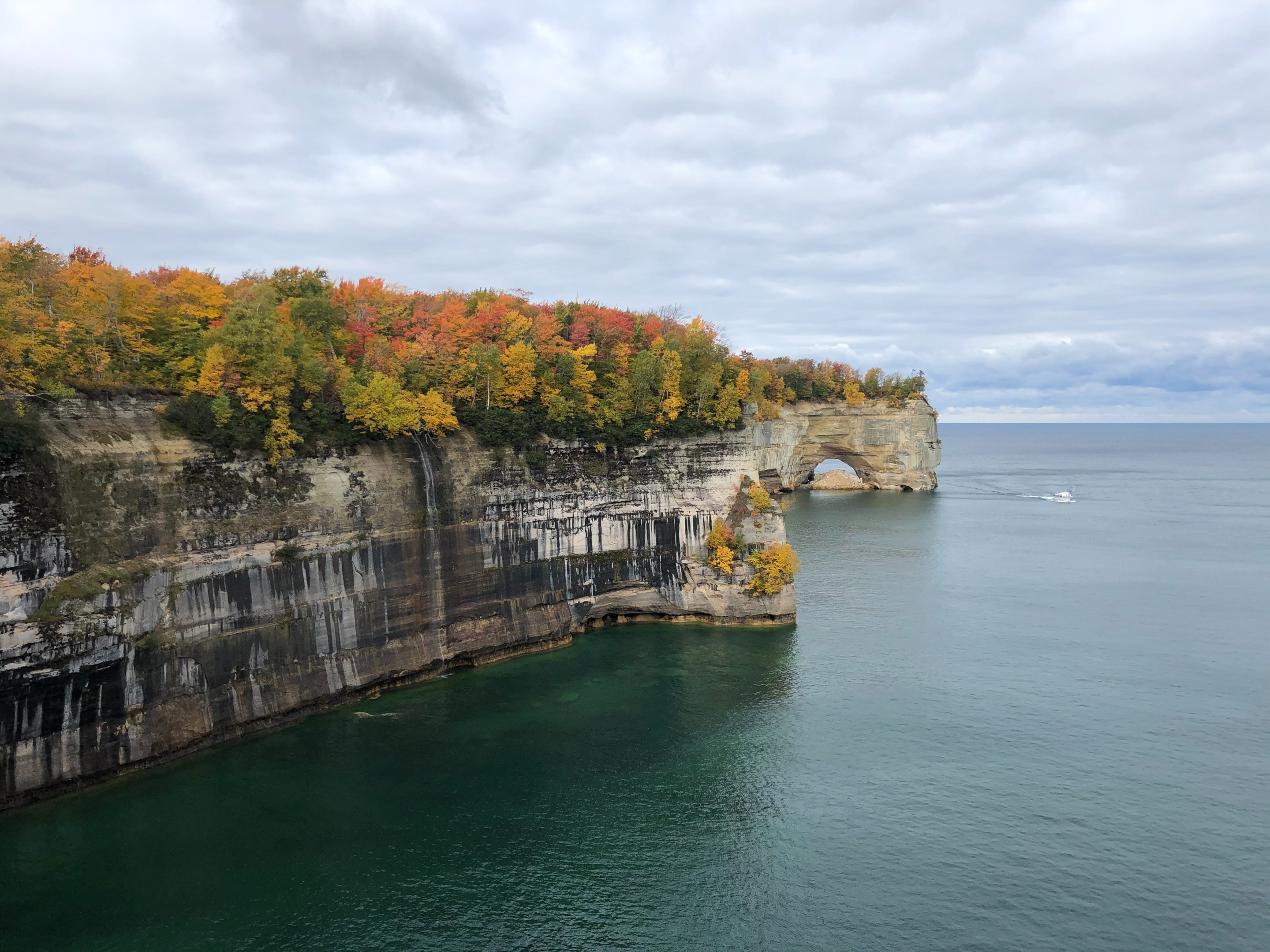 Where to stay near Pictured Rocks National Lakeshore
Hotels near Pictured Rocks National Lakeshore
Fall and summer are tourist seasons in this area, so reservations need to be made anything from two to six months in advance. Grand Marais and Munising have a number of lodgings to choose from, including rental cabins and motels.
Campgrounds near Pictured Rocks National Lakeshore
Drive-in campgrounds in the area include Twelve Mile Beach, Hurricane River, and Little Beaver Lake. There are also several campsites in Alger County which is close to Pictured Rocks National Lakeshore. To camp in the park, reservations are required, and campsites are only open from 15 May to 15 October.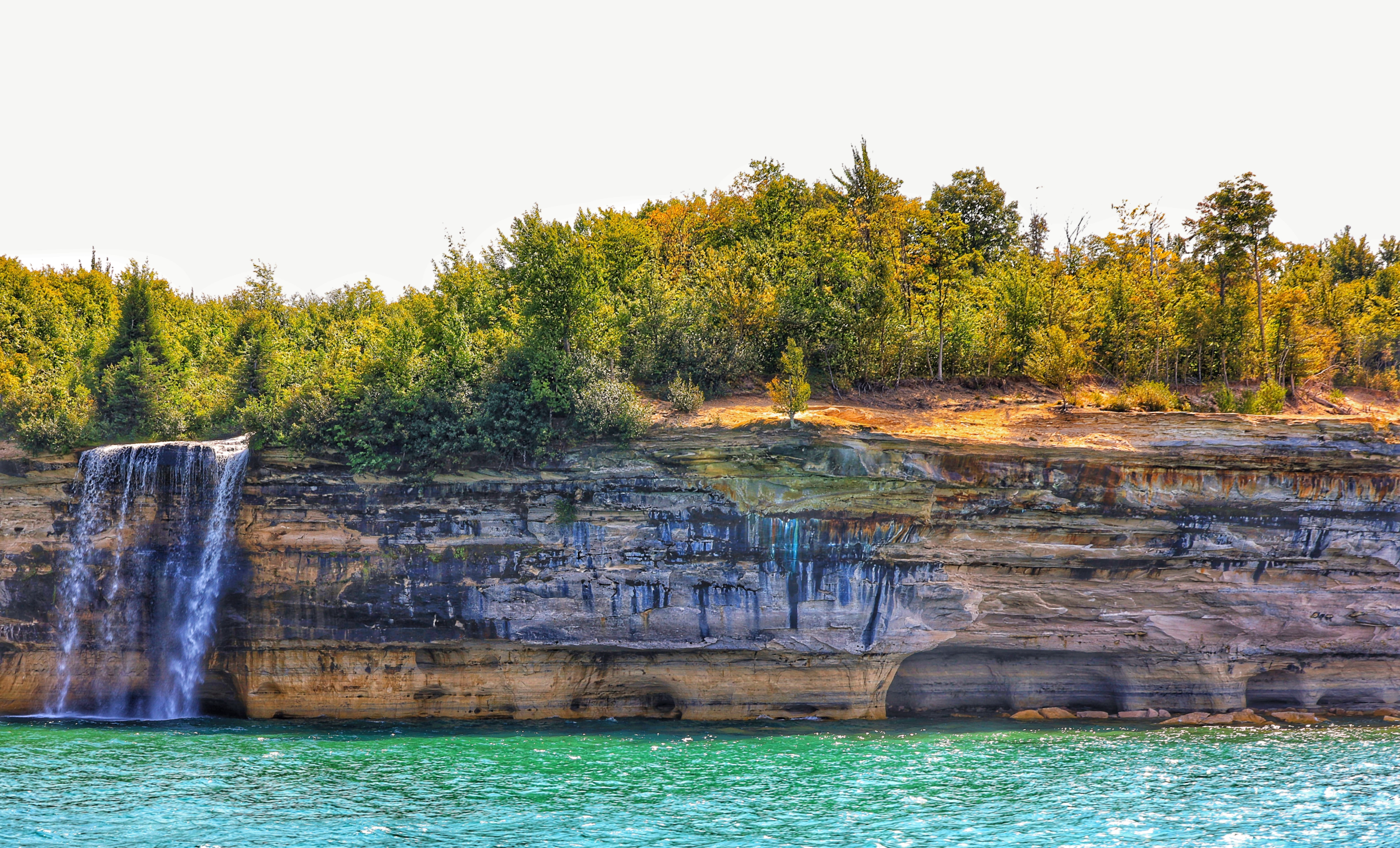 Additional Information on Pictured Rocks National Lakeshore
Pictured Rocks are between Grand Marais and Munising on the southern shore of Lake Superior. There are two visitor centers; the Grand Sable visitor center and the Munising Falls visitor center.
Pictured Rocks kayaking trails allow you, not only to see the rock formations and cliffs up close, but also the various sea caves along the lakeshore. If you are staying in one of the nearby towns in Michigan's Upper Peninsula there are a number of other attractions you can check out:
Pristine beaches along the Lake Superior shoreline
Grand Sable Dunes
Chapel Rock
Grand Sable Beach
Grand Island
Chapel Beach
Indian Head
Mosquito River/ Mosquito Beach
Grand Portal Point
Cascading waterfalls
If you are feeling extra adventurous, you could set out to explore the entire lakeshore area beyond Painted Rocks, but that will take a few days, so be prepared.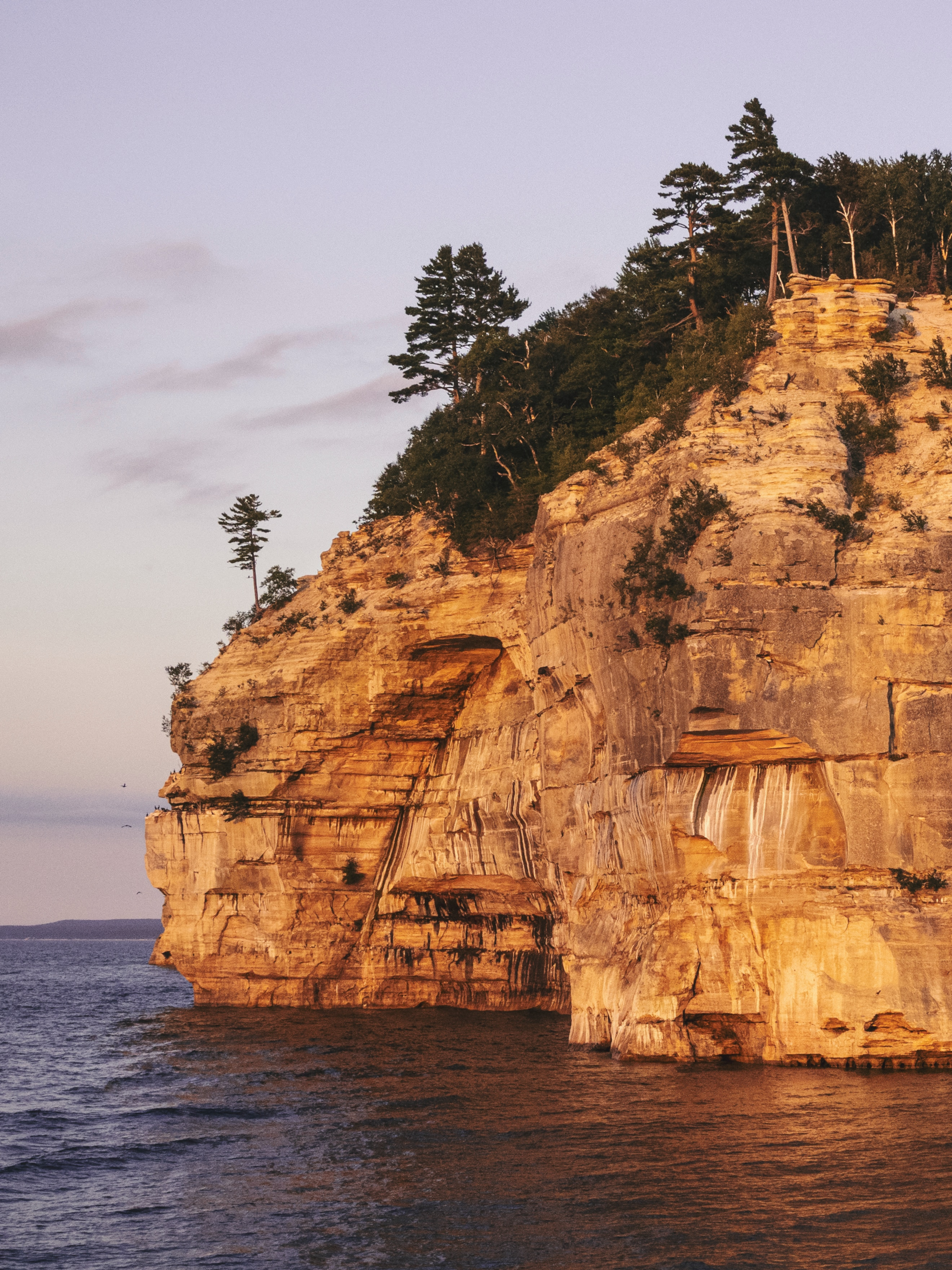 Closing Thoughts
The wild beauty of this Upper Peninsula shoreline is certainly a sight to see. With vast sand dunes nearby and magnificent sites like Indian Head and Chapel Rock you cannot go wrong with a trip to Pictured Rocks. Walk along the edge where the sea spray falls, take a kayaking trip to look into the shallow caves, or bask in the beauty of Chapel Falls. If you are born free and ready to feel the beauty of the wild outdoors then Pictured Rocks is exactly the place for you.