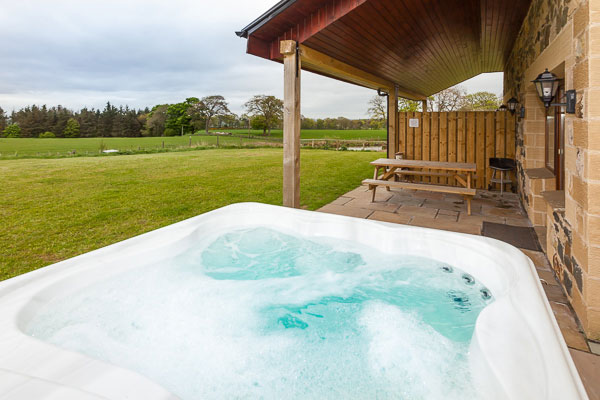 Scotland boasts some of the most breathtaking scenery in all of Britain thanks to its rugged mountains, fairy-tale glens, and abundance of medieval castles – and one of the best ways to enjoy all this natural beauty is from the comfort of your very own hot tub! If a hot tub holiday in this magical place sounds like something you'd like to do, check out our selection of lodges with hot tubs in Scotland below.
Whether you're looking for a luxury lodge that offers a range of other pampering treatments and add-ons like complimentary chocolates and wine or a cozy log cabin with a private hot tub for two, you have no shortage of options to choose from. There are even several pet-friendly accommodations on this list, as well as some that are ideal for a large group of friends.
Of course, the first step to planning your vacation in Scotland is creating a shortlist of the locations you'd like to visit – perhaps you'd like to explore the unspoiled beaches lining the coast or the remote wilderness of the Scottish Highlands. With so many beautiful locations to choose from, however, it can be challenging to pick just one. To help you narrow down your options, we've compiled a guide to some of the best locations for a hot tub holiday lodge in Scotland in addition to our list of accommodation recommendations.
Keep reading to find out more!
Best Locations for a Hot Tub Lodge in Scotland
Scotland is brimming with scenic locations just waiting to be explored. Here are five of our top picks for a hot tub holiday lodge in Scotland.
1. Edinburgh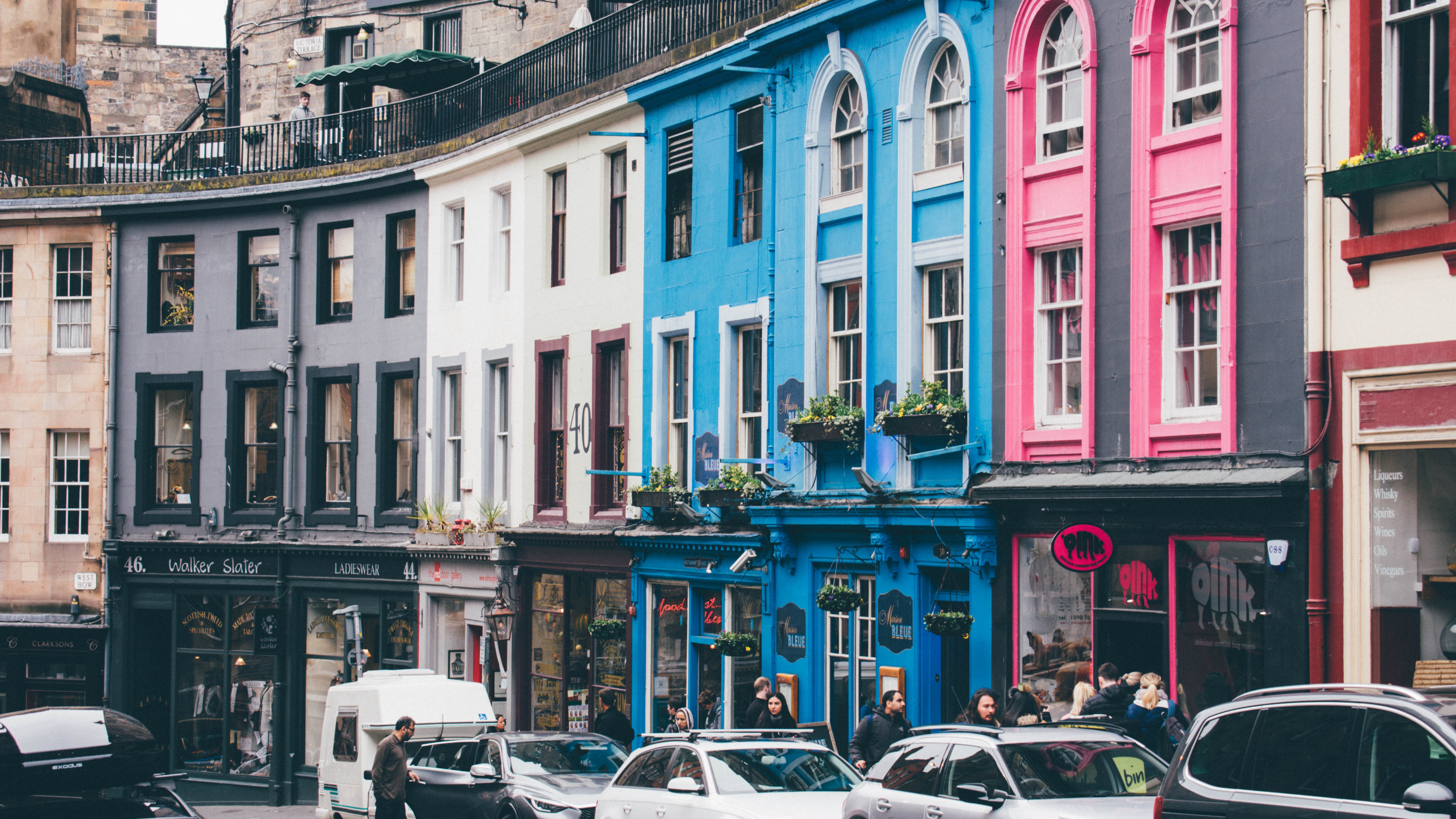 Good for: Visiting authentic Scottish pubs and bars
The Scottish capital is famous for its historic attractions, winding cobblestone streets, and lively nightlife. There are also plenty of accommodation options with hot tubs that are within easy reach of the city center, so you'll be able to take full advantage of all the pubs and bars.
2. Glencoe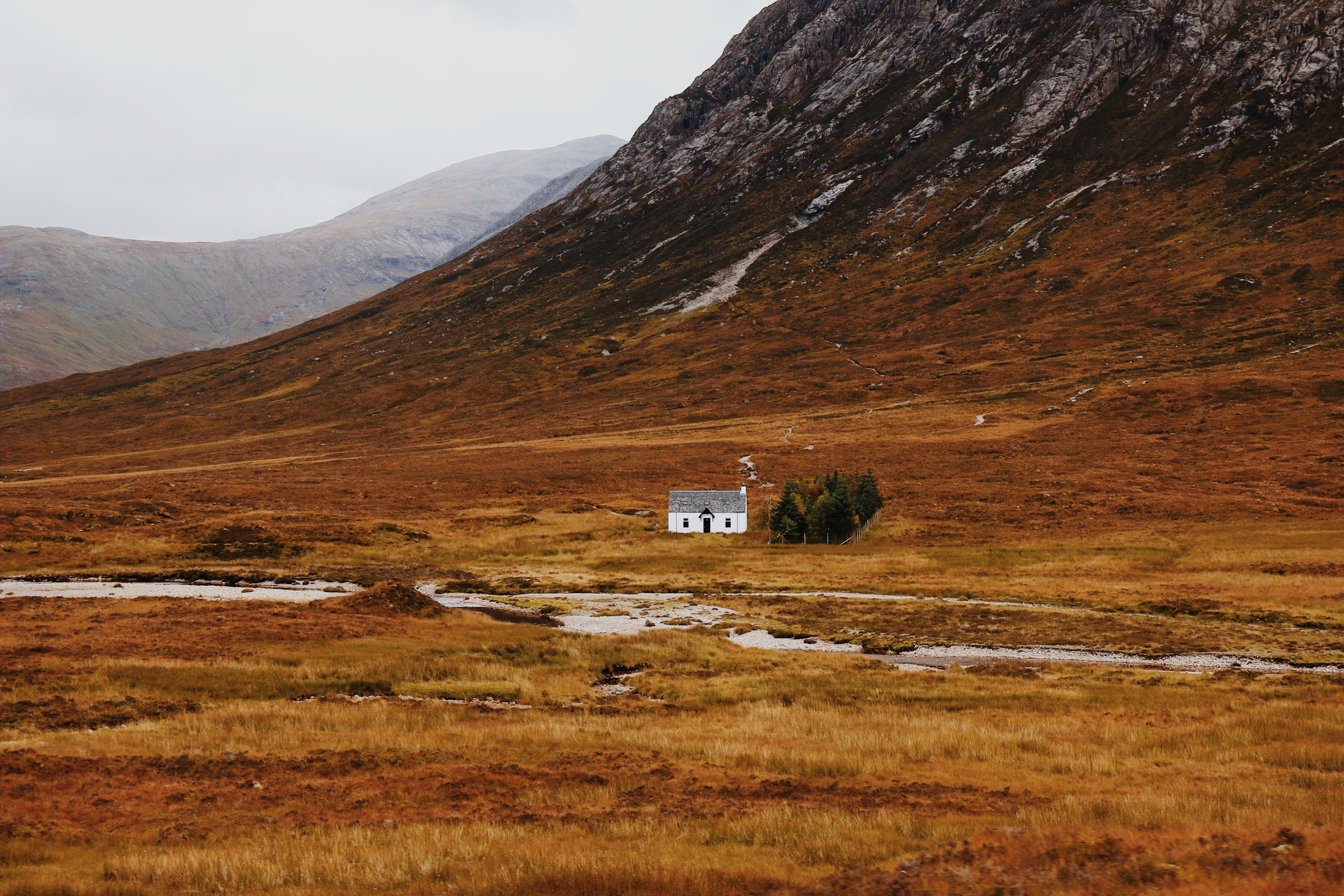 Good for: A relaxing retreat in the awe-inspiring Scottish countryside
Set amid verdant valleys and rugged mountain peaks in western Scotland, this picturesque village is the ideal location for weary travelers looking to relax and unwind. It offers visitors a slower pace of life, making it easy to unplug from the daily grind. It's also home to an abundance of wildlife, providing ample opportunities to see red deer and golden eagles, as well as other native animals and birds.
3. Isle of Skye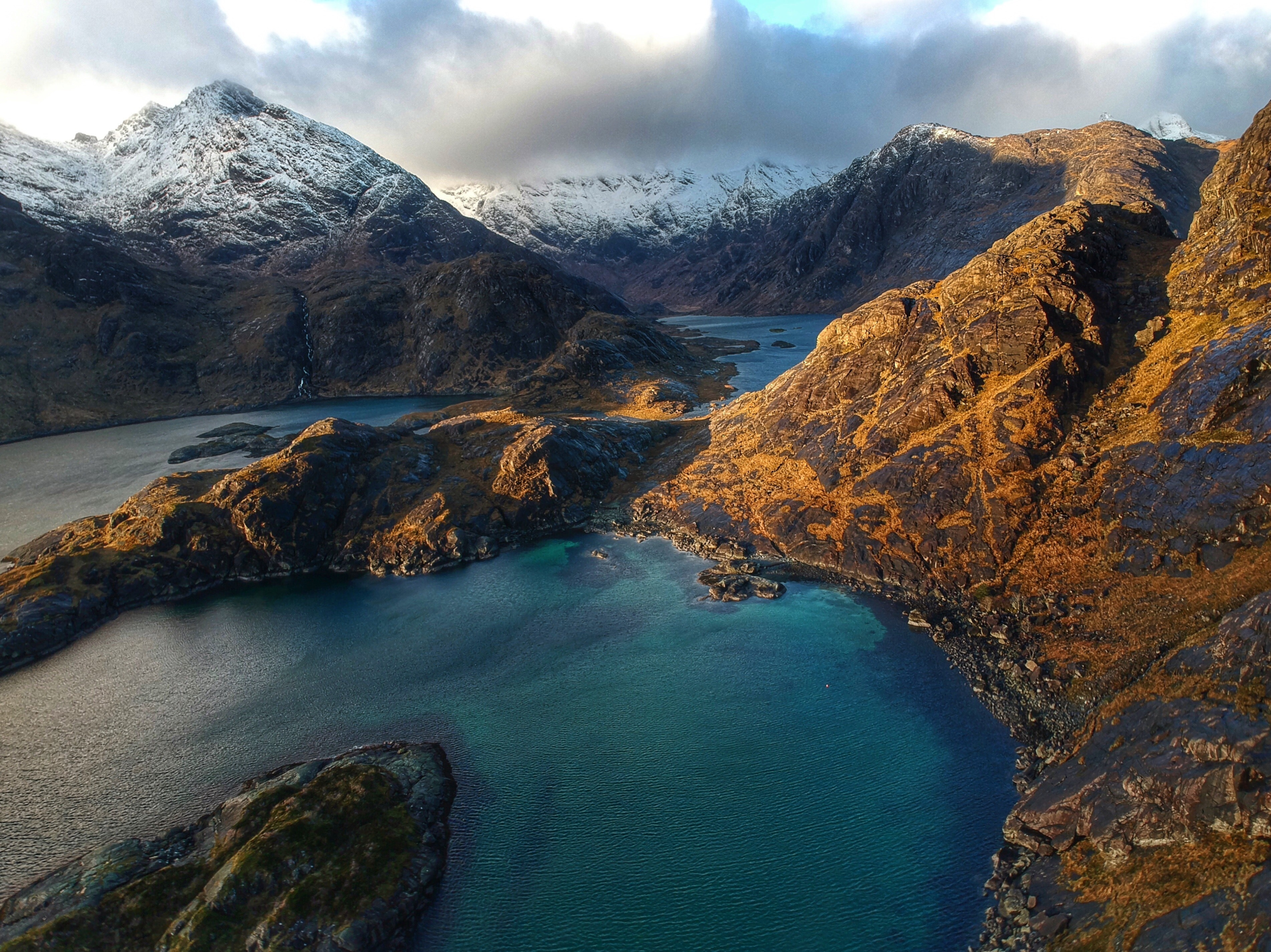 Good for: Romantic getaways
Located just off the west coast of mainland Scotland, the Isle of Skye is the biggest island in the Inner Hebrides. It's a magical location that's full of breathtaking waterfalls and charming villages, making it ideal for romantic breaks. There's also no shortage of cozy lodges with hot tubs here; perfect for spending some quality time together surrounded by the Scottish wilderness.
4. Loch Lomond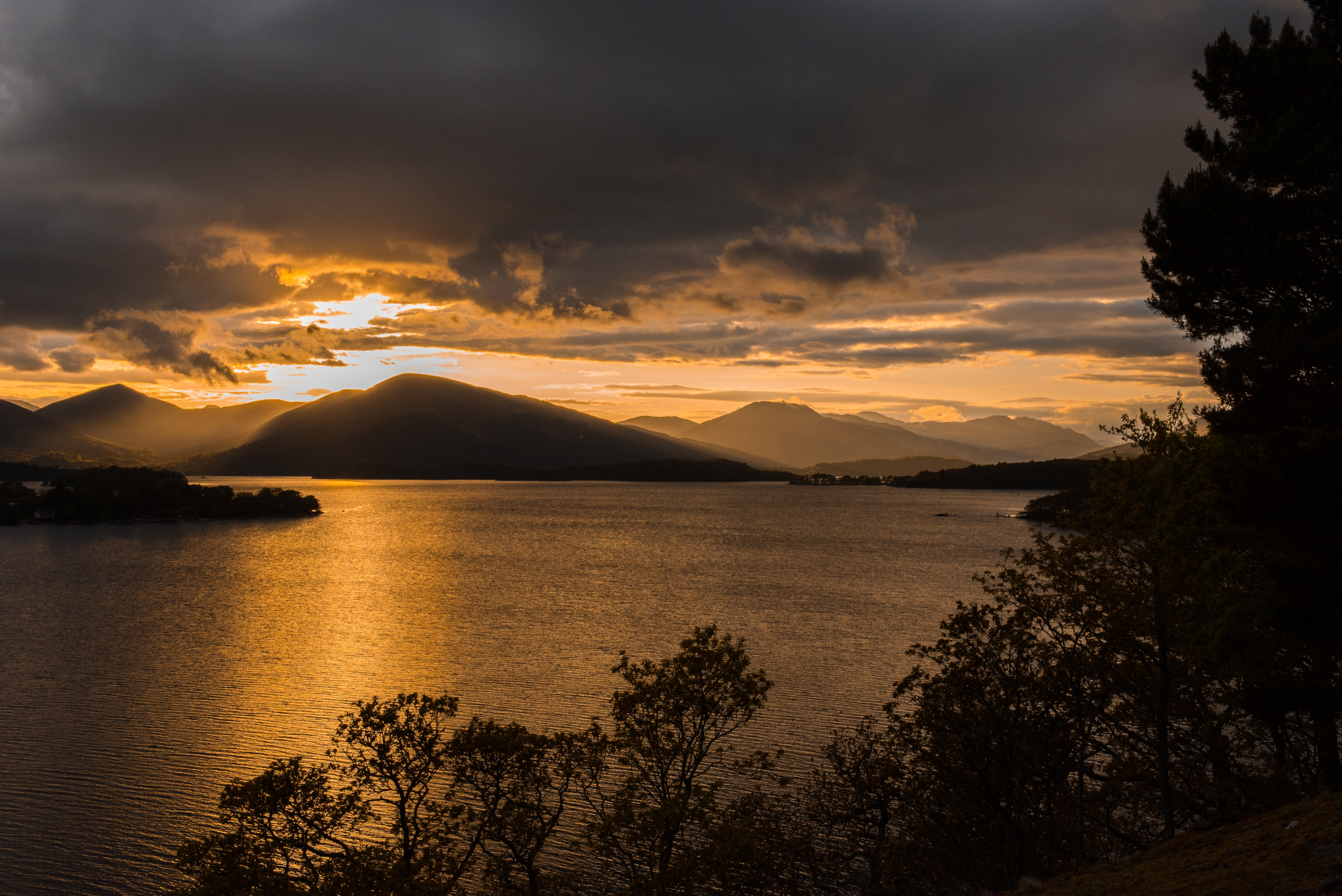 Good for: Scenic hikes with friends or family
Spanning over 20 miles, Loch Lomond is the largest lake in the United Kingdom. It's located in southern Scotland, which makes it an excellent choice for a walking holiday since there are countless opportunities for hiking in the wooded glens of the nearby Trossachs. You'll also find plenty of hot tub holiday cottages in the quaint towns and villages surrounding the loch.
5. Orkney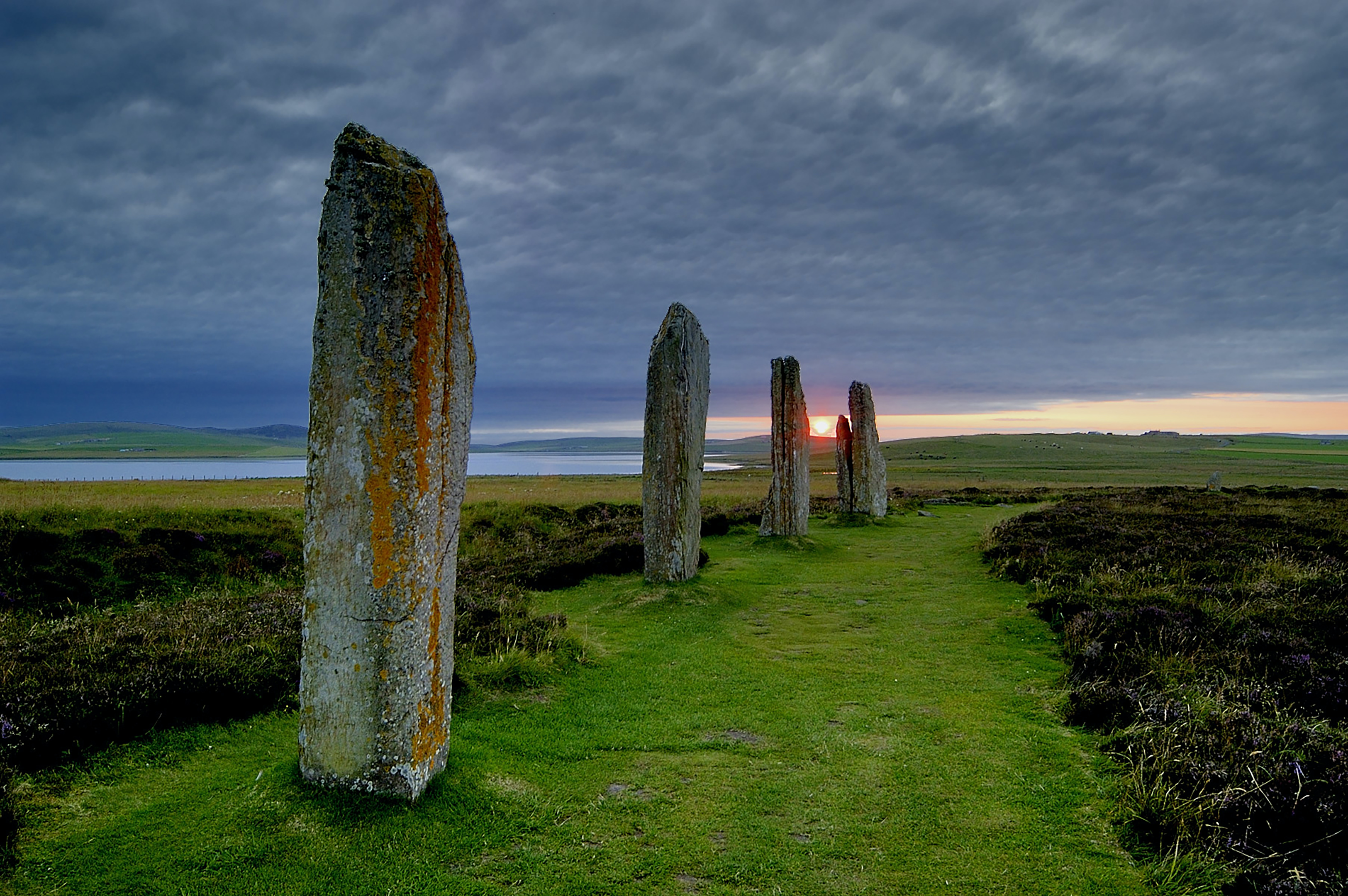 Good for: Gaining insight into the ancient history of these incredible isles
From archeological sites dating back thousands of years to ancient Viking carvings, this archipelago situated off Scotland's northeastern coast has a wealth of history to be discovered. Its name is even derived from the Old Norse word "Orkneyjar". Of the 70 islands in the archipelago, only around 16 are inhabited. Visitors can get to the islands via ferry and usually arrive in Mainland (also called Pomona), Orkney's largest island. From there, you can explore the popular towns of Kirkwall and Stromness.
Lodges with Hot Tubs in Scotland
1. Cameron Lodges
Offering upscale accommodation overlooking Cameron Bay, Cameron Lodges is an excellent choice for those looking for a Scottish hot tub break.
Each one of the lavish rooms and suites features contemporary decor with free Wi-Fi and a flat-screen TV. Suites add separate tubs or shower/tub combos with luxury toiletries. There are also high-end lodges that all come with a fully-equipped kitchenette.
On-site facilities and services include a sleek, lounge-style bar, a gourmet restaurant, and a modern grill with leather seating and wood-paneled walls. There's also an 18-hole golf course with a clubhouse eatery, a fitness center featuring an indoor swimming pool, and a hot tub. Guests can also get a free ride to a nearby spa.
In terms of nearby attractions, the hotel is within walking distance of the Carrick Golf Course and 2.4 miles from the Loch Lomond Aquarium.
2. Kinnaird Woodland Lodges Pitlochry
Tucked away at the base of Ben Vrackie Mountain in Highland Perthshire, these luxurious couples-only log cabins are ideal for a romantic break.
Boasting majestic views of the Scottish countryside, each cabin comes with its own private hot tub, a patio with BBQ facilities, a full kitchen featuring a wood-burning stove, free Wi-Fi, and a flat-screen TV. Upgraded units add a Nespresso machine, as well as complimentary Prosecco and chocolates.
Amenities include an on-site spa with a hot tub, sauna, and massage services.
If what you're after is a romantic escape with a private hot tub, Kinnaird Woodland Lodges could be just what you're looking for.
The lodge is also 1.5 miles from the Pitlochry Golf Course and 2.7 miles from the Pitlochry Festival Theatre.
3. Wildside Highland Lodges
Offering secluded cabins in a woodland setting on the banks of the River Fechlin, Wildside Highland is a hot tub lodge in Scotland that offers a tranquil escape from the stresses of daily life.
The cozy 1- to 3-bedroom cabins offer mountain or river views and come with hot tubs, wood-burning stoves, living rooms, and kitchens, as well as flat-screen TVs and iPod docks. Guests also have access to limited free Wi-Fi.
Amenities include a private beach on the riverbank with picnic areas and BBQ facilities and a playground.
The property is also just 10 miles from Loch Ness and a 9-minute drive from the stunning Falls of Foyers.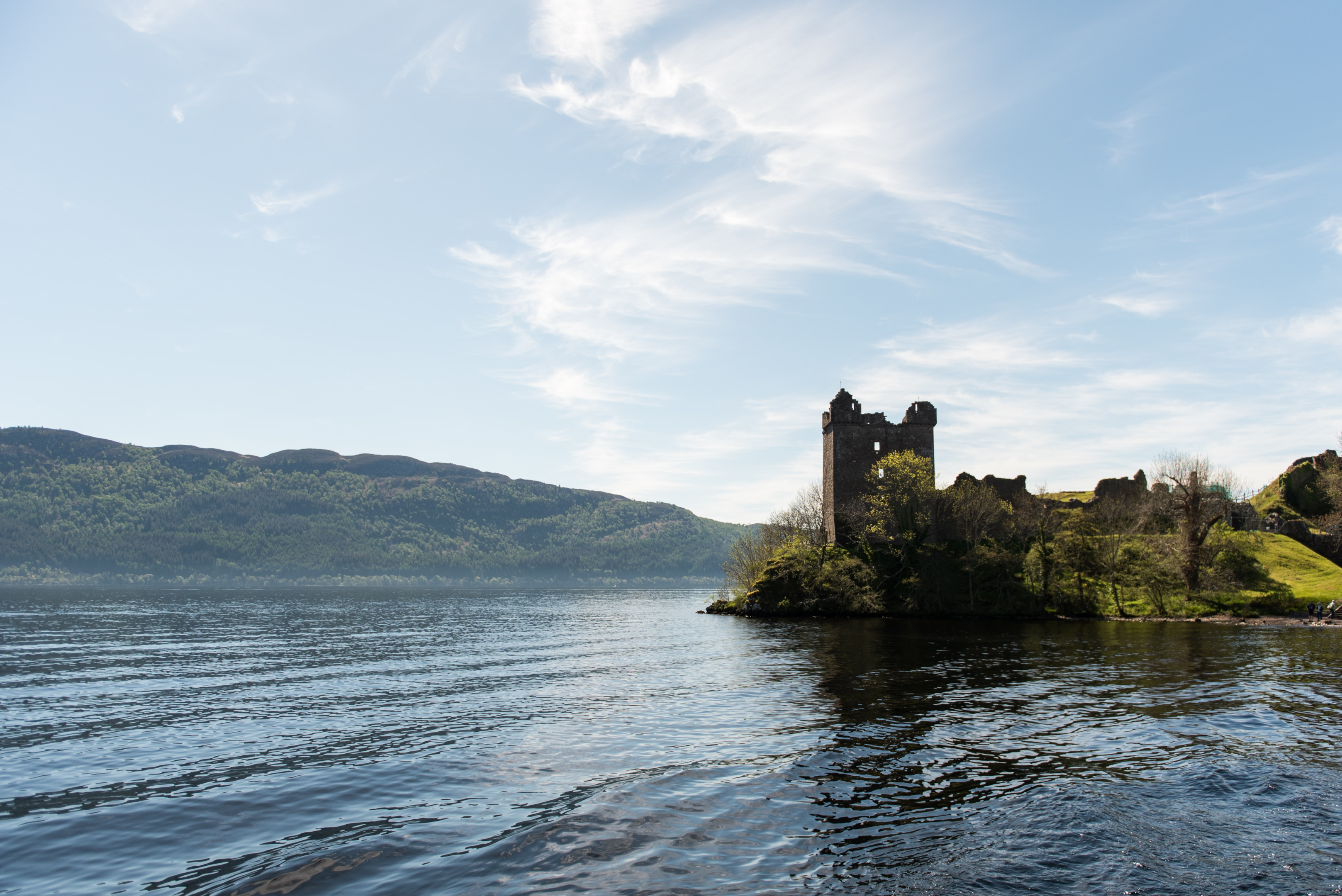 4. Macdonald Aviemore Woodland Lodges
Nestled among pine trees in the Cairngorms National Park, these upscale log cabins are perfect for anyone looking to relax and unwind.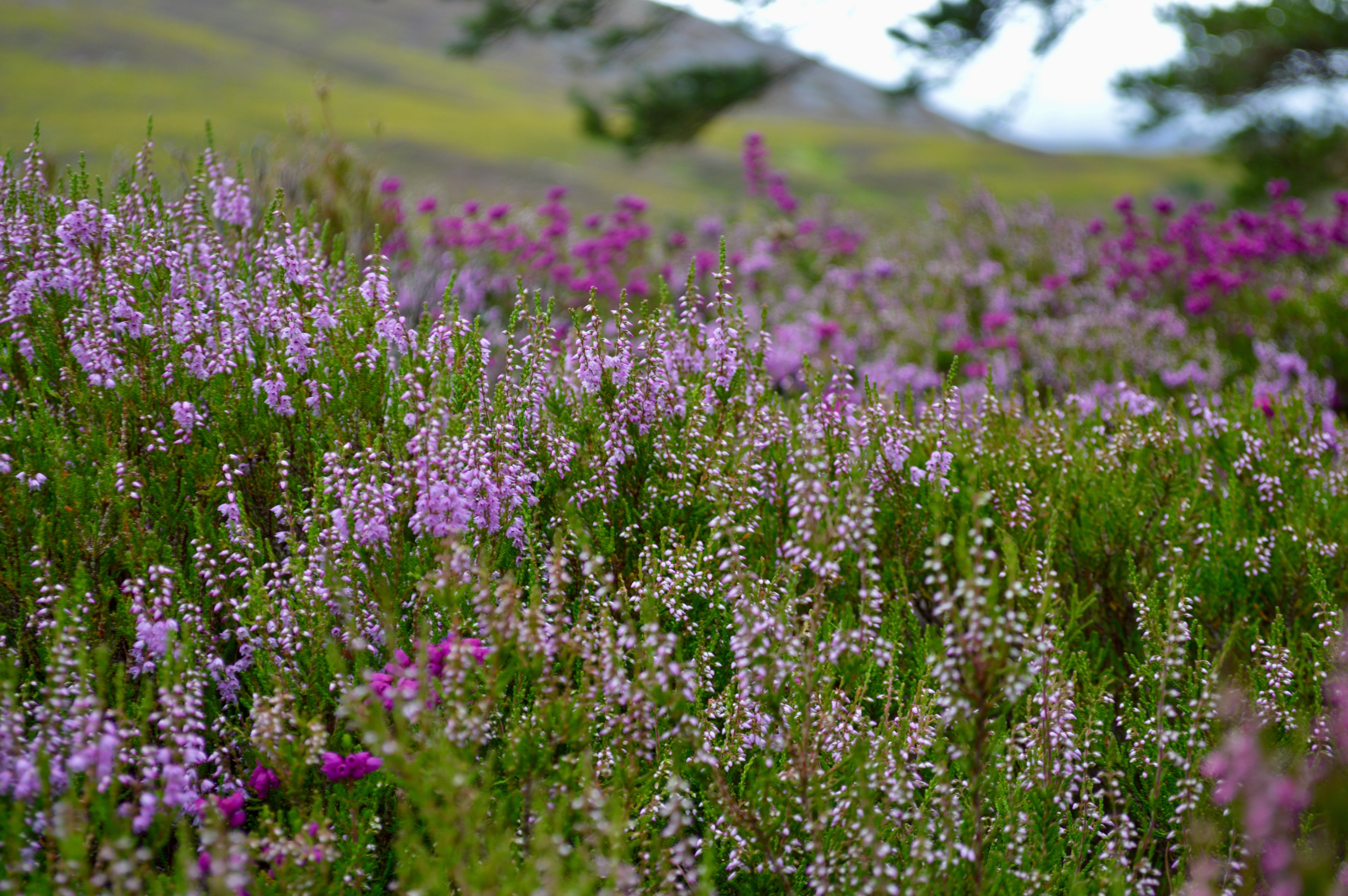 Featuring two stories, each one of the spacious cabins is warmly decorated and comes with a kitchen, living room, flat-screen TV, and a terrace for admiring the scenery.
There's also plenty to do here since the cabins form part of the Macdonald Aviemore Resort complex. You can go for a soothing soak in the hot tub, relax with a pampering massage, or go for a refreshing dip in the indoor swimming pool. You also have lots of options when it comes to dining, with 6 on-site restaurants, 2 bars, and a café.
Additionally, the resort is within easy reach of walking trails and the castle ruins at Loch an Eilein.
5. Loch Lomond Luxury Lodges
Located in the Loch Lomond and Trossachs National Park, these luxury lodges provide everything you need for a comfortable stay.
There are several accommodation options to choose from, including a charming cabin that's perfect for couples looking for a romantic getaway. 4 upgraded units with modern interiors feature living rooms with comfortable seating and fireplaces, plus decked patios with covered hot tubs and BBQ grills. Some also have private saunas. There is also a refined 2-story house that includes a library, 2 living rooms, and a dining area that can accommodate up to 6 guests.
Extras include complimentary wine and chocolates. Pets are welcome.
Looking for things to do in the surrounding area? Buchanan Castle is just 2 miles away, while the Loch Lomond Aquarium is a short 15-minute drive from the lodge.
6. Williamscraig Holiday Cottages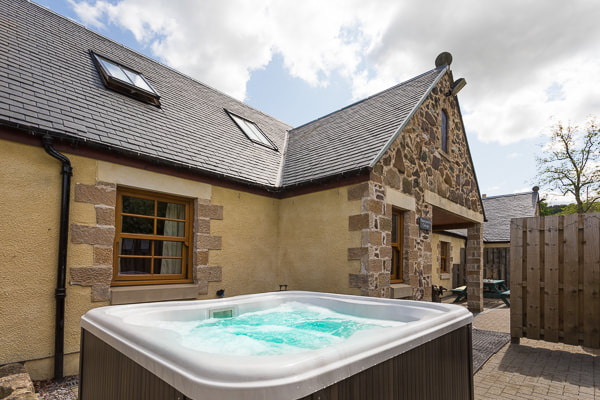 Set among rolling hills and farmland is this cluster of quaint stone cottages that are ideal for a family vacation or a large group of friends.
All the cottages feature bright and modern interiors with wood accents, full kitchens with wood-burning stoves, and mezzanine areas with sofabeds. Each one also has garden furniture, including a picnic table and BBQ grill. Most also have their own hot tub, and one unit boasts a luxurious 4-poster bed.
Nearby points of interest include Linlithgow Palace, the medieval birthplace of Mary Queen of Scots, Blackness Castle, and Muiravonside Country Park. Golf enthusiasts should also check out Linlithgow Golf Club.
7. Loch Linnhe Waterfront Lodges with Hot Tubs
This laid-back retreat overlooking Loch Linnhe and surrounded by spectacular scenery is a great option for anyone looking to unplug from the daily grind.
Featuring balconies with views of the loch, the casual, 2-bedroom units come with kitchens equipped with washer/dryers, living/dining rooms, foldaway beds, flat-screen TVs, and DVD players.
Amenities include an indoor pool and a hot tub, as well as a restaurant where you can enjoy delicious local cuisine. A complimentary breakfast is included.
The property is also close to several attractions, including Ben Nevis, the highest peak in Britain, Glencoe, and Loch Liven Castle. For golf fans, the Dragon's Tooth Golf Course is just 2.5 miles from the lodge.
8. Taymouth Marina Holiday Resort, Restaurant & Spa
Those looking for upscale hot tub lodges in Scotland should consider the Taymouth Marina Holiday Resort, Restaurant & Spa.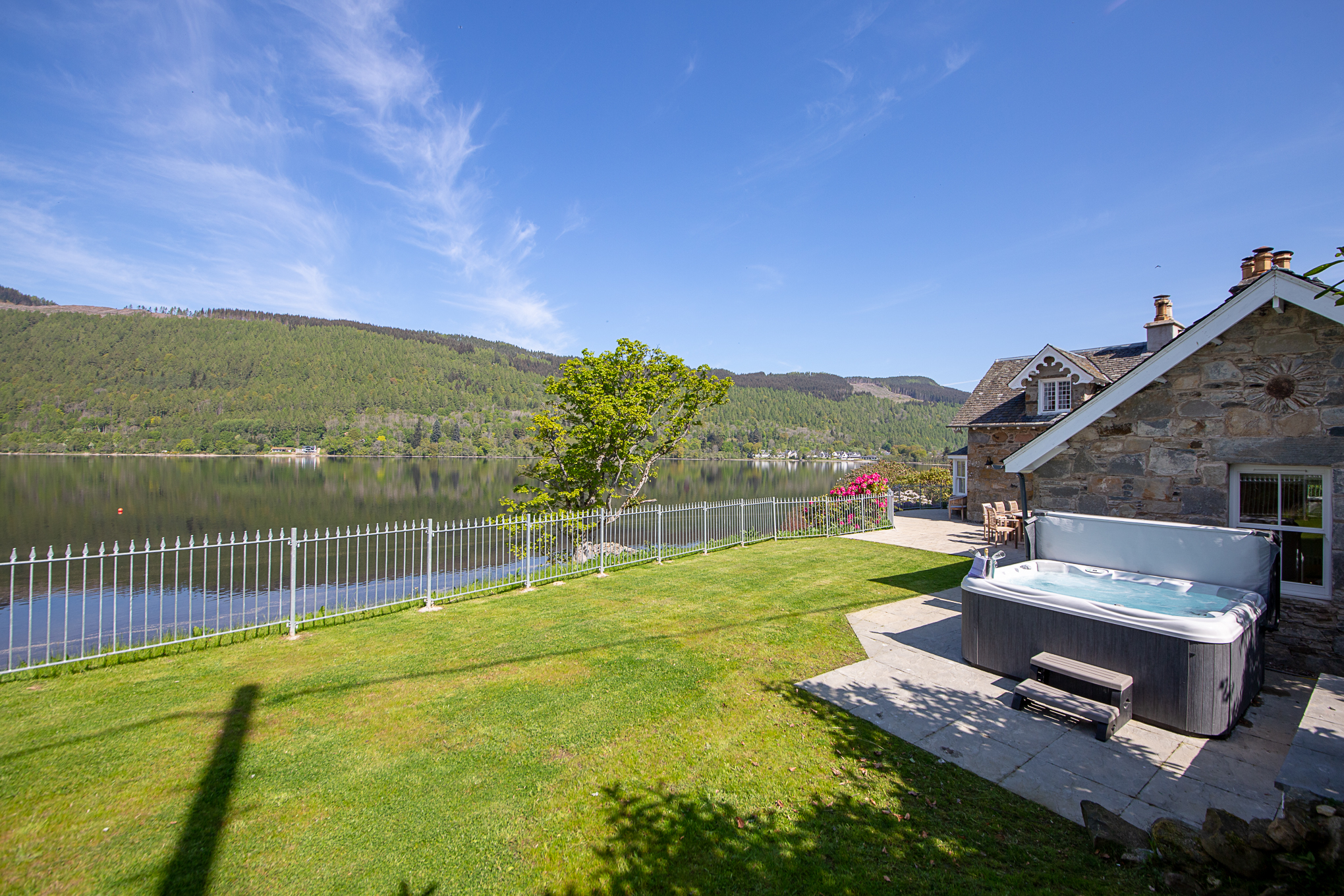 Offering modern 1- to 2-bedroom apartments with open-plan kitchens and living areas, plus balconies with hot tubs, the resort has all the amenities you could want. There's also the bonus of being right next to the marina, where guests can take part in sailing lessons and rent bicycles and canoes.
Other accommodation options and amenities include a 3-bedroom cottage with a fireplace and a private hot tub, a sauna with loch views, and an elegant restaurant with dockside seating.
The property is also opposite The Scottish Crannog Center, which offers guided tours of a reconstructed Iron Age dwelling, and within walking distance of Taymouth Castle.
9. La Fortuna Lodges
Featuring laid-back cottages in a rural setting, you can expect to receive a warm Celtic welcome at this holiday resort. It's also the perfect place to relax and unwind with hot tubs featured in most of the units from which you can enjoy beautiful views of the Ochil hills, Wallace Monument, and Stirling Castle.
Guests can choose between 3- and 5-bedroom lodges, all equipped with flat-screen TVs, kitchens, and living rooms, as well as furnished terraces with BBQ grills; one also features a balcony.
10. Balmeadowside Country Cottages & Lodges
Situated on a farm surrounded by Scottish countryside, these rustic cottages are another excellent choice for a family vacation or romantic getaway.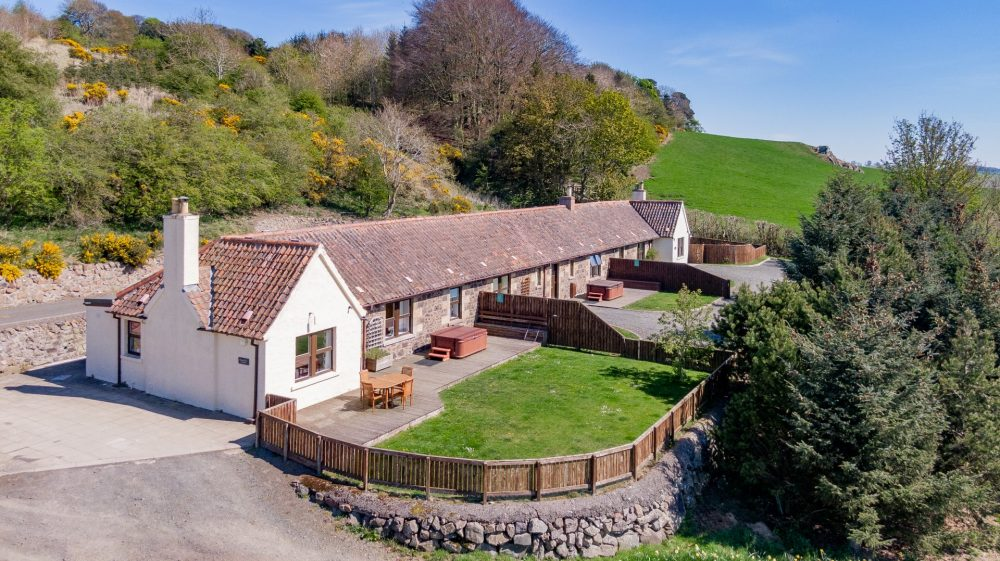 Each of the quaint 2-bedroom cottages comes with a full kitchen and open-plan living/dining area, plus a decked patio with a private hot tub. Some also feature wood-burning stoves and heated floors, while a 4-bedroom farmhouse offers a washing machine. All the units provide breathtaking views of the countryside.
11. Kenmore Luxury Lodges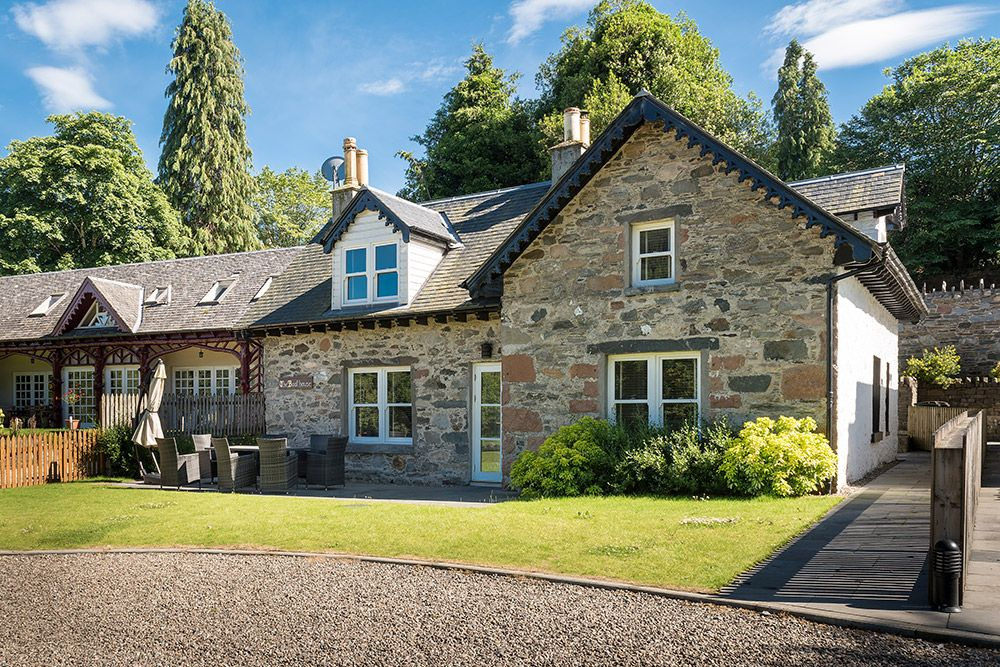 Set on the banks of the River Tay, this charming hotel offers luxury accommodation in an idyllic setting – perfect for anyone looking to get away from it all.
At the hotel, you can soak in the hot tub, enjoy a meal with panoramic views of the river at the restaurant, relax in the garden, or socialize with a few drinks at the bar in front of the cozy fireplace. Room service is also available.
Featuring contemporary decor, all the rooms come with en suite bathrooms and tea and coffeemaking facilities; some have views across the Tay.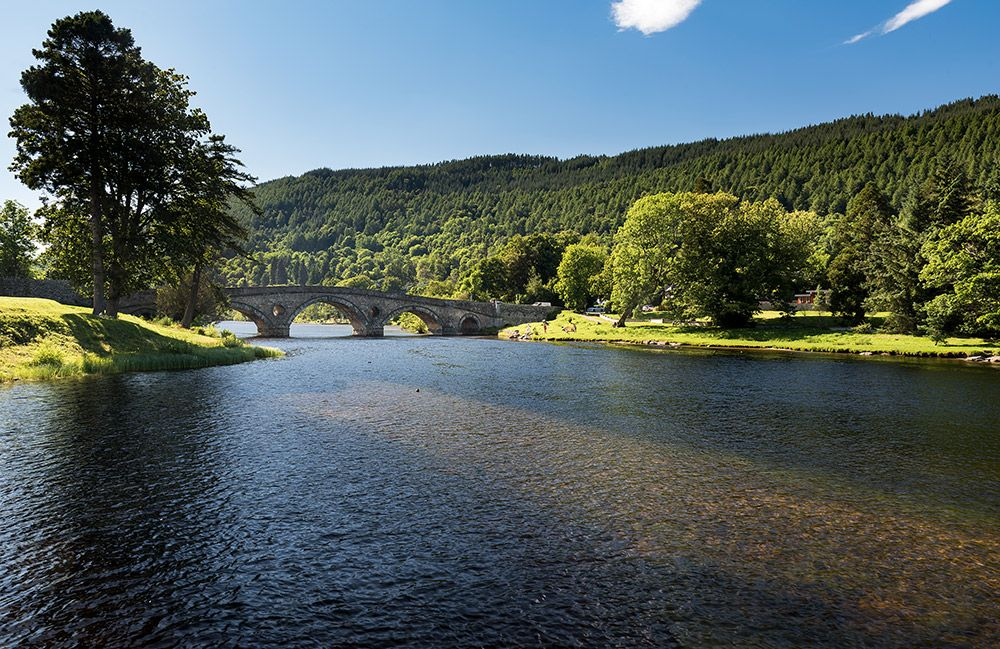 The property is also across from The Scottish Crannog Center and 6.3 miles from the market town of Aberfeldy.
12. Mountview Self Catering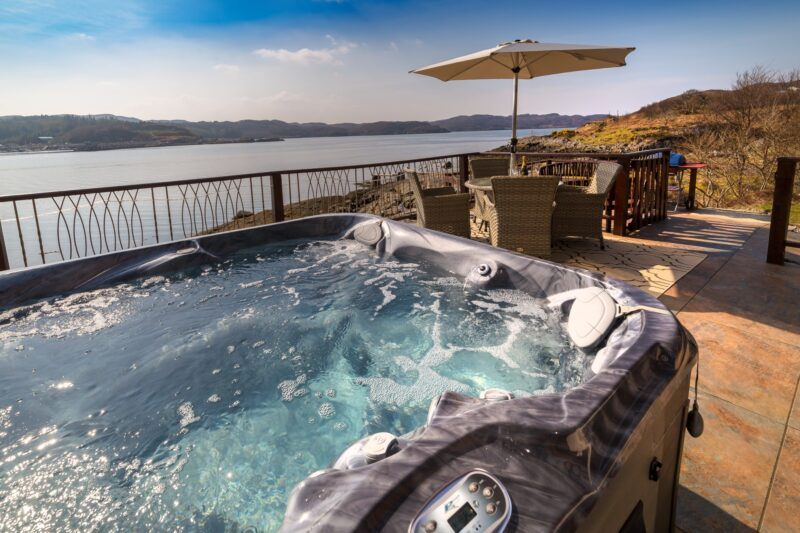 Those looking for a luxury self-catering holiday should consider Mountview, located on the northwest coast of the Scottish Highlands.
The lodge offers three choices of self-catering accommodation, including two log cabins, a converted croft house, and a tiny pod house. All are positioned within 50 meters of Loch Inver, offering panoramic views of the water and the Assynt Mountains beyond.
Given its picturesque location, Mountview is the ideal base for those who enjoy outdoor activities like walking, angling, or wildlife viewing.
The property also makes for a convenient overnight stay for anyone traveling on Route NC 500, one of the most beautiful coastal routes the North Highlands have to offer.
To make your stay at Mountview even more enjoyable, each one of the accommodation options boasts a luxurious hot tub with spectacular views of the surrounding area.
13. Riverside Log Cabins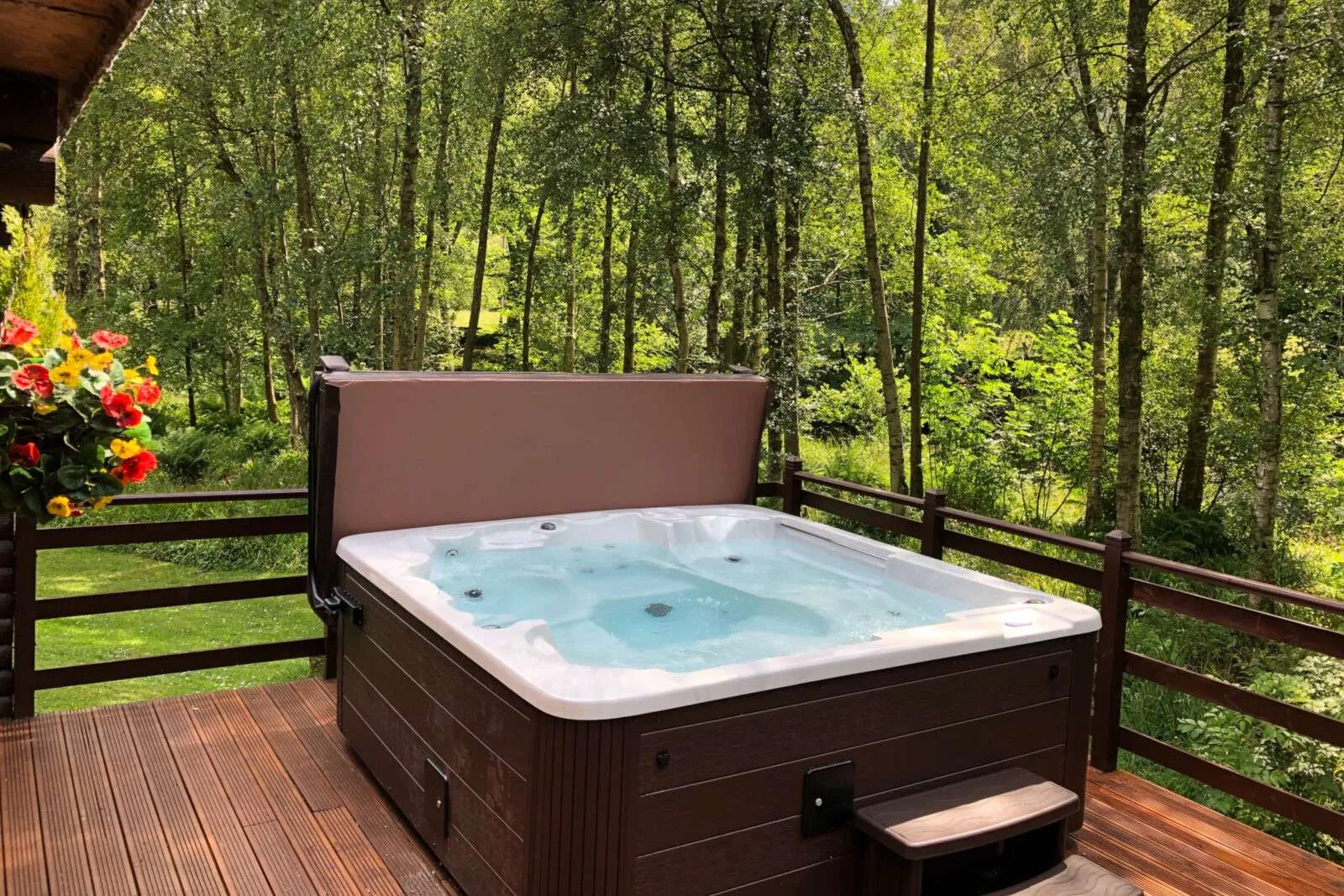 Offering accommodation in the form of log cabins along the banks of the River Earn, this picturesque woodland retreat makes for the perfect romantic getaway or family vacation.
Each one of the cozy cabins comes with a fully-equipped kitchenette, living/dining area, and a furnished deck; some include a private hot tub with river views. Pets are also welcome here.
If you're wondering about things to do nearby, the property is just 6 miles from the Auchingarrich Wildlife Center and 10 miles from Drummond Castle.
14. Redlands Country Lodge Log Cabin Apartments & WeeBothy
Occupying a quaint log cabin in the courtyard of the Redlands Country Lodge, this self-catering 1-bedroom apartment offers accommodation with an outdoor hot tub.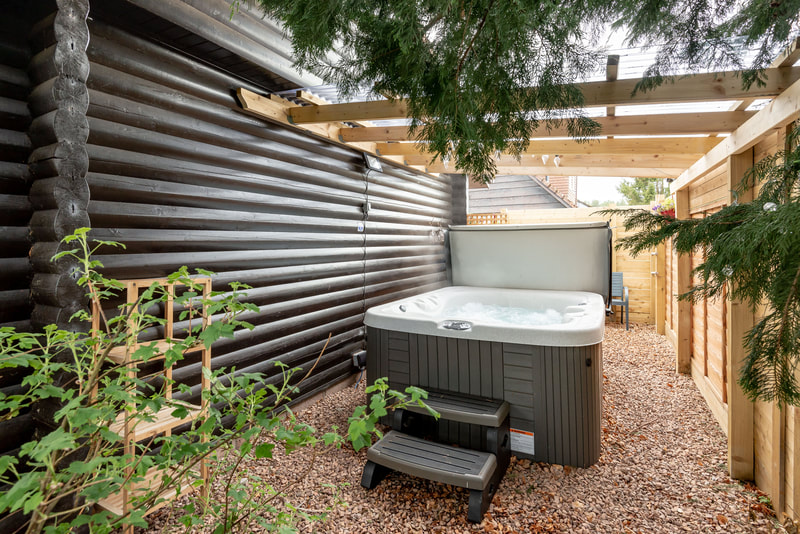 Other amenities include a cozy bedroom with a king-sized bed and patio doors that provide access to the courtyard, an en suite shower room, TV, dressing table, and chair. It also has a separate kitchen/living area with modern conveniences like a microwave/combination oven grill, toaster, kettle, washer/dryer, and fridge. There is also a small dining table with chairs.
This is one of two semi-detached log cabin apartments. There is also a detached sandstone bothy cottage for those who don't mind roughing it a little.
Additionally, the property is just 1 mile from the charming village of Ladybank, which offers many shopping and dining options, including a café and a country pub. There are also several woodland walking trails to explore nearby.
All in all, if you're looking for a place to relax and unwind in beautiful countryside that's still within reach of shops and restaurants, Redlands Country Lodge Log Cabin Apartments & WeeBothy could be for you.
15. Bonnie Barns Luxury Lodges with Hot Tubs
Located in the Argyll and Bute region in Luss, Bonnie Barns Luxury Lodges with hot tubs offers accommodation with a garden and BBQ area, plus free parking and Wi-Fi.
Featuring hardwood floors, all the units have a full kitchen and dining area, plus an en suite bathroom with a shower and bathrobes; most lodges also come with a patio or balcony with a private hot tub and lake and/or garden views.
If you would like to explore the area, Bonnie Barns Luxury Lodges with hot tubs offers bike rentals and there are also numerous hiking trails in the vicinity. The property is also 21 miles from the Glasgow Botanic Gardens and 22 miles from the Riverside Museum of Transport and Technology.