At nearly 2.7 million people, Chicago is the third-largest city in the United States, behind only New York and Los Angeles. It is also one of the best cities to live in the country, especially for people looking for "big city" food, culture, and sports.
Despite all the diversity and the city's popularity, Chicago also suffers from "big city" problems, including crime, traffic and pollution.
If you're thinking about moving to Chicago, we've listed the pros and cons of living in the city, from the perspective of locals.
Benefits of Living In Chicago
Great Food
Being a large city, Chicago boasts a diverse and flavorful food scene, as expected of a city ranked as the third-best foodie city in America. In fact, Chicago is home to 24 Michelin-starred restaurants.
There are plenty of restaurants and eateries to try out in the city. If you're on a tight budget, the city has 58 restaurants that were granted the Michelin Bib Gourmands award, which honors local eateries with excellent food costing just $20 or less per person. You can also find amazing food in corner shops and food stands selling affordable Italian beef sandwiches, pizzas, and Chicago-style hot dog scattered across the city.
If you're looking for fine dining options, Chicago is home to restaurants owned by celebrity chefs like Rick Bayless, Stephanie Izard, and Beverly Kim. It is also home to Mindy's Bakery, owned by award-winning chef Mindy Segal. This rustic American bakery serves the best cups of hot chocolate with homemade marshmallows, artisanal bagels, bialys, and pastries.
Chicago Residents
The people of Chicago are often described as genuinely nice and down-to-earth. This holds true.
Many Chicagoans would lend other locals and tourists a helping hand. You will also find many like-minded folks in the city.
Chicago Neighborhoods
There are over 70 neighborhoods across Chicago, each of which boasts its own identity. Some of the most popular neighborhood options include:
The Lakeview
This neighborhood offers a mix of housing options in a wide price range, making it popular among young professionals. It also has access to three train lines to help employees get to their work.
The Lakeview neighborhood is home to Wrigley Field and Boystown, which is considered the most LGBTQ-friendly area in the city.
Lincoln Park
Lincoln Park is one of the oldest neighborhoods in the city. That being said, it features world-class architecture, making it very popular among young professionals between the age of 20 to 34.
Lincoln Park neighborhood has direct access to the downtown area and three train lines.
Pilsen
Once considered a high-crime area, Pilsen has been revitalized to be a safe neighborhood offering more affordable housing to the city's young and veteran workers. It is also home to a strong Latino community and perhaps the best tacos in Chicago.
West Loop
The West Loop neighborhood is known for offering a variety of fine dining options serving almost every ethnic dish imaginable. Formerly a meat-packing district, it is now known as a foodie mecca, in particular a stretch of Randolph Street known as Restaurant Row.
Chicago's Public Transportation System
Living in the United States, you'd be hard-pressed to find a large city where cars are not needed to travel to and from work. Chicago, however, is a rare exception as it invested in its public transportation system. In fact, the city's public transportation is considered the sixth best in the country.
It is quite common for the city's residents to work downtown and still live in the suburbs. In addition, most neighborhoods have everything residents need within reach. This means you can walk or ride a bike for most errands.
Housing Prices and Living Costs
Living in Chicago is by no means cheap. However, it does have a much lower cost of housing than other major cities, such as New York City and Los Angeles, and only a little higher than the national average.
If you're looking for a "big city life," housing in Chicago is 238% cheaper than in New York City. In fact, CNN's cost of living calculator said a $50,000 salary in Chicago is equal to at least $100,615 in the Big Apple.
Diversity
Chicago is known for being the home to people with diverse ethnic backgrounds. According to the U.S. Census Bureau, Chicago's population is made up of 45% White people, 29% African American people, 6% Asian people, and 28% Hispanic or Latino people.
Of course, with diversity also comes many cultural events, including parades and festivals. In fact, during St. Patrick's Day, Chicago dyes its river green (as seen in the photo above).
Sports Teams
You can't think of Chicago without associating it with sports, and rightly so. The city is home to several world-class athletes and teams in five major American professional sports, namely baseball, football, basketball, hockey, and soccer.
Chicago is also home to five sports teams: the Chicago Bulls, Chicago White Sox, Chicago Cubs, Chicago Bears, and Chicago Blackhawks.
Chicago's Airport
Anywhere you go in the city, you'll get easy access to the O'Hare International Airport, which is convenient if you need to fly out frequently. The airport has:
over 190 gates
8 runways
50 airline companies
more than 2,500 flights daily
Learning Opportunities (Outside of School)
Chicago public schools are working to combat declining enrollment and funding challenges. There are many Chicago private schools that offer great education, but may require parents to spend more. In an effort to educate its population, the city itself presents students with plenty of opportunities to learn.
The city is home to a number of educational and cultural destinations, such as museums, zoos, aquariums, dance centers, opera houses, acting theaters, and symphonies. Some of the most famous cultural sites in the city include the Garfield Park Conservatory, Wicker Park, and the National Museum of Puerto Rican Arts & Culture.
The city also boasts a number of public libraries, which ranks as the best in America and the third best in the world. Visitors can do more than just rent books from the library. They can also enlist in the library's STEM program, which aims to teach learners how to use 3D printers and laser-cutting machines.
Hospitals
Chicago is home to two hospitals that have been awarded high honors, namely Northwestern Memorial Hospital and Rush University Medical Center.
Both medical institutions ranked high in many specialty procedures, including Neurosurgery, Orthopedics, Geriatrics, Cancer, and Gastroenterology.
Cons of Living in Chicago
Brutal winters
Winters in Chicago can be a nightmare, especially when the temperature drops below zero and snow sets in. On average, the city receives about 36 inches of snow. It can get so bad that some people have to abandon their cars on the roads during frigid temperatures.
When the winter season ends, the melting snow can cause flooding, falling ice, and collapsed roofs.
Housing Costs (Comparing to the National Average)
Above, we said Chicago's housing cost is lower compared to other big cities. While that is true, Chicago's living costs are also 20% more expensive than the national average. Housing costs in the city are also more expensive than in 74% of the cities across the United States.
Less access to nature
Much like other large cities, Chicago is a concrete jungle. This means there are skyscrapers everywhere. While this adds a certain uniqueness to the city, it leaves little respite for weary minds.
That's not to say there is no nature in the city. In fact, Chicago boasts Lake Michigan and Millennium Park. However, you'd likely have to travel for some time if you want to escape into the wilderness and away from the gray buildings of Chicago.
Taxes
One of the main reasons why Chicago is expensive to live in is because it has some of the highest taxes in the United States. The city also has 25 specialty taxes and fees, including taxes on parking, gas, liquor, streaming platforms, and soda.
Crime Rate
Chicago's crime rate is a contentious topic. Some locals will tell you that crime is high, while others will tell you that it's not as bad as what is being shown by the media.
While the city has a higher crime rate than other places, it has gone down last year. As of Dec. 10, 2022, the number of murders reported has gone down by 15% to 661, compared to 2021's tally of 776. Shooting incidents have also gone down by about 20% from 2021, per the Chicago Police Department.
It is important to note that a lot of the shootings that happen in the city are a result of an altercation or an argument that escalated and became violent after a gun was brought into the equation.
What is Chicago Known For
Skyscrapers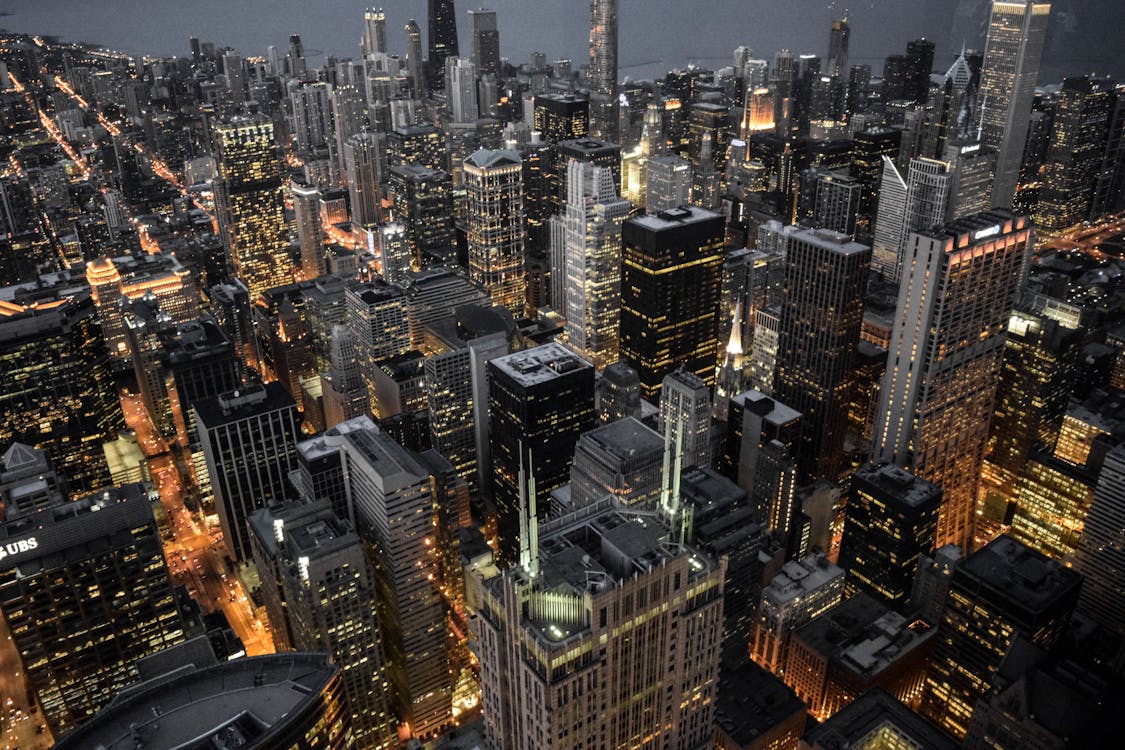 Known for having one of the best skylines in the country, Chicago boasts more than 1,300 high-rise buildings, 50 of which rise above 600 feet (183 meters).
Chicago is where skyscrapers originated. Construction of skyscrapers in Chicago began after the Great Chicago Fire burned down the city, turning it into a blank canvas for local architects. In fact, the Home Insurance Building in the city is the first skyscraper in the States, having been completed in 1885.
Windy City
Chicago is known as the Windy City, with a breeze that comes from Lake Michigan and through the many streets of the city. That being said, no one knows for sure if the chilly breeze earned the city its moniker.
Deep Dish Pizza
If there's one thing everyone associates Chicago with, it's their famous deep-dish pizza. This thick pizza is baked in a pan and features layers upon layers of cheese, fillings, vegetables, and sauce. Chicago-style pizza also boasts a crust that is usually two to three inches tall.
There are varying accounts of how deep-dish pizza came to be. Some say it was invented by the founders of Pizzeria Uno in 1943. Others argue that it was created by pizza chef Rudy Malnati and cook Alice May Raymond.
Navy Pier
Navy Pier is one of the city's most famous landmarks and a well-loved destination for locals and tourists alike. Built in 1916, the pier offers guests plenty of activities to do, ranging from theme parks, the Chicago Shakespeare Theater, an IMAX theater, art shows, the Ferris Wheel, and the Chicago Children's Museum.
Wrigley Field
The Wrigley Field is extremely popular among sports fans and enthusiasts. The baseball field was built in 1914 and serves as the home to the Chicago Cubs.
In addition to hosting baseball games, Wrigley Field is also home to live concerts.
Lincoln Park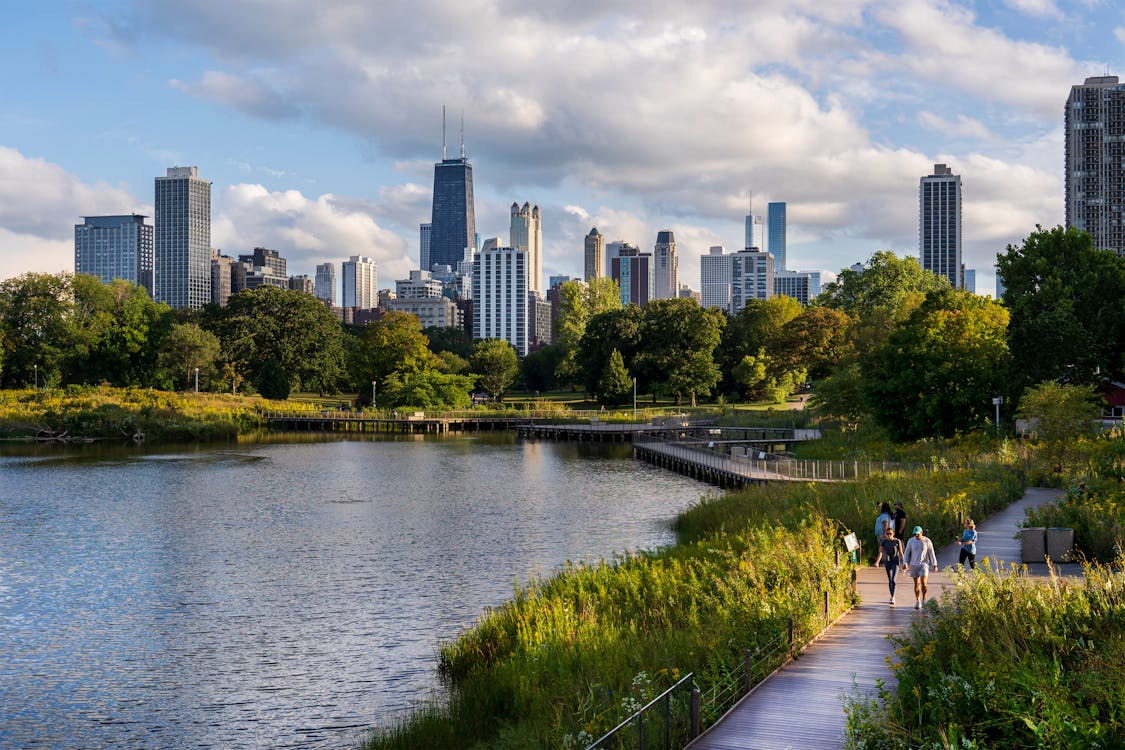 Lincoln Park is a tree-lined neighborhood in Chicago that is home to a park of the same name, which sits on Lake Michigan. It is also home to many great bars and restaurants, live music venues, the Chicago History Museum, and Alinea—a three-Michelin-starred restaurant with an ever-changing menu.
The neighborhood is also home to unique shops that sell vinyl records and beauty products.
Chicago Loop
Chicago Loops is a vibrant business district home to the Art Institute of Chicago, the Chicago Theater, Grant Park, and Millennium Park.
If you're a foodie, you may want to visit the district and sample the menu at the high-end French restaurant Everent or the quaint pub The Gage.
Chicago Riverwalk
The Chicago Riverwalk is a pedestrianized area in the downtown area where locals and tourists can enjoy meals at restaurants or relax at rest spots near the river.
In addition, guests can also head to Urban Kayaks and rent a kayak to float down the river.