Are you yearning for some nostalgia? Do you remember the candy stores of old? Now imagine a candy store reserved entirely for all your adult delights. Candy Martini Bar in Las Vegas does exactly that. Here you can experience a decadent marriage between candy and martinis in an ever-inventive way. Bringing together candy and alcoholic beverages so that patrons can enjoy firsthand this truly breathtaking location right on the Las Vegas Strip.
Try one of their impressive giant candy martinis, for example, the Thee Gummy Bear. Candy Martini Bar rims all their glasses with exciting candy toppings. We have compiled this article to provide information on the Candy Martini Bar in Las Vegas. We will discuss their unique menu and provide some guidance on some of the best choices available at this Candy-themed Martini Bar.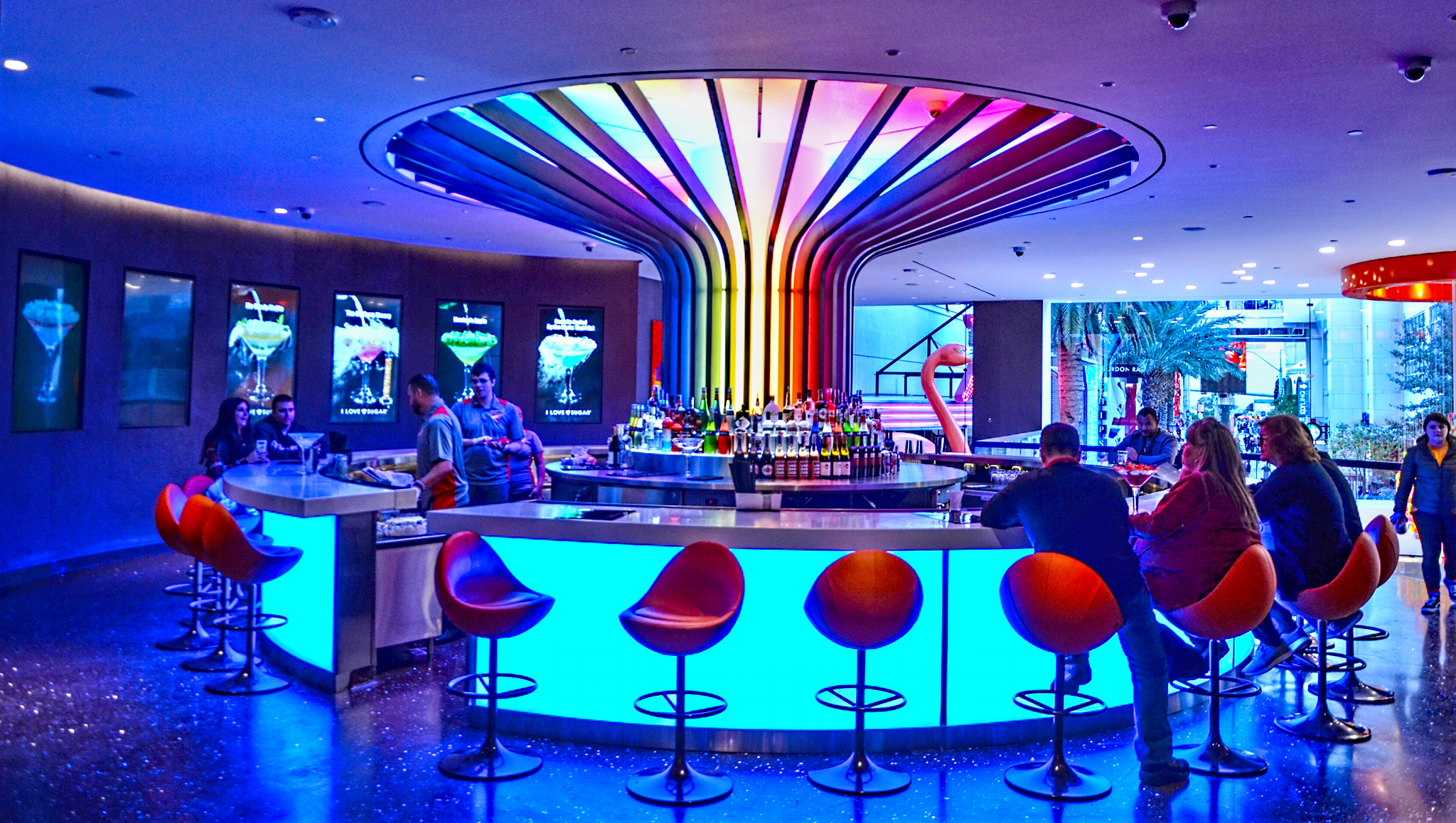 About Candy Martini Bar Las Vegas
When planning to visit the Candy Martini Bar in Las Vegas, there is some information you will need in order to plan your visit successfully. The Candy Martini Bar is open Monday to Saturday. You can enjoy their extravagant sweet treats responsibly with the help of a local taxi service or Uber.
The I Love Sugar Candy Martini Bar is found conveniently on the Las Vegas Strip. You will find it on the Linq Promenade. The Candy Martini Bar can be found in the I Love Sugar store. You will need to step inside I Love Sugar and then up the stairs to the second floor. You should be able to see the Candy Martini Bar sign from the entrance.
The Las Vegas I Love Sugar store is not a small store, and there are many different candies to choose from across the store. I Love Sugar has giant candy boxes, gummy candy pizza, and candy sushi, to name only a few options in this candy wonderland of a candy store. They also sell gummy watermelons, gummy pickles, gummy burgers, and gummy bears, all of these in giant options.
Innovation is the name of the game at I Love Sugar Las Vegas, and it is plain to see that this candy store thrives on pushing boundaries and making all our childhood candy dreams come true. I Love Sugar has almost two dozen design trademarks to its name so that its intellectual property can be protected. The goal at I Love Sugar was to marry alcoholic beverages with all our favorite candy sweets in the Candy Martini Bar. It is a true paradise for those of us with a sweet tooth who enjoy a slight buzz from time to time.
Visiting Candy Martini Bar means being greeted by an ambiance of upliftment through the variety of sugary treats, beautiful light fixtures, and a bright rainbow of colors. This joy is evident as soon as you step through the doors of I Love Sugar.
Furthermore, patrons may bring their cameras along as photos are absolutely allowed. Immerse yourself in joy and good memories while enjoying the perfect cotton candy cocktails emerging from a dry ice fog at Candy Martini Bar.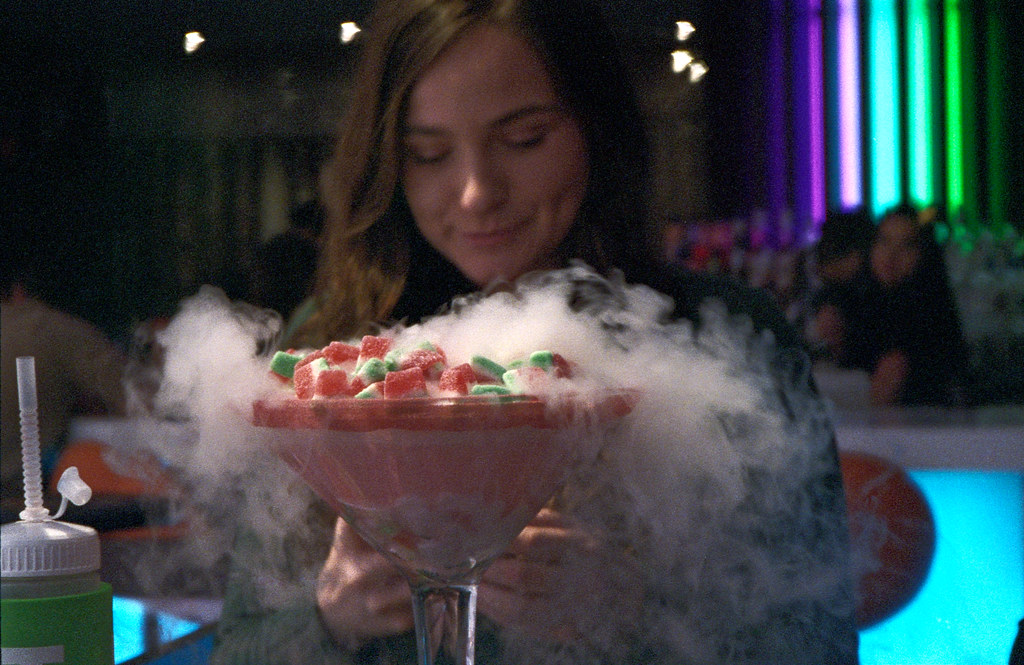 Candy Martini Bar Menu and Prices
The menu at the Candy Martini Bar at I Love Sugar in Las Vegas is quite extravagant packed with all the best things that the alcohol and candy store industry has to offer. The menu has something for everyone, including several drinks featuring gummy bears and other types of candy.
The Candy Martini Bar menu has been split into a sit-down drink menu and a menu that serves drinks in to-go cups. Although there are to-go options, we suggest taking the time to drink right at the bar so that you can enjoy the full experience of watching the masters craft these spectacular candy cocktails.
Some favorite offers at the Candy Martini Bar in I Love Sugar Las Vegas (as of February 2023) include:
Sugar Shots at $15 (not available on the to-go menu)
Vodka or Tequila infused Gummy Bears at $14
Candy Cocktails at $20
Giant Candy Martinis at $45
While these prices are confirmed at the time of writing, it is best to visit the website to establish latest prices and any possible changes to the menu.
Sugar Shots at Candy Martini Bar
They only have the three Sugar Shots but do not let that deter you. There is sure to be one of these options that excite the candy enthusiast in you.
Their three Sugar Shots are the Pop It Like It's Hot, which mixes Simple Syrup, Sprite, Watermelon Dekuyper, and Bubblegum Jelly Belly infused Vodka. It is served with Pucker Powder for dipping a Blow Pop.
The Up 'Till Sunrise is a mix of orange juice and Tequila, garnished with Orange Gummy Candies, and rimmed with Orange Pucker Powder.
Lastly, the Peanut Butter Jackpot which marries Chocolate Syrup, Dutch Chocolate Vodka, Baileys, and Peanut Butter Whiskey. It is topped with Peanut Butter Cups and rimmed with Peanut Butter.
Drunkin' Bears at Candy Martini Bar
There are only two options on the Drunkin' Bears menu and these are either a Tequila infused gummy bear mix, or Vodka bears. This is only one of the unique delights that the Candy Martini Bar offers to visitors – boozy gummy bears to enjoy at your leisure.
Candy Cocktails at Candy Martini Bar
In addition to the Giant Candy martinis you can also try one of the smaller Candy Cocktails. Although not necessarily as popular, they will not disappoint. The dry ice fogs come standard, as does the lip-smacking sweetness.
The Last Call Dirty Shirley is a mix of Vodka Shirley Temple infused with Cherry Jolly Rancher, rimmed with Strawberry Pucker Powder, and topped with Triple Cherry Gummies.
The Let's Flamingle mixes Sprite, Pink Lemonade, Triple Sec, and Tequila in a Cotton Candy Pucker Powder rimmed glass topped with two Strawberry Gummy Candies.
The to-go Candy Cocktails list is more extensive now than it was before. Still including all your favorites, like the Watermelon Sugar which comes with gummy watermelon wedges and gummy watermelon rings. The Pool Party is a mix of Sprite, pineapple juice, Blue Curacao, and Red, White, and Berry Vodka. It is served with Blue Raspberry gummy bears.
Giant Candy Martinis at I Love Sugar
The Giant Candy Martinis are a kind of flagship for the Candy Martini Bar in Las Vegas. These large drinks are sure to cause a sugar rush and copious amounts of excitement through their delectable selection.
Their most popular drink is the; Don't Be Fooled By The Rocks That I Got. You will find it at the top of their menu and it balances Sprite, Sweet and Sour mix, Peach Schnapps, Apple Vodka, Apple Liquor, and Melon Liqueur. The glass is rimmed with Green Apple Pucker Powder, and the cocktail is topped with candy necklaces and multicolored rock candies.
Next in line is Thee Gummy Bear martini, which offers guests the opportunity to enjoy gummy bears as only an adult can. It combines Sprite, Sweet and Sour mix, Green Melon Liqueur, Sour Apple Liquor, and Peach Vodka. The glass has a rim of Orange Pucker Powder and the drink is topped with Gummy Bears.
Then there is The Big Bang Theory with Club Soda, Lemonade, Sweet and Sour, Strawberry Liquor, Grape Liquor, and Blackberry Whiskey, rimmed with rainbow neon candies and frosting. The drink is also served with a shot glass of neon rainbow mini candies.
The High Roller Margarita brings together Pink Lemonade, Sweet and Sour, Sprite, Triple Sec, Strawberry Liquor, and Tequila, topped with red and black raspberry candies and rimmed with Strawberry Pucker Powder.
The Cotton Candy Crush is a mix of Sweet and Sour, Lime Juice, Triple Sec, and Tequila topped with a mountain of house-made cotton candy.
Another fan favorite is The Cocoa Made Me Do It, which has Chocolate Syrup, Almond Breeze Vanilla Almond Milk, Hazelnut Liquor, Creme De Coco Liquor, and Dutch Chocolate Vodka. It is rimmed with crushed Oreos and vanilla frosting and topped with Chocolate Gummy Bears and Yogurt Pretzels.
Items no longer on the menu at the I Love Sugar Candy Martini Bar, Las Vegas:
After the menu was recently updated, some items have been replaced or removed; for example the Cotton Candy Mule that was made with lime, fresh mint, beer, ginger, and vodka. The closest to the Cotton Candy Mule that can be found on the new Giant Candy Martinis menu is the Cotton Candy Crush.
The Chocolate Butter Cup blitz is also no longer on the menu, as is the Funky Pink Flamingo and their Pina Colada pucker powder. But alas, we must move on to newer and brighter things, so do not hesitate to visit the I Love Sugar Las Vegas Candy Martini Bar and enjoy their new and improved menu that still offers a sweet margarita that will tantalize your taste buds. Dive into house-made cotton candy, snack on green rock candy, malt balls, candy rings, or sour gummy bears that top off your favorite Giant Martinis or funky Sugar Shots.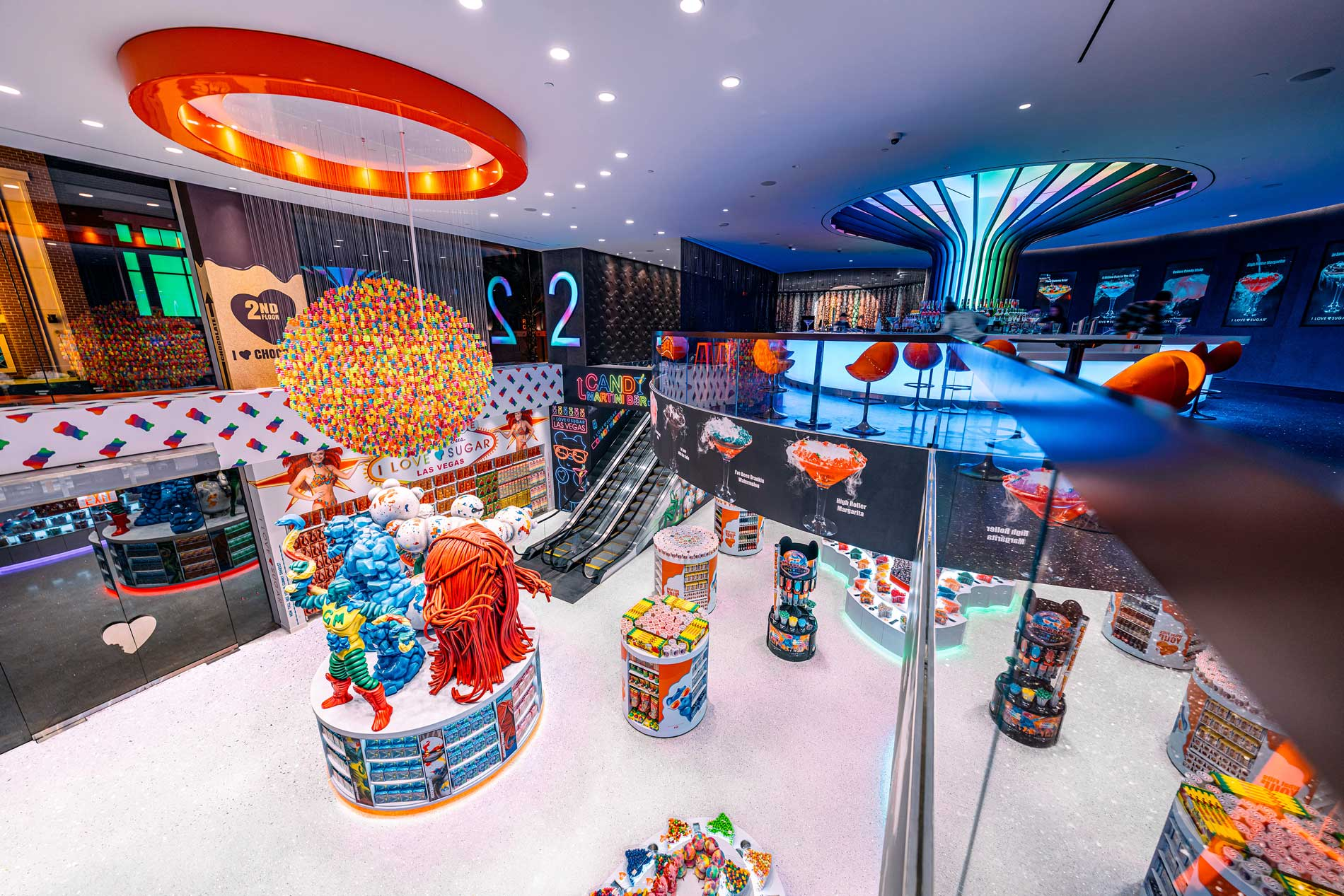 Final Thoughts
The Candy Martini Bar should be at the top of your favorite places to visit in Las Vegas, especially if you love sweet soft drinks, a delectable candy twist, and the idea of a sweet margarita. It is a great place for candy lovers in Las Vegas.