Have you ever heard of La Huasteca Potosina? Neither had we. However, if you're looking to reconnect with nature and escape from the crowds in Puerto Vallarta. The area is a natural wonderland with beautiful waterfalls and landscapes dotted with old lava flows and local vegetation. It is also a quieter area because many international visitors just do not know about Huasteca Potosina. We can assure you, though, it is entirely worth visiting!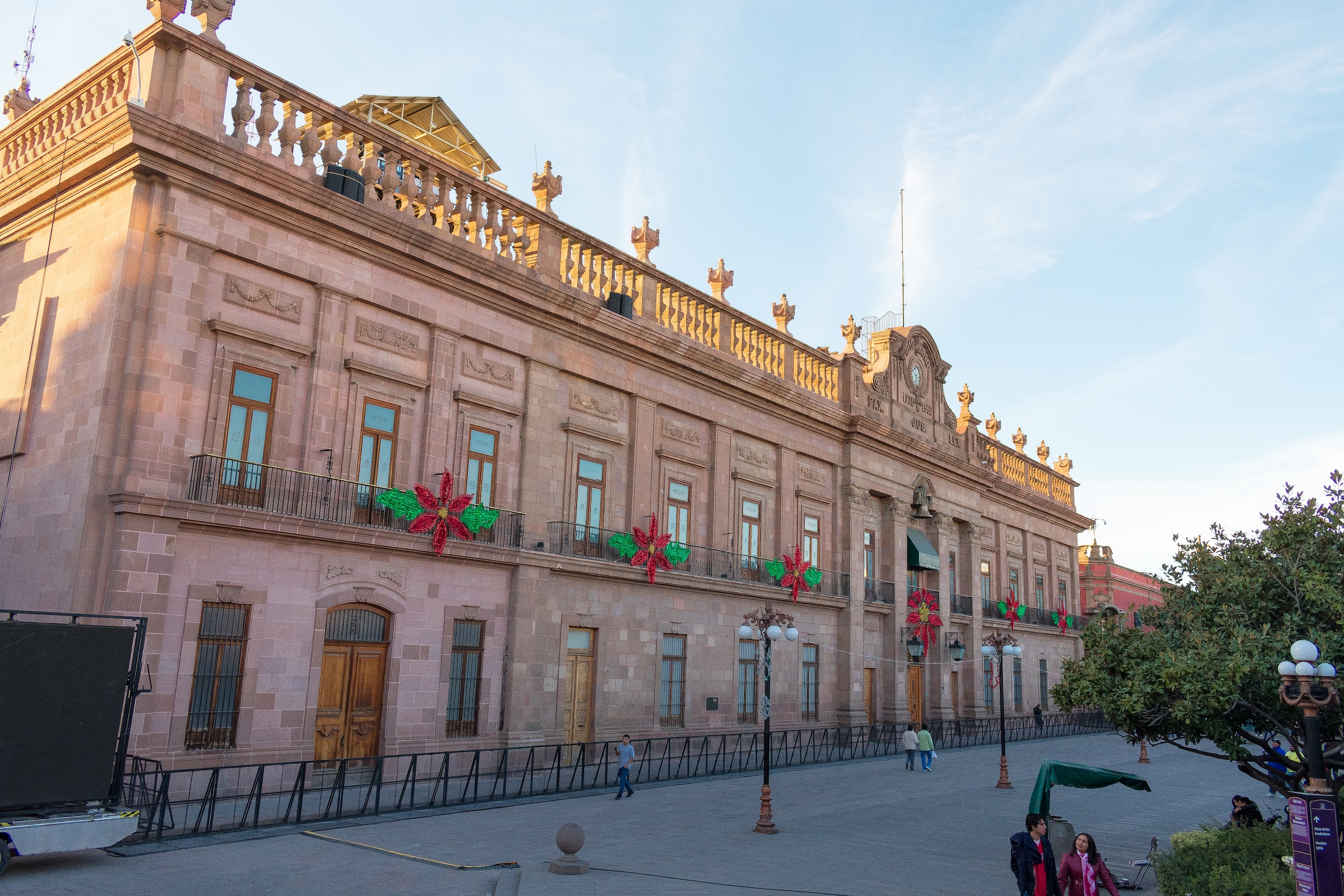 What is Huasteca Potosina?
La Huasteca Potosina is part of the wider La Huasteca region. The La Huasteca region spans seven separate states in Northeastern Mexico. The region is both cultural and geographical in nature and runs around the Gulf of Mexico. It's seven states are Guanajuato, Querétaro, San Luis Potosí, Hidalgo, Puebla, Veracruz, Tamaulipas. In 800 AD the Huastec people made their home in this region, which is how it got its name.
La Huasteca Potosina is in the San Luis Potosi state, which is part of the larger Huasteca region. The area is quite large and is quite frankly a paradise for nature lovers. There are many waterfalls, a lush rainforest, caves, canyons, and stunning views. In total, the area spans 20 municipalities and is great for those seeking adventure or nature.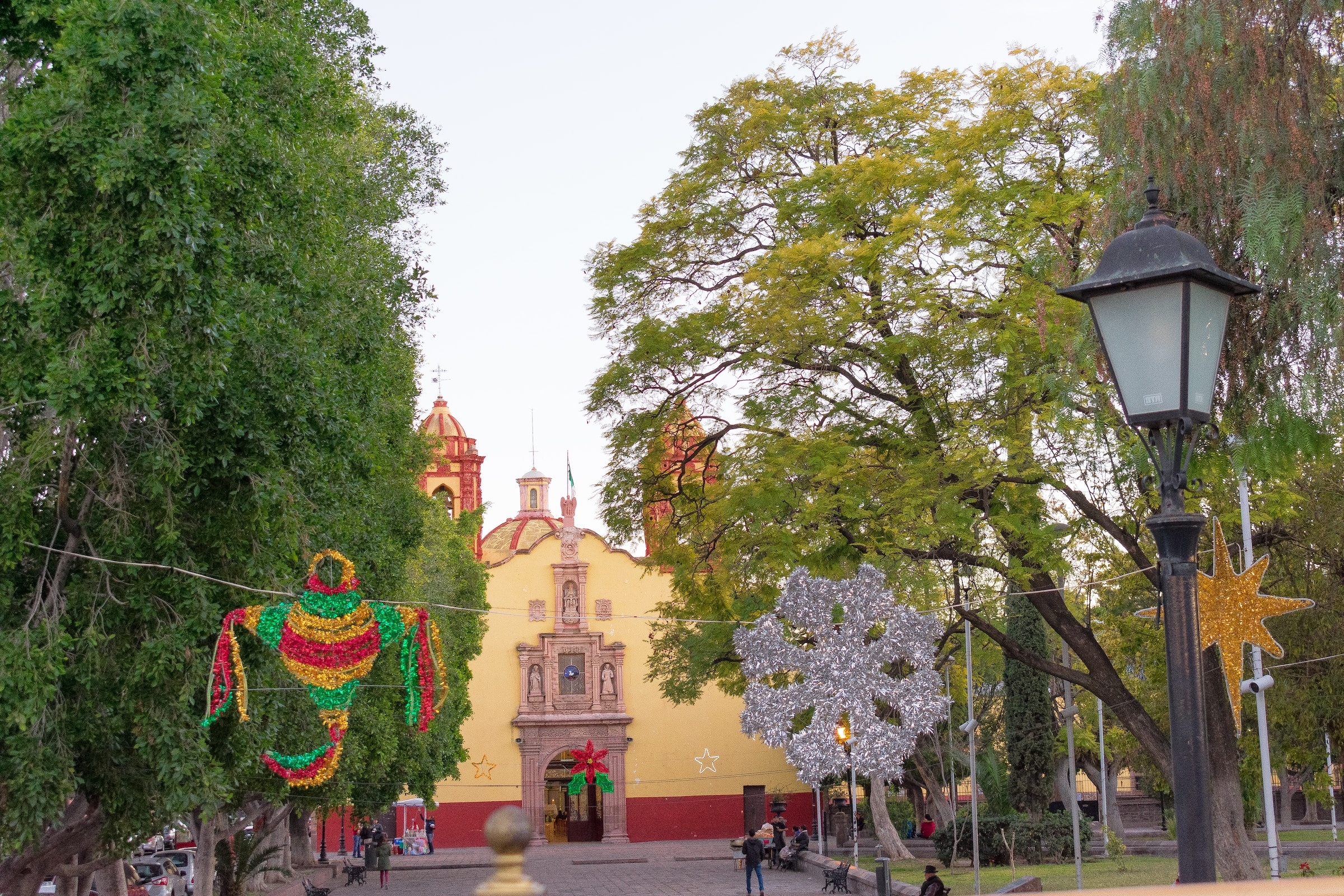 Why visit Huasteca Potosina?
All the waterfalls! There is an abundance of waterfalls in the area and each of them offers a unique experience. Aside from all the impressive waterfalls there are also a wide range of other natural wonders to see like the surrounding mountains. Wildlife, lush jungles, canyons, caves, and rivers are also abundant. There are also a number of natural pools in which visitors can swim.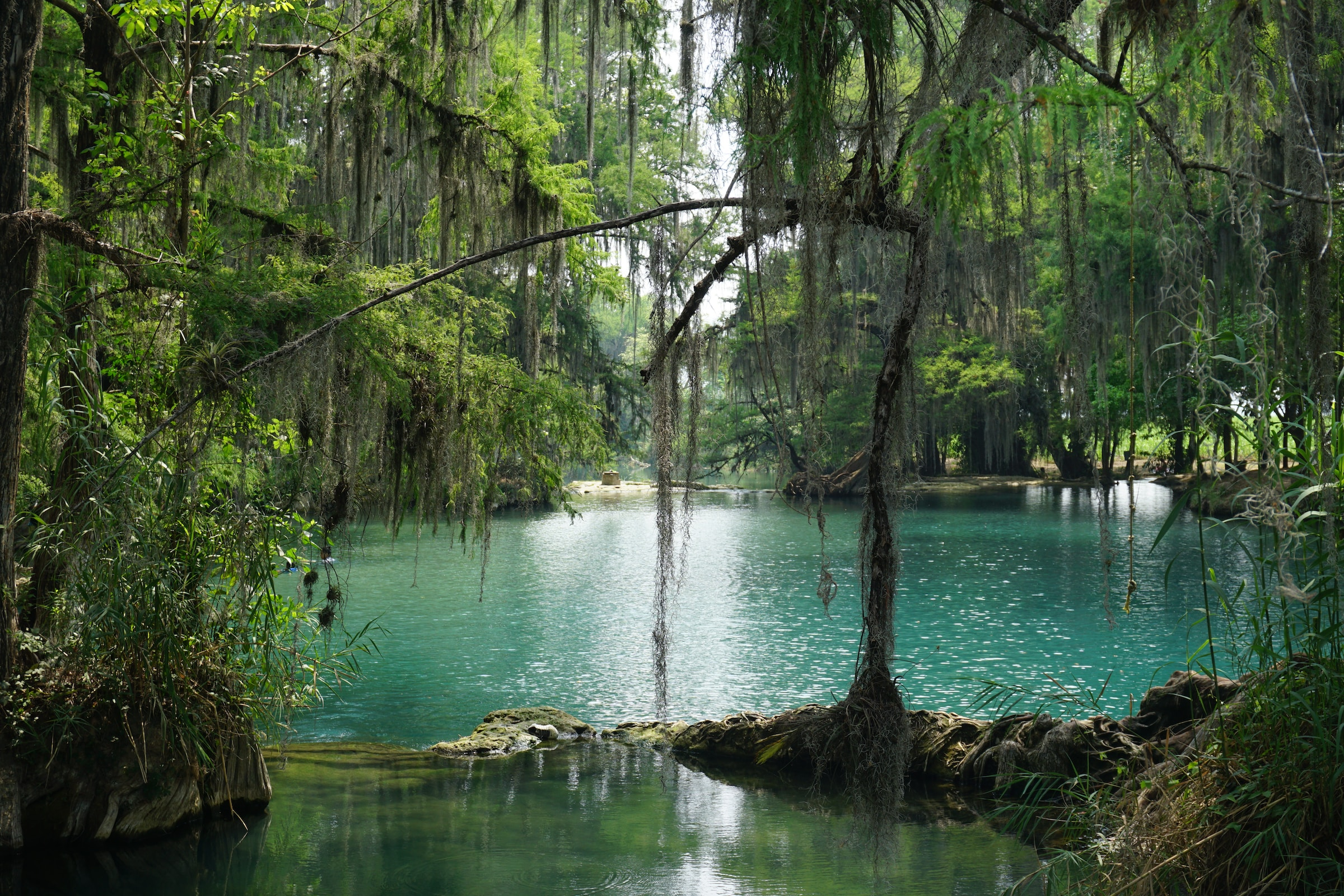 Is it safe to visit Huasteca Potosina?
Huasteca Potosina, Mexico is safe for travelers. It is a little known destination, but that does not mean it is any less safe than more popular tourist destinations. The Mexican government remains determined to keep Mexico safe for travelers so that they may benefit from tourist revenue. As with any destination, however, there will be certain parts that you should avoid and steps you should take to ensure your own safety as well. For example, when traveling in Mexico it is best not to drive at night due to poorly maintained roads and poor visibility. Pick-pocketing is always a risk in tourist hubs. Also be careful when swimming in natural pools or rivers. There is a small risk of picking up an infection or getting into trouble due to unexpected currents, etc.
Major towns and cities in Huasteca Potosina, Mexico
Although there are cities and towns in the Huasteca Potosina, Mexico, we have to acknowledge that the reason for visiting the area is not usually the cities or towns. This is mainly a nature attraction as there isn't all that much to do in the cities and towns that cannot be done in ordinary tourist areas in Mexico. However, we will briefly discuss some towns and cities as you will need to find restaurants and accommodation.
Aquismon
This is a very small town that is not heavily populated, but spending a night here can be good if you plan to visit the Cave of Swallows (Sotano de las Golondrinas).
Xilitla
This is one of Maxico's Magic Towns (Pueblo Magico) and thus has quite a few attractions and activities. The town is surrounded by tropical forest and mountenous areas and is quite a sight to see. The Edward James Surrealist garden is the main attraction in Xilitla which is the most attractive part of the town.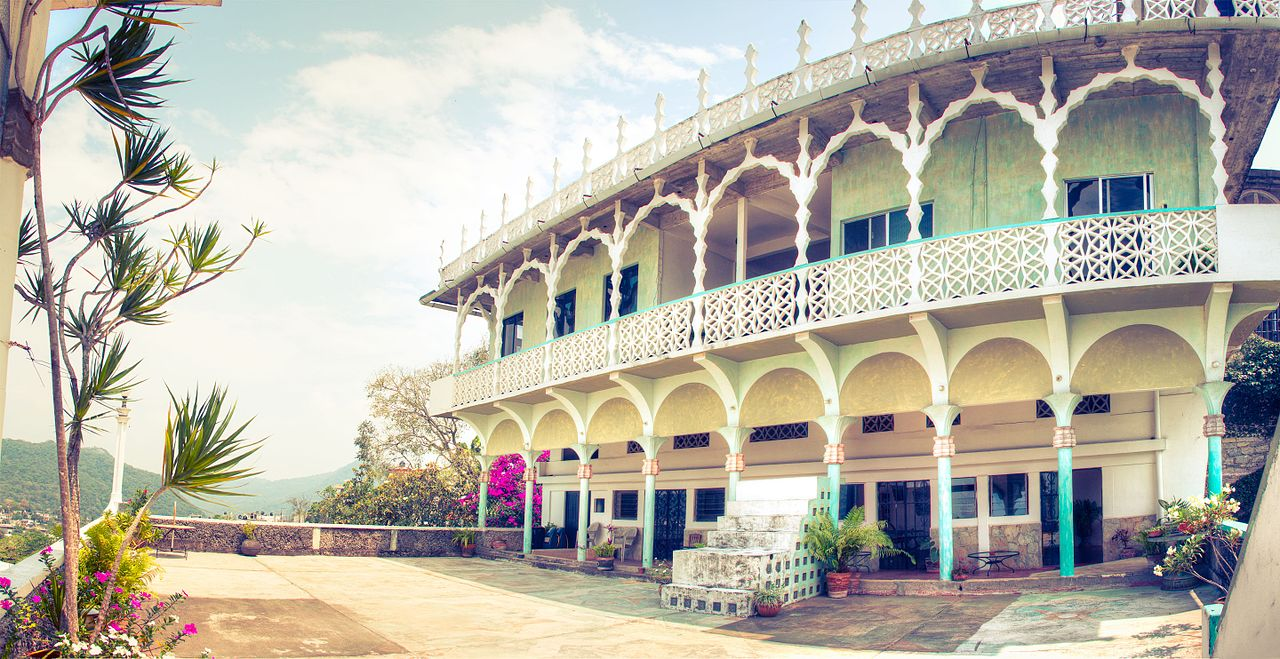 El Naranjo
This is also a very small town that has only a few side streets and limited activity in the main street. There are quite a few restaurants and accommodation options and can serve as a good base for tourists. There are also three waterfalls in the area that are quite worth visiting. It can also be quite pleasant to find accommodation on the river that runs through the town.
Tamasopo
This is also a quiet town with a number of attractive waterfalls. Tamasopo provides a range of unique accommodations on the river just outside of town. The waterfront offers quite a few exciting sights and activities to enjoy as well.
Ciudad Valles
In the center of the main attractions of the region you will find the city of Ciudad Valles. This city will likely be your base of operations if you can avoid San Luis Potosi city. There are tour companies, restaurants, transport links, and accommodation all over the city.
San Luis Potosi
The capital city of San Luis Potosi state is also called San Luis Potosi. We have to confirm here the the city of San Luis Potosi is not inside of the Huasteca Potosina region, but you might need to drive through this city to get to the Huasteca Potosina area. If possible, however, it might be best to skip the city of San Luis Potosi as it is quite far from the main attractions that you have come to see and the city is not necessarily as safe as other areas on this list at night.
How to get to Huasteca Potosina
Your path to Huasteca Potosina will depend where you are traveling from. How you travel through the area will depend on your itinerary. We do advise that you have an itinerary ready so that you can plot your path accordingly.
Arriving by car
Navigating through the Huasteca Potosina region in your own car or a rental car is quite easy. Having a car makes your itinerary easier and will cut your travel time significantly. If you have the extra time and the motivation to do a round trip road trip you can rent a car in Mexico City and make the round yourself.
Arriving by bus
Mexico is pretty well-connected with interstate and intercity buses. However, because this is not such a popular destination there are some areas from which you might not be able to find a bus to Ciudad Valles, or you will need to find connections leading there.
Arriving by air
Huasteca Potosina has no airports. Within a few hours from the region there are two pretty big airports where you can also pick up a rental car.
Tampico International Airport

This is the closer to Ciudad Valles than San Luis Potosi International Airport. The drive is about 2.5 hours. Most flights coming in are domestic, but there are some international flights as well.

San Luis Potosi International Airport

There are also mostly domestic flights coming into the San Luis Potosi International Airport, but there are also some international flights. The drive to Ciudad Valles is around 4 hours.
How to get around Huasteca Potosina
Some of your destinations will be remote, so you will need to decide how you plan to travel around the Huasteca Potosina area.
Renting a car
Before deciding on a mode of transportation it might best to conduct your own research about your options, and to base this on your itinerary. Many areas of this region cannot be adequately enjoyed via public transport, so many travelers choose to rent a car.
Renting a car comes with many benefits, including being able to follow your own schedule and focusing only on the sites that you want to see. However, it will be more expensive to rent a car than to rely on public transport. However, if you are traveling from Ciudad Valles or San Luis Potosí then you will likely find many car rental options.
If you do plan to rent a car and drive around the Huasteca Potosina then there are things that you should be aware of.
There are large areas of Huasteca Potosina where you will not have phone reception, so we strongly advise that you download Google Maps to view offline.
There is a toll road between Tamasopo and Ciudad Valles.
The roads are not maintained well, there are many potholes and a lot of the road is washed away.
There are a lot of speed bumps and many are not clearly marked.
Public transport
While there is plenty of public transport available in Mexico, finding it in the more rural areas of Huasteca Potosina might be challenging. We can also say that public transport to some of the more picturesque and remote waterfalls and nature scenes in the area is just not available. We do not recommend hitchhiking so for some attractions public transport isn't an option.
Taxi
Many visitors choose to combine buses and taxis when traveling in the Huasteca Potosina region, but you will also be able to rent a private taxi for a full or half day. In such a case the taxi will likely take you to the destinations that you want to see. It is important to discuss destinations, time, and price ahead of time and come to an agreement in advance.
Tours
If you are lucky you can also grab a tour which can take you to a number of different sites. Cities will often have a selection of tours to choose from and tours tend to combine all of the best attractions into one package.
Things to do in Huasteca Potosina
We have mentioned waterfalls, now it is time to dive into those waterfalls and other areas and attractions to visit.
Huasteca Potosina waterfalls
Most people who travel to Huasteca Potosina go there for the waterfalls. So let's talk about about waterfalls in a bit more detail.
Cascade Comales
In the southern part of La Huasteca Potosina, in Xilitla, you will find the Cascade Comales. While there are much more spectacular waterfalls on the list, this is still a great place to cool off and enjoy the scenery. It also happens to be very close to the Edward James Surrealist garden which is a huge well kept garden where you can walk around and view the natural flora of the surrounding area.
Cascada de Tamul waterfall
The Tamul waterfall falls over 100 meters and creates a 300 meter wide curtain. When the rainy season hits then the Tamul waterfall becomes the most impressive waterfall in Huasteca Potosina. However, getting to this destination requires some real work. You either have to hike up to the base of the falls, or paddle a lancha boat upriver.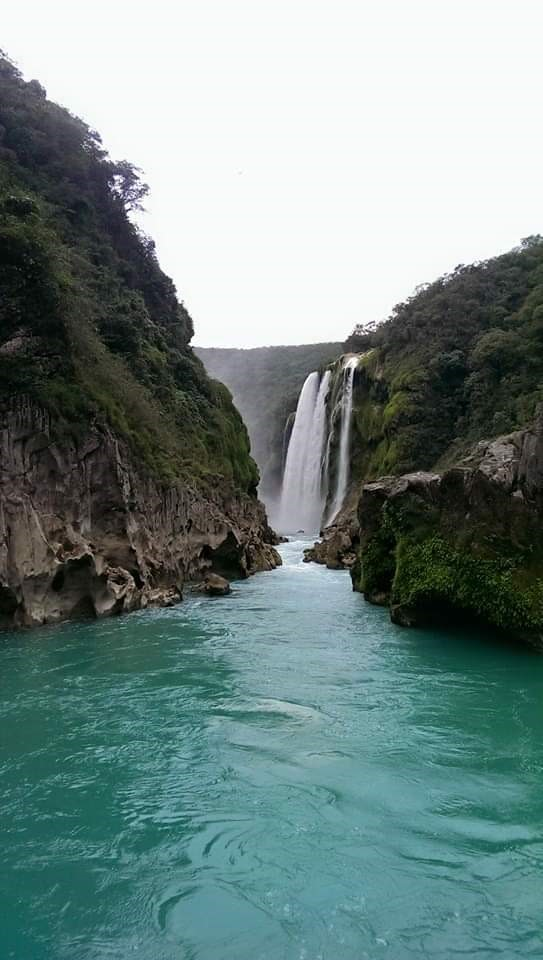 El Trampolin
This destination is less of a waterfall and more of a cascading swimming area. There are a number of natural pools and small cascades along the Ague Buena River. It is a truly breathtaking sight to behold and will give you serious fantasy vibes with the natural tangle of earth and roots forming walkways and bridges across the waterways.
Puente de Dios
Puente de Dios translates to Bridge of God. It is quite a unique destination on this list of Huasteca Potosina waterfalls. There is a waterfall, but it is far from the main attraction at this location. The main reason why people visit here is a natural pool in a cavern. The pool is quite deep (20 meters), and the water is clear and sparkly, and the most exciting part is that there is a cave that visitors can swim through to reach part of the nearby river. The town closest to Puente de Dios is Tamasopo.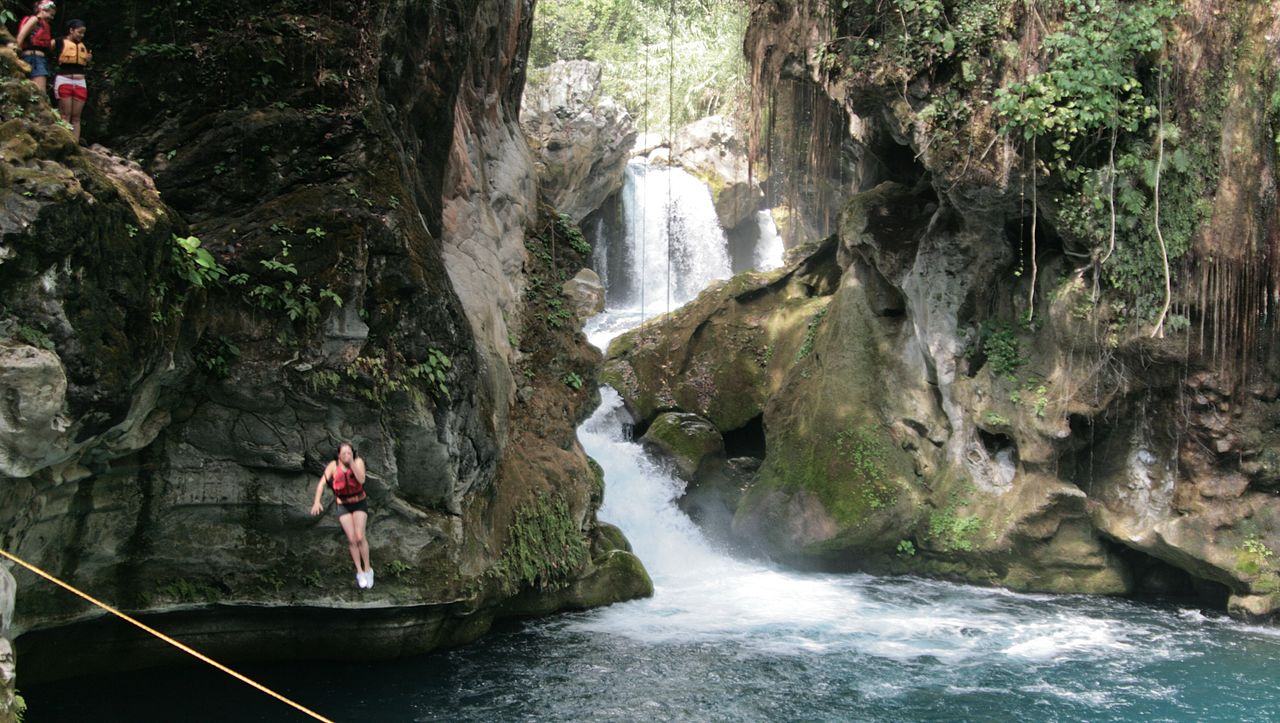 Cascadas de Tamasopo
This is quite a fun Huasteca Potosina waterfall. That being said, this is not necessarily a very natural attraction as it has been heavily developed to resemble a waterpark. The waterfalls and swimming holes are naturally occurring though. There are quite a few fun things to do here and it would be easy to spend an entire day here. This destination is also very close to Tamasopo.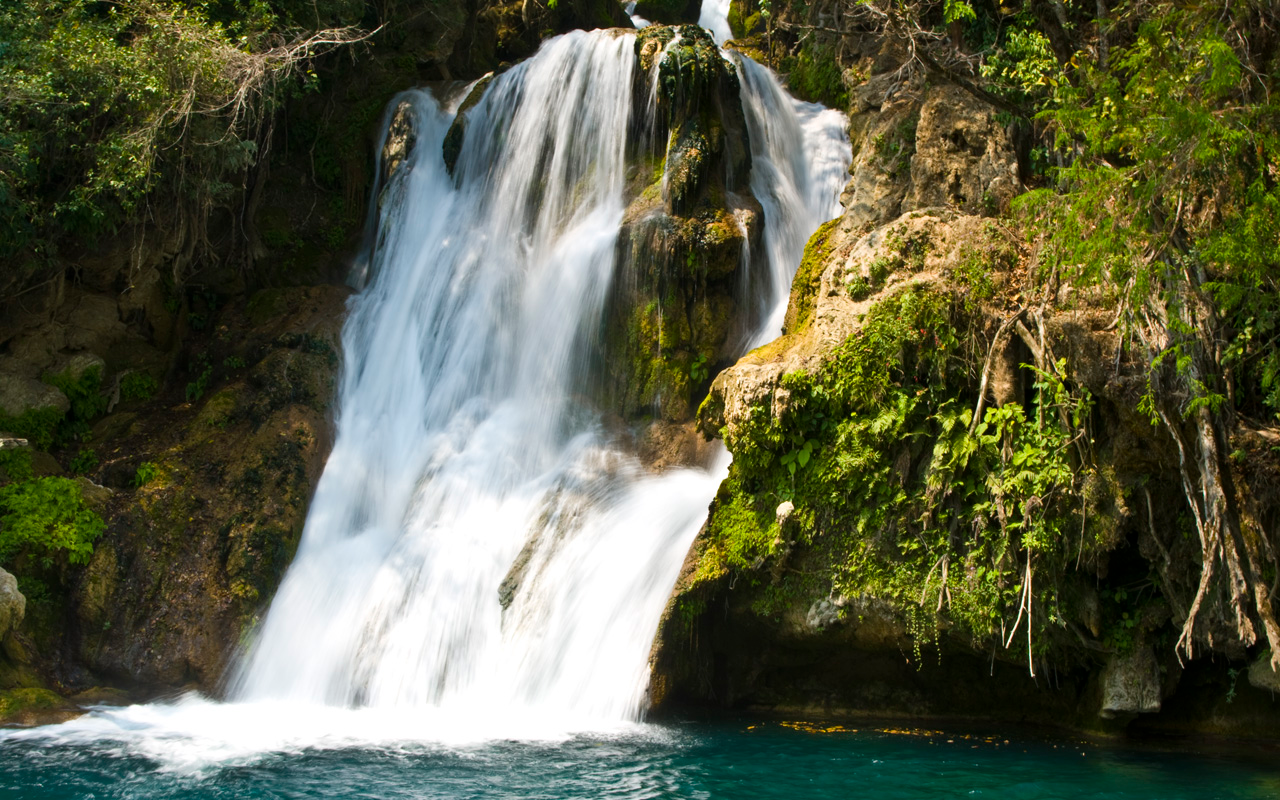 Cascadas de Micos waterfalls
Of all the waterfalls on this list, the Micos waterfalls are the most exciting and adventurous. The Micos waterfalls are part of the Micos River and consist of seven small waterfalls with beautiful milky pools. The best way to experience the Micos waterfalls is via the adventure-style Micos waterfalls tour where you will visit and swim in each pool. These waterfalls are extremely busy over the weekends and on holidays because they are quite close to Ciudad Valles.
Cascada El Meco
This waterfall is higher along the river quite close to Cascada El Salto. There are a few small tiers before it reaches a 40 meter drop to the El Salto River. Of the waterfalls on the list, Cascada El Meco is quite difficult to visit and if you want to do more than just view them you would need to take an additional tour on the El Salto River.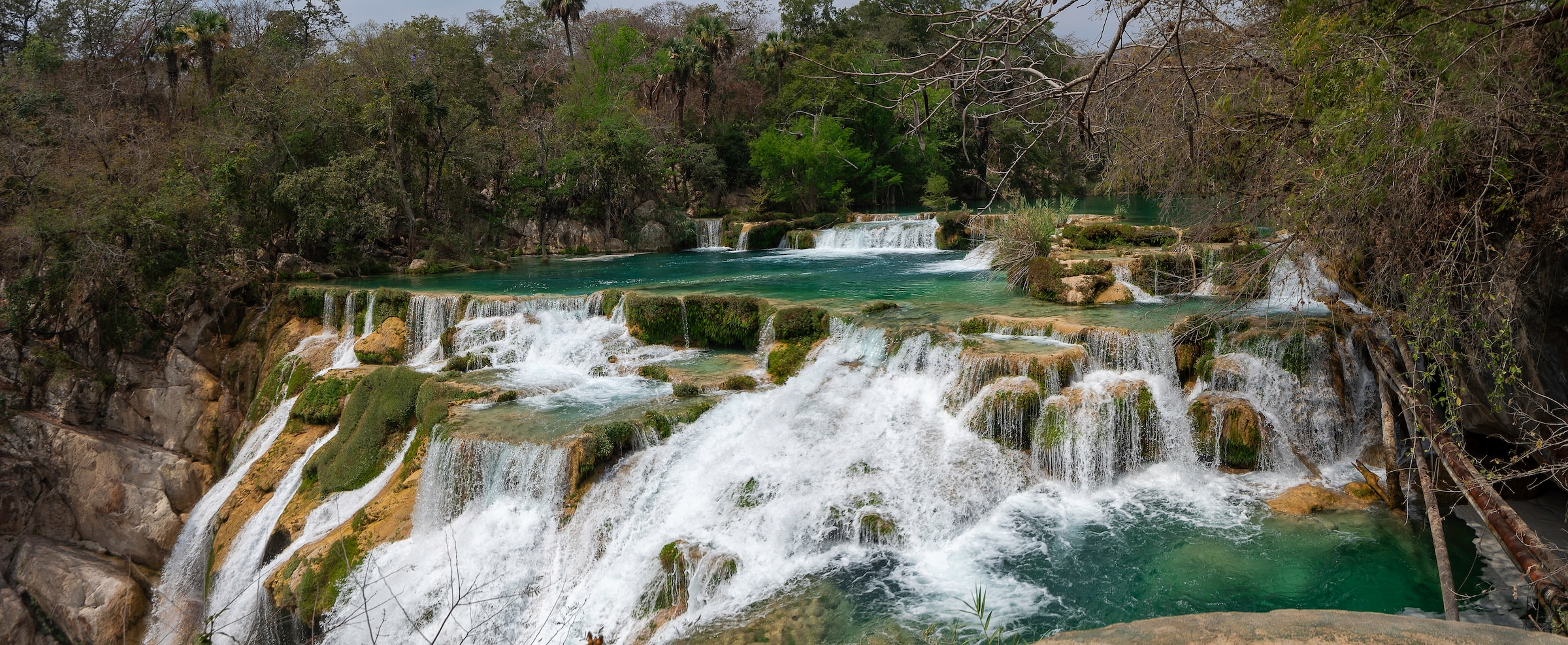 Cascada El Salto
The Cascada El Salto is also known as the Cascada Salto del Agua and is a fan favorite destination among the La Huasteca Potosina. We must note here that this waterfall does not flow throughout the entire year. The winter months are quite slow as the water is mostly diverted to a hydro electric company situated nearby. But the pools in the area are still beautiful and great for a swim. These falls are close to El Naranjo.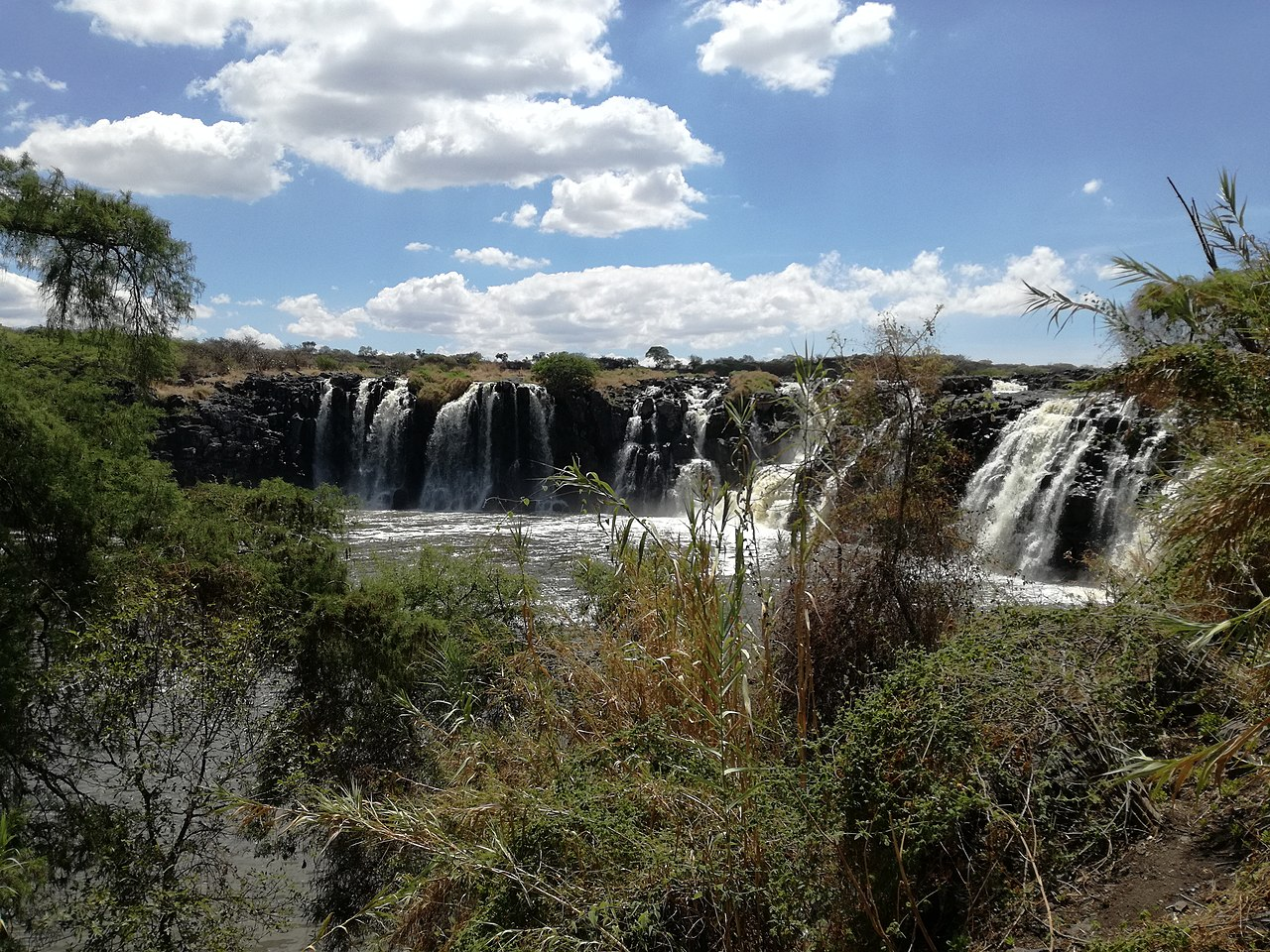 Cascadas de Minas Viejas waterfalls
The Minas Viejas waterfalls are some of the most beautiful natural artwork on our list. There are two waterfalls that fall more than 50 meters in an extremely large sparkling blue pool. There are also smaller pools that share the main water flow and it is a truly magical site to behold. The lush vegetation surrounding the area only adds to the magical atmosphere. This breathtaking valley is only 30 minutes away from El Naranjo.
Cascada El Aguacate
Although one of the smaller waterfalls in Huasteca Potosina, Mexico, it is no less spectacular. The drop is 70 meters and falls into a vast canyon. Towards the bottom the flow splits into a series of smaller falls that finally cascade into a turquoise pool. There are walkways from which visitors can view the magestic sight of careening fairy light waters. This is one of the most remote waterfalls to visit on our list as it is almost halfway from El Naranjo to Ciudad Valles.
Other things to do in Huasteca Potosina
While waterfalls are fantastic and we could never grow tired of them, you might want to do more during your Huasteca Potosina visit.
Archaeological sites
Archaelogical sites are not for everyone, but if that does interest you then there are a few spectacular choices to visit in La Huasteca Potosina. One we can recommend is just outside of Tamuin, the Zona Arqueologica de Tamtoc. The complex is quite large, sporting more than 70 structures. It is believed that this was the capital in the region during the hight of the Huastec civilization. Nearby is another significantly sized ancient city called Zona Arqueologica Tamohi.
Cuevas de Mantetzulel
The local community of Aquismon maintains and manages these nearby caves. It is imperative that you hire a local guide for your visit to these three caves. It is quite a hike to get up to the caves and should not really be attempted in extreme heat. That being said, the caves are a spectacular site to see.
Sotano de Las Huahuas
Sotano de las Golondrinas (Cave of Swallows) can be crowded and Sotano de las Huahuas is less popular but very similar to the Cave of Swallows. Sotano de las Huahuas gets its name from the indigenous local Huasteca language. The word 'Huahuas' means parakeet and you will see these beautiful birds flying in and out of the saves periodically. It is about the same size as Sotano de las Golondrinas as well. You can reach the Huahuas cave via a 20 minute walk. If you specifically want to see the birds then you should note that the timing is about the same as Sotano de las Golondrinas, so you will not be able to view them both on the same day. The cave is around half an hour outside of Aquismon.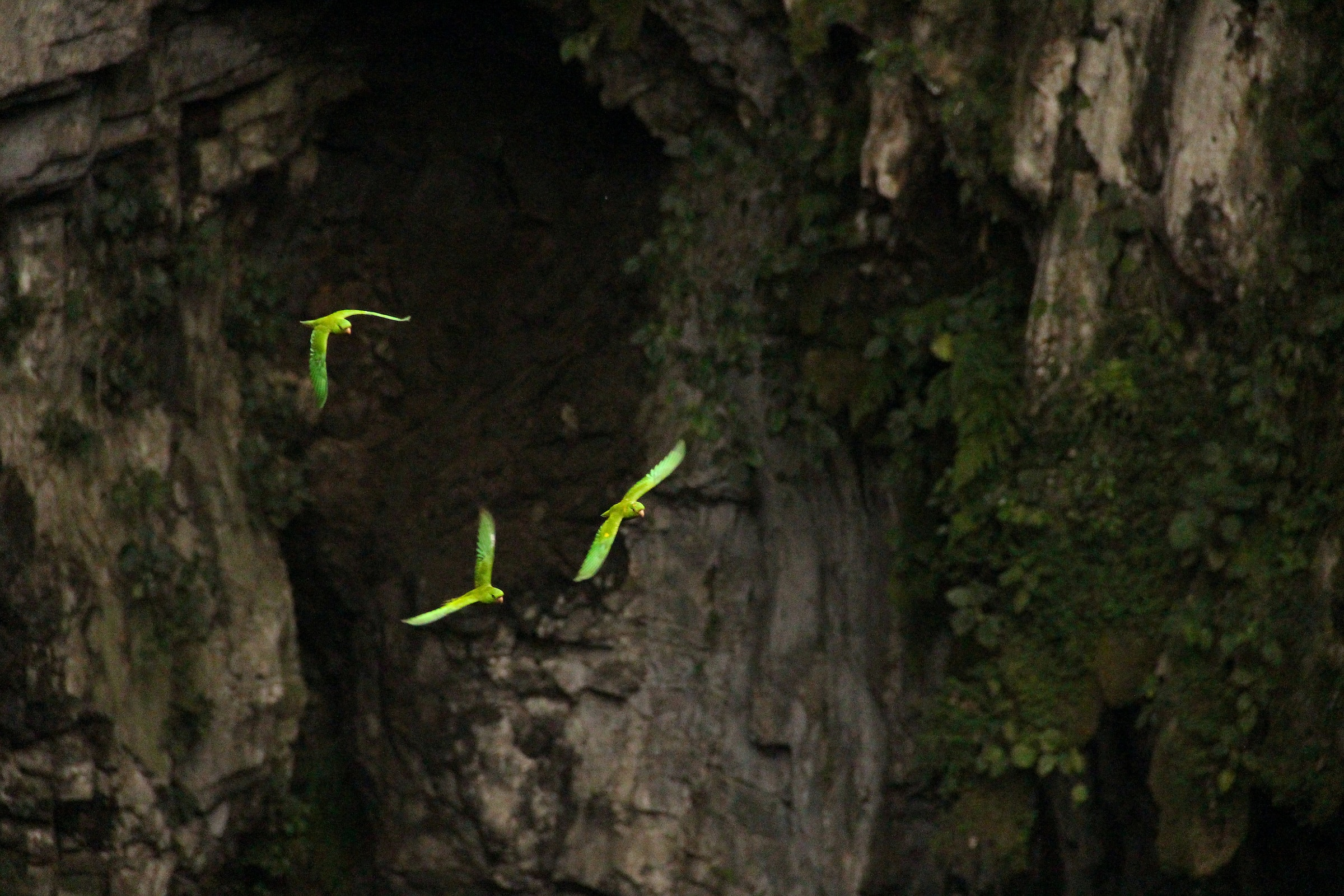 Sotano de las Golondrinas
Also near the town of Aquismon you will find the Cave of Swallows (Sotano de las Golondrinas). The cave is not a traditional cave the way that people usually think of caves. It is an open-air pit cave that is about 60 meters wide. The cave on its own is quite a site, but people flock to the cave specifically to see the famed birds leave the cave in the morning or return in the evenings. That being said, the name of the cave is quite a misnomer as the birds are not swallows, they are actually parakeets.
In the mornings the birds will first fly around the inside of the cave and cause quite a bit of ruckus before they fly out into the open air. When they come back to their nests in the evening the do something similar, and the sound is pretty incredible.
This is also a cave that is managed and maintained by the local community. The walk to the save consists of 600 stairs, which can be a challenge going up, but is much better coming down. The cave is surrounded by natural rocky ledges where visitors can sit and watch the cave opening. The best visiting times may differ with the seasons as the sunset and sunrise times change. Cloudy or rainy days will also result in disappointment as the birds are not likely to leave the caves or will not stick to the usual times. If you do not have a rental car you can arrange for a taxi.
Selva Teenek Ecopark
Selva Teenek is a wildlife rescue center in La Huasteca Potosina geered towards the rehabilitation and rescue of native fauna in the area. There is accommodation in the park so that you can stay over, but you can also do a day visit to the park. Accommodation includes breakfast and dinner and you can choose between luxury cabanas or glamping tents. You can also tour the park and see the animals. They undertake two types of work with the animals in the park.
Firstly, they become a home for animals who have been rescued but cannot be released for whatever reason. Their main focus is on big cats, include the ocelot, lynx, puma, and jaguar. By extension they also rescue and rehabilitate animals who have been abused or are injured. Once they have been treated at the clinic they are safely released. As is the case with many such institutions they are reliant on donations. So if you are visiting La Huasteca Potosina then please consider making a donation! If you book accommodation in the park then an animal tour is included, and you can also do a night tour where you can accompany the vets when they feed the big cats.
Edward James Surrealist Garden
While there are a great many breathtaking waterfalls to visit in La Huasteca Potosina we should not forget the Edward James Surrealist garden. The Edward James Surrealist garden is also called Las Pozas and can be found close to Xilitla. Las Pozas was established with a British Poet named Edward James who absolutely loved surrealist art. Las Pozas became his way of expressing his dreams.
San Luis Potosi as a state is all the richer for the addition of the Las Pozas gardens. The most attractive features of this garden are both man-made and natural, including the collection of orchids, waterfalls, and natural plants. The surrealist art and sculptures are the main draw for most international visitors.
The dawn of the COVID pandemic resulted in park closure which the management used in order to consider the future of the park. Now the only way that guests can visit the park is with a guided tour where tickets need to be purchased in advance. This means that the numbers entering the park are controlled and there are no lines. When you book pay attention to language the tour will be held in, not all of them are in English. Also note that you are expected to leave the park after your tour.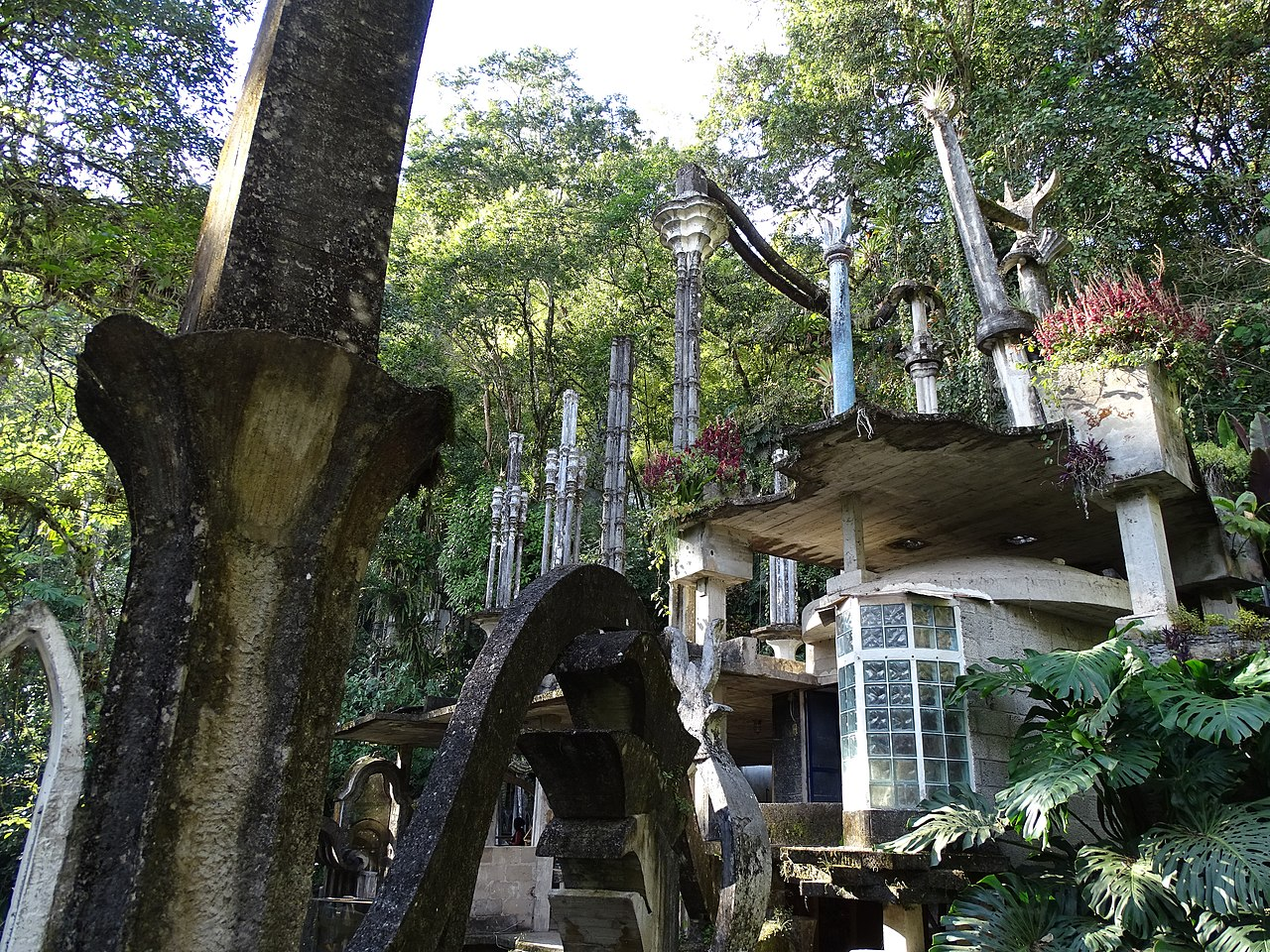 Where to stay in Huasteca Potosina
Selva Teenek Ecopark
As briefly mentioned before this is one of the most unique accommodation options in the area. Booking accommodation here includes a number of unique experiences. When booking the glamping tents, remember that bathrooms are communal.
Aquismon
Although the town of Aquismon is small the accommodation was some of the best on the list. There is the Gran Tamoanchan which is a boutique eco-hotel if you are looking to go green. A more affordable option is the Hostal Aquismon, but our favorite by far was the Hotel Boutique Santa Lucia.
Xilitla
Xilitla is nowhere near Ciudad Valles, so it is likely that you will be spending at least one night in Xilitla. A fan favorite accommodation in this area is quite a unique and weird options that is right in a lush part of the rainforest quite close to Las Pozas (Ceverceria James). The decor is strongly inspired by the surrealism of the Las Pozas gardens. Although this place is a fan favorite we must admit that it is quite overhyped and expensive compared to other options in the area. Posada El Castillo is a boutique hotel in town, the Sukha hostel is a much more affordable option, and the Hotel Paraiso Encantado is similar to Ceveceria James without the price tag.
El Naranjo
The northern part of La Huasteca Potosina can be enjoyed from an El Naranjo base. Booking platforms do not list many accommodation options here, but there are quite a few to be found on Google Maps. Hotel Rio Paraiso and Hotel Bella Vista are both great options right on the river. If you are looking for more high-end options try Hotel Huasteca Express.
Tamasopo
Finding accommodation on the riverfront is much better for the Tamasopo area experience than the accommodation options available in-town. This riverside accommodation, like the Cabana Aventuras is quite affordable and you get a private bathroom with the room – which might not always be the case with riverside lodging. There are also a number of official camping sites in the area.
Ciudad Valles
Casa Kima in Ciudad Valles is an eco-friendly mid-range accommodation option. A more budget friendly option is the Hostal Casa Huasteca, but if you want to splurge then stay at the Casa Ortiz where you can enjoy the beautiful swimming pool as well.
Where to eat in Huasteca Potosina
While there are a number of restaurants around La Huasteca Potosina we would also recommend taking advantage of the natural scenery by finding a picnic spot and having lunch under some trees. Restaurants in Huasteca Potosina are good, but there is nothing that really stands out here. There are plenty of fresh ingredients to purchase at local markets and can be prepared at your leisure.
How long to spend in Huasteca Potosina
This is necessarily a straight forward question to answer. It would depend on what you want to see, and how fast-paced you want your trip to be. Theoretically you can see most of the attractions in a week, but a longer stay will be more comfortable. If you do not have a whole week then we would suggest that you choose a particular region and focus on that.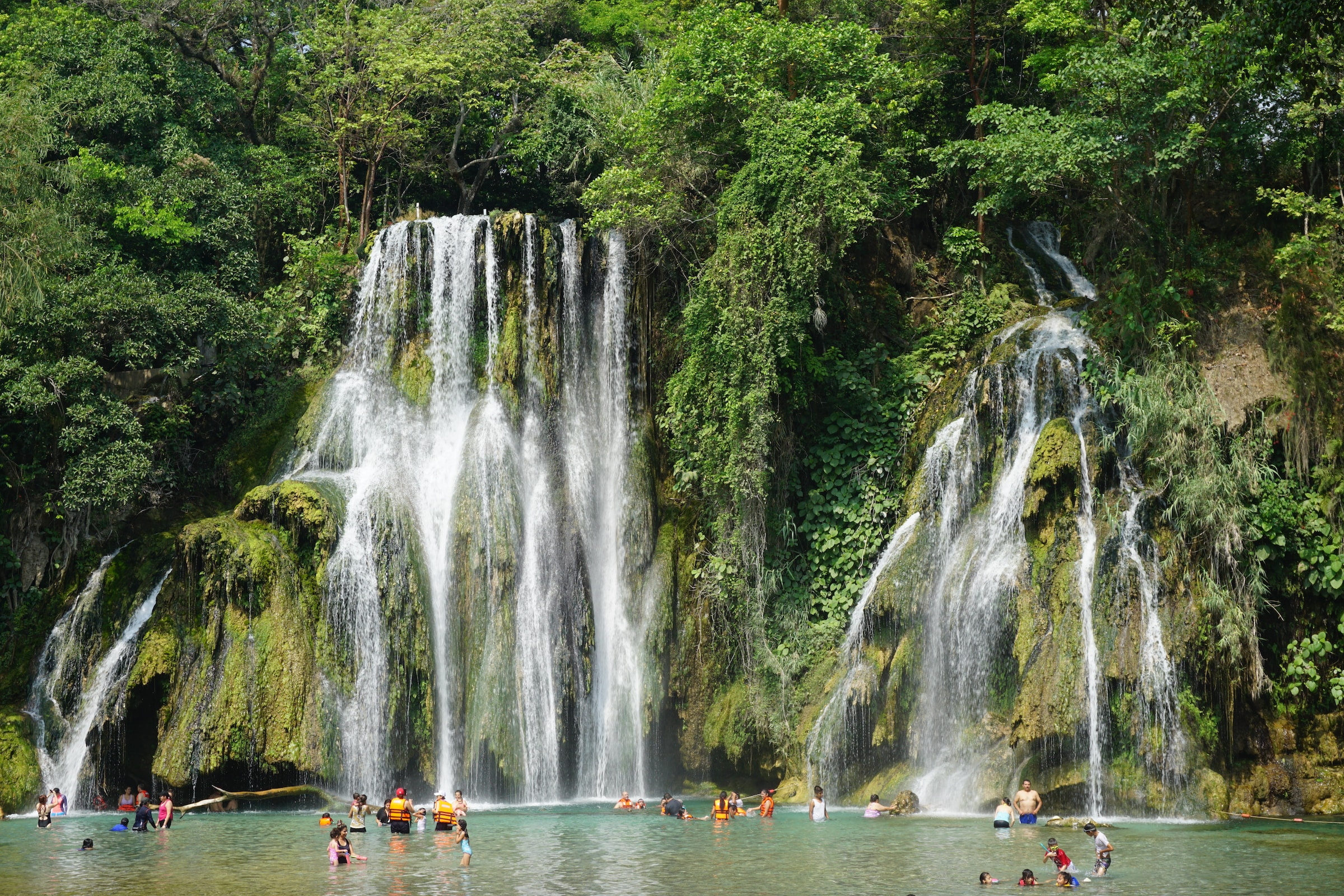 Closing Thoughts
Anyone planning to visit La Huasteca Potosina would need to do their research on the waterfalls and all the rest of the attractions in the area. All these mentioned waterfalls like the Tamul waterfall or Puente de Dios are great attractions. Take in the beauty that can be formed with wind and water erosion, see the difference that solidified sand rocks can make and the power of subterranean or lateral streams. Take a boat tour upstream, or swim in a very deep lake.
Some of these attractions and Huasteca Potosina tours will have an entrance fee and will require a life jacket. It might be pertinent to explore options and recommendations for your waterfalls visits.
If you've visited Tamul waterfalls consider a trip to the lovely park that houses native animals or view the beauty of the entire valley at Las Pozas. While you cannot take a boat ride up to Tampaon river, you will be able to enjoy the Class III rapids on the Tampaon river.
If you are planning on visiting the area during rainy season then remember your Huasteca Potosina tours will be impacted. There are also options for people wanting a more exciting trip, like waterfall jumping.