Earning money to travel the world on a cruise ship almost sounds too good to be true, right?
Well, this is exactly what a cruise ship job entails. Crew members on cruise ships get paid to travel to ports all around the world. However, a cruise ship job is not all sunshine and sandy beaches. Working on a cruise ship is hard work and requires a lot of discipline and dedication.
The cruise ship crew is responsible for most of the amazing activities and facilities you see on cruise ships. Whether they are tending to passengers, hosting pool games and karaoke nights, or mixing drinks as the onboard bartender, cruise ship jobs are just as much fun as they are strenuous.
Although a job on a cruise ship opens a world of adventure and wonder, it is certainly not suitable for just anyone. Life at sea can be challenging at times, but a cruise ship job can also be the greatest opportunity of your life.
Is It Hard to Get a Cruise Ship Job?
In recent years, it has become increasingly more difficult to find a cruise ship job. The pandemic in the last couple of years, in particular, has caused a global delay in the cruise industry that left countless cruise ship workers out of work.
Fortunately, things are picking up again as cruise ships return to the seas. Many of those experienced crew members have sought out jobs on land that they ended up committing to, as they don't want to be at sea for such long periods anymore.
So if you have sea legs and would like to become a cruise ship crew member, now may be the best time to start the application process.
First-timers are recommended to take an entry-level cruise ship job as a way to get a foot in the door and make some connections on their way to their dream job.
There are countless vacancies in the cruise industry, so with time, you are sure to find a job on a cruise ship that is best suited for you.
What Are the Requirements for Working On a Cruise Ship?
You will need to meet the following fundamental requirements to qualify for cruise ship jobs:
Be fluent in the languages required by the cruise line
Be at least 18 or 21 years of age, depending on the cruise line
Possess a valid passport
Posses the appropriate work permit or visa
Pass the mandatory medical examination
Posses a certificate in basic safety
Not have any visible piercings or tattoos (depending on the cruise line)
Pass the mandatory background check
Additional requirements will apply based on the cruise jobs you're interested in. For all cruise ship jobs, speaking more than one language certainly plays in your favor.
Overview of Jobs on Cruise Ships
There are countless jobs on cruise ships that entail different qualifications and requirements. If you are already qualified as a massage therapist, an IT professional, or a nurse, it will make sense to take a cruise ship job along those lines.
Many people don't have any advanced degrees but would still make excellent crew members, and fortunately, there are various entry-level positions that don't require any extreme qualifications.
Many vacancies are suitable for those who are just entering the workforce and have never even stepped foot on a cruise ship.
There are typically three categories that cover all the jobs on cruise ships: officer, staff, and crew.
If you're willing to do what it takes to build a career in the cruise industry, the following cruise ship jobs may be just the right starting point for you.
Cruise Ship Jobs that Don't Require any Previous Experience
Potwasher (dishwashing)
Galley cleaner (kitchen cleaning)
Bar utility (restocking and cleaning bars)
Ordinary seaman (maintenance and general cleaning)
Deckhand (stacking chairs and cleaning decks)
Cabin steward (Cabin stewards are responsible for cleaning staterooms and executing guest services)
General cleaner (general cleaning of public areas)
Bell staff (general cleaning duties, running errands, moving passenger' luggage)
Laundryperson (washing, drying, and ironing bedding, clothes, and towels)
Engine wiper (Cleaning engine equipment and machinery)
If you don't have any qualifications or prior experience, one thing is certain: you'll be cleaning something somewhere on the cruise ship.
Whether you're cleaning in the kitchen or in the engine room, a cleaning job on a cruise ship is a great stepping stone before working your way up to a higher-paying job in the future.
If you're looking to gain some valuable experience and qualification in a particular line of work, you can also look for positions on yachts or even hotels and sailboats as a means of becoming eligible for a more esteemed cruise ship job.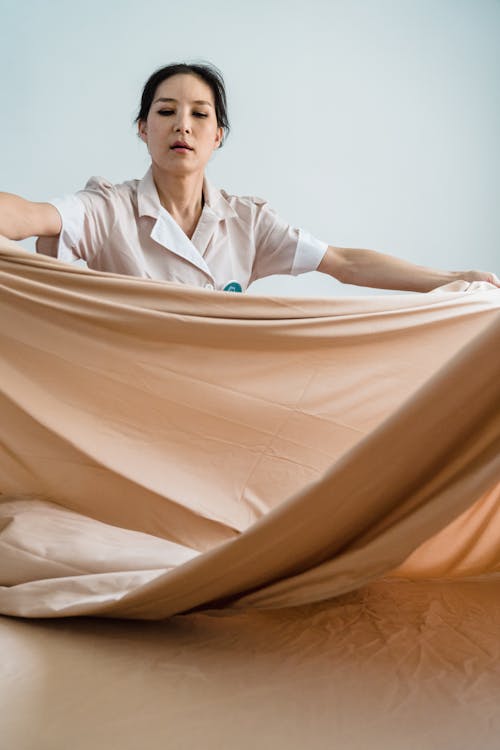 The Jobs on Cruise Ships
What you would consider the best cruise ship job will likely differ from another person's pick. Cruise ship jobs are known to provide a high sense of satisfaction, whatever direction you choose.
When considering how much jobs on a cruise ship pay, here is a list of the top ten best cruise ship jobs:
Cruise ship doctor: The doctor onboard is often the crew member that gets paid the most, even more than the captain.
Cruise ship captain: The cruise ship captain benefits from several perks, such as sleeping in the best stateroom onboard and getting three months paid leave for every three months onboard.
Cruise Ship Youth Staff: Those who love working with children can work in the kids' club section, which can be a lot of fun.
Cruise Director on a Cruise Ship: The charismatic director on cruise ships are often seen on stage, entertaining passengers.
Cruise Ship Gentleman Host: The only duty this position entails is dancing with female passengers who don't have anybody else to dance with.
Cruise Ship Entertainment Staff: This includes dancers, singers, comedians, acrobats, and more, and it entails more free time than other positions.
Manager of Shore Excursions: The primary benefit of this position is participating in all the fun shore excursions before you promote them to passengers.
Cruise Ship Bartender: Suitable for social and extroverted individuals who like to have fun with passengers.
Cruise Ship Firefighter: Because cruise ship fires are extremely rare, firefighters spend most of their time training the crew on safety measures and checking the equipment onboard.
Cruise Ship Hairdresser: You will be getting people ready for glamorous formal nights, which can be lots of fun and very rewarding.
How Much Do Cruise Ship Jobs Pay?
Staff in the lowest-paying position on a cruise ship, a galley cleaner, gets paid around $500 a month, while the cruise ship doctor, the highest-paying position, gets around $10 000 a month.
As the hours of various positions vary, some jobs are paid a lot lower than you would expect. Such job positions are usually filled by individuals who come from countries that have a very low living costs and want to send funds to their families at home.
Which Cruise Line is the Best to Work For?
The best cruise line to work for depends on several factors, including the salary of the job, your role onboard, the opportunities available later down the line, cruise line policies, and onboard food.
Most crew members agree that the cruise ship plays just as big of a role as the cruise line. Some cruise ships have incredibly exciting itineraries, while others are a bit more laid-back, so it depends on what atmosphere you prefer.
In general, it is always wise to work for a cruise line that has been in business for a long time, reducing your chances of getting laid off if the cruise line does go out of business.
Top 13 Best Cruise Lines to Work For:
Norwegian Cruise Line
Carnival Cruise Line
Princess Cruises
Royal Caribbean International
P&O Cruises
MSC Cruises
Disney Cruise Line
Celebrity Cruises
Holland America Line
Cunard Cruise Line
AIDA Cruises
Costa Cruises
Marella Cruises
Applying for a Job on a Cruise Ship
To apply for a job at most cruise lines, you need to apply directly with their head office. Other cruise lines require you to work with a hiring partner or a recruitment agency. If you go on the website of your preferred cruise line, you should find a careers section where you'll get the instructions to apply for a job on a cruise.
Browse through all the vacancies before choosing one that piques your interest, and simply follow the instructions on how to apply online. You'll generally be required to submit your resume and a cover letter in addition to any specific documents stipulated by the advertisement.
BE AWARE! Many fraudulent companies around the world falsely claim that they are representing the human resources department of a cruise line.
To prevent getting scammed by such a company, look at the website of the legitimate cruise line and check the list of their recruitment partners. If the company does not appear on that list, it is not one of the cruise line's official hiring partners, and you'll know it is a fraudulent company.
The Best Parts of Working on a Cruise Ship
Working on a cruise ship is truly an unrivaled experience and gives you a unique lifestyle you'll be hard-pressed to find anywhere else. Below are some of the top benefits of having a job on a cruise ship.
Travel the World
Cruise life means you get to travel to some of the most exotic destinations in the world. Not only do you get to learn more about countless cultures, but you also get paid for doing it! Depending on the cruise line, your job position, and the ship, you may even get a chance to go on a shore excursion or two and benefit from crew discounts.
Low Living Expenses
Crew members don't pay for their accommodation or food, so they can save most of their earnings. Land jobs entail paying for rent, gas, food, cable, and so many other things, but if you get a job on a cruise ship, you don't have to worry about any of those expenses.
Crew members receive free uniforms, inexpensive alcohol in the crew bar, free laundry, and free medical care, amongst many other great benefits.
Community Feel
When you work on a cruise ship, you will be working in close quarters with co-workers who likely come from all over the world, so you get to be surrounded by an incredibly diverse group of people.
Moreover, passengers can bring a unique sense of culture to your job, and many crew members have reported becoming good friends with the passengers and crew.
Crew Discounts
There are countless ports worldwide that offer a number of crew discounts for things like resorts, taxis, and restaurants. If you have never been to places like Eastern Europe, South America, and the Caribbean, a job working on a cruise ship will allow you to see them all and so much more.
How to get a Job on a Cruise Ship: FAQs
What kind of job can I get on a cruise ship?
There are lots of different job positions on cruise ships, of which housekeeping jobs, retail jobs, technical positions, maintenance roles, and entertainment positions alongside the Cruise Director are just a few.
What is cruise life like?
Crew members work very long hours that are split up by breaks throughout the day. They also work all days of the week and don't get any days off. However, the crew work in close quarters and tend to have a lot of fun among themselves and with the passengers. Moreover, some cruise lines allow the crew to explore some of the ports, so working on a cruise ship is overall a very enriching experience.
To what nationality do most cruise ship members belong?
The crew on major cruise ships is often multinational and comes from all over the world. Many cruise lines hire workers from Southeast Asia. For example, Royal Caribbean has more than 11 000 Filipinos working for them.
How long are the contracts for working on cruise ships?
The lengths of contracts vary widely based on the job position and the cruise line. An average contract requires a crew member to be on board for four to eight months on end. Thereafter, they can renew their contract if they like, but there are no obligations.
Can I work on a cruise ship without any experience?
Just like with most jobs on land, there are always positions available for individuals who don't have any prior experience. Most people start their career at sea with an entry-level position and work their way up to a more specialized role, such as a hotel director, as they gain experience in the field.
Is there an age limit for working on a cruise ship?
Although most cruise lines prefer hiring younger crew members due to the high energy level required to fulfill such roles, there are no official age limits imposed on cruise ship jobs. Anyone who passes the standard medical examination is deemed fit to work on a cruise ship.
It is worth noting that a job on a cruise ship demands long hours with very little rest in between shifts. That is not to say an older person cannot satisfy these requirements, but it may become strenuous after months at sea.
In essence, cruise lines do not discriminate based on age, sex, sexual orientation, religion, race, or gender identity.