History Of Little Island, NYC
Little Island Park is a 2.4-acre "floating" public park with a deep root in American history. First opened in May 2021, the park is located in an area near the Hudson River inhabited by the Native American Lenape Tribe prior to the arrival of Europeans on American shores. Their arrival brought a maritime boom that transformed the riverfront.
The island itself is constructed on the crumbling concrete piles of Pier 54 which previously served as the launching point for journeys across the Atlantic Ocean and was the site of the R.M.S. Lusitania's last voyage before it was destroyed by the Germans during World War I.
In addition, Pier 54 was also the site where survivors of the Titanic debarked after their ship struck an iceberg off the coast of Newfoundland and sank in 1912.
How Little Island, NYC Came To Be
The pier fell into disuse until the 1970s when it became a safe haven for the city's growing LGBTQ community. However, the pier suffered damages when Hurricane Sandy hit New York City's coastline.
In 2013, Barry Diller of the Diller-von Furstenberg Family Foundation partnered with the Hudson River Park Trust leadership to come up with a solution for the repair and reactivation of Pier 54.
Construction of the island began in April 2018, with the symbolic cornerstone being laid in December of the same year. The project was renamed Little Island in 2019.
Barry Diller's foundation will pay for concerts and events on the island for the next two decades. Sales from actual performances will also be distributed to nonprofit organizations, including the Hudson Guild, Westbeth, Greenwich House, The Door, and PS 33. In addition, the foundation will also cover all maintenance activities on the island.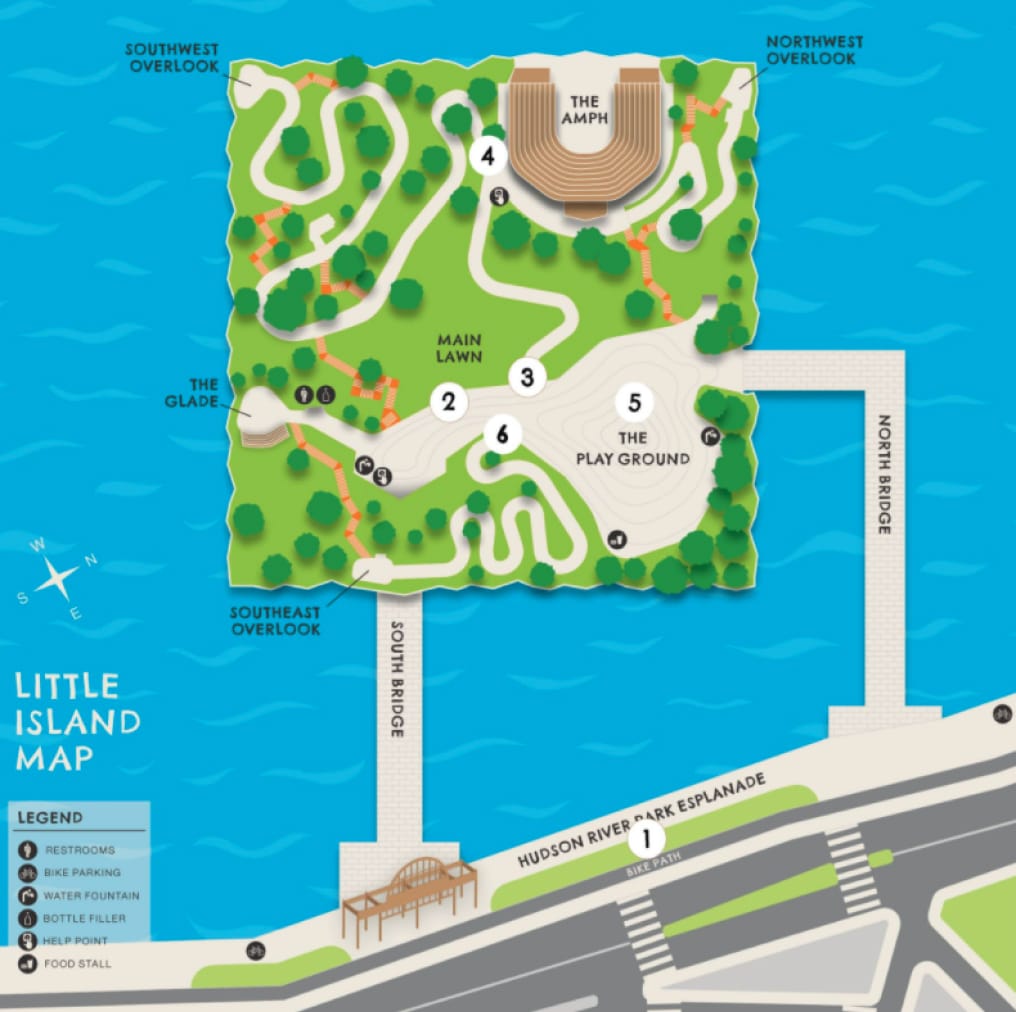 How To Get To Little Island
Little Island Park is located near the Hudson River Park Hudson River Greenway and off Manhattan's West Side Highway, with entrances on West 13th and 14th streets.
There are several ways to get to Little Island, NYC:
By Subway
Little Island is near several subway stations along 13th and 14th Streets. Specifically,
A, C, E, and L at 14th Street and 8th Avenue
1, 2, and 3 trains at 14th Street and 7th Avenue
F and M train at 14th Street and 6th Avenue
Visitors in the area can also cross the West Side Highway at 14th and 13th Streets.
By Bus
Three buses stop at 14th Street and 10th Avenue, namely M11, M12, and M14D SBS.
By Bike
Visitors who want to ride their bikes to Little Island can enter through the north and south park entrances on the Hudson River Park esplanade where racks are available for them to secure their bicycles. From there, visitors can walk to the park.
It is important to remember that visitors are not allowed to take their bikes inside Little Island Park in the interest of keeping the space accessible and safe to all guests.
By Citibike
The closest Citibike stations are located along 10th Avenue on 14th and 15th Streets. There are also Citibike stations by The High Line on West 16th Street and the corner of Washington and Gansevoort Streets.
By Car
It is important to note that there is no parking on the Hudson River. Visitors with vehicles can drop off their passengers on 10th Avenue between 13th and 14th Streets before parking nearby.
The closest public parking garage is MPG Manhattan, located at 450 West 17th Street between 9th and 10th avenues.
What To Expect On Little Island
There are plenty of hills across New York City that has been flattened to be walkable. However, Little Island is an exception, featuring drastic elevation changes that make guests feel like they are trekking across a concrete jungle.
The pier's green landscape and rich horticulture feature at least 35 species of trees, 65 species of shrubs, and 270 varieties of grasses, perennials, vines, and bulbs—many of which were selected for their fragrance and attractiveness to birds and pollinators.
The landscape also features swaths of textures and color themes that change depending on the season. In the winter, the park is bathed in snow. In the fall, the trees and shrubberies around the park take on a vibrant orange color. Conversely, blooms of pink, blue, and red surround the park in the spring.
Things To Do In Little Island Park
Now that we've covered the basics, it's time to dive into what makes Little Island Park a fun place to go to. Here are some of the things you can do on Little Island.
Attend a concert or an event
Little Island partners with the Chelsea and West Village community and local schools to deliver various arts and education programs on the island park. College students and recent graduates are also given the opportunity to attend career development talks on Little Island.
Most concerts and events on the island are done at the amphitheater, which can seat 687 people, or the smaller theater, which seats about 36 guests.
Little Island Park boasts a robust calendar of educational programs and theatrical performances yearly. You can view their calendar of events here.
Note: At the time of writing, the calendar has not been updated to reflect events and performances for 2023.
Try Out Their Snacks and Drinks
Playing in the park can become exhausting. As such, the perfect way to fill up your energy bar is by sitting on the park's massive lawn and munching on the variety of snacks and drinks they offer.
There are three concession stands in the Playground, each of which offers menu items made from scratch. The stands serve coffee, baked goods, sandwiches, salads, small bites, beer, and wine.
The concession stands are open at set times daily: 7 a.m. to 10:30 a.m. for breakfast and coffee, 11:30 a.m. to 4 p.m. for lunch, and 5 p.m. to 11 p.m. for dinner.
Have a picnic
If you're not looking to purchase food from the park's concession stands, you can still bring your own picnic supplies. That being said, do note that some areas like the flower beds are off-limits. Guests are also not allowed to bring alcoholic beverages into the park.
If you're set on having a picnic on Little Island, we recommend bringing a garbage bag with you as littering is not allowed.
Join in on Health & Wellness activities
Little Island was built with the aim of giving guests a space for them to move their bodies and relax their minds. As such, visitors are allowed to bring yoga mats for their sun salutations. Kids can also play with hula hoops and jump ropes at the Playground.
If you're looking to boost your mental health, the park has winding pathways that take you through its lush natural landscape. The path also leads to the Hudson River where you can watch the most incredible sunsets.
Enjoy and play!
There is no children's playground on the island. However, there are plenty of amenities that foster creativity, imagination, and enjoyment among children.
The objects available on the island are dependent on the season. Some of the amenities available include spinning discs, Instrument for All, Ferraphone music makes, Dance Chimes, jump ropes, hula hoops, and spun chairs.
Tips For Visiting Little Island Park
Visit the park early in the morning
Little Island Park is quickly becoming one of the most popular places to go to in the city. As such, the park tends to get crowded later in the day.
If you're looking for a relaxing trip, your best shot at avoiding crowds will be in the mornings.
Little Island Park opens as early as 6 a.m. and closes at 11 p.m.
Explore the park's different walking paths
Little Island isn't a very large park. That being said, it still features several walking paths that take you to different areas, including the Observation Deck located at the park's upper left-side corner. It's the perfect place to go to when you want to watch the sunset over the Hudson River.
What Not To Do On Little Island
Due to the small space and preservation efforts, visitors are urged to follow a few rules to ensure that everyone can experience and enjoy the park to its fullest.
As such, visitors are encouraged to refrain from:
Walking in plant beds
Picking flowers or plants
Bringing in outside alcohol
Smoking or Vaping
Riding or bringing bicycles
Using skateboards, roller skates/blades, and scooters
Sledding, skiing, or snowshoeing
Fishing
Playing amplified sound
Solicitation
Commercial activity
Littering
Obstructing entrances or paths
Bringing dogs, with the exception of working dogs
Flying drones
Little Island is a part of the Hudson River Park, which means it is also subject to the park's rules listed here.
In addition, Little Island follows a strict code of conduct aimed at fostering a welcoming and inclusive public park. The park has zero tolerance for:
violence or threats of violence
violent language
sexist, racist, homophobic, transphobic, ableist, or otherwise discriminatory language and/or personal insults
deliberate intimidation
stalking or following any visitors or park staff
Guests who are observed engaging in inappropriate behavior will be immediately escorted out of the park.
FAQs About Little Island, NYC
Is Little Island Park floating?
No, it isn't. At first glance, the tulip-shaped park appears as if it is floating on the waters. However, it is being held up by pillars of different shapes and sizes, making it seem like the island is rising and falling in the waves.
Can I bring outside food to Little Island Park?
Of course! Guests are welcome to bring their own food and enjoy them on the lawn or at one of the tables in the park. However, bringing outside alcohol is prohibited.
Do I need to pay anything to visit Little Island Park?
Little Island Park is one of the city's free attractions, thanks to the donations of Heatherwick Studio and Barry Diller/Diana von Furstenberg.
Are there public restrooms on Little Island?
Yes. The restrooms, including ADA-accessible and all-gender restrooms, can be found near The Glade.
Are pets allowed in the park?
In order to ensure the safety of guests and the preservation of flowers and plants, the park has prohibited guests from bringing their pets. However, service animals are welcome.
Is there Wi-Fi?
As of writing, Little Island Park does not offer public Wi-Fi.