Portland is one of the most beautiful cities in the United States. It is surrounded by green scapes, mountains, rivers, and a desert, which provide beauty and variety. It would, however, mean there is no shortage of gorgeous views in Portland, Oregon.
The views of the city skyline aren't overwhelmed with skyscrapers. Even the core downtown Portland area provides stunning views. We have made a list of some of the most stunning views in Portland, Oregon, which is no easy feat as there are a great many.
Portland is a utopia of scenic backdrops with rolling hills, flower gardens, hiking trails, and several breathtaking photo ops.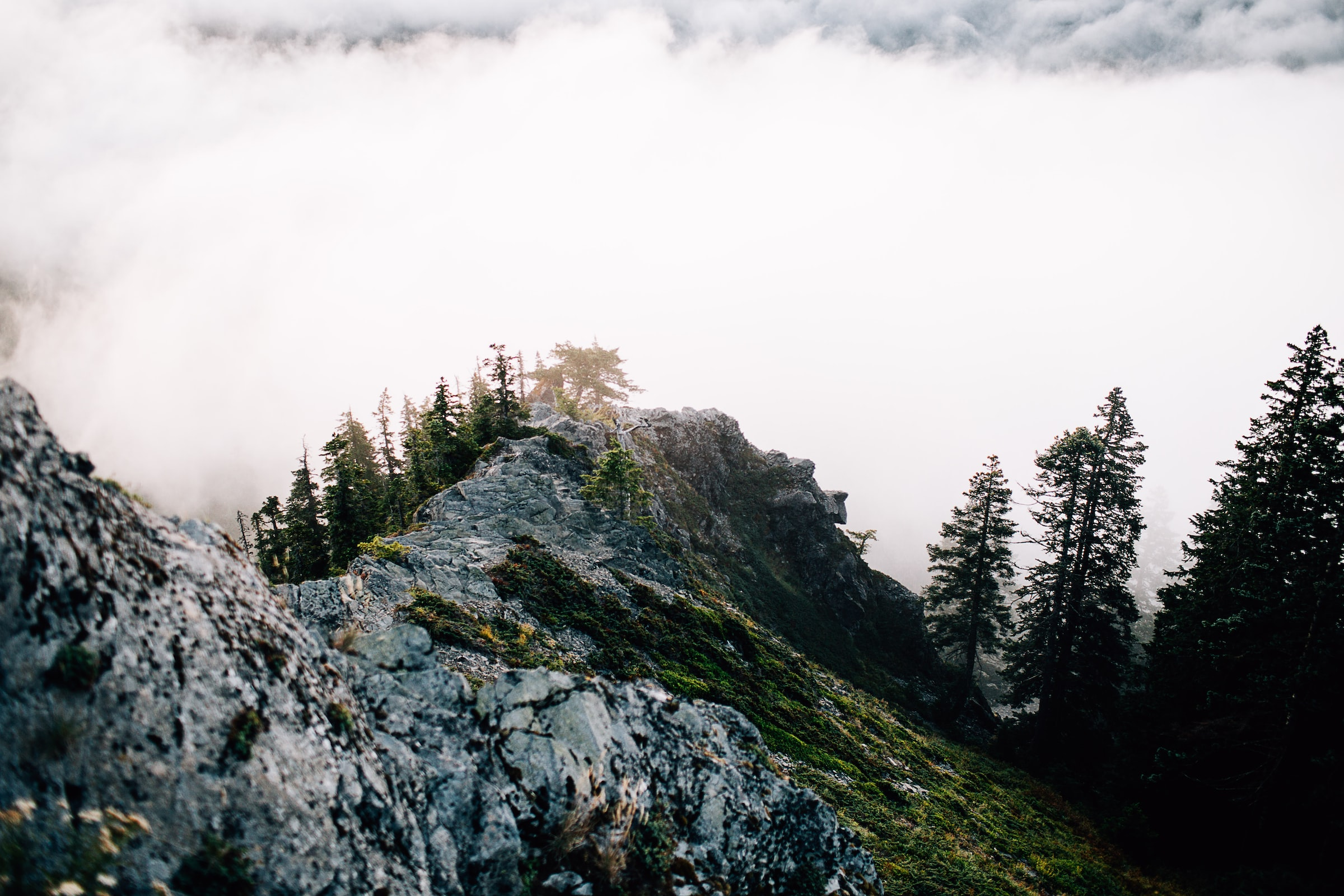 Pittock Mansion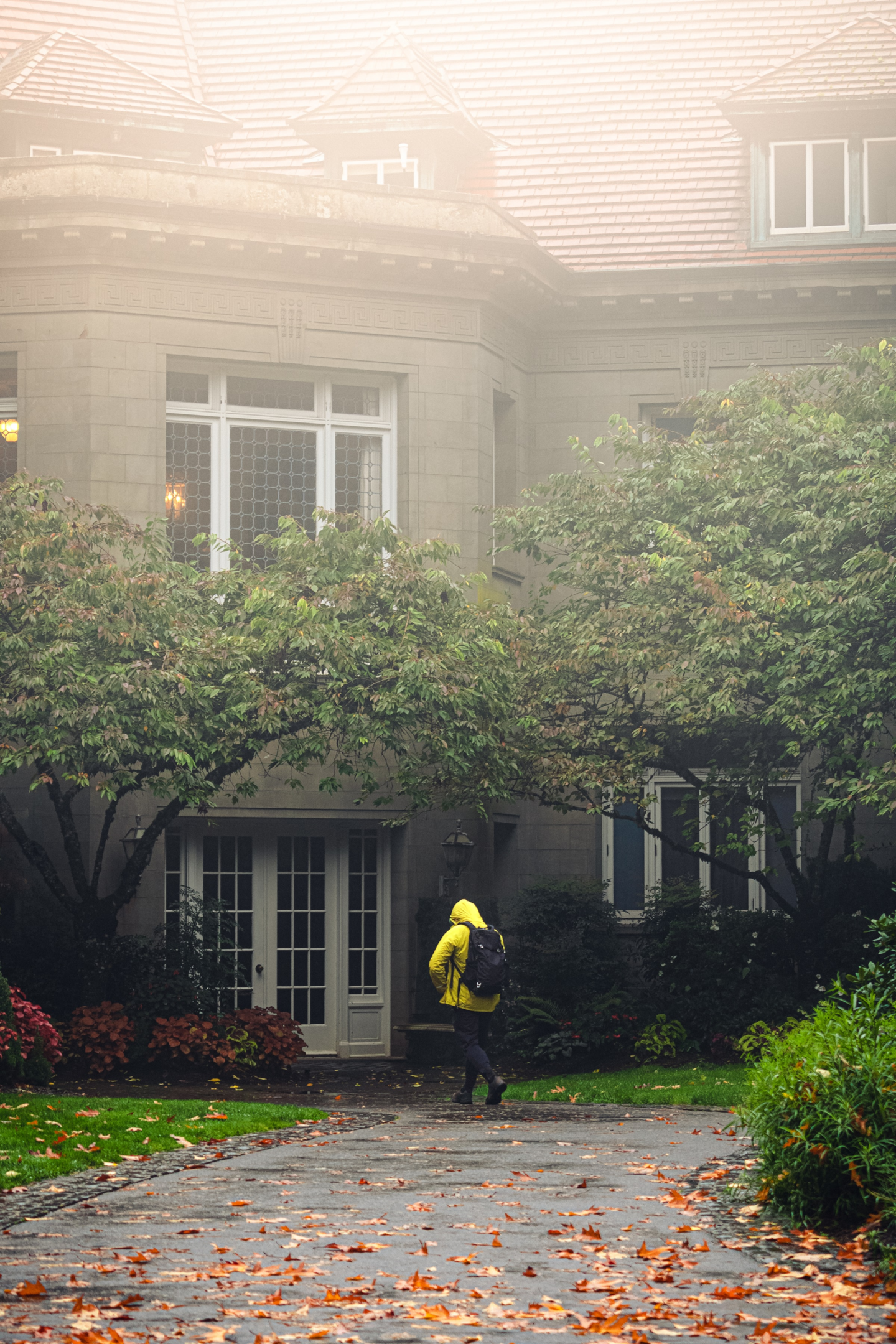 When discussing the best Portland viewpoints, we cannot deny that Pittock Mansion is the best of the best. Pittock Mansion sits on the West Hills and is a gorgeous French-Renaissance mansion that the public is welcome to visit. The building quality of the original house is so fantastic that the original elevator still works. If the view is all you're looking for, or you don't have time to tour the entire house (which is quite substantial), then at least check out the overlook behind the mansion. There you can catch breathtaking views of downtown Portland. Portland city is in the shadow of Mt. Hood and seeing that firsthand is a sight you should not miss.

Washington Park
Washington Park is enormous, spanning 400 acres. The beauty of this park is unparalleled and there are a great many things to do and many attractions to enjoy. Within the park boundaries, you can find six cultural institutions among so much else. It is difficult to beat Washington Park's spectacular views.
Washington Park itself provides a variety of views of downtown Portland. One particularly attractive viewpoint is close to the tennis courts. Another attraction within the park that should not be missed is the International Rose Test Garden. It is both the oldest and largest rose garden in the United States. There are more than 650 types of roses and over 10,000 individual rose bushes.
Visit the Portland Japanese Garden and enjoy some of their seasonal events, or simply meander around the Japanese Gardens and take in the beautiful scenery around you.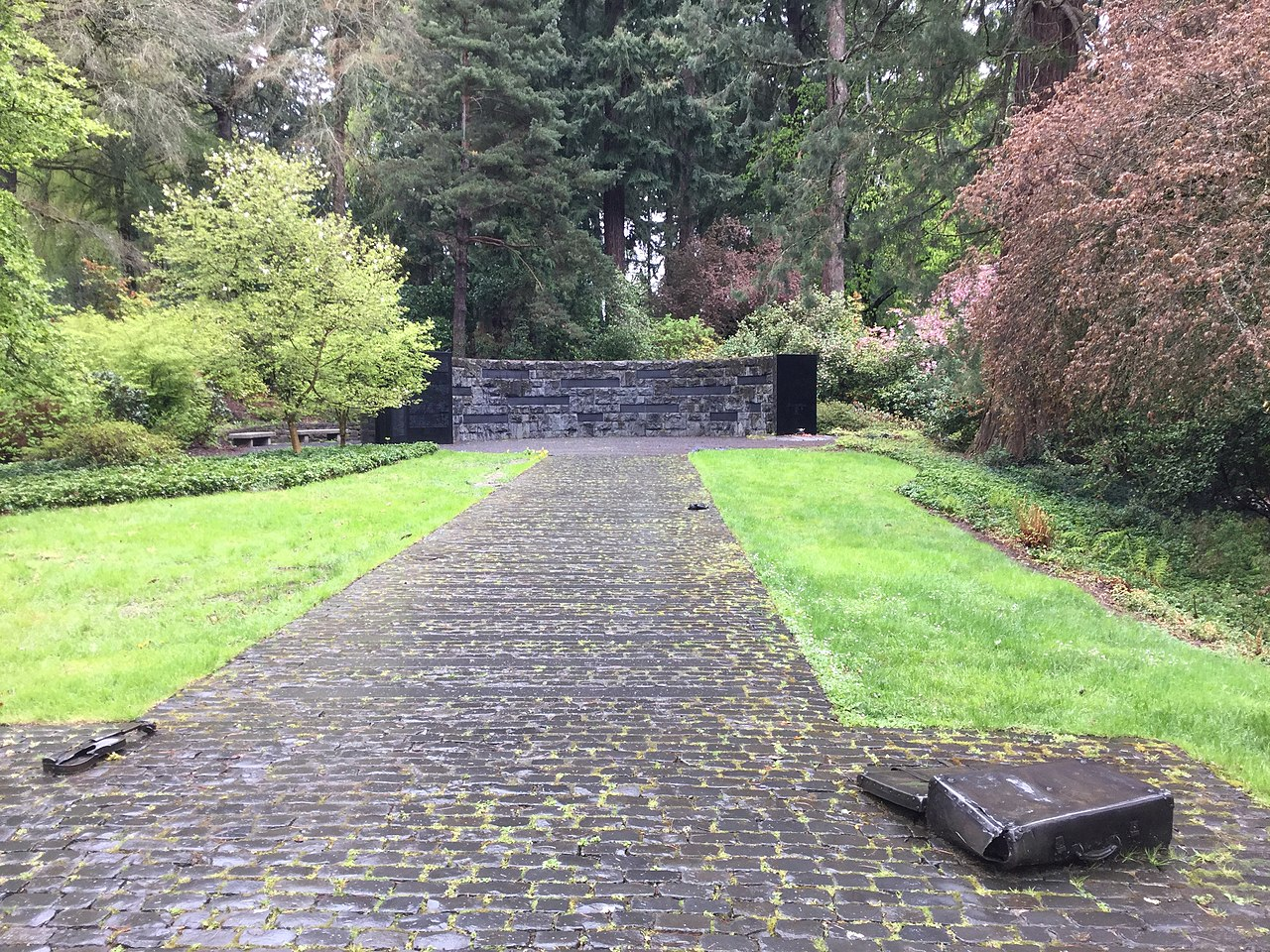 OHSU Campus
The OHSU campus is home to the Portland Aerial Tram which connects the south waterfront to the OHSU Marquam Hill campus. The tram solved quite a difficult problem, but despite that ended up providing some of the best views in Portland. The Cascade Mountain Range is on almost full display on the Portland Aerial Tram way, including Mt. Rainier, Mt. Adams, Mt. St. Helens, and Mt. Hood.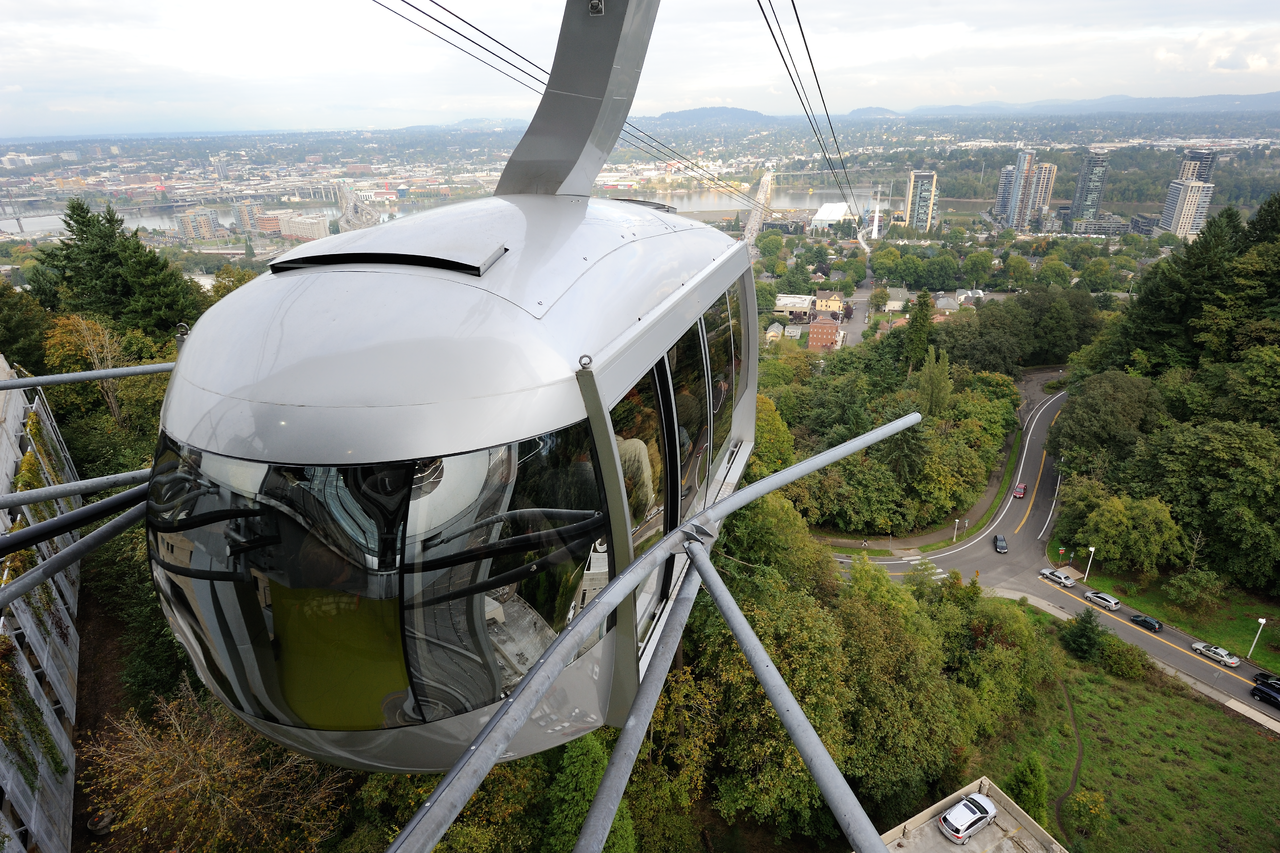 Tabor Park
Portland, Oregon is one of only a handful of cities that plays home to an extinct Volcano within its limits. Specifically an extinct Volcanic Cinder Cone at Mount Tabor. This makes Mount Tabor Park not only one of the most breathtaking Portland viewpoints, but also one of the most unique viewpoints in the country.
The high elevation that a volcano offers ensures a beautiful view of the city's skyline. And it is not the only viewpoint in Mount Tabor Park. A summer picnic with family or friends is an ideal pass-time here. You can watch a sunset over downtown Portland or have a pizza at Apizza Scholls.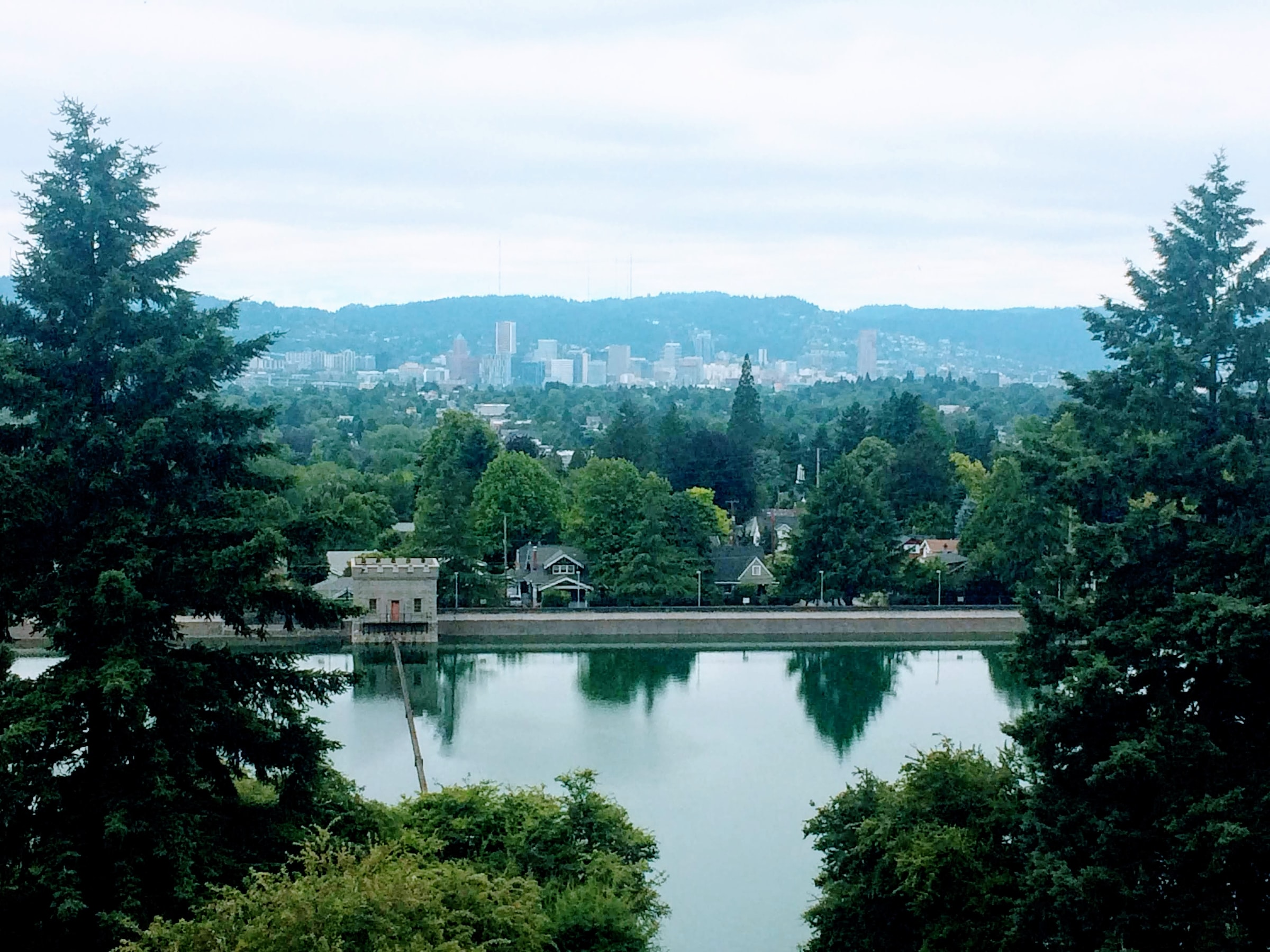 Council Crest Park
As the highest point in the Portland, Oregon, Council Crest Park is guaranteed to provide amazing Portland viewpoints. Due to the nature of the park you are not able to drive up to the top, but hiking to the top is undoubtedly possible. Before you get to enjoy the best views in Portland, you can also bask in the beautiful old-growth forest around you. From this viewpoint, you will be able to see Mt. Rainier, Mt. Adams, Mt. Hood, and Mt. St. Helens.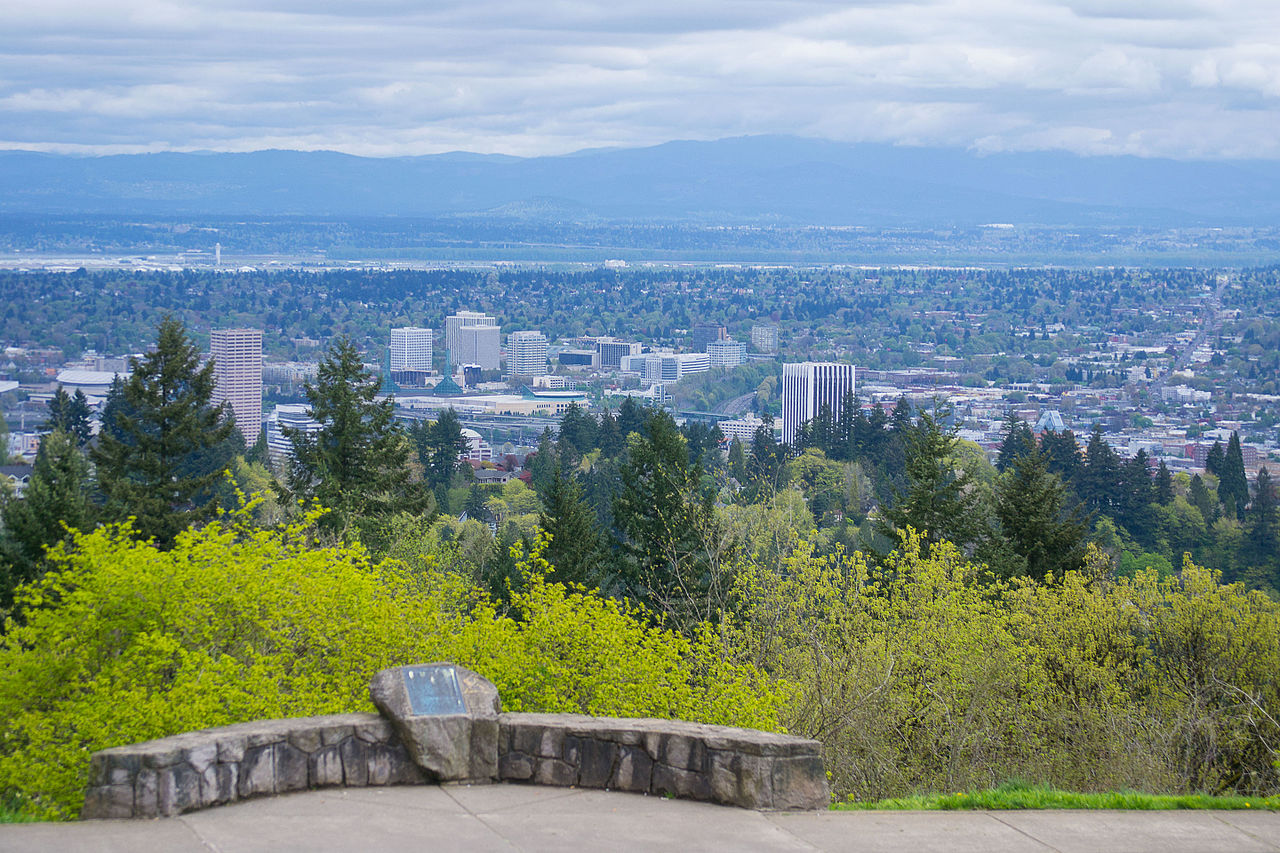 NW Westover Road
The NW Westover Road (in NW Portland) provides a plethora of amazing downtown Portland views. There is a particularly great one near Papa Hayden's. Two blocks away from the restaurant is a long staircase. If you can climb to the top of the stairs, you are rewarded with a beautiful view of Mr. Adams and Fremont Bridge. On a clear day, you can see as far as Mt. Rainier, Mt. St. Helens, and Mt. Hood. If you love this view, try to explore more of Northwest Portland.
Tom McCall Waterfront Park
The Willamette River is a major feature in Portland; the Tom McCall Waterfront Park sits right on its banks, which happens to be extremely close to the busy downtown Portland core. The park is a favorite destination for workers taking a break during their lunch hours, and it is great for people-watching. Downtown Portland provides some of the most breathtaking scenic city views of the city center.
For more panoramic city views, visit the Eastbank Esplanade. Visiting in spring gives you beautiful views of the cherry blossoms in Portland. There are 100 Akebono cherry trees on the waterfront that were sent to Portland in 1990 by the Japanese Grain Importers Association.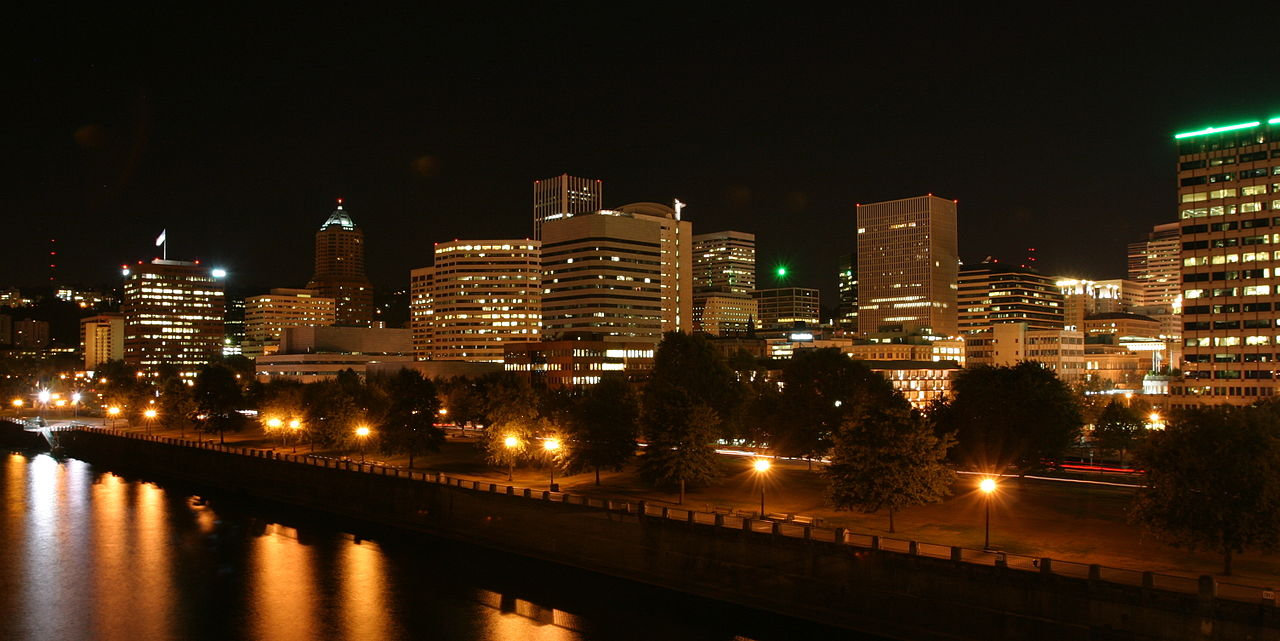 Powell Butte Nature Park
The wide variety of extinct cinder cones in the city ensures that compiling a list of the best views in Portland is no easy task. This particular one is in Southeast Portland and the drive is completely worth it. While the mountain views on their own are absolutely amazing, the views of the surrounding nature are equally breathtaking. There are beautiful trails, woodlands, and meadows to peruse.
The vast forested park is home to beautiful hikes, so pack your best pair of hiking boots and enjoy the surrounding views of Mount Hood. Despite being within the limits of Portland city, Powell Butte helps you to feel completely outside of the hustle of city life.
Departure Rooftop Bar
If you want to enjoy some Portland city skyline views but you don't want to hike for them, do not fear. The Departure Rooftop Bar is the perfect place to catch some city views without having to hike up any dormant volcanoes. You can sit outside on a warm summer evening with your friends and enjoy a cocktail or local craft beer while enjoying breathtaking views of the Portland cityscape.
Although currently closed for kitchen renovations, it will soon reopen to provide more idyllic views of downtown Portland. It is just around the corner from Pioneer Courthouse Square and the perfect place to spend a lazy evening with your friends.
If you're looking for more city views in Portland, Oregon, take a look at the Portland City Grill and some other restaurants in tall buildings like Big Pink Building. Happy Hour is important at the Portland City Grill and other Portland, Oregon restaurants, and some of them also have fantastic views.
Overlook Park
This park is fantastic to visit in the fall and has some really lovely views. There is room under some trees to find a patch of grass where you can sit and relax with your friends and have a picnic or watch the sunset. The Portland views are also spectacular on warm summer evenings. The city skyline and Fremont Bridge views are absolutely fantastic.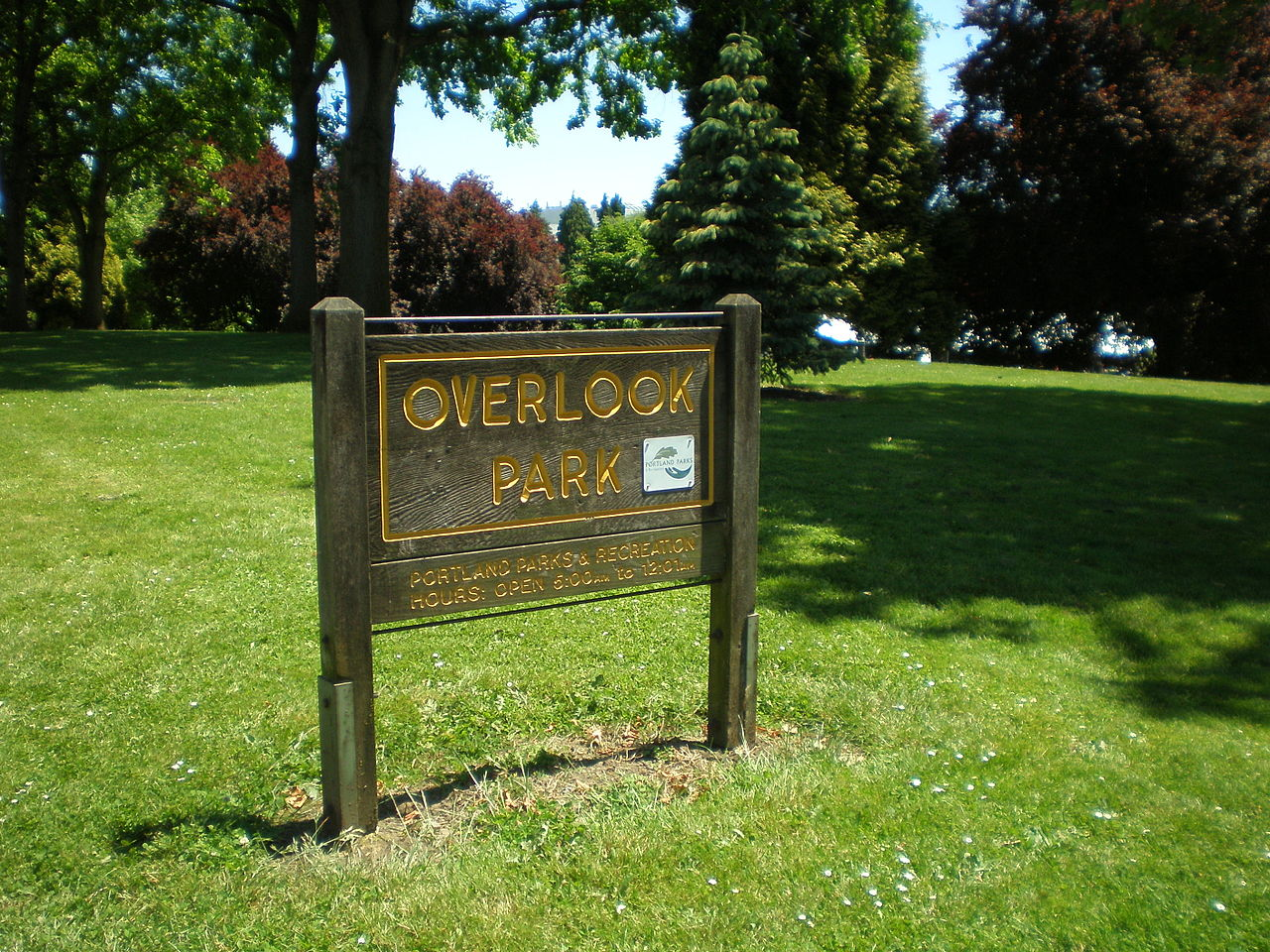 Additional Viewpoints in Portland
There are a large number of bridges in Portland, so many that one of its nicknames is Bridgetown or Bridge City. This makes for spectacular views of the Willamette River and the mighty Columbia River and its surrounds. To name but a few bridges you can choose from:
St Johns bridge
Steel bridge
Burnside bridge
Morrison bridge
Hawthorne bridge
There are also several parks that provide great views, but again, of smaller areas of Portland, Oregon, than some other viewpoints on our list. For example, there are the following:
Rocky Butte Park
Crystal Springs Rhododendron garden
Strolling pond garden
Cathedral park
Washington Park (mentioned earlier on the list)
Several points on Mount Hood
The West Hills
The Portland Rose garden/Public rose test garden
And a large number of outdoor observation decks, especially at OHSU
Furthermore, attractions like the International Rose Test Garden and Japanese Garden mentioned earlier; you can find a variety of different types of gardens around Portland. There are several zen gardens, and at least one tea garden, flat garden, stone garden, and natural garden in or around several of the attractions mentioned earlier.