The Devil's Bridge trail in Sedona is a major tourist draw and one of the most iconic rock formations to behold. Many hiking enthusiasts see Devil's Bridge as a right of passage in Sedona. However, due to its popularity Devil's Bridge is not a secluded hike but, it is definitely worth the trip because the scenery is amazing. We will discuss different trails to take up to Devil's Bridge and what to expect on each trail.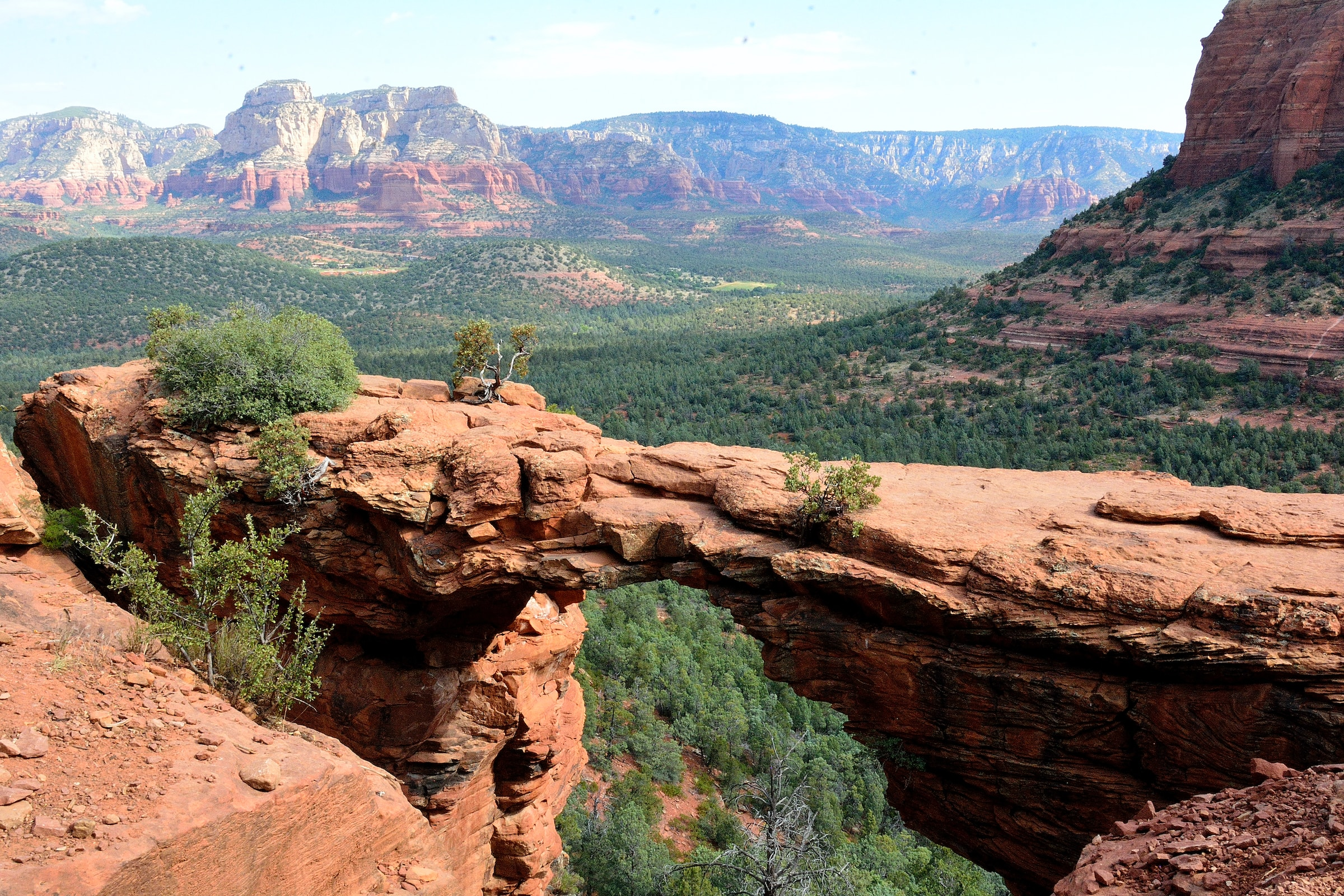 Hiking Devil's Bridge Trail: Everything You Need to Know
Free Shuttle
If you are not able to drive yourself, or want to avoid the mission of trying to find parking in the Dry Creek Parking lot, then simply make use of the free shuttle service. The Devil's Bridge Trailhead, Mescal Trail, Chuck Wagon Trail, and Dry Creek Road are all accessible from this point. The shuttle can be accessed any time of the year between Thursday and Sunday from 8 am to 5:30 om. If you want to take the shuttle, park in the Posse Grounds Park Parking Lot.
Additional fees
To hike the Devil's Bridge trail you will not need to buy a Red Rock Pass. There are many other popular hikes in Sedona, like Bear Mountain and Cathedral Rock for which you will need a Red Rock Pass though.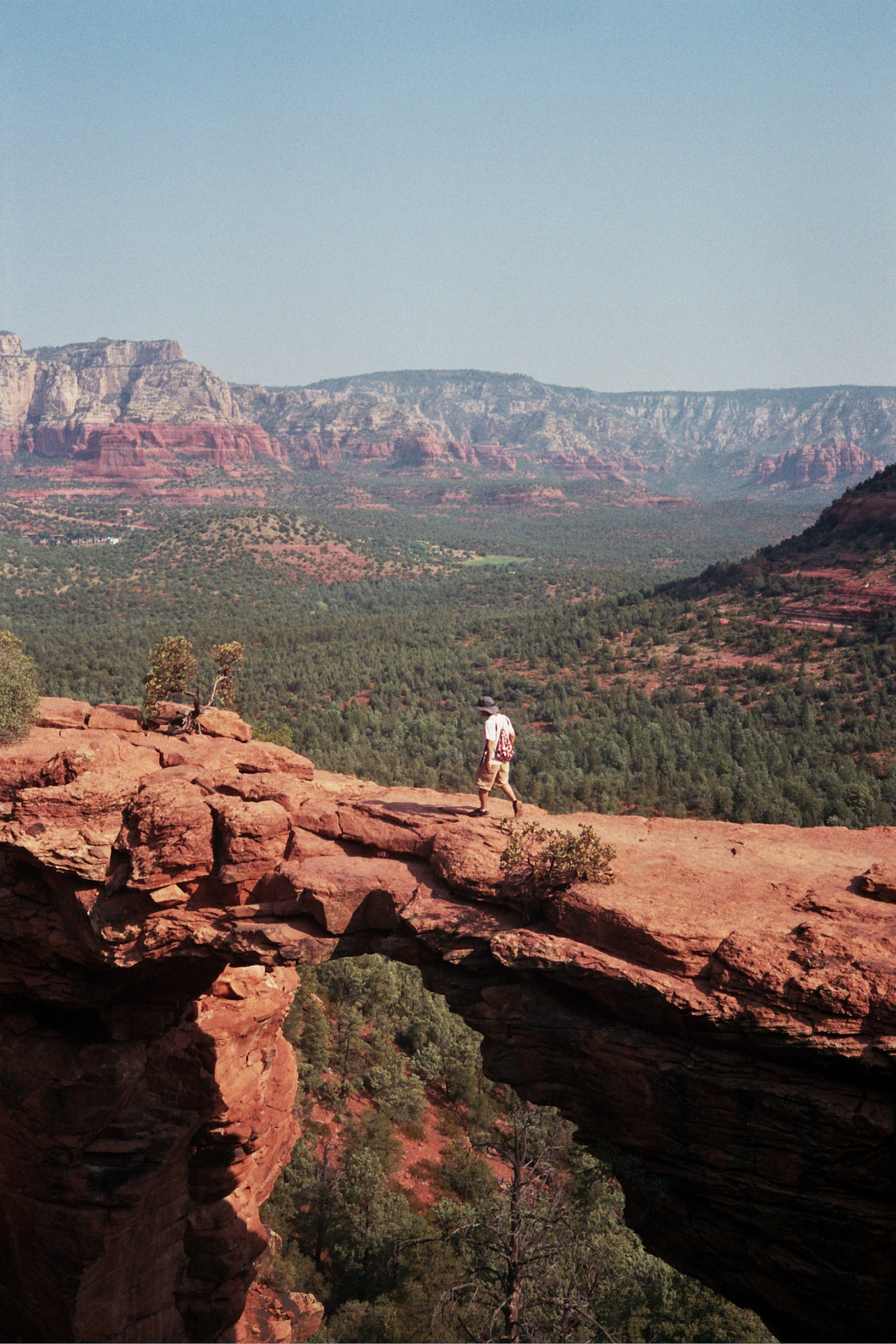 Devil's Bridge Trailhead Options
The Sedona Devil's Bridge hike consists of several different trail options. In total there are four main routes, one requiring a high clearance vehicle with 4×4.
Hike Dry Creek Road to Devil's Bridge Trail
Dry Creek Road is between an 'easy' hike and a 'moderate' hike. It should take around 1.5 to 2 hours and is a 3.9-mile Out-and-Back hike. The Dry Creek Road hike to Devil's Bridge is not the best one on this list. The reason why we do not recommend this trail is that its not a trail at all, it is a dirt road. And this dirt road is often the first thing that shows up on apps like Alltrails, but we do not recommend Dry Creek Road if you are looking for a more scenic hike.
That being said, the Dry Creek Road trail in Sedona is not the easiest route on the list, in fact most hikers find the Chuck Wagon Trail easier. There are also still vehicles using this road which might interrupt your walk on this very rocky dirt road. The distance is also not that much different from the Mescal Trailhead. So if you do hike Devil's Bridge trail then we would recommend a different trail.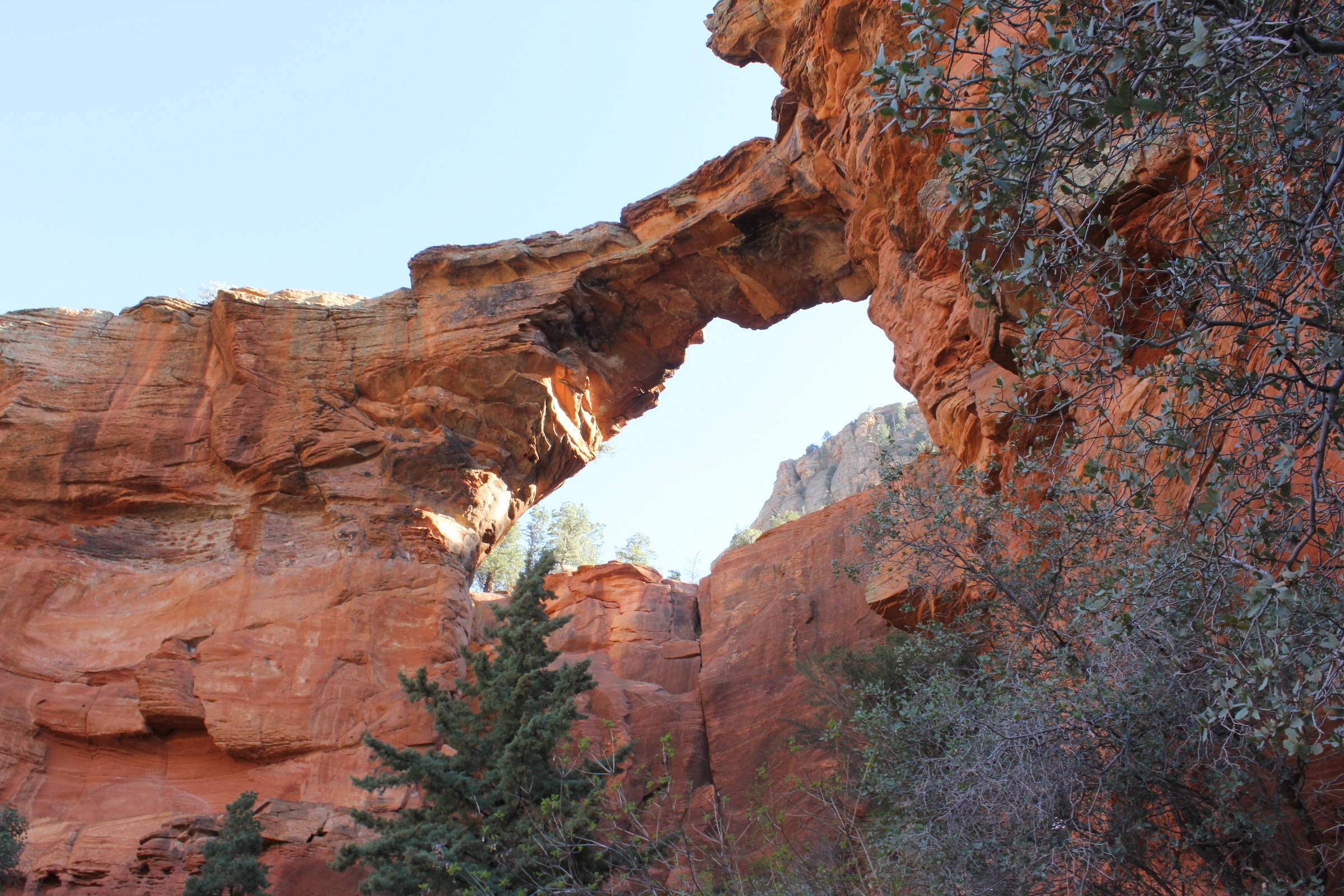 Drive Dry Creek Road to Devil's Bridge Trailhead (4×4 Clearance Required)
The Devil's Bridge Trailhead is an easy to moderate trail that should take about 40 minutes to an hour. It is 1.8 miles and is an Out-and-Back trail. The Mescal Trailhead and Chuckwagon trail are our top pics for experiencing the Devil's Bridge trail, both are quite scenic and lengthy.
That being said, other people might prefer shorter hikes, and if you have a 4×4 high clearance vehicle then we recommend a drive straight to the trailhead at Devil's Bridge. You will drive past the Dry Creek parking lot, along Dry Creek Road until you reach Devil's Bridge trailhead. This road can only be undertaken with high clearance vehicles. There are very large rocks and massive potholes all along this dirt road.
Mescal Trail to Devil's Bridge Trail
The Mescal Trail is an easy to moderate hike that should take around 1.5 to 2 hours. It is a 4-mile hike that is considered Out-and-Back. If you like something more scenic then the Mescal Trail would be great. There is also not nearly as much parking stress. When you take the Mescal Trail to the Dry Creek trailhead you do not park at the Dry Creek Road parking lot, you end up in overflow parking just off Long Canyon Road. The Mescal trail begins on the side of the road that the parking area is on.
Mescal and Chuck Wagon will merge on the way up to Devil's Bridge. With all its similarities though, the Mescal Trail is the shorter option. When you hike the Devils Bridge trail this will be a decision you need to undertake. We would also recommend the Mescal Trailhead if the Dry Creek Road parking lot is full.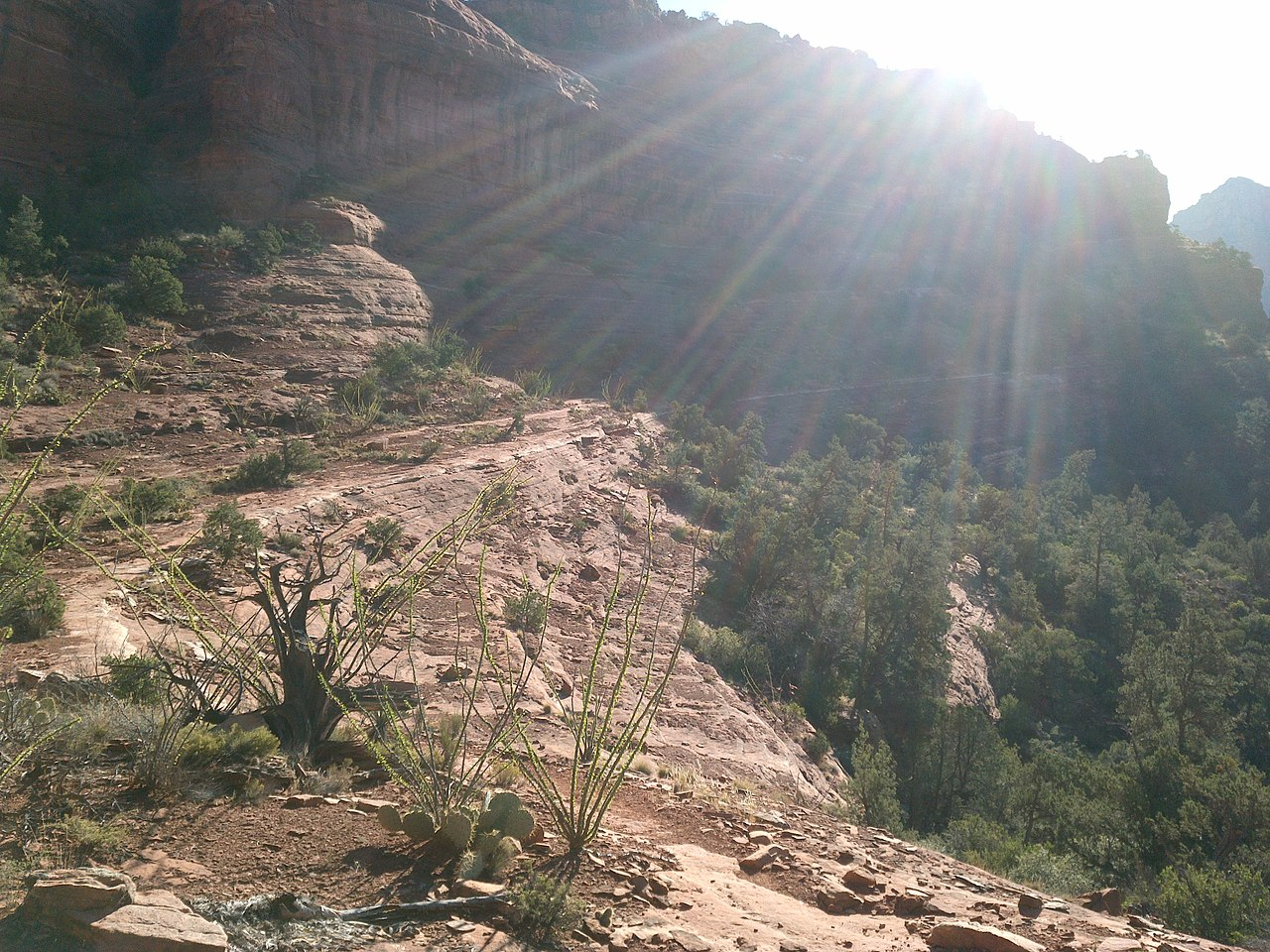 Chuck Wagon Trail to Devil's Bridge Trail
The Chuck Wagon Trail is a moderate hike of around 2.5 to 3 hours. It will be around 5.7 miles and is an Out-and-Back trail. This is a longer and more scenic walk for hikers who want to take their time up to Devil's Bridge trailhead. If you take this hike then you can park in the Dry Creek Road parking lot – this parking lot fills up really quickly though, especially around sunrise and sunset.
Although the route is longer than the other ones on the list, there is not a lot of elevation gain and it is quite an easy hike. The footpath is well maintained and the trail is clearly marked. If you are used to intense hikes then this might feel more like a relaxing stroll. We strongly recommend that you download your trail map so that you can access it offline.
What to Expect Hiking Devil's Bridge Trail in Sedona
Devil's Bridge
While Devil's Bridge remains a sight to behold it is important to note that it is not at the same level as what one might see at Arches National Park. Some hikers might have seen the magnificence of Arches and now expect something similar from Devil's Bridge, but they are very different. Something particularly special about Devil's Bridge in Sedona is that visitors may walk across the Devil's Bridge.
Once you get to Devil's Bridge you might find yourself underwhelmed as the bridge can look much smaller than it actually is from the ground. It is only once you get past the people waiting and cross the bridge yourself that you can see its full wonder. If you intend to walk across the famed Devil's Bridge in Sedona we recommend you reconsider only if you have a fear of heights as it is quite daunting to walk freely across the rocks so far up in the air.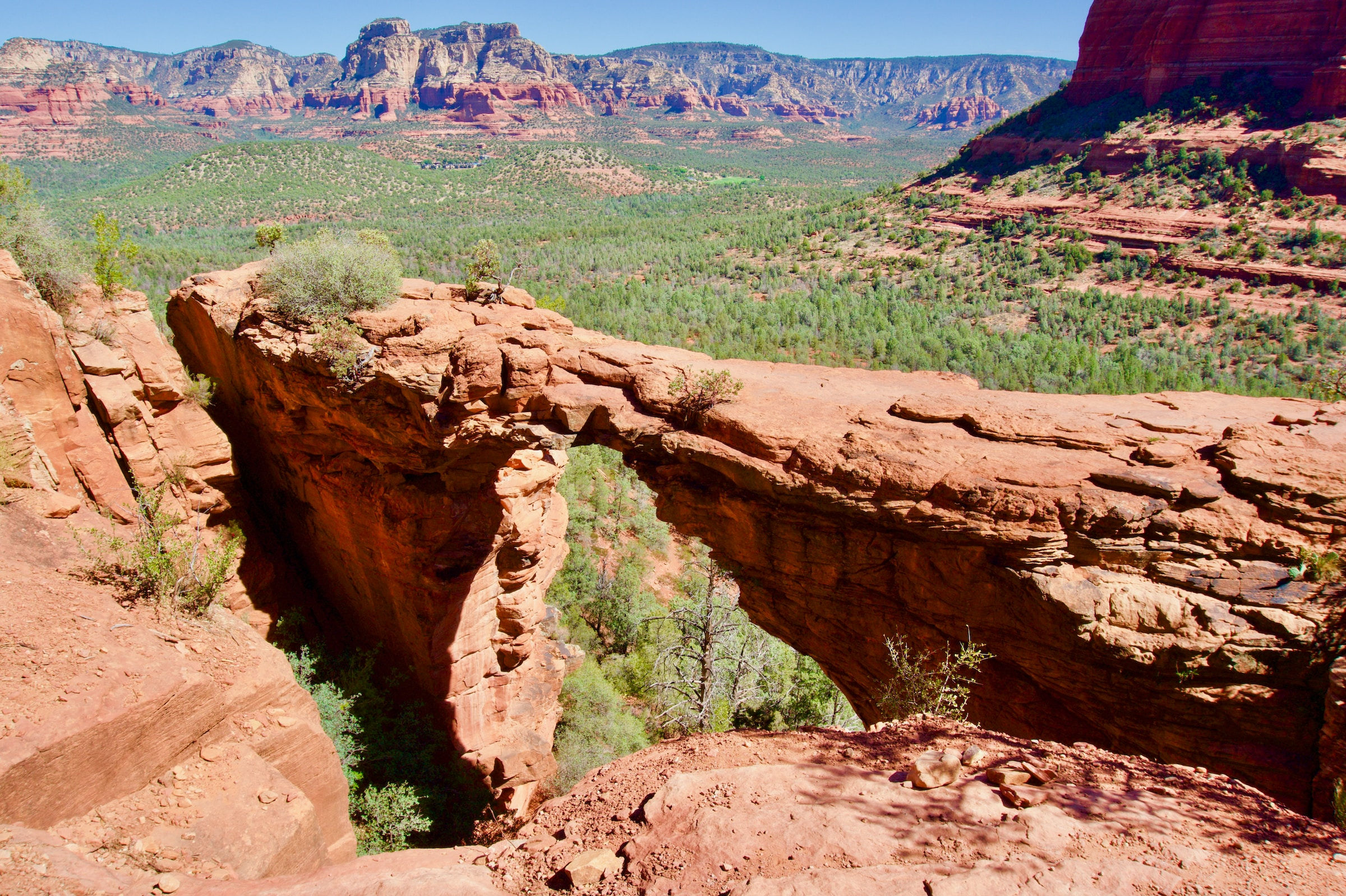 Devil's Bridge Trailhead
Whether you take the Dry Creek dirt road, the Chuckwagon trail, the Mescal Trailhead, or Devil's Bridge itself, you will eventually get to Devil's Bridge Trailhead all the same. While the Chuckwagon trail in Sedona tends to be quieter than other Devil's Bridge trails because it is the longest, you will meet fellow hikers where the Chuckwagon trail meets the Mescal Trailhead.
The incline becomes steeper and the trail winds until you get to rock stairs. It is the final incline that puts most people off this trail in particular. When you reach the natural rock staircase do not be too discouraged, it looks quite hard, but if you take it slow then its not as bad as you thought it would be. After this stint of rock scrambling the Devil's Bridge is just ahead.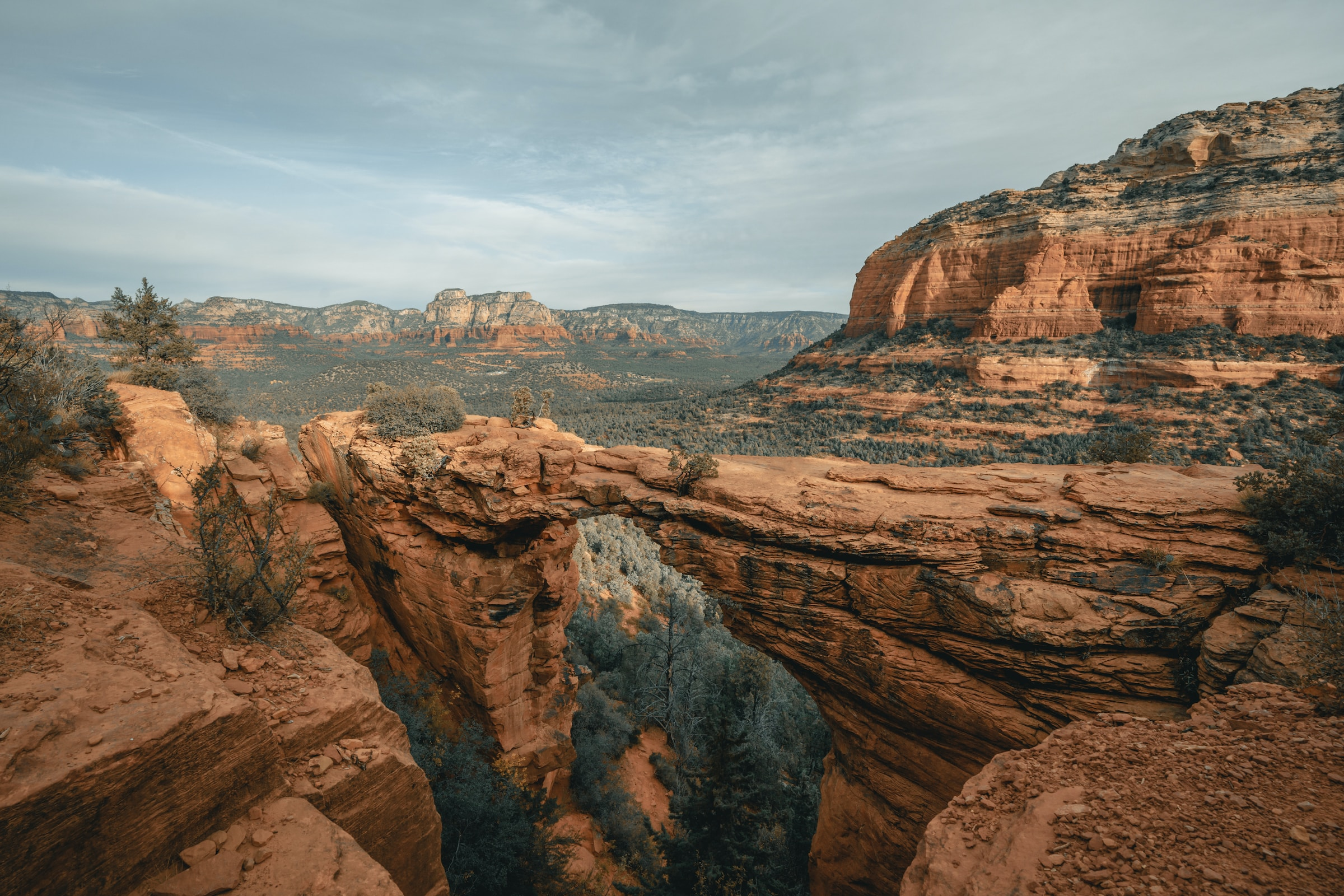 Best Time to Hike Devil's Bridge
The earlier you attempt the hike the better as it fills up quickly. That being said, it is difficult to identify any specific time as the 'best' time (universally) to go up the Devil's Bridge trail in Sedona. Sometimes the sunrise is a great time to make the Devil's Bridge trail distance, but other times it can be extremely busy. Weekdays are definitely better than weekends and it might be better to go early.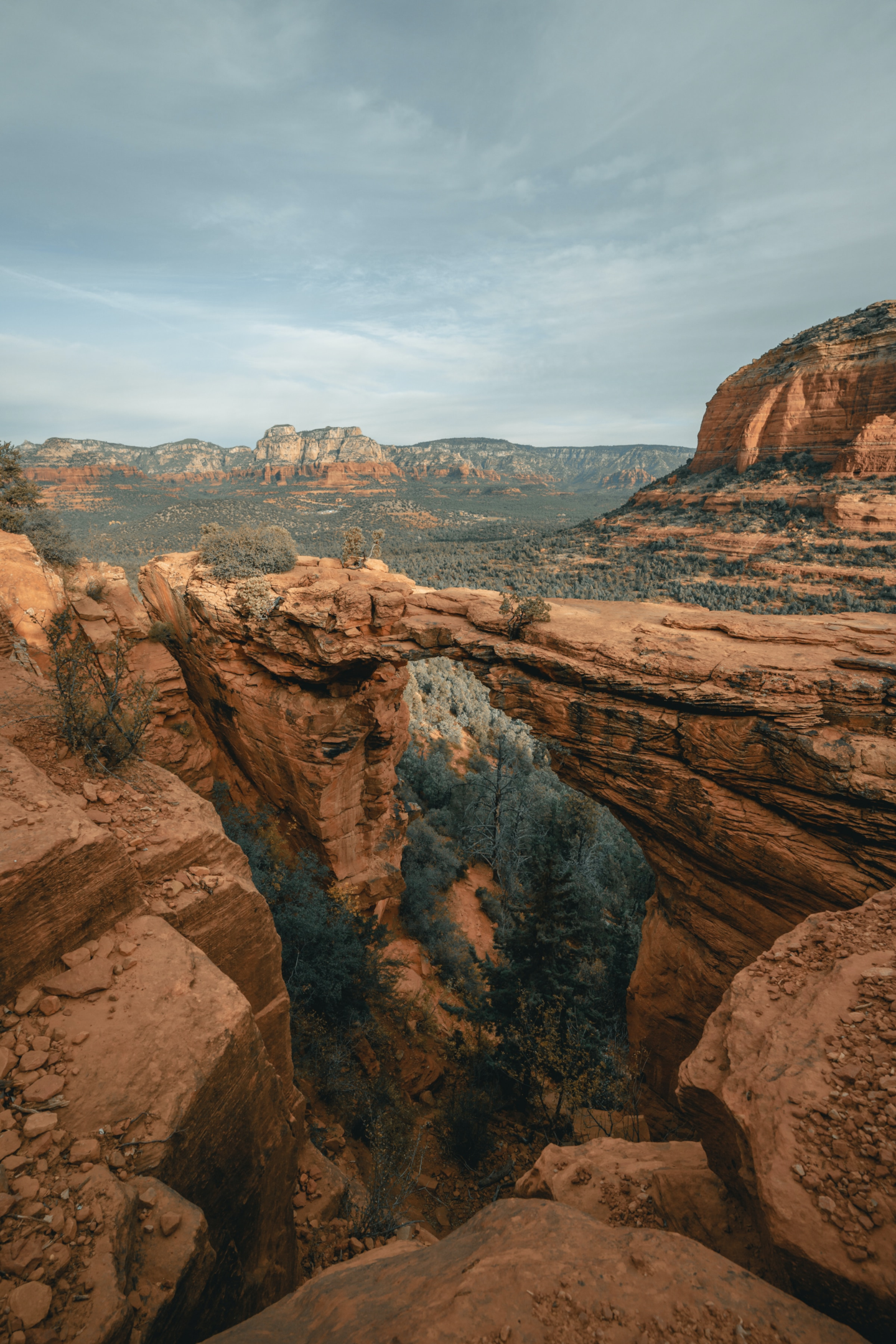 More Sedona Hiking Trails You Can't Miss
Devil's Bridge is the largest natural sandstone arch in Sedona, Arizona, but it is not the only trail in Sedona that we would recommend.
Wilson Mountain Trail
The Wilson Mountain Trail is not nearly as well known as other hikes in the area, but it is one that should not be missed. It is a hike that offers fantastic views until the end as it is the tallest Sedonan peak. You will not encounter much traffic on this hike and it is quite a distance up the mountain. The trail is more rural than the Devil's Bridge hike and the gorgeous scenery makes it one of our favorite hikes in Sedona, Arizona.
Cathedral Rock Trail
Cathedral Rock is another particularly beautiful spot to hike in Sedona, Arizona and is quite memorable. Hiking the trail at sunset will treat you to an awe inspiring site of the red rocks light up like burning fire.
Unlike the Wilson Mountain Trail, Cathedral Rock is popular, so you will encounter other hikers on your way. It might be a short hike but it fairly challenging and quite steep. At the end of the hike there is a significant reward and enough room to enjoy the view at your leisure. We recommend taking a walk around the top of Cathedral Rock, especially to the left, so that you can see the different views on offer.
Closing Thoughts
There are several National Parks in Arizona that have a lot to offer, like the Grand Canyon or the Coconino National Forest. If you have a Red Rock Pass then you can attempt hikes like Bell Rock and Cathedral Rock.
There are some trails where you would be in competition with mountain bikers, and other trails where your trip from the parking lot might be more interesting than the hike itself. That being said, as we have mentioned already, there are some truly spectacular hikes in the area in addition to Devil's Bridge. The Mescal Trailhead is a great option if you're looking for a shorter but beautiful walk up to the bridge. The signs leading to and from the Mescal Trail parking lot up the Mescal trailhead are clearly marked, so you are also unlikely to lose your way.
However, whichever trail you end up choosing, whether you cross Dry Creek road, park as far as possible up Boynton Pass road to ensure the longest possible hike, crossing Long Canyon road or have a vehicle with high clearance that can take you to the Dry Creek Vista so you can hike the Dry Creek trailhead we always encourage research and preparedness so you can sample the surrounding beauty in as much relative safety as possible.