Who doesn't love good old Southern Style BBQ, hot dogs, sushi, or even something more exotic like German food? Hendersonville restaurants cover a whole plethora of cuisines and we have compiled a list of the best Hendersonville restaurants that covers something for everyone.
There are many things to do in Hendersonville, including some exciting outdoor activities, which can help visitors to work up quite an appetite. Luckily Hendersonville, NC, has a wide range of restaurants, including local and tantalizing international cuisines.
In this list, we cover everything from the best fine-dining restaurant to the best budget-friendly restaurants in Hendersonville, NC.
Oklawaha Brewing Company
Although not technically classified as a restaurant, we had to say something about Oklawaha Brewing Company. Specifically, we have to talk about their gluten-reduced beers. While sipping your beer you can order Roots Hummus, and rumor is that this establishment will be getting a kitchen soon.
While their beers have reduced levels of gluten, they are still made with wheat, so they are not suited to people with a wheat allergy, and might still be a problem for some Celiac Disease sufferers.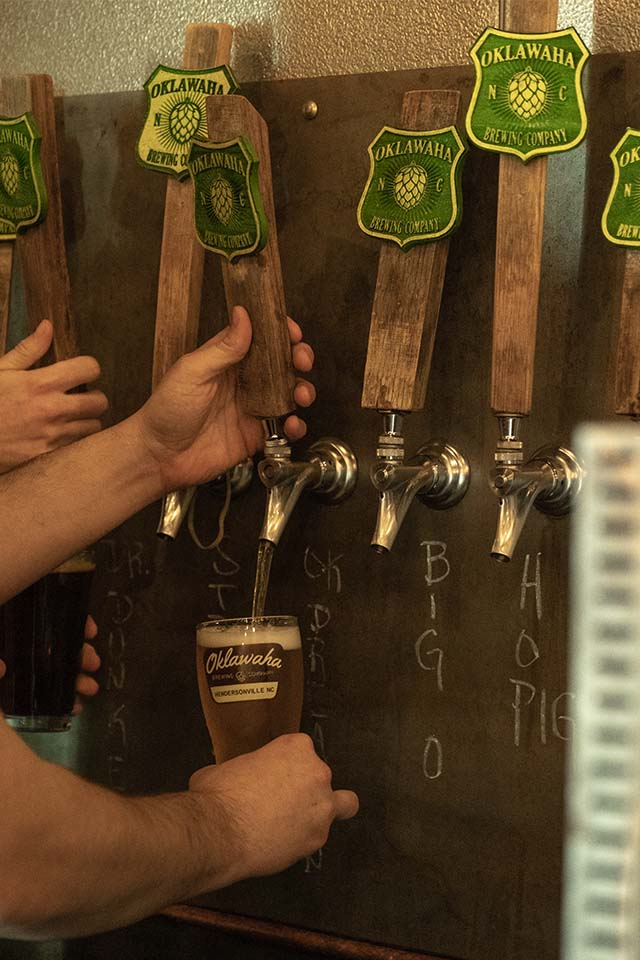 Black Bear Coffee Co.
If you find yourself in Hendersonville, NC and in the mood for coffee and food, make sure to stop by Black Bear.
When it comes to Hendersonville, NC, restaurants; Black Bear are your coffee experts. Their food options are fairly simple, serving lunch sandwiches and classic breakfasts. For example, turkey sandwiches, bagels with lox, BLTs, and avocado toast are common choices.
They also have vegan and soy-free options on their coffees, or you can stick to the classics. There is an outdoor patio for the more chatty folk, or a quieter back area if you prefer to keep to yourself.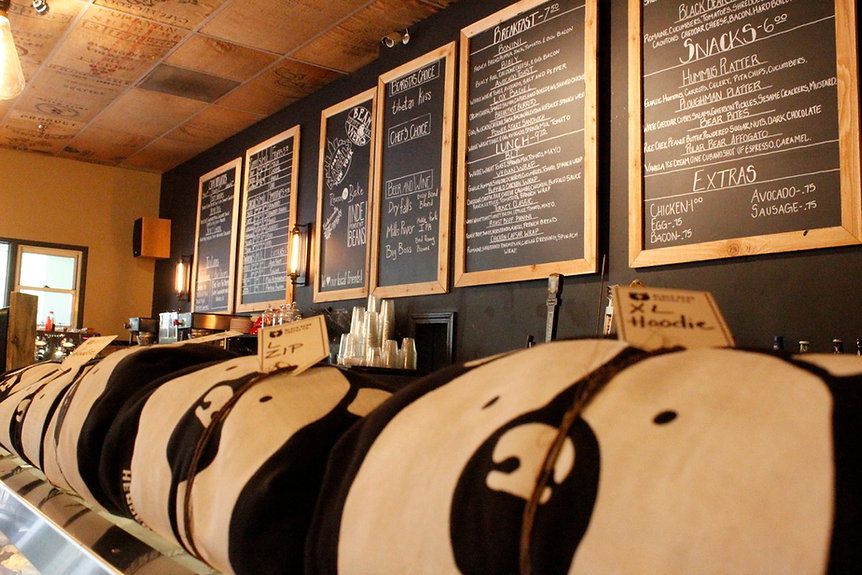 Kilwins Chocolate & Ice Cream Hendersonville
Kilwins Chocolate is a chain and quite well known among NC Restaurants. Fudge and ice cream are abundant, and both lactose-free and vegan options are difficult here as they are not so abundant.
Tequilas Bar & Grill
If you are hungry for some authentic Mexican food then Tequilas is perfect for you. Their extensive menu serves something for everyone. You can also choose some of their classic drinks. Try their chicken nachos, or have a classic fish taco at this brilliant Mexican restaurant.
Boonchoo Thai Express
Boonchoo is one of the top Thai restaurants in Hendersonville, NC. The name "Boonchoo" translates to good karma, and we completely agree. This Thai restaurant finds itself on the border of Flat Rock and Hendersonville. Their lunch portions are smaller than the dinner menu, but regardless of when on the day you visit, they serve up delicious food.
You will need to place your order at the counter and then take a seat. Once your order is ready, a waitress will bring your food to you. However, it is asked that you please bus your table when you're done. Classic Thai meals like Thai curry beef, fried rice, and delicious noodles are popular. To drink you can try ciders, beers, or wines, or choose from their non-alcoholic options.

Black Rose Public House
One of our favorite downtown Hendersonville restaurants is the Black Rose. Their list of draft beer is extensive. Their pub menu has all the classics; tacos, chili, wings, sandwiches, and burgers. Their Sunday brunch is meaty and delicious and you are spoilt for choice on what to wash it down with.
Arabella
Breakfast and brunch are the cornerstones of a successful day, and Arabella is one of the best Hendersonville restaurants for this very important first meal. Their coffees are delicious, and they have a handful of seasonal drinks that add to the atmosphere, for example, the marshmallow latte.
The Latin and American influences display prominently on their menu. The restaurant is popular with locals and their families. If you enjoy people-watching, then the outdoor patio is a perfect breakfast spot. Indoor seating offers a good view of the historic ceiling. The extensive menu is full of sandwiches, salads, eggs, and a few vegan and vegetarian options, or gluten-free options, especially popular is their gluten-free bread. That being said, dairy features prominently on the menu at Arabella.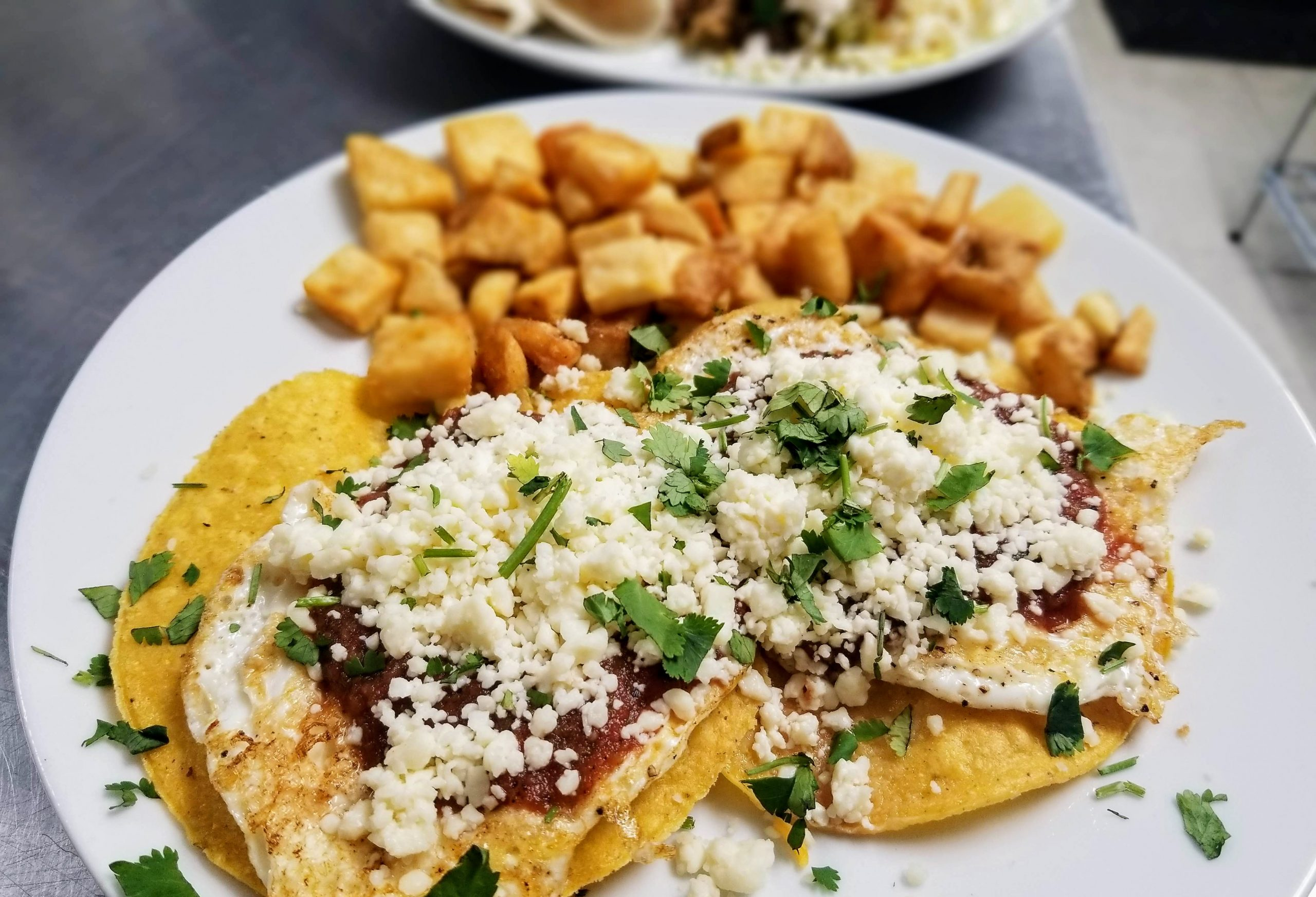 Joey's New York Bagels
Joey's New York Bagels might well be one of the best restaurants in Hendersonville, NC. Their subs make great food to take with you to one of the many wineries in the area (as long as the winery's policy allows). Although bread features prominently, they also have gluten-free bread options, along with delicious breakfast meals.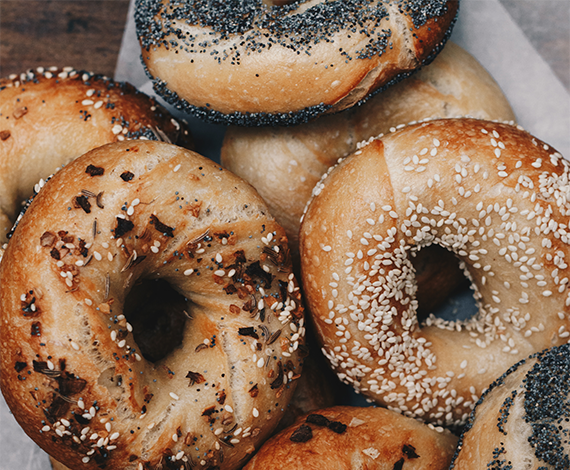 Moe's Original BBQ
Moe's Original BBQ is a chain restaurant that serves up classic Alabama-style BBQ. Their meats are smoked in-house, and their pulled pork is to die for. Enjoy some local craft beer with your amazing food at reasonable prices. You'll also be delighted to learn that gluten-free options are available.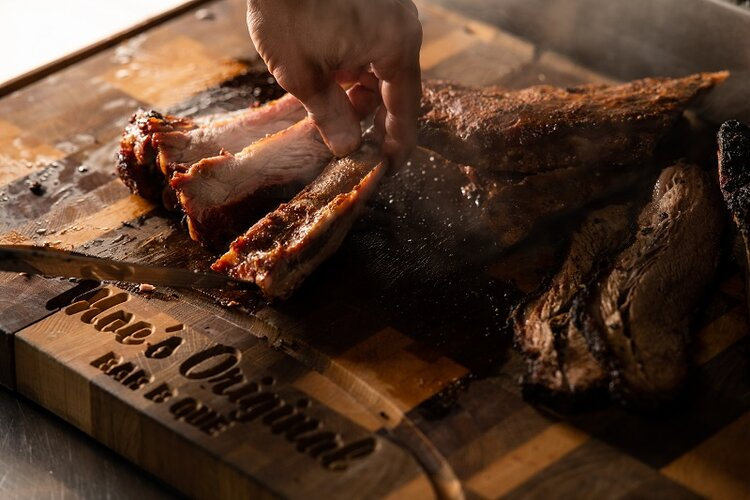 Shine
Shine is one of the best restaurants in Hendersonville, NC, to find traditional dishes in a pub setting. You can find them in downtown Hendersonville where they have an extensive selection of craft beers and a well-thought-out menu filled with delicious meals. Furthermore, this pub is a local favorite for its rooftop outdoor seating that offers a breathtaking view of surrounding Hendersonville.
Their great atmosphere marries well with their menu that features everything from collard greens as a side order, to frog's legs, duck, and steaks. We absolutely loved their French Dip sandwich and their awesome staff. Finish your meal off with craft cocktails on the roof while you watch the sun set over beautiful Henderson County.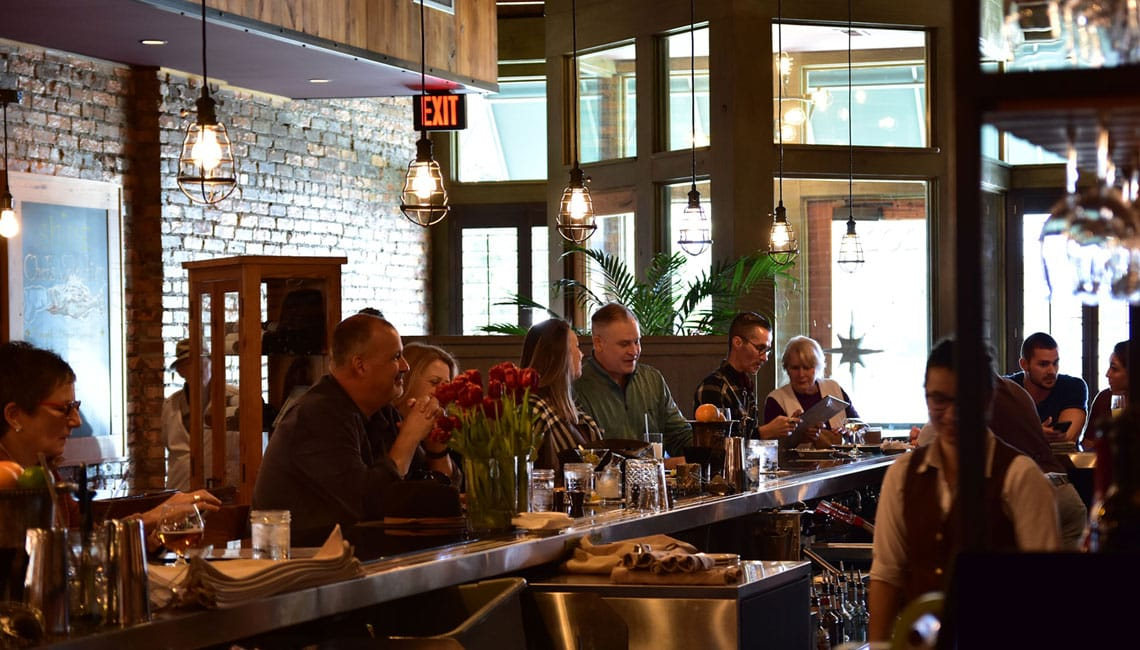 Mike's On Main
Mike's on Main provides a look into the 1950s with their old-school vibe and a traditional menu featuring classics like hot dogs, burgers, salads, sandwiches, and breakfast. They feature a Coca-Cola mural and a historic soda fountain which is part of their local charm.
While we love Mike's on Main, we have to confess that they are not the best Hendersonville restaurant for people with dietary restrictions, despite being an absolute foodtopia steeped in nostalgia. The great service also adds to the family-friendly atmosphere, and the fact that they are quite cheap eats really is not betrayed by the quality of their great food.
Hot Dog World
As it says on the box, Hot Dog World is one of the best restaurants in Hendersonville, NC, for hot dogs. As with the previous entry on this list, you can enjoy some cheap eats at one of Hensonville's most famous restaurants. Furthermore, due to its downtown location, it is generally free from tourists.
In addition to hot dogs, you can expect to find salads, sandwiches, and burgers. Both outdoor and indoor seating is available and they do deliveries from certain food-order apps. If you choose to dine in you will order at the counter and, once ready, your order will be served at your table.
Postero
Postero is considered one of the best Hendersonville, NC restaurants for celebration and serve fantastic lunches. Here you will find true American cuisine with a menu featuring shareables and large entrees. Order their charcuterie or oysters, or indulge in their larger plates of roasted chicken, lamb, steak, and trout.
Although Postero is not necessarily a fine dining establishment, it is a tad pricier and fancier than you might find in other Hendersonville restaurants for dinner options, but they do serve a casual lunch. For dinner we do recommend making reservations, but do not expect a pretentious atmosphere.
The Book And Bee Cafe & Tearoom
This Downtown Hendersonville establishment serves tea, lunch, brunch, and breakfast in between a literary oasis. This is undoubtedly one of the best restaurants in Hendersonville for photo opportunities, with a book spine-labeled staircase and an old-fashioned British phone booth. Reservations can be made for afternoon tea where sweet treats, scones, and finger sandwiches are served.
All other meals, including lunch, are first-come, first-serve – remember that it tends to be busy as few can resist its charms. The breakfast menu is full of delights like oatmeal, biscuits and gravy, quiche, and breakfast sandwiches. Lunch options include several dairy-free and gluten-free items along with traditional sandwiches, salads, and soups.
Each room has a unique theme, but this North Carolina restaurant is one of the prettiest and sweetest of its kind. Overall, Hendersonville, NC, is a book lover's dream and some of the popular restaurants and attractions will be book-themed.
Pita Express
Pita Express brings to Hendersonville the best of International cuisine, specifically Middle Eastern flavors made with mouthwatering fresh ingredients. Expect all the classics like grape leaves, hummus, gyros, and falafels. There are vegan, dairy-free, and gluten-free choices on offer.
Additionally, you can enjoy gluten-free and vegan desserts which are notoriously difficult to find. This Hendersonville restaurant is quite small and you can find it downtown just around the corner from Hot Dog World.
Their portions are sizeable, so be prepared to take some home. Also, be sure to enjoy their lively atmosphere and great service. If you enjoy a show with your meal then this is one of the best restaurants in Hendersonville for you. Enjoy belly dancing performances on-site and even attend a cooking class. In recent times they have had to switch to cash-only, but that might change, so make sure before attending.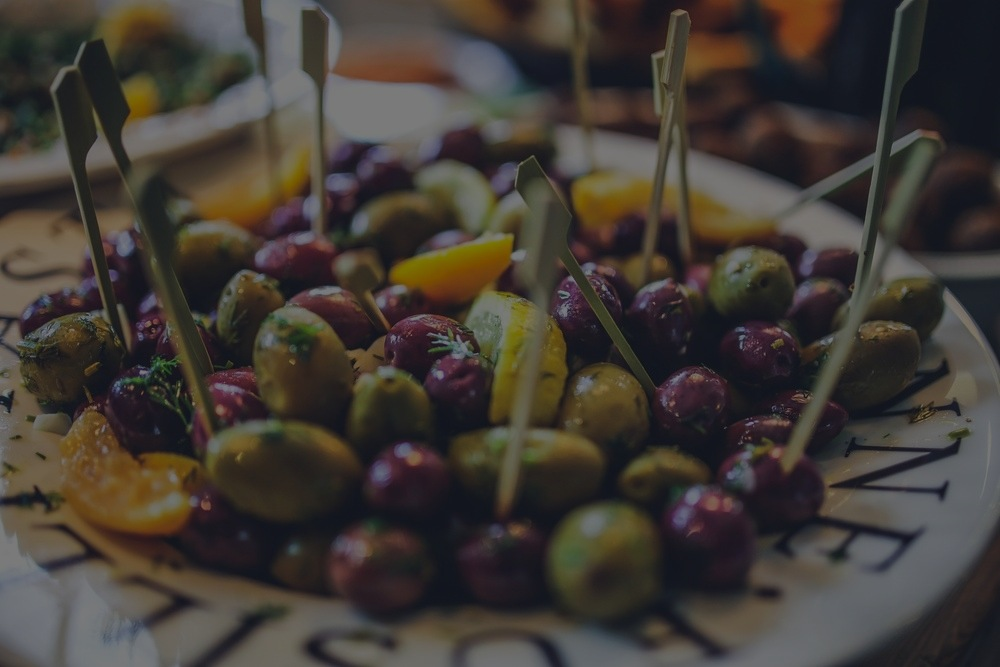 Haus Heidelberg German Restaurant
Haus Heidelberg is one of the best restaurants in Hendersonville to find German food. You can find the restaurant on the outskirts of Hendersonville, NC. Although the interior design may leave some to be desired, the dining experience does not. Of course, the best elements on offer are German meats and German imported beer. This, alongside authentic German sides and other traditional meals like sausages, brats, and schnitzels. There is also a delicious food truck that can be found amongst the breweries – and it has a reputation for being one of the best food trucks in Hendersonville, NC.
Umi Sushi
Umi Sushi counts itself as one of the best Downtown Hendersonville restaurants for the freshest sashimi and sushi rolls. Bento boxes and sushi roll salads are lunchtime favorites. Dinner options include chicken teriyaki, tempura, and several Thai dishes, and large specialty rolls.
The area of Hendersonville, NC, that the restaurant can be found in is historic and scenic, and since it is close to a number of B&Bs, it often attracts tourists. This Japanese restaurant is a definite stop if you're looking for a fine dining opportunity. However, they also offer takeout options, which is a blessing as they can be extremely busy during peak hours.
They have consistently been voted as one of the best restaurants in Hendersonville for a dozen years now. The parking lot is small, and the restaurant does not take reservations, so the fantastic sushi can easily fill up the dining area fast.
Flat Rock Wood Room
Hendersonville, NC, finds much to enjoy in the wood-fired pizzas that are standard at Flat Rock Wood Room. We all know that wood fire brings a unique and well-loved flavor to favorites like the meat lovers pizza.
Flat Rock Wood Room is an eclectic smokehouse and Italian restaurant married in all the right ways. Choose between a wood-fired pizza or a classic smoky BBQ. Their smoked fried chicken and rustic salads are quite popular.
During the summer months, they have dog-friendly patio seating, and during the winter months, you can enjoy your meal indoors in the cozy dining room.
Closing Thoughts
With this list, we tried to provide dining options that cover anyone's interest. Hendersonville, NC, does not disappoint when it comes to choice, and there are even some fan-favorite options that we could not include, like the Mountain Deli and the Flat Rock Village Bakery. Regardless, on the above list, you can find a brick oven pizza, some juicy chicken tenders, exotic duck wontons, or lamb kofta, and finish off the meal with a dessert dish like maple syrup pancakes or exotic baklava.