As every nature lover's dream destination and every tourist's paradise, the Maldives is known for its sophistication, luxury, and stunning ocean scenery. Any trip to the Maldives includes fascinating local landmarks, vibrant culture, water sports, and sunbathing on gorgeous beaches. For this reason, many visitors are surprised to learn that a trip to the Maldives can also be done on a budget.
However, in recent years the Maldives has become much more than just a luxury destination, with more options than an expensive resort with things like a private pool, a spa, an infinity pool, and room service. If that's not part of your travel style, you'll be delighted to know that more and more budget options are becoming available.
There are different factors to consider when planning your travel budget, such as hidden costs, dining, accommodation, flights, and activity costs, and the total cost of your trip depends on how you select each.
If you're planning a trip to the Maldives and don't know where to start planning your budget, don't despair. Keep reading to discover our comprehensive guide on the cost of a Maldives trip, and start planning your relaxing vacation today!
How Much Does it Cost to Go to The Maldives?
Flight Tickets
The main airport in the Maldives is Velana International Airport (Malé International Airport).
Round-trip flight prices vary depending on your cabin class and location. It also depends on the season, as certain times of the year are busier than others.
Peak season (or dry season) falls between November and April, and typically has less rain. This draws in more tourists, making plane tickets more expensive and the islands busier. You can lower the price even further by visiting during the low season, but keep in mind that it will include less favorable weather for your Maldives vacation.
From Los Angeles
When flying from Los Angeles (LAX) to the Maldives, passengers can expect to pay the following for round-trip tickets:
Economy Class – Nearly Nine Hundred USD
Premium Economy – Nearly Three Thousand USD
Business Class – Nearly Four Thousand USD
First Class – Around Fifteen Thousand USD
From New York
When flying from New York (JFK) to the Maldives, passengers can expect to pay the following for round-trip tickets:
Economy Class – Nearly Seven Hundred USD
Business Class – Nearly Three Thousand USD
First Class – Around Twelve Thousand USD
Travel Costs within The Maldives
There are various ways to move from one island to another when you visit the Maldives. Some of the most popular options include ferries, speed boats, and national flights in seaplanes. These are also used for airport transfers.
Ferry
Local ferries are the main mode of local transportation in the Maldives, and the most budget-friendly way to travel. Not all islands are accessible via ferry, however, and ferries tend to be slow.
A ferry trip per person costs between sixty-five cents and five USD but also depends on the distance between islands. It is recommended to research your exact route beforehand to determine the exact price.
Speed Boat
Speed boat rides are usually offered by private companies or resorts on private islands. The cost is also determined by distance, but trips are typically much more expensive than ferries. Round trips can cost up to a thousand USD per person.
Public boats can accommodate a similar amount of people but are much faster than ferries. They are also much cheaper than private speed boats, with trips costing closer to thirty or thirty-five USD per traveler.
Seaplane Flights
Seaplanes are usually used when resorts are located far from Malé, the capital of the Maldives. As with other modes of transport, the price is determined by distance, but visitors can expect to pay around five hundred USD for a seaplane trip.
If you are traveling on a tight budget, we recommend booking a hotel, guesthouse, or resort closer to the capital, and making use of ferries or public speedboats to travel between islands.
Accommodation
There was a time when the only accommodation in the Maldives consisted of private islands and resorts. However, the country has begun opening its local islands to visitors and offers things like guesthouses. This can be a great budget option, as well as an excellent way to mingle with local residents.
Guest House Prices
If you opt for simpler guest houses, you can expect to pay around fifty USD per night. However, the cost tends to rise the more comfortable and sophisticated the guesthouse is.
Some of the more upscale accommodation options have fares starting from one hundred and twenty USD per night, while something with a view of the ocean may charge around one hundred and thirty USD a night.
Some of the most popular options include Seven Corals, White Sand Shigurah, and Endheri Sunset.
Resort Prices
Staying in resorts can be even more expensive.
Basic resort rates are around one hundred and seventy USD with breakfast included. If you go for something more inclusive, you may pay closer to two hundred and thirty USD per night. Bungalows over the water can cost around five hundred USD per night.
Additionally, if you're not trying to save money and you're looking for ultimate comfort, you can visit luxurious resorts for anything from just under two thousand to nearly forty thousand USD.
Some of the most popular options include Biyadhoo Island Resort, Centara Ras Fushi, and the SONEVA group.
Budget Accommodation Options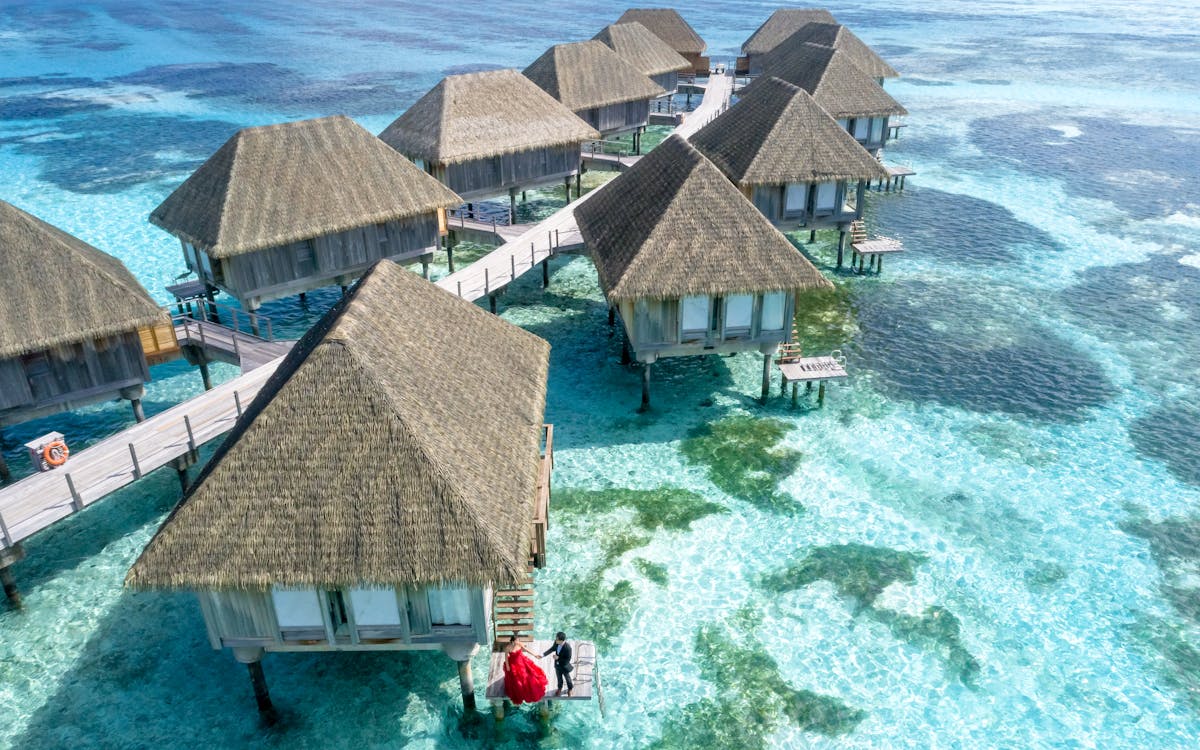 Local accommodation tends to be the most budget-friendly option, as opposed to guesthouses and resorts. The Maldives is full of stunning villas, bungalows, private rooms, and apartments tourists can make use of.
Airbnb is also a great way to find accommodation within your budget, and you could easily find somewhere to stay for as little as twenty-five USD a night. Be sure to look into the best deals from Airbnb while planning your accommodation budget.
Food Costs
Typically, breakfast is included in your hotel fare. Meal prices and drink costs tend to vary between accommodations, with simpler options having lower restaurant prices and luxury hotels charging more for dining. Some resorts offer meals for around thirty USD, but luxury resorts sometimes charge more than sixty.
The cheapest places to eat can be found on the local islands, in the form of small sit-down restaurants and vendors selling local cuisine. You can easily buy a meal for between ten and twenty USD as street food prices are much lower, and it's a great way to mingle with residents.
Alternatively, you can buy products from the local supermarket and prepare your own meals.
Budget-Friendly Dining Options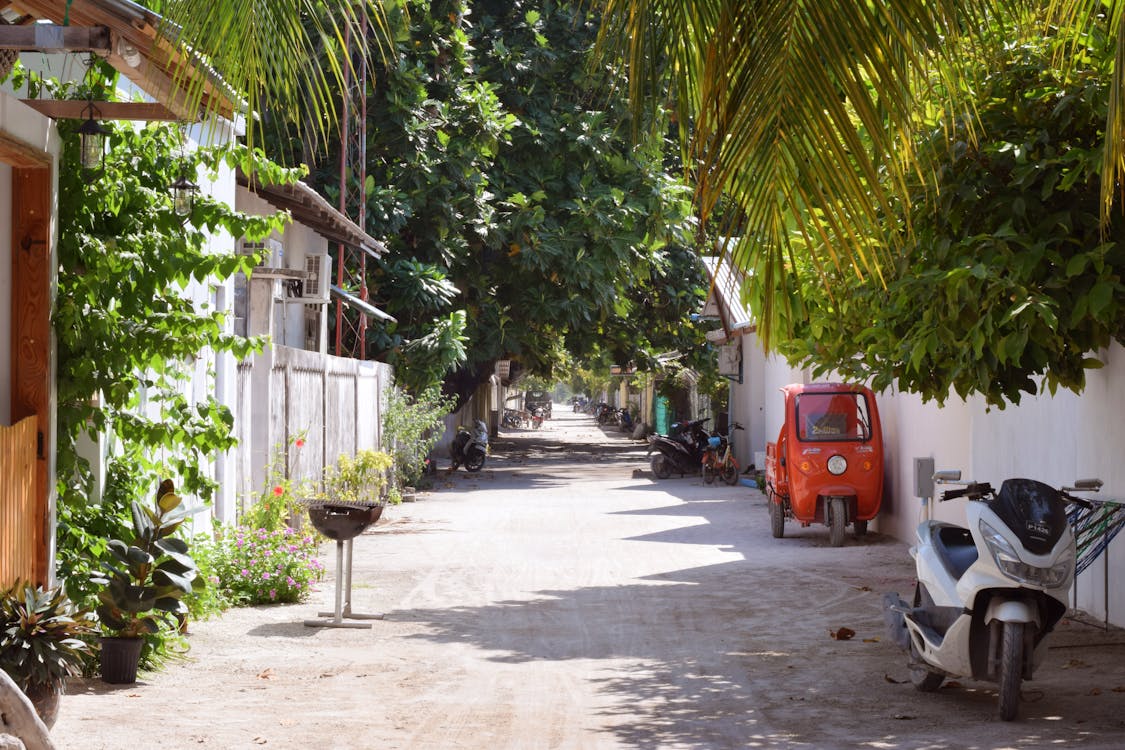 The best way to save money on food while visiting the Maldives is to only pay for one meal a day.
With most accommodations offering a breakfast free of charge, there is no reason to buy breakfast anywhere else. You can opt instead for a hearty lunch at a local restaurant or street food vendor in one of the inhabited islands, and prepare a small dinner in your room with items purchased at stores or markets. In this way, you can your cost of food can end up being only around fifteen to thirty USD on food a day.
Alternatively, you may decide that breakfast was big enough to last you through the day, skip lunch, and only pay for dinner. Some hotels and guesthouses also offer a half-board meal plan, which includes breakfast as well as dinner.
Attractions
There are many amazing attractions and activities to be enjoyed in the Maldives, with some of the most popular including dolphin and whale watching, snorkeling trips, diving with sea life like whale sharks and manta rays, observing brightly colored fish among coral reefs, and looking at bioluminescent plankton.
Prices can vary a lot between resorts and local companies offering these activities. Prices also depend on the type of attraction and the duration of the activity, with the cheapest activities starting at around twenty-five USD per tourist.
Scuba diving usually sets tourists back around one hundred USD per dive. Manta Ray snorkeling can cost anything between seventy and one hundred and fifty USD.
Free Activities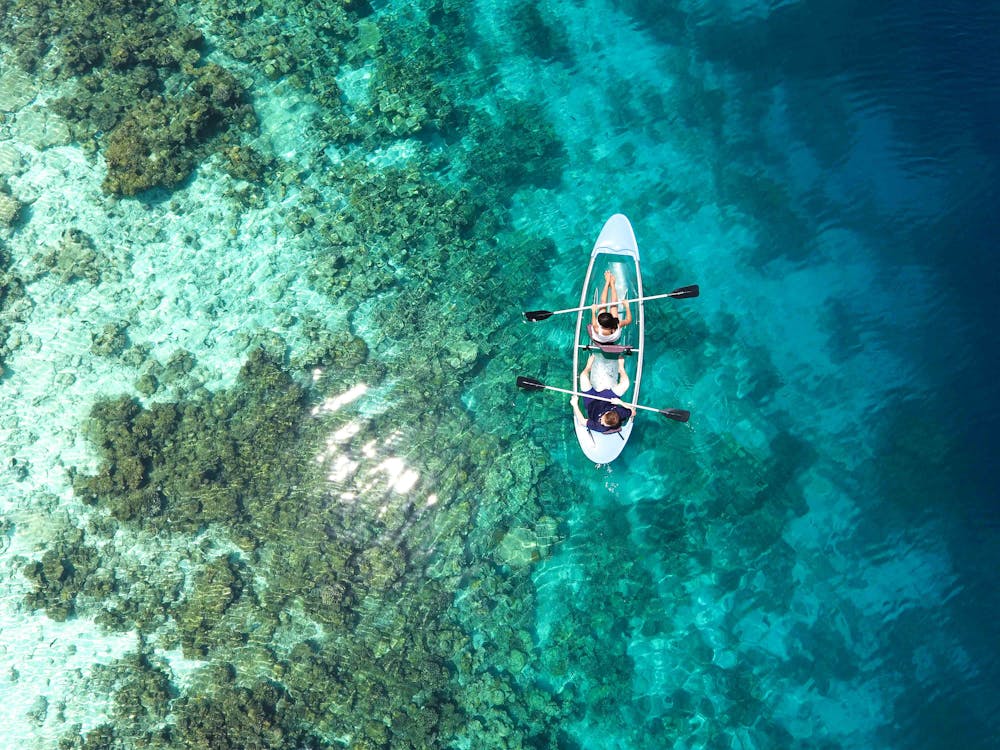 Despite not being the cheapest vacation destination, it is still possible to travel to the Maldives on a budget. One of the best ways to save some money on any trip is by enjoying free activities. There are many activities in the Maldives that cost nothing, and they are a great way to immerse yourself in local culture and meet residents – all while not spending a dime!
Some of the best free activities include:
Spending time at the beach
Visiting local markets
Snorkeling in the lagoon (with your own gear)
Sitting on one of the big swings by the beach
Surfing (with your own board)
Visiting mosques and stupas
Visiting the Tsunami Monument
Spending time in Sultan Park
Visiting Sinamale Bridge
Other Costs
Unfortunately, there are often some hidden costs involved when traveling, and these can affect how much you pay on a trip to the Maldives. These include taxes, travel insurance, and other fees.
Taxes and Fees
Taxes and fees are very often not included when looking at the initial price of packages, attractions, or accommodation. Many establishments charge a fee of three to five percent when paying with a credit card, and you may need to pay foreign transaction fees while in the Maldives.
There are also hotel services for around ten percent, and Goods and Services Tax for about twelve percent. Additionally, you can expect to pay about three USD Green Tax per night for each person.
Travel Insurance
Another thing to consider when traveling is travel insurance. It can be one of the more expensive parts of your trip but may be worth it- especially when you travel to international destinations.
The price of travel insurance depends on the travel company and the plan you choose. Standard Plans can start at around sixty or seventy USD, and bigger plans can cost closer to (or more than) one hundred USD.
The plan you choose is normally determined by your individual needs. It's best to include this in your vacation planning well in advance so that you have enough time to consider all your options.
How Much Does a Trip To the Maldives Cost?
Total Cost Estimate
While there are many factors to consider while planning your trip, budget-friendly vacations to the Maldives typically start around two thousand USD per person, for a week. Mid-range trips fall more in the range of five thousand USD per person, and luxury trips can cost as much as twenty thousand USD.
It is best to determine your budget beforehand and plan your trip according to what you can afford. Even the cheapest trips to the Maldives can be magical!
Maldives Trip Cost FAQs
Is the Maldives located in the Indian Ocean?
Located in the north-central Indian Ocean, the Maldives is an island country that is considered independent.
How big is Male Airport?
Velana (Male) International Airport is the biggest airport in the Maldives- and the busiest. It has planes flying to and from destinations across the globe and serves two airlines, namely Maldivian and Trans Maldivian Airways. It has three terminals, one for Domestic flights, one for International Flights, and one specifically for seaplanes.
How much do rental cars cost in the Maldives?
Rental cars are a great way to explore the city, and with so many things to do and places to explore in the Maldives, many frequent travelers consider them a must-have. However, it can get expensive.
The price of car rentals typically depends on the rental company, the duration of your rental, and the type of car you choose. There are some cheap options starting at around nine USD, making a car rental about sixty-three USD if you are visiting Maldives for a week.
Is there a private island in the Maldives?
There are many private islands in the Maldives. They are some of the most expensive places in the country, with costs starting at almost a million dollars per hectare to have your own island.
These include:
Makunudu Island
Four Seasons Island
Naladhu Island
Amilla Fushi Island
Niyama Island
Bandos Island
Kudadoo Island
Gili Lankanfushi Island
Velaa Island
Are overwater bungalows expensive?
Even the cheapest overwater bungalows tend to be expensive in the Maldives. Prices start around three hundred USD per night in an overwater bungalow but can be a bit less during the low season.
When is the best time to visit the Maldives?
While it can be amazing to visit the Maldives year-round, many frequent travelers recommend going in the dry season, from November to April. The best months to visit (weather-wise) are March and April. However, keep in mind that prices are higher during peak season, especially during the Easter holidays.
If you're looking for a more budget-friendly vacation, you may want to visit during the off-season from May to November. However, this is also monsoon season, with the wettest month being October.
Do most resorts in the Maldives have a swimming pool or private plunge pools?
There are many hotels and resorts with private pools in the Maldives. Some of the most popular include:
Emerald Maldives Resort and Spa
Hurawalhi Island Resort
Taj Exotica Resort and Spa
Lily Beach Resort and Spa
Meeru Island Resort and Spa
W Maldives
Niyama Private Islands Maldives
Vakkaru Maldives
Keep in mind that these resorts are usually high-end and will cost more.
What are the typical room rates when I stay at an Airbnb in the Maldives?
Airbnb prices vary greatly and depend on things like location, room type, the season, and the type of accommodation you stay in. Private rooms can range from thirty-five USD to five hundred USD a night, with most rooms costing between sixty and one hundred and seventy USD per night.
Are guided tours with other travelers worth it?
Guided tours can be expensive, but they are also a great activity on any vacation in the Maldives. Tours can help you immerse yourself in local culture and learn more about your destination.
Some of the best tours include:
Snorkeling with Nurse Sharks
Malé Walking Tours
Snorkeling Safaris
Underwater Photoshoots
Parasailing Experience
Submarine Tours
Sunset Cruises
Dolphin Snorkeling
Snorkeling with Whale Sharks and Manta Rays
Island Day Trips
Shipwreck Snorkeling
How much will I pay for a snorkeling trip?
The price of snorkeling varies in the Maldives and depends on the company, the kind of snorkeling, and the duration. Prices typically range between thirty USD and one hundred and fifty USD per person.
What are the Sheraton Full Moon Resort prices?
For a standard room at the Sheraton Maldives Full Moon Resort and Spa, you can expect to pay between three hundred and fifty USD and six hundred USD.
Is it worth it to buy a cheap travel package?
There are many people who prefer to buy travel packages, where most of the admin of planning a trip to the Maldives is done for you. Finding cheap travel packages can be a great option for budget travelers, but it is important to read all the fine print and make sure what you're buying beforehand. Some cheap packages exclude fun activities you may want to experience while you're in the Maldives.