If you're not fond of large crowds, big deck parties, and busy shore excursions, you will be delighted to know that not all cruise ships are massive floating hotels. Smaller vessels have become increasingly popular. More and more people are opting for expedition cruising and small-scale cruising instead of big ships, making small-boat cruises a fast-growing niche in the cruise industry.
Passengers who long for a more intimate atmosphere while at sea, with exciting sights like sea turtles, sea lions, and humpback whales, can set sail on one of these small vessels. These cruises take visitors all over the world, from Sub-Antarctic islands and Greek islands to the Indian Ocean, South America, or Genovesa Island.
Vessels classified as small ships can include a yacht, schooner sailing ship, river ferry, or expedition ship. The guest capacity for these luxury cruise ships tends to be fewer than six hundred people, but that does not mean that they are any less impressive than larger ships.
If going on a small-ship cruise is on your bucket list, keep reading to discover some of the best small cruise lines.
Best Small-Ship Cruises
Expedition Cruises
Lindblad Expeditions
Teamed up with National Geographic, Lindblad Expeditions offers laid-back cruises with no more than one hundred and fifty passengers. The ships in Lindblad's fleet travel all over the world, visiting each of the seven continents, making them great bases for exploring. They also include visits to the Galapagos Islands, Antarctica, the South Pacific, and the Arctic.
Each trip is accompanied by expedition leaders, naturalists, undersea specialists, and historians. Some cruises also include photographers from National Geographic or certified photo instructors. Additionally, scientific tools can be found on these ships, such as hydrophones that allow you to listen to marine life.
These ships offer a comfortable experience, with organic food and spa treatments. They are ideal for anyone in need of a relaxing getaway.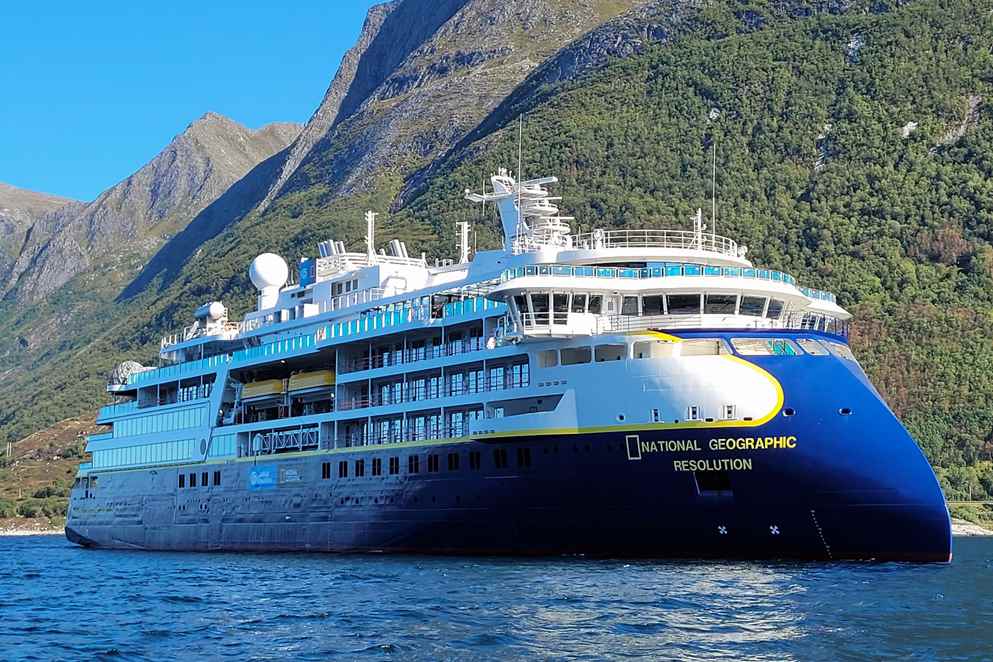 Hurtigruten
This Norwegian-based cruise line is home to fifteen expedition ships of different sizes. Its flagship, the MS Roald Amundsen was launched in 2019 and can house up to five hundred and thirty passengers. It features hybrid propulsion which reduces CO2 emissions and fuel consumption.
Guests sailing on the MS Roald Amundsen will be able to enjoy cabins and suites that have balconies and views of the ocean. Guests staying in the Expedition Suite will also have access to exclusive amenities such as an espresso machine, a bathrobe, and a private open-air hot tub.
Hurtigruten cruises are focused on enjoying the beauty of nature, and passengers can be taken to incredible seaside locations on small landing crafts.
Because passengers on the MS Roald Amundsen come from all over the world, the ship operates in several languages, including Norwegian, English, German, and French.
SilverSea
Silversea is home to a fleet of four expedition vessels, including the Silver Explorer. The line is known for its small luxury cruises, with ships accommodating up to two hundred and fifty people. The ships in Silversea's fleet include spacious, luxury suites and high-end amenities such as a butler service.
The expedition cruises include both well-known and lesser-known destinations, such as Micronesia and the Galapagos Islands. Shore excursions are also complimentary, and guests can expect things like nature hikes, snorkeling, Zodiac tours, or Kayaking. Silversea cruises have additional attractions, such as talks by academic experts and Russian ballet dancers.
If you're looking for unique adventure cruises and luxury, an expedition cruise with Silversea would be ideal for you.
Quark Expeditions
Quark Expeditions specialize in voyages to the polar regions of the Antarctic and Arctic, perfect if you're looking for up-close encounters with polar bears. The cruise line has a fleet of seven vessels, each one home to Zodiac boats and onboard helicopters. These ships also come equipped with skiing, mountaineering, and kayaking gear.
Perhaps the most famous vessel in the fleet is 50 Years of Victory, which can house just under one hundred and thirty passengers. The ship makes journeys to the North pole, but other Quark Expeditions also make trips to the far south. Guests on a Quark Expedition cruise can expect presentations and lectures from an expert in the fields of science and photography.
Each ship offers a slightly different range of benefits. Ocean Nova is designed in a Scandinavian style and includes an observation lounge enclosed by glass, and Ocean Diamond is carbon-neutral and eco-friendly.
Scenic Nature Cruises
Celebrity Cruises
While Celebrity is one of the cruise companies better known for its larger vessels, it also provides small-ship cruising to the Galapagos. Some of the small ships in Celebrity's fleet include the Celebrity Xpedition, capable of housing just under one hundred guests. There is also the even smaller Celebrity Xploration, capable of accommodating sixteen guests, and the Celebrity Flora, with a guest capacity of one hundred guests.
The small ship cruises offered by Celebrity focus on providing impeccable service, delicious food, and an intimate atmosphere. Entertainment is usually destination-oriented and may include things like performances about Ecuadorian mythology.
The latest addition to the fleet, Celebrity Flora, is designed specifically for sailing to the Galapagos Islands. It includes systems to ensure sustainable travel, cabin automation, water filtration systems inside the cabins, and dynamic positioning.
UnCruise Adventures
Designed to appeal to non-frequent cruisers, UnCruise Adventures offer river and adventure cruises. It is home to a fleet of nine small ships, each capable of accommodating between twenty and ninety guests. The ships travel to Alaska, Panama, Washington, Costa Rica, Hawaii, the Galapagos Islands, the Sea of Cortez in Mexico, British Columbia, and the Pacific Northwest.
While these cruises don't stop at many of the typical ports of call, they do stop at bays and inlets so that guests can enjoy the beauty of nature and wildlife up close.
There are hot tubs on the ships for relaxing. They also come equipped with snorkeling gear, paddle boards, and kayaks for river excursions.
Each vessel in the fleet is different, ranging from yachts and expedition ships to a replica steamboat. Because of this, the amenities offered by each ship differ. Some of the amenities that guests can expect include premium lounges, libraries, gourmet meals, fine wines, and fitness areas.
Ships With Sails
Star Clippers
Star Clippers offers voyages to lesser-known ports in the Mediterranean and Caribbean. Its fleet includes three ships with tall sails, namely Star Clipper, Star Flyer, and Royal Clipper. They are some of the fastest clipper ships in the world, and guests can enjoy activities onboard such as helping with trimming and raising, climbing the rigging, and enjoying the fresh sea breeze.
Unlike other lines with more conventional vessels, guests onboard ships in this fleet don't have to follow a rigid timetable and the dress code in the evening is elegantly casual. There are some themed evenings that include dressing up, such as Pirate Night. Other activities to be enjoyed include water sports like sailing, kayaking, and snorkeling.
Royal Clipper can accommodate nearly two hundred and thirty passengers, while both the Star Clipper and Flyer can accommodate one hundred and seventy guests.
Windstar Cruises
Windstar is an upscale line that journeys through Central America, the Caribbean, the South Pacific, Europe, New England, Canada, Alaska, and Asia.
Yachts with sails give visitors the unique experience of being on a sailboat without having to give up luxury amenities. Guests on Windstar ships can enjoy being pampered away from any big crowds. The dress code is casual elegance, which sums up the atmosphere of this cruise line.
The Water Sports Platform is another great feature found on these ships, where passengers can enjoy a wide range of water sports free of charge. This includes wind-sailing, water-skiing, paddle-boarding, and snorkeling.
While the fleet doesn't include traditional sailboats, it does have three sailed yachts. Wind Surf has five masts and seven sails, and can accommodate just over three hundred passengers. Wind Star and Wind Spirit are smaller, with four masts and six sails each. They can house just under one hundred and fifty.
Other ships in the Windstar fleet include three yachts without sails, namely Star Legend, Star Breeze, and Star Pride.
Island Windjammers
While Island Windjammers may not provide over-the-top onboard amenities, it gives guests a chance to experience the joy of sailing the open ocean. Island Windjammer cruises journey from Grenada to the Windward Islands, and from St. Maarten to the Leeward Islands. There are also other itineraries to the British Virgin Islands and the French West Indies.
If you're looking for some themed small-ship cruises, you can opt for one of the many offered by this cruise line. Some of the most popular include Rum Cruises, Taste of the Caribbean Islands, and Solo Sojourns.
Guests can enjoy casual attire, both in the daytime and evenings. Each cabin comes with private bathrooms and air conditioning, and most include portholes. Dining options include an indoor dining area, as well as alfresco dining on deck. Other activities include exploring ports of call and sunbathing.
The fleet includes Sagitta, capable of accommodating twenty-four passengers, Vela, capable of housing twenty-six passengers, and Diamant, which houses only ten passengers at a time.
River Cruises
Emerald Cruises
Emerald Waterways is considered one of the best small-ship cruise lines for river cruising. Guests can enjoy complimentary transfers, meals, beverages, port activities, bicycles, Wi-Fi, and staff gratuities.
The fleet includes nine ships, of which eight vessels are home to retractable roofs, cinemas, and indoor heated pools. There are also cabins on the Horizon and Vista decks that have large windows which can be opened for fresh air.
Emerald's ships are designed like floating, contemporary boutique hotels, making them an excellent choice for anyone looking for a deluxe experience on a small cruise ship. The ships journey to several rivers worldwide, including rivers in Europe, Cambodia, Egypt, and Vietnam.
Ships in the Emerald Waterways fleet can accommodate one hundred and eighty-two passengers.
Uniworld River Cruises
Uniworld is known for its colorful, daring, and dynamic atmosphere- which can be experienced on any of the seventeen vessels in its fleet. The vessels travel in rivers through Europe, India, China, Egypt, Cambodia, Vietnam, and Russia.
Cabins and rooms are of the highest standard and feature lush furnishings, original artwork, and antique décor. They also include modern amenities such as marble bathrooms, Savoir beds, and flat-screen televisions.
Guests can expect prompt service and delicious cuisine of the same standard as luxury cruise ships at sea. Riverboats are smaller, giving a more intimate atmosphere but with fewer entertainment venues and dining options.
Guests can enjoy live acts performing onboard when the ships stop at port cities and dance to live music performances. There are also bicycles available for loan during shore excursions.
These small luxury cruise ships can house around fifty-six to nearly two hundred passengers.
AmaWaterways
Ships in the AmaWaterways fleet journey through rivers in Europe, Vietnam, and Africa. These ships are some of the most modern in the industry. Included in the cruise fare are stops at ports of call, beautiful cabins, and delicious regional cuisine.
The décor of each vessel is inspired by its destination. In-cabin amenities also include music, movies, and internet access. Guests can also expect heated swimming pools, hot tubs, and glass elevators.
There are audio-guided daily tours where visitors can learn more about culture and history. Guests may also make use of the complimentary bicycles while they are exploring port cities.
The ships in the fleet range in size and can accommodate between twenty-eight and just under two hundred guests.
Yacht Cruises
Seadream Yacht Club
Offering sophistication without pretense, SeaDream Yacht Club is a fleet of two vessels, namely SeaDream One and Two. SeaDream cruises journey to the Caribbean, the Baltic, and the Mediterranean.
Passengers can expect an attentive crew and international dining on deck or in an elegant salon. Guests will also receive complimentary wine, cocktails, and Champagne. Much like with other small cruise lines, the dress code onboard is elegantly casual.
The ships include exciting activities like sleeping under the stars in Balinese loungers, and great amenities like a water sports platform with free gear, kayaks, and sailboats.
SeaDream vessels can house around one hundred and twelve passengers. Each ship also has a crew of ninety-five people.
Ponant
If you're looking for five-star quality yachts with a strong French influence, Ponant offers the cruises for you. The French influence can be seen in the French crew, French wine, and French cuisine. The ships feature prestigious perfumes by Fragonard, Sothy's spa products, interior design by Jean Philippe Nuel, and fabrics by Pierre Frey.
The ships journey to the Adriatic Coast, the Caribbean, and the Mediterranean. Fares are all-inclusive, and guests can enjoy complimentary shore excursions, drinks, gratuities, and internet connections.
While still considered small cruise ships, Ponant's fleet consists of four massive vessels (such as the Le Soleal), six yachts of mid-size (like the Le Bougainville), and one small yacht (Le Ponant).