Let's face it, Alabama is the home of some of the most delicious food in all of the United States. Here you can spoil your taste buds with great food like seafood dishes, potato salad, cheese biscuits, smoked sausage, lamb ribs, and of course banana pudding.
We have compiled a list of the best restaurants in Montgomery, AL. Our list covers a number of different establishments, like a sushi cafe, a fine dining restaurant, a seafood restaurant, and perhaps even a wine bar! We want to provide an option for everyone, even those wanting to enjoy some beautiful live music sessions.
Along with the phenomenal food scene in Montgomery that is jam-packed with southern cuisine at its finest, you will also find yourself in an important historic town. Montgomery was a central hub for the Civil Rights Movement and is home to the Rosa Parks Library. There are also several State Parks and National Parks in the area where you can work up an appetite.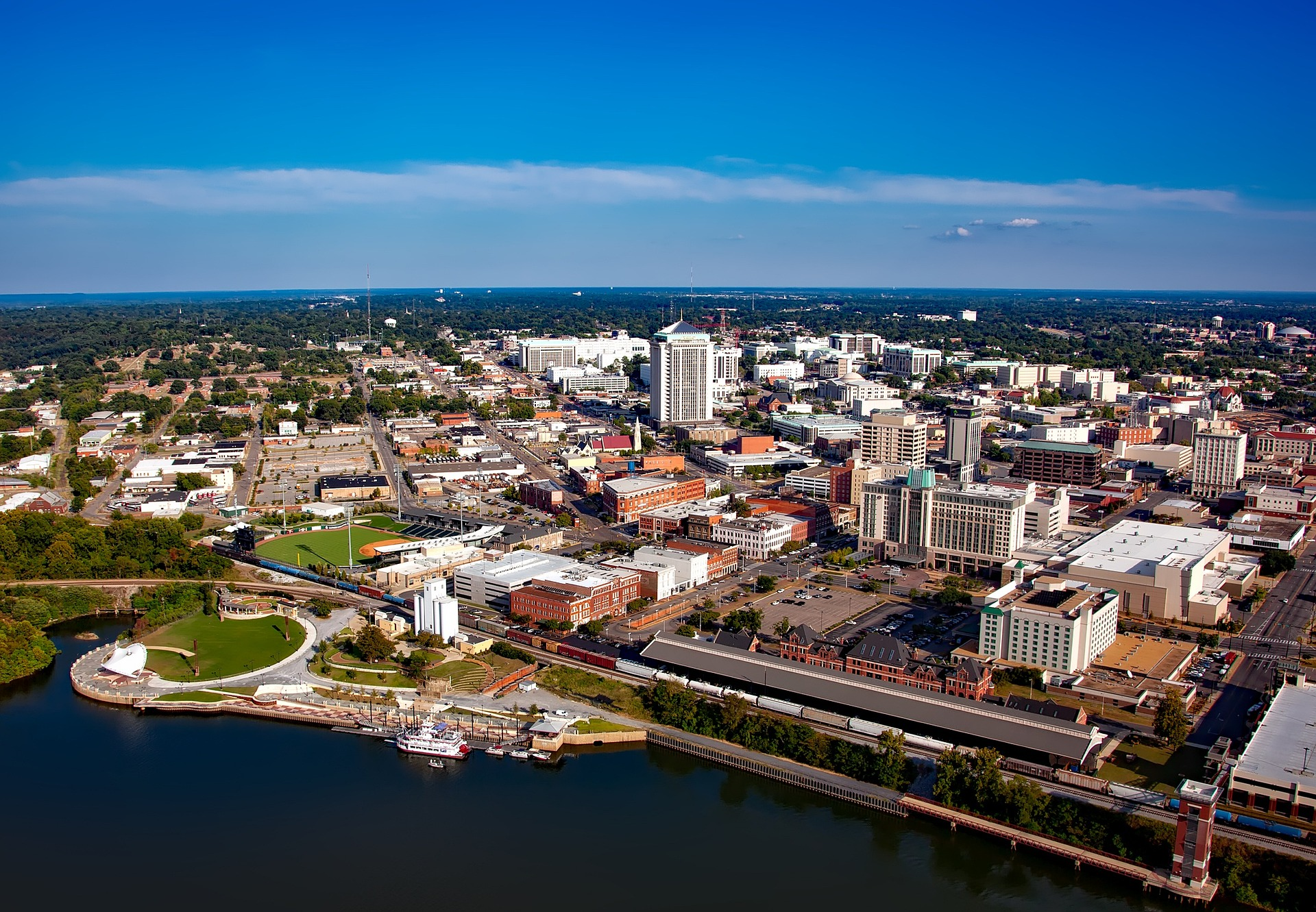 Sol Restaurante Mexicano & Taqueria
Sol Restaurante is one of the best restaurants in Montgomery for authentic Mexican cuisine! They have an impressive bar menu and provide a choice between Mexican street food, a build-your-own plate, or several lunch and dinner specials.
Their lunch and dinner specials are popular options because it allows patrons to select 2 to 4 menu items. Choices include beans and rice, guacamole salad, grilled mushrooms, stewed beans, flauta, quesadillas, tostadas, enchiladas, tacos, and burritos. Their other Mexican street food options include Elote (a Mexican corn), pork belly, catfish, chicken, asada, tripa, barbacoa, carnitas, and al pastor. Or you can have fajitas in vegetarian or traditional options like Benito, huevos a la Mexicana, nachos, and salads.
Their bar menu includes a number of house wines, domestic or imported beers, beer-ritas, and house margaritas.
Shane's Rib Shack
If you're looking for family-owned Montgomery restaurants then Shane's Rib Shack should definitely be high on your list! They are still serving by granddad's Big Dad secret BBQ recipe. This restaurant also gives back to the community by donating food.
Their BBQ plates are particularly popular, specifically the shack sampler which allows two or three meat options. They also have ribs, chopped BBQ chicken, and pulled pork plates. Each plate on their menu includes a piece of Texas toast and two traditional sides. On the lighter side, you can enjoy a grilled chicken wrap or a sandwich. They also have famous burgers like the Shanic burger, or you try their chicken tenders, wings, salads, or lunch baskets.
Shane's Rib Shack sides are also quite spectacular and include onion rings, side salads, Brunswick stew, mac & cheese, fried okra, baked beans, fries, and cole slaw. As an added bonus, they also have a gluten-free menu!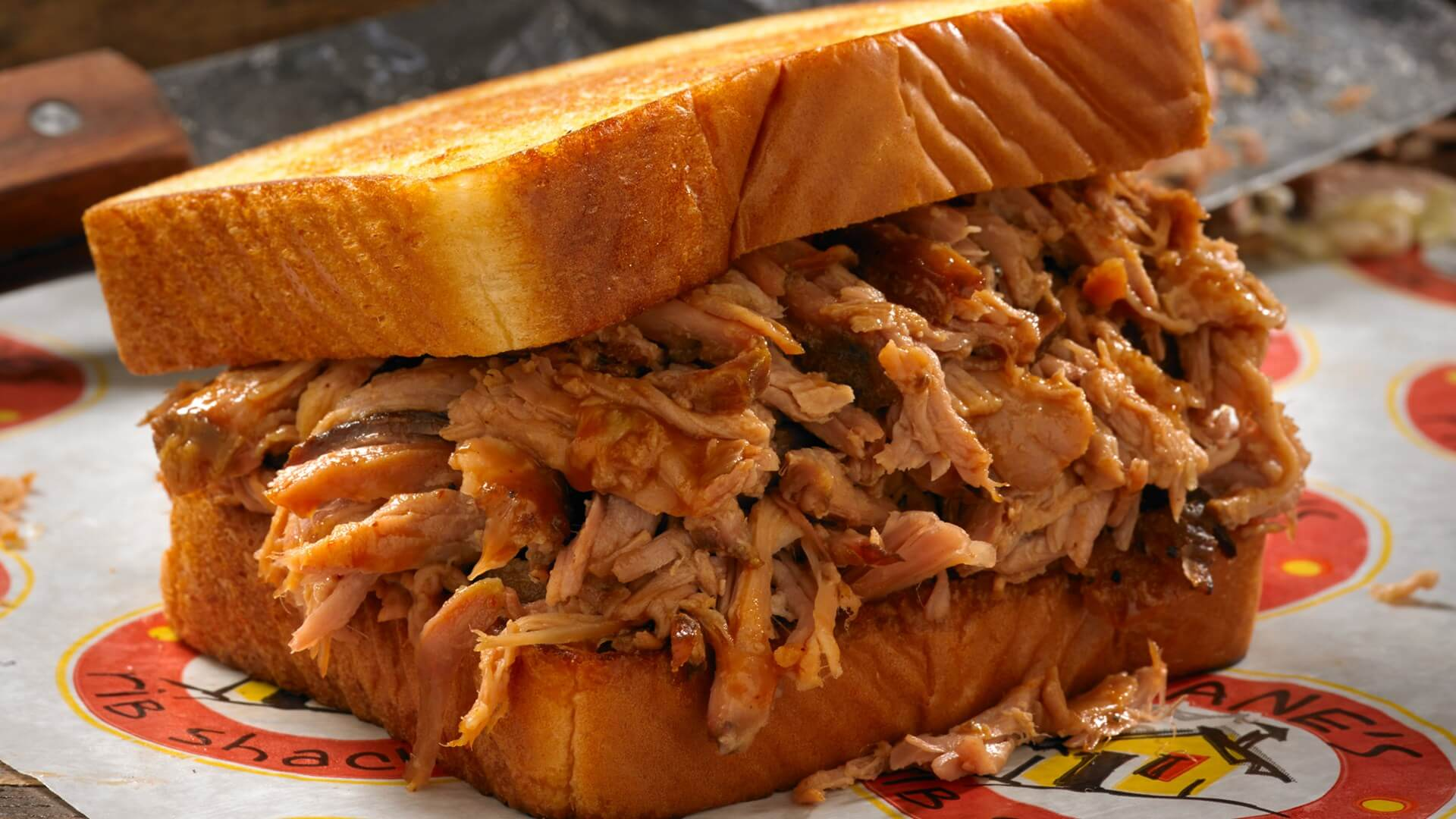 City Grill
The City Grill provides upscale modern American cuisine and is only open for dinner on all days except Monday and Tuesday. Listed as one of the best restaurants in Montgomery, they are known for their upscale menu, great service, and white tablecloths. Recently the City Grill moved to a new building where they have a large outdoor patio where guests can enjoy outdoor seating.
They have several menu favorites like the grilled halloumi salad with vegetables, chickpeas, and spinach, or fried calamari with jalapeno tarter sauce, crab cake with grilled shrimp, Fig Turnover with pecans and gorgonzola, baked Feta with rosemary and olives, or the triple cream brie with sliced almonds.
Their famous mains include mis glazed salmon with grilled squash and edamame, grilled buerre blanc roasted salmon, sauteed shrimp and andouille sausage, surf and turf, grilled filet of beef with roasted potatoes, sun-dried tomatoes, and garlic, or the grilled lamb chops with mint yogurt sauce.
Island Delight at Dexter
The Island Delight is a Caribbean restaurant where you can find delectable Island style cuisine that takes you straight to a tropical holiday! Their lunch menu has four categories: chicken, goat, beef, and fish.
While they have a vegetarian and vegan menu as well, so that everyone has something to enjoy, some of their great carnivorous options include fried chicken, brownstew chicken in sauce, pineapple glazed chicken, curried goat (a personal favorite), beef oxtail and veggies, jerk salmon with mango salsa, and Escoveitch fish pan fried with pickling sauce.
Their dinner menu features jerk ribs, peppered steak, Island jerk chicken, beef oxtail, jerk red snapper, and a Man-a-Yaad with two sides and three meats. The Reggae Bar has some amazing Island juices in a variety of vegetable and fruit flavors, including some exciting mixes like the Jamaican Sensation, which has pineapple, guava, passion fruit, and papaya; the Voodoo Berry, which has a variety of berries, the Sunshine in a Bottle with orange, pineapple, banana, and carrots, or the Cool Running with mint, watermelon, and pineapple.
American Deli
When it comes to the best restaurants in Montgomery, the American Deli has more than ten restaurants spread across the city. Even though this is a chain restaurant each outlet has a unique style and makes their food fresh on-site. The menu is fuss-free and makes for the perfect quick lunch spot with good food and friendly service!
While the menu is limited there are some great options available such as the gyro with veggies on a soft pita, the Reuben with thousand island dressing, sauerkraut, and corn beef, fried chicken and shrimp with fries, a burger, fried rice with shrimp, beef, or chicken and onions, and wings in a signature sauce.
They also have a selection of salads and subs.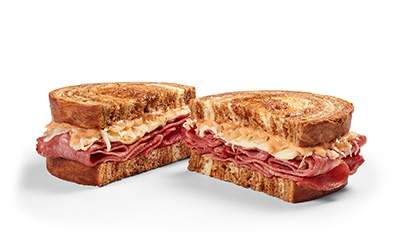 Cahawba House
Cahawba House specializes in Bama Bone Fide Southern Cuisine and is one of the great Montgomery restaurants for lunch or weekend breakfast. Their lunch menu is rich with homemade favorites like the market salad with goat cheese and strawberries, Big Cahawba Burger, BLFGT sandwich with fried green tomatoes, garlic mayo, lettuce, bacon, fried chicken strip sandwich, pimento grilled cheese, and chicken salad sandwiches made with Texas toast.
Cahawba House also serves dishes like hamburger steak with gravy, catfish, BBQ chicken, and momma's meatloaf, with sides like rice and broccoli gratin, mac & cheese, smashed potatoes, hull peas, or balsamic glazed fried green tomatoes. Finish your fantastic lunch with some cinnamon-dusted pork rinds, applied pie, or cinnamon beignets.
Kabuki
We cannot make a best Montgomery restaurants list and not talk about Japanese food, especially when a restaurant has both sushi and hibachi! You can choose to take a seat at the hibachi table and watch as your food is prepared, or you can try the sushi cafe. They have a sushi bar special where you can choose custom sushi rolls or two rolls of Maki. Or you can try the lunch box specials that include a California roll of your choice, rice, and salad. California roll choices are Yakitori, Curry, Katsu, Tempura, or Teriyaki.
Hibachi is available for dinner and lunch and includes your choice of protein, fried rice, a shrimp appetizer, veggies, salad, and soup. Protein choices are scallops, shrimp, Samuarai with filet, Kabuki marina, filet, lobster tail, steak, tuna, chicken, or veggies only.
Chappy's Deli
Of all the Montgomery restaurants with a breakfast option, Chappy's Deli will certainly not disappoint, with breakfast served from Monday to Saturday until 10:30 am. They also have a lunch and dinner menu and are decked out like a New York-style diner.
Omelets and eggs are all served with grits and toast with preserves. The capitol city platter is especially popular with meat, hash browns, biscuits, gravy, and three eggs. The Conecuh omelet with cheese, hash browns, and sausage is also quite popular.
Breakfast sandwiches like the Alabama Conecuh sausage, the Conecuh wrap, egg white delight and the breakfast croissant are great choices for lighter meals. And their selection of waffles and pancakes includes french toast or pecan pancakes, golden malted waffles, blueberry waffles or buttermilk blueberry pancakes.
SaZa
SaZa is one of the Montgomery restaurants that can serve you the best authentic Italian dishes in the area. The atmosphere at SaZa is lively and exciting, with an open-plan kitchen, music, and bridge colors to fire up your senses. Although the food is traditional Italian, there is a flare of innovation to each dish and menu items are extensive so that everyone can find what they are looking for.
Their iconic menu includes the following: traditional chopped antipasto salad, grandma's meatballs, bruschetta of the day, grandma's eggplant, and egg in purgatory. Pizzas are made on-site with fresh dough and include the Kafta lamb curry, wild mushrooms, meat lovers, or Greek, to name a few.
Of course, SaZa must also have some famous pasta dishes on its menu if they want to be an authentic Italian restaurant. They are known for their chopped shrimp and lobster over angel hair pasta with eggplant parmigiana and EVOO, chicken piccata, chicken Francaise with lemon butter sauce, boneless short ribs, Grandma's Spaghettini and meatballs, shrimp marinara, and the famous five-layer lasagna.
Their weekday lunch menu includes sandwiches and half portions of pasta.
Vintage Year
Vintage Year has been around since 1984 and is one of the cornerstones of delicious food in Montgomery. They are well known for their phenomenal seafood, impressive wine selection, and award-winning burgers. Their atmosphere is seconded only by their food, especially the delicious steaks! Plus, they have Tuesday burger night!
Their menu has a selection of oysters, scallops, seafood Dynamite with Gulf shrimp, rosemary dumpling soup with six root vegetables, and oysters on the half shell. Their main menu has some truly great food on offer in the form of the VY burger that's made with Alabama wagyu beef, Vintage pasta with goat cheese, kale, and caramelized onions, Chicken and Dumplings, and a Black Angus Filet with baby turnips and duck fat roasted potatoes.
Famous sides include mac & cheese, shallot roasted potatoes, and honey butternut squash. They also have a delightful selection of craft cocktails to choose from.
The Wharf Restaurant
The casual dining approach to the Wharf is only one of the reasons it is the one of the most popular restaurants in Montgomery for delicious seafood. This restaurant chain was founded in Tallahassee by the Dugger family and can now be found in several cities across the US.
Their salads include exciting fare like the seafood gumbo, the chopped shrimp boat with blue cheese, and the Southern Louie with shrimp tossed in housemade sauce with tomatoes and pecans over romaine lettuce. They also have burgers and crab cake sandwiches or tacos with the Mediterranean Mahi, spicy Wharf shrimp, and Baja Shrimp. They also have Po Boys with fried green tomatoes, crispy chicken, mahi, oyster, shrimp, or grouper.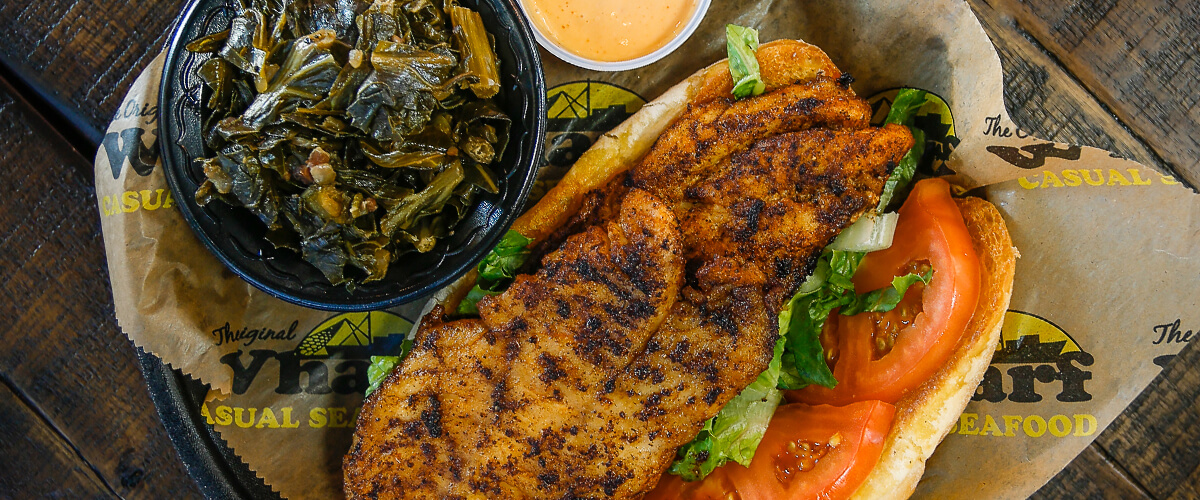 Sushi Cafe
If you and your taste buds are craving sushi and other Japanese cuisine, then the sushi cafe is the place to be. The interior is decorated carefully to transport visitors straight to Tokyo, so take a seat at their vibrant and inviting indoor seating. When it comes to their sushi rolls, they have some truly unique and beautifully crafted unique selections. For example, there is the Cilantro roll, the Texas roll, the Dragon Lady roll, and the Daniel Special roll with crab meat, scallops, cooked shrimp, and tempura shrimp. They also have Tempura, Teriyaki bowls with steamed or fried rice, veggies, miso soup, and salad.
Central Restaurant
Central Restaurant has been voted as one of the best restaurants in Montgomery and takes pride in its casual yet upscale atmosphere, where guests can book private dining rooms or choose between indoor and outdoor seating options. Unlike many Montgomery restaurants Central Restaurant sources their produce locally and is locally owned.
Their menu is seasonal, and menu items will depend on the ingredients available. Most of their menu is supposed to be tapas style, for example, their roasted half chicken, NY strip, braised short rib with Sunday sauce, Cedar Plank Salmon, Alabama Gulf Fried rice, Winter apply and pig salad, Central's Charcuterie board, wood-fired oysters, deviled crab cigar, and the Cheddar Pimento Cheese flatbread.
For dessert, they have apple fritters, applewood smoked bacon, Jake's Mile high lemon meringue, sweet potato cheesecake, and eggnog creme brulee.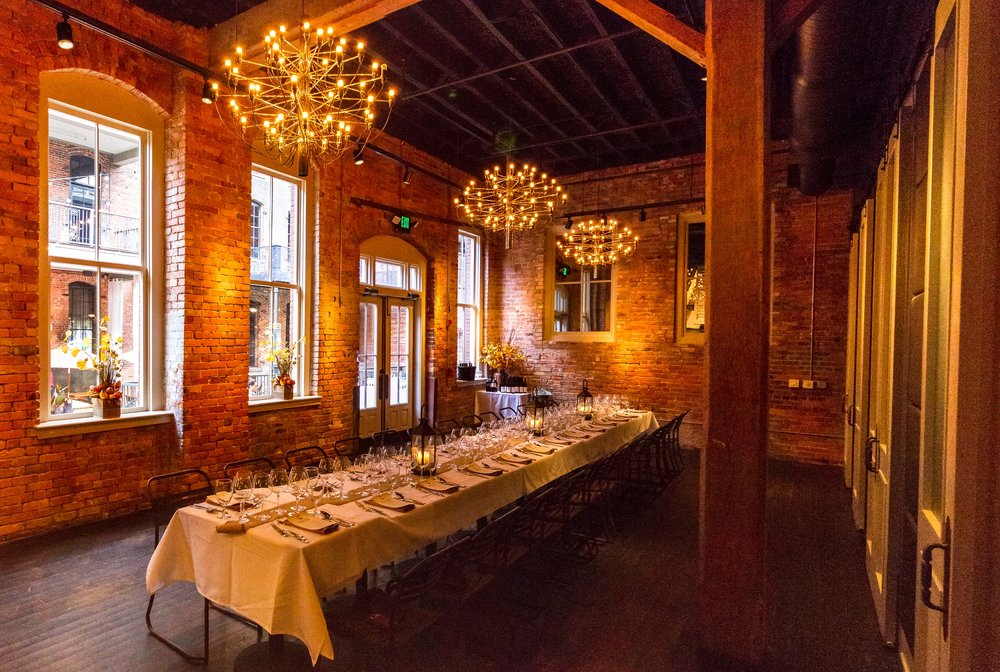 Asia Bistro & Seafood
If you are trying to find authentic Chinese and Asian food in popular restaurants in Montgomery, then the Asia Bistro & Seafood is the place to be. They have all of the classics that we know and love, like Thai soups like Tom Yum, hot and other Asian soups like egg drop, hot and sour, and wonton, or the dumplings, wontons, and egg rolls. There is also a wide range of vegetarian dishes on the menu, like hot and spicy tofu, or Chinese mixed vegetables.
There is also a delectable selection of all your traditional Chinese favorites, like Chicken Lo Mein, Pork Fried Rice, Tofu or Veggie Fried Rice, Moo Shu Pork, Hunan Beef, Beef and Broccoli, Sweet and Sour Chicken, and Sesame, Honey Kung Pao.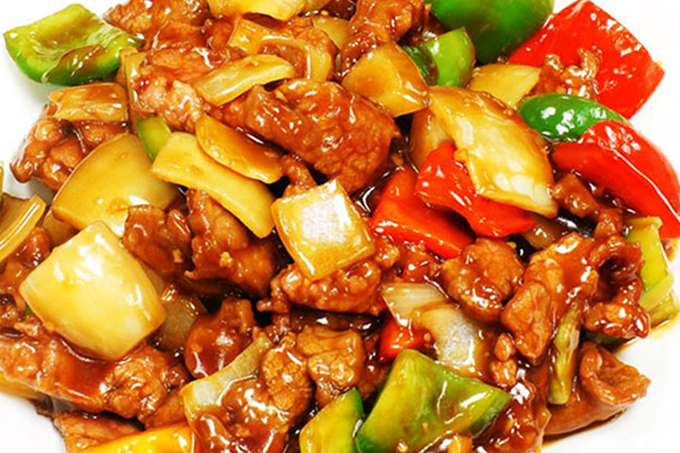 Capitol Oyster Bar
The Capitol Oyster Bar is located on the Alabama River and is one of the restaurants in Montgomery that provides a unique and relaxing dining experience. Here you will find exceptional seafood, live Blues music, and outdoor seating right on the deck overlooking the river. They also offer pontoon boat rentals so that diners can work up an appetite.
In addition to their famous fried blue crab claws, they are quite well known for their fresh raw oysters. Dinner platters of ribeye, oyster, frog legs, chicken and catfish tends, scallops, or fried shrimp are served with hush puppies and two sides. Or you can select from their steamer, where you can find Alaskan Snow Crab legs, Peeled Royal Red Shrimp, Seasoned Shrimp, Crab Claws, and Oysters by the pound.