The idea of a Vegas wedding can be a most exciting prospect for many people. However, there are so many Vegas wedding chapels that it can be challenging to choose the right one for your needs. That being said, you can always trust that there will be one to fit into your ideal picture. We have compiled a list of the best wedding chapels in Las Vegas according to several different options. While we understand that a Vegas wedding is not necessarily for everyone, it is important that as long as it forms part of your dream wedding, you have the information ready to make an informed decision on the best wedding chapel for you.
Best Outdoor Wedding Chapel
Mon Bel Ami Wedding Chapel
As we all know, Las Vegas is known as the city that never sleeps, so it is then safe to assume that the sun never sets on Las Vegas. Perhaps this is one of the appeals of Las Vegas Weddings, and should then be duly exploited through an outdoor wedding venue. The Mon Bel Ami Wedding Chapel is a fan favorite for an open-air Las Vegas Wedding. This chapel has wedding packages for larger groups and more intimate gatherings.
Like with many other Las Vegas wedding chapels, there are different packages to choose from, and additions like reception packages will cost extra. Regardless, the beautiful backdrop and intimate atmosphere provide the foundation for an ideal Las Vegas wedding.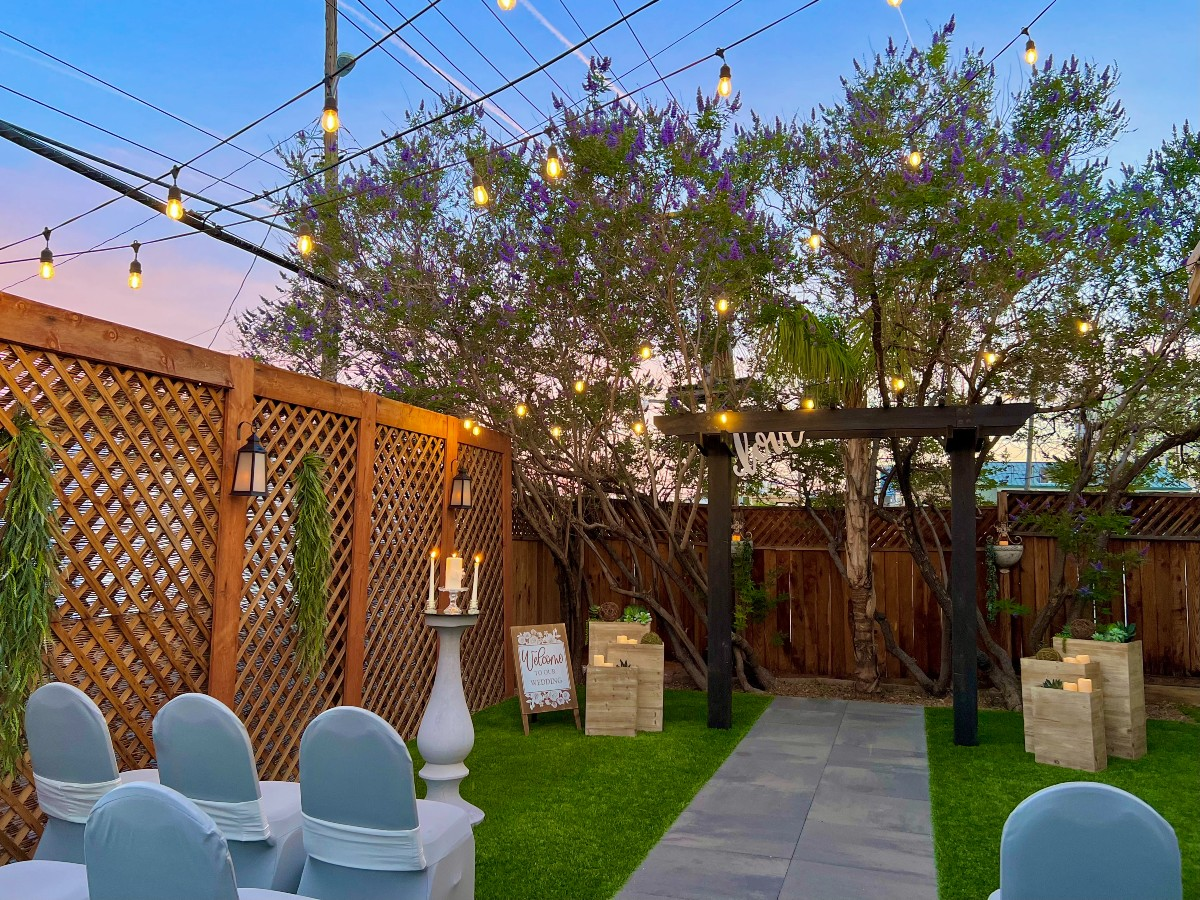 Best Drive-Thru Wedding Chapel
A Little White Chapel
A "drive-thru" wedding might be something that some of us have heard of, but it might still be difficult to believe that these are real and valid wedding options. A Little White Chapel, for example, is such a place where couples can say their vows from the comfort of their car. This is one of the best wedding chapels of its kind that we could find in Las Vegas. A particularly special attribute of this Vegas chapel is its Tunnel of Love service.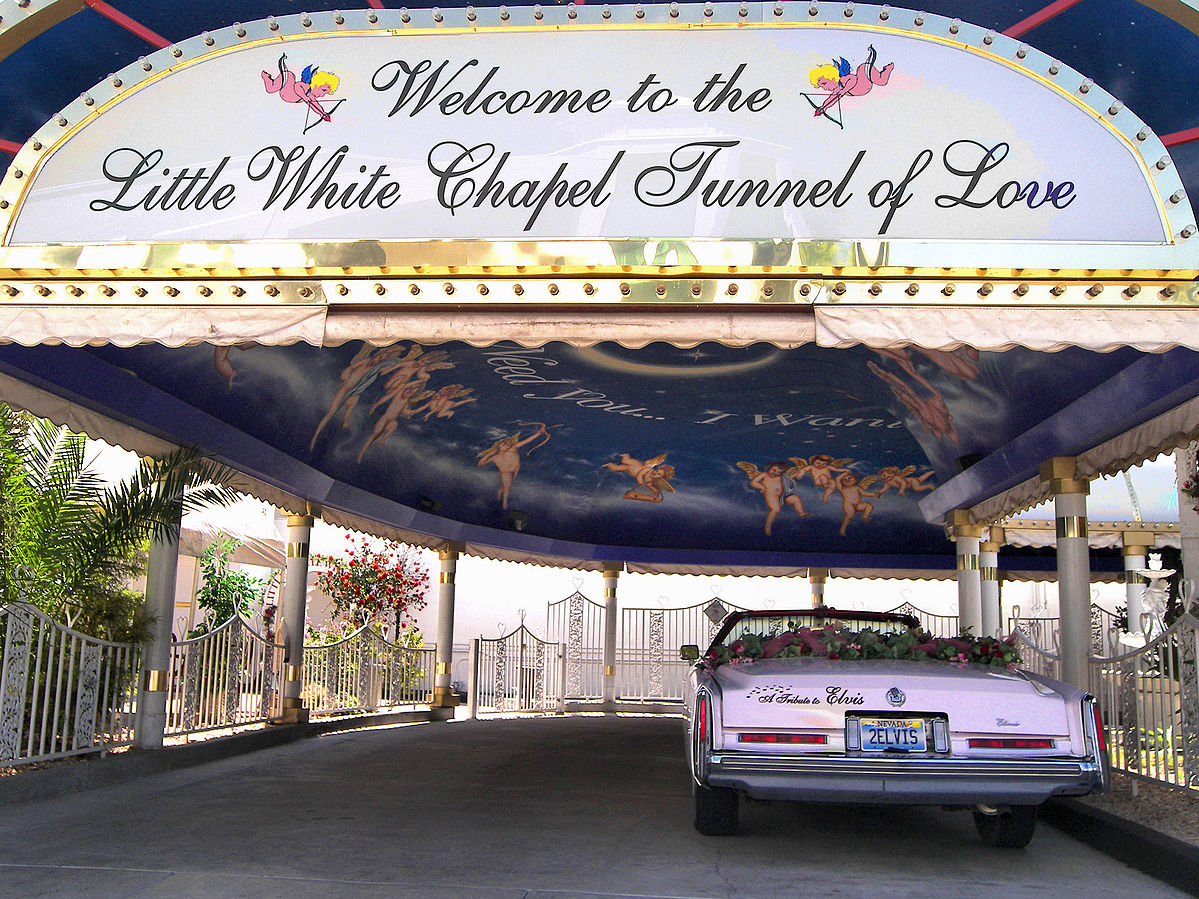 Best Cheap Wedding Chapel
Chapel of Crystals
We understand that it can be difficult to keep track of one's expenses in a places like Vegas, so we thought it important to also consider some more economically friendly wedding packages. This will enable couples to spend more on the rest of Las Vegas than worrying about the cost of their wedding ceremony. One such chapel is the Chapel of Crystals.
There are several different packages to choose from, starting with sign-and-go ceremonies. They also have some more exciting options at budget prices, like Elvis Ceremonies.
Best Elvis Wedding Chapel
Graceland Wedding Chapel
We absolutely cannot speak about Las Vegas weddings and not mention an Elvis wedding chapel. If an Elvis-themed wedding tantalizes your dreams, then you should stop by Graceland Wedding Chapel. Many years ago, in 1977, the Graceland Wedding Chapel was home to the very first Elvis-themed wedding.
Graceland is by far one of the most popular wedding chapels on the Las Vegas strip and they are equipped to conduct ceremonies in six different languages, including English. They also do commitment ceremonies and vow renewals.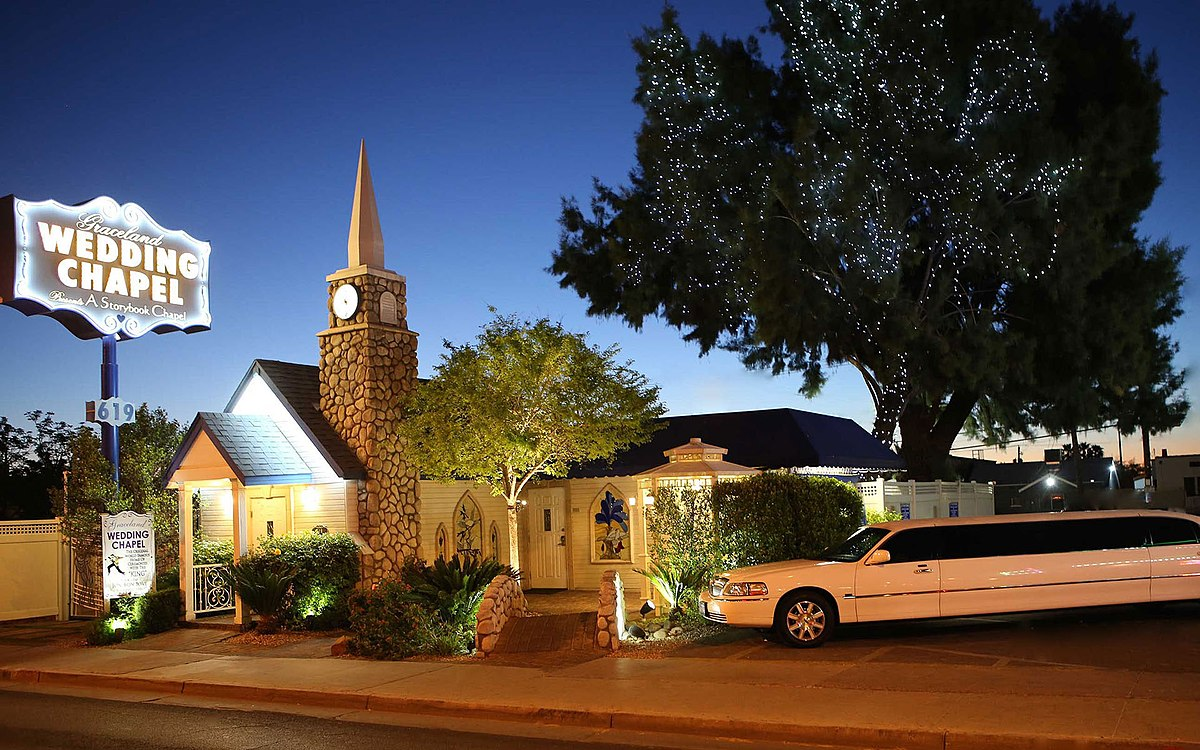 Best Downtown Las Vegas Wedding Chapel
The Little Neon Chapel
How does one decide what the best part of a Las Vegas wedding is? For many, it is the fact that they are in Vegas. Many people who want to enjoy the rest of Vegas after their wedding. A Downtown chapel wedding makes this so much easier to do. Our favorite one is The Little Neon Chapel.
This chapel has several different Las Vegas wedding packages in different price ranges to suit your needs and your pocket. The biggest draw of The Little Neon Chapel is that it's downtown, close to clubs, bars, and restaurants, not to mention the casinos. The chapel also provides a limousine service, rings, themed weddings, cake, flowers, hair and makeup, and tux and gown rentals. Unless it is included in the package, it will come at an additional charge.
Best Las Vegas Hotel Wedding Chapel
The Wedding Salons at Wynn
The Wedding Salons at Wynn is right on the Las Vegas Strip and is one of the best hotel wedding chapels in Vegas. They have one chapel outdoors and two chapels indoors, and can accommodate around 120 guests. The Primrose Courtyard and the Lilac and Lavender Salons provide great photo opportunities with a tree canopy, flowers, and water fountains.
There are ballrooms and event spaces for hire at the Wynn Las Vegas that can accommodate up to 1,000 people. Of course, there are also rooms for your guests; remember, however, that the Wynn is on the luxurious side. There are also wedding planners (Annmarie and Jalen), who are quite popular with couples. They have a good reputation for attention to detail and a welcoming, friendly attitude.
Best Las Vegas Wedding Chapel
Viva Las Vegas Wedding Chapel
As far as wedding chapels in Las Vegas go, Viva Las Vegas is one of the most famous and considered to be the best Las Vegas wedding chapel. There are several wedding packages to choose from, from traditional ceremonies to something a bit more exciting. No Vegas chapel is complete without Elvis weddings, but you can also choose from some other themed weddings on offer, for example, the Grinch, gangsters, and gladiators.
The Viva Las Vegas Chapel is also one of the top wedding chapels for LGBTQ+ couples. Wedding packages at Viva Las Vegas include a live stream of the ceremony, free digital wedding invitations, and a free wedding website – spread across different packages. Packages range in price and you will be able to find one that suits your budget. The traditional wedding package can be quite expensive, whereas a drive-thru wedding is fairly affordable.

Things to Include in your Planning
Regardless of whether your Vegas wedding is a quick weekend trip or you have been planning months in advance, it is important that your experience is exciting and fun. We have highlighted some planning points to consider when choosing wedding facilities in Las Vegas to suit your dreams.
Indoor or Outdoor Chapel
Las Vegas is a pretty sunny place where it rarely rains, so an outdoor wedding is usually a safe bet. However, be aware that the temperature can sometimes be extremely high, so keep an eye on the weather to make sure you and your guests do not end up melting, or at least, getting a really bad sunburn on your wedding day. There are many wedding chapels in Las Vegas, both indoors and outdoors, so finding one to suit your ideal wedding shouldn't be that difficult.
Guest Capacity
While planning a wedding in Las Vegas, it is important to consider the guest capacity at a wedding chapel. It would be quite devastating to plan your dream Vegas wedding only to discover that there isn't enough space to accommodate all of your guests.
Some wedding chapels are quite small, so if your wedding party and guest list are quite extensive, you will need to ensure that the wedding venue you select has the capacity to handle the numbers you had in mind.
Choosing a Wedding Package
There are usually a few different wedding packages to choose from at the wedding chapels in Las Vegas. There are elaborate, expensive packages, or cheap and simple ones, and everything in between. You will need to decide what kind of service you are looking for and also what your budget will allow. Are you looking for traditional wedding packages or something more exciting?
The fastest and cheapest options are usually the "sign and go" ceremonies that often cost you less than $50. But there are also wedding packages that are more extravagant and can wrack up costs exceeding a few thousand dollars. You need to carefully peruse these packages so that you are sure about what you're paying for. Things like a reception, cake, professional wedding planner, live streaming, photography, flowers, and music, are to name only a bit of what you might want to include.
Location
Your wedding destination might be Las Vegas in general, but the specific location of your wedding venue is still important. Do not underestimate the importance of location within Las Vegas. Are you interested in a wedding on the Las Vegas Strip, or a little closer to other parts of the city, for example, Las Vegas blvd, Clark Avenue Las Vegas, or even a little further away like Red Rock Canyon? Take a look at the website to see if you can get an idea of the surrounding areas and what the views are like. Also, read the reviews so that you can get a good idea of where the chapel is and what you can expect from them on your wedding day.
Staff
While many of the chapels will provide all-inclusive services, you will sometimes need to confirm that there won't be a need to hire extras. Establish whether staff members like a limo driver or photographer are included, or if you will need to hire a separate service for things like that. Some chapels, like the Plaza Royale Wedding Chapel, for example, include a wedding planner.
If you want a specific religious or spiritual individual conducting the wedding, you might also need to establish whether the chapel can provide this, or if you need to make other arrangements. Also, check whether the fees for the minister are included or if you pay for that separately.
FAQS
How Much are Wedding Chapels in Las Vegas?
Las Vegas wedding chapels sell packages at different prices. An example of a basic low-priced wedding chapel package might include flowers, music, and wedding vows that cost less than $100. In some instances, basic packages might also include a limousine service.
The more extravagant the packages, the higher the cost will be. If you are looking for more bells and whistles, a larger guest list, or live entertainment will increase costs quite a bit. Remember that the same would apply to a vow renewal ceremony or commitment ceremony, both of which are often available at wedding chapels.
How Many Wedding Chapels are in Las Vegas?
In the city of Las Vegas, there are around 50 wedding chapels currently, and this is not counting the ones in nearby areas that are outside of Las Vegas proper. This only refers to wedding chapels and not to other wedding venues in Las Vegas where traditional weddings are usually held.
There are several different types of wedding venues in Vegas, and many of these will require reservations, so you will need to plan your wedding date and ceremony in advance. There are not as many locations that can facilitate last-minute or spur-of-the-moment ceremonies.
How do I get a Las Vegas Marriage License?
Before your ceremony, both the bride and groom will need to visit the Marriage License Bureau, where a temporary license is issued that is valid for 30 days. You can also apply for a marriage license online which can take around 90 days to be issued. Of course, if you are opting for a traditional wedding, then you go about obtaining a marriage license as you usually would; it will be difficult to have short-notice weddings anywhere in the city, even when you want a chapel wedding, so whichever option you choose, plan ahead to avoid disappointment.
Bottom Line
Las Vegas is home to so many different wedding chapels that you are sure to find one that suits your vision for the perfect wedding. Whether that be an Elvis wedding, an outdoor gazebo, or something more traditional, peruse all the options available and choose a wedding package that meets your needs at your chosen chapel. An added bonus of a wedding in Las Vegas is that you can take your wedding photos at the Grand Canyon or under the fabulous Las Vegas sign, so whatever your vision is of the perfect wedding, Las Vegas can deliver!