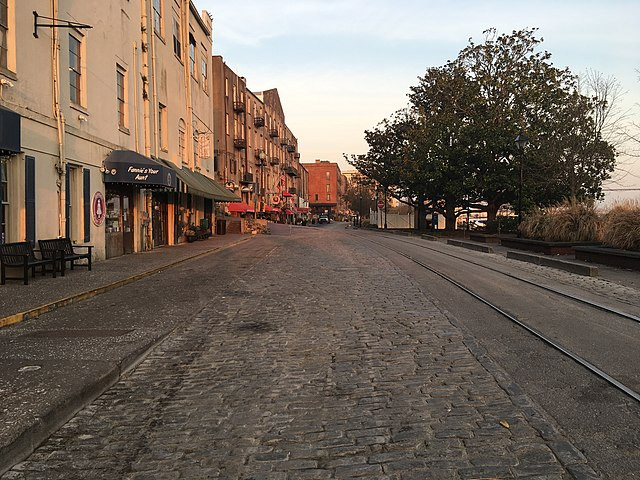 Savannah is a beautiful city in Eastern Georgia that boasts one of the largest and most impressive historic districts in America.
Savannah was founded on the southern bank of the Savannah River in 1733 and served as Georgia's first capital for many decades due to its strategic location near a vital seaport. Being surrounded by stately mansions, plantations, monuments, and churches has made exploring this well-preserved historical district one of the best things to do while visiting Georgia.
Known as "the Hostess of The South," many people visit it for its rich history, but there are also excellent shopping opportunities available- including malls with upscale stores all over town or world-class dining options like Paula Deen's Lady & Sons Restaurant, which offers traditional southern cooking such as shrimp étouffée.
Savannah also offers some nightlife entertainment options, like music venues and comedy clubs.
Read on to discover more things to do in Savannah, GA.
Things To Do In Savannah
1. Forsyth Park
4.8 ★★★★★(13,052 reviews)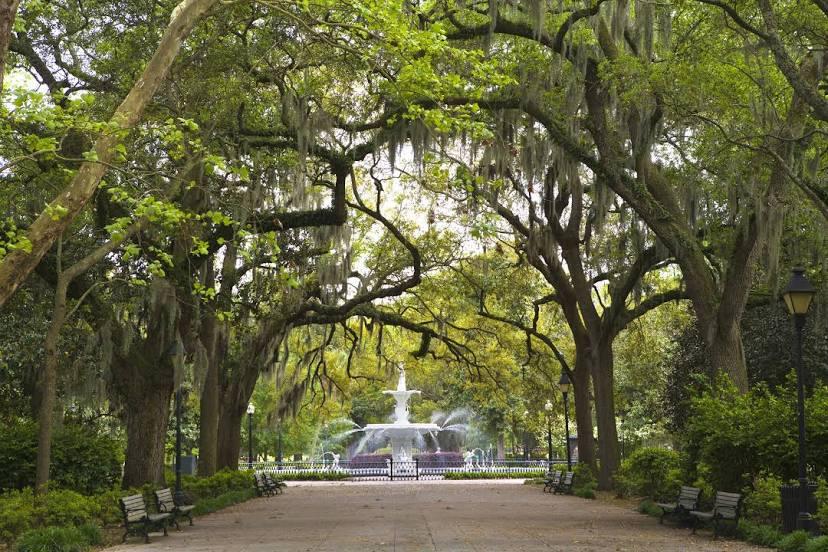 Forsyth Park stretches over more than 30 acres of land, and it is one of Georgia's oldest and most extensive public parks.
Forsyth Park is the perfect destination if you're looking for the perfect place to have your next picnic, a quiet area to work out, or a green area with a lot of shade to hang out with friends. With its sizeable iconic fountain and nature-filled attractions, it's also an ideal spot for spontaneous proposals and family photos.
The Fragrant Garden is especially beautiful during springtime and perfect for a stroll before grabbing coffee at The Sentient Bean to complete your visit to Forsyth Park.
Address: 2 W Gaston St, Savannah, GA 31401
Phone: 912-351-3841
Website: http://www.savannahga.gov/351/Parks-Playgrounds
2. Bonaventure Cemetery
4.7 ★★★★★(484 reviews)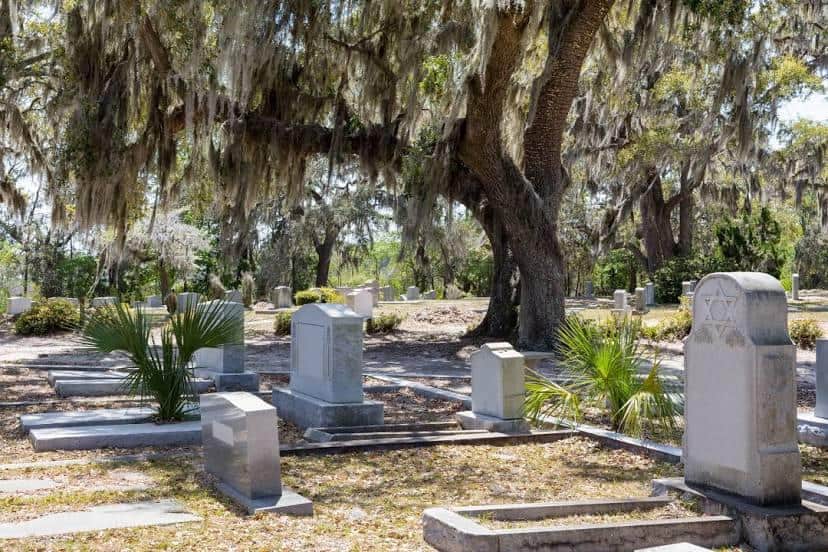 Located on the outskirts of Savannah is the beautiful Bonaventure Cemetery overlooking the Wilmington River.
This site was once a plantation, and while it is now the final resting place for many notable people from Savannah, there are also mossy tombs and mausoleums scattered about its expansive grounds. Famously featured in Midnight in The Garden of Good and Evil, it is widely considered one of the most beautiful cemeteries in the world.
This spot is home to stunning Spanish moss-draped oak trees and is worth exploring on your next trip to Savannah, Georgia.
Address: 330 Bonaventure Rd, Thunderbolt, GA 31404
Phone: 912-651-6843
Website: http://www.savannahga.gov/Cemeteries
3. Wormsloe Historic Site
4.5 ★★★★★(2,729 reviews)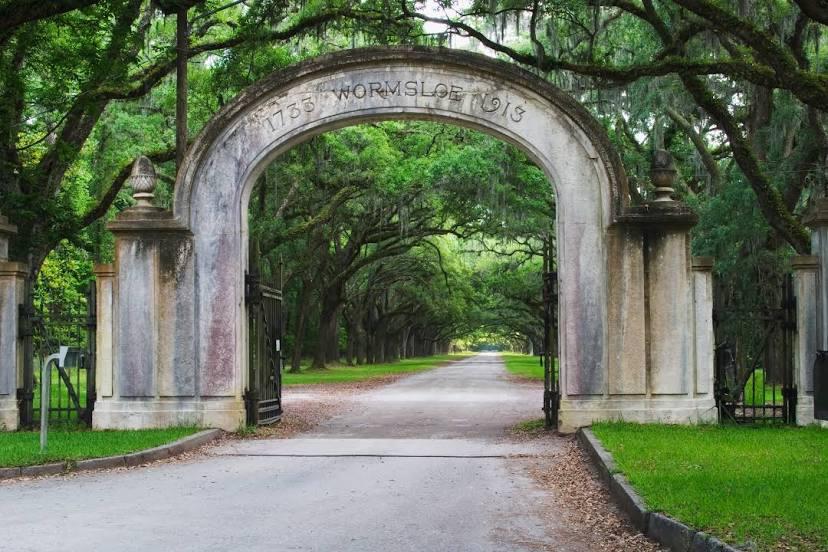 Another one of Savannah's must-see tourist attractions is the Wormsloe Historic Site, which can be found a short drive south of the city center.
Here visitors can explore the gorgeous grounds and antebellum architecture.
Established in 1739 by Noble Jones, one of Georgia's colonial founders, this vast estate offers an insightful look into Savannah's past, with exhibits and artifacts on display, as well as costumed interpreters highlighting what life was once like here.
Address: 7601 Skidaway Rd, Savannah, GA 31406
Phone: 912-353-3023
Website: https://gastateparks.org/Wormsloe
4. The Olde Pink House / Restaurant
4.6 ★★★★★(5,626 reviews)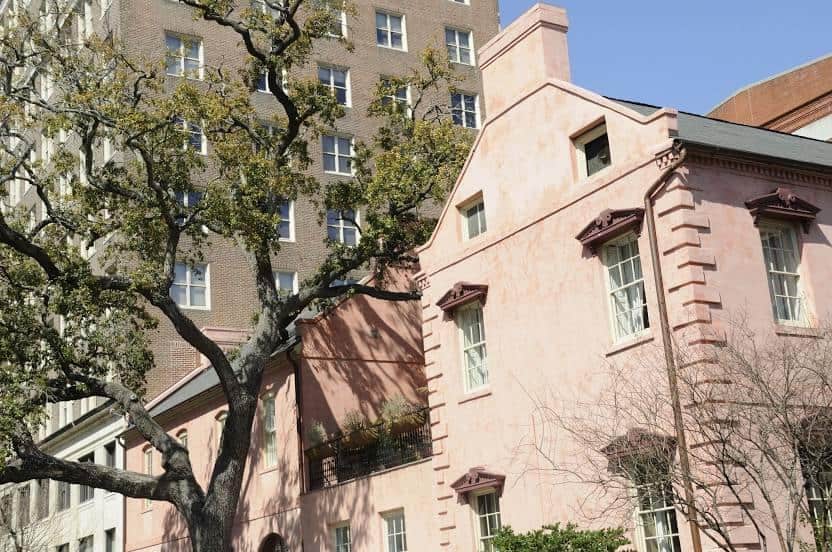 The Olde Pink House is a historic Southern restaurant in downtown Savannah and one of many historic homes scattered throughout the town. Originally the home of James Habersham Jr., it was converted into an eatery after his death.
The house has retained its pink exterior since it was first made out of red bricks and covered with white plaster, which eventually became discolored from the brick's color seeping through. It is also a popular stop on many a ghost tour, as it is believed that James Habersham Jr. still haunts the premises today.
This well-loved establishment on Abercorn Street now specializes in Southern cuisine and offers diners a slice of history that dates back over 300 years!
Address: 23 Abercorn St, Savannah, GA 31401
Phone: 912-232-4286
Website: http://theoldepinkhouserestaurant.com/
5. The Cathedral Basilica of St. John the Baptist
4.8 ★★★★★(4,382 reviews)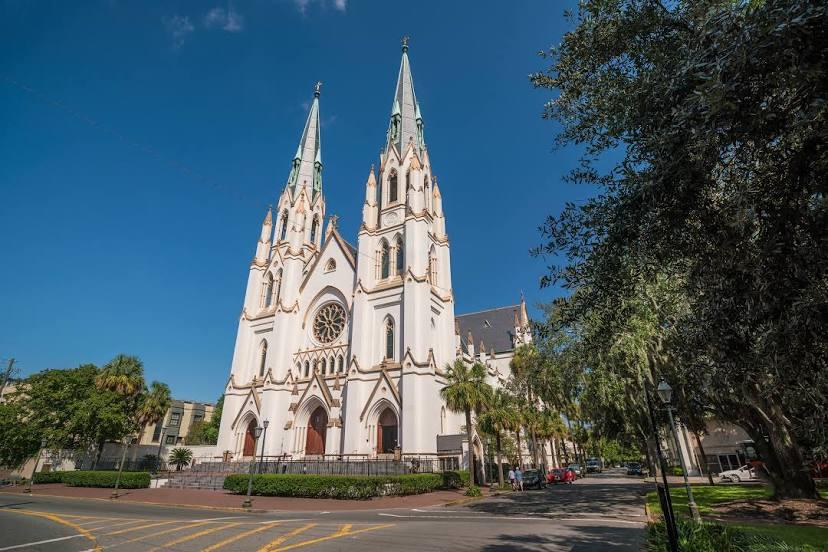 The Cathedral of St. John the Baptist in Savannah is an architectural gem and one of the many historic sites to be found in this fascinating town. It was the first Catholic church built in town when constructed back in 1891 and has two soaring spires that reach up to heaven, with pointed arches on its windows and doors.
Inside, you can marvel at vivid colors contrasting against vaulted ceilings and the elaborate designs in its stained-glass windows. Both the exterior and interior of this solemn site are breathtaking.
It is at this historic site that many religious traditions take place on a grand scale, including Mass which occurs annually.
Address: 222 E Harris St, Savannah, GA 31401
Phone: 912-233-4709
6. East River Street
4.7 ★★★★★(69 reviews)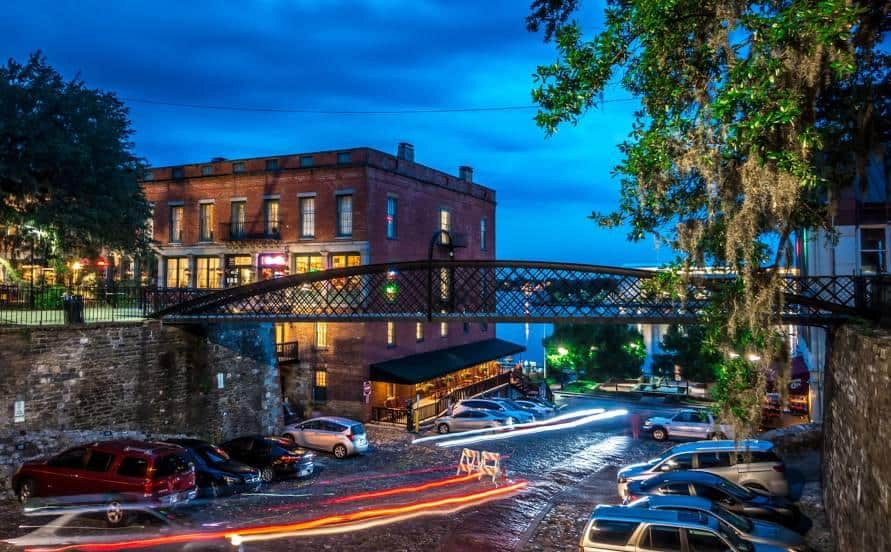 River Street is the mainstay of Savannah's history. It has been that way since 1733 when it was first founded.
Today, River Street offers a pleasant walk down the Savannah Waterfront, where visitors can take in the view over Hutchinson Island and watch boats pass by. This pleasant promenade takes visitors past historic buildings and monuments on both sides, and there are many shops, restaurants, and bars along the way.
There is always a variety of things happening on River Street, including monthly and annual events at Rousakis Plaza, which attract many people. Visitors can attend these events while overlooking floating barges or vendors selling goods and food items for tourists to purchase.
Address: 222 E Harris St, Savannah, GA 31401
Phone: 912-233-4709
7. Telfair Museums
4.5 ★★★★★(413 reviews)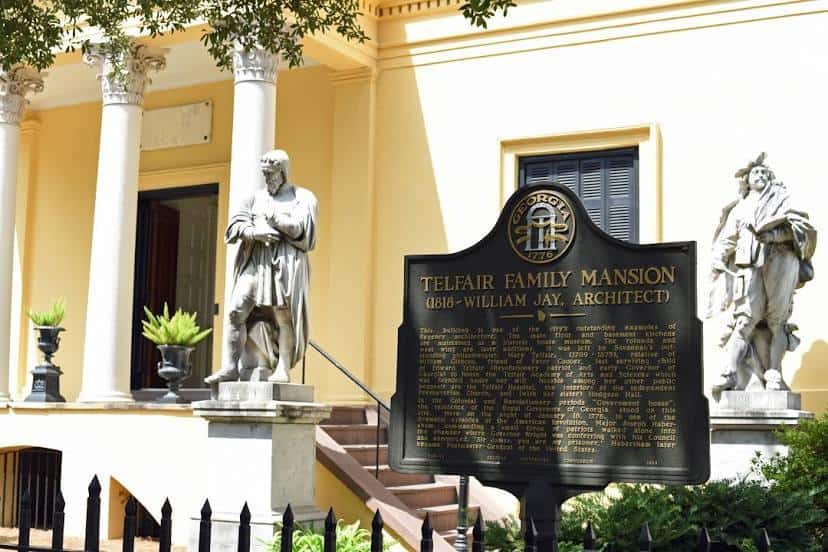 The Telfair Museums are the oldest art museums of their kind In Southern America. Founded by Savannahian philanthropist Mary Telfair, these public art museums were given to the Georgia Historical Society and officially opened in 1883.
They continue to be an essential part of cultural life for Savannahians today and consist of three buildings, now considered National Historic Landmark Sites – the Owens-Thomas House & Slave Quarters that were built in the 19th century, the Telfair Academy, and the Jepson Center for Arts which houses contemporary collections dating from 2000 onwards.
Each building represents a creative expression of its time period and houses a collection corresponding to its era. Together these three unique buildings bridge centuries, illustrating continuality between arts and history in Savannah.
Address: 207 W York St, Savannah, GA 31401
Phone: 912-790-8800
Website: http://www.telfair.org/
8. Savannah Historic District
4.8 ★★★★★(4,791 reviews)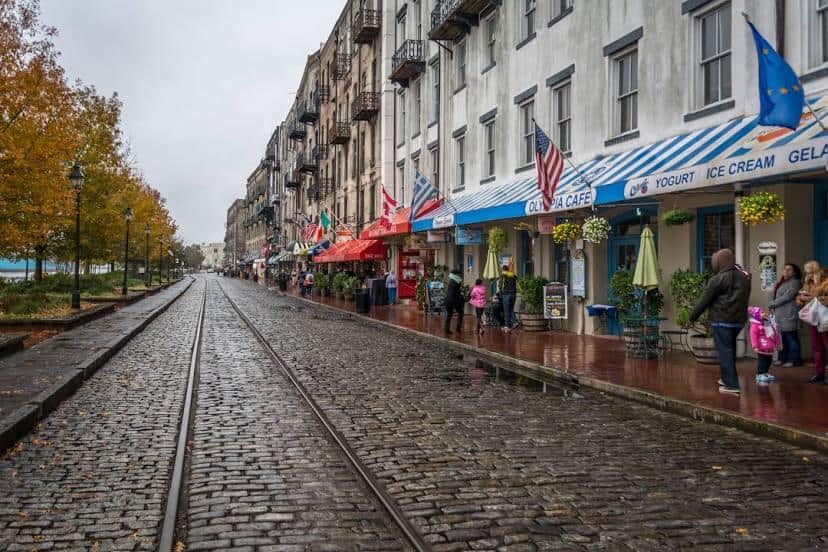 Savannah's Historic District is one of the largest of its kind in America and is nestled between The Savannah River and Martin Luther King Jr. Boulevard. It was founded by General James Oglethorpe in 1733, former governor of Georgia.
Historic Savannah has many things to do if you enjoy art or culture, with more than 20 city squares filled with museums, churches, and monuments from the Revolutionary War & Civil War eras; It is full of fascinating landmarks.
Visitors can expect to see homes from the 18th and 19th centuries that were constructed in various styles like the Gothic Revival, Georgian Revival, or Greek Revival when they tour Savannah's Historic District – all of which have been restored beautifully through continuous efforts over time.
The preservation on display in this area is remarkable and shows how much the local government and citizenry care about their city's legacy.
Address: 301 Martin Luther King Jr Blvd, Savannah, GA 31401
Phone: 912-944-0455
9. Owens-Thomas House & Slave Quarters
4.5 ★★★★★(1,527 reviews)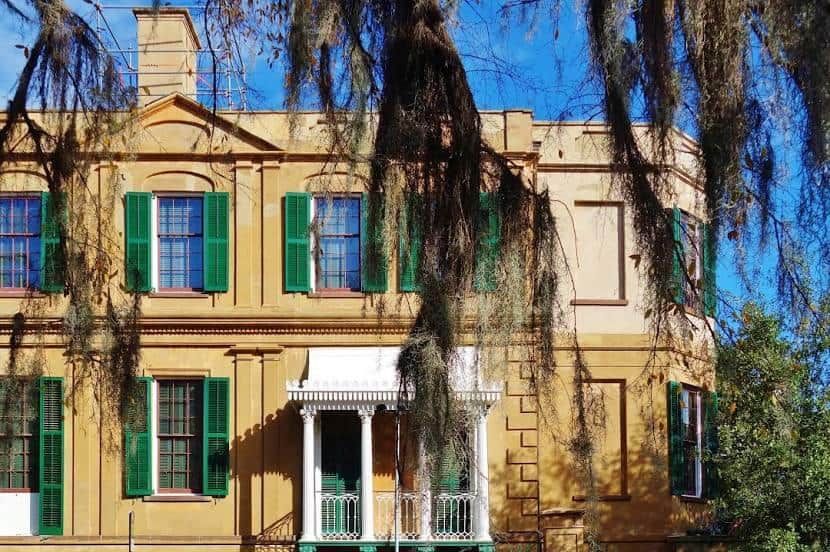 The Owens-Thomas House – along with the adjacent gardens, Carriage Sheds, Gardener's Cottage, and Slave Quarters – was built in 1819 by wealthy merchant Charles Pinkney Jones.
The house showcases the complicated relationships between those who were most powerful and least powerful in Savannah during the early 19th century. Less than a ten-minute walk from the Telfair Museums' other two historic buildings, it offers visitors a completely unique experience, including interactive exhibits about the enslaved and free people who lived here two centuries ago.
It occupies an entire city block of prime real estate just north of Franklin Square. The beautiful Regency-style mansion sits amid eight acres landscaped in the formal English garden style and is surrounded by giant oak trees.
Address: 124 Abercorn St, Savannah, GA 31401
Phone: 912-790-8800
Website: http://www.telfair.org/visit/owens-thomas/
10. City Market
4.6 ★★★★★(7,709 reviews)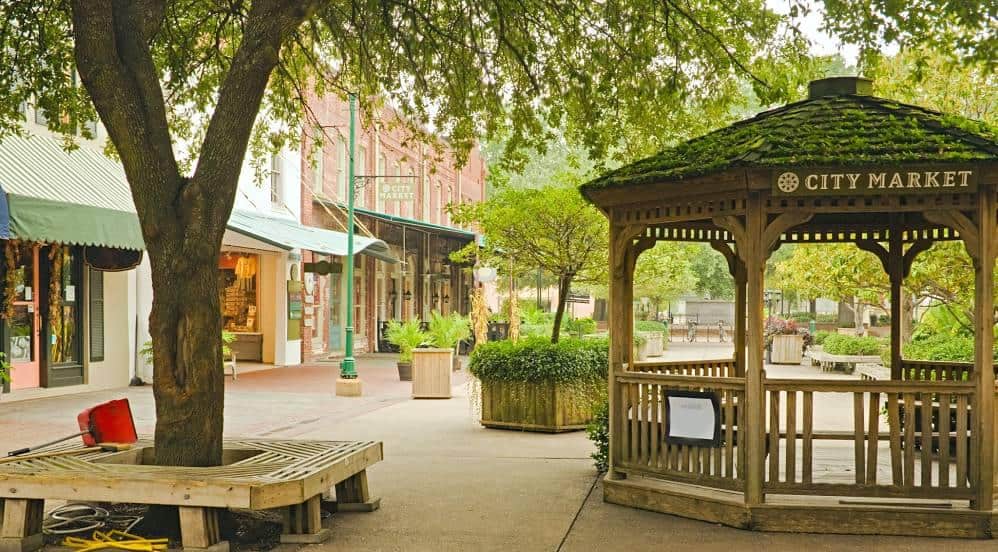 In 1770, Savannah's City Market was the central marketplace for trade. It served as a place where people could buy and sell goods and mingle with other community members. But, as time passed, it eventually fell into disuse- no longer bustling like it once had been before.
In 1954, the city government approved its demolition to make way for new development; The Old City Market came down in order to pave a parking garage at Ellis Square. Locals were disappointed in this decision, so they started taking action by spearheading an effort that would be instrumental in preserving many buildings around town from being demolished later.
A new market district was built at what remained of the old one. The parking garage was moved down in 2006, which restored the public space to its original glory.
Address: 219 W Bryan St, Savannah, GA 31401
Phone: 912-232-4903
Website: www.savannahcitymarket.com
11. Chippewa Square
4.7 ★★★★★(3,769 reviews)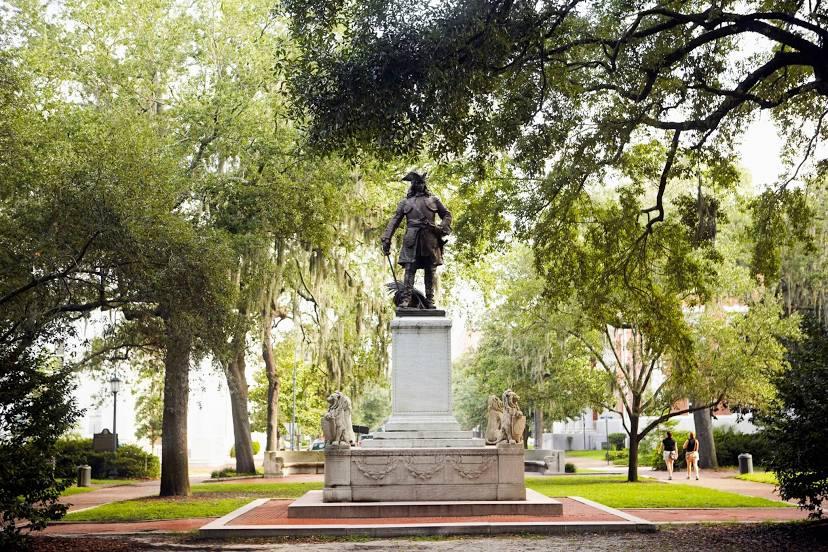 Chippewa Square is a very famous square in Savannah, and it's centrally located.
There are many things to see and do at the square, from admiring beautiful architecture to watching plays. One of the most beloved cafes in Savannah is located on Bull Street, at the square's south end.
The bench scenes in Forrest Gump helped make Chippewa Square famous, and one of the four fiberglass benches used in the film were later donated to the city. It can now be found in the Savannah History Museum.
Address: Savannah, GA 31401
Phone: 912-231-0906
12. Fountain at Forsyth Park
4.8 ★★★★★(2,626 reviews)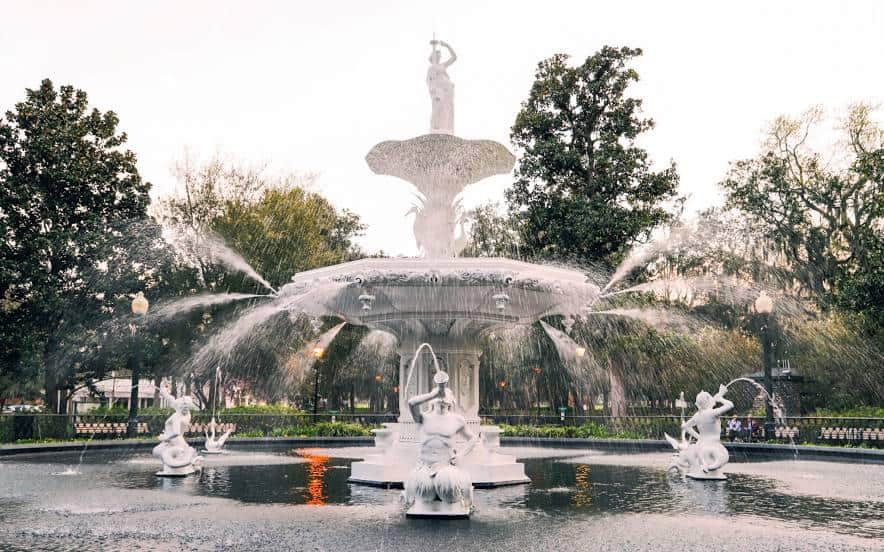 Forsyth Park's well-known fountain is an icon in Savannah.
Located on the north end of the park, the fountain can be seen as one of the most photographed places in this city. The fountain was erected in 1858 and is said to be the centerpiece of Forsyth Garden, despite not being at its center.
With its lush green, moss-covered oak trees and romantic aura, it is often used for proposals and engagement photoshoots. The park offers many benches where travelers or locals can relax amidst all that charm.
Address: 1 W Gaston St, Savannah, GA 31401
Phone: 912-233-1547
13. American Prohibition Museum
4.6 ★★★★★(2,099 reviews)
The American Prohibition Museum is the only museum in America dedicated to the history of alcohol.
Visitors to the museum are taken back in time to a different era when rallies were being held against alcohol, and it was at the forefront of politics. They will learn about how Americans struggled with liquor, how Prohibition came into place, its impact on the nation, and its far-reaching consequences during that period.
As visitors explore state-of-the-art dioramas, interactive exhibits, and immersive displays, they will learn about more than 200 years of American history.
Address: 209 W Saint Julian Street, Savannah, GA 31401
Phone: 912-220-1249
Website: https://www.americanprohibitionmuseum.com/
14. Johnson Square
4.6 ★★★★★(1,943 reviews)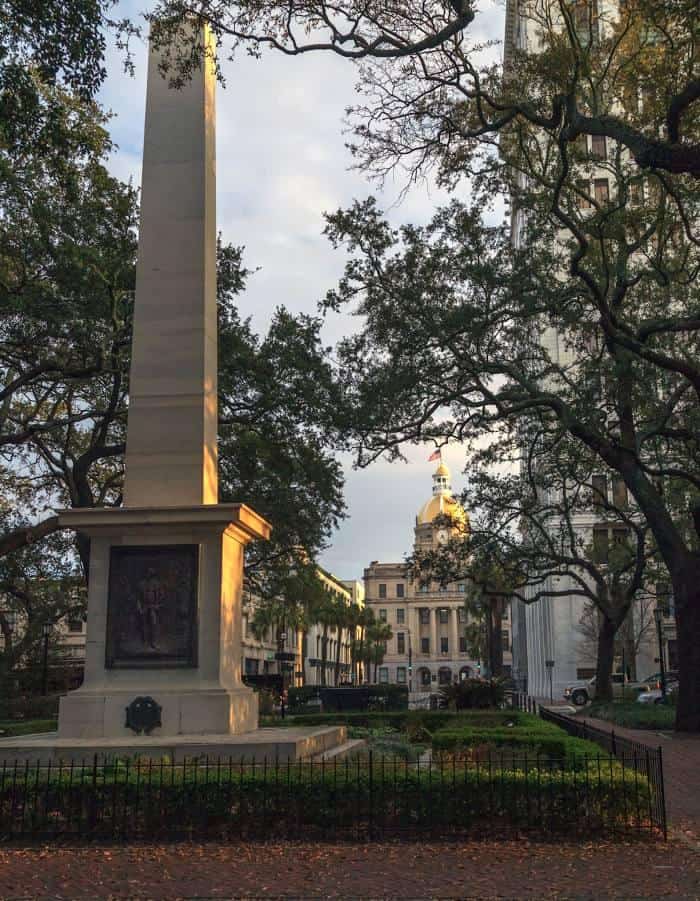 The oldest and largest square in Savannah is Johnson Square.
For decades, it has served as a central hub for social activities, with majestic buildings surrounding the park, including City Hall and Christ Episcopal Church.
It was named after Robert Johnson in 1733, the Royal Governor of South Carolina at that time who helped build the colony. The centerpiece of this plaza is an Egyptian obelisk erected to commemorate two officers from American War for Independence: Generals Nathanael Greene and Casimir Pulaski.
Address: 2 E Bryan St, Savannah, GA 31401
Phone: 912-351-3837
15. National Museum of the Mighty Eighth Air Force
4.8 ★★★★★(1,852 reviews)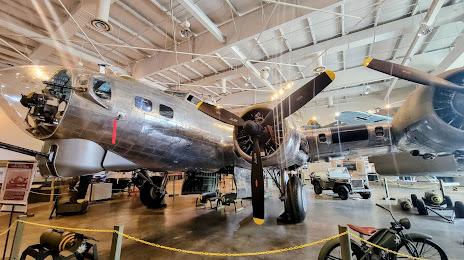 The National Museum of the Mighty Eighth Air Force is located in Pooler, GA.
It aims to preserve and showcase the character, courage, and patriotism of the men and women who served America during World War II and until the present day. Visitors can hear their unforgettable stories at the museum, experience a bomber mission briefing, or watch ongoing restoration work on a B-17 Flying Fortress that took part in WWII missions.
The museum offers group tours for people of all ages, which are often conducted by veterans who were involved with WWII operations. In addition, the museum's research center has over 10 thousand books, diaries, and historical documents from this time period.
Address: 175 Bourne Ave, Pooler, GA 31322
Phone: 912-748-8888
Website: https://www.mightyeighth.org/
16. Moon River Brewing Company
3.9★★★★☆(1,692 reviews)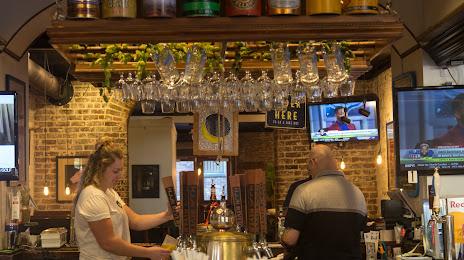 The Moon River Brewing Company aims to provide an experience they believe is the ideal restaurant and brewery combination.
Their commitments include being welcoming, providing prompt service with a variety of delicious dishes, and diversity in beer options- offering an array of gourmet items. There is no doubt about Moon River's love for quality.
Whether it be people visiting or locals who live nearby, everyone is bound to find a warm atmosphere and great selection of food at this local brewery!
Address: 21 W Bay St, Savannah, GA 31401
Phone: 912-447-0943
Website: https://moonriverbrewing.com/
17. Old Fort Jackson Historic Site
4.7 ★★★★★(1,632 reviews)
Fort Jackson is a restored fort from the 19th century.
Named to honor James Jackson, a prominent political figure in southern America despite being British-born, it was built in the early 1800s to protect Savannah from oceanic attacks. It was one of three Confederate forts that protected Savannah against Union forces during the American Civil War.
The Fort Jackson Maritime Museum can be found here, and it offers daily cannon firings. In 2000 it was declared a National Historic Landmark and is an exciting interactive attraction for families!
Address: 1 Fort Jackson Rd, Savannah, GA 31404
Phone: 912-232-3945
Website: http://www.chsgeorgia.org/OFJ
18. Skidaway Island State Park
4.7 ★★★★★(1,538 reviews)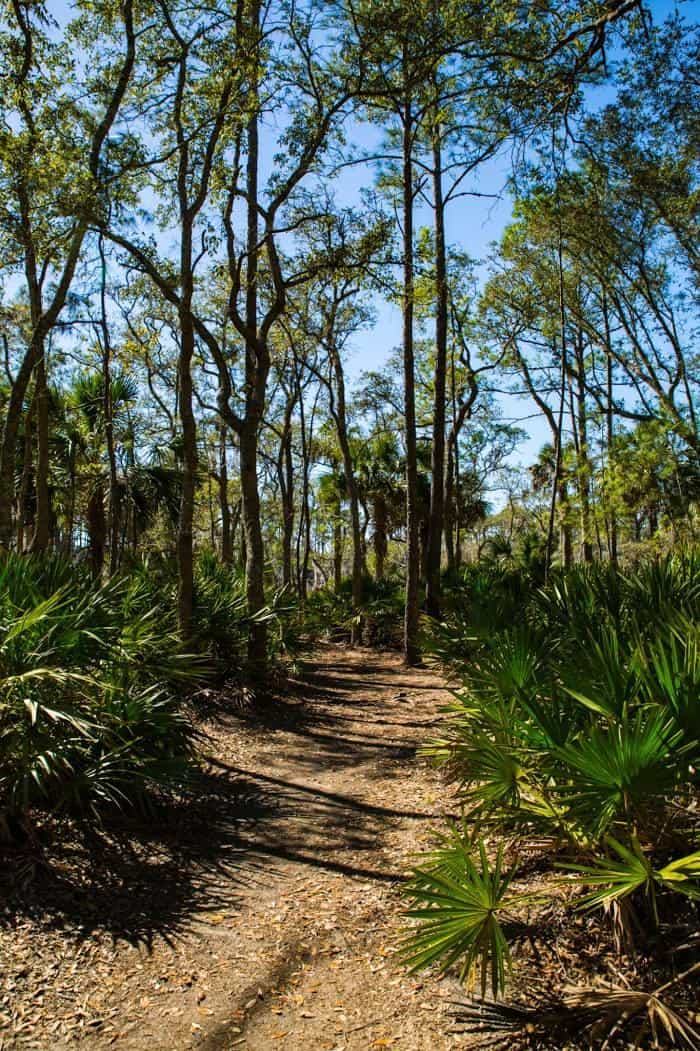 This park is an excellent spot for nature lovers and those who want to be away from the city.
Located near historic Savannah, it offers trails that wind through the forest, past salt marsh, and lead to a boardwalk. Visitors can watch wildlife up close as they walk along the trail or stroll on one of the many Tybee Island beaches, less than an hour away.
There are some RV sites with sewer hookups at this campground, so larger groups have options too. This popular place hosts reunions, parties, and other celebrations in addition to being a fun family destination.
It is an excellent attraction to stop by when you visit Savannah.
Address: 52 Diamond Causeway, Savannah, GA 31411
Phone: 912-598-2300
19. Oatland Island Wildlife Center
4.7 ★★★★★(1,372 reviews)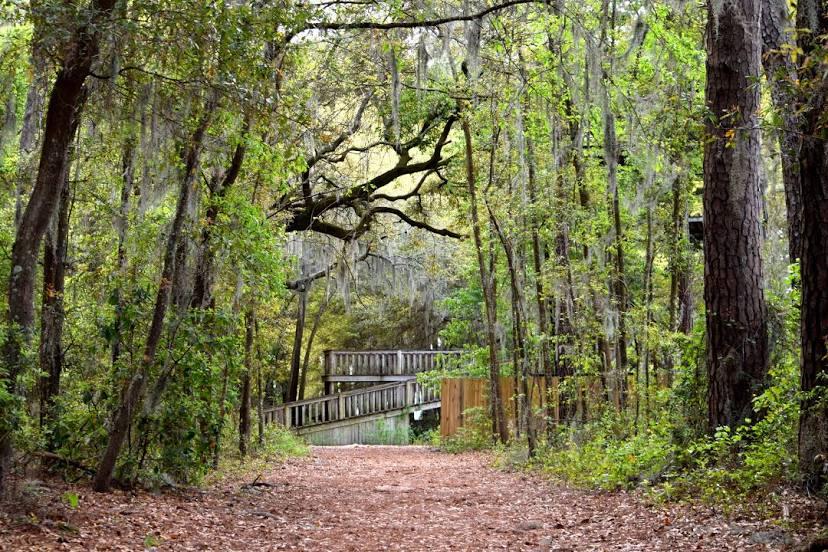 Oatland Island Wildlife Center has a rich history in Savannah, Georgia. From the late 17th to mid-19th centuries, it was part of a cotton plantation, and all the island's land was used as farmland.
After years later, in 2004, Oatland Island was officially transferred to the school system of Savannah-Chatham County Public Schools, and its name became Oatland Island Wildlife Center in 2007.
The Oatland Island Wildlife Center of Savannah's mission is to provide guests with a memorable experience. They achieve this by providing quality learning experiences and education while maintaining a safe and engaging environment for the animals they care for.
Address: 711 Sandtown Rd, Savannah, GA 31410
Phone: 912-395-1212
Website: http://www.oatlandisland.org/
20. Andrew Low House
4.6 ★★★★★(1,274 reviews)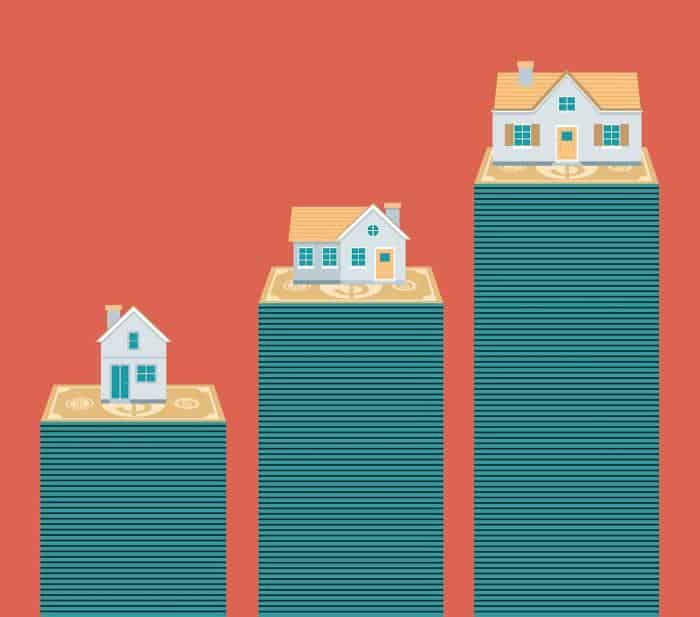 Situated on one of the most beautiful streets in Savannah, and less than a block from St. John's Cathedral Basilica, the 1840s Andrew Low House Museum is a nationally known historic site with an impressive garden.
Andrew Low built a mansion in 1848 to be used as his home. It is situated in Lafayette Square, the heart of Savannah. The building is made out of stucco and brick and blends beautifully with the rich and fascinating history of its area.
The house itself has a fascinating history, as the Low family had frequent prominent visitors during their residency.
Address: 329 Abercorn St, Savannah, GA 31401
Phone: 912-233-6854
Website: http://www.andrewlowhouse.com/
21. Fort McAllister State Park
4.6 ★★★★★(1,240 reviews)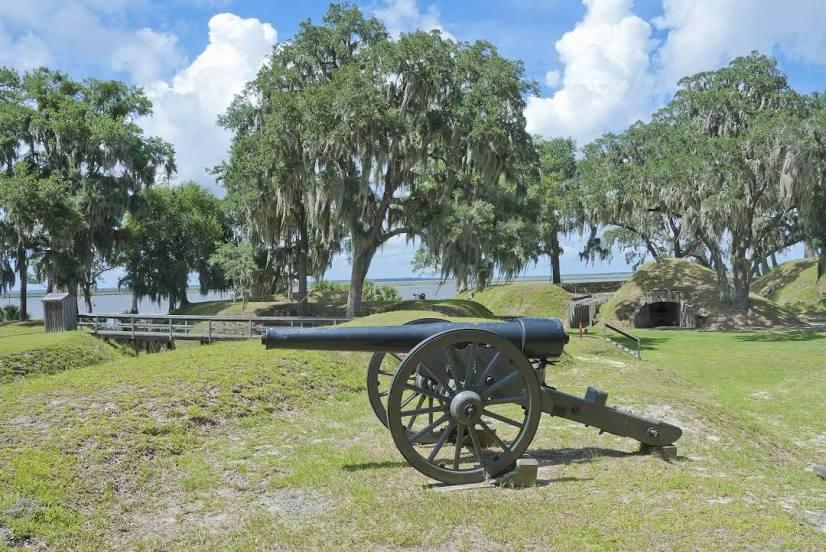 This scenic park is home to the best-preserved Confederacy earthworks fortification.
Located on the banks of the Ogeechee River and nestled in between giant oaks, the site demonstrates how these structures were attacked by ironclads seven times and still did not fall until 1864 – when General William T. Sherman's "March to the Sea" ended.
The grounds contain bombproof barracks, cannons, palisades, and a hotshot furnace. There is also a Civil War museum that has a variety of interactive exhibits, artifacts, and a gift shop where you can pick up souvenirs.
The park includes seven cabins, a shaded campground, picnic areas, playgrounds, a boat ramp, a fishing dock, and a nature trail. It is an excellent site for camping, fishing, and boating.
Address: 3894 Fort McAllister Rd, Richmond Hill, GA 31324
Phone: 912-727-2339
Website: http://www.gastateparks.org/FortMcAllister
22. Daffin Park
4.5 ★★★★★(1,084 reviews)
The east side of Savannah offers a recreational park that is convenient and accessible to members of the community. Daffin Park was designed by John Nolen in 1907 in the shape of two circles, surrounded by tree-lined streets.
Daffin Park features a lake, an eight-foot-wide paved sidewalk that's two miles long, basketball courts, athletic fields for tennis and soccer, and a volleyball court. There is also a swimming pool, picnic areas, and a pavilion.
Next to Daffin park is Grayson Stadium- the home of the minor league baseball team, the Savannah Sand Gnats.
Address: 1301 E Victory Dr, Savannah, GA 31404
Phone: 912-351-3841
Website: http://www.savannahga.gov/351/Parks-Playgrounds
23. Georgia State Railroad Museum
4.5 ★★★★★(1,061 reviews)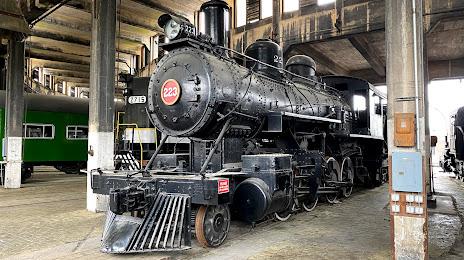 Often considered one of the most extensive Antebellum railroad repair facilities in existence, the Georgia State Railroad Museum is National Historic Landmark and a must-see on any trip to Savannah.
It has a fully operational turntable and offers visitors the opportunity to explore historic railcars and go on guided tours. Guests can also walk around the historical complex, learn about how each building served a different function, and participate in scheduled activities such as train rides or rail car tours.
There is plenty of free parking available, and it is an excellent way for families to spend an afternoon.
Address: 655 Louisville Rd, Savannah, GA 31401
Phone: 912-651-6823
Website: http://www.chsgeorgia.org/GSRM
24. Jepson Center for the Arts
4.5 ★★★★★(957 reviews)
The Jepson Museum boasts stunning architecture and a dazzling array of rotating exhibits. The building, which opened in 2006, also offers an ever-changing educational experience to visitors.
This internationally renowned architectural project by Moshe Safdie was constructed as a park of the Jepson Center as a museum of modern and contemporary art. The center features some of the best artwork, from classical masters in Europe to new, contemporary artists.
The Jepson Center also hosts daily activities where children of all ages can just drop in and take part, as well as the Savannah Children's Museum space. For older visitors, it has unique shopping opportunities.
Address: 207 W York St, Savannah, GA 31401
Phone: 912-790-8800
Website: http://www.telfair.org/visit/jepson/
25. Savannah History Museum
4.5 ★★★★★(820 reviews)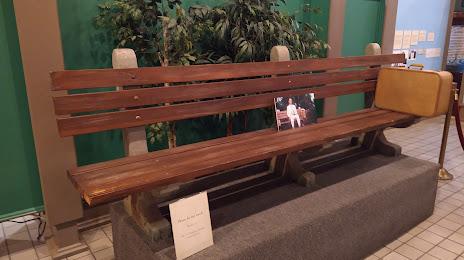 The Savannah History Museum is a fantastic place to learn about history and includes interactive exhibits about Native American culture and the 1902 Crestmobile.
There is much for visitors to see and learn about, including the fiberglass bench that was featured in Forrest Gump. In addition, Johnny Mercer's Oscar and Grammy awards are on display in the museum, and people can take part in a fast-paced trivia quiz to test their wits.
Approximately 10,000 artifacts reside in the museum, along with the Fort Pulaski National Monument. It is well worth a visit.
Address: 303 Martin Luther King Jr Blvd, Savannah, GA 31401
Phone: 912-651-6840
Website: http://www.chsgeorgia.org/
26. Waving Girl Statue – Florence Martus
4.6 ★★★★★(817 reviews)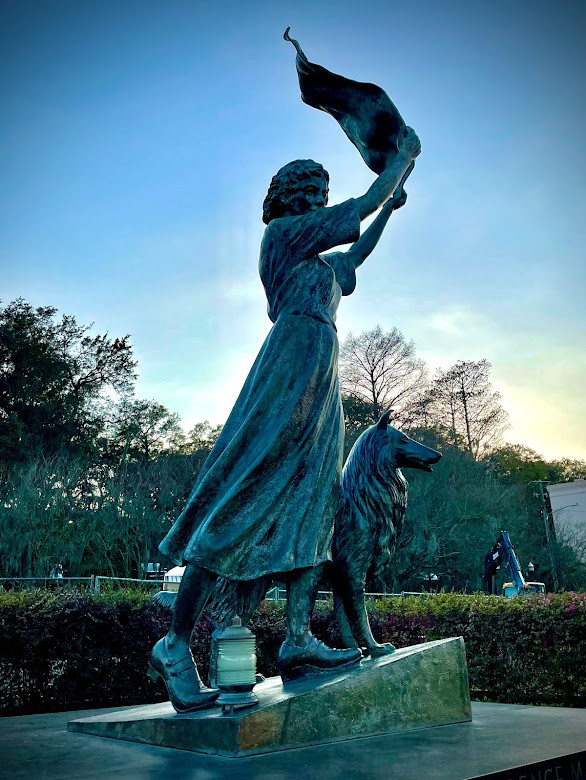 A legendary southern woman, Florence Martus, was known as the waving girl in the Hostess City. She welcomed many ships into her city and is considered the embodiment of southern hospitality.
From early childhood, Florence was always waving to entering ships. She continued this practice as she grew up, and eventually, it became her personal duty on Elba Island. With her loyal collie at her side, every ship that passed would be greeted with an enthusiastic wave of Florence's handkerchief or lantern at night, and the ships would greet back by blowing their horns.
After 44 years and her reputation spreading around the world, Florence retired in 1931. She waved to approximately 50,000 ships during this time without missing even one. Her statue was erected in 1943.
Address: 230 Barnard St, Savannah, GA 31401
Phone: 912-234-2180
27. Davenport House Museum
4.6 ★★★★★(807 reviews)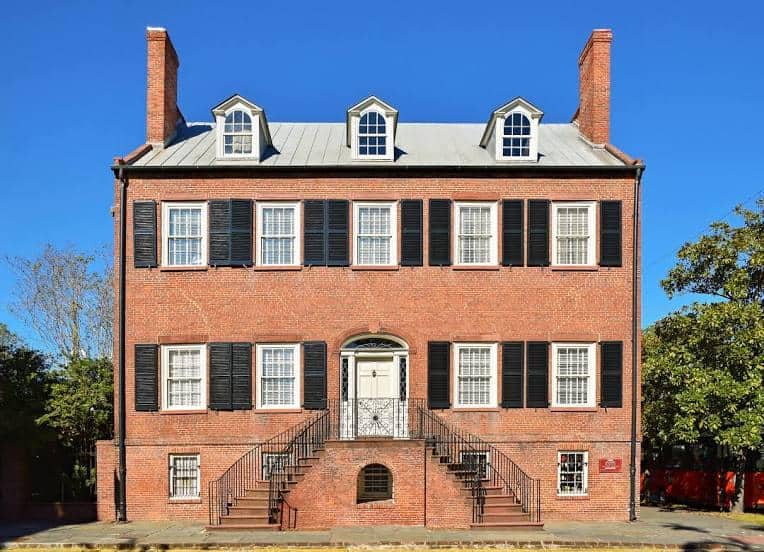 Davenport House is one of the city's most famous historic house museums, operating since 1963.
In 1820, Isaiah Davenport built a stately, Federal-style home for his family, and it gives viewers an idea of 1820s life in the Host City. The house was saved from demolition in 1955 by the Historic Savannah Foundation, and the Foundation has since become considered a preservation leader in the urban port city of Savannah.
The house has daily, docent-led tours and offers other events and programs throughout the year. It can be found on the northwest corner of Columbia Square.
Address: 324 E State St, Savannah, GA 31401
Phone: 912-236-8097
Website: http://www.davenporthousemuseum.org/
28. Ships Of The Sea Maritime Museum
4.5 ★★★★★(775 reviews)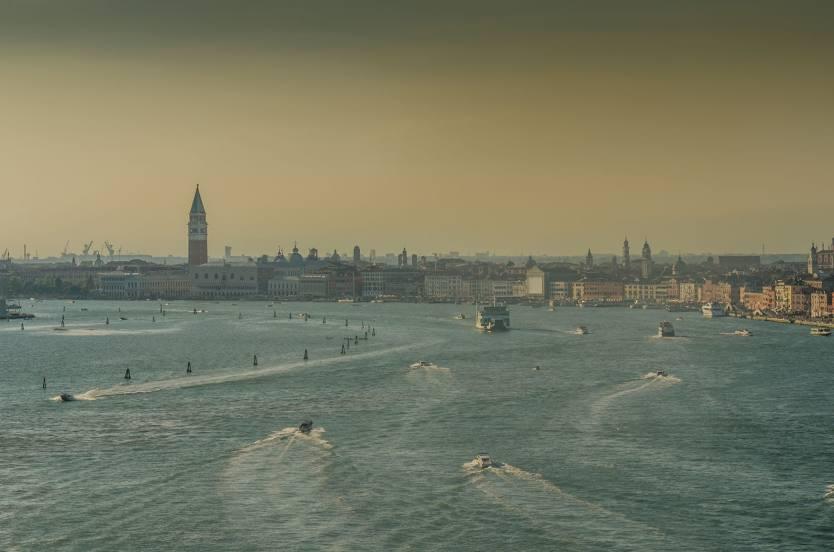 The Ships of The Sea Maritime Museum has been exhibiting and commemorating the history of Savannah since 1966. The exhibits include model ships, maritime antiques, and paintings from the 18th and 19th centuries- the golden age of the Atlantic Trade.
The museum is housed inside William Scarbrough's home, a principal Steamship owner in Savannah. The museum's gardens have also become very popular for weddings, dances, and other events as they are a beautiful oasis.
The museum hosts many educational programs for youth groups and girl scouts every year, and it has online exhibits with even more information on the exhibits in the museum.
Address: 41 Martin Luther King Jr Blvd, Savannah, GA 31401
Phone: 912-232-1511
Website: http://www.shipsofthesea.org/
29. Coastal Georgia Botanical Gardens at the Historic Bamboo Farm
4.6 ★★★★★(769 reviews)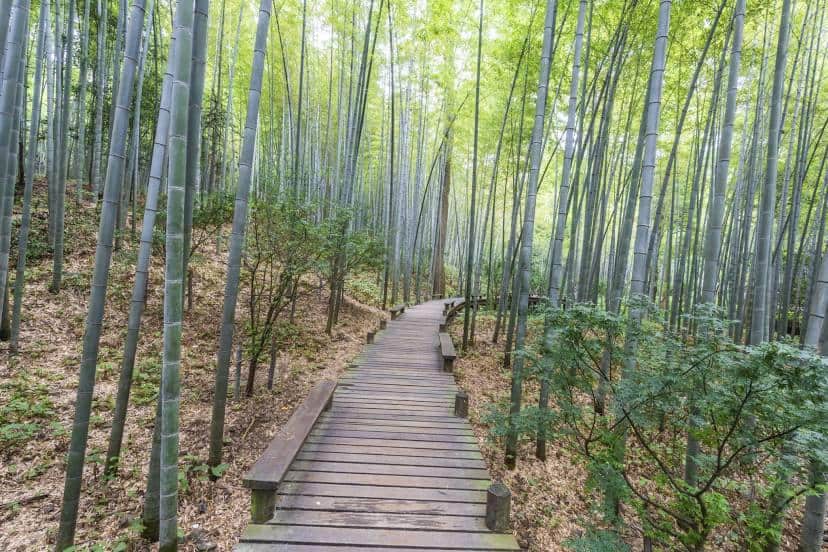 The Coastal Georgia Botanical Gardens are known by locals simply as "The Bamboo Farm" and are home to an internationally recognized collection of bamboo – hence the nickname. However, visitors can also expect to see many other rare and historic species of trees and plants on a visit to the gardens.
The Botanical Gardens are the only place in North America where some of these one-of-a-kind specimens can be found, and other specimens are the best and oldest in all of the US.
The Botanical gardens are open for self-guided tours, and amenities include free parking on site, a gift shop, picnic areas, and public restrooms.
Address: 2 Canebrake Rd, Savannah, GA 31419
Phone: 912-921-5460
Website: http://www.coastalgeorgiabg.org/
30. Mercer-Williams House Museum
4.5 ★★★★★(756 reviews)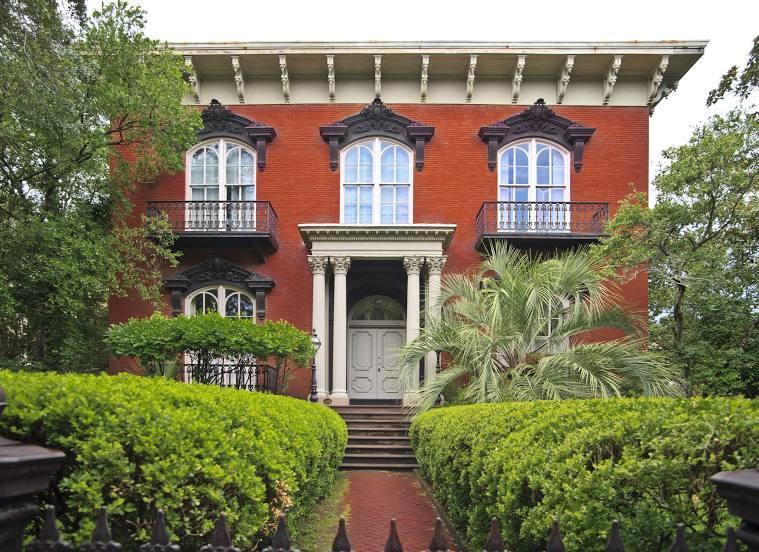 The Mercer-Williams house is a must-see for anyone who enjoys beautiful architecture and history.
Located in Monterey Square, the Mercer-Williams House Museum is an ornate Italian Villa-style mansion that was originally built for General Hugh Mercer, the great grandfather of famous musician Johnny Mercer.
It was purchased in 1969 by Jim Williams after nearly a century of housing prominent residents, and he spent two years restoring it to its former glory. Today, tours can be taken by visitors to experience the house's elegant charm.
Visitors can also expect to see 18th and 19th-century art and furniture from William's own collection, as well as a stunning Chinese Porcelain collection.
Address: 429 Bull St, Savannah, GA 31401
Phone: 912-238-0208
Website: http://www.mercerhouse.com/
31. Tom Triplett Community Park
4.6 ★★★★★(636 reviews)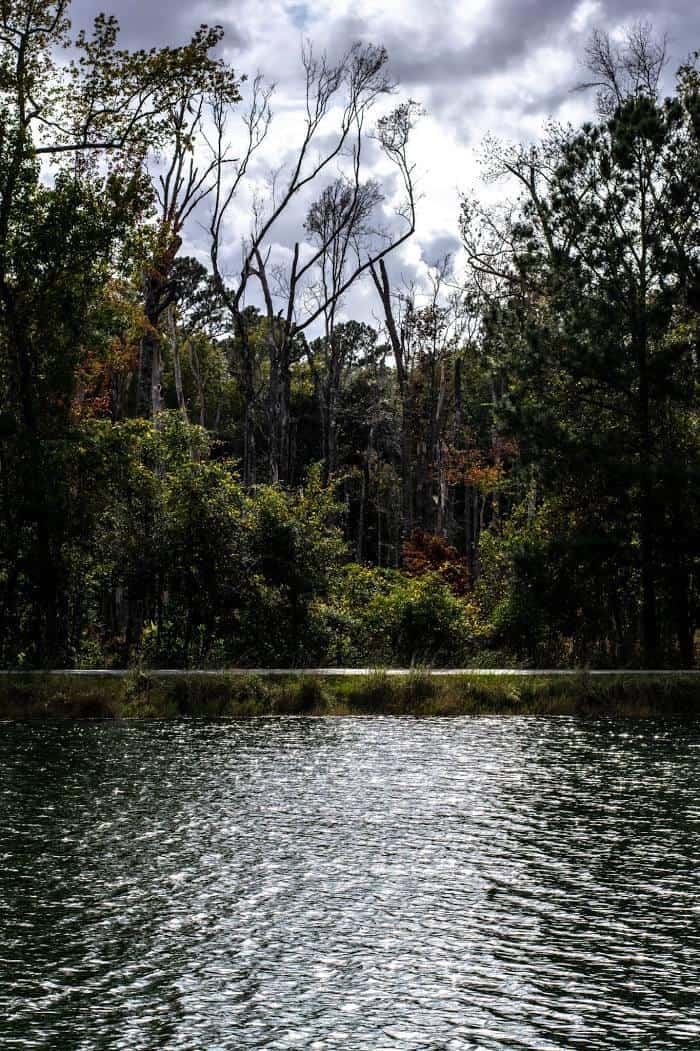 Tom Triplett Community Park is a great place to spend the day outside. It has multiple pavilions, a jogging track, two tennis courts, and an impressive 18-hole golf course that Disc Golfers from around Georgia come to enjoy.
The park also has a small lake and a walking trail, a children's playground, and clean restrooms. It is an ideal place for a picnic, but it is advisable for visitors to bring their own grill as there are very few available at the park itself.
It is an ideal way for a family with young children to spend an afternoon.
Address: 100 Tom Triplett Road, Pooler, GA 31322
Phone: 912-447-4822
32. Savannah Botanical Gardens
4.3★★★★☆(615 reviews)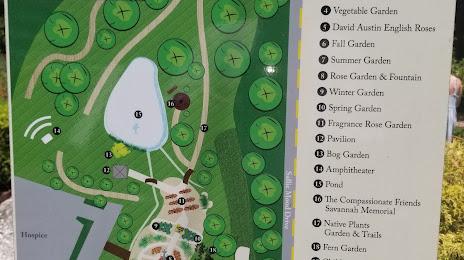 The Savannah Area Council of Garden Clubs, Inc. owns and operates the Savannah Botanical Gardens. It was designed and planted by volunteers in the late 1980s and is conveniently located near Savannah's Historic District.
There are naturalistic and formal plantings inside the gardens, as well as nature trails, an amphitheater, a two-acre pond, and an archaeological exhibit. The Botanical Gardens are also home to the historic Reinhard House.
The Garden Center is located inside a historic farmhouse from the 1840s, and the gardens are full of herbs, roses, seasonal blossoms, and perennials.
Address: 1388 Eisenhower Dr, Savannah, GA 31406
Phone: 912-355-3883
33. Emmet Park
4.6 ★★★★★(599 reviews)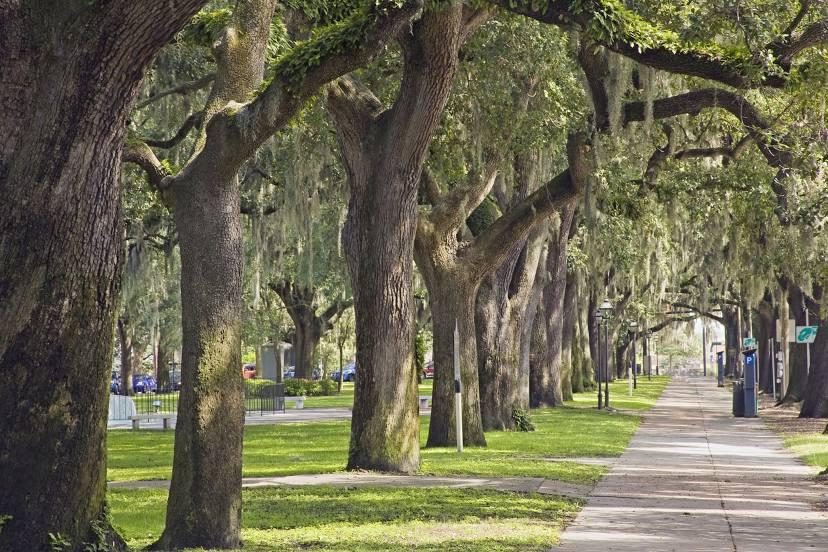 Emmet Park is situated on Bay Street and is the ideal place for a relaxing walk.
This exceptionally green park is lined with giant oak trees and is named in honor of Irish orator and patriot Robert Emmet. Many people who visit Emmet Park do so to see the Chatham Artillery Monument, which honors the military unit of 1876, and the Vietnam War Monument that can be found in the park.
However, other monuments that can be seen here are the Celtic Cross Monument erected to honor citizens of Savannah with Irish heritage and the 1994 Salzburger Monument of Reconciliation erected in honor of Lutheran Protestants.
Address: 115 E River St, Savannah, GA 31401
Phone: 912-663-0398
34. Juliette Gordon Low Birthplace
4.6 ★★★★★(556 reviews)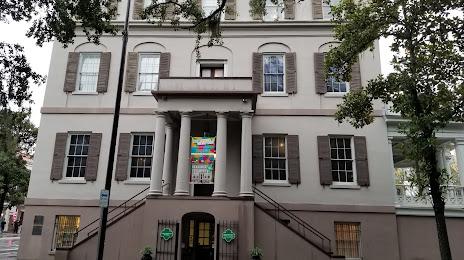 Juliette Low sparked a movement in the Progressive Era in the United States, long before it was legal for women to vote, and it equipped girls with new skillsets, a hunger for adventure, and the ability to become the best version of themselves.
The founder of Girl Scouts, Juliette Gordon Low, fondly nicknamed "Daisy," gathered girls in her hometown to share exciting plans for a new organization in 1912.
The first group included 18 girls from Savannah, and it grew quickly over the years to form the Girl Scouts of America (USA). This organization is still active today and serves girls all around the world.
Address: 10 E Oglethorpe Ave, Savannah, GA 31401
Phone: 912-233-4501
Website: http://www.juliettegordonlowbirthplace.org/
35. Monterey Square
4.8 ★★★★★(528 reviews)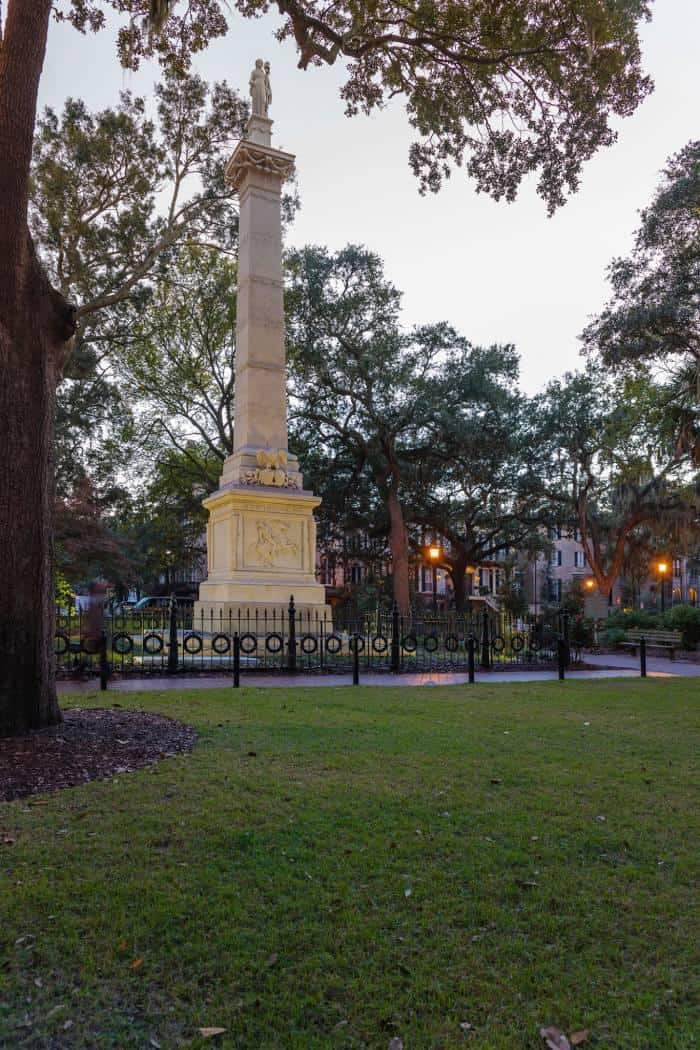 Monterey Square is one of Savannah's many beautiful, shaded parks and is home to the towering Pulaski Monument.
In 1847, the square was created to honor the Battle of Monterey that happened in 1846, during the Mexican-American War. However, the monument located at the center of the park was erected in honor of General Casimir Pulaski, who died from a gunshot wound during the Siege of Savannah.
The Russian-born sculptor Robert Eberhard Launitz designed the Pulaski Monument and chose Monterey Square as its new home because of the buildings surrounding the square. In 1854, a man of the same stature and age as Pulaski was buried underneath this monument, but Skepticism remains regarding the actual burial place of the General.
Address: 11 W Gordon St, Savannah, GA 31401
Phone: 912-351-3837
36. Webb Military Museum
4.9 ★★★★★(504 reviews)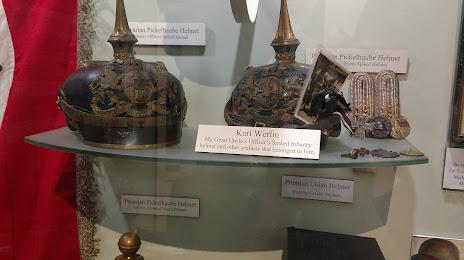 The Webb Military Museum is located in the historic district of downtown Savannah and is home to many artifacts- each dating from the American Civil War to Desert Storm.
The exhibits include original headgear, uniforms, and equipment through which visitors can relive the stories of the men and women who wore them. The mission of the museum is to honor those who served in all the branches of all the wars fought throughout American history.
The museum is perfect for history lovers.
Address: 411 E York St, Savannah, GA 31401
Phone: 912-663-0398
Website: http://www.webbmilitarymuseum.com/
37. Madison Square
4.8 ★★★★★(442 reviews)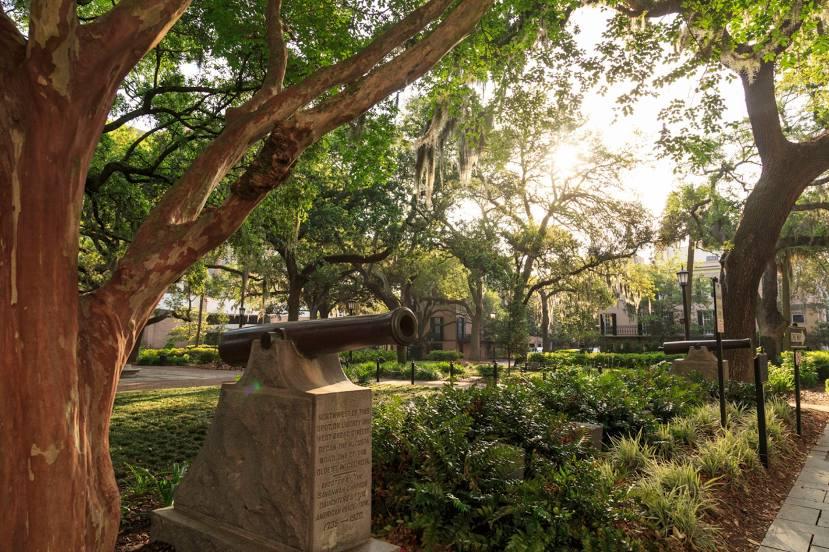 There is much to see and do in Madison Square.
It is home to the 15.5-foot-tall bronze monument, designed by the distinguished New York sculptor Alexander Doyle, dedicated to Sergeant William Jasper of the Revolutionary War. The square is also home to many shops and restaurants.
The rich history and rumored hauntings make the square a popular place for both locals and travelers to visit while they're in the area. It is the perfect way to spend an afternoon in Savannah.
Address: 332 Bull St, Savannah, GA 31401
Phone: 912-234-2180