Asheville is a city in North Carolina known for its vibrant neighborhoods, great coffee, and excellent dining options. More and more tourists flock to the bustling city every year to sample some of its delicious cuisine.
From steaming ramen noodles and flavorful Mediterranean cuisine to wood-fired pizza and fried green tomatoes, there's something for every foodie in Asheville. However, with so many great options to choose from, it can be difficult to know where to start.
We recommend heading into the heart of Asheville – the Downtown area. It is home to some of the best restaurants in the city as well as some excellent shopping and entertainment options. It is also a very walkable area, making it easy to explore on foot and discover hidden gems.
Keep reading to discover our list of the best restaurants in Downtown Asheville and where to find them.
Best Restaurants in Downtown Asheville, NC
Social Lounge
One of the best Asheville restaurants to stop for brunch over the weekend is the Social Lounge. It offers dishes made from fresh ingredients and cozy rooftop seating with stunning views.
The menu includes Southern comfort food, with a variety of vegetarian, vegan, and gluten-free options. Guests stopping by for breakfast can enjoy breakfast bowls, hearty salads, vegan lox, or shrimp and grits. There are also sweeter options, such as fresh fruits, maple onion waffle fries, French toast, Monte Cristo, and gluten-free bagels.
They also offer seasonal cocktails.
Additionally, the Social Lounge forms part of Strada. Strada is one of Downtown Asheville's most popular Italian restaurants. As a result, the Social Lounge and Strada have a shared dinner menu. Be sure to make reservations in advance as the restaurant fills up quickly.
Jerusalem Garden Cafe
Jerusalem Garden Café is a local favorite in Downtown Asheville. The restaurant offers visitors the opportunity to be transported to Jerusalem, with delicious Middle Eastern and Mediterranean food. It is an ideal place for brunch over the weekend, but also offers an excellent lunch and dinner menu.
The atmosphere inside the restaurant is the perfect blend of serene and vibrant, with comfy cushioned chairs and brightly colored lights. Jerusalem Garden Café offers a variety of excellent dishes with fragrant spices., including meat and seafood, falafels, grape leaves, and gyros. They also offer some great mimosas.
The restaurant is typically less busy on a weekday, so be sure to stop by during the week if you're on a tight schedule. If you plan on visiting over a weekend, it may be better to reserve a table beforehand.
Itto Ramen Bar & Tapas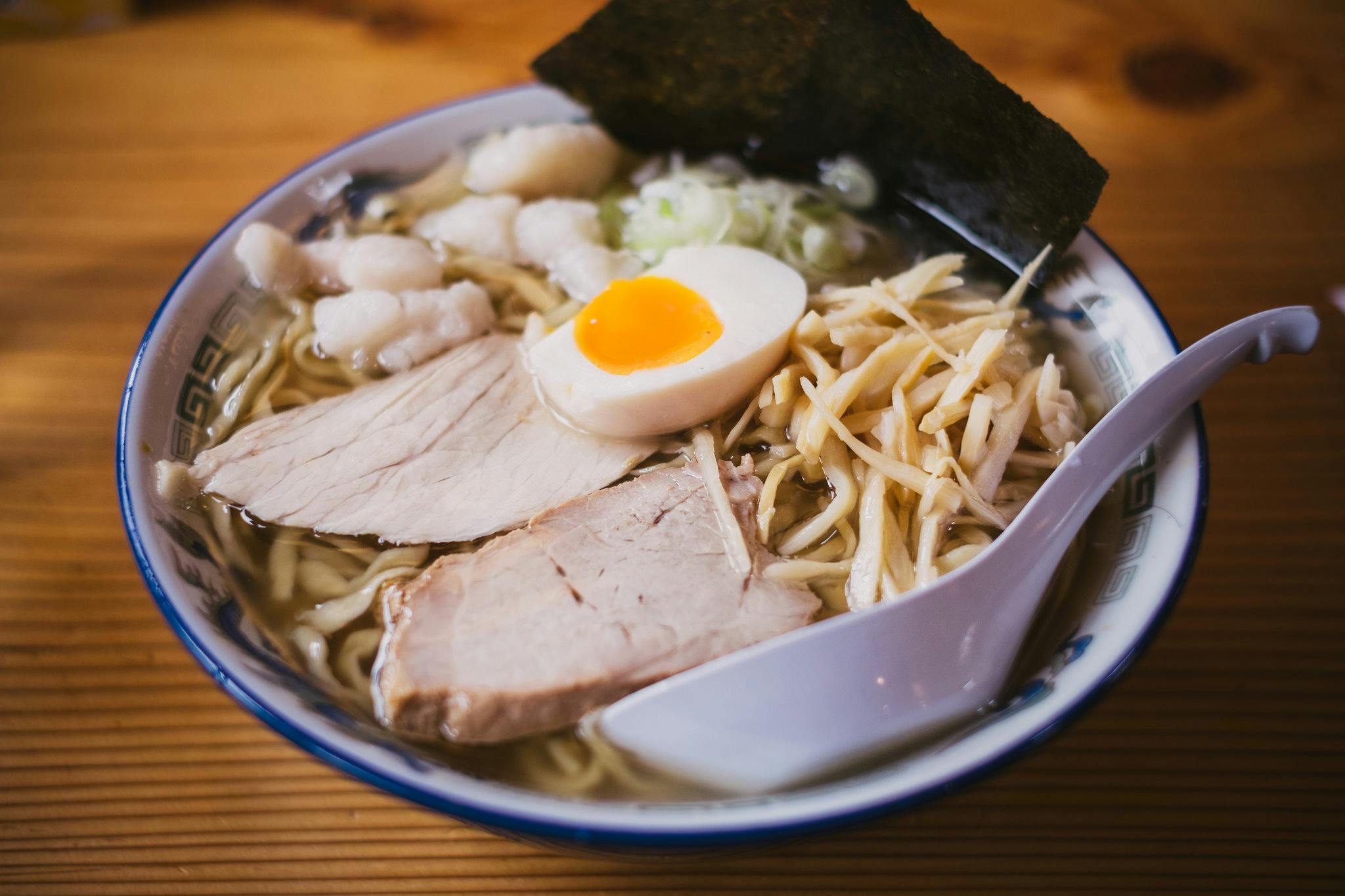 If you're visiting Asheville during the wintertime, you may be looking for somewhere to escape from the snow and sample a steaming hot bowl of soup. Itto Ramen Bar & Tapas is the ideal place in Downtown Asheville to try some delicious ramen on a cold day. It is also the go-to place for many locals when they're in the mood for Asian cuisine.
Itto has three locations across Asheville. It is famous for its ramen bowls, but also offers cocktails and tapas inspired by Japanese cuisine. Some of the signature cocktail flavors include lavender, pomegranate, hibiscus flower, and cherry blossoms.
Some of the most delicious items on the menu include beef teriyaki, mango shrimp skewers, wings, oysters, buns, onion rings, and poke. The small-plate menu items and tapas make it the ideal place for sharing food with friends and family.
Additionally, the menu includes several vegetarian, vegan, and gluten-free options. Be sure to try the ramen with black garlic oil next time you are visiting Itto Ramen Bar & Tapas.
Laughing Seed Cafe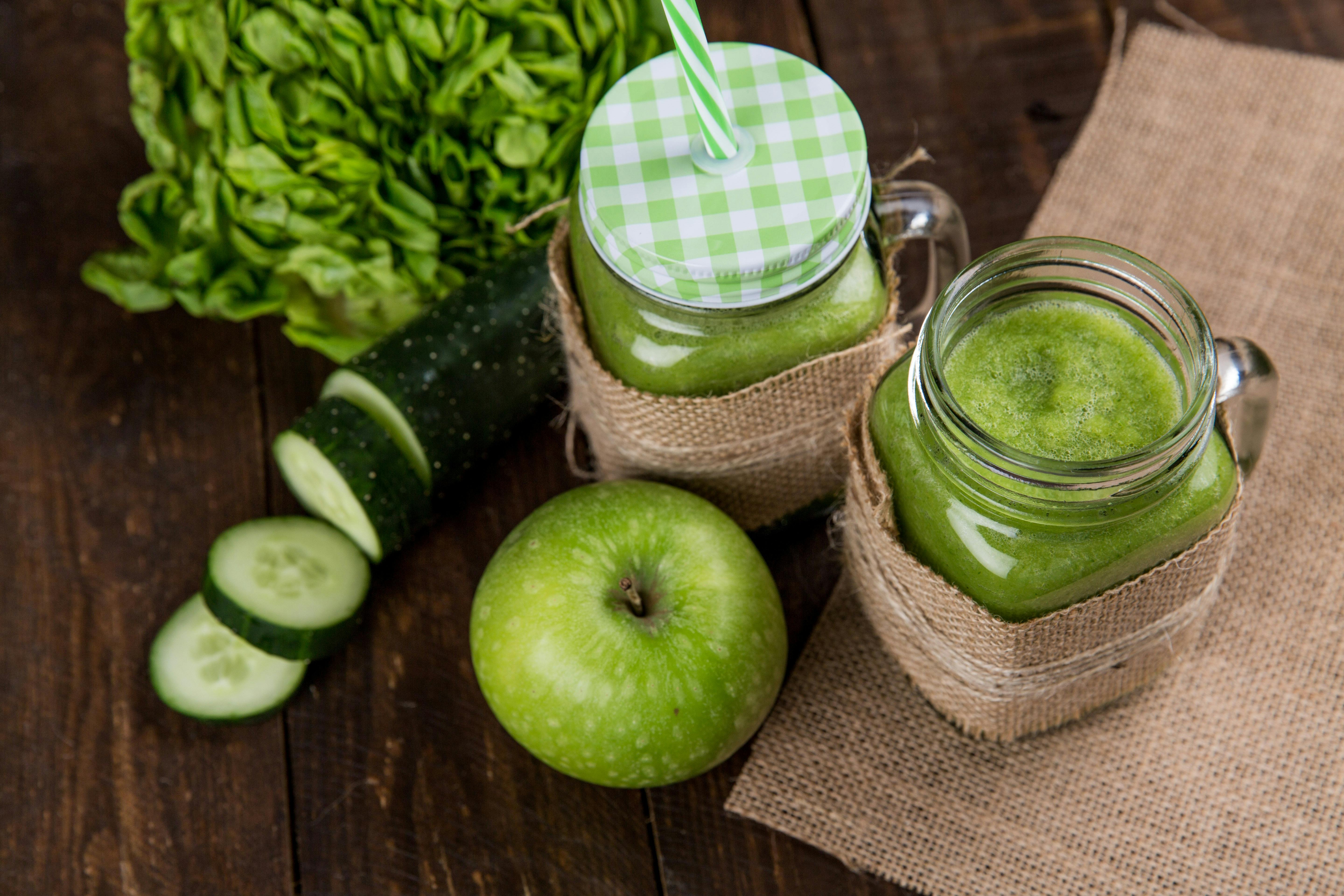 Downtown Asheville is a great area if you're looking for some fantastic vegan and vegetarian food, and Laughing Seed Café offers some of the best plant-based cuisine in the city.
Visitors can enjoy some delicious vegan and vegetarian bowls, salads, and sandwiches. There are also seasonal specials during holidays, such as heart-shaped veggie burgers. If you opt for the pizza, you can also enjoy the gluten-free base.
Some of the best drinks include kombucha, juice, smoothies, and tropical cocktails. There is seating available inside, as well as on an outdoor patio.
Another excellent restaurant for vegetarian and vegan cuisine in Downtown Asheville is Rosetta's Kitchen, which offers a laid-back atmosphere and soul food.
Noble Cider
Noble Cider is a must-visit on any trip to Downtown Asheville. Noble is just one of many delicious cideries in the city but is favored by locals and tourists alike for its excellent gluten-free options. It makes for a great place to have lunch.
Cider is naturally gluten-free, provided it doesn't have any additions, and Noble offers great small plate options. Some of the most popular breakfast menu items include French toast, eggs, biscuits and gravy, and mimosa flights. The lunch and dinner menus include delicious dishes like charcuterie boards, burgers, chicken poppers, fried green tomatoes, sandwiches, and Brussels sprouts.
Finish off the evening by ordering a flight to sample all the different ciders that Noble Cider produces.
Chai Pani
Chai Pani is perhaps one of the best-known restaurants in Downtown Asheville. It has been featured in numerous publications and the Samantha Brown show "Best Places to Love". It is famous for offering the best Indian cuisine in the city.
With a five-times James Beard-nominated chef, it comes as no surprise that the Indian street food served at Chai Pani is unique, flavorful, and downright mouthwatering. Be sure to sample some of the signature chicken pakoras and okra fries. Other delicious shareable plates include the corn bhel and bhel puro. Finish off the meal with some divine Indian-spiced cocktails.
The menu also includes vegan-friendly and gluten-free options.
Another major draw to Chai Pani is that it's inexpensive and unassuming, and there is no need for reservations in advance. However, as it is such a popular spot, it may be best to visit the restaurant outside of peak times and peak seasons to avoid any crowds.
Rankin Vault Cocktail Lounge
While it may not be the ideal place for fine dining, Rankin Vault Cocktail Lounge is an excellent place to relax, spend time with friends, and enjoy a local brew. It is considered Downtown Asheville's best hot dog and burger restaurant and offers delicious, casual cuisine with a local feel. Be sure to try the restaurant's signature burger, the "Rankin Vault Burger", which has won the restaurant its title for five consecutive years.
The menu includes great dishes such as chili, nachos, fresh salads, sandwiches, tater tots, and some gluten-free items.
There are also some truly creative and unique cocktails to try, such as the boozy lemonade and tea, the "Ashevillian Love Affair", and margaritas.
Another great burger restaurant in the area worth trying is Farm Burger.
Ukiah Japanese Smokehouse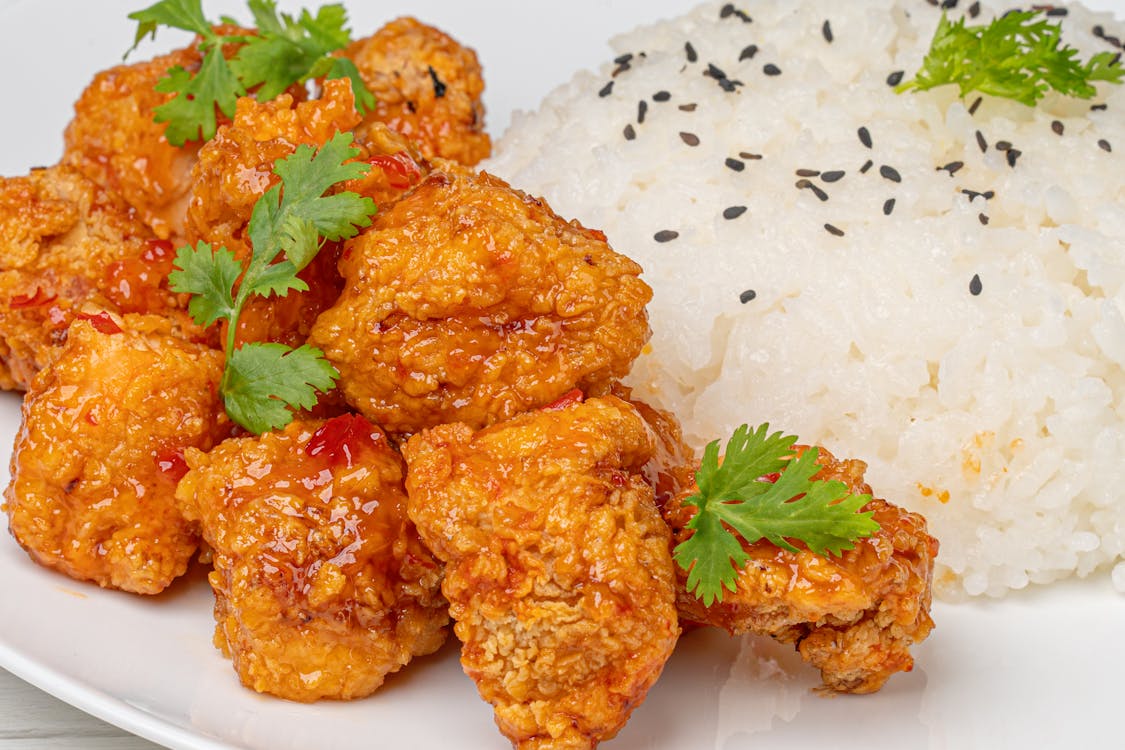 One of the newer Downtown Asheville restaurants well worth visiting is Ukiah. It offers a unique and tasty mix of American barbecues and Japanese street food. Besides its delicious food, the restaurant is beautiful, and the outdoor patio seating includes a stone fireplace.
While you may not find any sushi on the menu, there is a raw section that includes treats like oysters and sushi-grade fish.
Other menu items include a variety of dumplings, shrimp cocktails, meat skewers, ribs, and buns. There are also a la carte veggie plates and ramen. Finish your meal with a yummy dessert or fresh cocktail.
The restaurant also offers many small plates that are ideal for sharing in groups. Reservations aren't always necessary.
Asheville Pizza & Brewing Lounge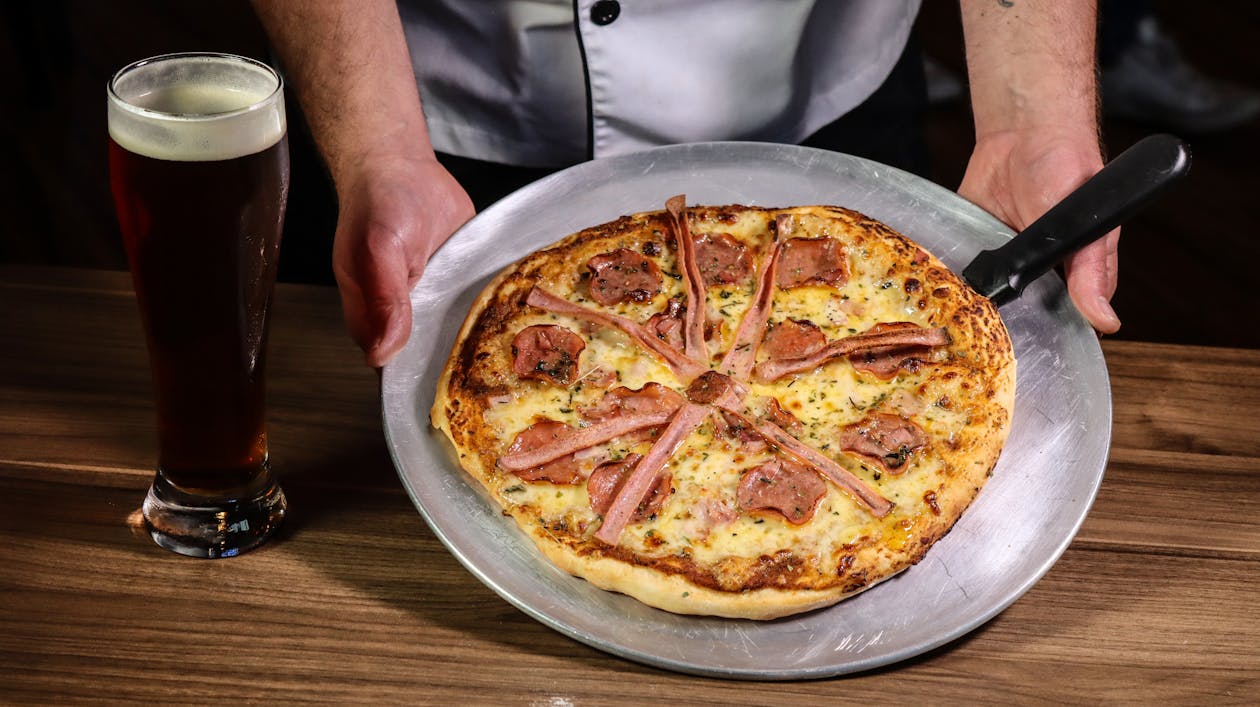 If you're looking for some excellent pizza in Asheville, this is the place to be. The chain has several locations throughout the city, including in Downtown Asheville.
The menu offers items like pizza, chicken wings, sandwiches, and bar grub. There are also gluten-free and vegan-friendly food options.
And, if you're a beer lover, you'll be delighted by Asheville Brewing's own craft brews. They are known for their delicious rich stouts, porters, and funky IPAs.
The restaurant also offers a delivery or takeout option.
If you're traveling as a family with younger kids, be sure to stop by the North Asheville location, where the little ones can enjoy a movie theater and a small arcade.
Wicked Weed BrewPub
Wicked Weed is another brewery that is well worth visiting if you're fond of beer. It is one of the Asheville eateries serving lighter food, such as snacks and larger entrées.
The menu offers a delicious selection including burgers, veggies and hummus, classic sandwiches, wings, salads, steaks, pork chops, and mussels. While it may not be the most extensive menu in the city, you're sure to find something for every kind of traveler here.
It also offers some of Asheville's best beer and is known for its Belgians, barrel-aged sours, and hoppy West Coast-style beers. There is also a rotating menu of seasonal brews.
Another draw to Wicked Weed brewing is the fact that it's dog-friendly, which means that locals and visitors alike can enjoy some good food out on the patio with their furry friends.
The Market Place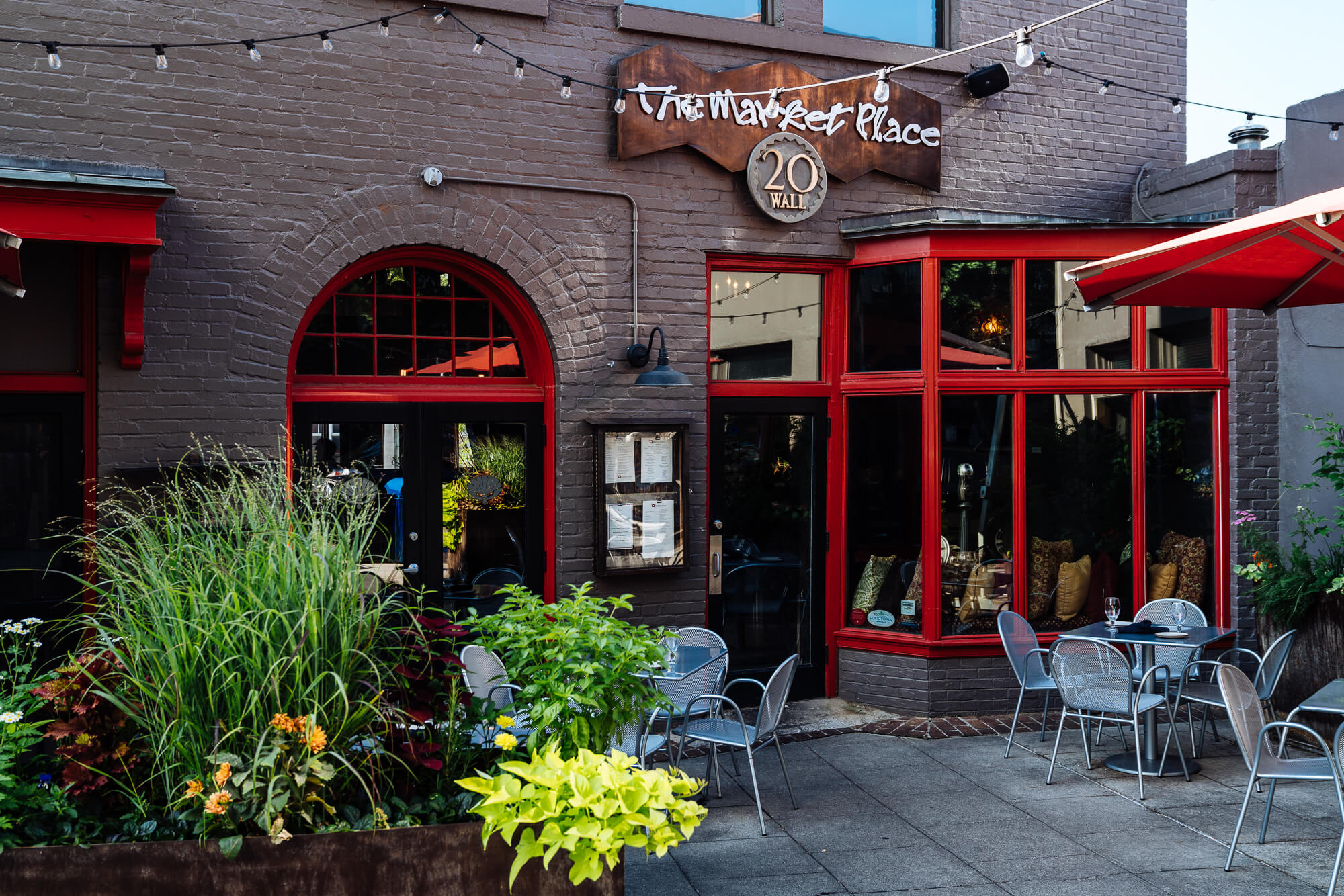 If you're looking for a cozy spot to have a delicious breakfast or brunch, the Market Place is a great option in Downtown Asheville. With European-inspired décor, this is the perfect café to relax outside and watch people go by. The interior is home to a classy atmosphere, making it ideal for special occasions.
The Market Place prides itself on its fresh, farm-to-table cuisine. They aim to produce healthy meals made from local ingredients. The menu includes dishes such as lamb, pork chops, steak, and quail. Visitors can also enjoy some seafood, salads, and pasta.
Do note that this may not be the best place for visitors who are lactose-intolerant or gluten-free, but that certain modifications could be made on request. Also, keep in mind that this is a prime location and fills up quickly, so be sure to make reservations before visiting.
Red Ginger Dimsum & Tapas
One of our favorite pairings to enjoy in Asheville is beer and Chinese dumplings. Red Ginger is an excellent place to enjoy both and offers a similar experience to Ukiah and Itto – but for less money.
The restaurant menu is filled with sharable Asian tapas, like baskets of pork dumplings or steamed shrimp. The menu also includes gluten-free and vegetarian items, and guests can order several small dishes for the table to enjoy family style.
Besides the famous dumplings, they also offer fried rice, a selection of soups, sushi, buns, Chinese pancakes, seafood, skewers, and noodles.
The best part is that visitors normally don't need to reserve a table ahead of time.
Isa's French Bistro
Isa's is considered one of the most iconic Downtown Asheville (NC) restaurants. It forms part of the Haywood Park hotel, home to signature red umbrellas and blue doors.
It is centrally located and is a great place for a delicious brunch if you like French comfort food. Isa's offers fine dining and an atmosphere that is a unique blend of casual and elegant. There are budget-friendly food options as well as pricier items. The menu includes handhelds, salads, steak, salmon, lamb, scallops, duck, burgers, classic sandwiches, and soups.
For breakfast, visitors can expect classics like pancakes, hash, and eggs, as well as more unique items like Bloody Mary cocktails.
There is both indoor and outdoor seating available.
Bouchon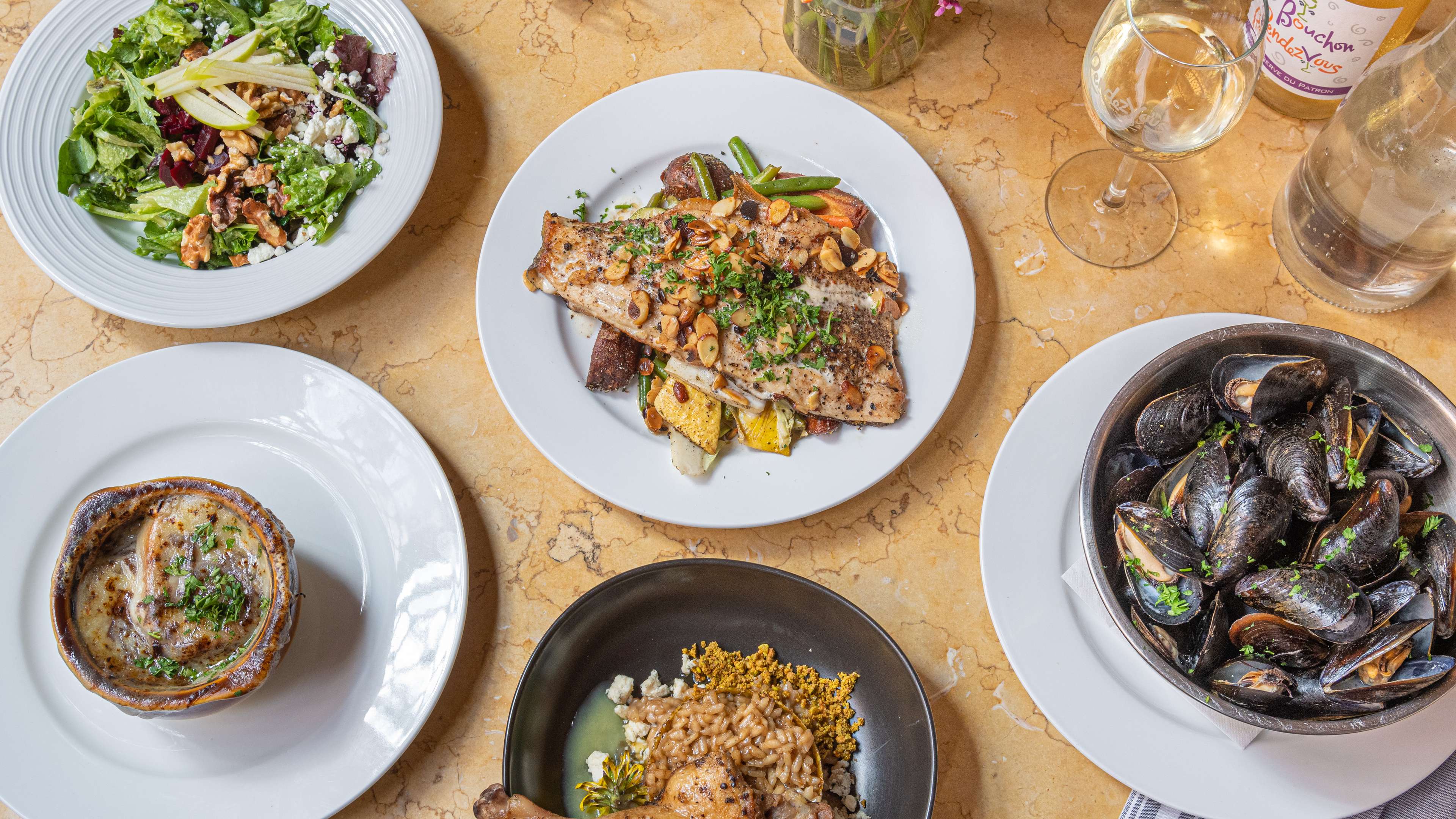 While French cuisine may not always be ideal for people with gluten or lactose intolerances, you may be delighted to know that Bouchon offers several authentic French dishes that cater to such diets. It comes as no surprise that Bouchon is Downtown Asheville's go-to French restaurant.
It offers a dimly lit, romantic atmosphere and superb French flavors, comfort food to please any taste buds, and a large selection of wine. There are also some great hand-poured cocktails. The menu includes seafood, chicken, beef, steak, and duck entrées. Signature dishes include French fries with Boeuf Bourguignon.
While the restaurant accepts walk-ins, we recommend making a reservation in advance as it can fill up quickly.
Limones
This is another great Downtown Asheville restaurant for couples, offering a romantic and charming atmosphere. Located in a historic building, the restaurant offers quaint window seats, artwork, mirrors, a dim chandelier, and a great ambiance. There is also a cozy bar and two smaller rooms, making it ideal for intimate conversations.
Chef Hugo Ramirez is native to Mexico City but has also lived in San Francisco before moving to Asheville. As a result, the food offered by Limones is truly unique and features flavors inspired by Californian, Mexican, and French cuisine.
Be sure to order the signature margarita and fresh ceviche to start. The lobster nachos are also very good. Visitors also have the choice between entrées like ramen short ribs, enchiladas with vegan cheese, scallops, or BBQ fish.
Limones also offers some delicious desserts, and our favorites are the Res Leches cake and the churros. Finish your meal with a delicious cocktail, Mexican coffee, or a glass of Spanish dessert wine.
We recommend making reservations before visiting. It is also worth mentioning that this is one of the more expensive restaurants in Downtown Asheville.
Posana
Posana is a must-visit in the Downtown Asheville food scene. It is one of the few places in the city that offers an exclusively gluten-free menu. It is located across the street from Park Square and offers contemporary American cuisine made from fresh, locally sourced ingredients.
The dinner menu includes dishes such as gnocchi, octopus, beets, salads, hush puppies, and bread with a variety of different spreads. There are also main dishes made from steak, seafood, chicken, and fried tofu. Our favorite is the lamb rack with vegetables. Some of the best desserts include seasonal pies, Tres Leches cake, and a flourless torte.
Be sure to make a reservation as Posana can get busy.
The bakery at BimBeriBon is also an excellent stop for gluten-free visitors.
Asheville Chocolate
There is no shortage of chocolate shops in Asheville, and this is one of the best. Located in the Downtown area, Asheville Chocolate is a great spot to spend some time with a partner or sample some delectable treats.
The eatery offers great hot chocolate, gelato, handcrafted truffles, and decadent chocolate bars. There is also tea, coffee, mochas with homemade ganache, and delicious affogatos.
There are a few gluten-free and vegan options to choose from. Additionally, it is located near the Benjamin Walls wine bar and features some stunning works by the artist.
Another excellent spot to try some sweet treats is the French Broad Chocolate lounge.
Crave Dessert Bar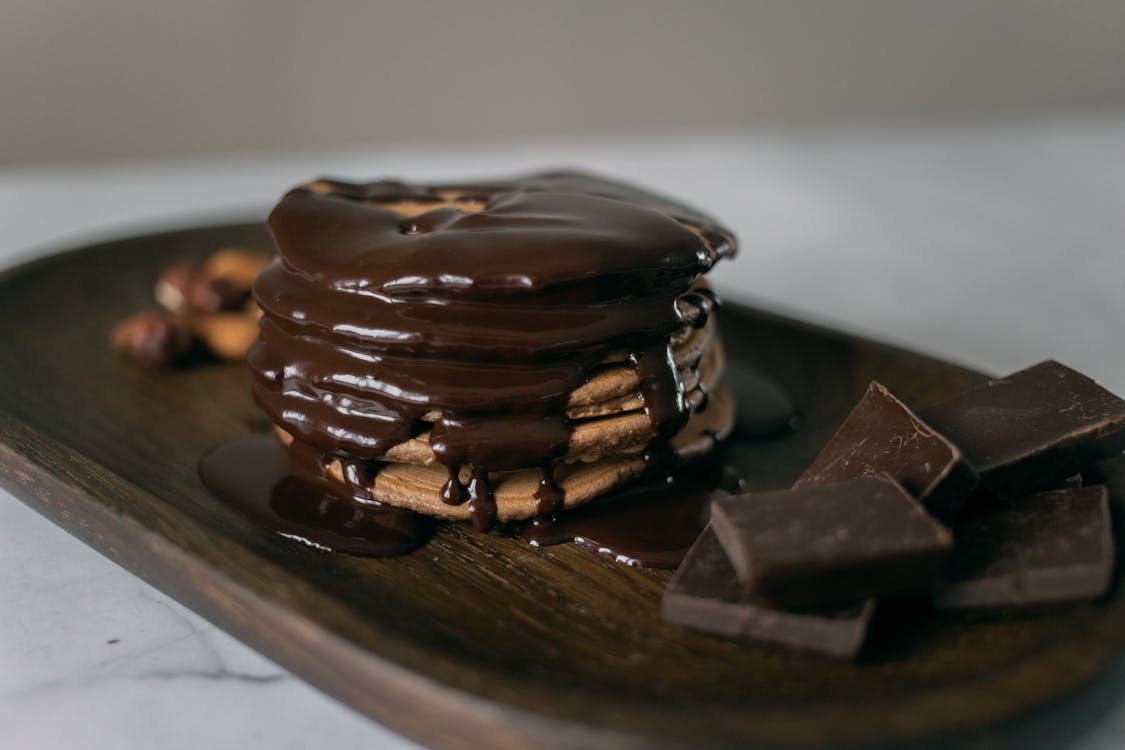 Crave Bar is a restaurant in Downtown Asheville that is perfect if you're in the mood for after-dinner drinks, dessert, chocolate, hookah, and indulgence. It is the best restaurant if you're looking for a treat-yourself kind of evening.
Visitors can enjoy signature menu items like a smoky Old Fashioned, a Beauty and The Beast Jar, and hookah with delicious flavors. It may not be the best restaurant for visitors with gluten-free or vegan dietary needs, but still offers a few options to choose from.
And, if you're looking for a more adult-friendly dessert, why not try one of the classy and creative cocktails?
Crave Dessert is open until midnight, making it a great spot for a late-night snack. The food includes flatbreads, sandwiches, and other snacks.
They offer outdoor seating on a patio.
All Souls Pizza
Located in Asheville's River Arts District, All Souls is one of the best pizza restaurants in the city. It is co-owned by the founder of Farm & Sparrow Bakery, David Bauer, who is known for specializing in ancient organic grains. As a result, the pizza crust at All Souls is to die for.
The toppings are made from fresh, seasonal ingredients that are locally sourced. Visitors can expect luxurious toppings such as garlic sausage, pecorino, soppressata, fontina, smoked NC shrimp, and salted turnips.
The restaurant also plays host regularly to large parties and private events, making it a great place to be if you're in the mood to mingle with locals.
Asheville Proper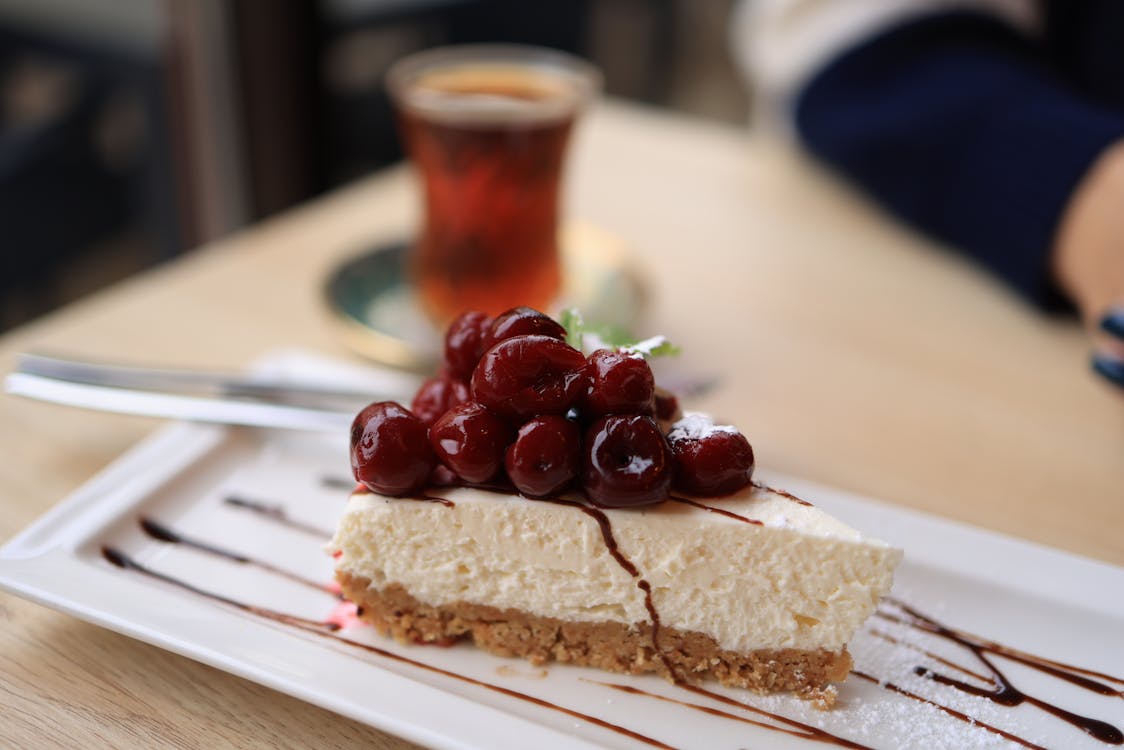 Opened in 2020, Asheville Proper is one of the newer restaurants in Downtown Asheville. It is located at the Grove arcade and was founded by Owen and Mindi McGlynn. The restaurant prides itself on its fresh, locally sourced ingredients and live-fire dining experience.
Upon entering, visitors are greeted with the delicious scent of oak, pecan, or cherry wood being fired. The fire is located inside an open kitchen and forms a centerpiece in this great eatery.
Asheville Proper offers a truly unique experience, with waiters dressed like hip lumberjacks, swanky décor, downtempo electro-funk music, and a mellow atmosphere. The menu offers fragrant appetizers, Grilled Bone Marrow with dijonaise, thyme crust, sourdough, and Wagyu Steak Tartare.
Other great dishes include crispy Confit Potatoes with smoked vinegar and brie, fire-grilled steaks with delicious sauces like Bourbon Bourdelaise, Ash Butter, and Foragers Chimichurri, and Coldwater Creek Grits with pepper relish.
There are also some amazing desserts to try, such as the strawberry pavlova and the gourmet s'mores with homemade graham crackers and marshmallow ice cream.
Biscuit Head
Biscuit Head started gaining popularity in Asheville in 2013 and has since grown to include locations in both North and South Carolina. While there are locations in West Asheville and South Asheville, our favorite remains the Downtown Asheville location.
The chain proudly embraces down-to-earth, Southern simplicity, adding to it its own unique twist. As a result, Biscuit Head offers some of the best breakfast food in the city.
Upon entering, guests are immediately greeted with a quirky and vibrant interior, filled with cat-themed artwork, brightly colored murals, and Southern fried slogans. However, the main draw to Biscuit Head is its food.
As the name may suggest, this eatery is known for its unique and adventurous biscuits. The Filthy Animal biscuits include bacon, fried chicken, pimento cheese, gravy, and scrambled eggs. There is also the Pulled Pork Biscuit with bacon, jalapeno pimento cheese, maple syrup, and a poached egg.
The menu includes biscuit doughnuts, five different flavors of gravy, a wide range of homemade preserves and jams, and savory sides like fried green tomatoes, pimento cheese grits, and country ham.
Be sure to try their coffee while you're there.
Buxton Hall Barbecue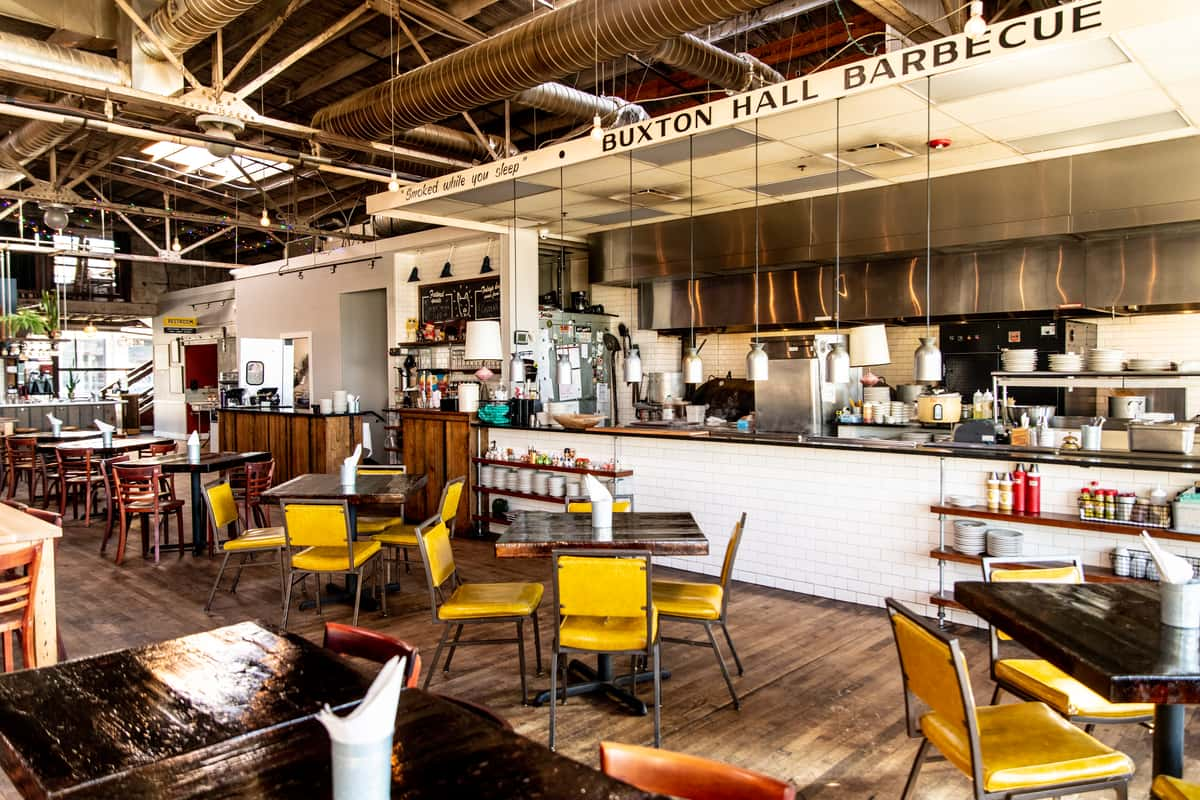 If you have ever dined at this Downtown Asheville restaurant, it will come as no surprise that it is a local favorite. Opened in 2015 by chef Meherwan Irani (the owner of Chai Pani) and pit master Elliott Moss, this award-winning restaurant can be found in the South Slope area inside the historic Standard Paper Sales Company building.
The inside of the building is still decorated with art from the 1930s, when it served as a roller rink, giving the restaurant a truly unique atmosphere.
The menu includes dishes that pay homage to Moss's childhood in South Carolina, where his grandparents raised chickens and pigs on a farm and his father and grandfather worked with smoked meats with intense flavors. It is this knowledge that gives the food such a sensational flavor at Buxton Hall Barbecue.
Visitors can expect menu items such as tender pulled pork and moist brisket, with amazing sides like green beans, collard greens, Brunswick stew, and mac & cheese.
No matter which dish you order, you won't be disappointed.
Farm Burger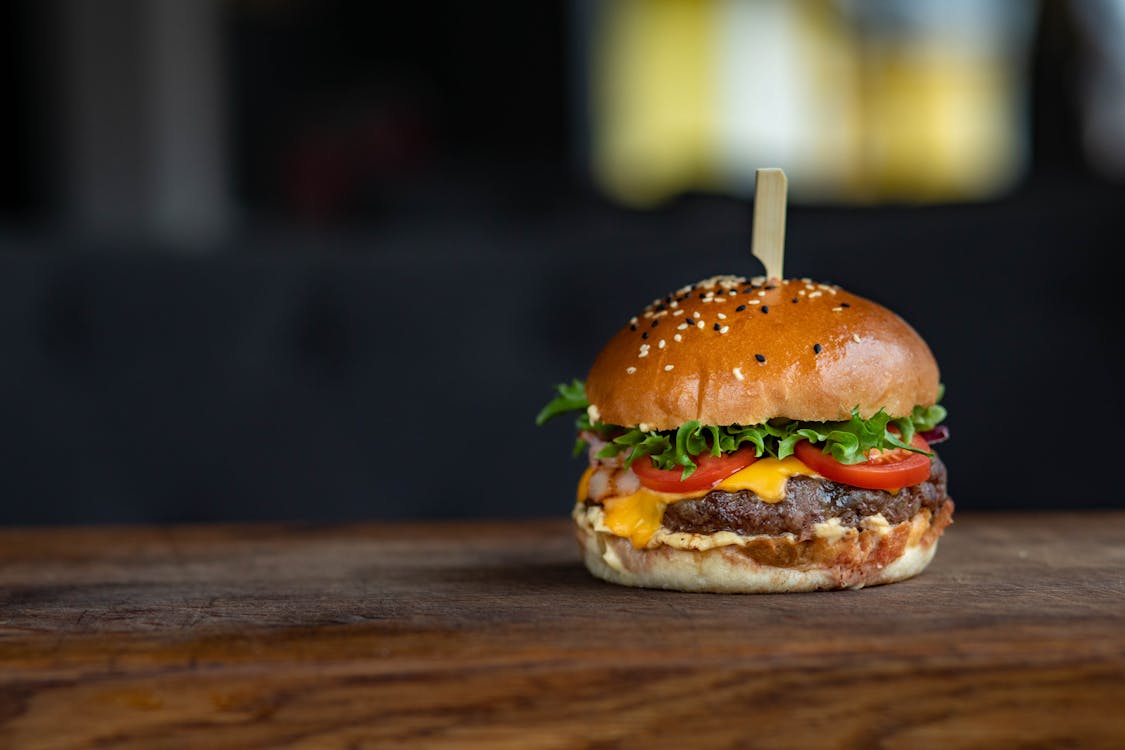 Opened in 2008 by George Frangos and organic farmer Jason Mann, Farm Burger is one of the most popular restaurants in Asheville and offers fresh, farm-to-table cuisine. The empire began with one location in Atlanta, Georgia, and has since grown to include twelve locations in four states.
The restaurant prides itself on offering locally sourced, organic ingredients and continually supports small ranchers and farmers.
Located within walking distance from Pack Square, the Downtown Asheville location offers beer from three local breweries, ice cream from The Hop, and Hickory Nut Gap beef.
Our favorite menu items include the number four Chicken Burger with crispy onions, smoked gouda, and BBQ sauce, the number one Farm Burger with FB sauce and white cheddar, and the number three Chorizo Patty Melt with pimento cheese, spiced pork, and collard greens.
The Panko-crusted onion rings with paprika mayo and spicy, cheesy FB fries are some of the best sides on the menu.
Rocky's Hot Chicken Shack
Rocky's has two locations in Asheville and is popular among locals and visitors alike for its soul food and Nashville-style hot chicken. This award-winning brand is also proudly Carolina-bred.
The menu includes unique starters like Fried Mac Poppers, deep-fried mac and cheese balls, and Rocky's Hot Chicken Dip, featuring delicious chicken and blue cheese with tortilla chips on the side.
The fried chicken is Rocky's claim to fame, and the restaurant offers it in varying degrees of heat. If it's your first time visiting, we recommend starting with a medium heat such as the Honey Mild.
Other dishes include sandwiches, fried okra, sweet potato casserole, and crinkle-cut fries. There are also some great sweet treats for after your meal, including the delicious Coca-Cola cake and homemade banana pudding.
Vue 1913
For its hundredth anniversary in 2013, the Omni Grove Park Inn embarked on a renovation for millions of dollars. The renovation included opening a restaurant with some of the most stunning panoramic sunset and mountain views in the city. As a result, Vue 1913 was opened.
The restaurant includes European-style décor mixed with American cuisine. It is known for offering delicious farm fare and hearty meals, which visitors can enjoy while looking out at the Blue Ridge Mountains.
The restaurant offers a stellar dining experience, with a Chef's Tasting Menu that is sure to delight all food lovers. Be sure to pair your meal with a pick from the certified sommelier on-site.