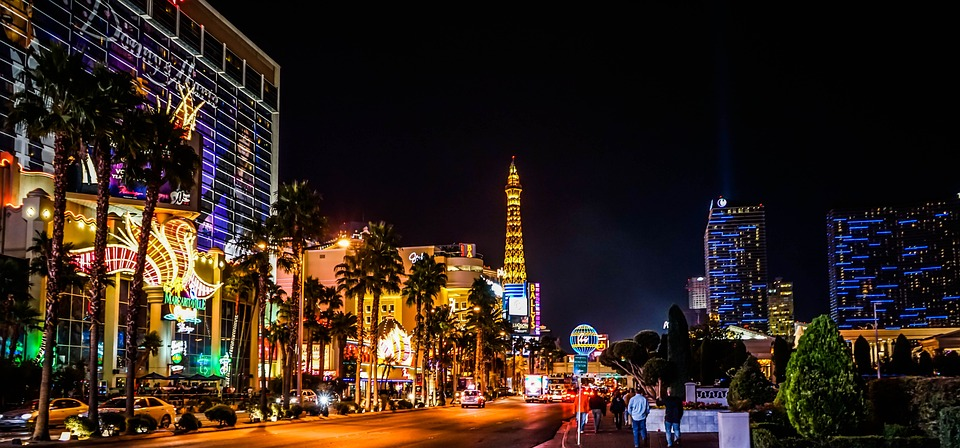 Las Vegas Buffets is world-renowned for being some of the most impressive buffet dining experiences in the world.
Over the past few years, Las Vegas buffets have taken a bit of a hit due to the global public health crisis, but the dark clouds have evaporated, and Las Vegas once again opens its doors to hungry guests across the city.
In a city like Las Vegas, where the buffets compete with the casinos for popularity, the extensive array of Las Vegas buffets is a bit overwhelming. How do you know your trip to a buffet will not be met with disappointment?
That's why we've compiled a list of the best Las Vegas buffets you simply have to try during your time in the city. Many of these options run dinner buffets over the weekend, while others are limited to lunch and breakfast buffet hours.
Nonetheless, you are certain to find a Las Vegas buffet that sees to all your culinary needs.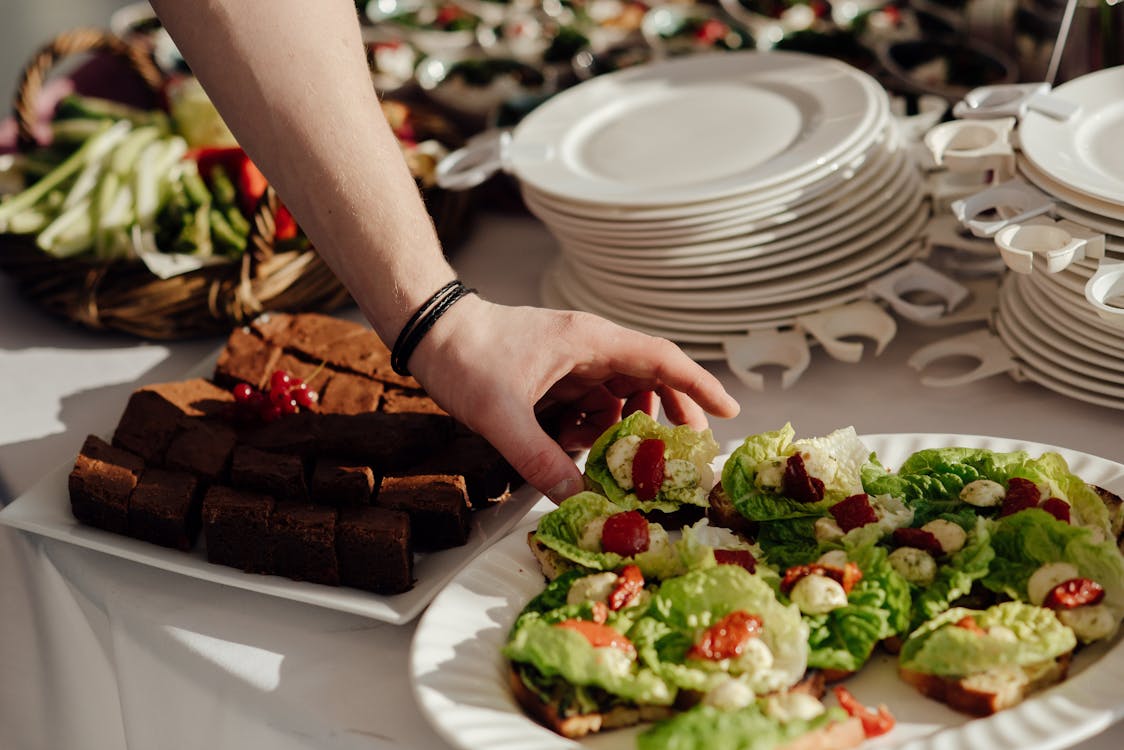 MGM Grand Buffet
MGM Grand Buffet is the embodiment of everything you could want from a Las Vegas buffet, whether you're looking for weekday champagne brunch or an intimate weekend dinner.
This spot offers daily breakfast and lunch buffet hours with an impressive selection of delights, including made-to-order omelets, pastries, pasta, slow-roasted prime rib, and an extensive dessert station.
Beyond the delicious food on offer at MGM Grand Buffet, the drinks menu certainly doesn't fall short of excellence, and the MGM Grand Buffet Champagne Brunch is especially intriguing.
The best part? MGM Grand Buffet price won't require you to delve into your gambling money as it is incredibly affordable.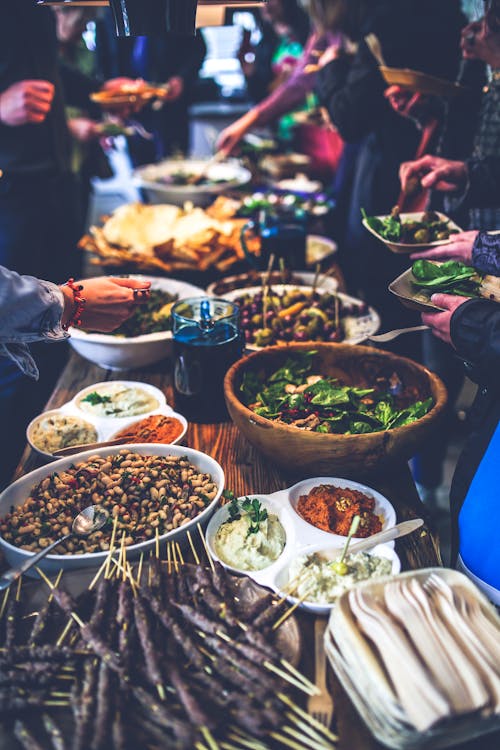 Bacchanal Buffet at Caesars Palace
Housed in the famous Caesars Palace, the Bacchanal Buffet is one of the most premium buffets open in Las Vegas that is certain to keep you coming back.
The Bacchanal Buffet has recently undergone extensive renovations and now boasts countless extraordinary dishes prepared by world-class chefs.
The Bacchanal buffet is not only considered one of the best buffets on the Las Vegas Strip for its incredible range of food, but it is also loved for the amazing dining experience it offers.
With open kitchens, affordable prices, and an endless supply of everything from vegetarian meals to seafood and international cuisine, it's easy to see why the Bacchanal Buffet makes headlines across Las Vegas.
You can enjoy a delicious brunch or dinner at the Bacchanal Buffet on Friday, Saturday, and Sunday.
Garden Court Buffet at Main Street Station
If you're looking for some quality food to enjoy at a reasonable price in downtown Las Vegas, be sure to check out the Garden Court Buffet at Main Street Station. Here you can indulge in a scrumptious breakfast or lunch buffet prepared with great care.
Although you shouldn't expect any extravagant meals at the Garden Court Buffet, every dish guarantees exceptional flavors and quality, and it is the only buffet available on Fremont Street in Las Vegas.
The breakfast at Garden Court Buffet showcases classics like fluffy pancakes, eggs, waffles, hashbrowns, and a variety of perfectly cooked meat dishes. The sausage biscuits and gravy at the Garden Court Buffet, in particular, are arguably the best of all Las Vegas buffets.
Note that the buffet at Main Street Station isn't as elaborate as some of the better-known Las Vegas buffets, so you won't find a carving station with a decadent prime rib, for example, but everything served here is still of the highest standard.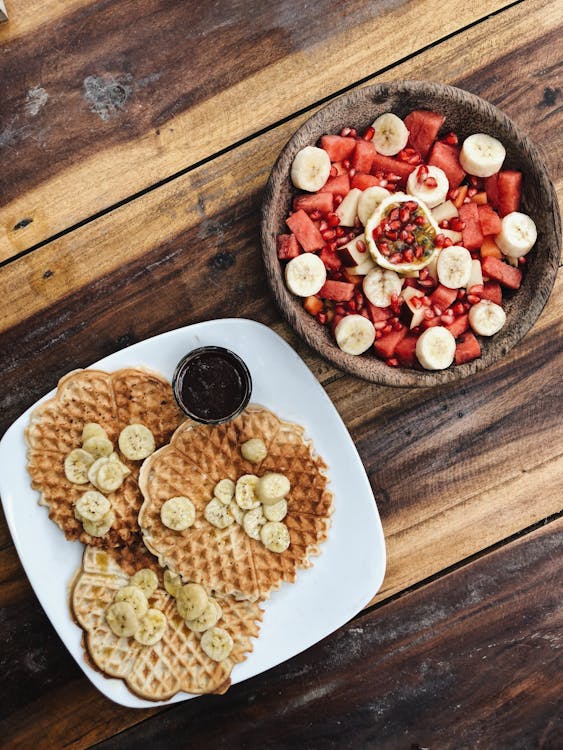 Wynn Las Vegas Buffet
The Wynn Buffet hosted at Wynn Las Vegas boasts a marvelous selection of meals cooked across sixteen impressive stations.
The Wynn Buffet was one of the first upscale Las Vegas buffets, and its experience truly shows, as there is a lineup of over a hundred tasty entrees and almost just as many side dishes on offer.
The Wynn Las Vegas Buffet has a breakfast and brunch menu over the weekend that will knock your socks off.
The Wynn buffet offers breakfast items like eggs benedict and waffles in addition to its excellent omelet station. The dinner buffet is just as impressive, with everything from towers of snow crab legs to a prime rib dinner buffet to choose from.
Pair your mouth-watering buffet at Wynn Las Vegas with one of their multicolor cocktails for a small additional charge.
Alexander Migl, via Wikimedia Commons
Garden Buffet at South Point
There is an astonishing variety of delights on offer at Garden Buffet, whether you head out on a Saturday and Sunday for their famous weekend brunch or for an unparalleled breakfast, lunch, or dinner during the week.
The Garden Buffet at South Point hosts an exciting Seafood Night on Fridays for all those hungry guests looking to go all out at a seafood buffet. Carnivores need not fret, as there is also a prime rib served on Seafood Night.
The Garden Buffet features menus carefully designed by top-tier chefs who use only the freshest ingredients. So whether you're looking for a jolly champagne brunch or a place where you can indulge in slow-roasted prime rib like nobody's around, the Garden Buffet is the place to be for an unrivaled buffet in Las Vegas.
Wicked Spoon Buffet
Hosted in the Cosmopolitan, the Wicked Spoon Buffet features many unique dishes you won't find in any other Las Vegas Buffet.
For starters, the breakfast at the Wicked Spoon Buffet includes so much more than just your regular eggs and bacon. You find everything from freshly-baked bread, an omelet station, and freshly-pressed juices to savory delicacies and salads of all kinds.
The brunch menu is even more impressive, and the lunch buffet features some unusual dishes like crab legs, duck wings, and even a hot pot station. You can also revel in more traditional options like carnitas, samoosas, and classic gyros.
Carnivores will have a ball at the Wicked Spoon Buffet, as there is a carving station continuously cooking up delicious prime rib, bone marrow, fried chicken, sirloin, and so much more.
The Wicked Spoon buffet is only available until the start of the dinner rush, so be sure to arrive early and bring the whole family along, as kids aged four and younger eat free.
Alexander Migl, via Wikimedia Commons
Circus Buffet
Rumors were circling Las vegas that their much-loved Circus Buffet would close for good, causing great devastation across the city.
To the great delight of many Las Vegas residents, those rumors were false, and the Circus Buffet will continue to satisfy hungry guests for many years to come.
The Circus Buffet welcomes guests for breakfast, lunch, and dinner, and although this traditional Las Vegas buffet doesn't offer a gourmet dinner, there are various excellent meals on offer for every taste and preference.
The Circus Buffet is particularly popular among families, as kids aged three and younger eat free, while children older than three get a discount.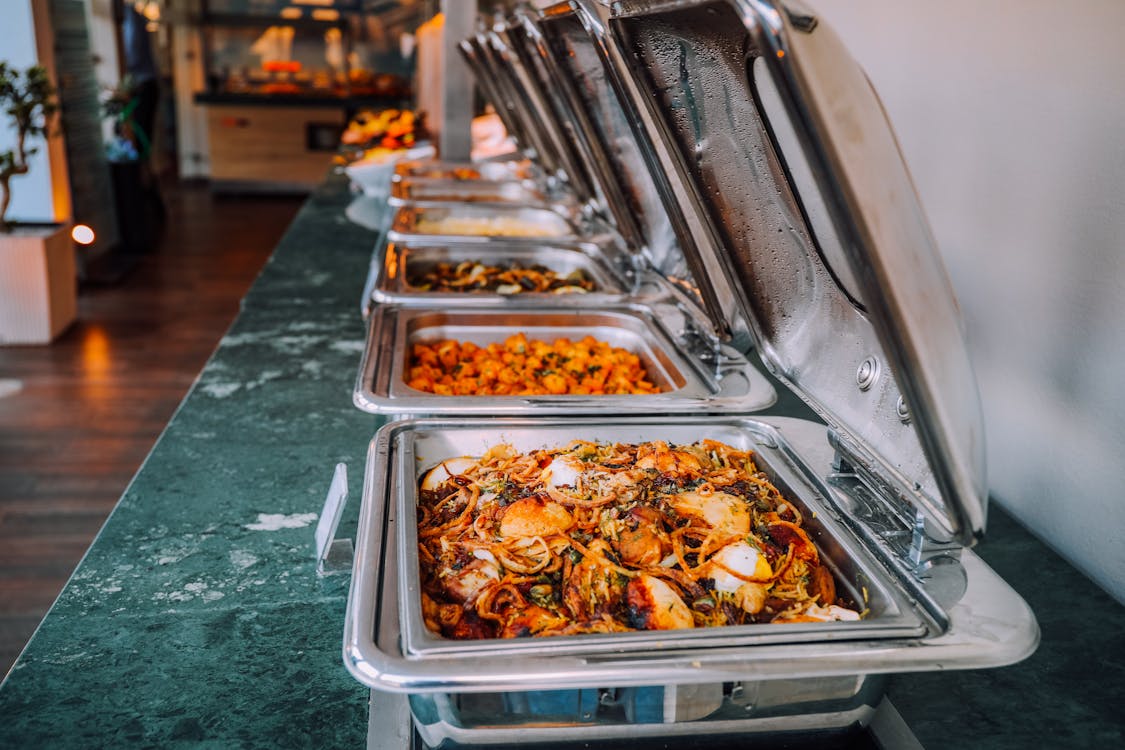 Buffet at Bellagio
With a reputation as great as that of the Bellagio, you can expect nothing but the highest standards at the Buffet at Bellagio.
Those with a taste for diverse cuisine will appreciate the Chinese, Italian, and Japanese-influenced dishes. You will also get a chance to sample some American classics, but be sure to arrive early, as the buffet hours at the Bellagio Buffet are a bit earlier than most other Las Vegas buffets.
The Buffet at Bellagio is the perfect spot for a weekend brunch or a breakfast bite, and the lunch buffet will not disappoint.
If you have a craving for seafood, the Buffet at Bellagio boasts everything from shrimp and crab legs to smoked salmon and scallop ceviche.
The carving station will see to your meaty needs by serving only the best meat cuts. You can satisfy your sweet tooth with one of the amazing dessert options at the Buffet at Bellagio, including sugar-free delights and a gelato stand.
Buffet at Luxor
If you've been keeping up with the reviews of various Las Vegas buffets, you'll know that the Buffet at Luxor sits right at the top of the list of the best Las Vegas buffets.
The Buffet at Luxor is best known for its extensive salad bar and internationally-inspired flavors. Be sure to arrive hungry, as there are countless incredible dishes you won't be able to skip.
The homemade pizza station offers the perfect opportunity to satisfy your craving for comfort food while the carving station and omelet station serve up some delicious flavors.
You can enjoy a weekend brunch, lunch, or breakfast at the Buffet at Luxor, and you can pair your scrumptious meal with one of the many house wines, craft beers, or margaritas.
Kids under the age of four eat for free, and you won't typically encounter any long lines at the Buffet at Luxor.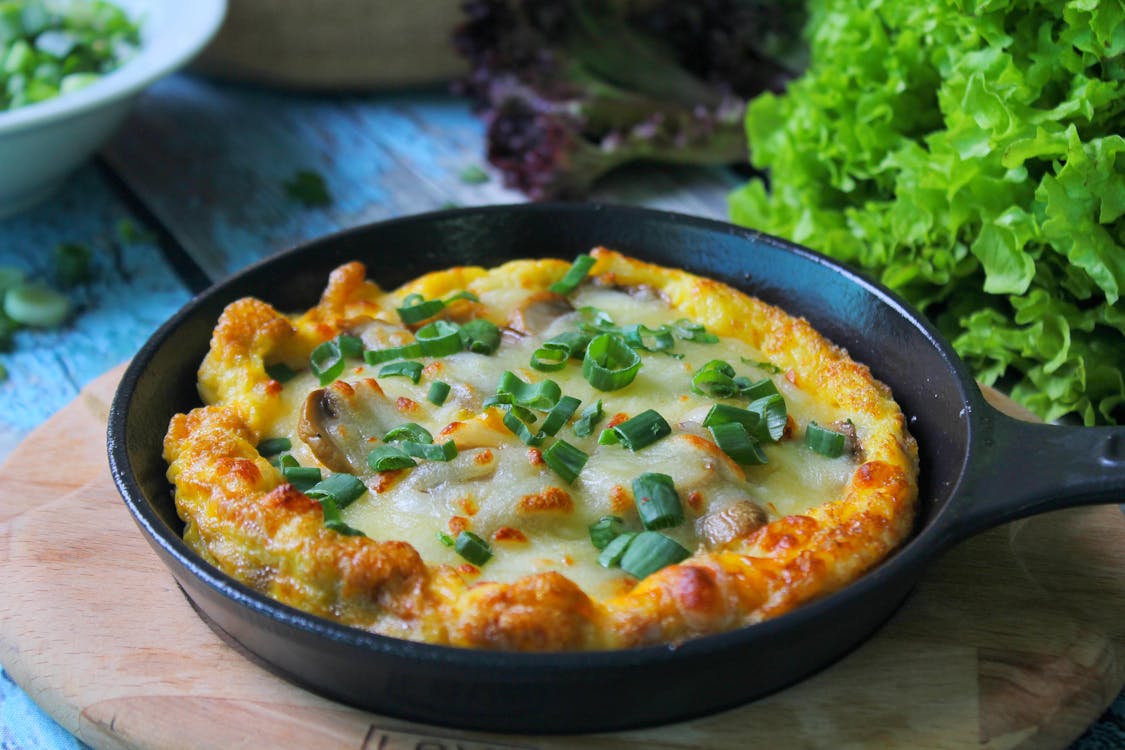 Fresh Buffet at Westgate Las Vegas Resort
If you're looking for a casual yet high-quality buffet in Las Vegas, you can't go wrong with the Fresh Buffet at Westgate Las Vegas Resort.
The wide variety of global favors is the biggest draw of this Las Vegas Buffet, where you will find a meal to satisfy any particular craving you may have that day.
The Fresh Buffet takes great pride in its array of side dishes and salads, and they go to great lengths to add a special touch to every masterpiece.
The Fresh Buffet only runs until 14:00, but it is a wallet-friendly option if you're looking to take the kids out for a meal, as children between four and 12 can eat for half price.
Jeff Hitchcock, via Wikimedia Commons
The Rampart Buffet, a.k.a. The Market Place Buffet
Formerly known as the Market Place Buffet, the Rampart Buffet is set in the glamorous Rampart Casino amongst several other Las Vegas buffets.
The Market Place Buffet closed down during the global pandemic, but the new and exciting Rampart Buffet is sure to impress.
If you're in the market for a Sunday gourmet brunch, the Rampart Buffet is the place to be, with everything from a healthy breakfast bar and a more traditional breakfast on offer.
The Champagne Brunch at the Rampart Buffet is very popular among locals and visitors alike and is hosted every Saturday & Sunday.
The brunch menu features countless extraordinary flavors you'll have to try, and lunch at the Rampart won't disappoint, with a wide selection of soups and other delicious entrees on offer beyond the dessert and salad bar.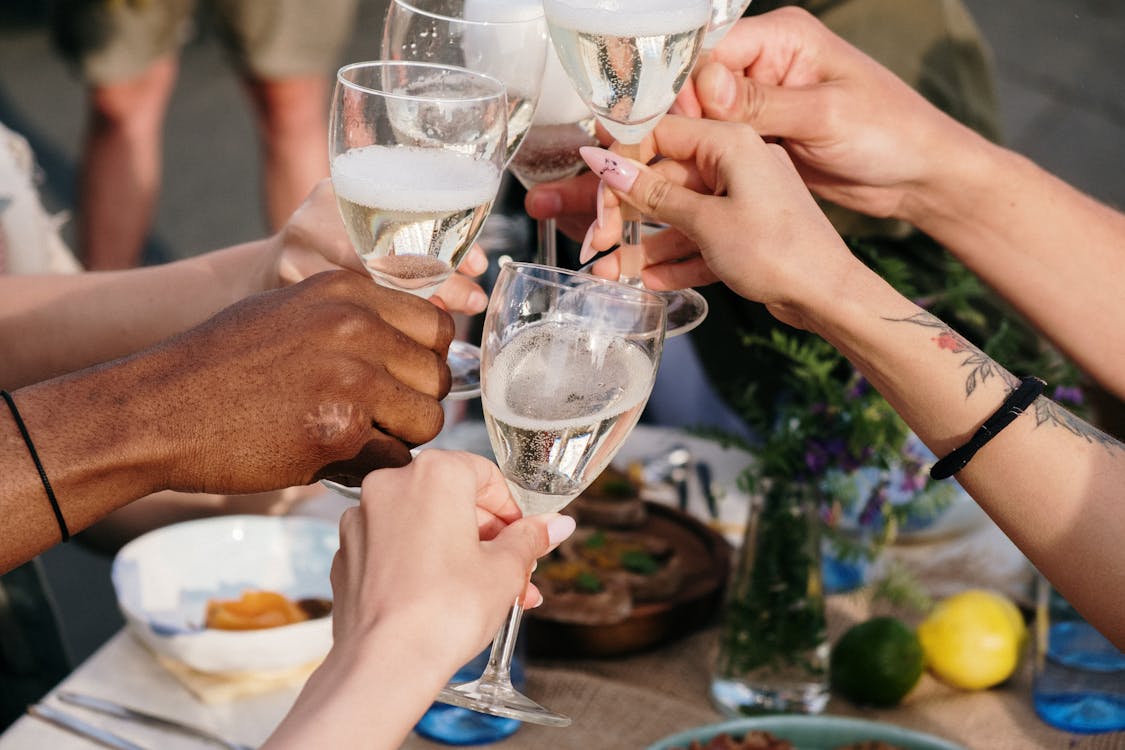 Excalibur Buffet
The Excalibur Buffet is one of the best buffets in Las Vegas and serves an unparalleled breakfast, lunch, and dinner buffet. The weekend brunch is a longstanding favorite in Las Vegas, especially among those who need to fuel their bodies after a long night on the Las Vegas Strip.
You will find all the classics at Excalibur Buffet, including rotisserie chicken, beef birria, smoked brisket, and many other treasured meat dishes.
This exceptional buffet in Las Vegas also boasts incredible Latin-inspired dishes that are decorated in character, and the dessert station is a massive attraction for most guests with a sweet tooth.
The buffet hours at Excalibur Buffet currently run until 15:00 on Monday, Thursday, Friday, Saturday & Sunday, so you can even enjoy a lovely weekday brunch here.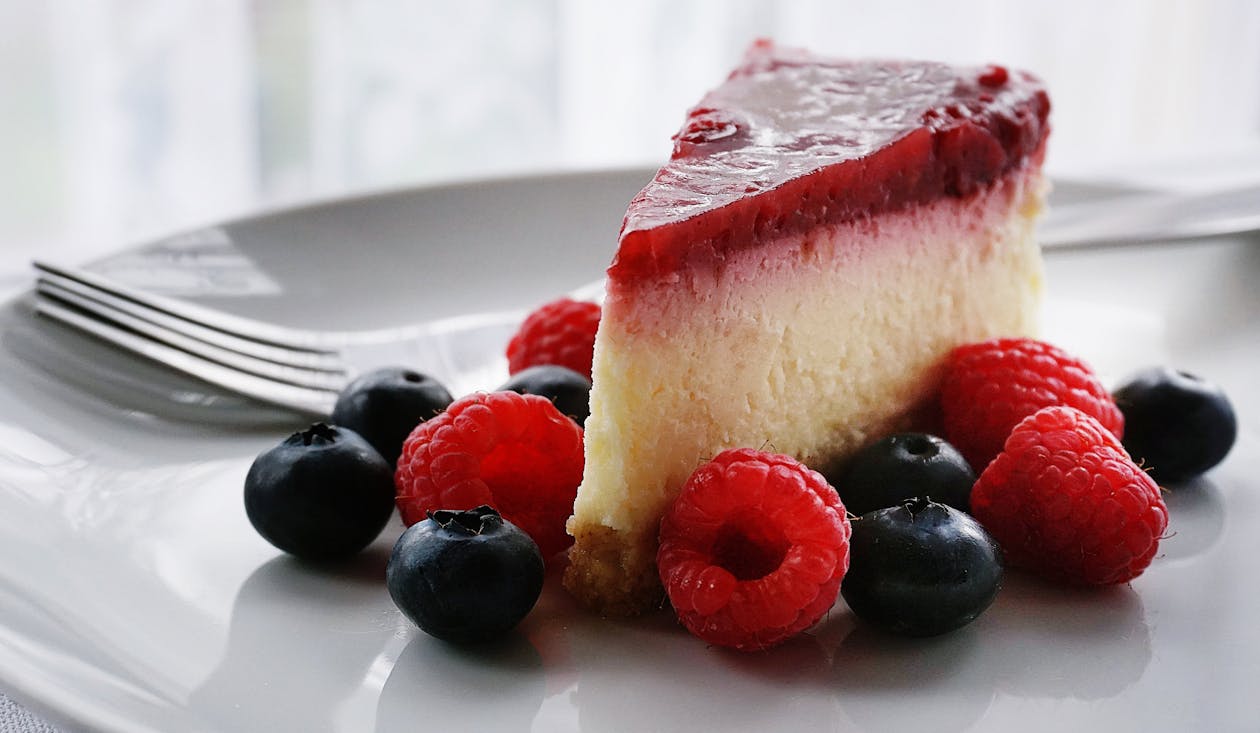 Buffet at Aria
Set on the second floor of the elegant Aria Resort and Casino, this buffet adds a sophisticated touch to traditional Las Vegas Buffets.
The Buffet at Aria is one of the lesser-known Las Vegas buffets, making it the ideal spot to enjoy a meal in peace. You won't encounter any long lines at this marvelous buffet, and there are over ten food stations featuring global flavors for every preference.
The seafood buffet is nothing short of amazing and features all your favorites, like traditional fish and chips, crawfish, salmon, paella, and oysters. Friday, Saturday, and Sunday nights bring a matchless gourmet dinner experience where you can lose yourself in all-you-can-eat crab legs.
The meat dishes at the Buffet at Aria include delicious rotisserie chicken, beef ribs, and a prime rib that will give 5-star restaurants a run for their money.
There is also a wide selection of Mediterranean dishes on offer, and the breakfast menu will tempt you to make the Buffet at Aria your regular breakfast spot.
From red velvet pancakes and French toast to eggs benedict with smoked salmon and biscuits and gravy, and since this buffet is available every day of the week, you can even dig into a scrumptious Thursday breakfast here.
However, you certainly won't want to miss the three-course weekday special at the Buffet at Aria, where you can enjoy a wide range of margaritas, rum punch, mimosas, blood marys, and the classic champagne brunch with an all-day pass at the venue.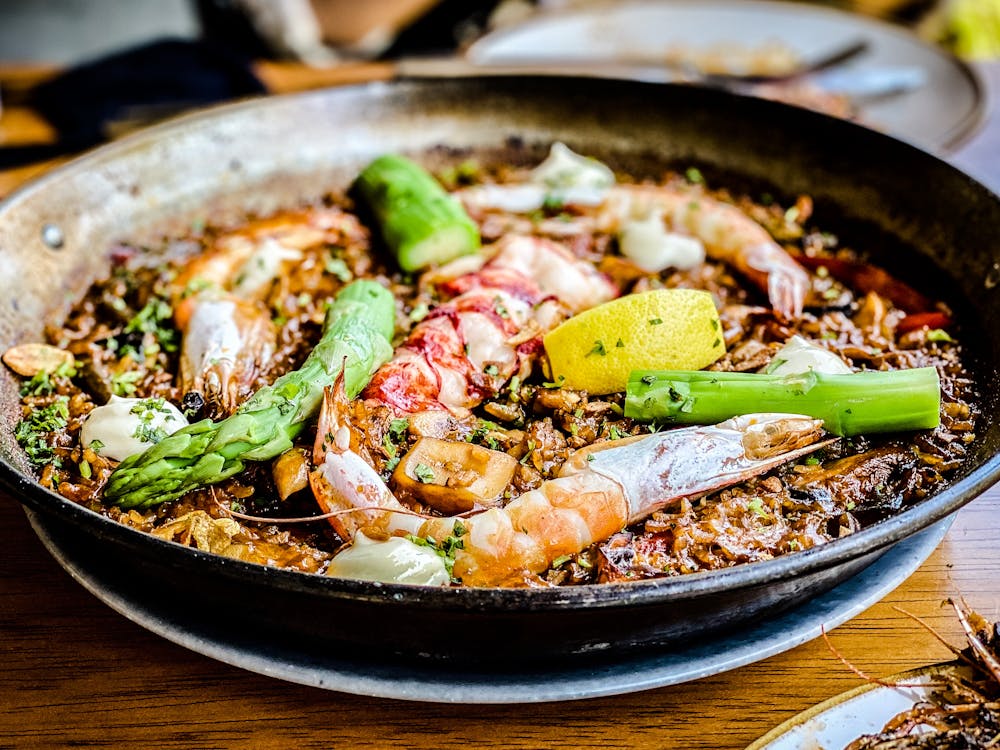 Bayside Buffet at Mandalay Bay
With breathtaking views of the tropical gardens of Mandalay Bay, the Bayside Buffet guarantees a wonderful experience as it is set in a 4-star resort.
You won't have to pay an arm and a leg to dine here, however, and the diverse array of culinary delights is sure to intrigue even the most critical food enthusiast.
The seafood options at Bayside Buffet are sure to amaze, with everything from Las Vegas shrimp cocktails, Alaskan crab legs, and Spanish paella infused with herbs and salmon on offer.
The meat enthusiasts in Las Vegas also swarm to this excellent Las Vegas buffet for the finger-licking roast turkey, prime rib, and grilled steak served at the carving station. The barbecue pork ribs and Swedish meatballs are also to die for.
Bayside buffet breakfast offers a world of flavors, as most expect from a top-tier Las Vegas buffet. The omelet station is particularly impressive, and you can never go wrong with a classic eggs benedict.
You simply can't leave the Bayside Buffet without sampling their delicious cheesecake, and there are plenty of drink options to wash it down with.
A.Y.C.E. Buffet at The Palms
The Palms Resort and Casino shut down in 2017 due to extensive renovation and recently reopened to feature the upscale A.Y.C.E. Buffet. As the name suggests, it is genuinely an All-You-Can-Eat buffet in Las Vegas, so be sure to arrive with a hefty appetite.
This new Las vegas buffet joint came into the scene with a bang, and you can expect countless delectable dishes for a very affordable rate.
There are seven cooking stations at the A.Y.C.E. Buffet, all inspired by seven different countries around the world, and the carving station is particularly attractive for the plethora of favorites it offers, including turkey, ham, prime rib, chicken wings, roast beef, and so much more.
There is a separate roastery section for even more meaty treasures, and the Greenery section boasts all the tasty veggies you could think of. Breakfasts at the A.Y.C.E. Buffet are sure to keep you coming back to indulge in everything from smoked brisket eggs and made-to-order omelets to eggplant in place of bacon and fresh-pressed juice.
The A.Y.C.E. Buffet is a great spot for a champagne brunch involving sweet pastries and even ice cream sandwiches. With such a massive variety of unrivaled dishes on offer, it's easy to see why the A.Y.C.E. Buffet is considered one of the best up-and-coming Las Vegas buffet hubs.
Holiday Point from Melbourne, Australia, via Wikimedia Commons
Carnival World Buffet at Rio
Carnival World is famous for being the first mega-buffet hub in Las Vegas and sits conveniently in the Rio Hotel and Casino.
Despite what the name suggests, Carnival World has much more to offer beyond its diverse array of exquisite meat dishes.
The open cooking stations allow you to watch your dish being created with great care and fresh ingredients, and if you purchase a pass to the Carnival World branch at Rio, you can dine for free at any one of its other branches across Las Vegas within the same day.
The Carnival World seafood selection is simply incredible and includes everything from green mussels and clams to salmon and sushi. As you might expect, this buffet is abundant in meat options, so whether you're craving pork belly or prime rib, you'll certainly find it here.
The Saturday & Sunday champagne brunch is an unmissable event at Carnival World as it boasts scrumptious pancakes and French toast, among many other delectable options.
Even the desserts at this buffet are of the highest quality and include favorites like cupcakes, soft-serve ice cream, chocolate mousse, and fruit pies.
Cravings Buffet at the Mirage
If you're searching for an excellent buffet that won't require you to spend too much, the Cravings Buffet is a safe bet.
International flavors are created across eleven cooking stations, and the elegant decor of the venue only adds to the experience. The best part about the Cravings Buffet is that you can help yourself to any one of countless coca-cola flavors at the self-serve drinks station.
Most people come here for the exquisite seafood variety served with bread bowls and many other mouth-watering side dishes.
Beyond the seafood delights at Cravings Buffet at the Mirage, there are also countless meaty options like grilled flank steak, honey-glazed chicken, pork tenderloin, and barbecue ribs to indulge in.
Breakfast at Cravings is a real treat and allows you to choose between some breakfast classics and other rather unusual options like chocolate pancakes and brisket eggs. If you are in the area for brunch, lunch, or dinner, you just have to try their gourmet cupcakes and something refreshing at the gelato station.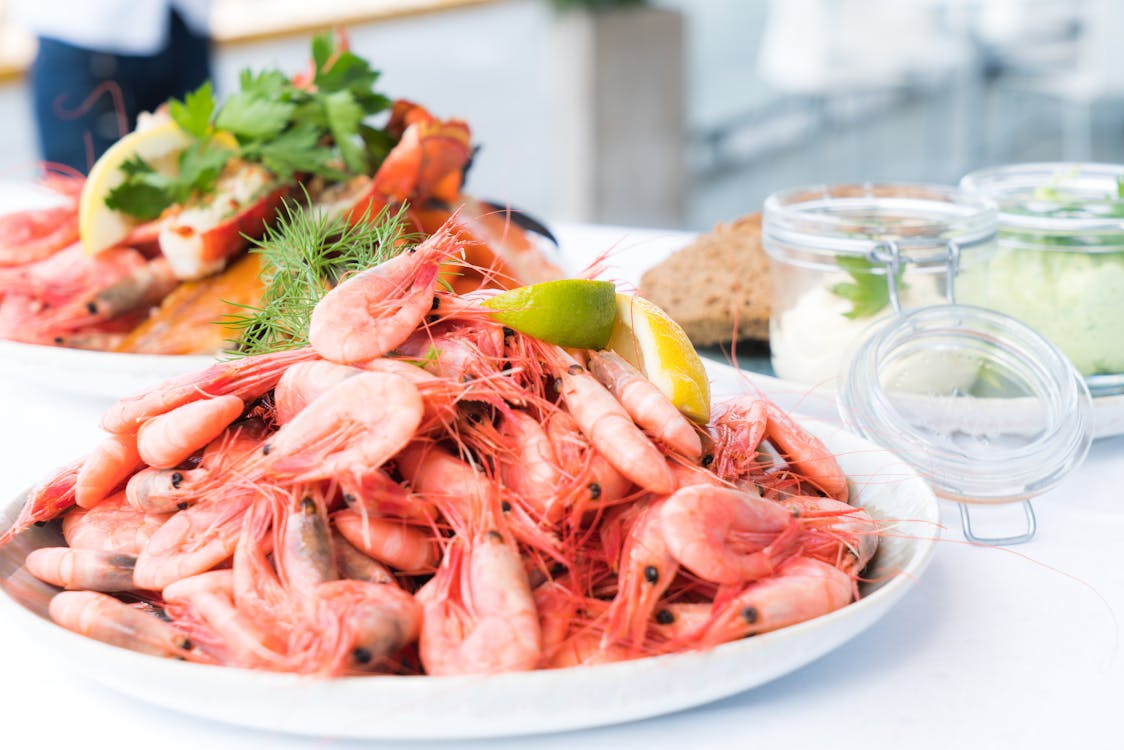 Wrapping Up
As you can see, Las Vegas is a haven of fantastic buffet spots where you'll find absolutely everything you're looking for, whether it is an internationally-inspired weekend brunch or some local favorites for a weekday lunch.
The past few years have been rocky for many reasons, and finding buffets open in Las Vegas became a bit tricky. But the city lights are beaming once more, and the plethora of Las Vegas buffets invites guests of all preferences to indulge in a day of feasting on some of the best dishes the city has to offer.
Hopefully, this list makes the search for an excellent buffet in Las Vegas a bit easier, and the next time you visit the city, you'll know exactly where to go to fill your stomach before venturing out to the exciting Las Vegas Strip.