If you've ever been cruising on one of the Royal Caribbean Ships, you'll know that days can be packed with exciting activities and thrilling excursions. When dreaming about all the fascinating destinations and ports of call you're planning to visit on your cruise, it can be easy to forget that you also need somewhere to relax after a long day of sightseeing.
Cruise cabins are an essential part of any cruise line. Some cruises last for months, and your cabin quickly becomes your home away from home. For this reason, it is vital to choose the right room location for you. Royal Caribbean International is home to a wide selection of unparalleled accommodations and top-notch living spaces, which means that you're bound to find something to suit your budget and your travel needs.
Keep reading for our ultimate guide to Royal Caribbean Suites and Cabins, to help you find the best option for your next getaway on a cruise ship.
Cabins
Inside Cabins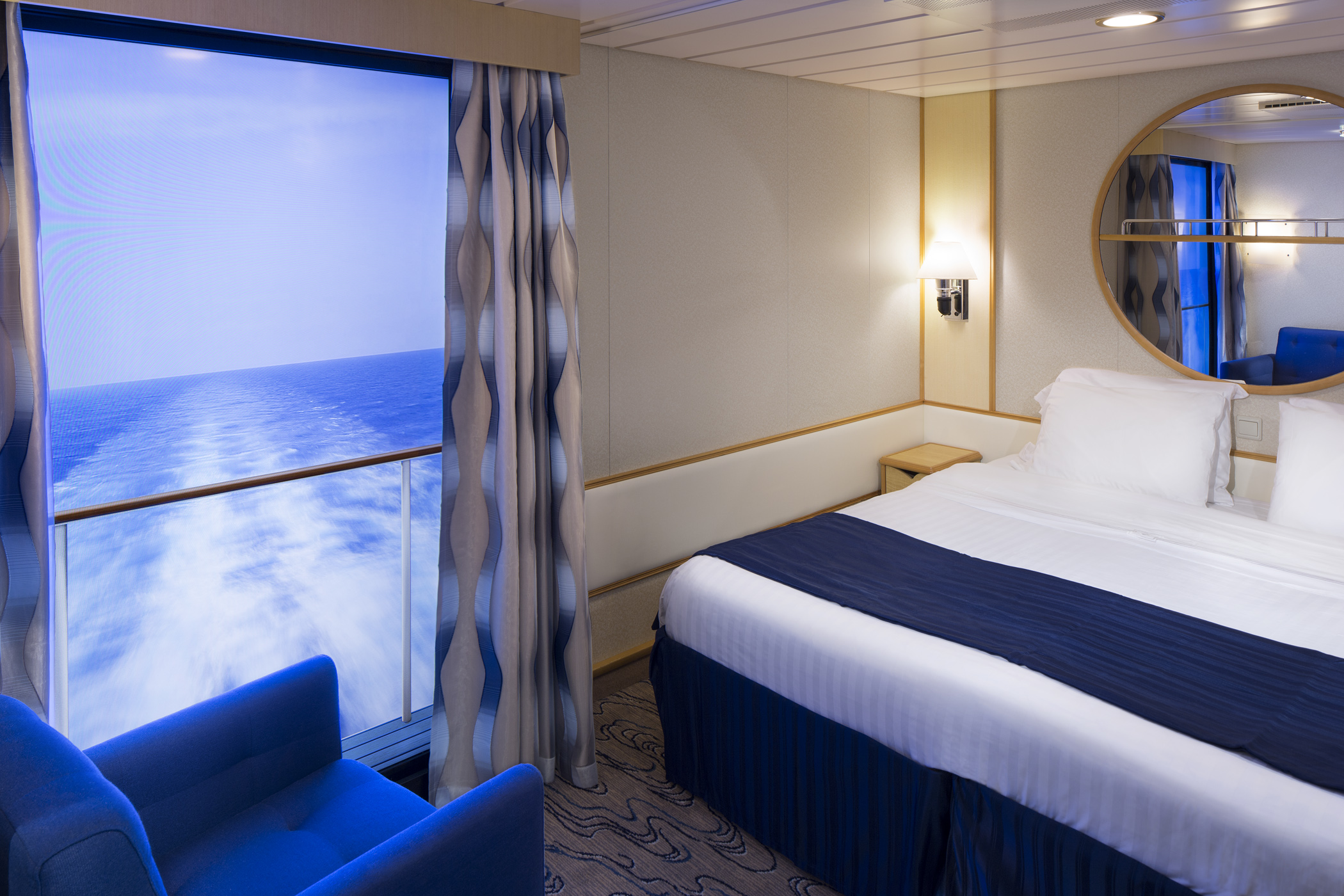 If you're cruising on a tight budget and you don't mind a slightly smaller room, an Interior Room might be perfect for you.
Inside cabins (or interior staterooms) are the smallest and most affordable cabin type on the cruise ship. These cruise ship rooms don't have windows or balconies (except for those with a virtual balcony). Their sizes range between one hundred and eighty to two hundred and seventy square feet.
While some interior cabins can be found across from balcony cabins or ocean-view staterooms, other inside cabins may be located towards the aft or forward of the vessel.
Read our guide to knowing your way around a cruise ship, here!
If you're cruising on one of the Royal Caribbean ships that are home to a promenade deck, you may be able to book a cabin with a view overlooking it for a bit more. Booking one of these is an excellent way to get a cabin with a view while still maintaining your budget.
The inside cabins with virtual balconies feature a large HD screen that offers views and sounds of the ship's current in real-time. Depending on which inside cabin you book, you may also find included bunk beds or Pullman beds, but these often take up a lot of space in the room.
While inside cabins are smaller than suites, guests in interior rooms will still enjoy access to almost everything. Many passengers agree that they're one of the best ways to cruise.
Ocean View Cabins
An ocean-view stateroom is another great budget-friendly option. They offer more space than interior cabins and a porthole through which guests can enjoy the beautiful scenery. It is important to note that portholes don't open, so you won't be able to enjoy a fresh sea breeze. But you will be able to enjoy natural light and stunning views.
On Radiance-class ships, Royal Caribbean also offers Ultra Spacious Oceanview cabins. These can be found at the front and back of the ship and are around three hundred square feet in size. They are ideal for families, with room for up to six guests. These rooms typically include two twin beds that can be combined to form one double bed (or Royal King bed) and a double sofa bed.
This does, however, mean a significantly larger price than regular ocean-view cabins.
The newer ships in Royal Caribbean's fleet offer fewer ocean-view staterooms and more balcony cabins. If you're looking for a room with a view of the ocean, it may be best to book well in advance.
Balcony Cabins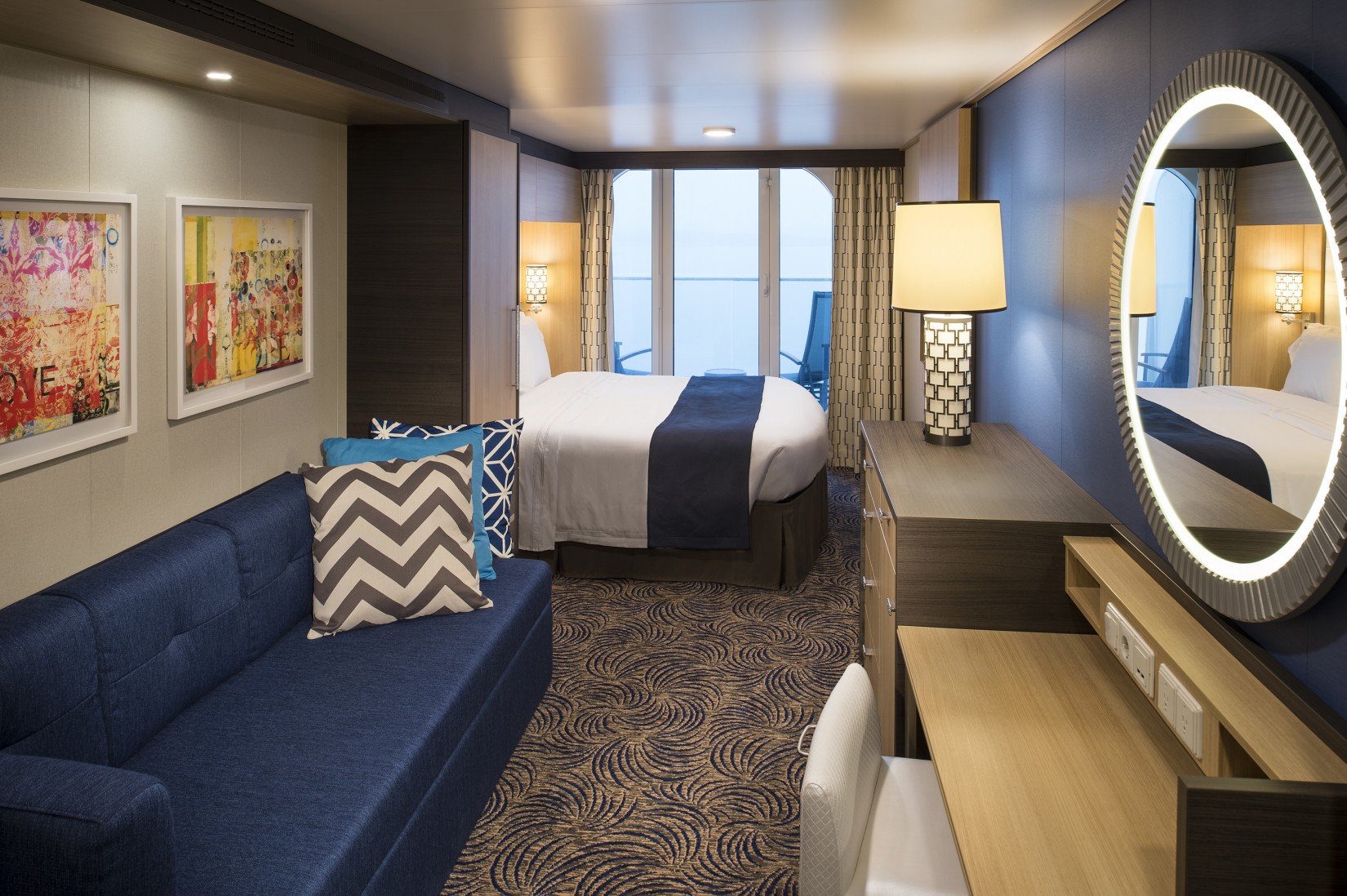 Balcony cabins are perfect for guests who like to sit back and watch the sunrise or sunset. They are quite popular among cruise passengers and provide a private balcony attached to your stateroom. Guests can enjoy the fresh sea breeze, have a peaceful cup of coffee and breakfast, and take in all the sites at a port of call – without ever leaving their rooms.
Balcony cabins also tend to be more spacious on the inside. The typical size for a balcony stateroom is around one hundred and eighty square feet, with an added fifty square feet for the balcony.
If you're sailing on one of Royal Caribbean's Oasis-class ships, you will have a choice between an interior balcony cabin (with a view of the Boardwalk and Central Park) or an outward-facing balcony room (with stunning views of the ocean). Inward-facing balcony staterooms tend to be a lot noisier, and Central Park balcony rooms are less expensive than Boardwalk balcony rooms.
If you're looking for a room with a balcony, but you're traveling on a budget, you may consider booking one of Royal Caribbean's balcony staterooms with an obstructed view. Most often, these balcony rooms have views that are totally or partially obstructed by the lifeboats. They cost less, and you will still be able to enjoy the feeling of sitting on a balcony in the fresh air. If you're smart or familiar with deck plans, you can also book a room nestled between two lifeboats, which would give you somewhat of a view.
Because balcony staterooms are so popular, there has been an increasing demand for them on cruise ships, and Royal Caribbean has been adding more balcony rooms to their latest ships to accommodate this. You will find fewer balcony cabins on Royal Caribbean's older cruise ships.
Suites
Booking a suite on one of Royal Caribbean's newer and bigger ships will not only give you more living space but offers a unique and exclusive experience. If money is no object and you can afford to splurge, be sure to book one of these lavish cabins.
Some cruise ships also provide a butler service to suite guests (called a Royal Genie). There are also several amenities exclusive to suite passengers, such as specialty lounges, restaurants, and a sun deck. When embarking, suite guests also receive a dedicated check-in queue and priority boarding.
There are a variety of suite classes to choose from.
Royal Suite Class
Royal Caribbean's Quantum-class and Oasis-class ships include Royal Suite classes. Staying in one of these suites means enjoying a luxurious experience fit for royalty, spacious rooms, and exclusive amenities reserved only for suite guests.
There are three different tiers in the Royal Suite Class, namely: Sea Class, Sky Class, and Star Class.
It is important to note that these exclusive spaces and expertly crafted experiences also come at a premiere cost, and would not be ideal for cruisers on a budget.
Star Class
The Star class is the highest tier for Royal Caribbean suite cabins and is specifically designed for a VIP cruise experience. It offers an all-access pass to the biggest and most luxurious cabins on the ship. Guests staying in a Star-class suite will enjoy the services of a concierge (the Royal Genie) who is there to see to all their needs.
Other benefits of staying in a Star-class suite include:
Priority Disembarkation
Access to the Concierge Lounge
Access to the Sun Deck
Dining at the Coastal Kitchen
Special Dining
Premium Alcoholic Beverages
Unlimited VOOM Internet Access
Invitations to Exclusive Events
Complimentary Gratuities
The suite types that fall under the Star class include:
The Ultimate Family Suite
Villa Suite
Royal Loft Suite
Owner's Loft Suite
Grand Loft Suite
Star Loft Suite
One-Bedroom Panoramic Owner's Suite
One-Bedroom Panoramic Grand Suite
Two-Bedroom AquaTheater Suites
Sky Class
Royal Caribbean's middle tier is the Sky class. While they are slightly less expensive, and a small step below Star-class suites, guests staying in Sky-class suites will still enjoy incredible experiences, stunning spacious rooms, and exclusive services.
Some of the benefits for Sky-class guests include:
Priority Departure
VOOM Internet Connection
Concierge Services
Access to Exclusive Events
The suite types that fall under the Sky class include:
One-Bedroom Grand Suites
Two-Bedroom Grand Suites
Crown Loft Suite
Sky Loft Suite
One-Bedroom Owner's Suite
One-Bedroom AquaTheater Suite
Golden Balcony Suite
Golden Junior Suite/ Junior Suite with Balcony
Sea Class
The lowest suite tier is the Sea class. It can be found on Royal Caribbean's Quantum and Oasis-class ships. Cabins in the Sea class include luxe bathrooms and espresso coffeemakers.
Other benefits include:
Priority embarkation
Dedicated check-in queue when embarking
Dinner at the Coastal Kitchen
The suite types that fall under the Sea class are all Junior suites.
Ultimate Family Suite
When Royal Caribbean International launched the Ultimate Family Suite, it made a big impression on the cruise industry. There are only three ships that include Ultimate Family Suites, namely Wonder of the Seas, Spectrum of the Seas, and Symphony of the Seas.
If budget isn't an issue, and you're traveling with younger kids in tow, the Ultimate Family Suite is ideal for you.
It has multiple levels and various rooms. There is also an air-hockey table, a ping pong table, a gaming room, an indoor slide, and an in-suite cinema. For the parents, the Ultimate Family Suite includes a private hot tub and a stylist, relaxing master suite.
The Ultimate Family Suite makes up just over one thousand square feet, excluding its private balcony of an additional two hundred square feet. It can sleep up to eight passengers, which means there is more than enough space for the whole family.
Other benefits include:
Royal Genie (Concierge) Services
Complimentary Beverage Packages
Specialty Dining Packages
Free Access to VOOM Internet Connection
Keep in mind that this forms part of the Star class and comes at a hefty price. It can cost around twenty thousand USD (or more) to book an Ultimate Family Suite.
Villa Suites
If you're traveling in a larger group onboard one of Royal Caribbean's Oasis and Quantum-class ships, you may decide to splurge and book a Villa suite. This premiere experience, formerly called the Presidential Suite, includes four luxury bedrooms and can sleep up to fourteen passengers.
A Villa suite is just over one thousand square feet in size, and home to two master bedrooms and two guest bedrooms – each with its own en-suite bathroom. There is also an additional four hundred square feet of private balcony space. The large private balcony has a hot tub and there is a spacious living area with comfortable sofas.
The Villa suites fall under Royal Caribbean's Star class, but many guests have found ways around the premium cost of staying in such luxurious accommodation. Sailing during the off-season, combined with promotions and sales, can make ticket prices go as low as one thousand USD per person.
Loft Suite
Some of the newer ships in Royal Caribbean's fleet also offer stunning Star, Sky, Crown, and Royal Loft Suites. These multi-unit suites include separate bedrooms and bathrooms, and private hot tubs on their balconies.
The Crown, Star, and Sky loft suites are rooms consisting of two stories that can sleep up to four passengers. Crown loft suites are around five hundred square feet big, and Sky and Star lofts are seven hundred and fifty square feet in size.
Royal loft suites can sleep up to six guests and are more than one thousand five hundred square feet in size, with an additional five hundred square feet for the balcony.
If you're cruising as a family or in a larger group, loft suites may be perfect for you.
AquaTheater Suite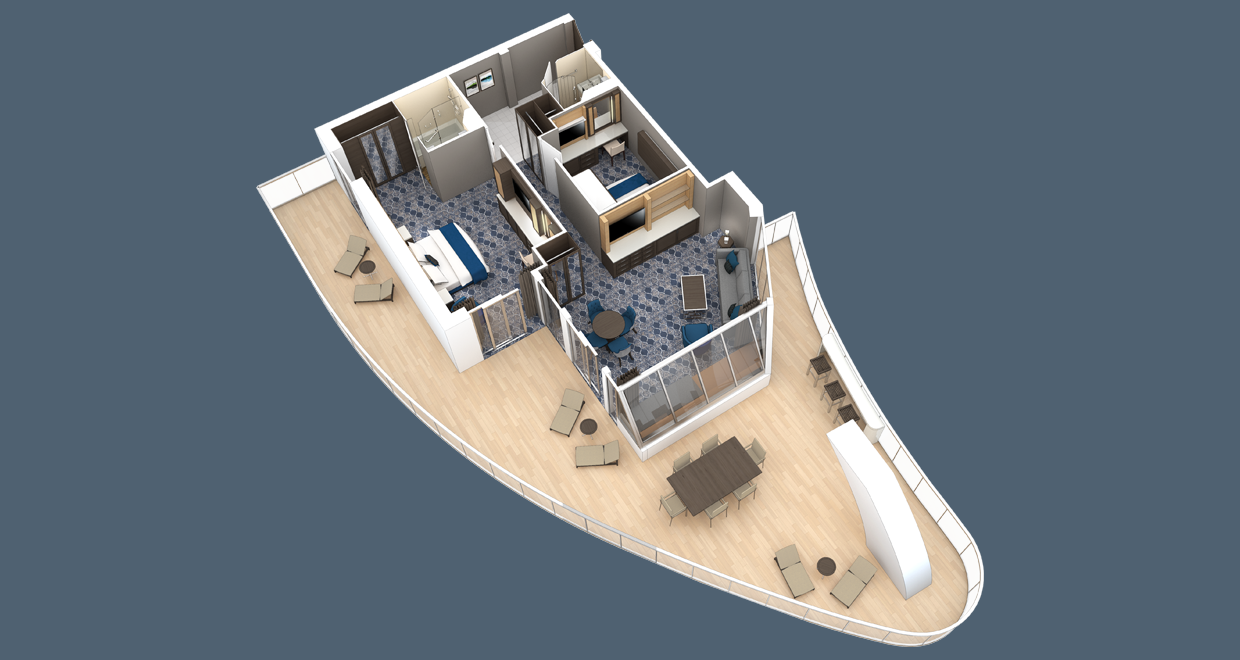 AquaTheater Suites can be found on Royal Caribbean's Oasis-class vessels. They are named for their gorgeous views of the Aqua Theatre and include spacious rooms and a large wraparound balcony that is nearly equal in size to the cabin.
AquaTheater suites come in one-bedroom and two-bedroom options, with the two-bedroom suite falling under the Star class and the one-bedroom suite falling under the Sky class. Guests in the two-bedroom AquaTheater suite will also be able to make use of the Royal Genie concierge service.
AquaTheater suites are between six hundred and seventy square feet and eight hundred and twenty square feet in size. The major appeal of these spacious suites is the fact that you can watch AquaTheater shows from your stateroom balcony!