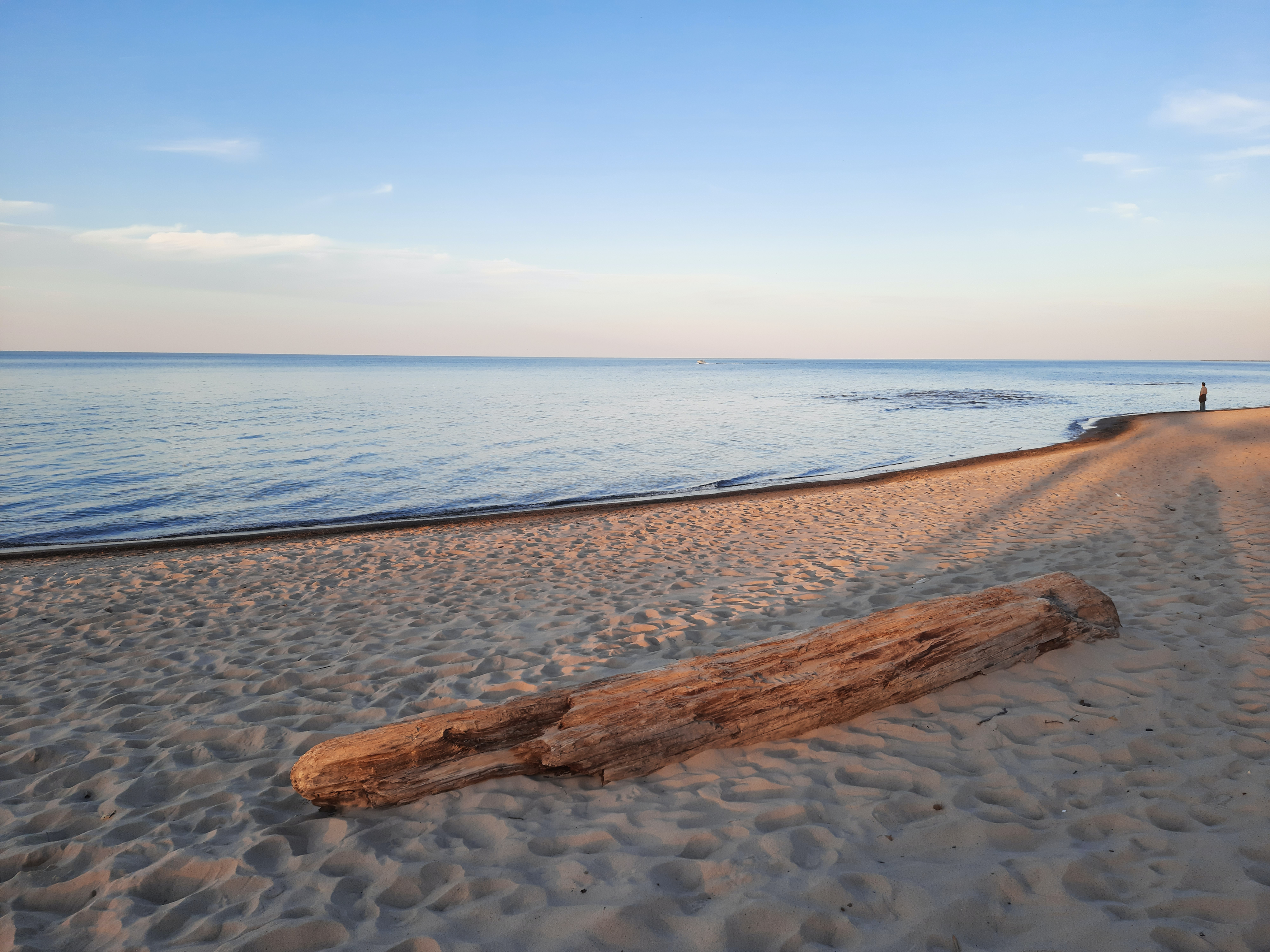 With a freshwater coastline that stretches for nearly 3,200 miles, Michigan boasts some of the most stunning beaches in the United States – and it's not hard to see why: the wide, sandy beaches of Michigan's Great Lakes boast clear turquoise water and rolling sand dunes that provide hours of laid-back fun in the sun, while the surrounding beach towns evoke the feeling of a summertime vacation in Cape Cod.
From the Upper Peninsula in northern Michigan to the Lower Peninsula in the south, we've rounded up a list of some of the best beaches in Michigan that you can use as inspiration for your next beach vacation.
An Overview of the Great Lakes Region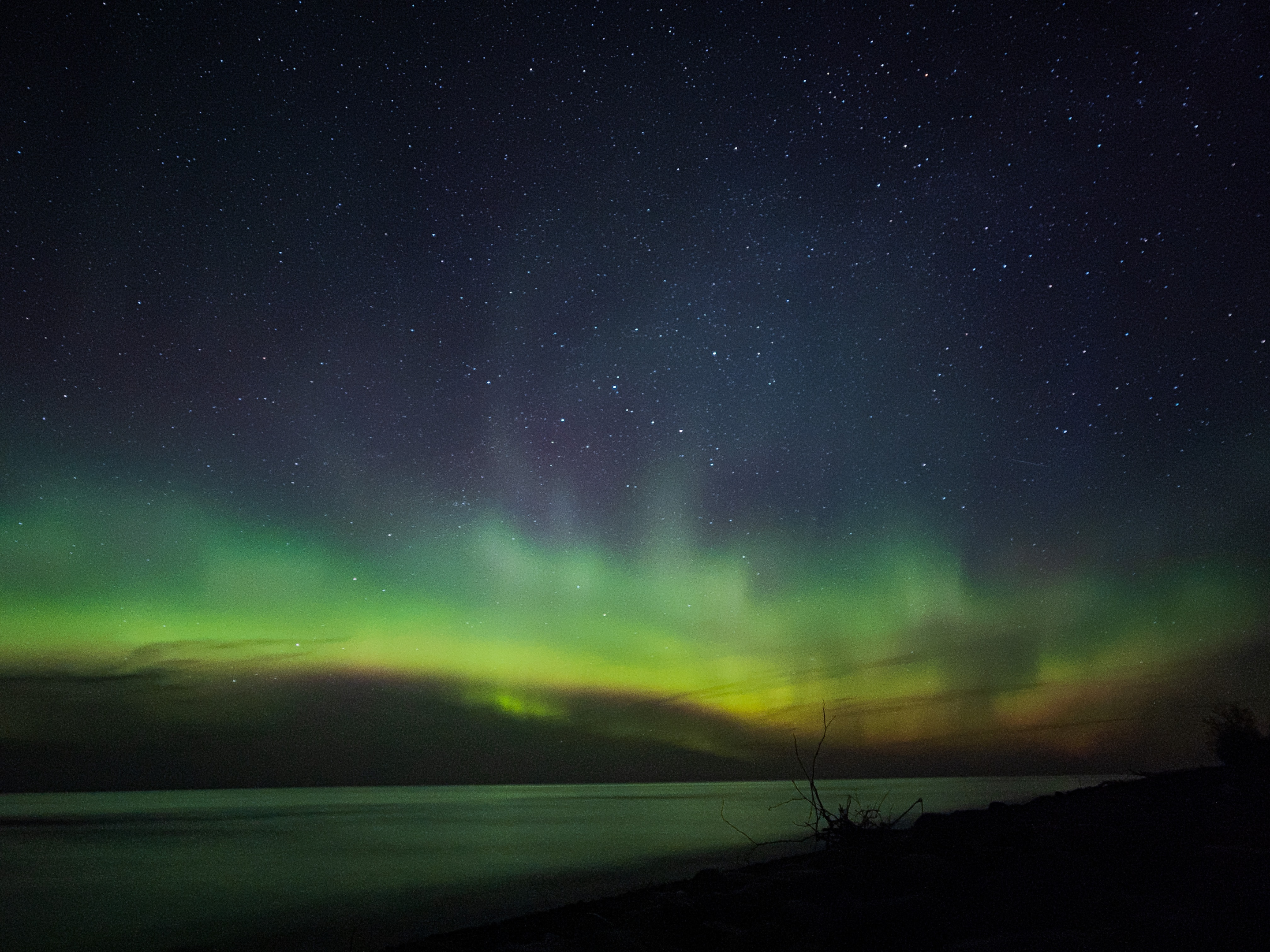 If you're new to the Great Lakes and wondering what all the fuss is about, here are a few more reasons why you need to add this area to your bucket list.
In the summer, the shallow water lining the coast is quickly warmed by the heat of the sun, creating the perfect temperature for swimming and splashing about.
Then, as the weather begins to turn with the changing of the seasons, the cooler waters result in the ideal conditions for kitesurfing. So, whether you're watching the waves come rolling in from a distance or braving the cold to ride the swells, there's no doubt that Michigan beaches are spectacular during the fall.
Another bonus is that there are no sharks and no salt in any of these inland lakes, just crystal-clear water and endless miles of sugar-white-sand beaches that you can sink your toes into.
Of course, the beaches are just one aspect of everything the Great Lakes region has to offer; there are lots of tourist attractions worth seeing here, too.
Now that we've convinced you to explore this beautiful area, check out our list below of the best Michigan beaches (and beach towns, too!) so you can start planning your trip here today.
30 Best Michigan Beaches
1. Charlevoix
This picturesque beach town occupies a narrow strip of land between the shores of Lake Michigan and Lake Charlevoix and boasts some of the best beaches in Michigan.
It's home to the Charlevoix South Pier Lighthouse, which is accessible via the pier that runs all the way down from the beach. The pier has benches for watching the boats go by or admiring the breathtaking Lake Michigan sunsets, while the beach itself is a great spot for finding Petoskey Stones; fossilized pieces of coral that can only be found along the Lake Michigan shoreline.
Given its location between two lakes, Charlevoix offers plenty of opportunities for water sports and other recreational activities, including swimming, sailing, fishing, kayaking, and diving. There are also lots of wonderful hiking trails for those who prefer to stay on dry land.
2. Empire Beach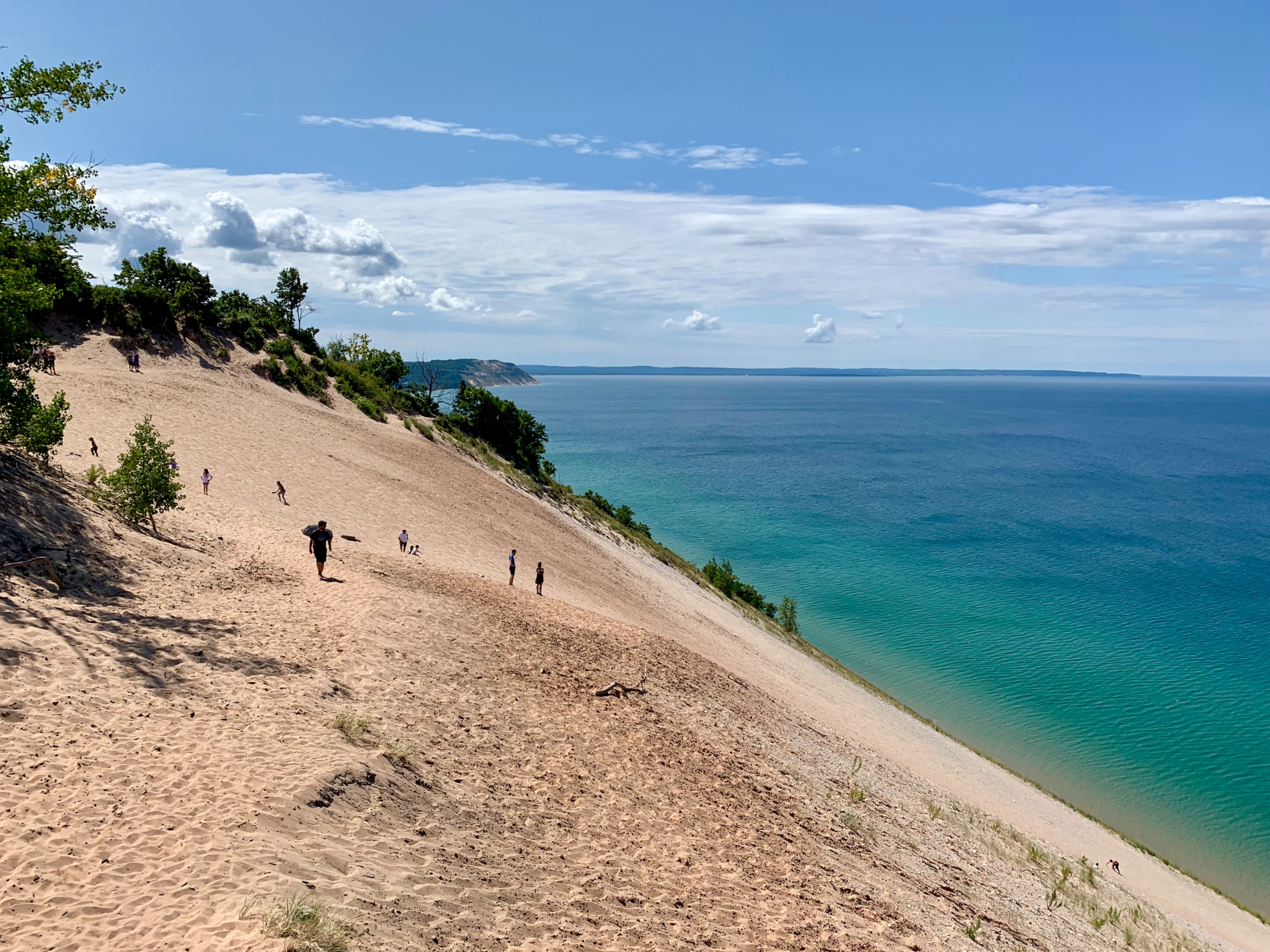 Located in the heart of the Sleeping Bear Dunes National Lakeshore is where you'll find Empire Beach, one of the prettiest locations along the Lake Michigan coastline. The gorgeous scenery makes it a popular destination among locals and visitors alike, as well as its proximity to downtown Empire, which is just a few blocks away.
It's also a favorite among families since there is plenty of parking near the beach and a playground for the kids. Empire Beach is pet-friendly, too, making it ideal for a day of relaxing on the sand with your fur baby.
Additionally, Empire Beach is a great base from which to explore the Sleeping Bear Dunes National Lakeshore, as well as some of the other beaches in the vicinity. Platte Bay is also nearby, where the Platte River flows into Lake Michigan.
Where to stay: Located in downtown Empire, The Empire Lakeshore Inn offers clean and cozy accommodation just minutes away from Empire Beach.
3. Frankfort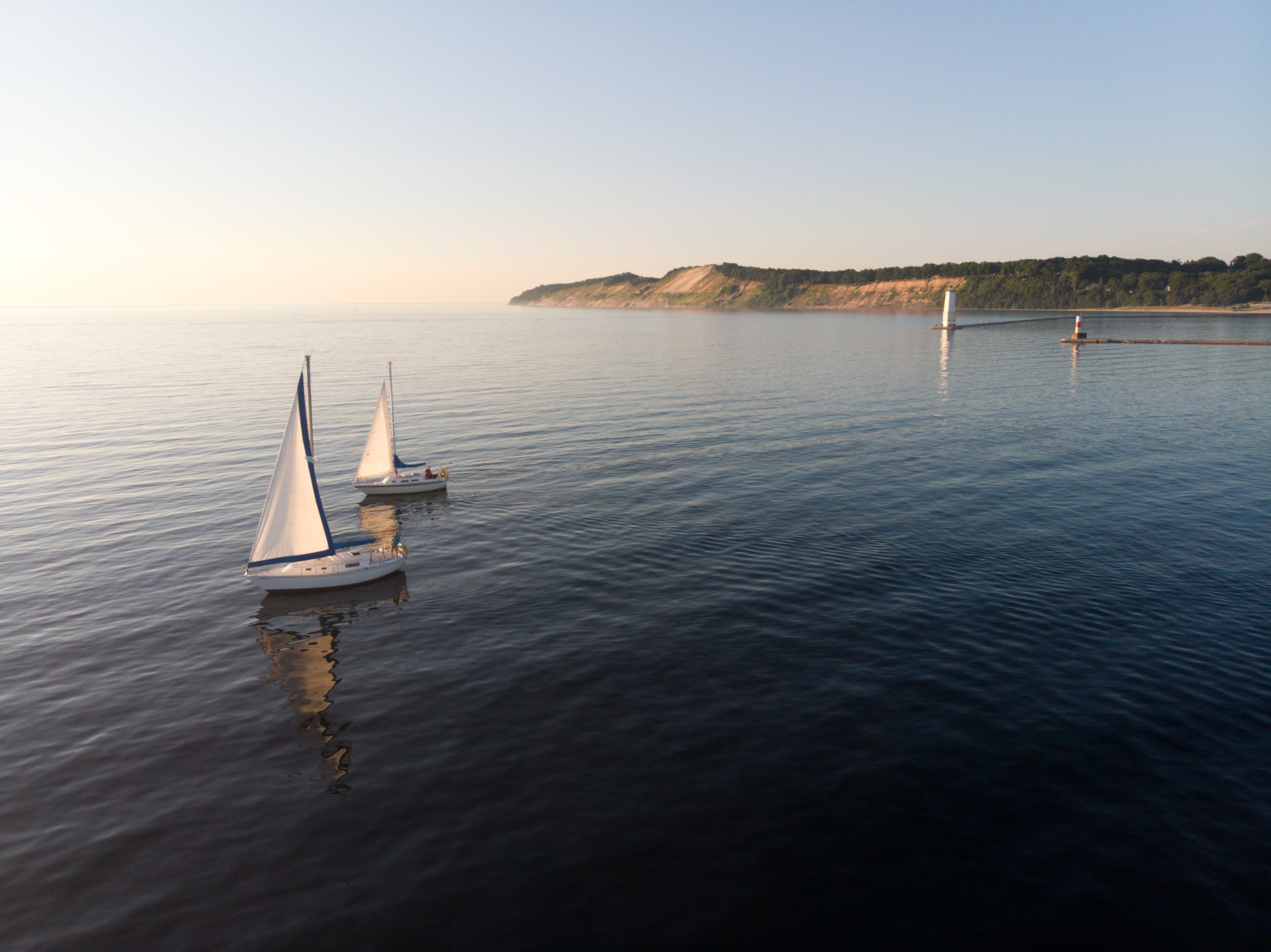 Known as the gateway to the Sleeping Bear Dunes, Frankfort is the quintessential Lake Michigan beach town, complete with charming shops and eateries and an iconic lighthouse.
It's home to the Frankfort Public Beach and Playground, which is known for its Caribbean-blue waters and gentle sand bluffs overlooking Lake Michigan. Here you'll also find tons of benches for watching the sunsets, a playground, and a pier that's perfect for jumping off into the water on warm summer days.
4. Grand Haven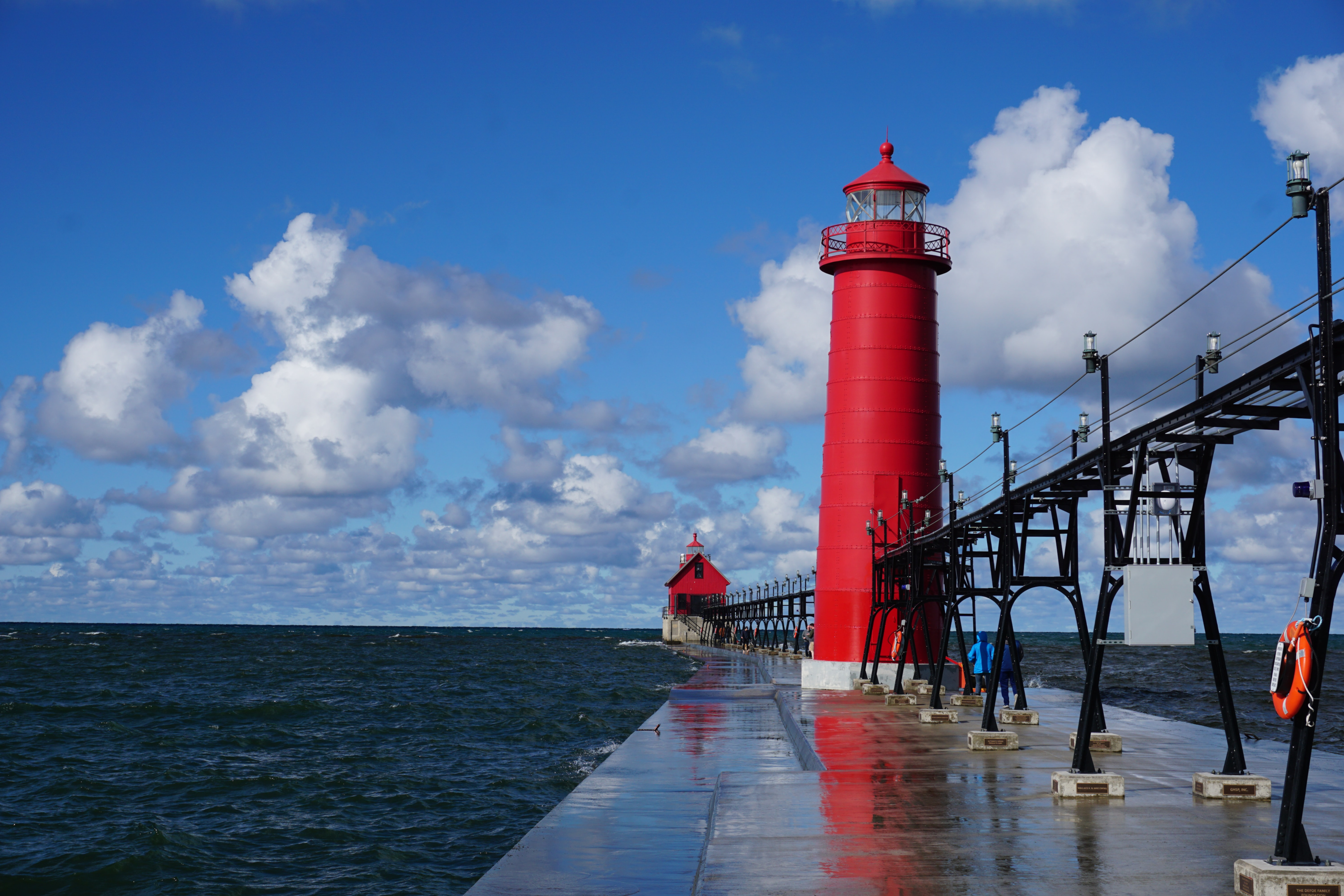 Grand Haven is a city in West Michigan that offers not one but two amazing beaches on the shores of Lake Michigan. Grand Haven State Park sits at the mouth of the Grand River and encompasses over 40 acres of sandy beaches with scenic views of the Grand Haven South Pierhead lighthouses. Grand Haven City Beach lies just below Grand Haven State Park.
Both beaches feature camping sites and picnic areas, as well as volleyball and playground equipment for kids. Users of mobility devices are also catered for at Grand Haven beaches since there are wide bricked pathways that provide an easy way to access the Lake Michigan shoreline.
Grand Haven is also a pet-friendly beach town; most of the shops in the downtown area provide water bowls and you are allowed to take your dog for walks on the beaches during certain hours.
Where to stay: The Holiday Inn in Spring Lake is a great choice for those looking for clean and comfortable accommodation with lots of amenities. The Harbor House Inn is another good option, especially if you want to be within easy reach of both the beach and the downtown area.
5. Hunter's Point Park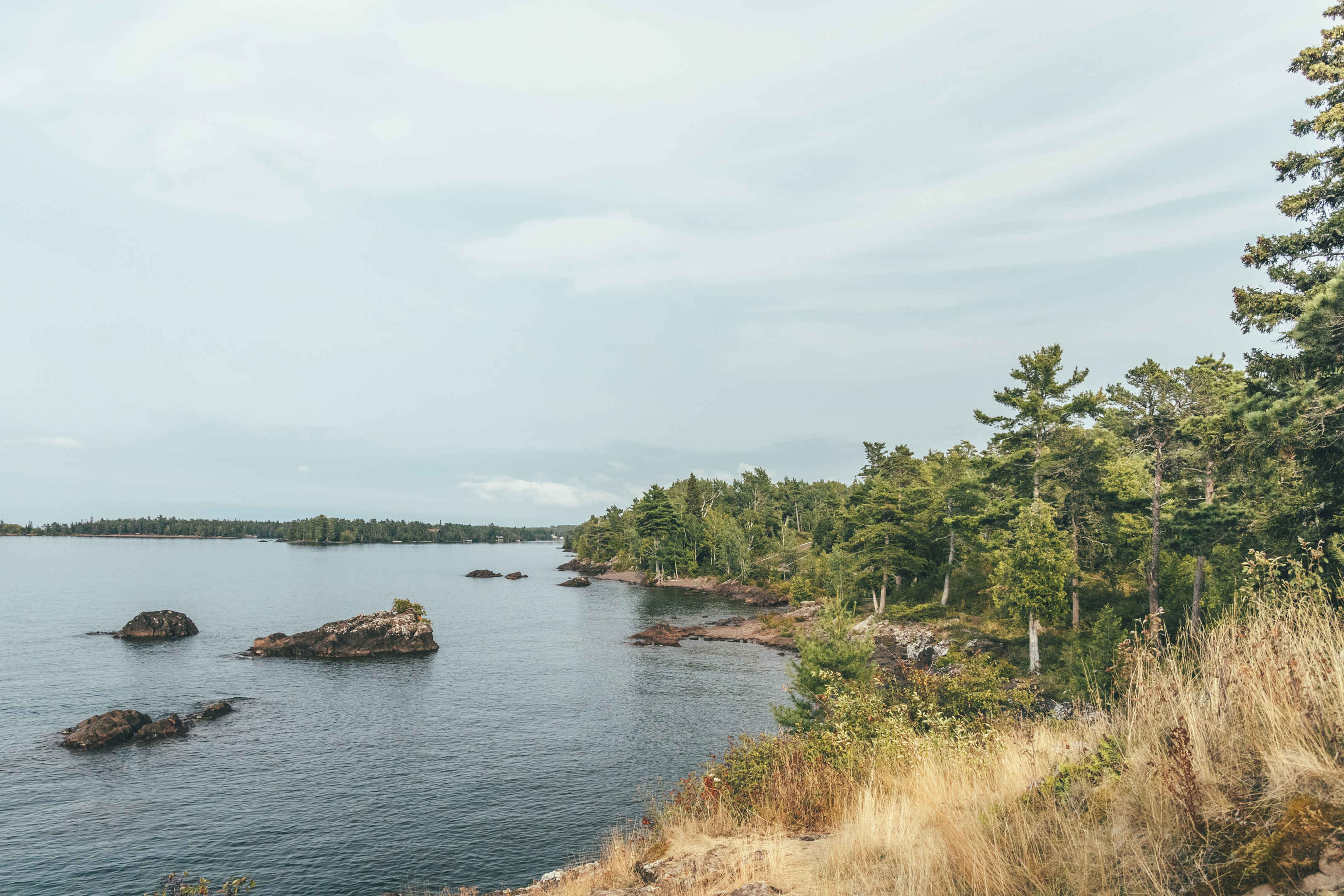 Situated at the tip of Michigan's Keweenaw Peninsula is this rugged stretch of remote coastline that's ideal for a full day of hiking on the beach.
Before you go, it should be noted that this isn't a sandy beach and that you'll need to wear appropriate shoes for clambering over the mix of boulders and smooth red rocks along this stretch of Lake Superior shoreline.
To reach it, you'll need to follow a wooded path lined with thick patches of wild thimbleberries, which eventually widens out into the bay. The trek is worth it, however, when you find yourself gazing out over the shimmering waters of Lake Superior from this secluded location.
The nearby town of Copper Harbor is also worth a visit, where you'll find something for every kind of nature lover.
6. Lexington Beach
If you love staying in quaint towns, then this gem on the shores of Lake Huron might appeal to you. Lexington is home to a beautiful beach at the Lexington State Harbor with a pier that juts out into the crystal-clear waters. There's also a playground for the kids.
Meanwhile, downtown Lexington is filled with a delightful array of shops and restaurants and offers a laid-back resort-town atmosphere. It's also within easy reach of the metro Detroit area.
In the mood for a scenic drive? Take the road that runs along the shoreline and stop at one of the roadside parks along the way where you'll be able to enjoy sweeping views of Lake Huron from a secluded beach. You can also head further north to the picturesque towns of Harbor Beach and Port Sanilac.
Where to stay: The Cadillac House Inn & Tavern offers pet-friendly accommodation on the beachfront, while A Night to Remember Bed and Breakfast is just a short walk from the shores of Lake Huron.
7. McCarty's Cove
Located a hop, skip, and a jump away from downtown Marquette, the largest city in Michigan's Upper Peninsula, is this gem on the edge of Lake Superior.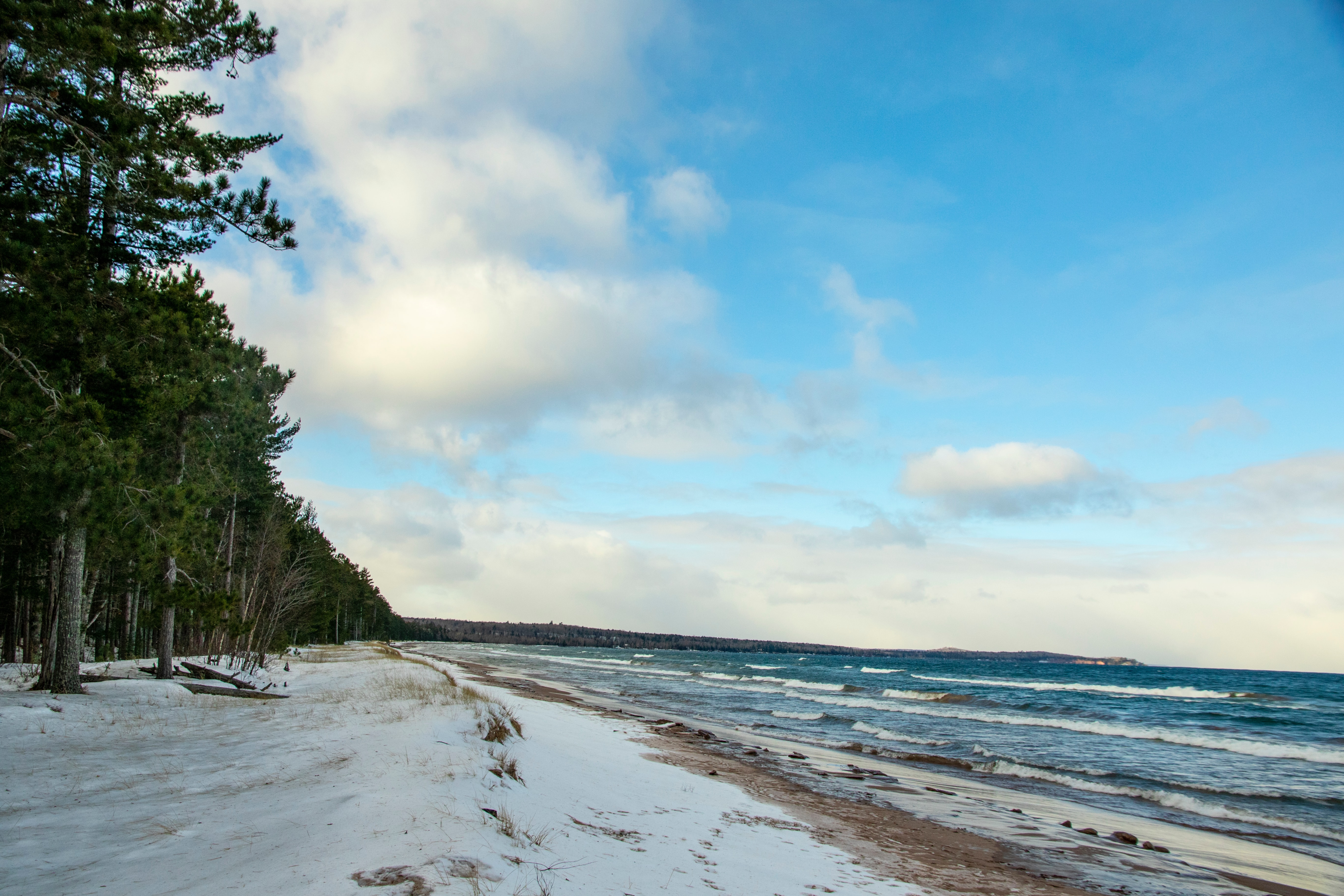 McCarty's Cove is a favorite destination among locals and visitors alike, and it's not hard to see why. It features a wide, sandy beach with a lifeguard, picnic benches, beach volleyball, and more. There's also a plethora of hiking and biking trails to explore in the vicinity, so you'll never be in want of things to do here.
In addition to being an outdoor enthusiast's playground, downtown Marquette is also jam-packed full of quaint shops and eateries. There's also a handful of breweries where you can sample some local brew.
8. Mich-E-Ke-Wis Park
Occupying a shallow stretch of coastline along Lake Huron is this lovely park with plenty of amenities for visitors to enjoy. The shallow waters are quickly warmed by the heat of the sun, making it ideal for swimming and splashing around in the surf. You'll also find a Splash Pad, sports fields, playground equipment, horseshoe pits, volleyball courts, a picnic area, off-street parking, and a park shelter that can be hired for social events.
Mich-E-Ke-Wis Park is also wheelchair accessible with a paved pathway running the length of the shoreline. The park also allows dogs, provided that they are on a leash, and there are many cottages and vacation rentals nearby if you're looking for lodging.
Where to stay: The Holiday Inn Express is a good option, offering accommodation with an indoor pool and a sun terrace. The Days Inn is another solid choice. Both are within minutes of the beach.
9. Oscoda Beach Park
Bordering Lake Huron is this wide, sandy beach that's within walking distance of all the shops and eateries in downtown Oscoda, a quaint beach town with plenty to offer visitors.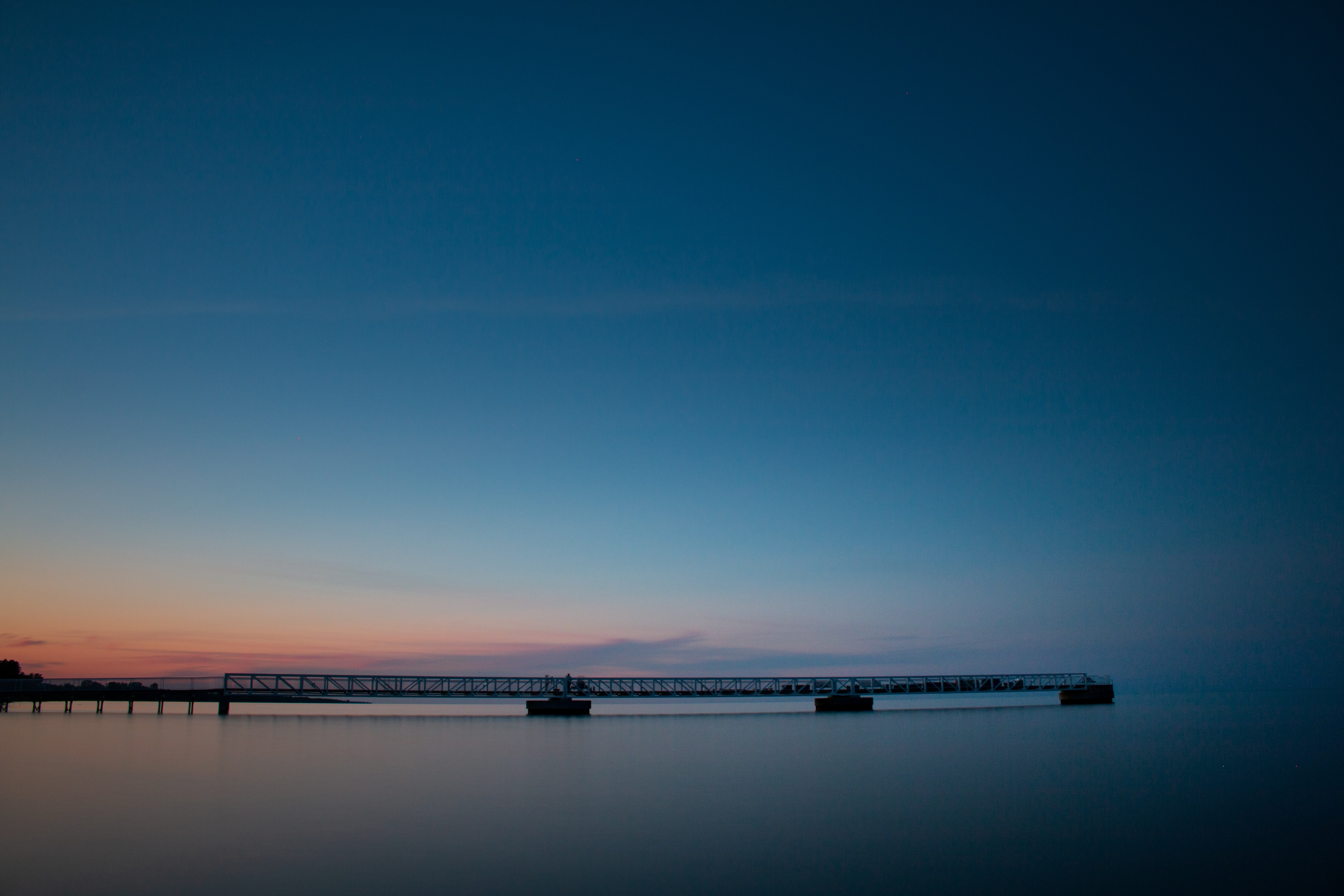 The beach itself has a pier that's ideal for casting a line out into the water and a boardwalk that's wheelchair accessible. Best of all is the shallow water next to the shore that's perfect for a refreshing swim.
Other amenities at Oscoda Beach Park include a playground, a skateboard park, a basketball court, and a picnic area with BBQ facilities and benches. There's also a band shell in a shaded area that hosts shows and concerts during the summer.
Where to stay: The Oscoda Lakeside Hotel sits directly on the beachfront, offering standard hotel rooms with an indoor pool plus a daily continental breakfast. Gold Coast Family Cottages are also located on the beach and feature two-bedroom cottages with separate living rooms and terraces.
10. Oval Beach
Ranked among the 'top 25 beaches in the world' by Conde Nast's Traveler Magazine, Oval Beach is truly a sight to behold. It's nestled between towering sand dunes and borders the Kalamazoo River as it winds its way into Lake Michigan. The water here is also the most inviting shade of blue.
Where to stay: The Lake Shore Resort offers three-star accommodation just steps away from the beach with a free continental breakfast, loaner kayaks and bikes, and a heated outdoor pool.
11. P.J. Hoffmaster State Park Beach
Offering miles of hiking trails and towering sand dunes across thousands of acres of breathtaking coastline, the P.J. Hoffmaster State Park is a beachgoer's delight. It's also a great spot for birdwatching since the area is known to draw a variety of migrating songbirds like thrushes, sparrows, and warblers.
There's also an observation deck where you can enjoy uninterrupted views of this naturally stunning stretch of coastline, as well as a nature center that offers information on the native fauna and flora.
You can also find restrooms, picnic tables, BBQ facilities, beach volleyball, and more at the P.J. Hoffmaster State Park.
Where to stay:There is a range of accommodation options in the towns of Muskegon and Norton Shores to the north of the park, and Spring Lake and Grand Haven to the south.
12. Port Crescent State Park
Located on the shores of Saginaw Bay, at the tip of The Thumb of Michigan, is arguably one of the best beach destinations in the entire state. Here, you'll not only have access to miles of sandy shoreline, but also some of the only sand dunes on Lake Huron.
There are scenic walking trails and a wooden boardwalk for persons with limited mobility, as well as campgrounds. During the summer months, you'll find couples, families, and other beachgoers quietly enjoying the sparkling blue water of Lake Huron.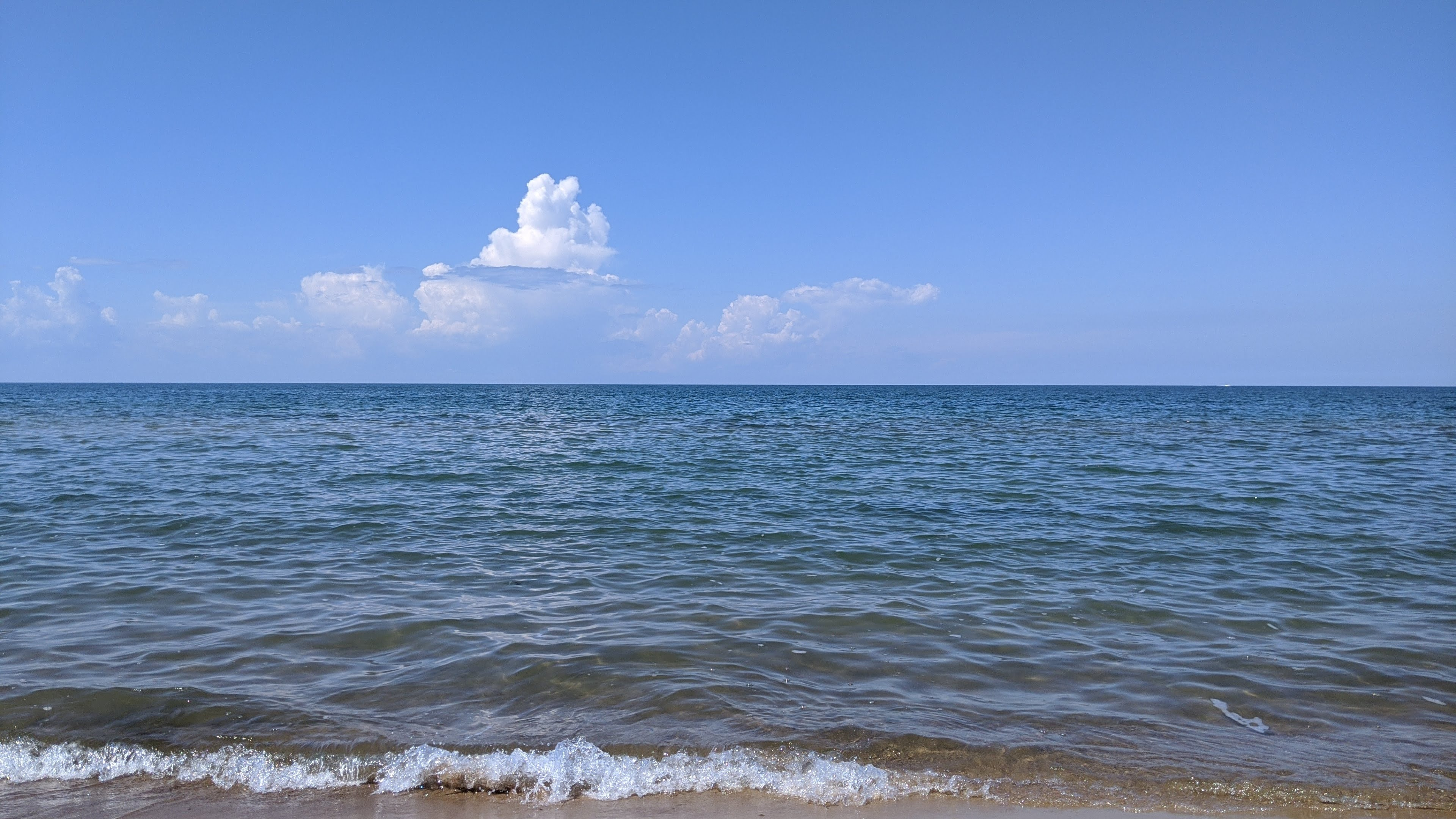 Port Crescent State Park is also a designated dark sky preserve, with Lake Huron providing the perfect backdrop for stargazing while the waves lap gently against the shore.
Where to stay: The nearby town of Port Austin has a variety of accommodation options, ranging from hotels to self-catering chalets.
13. Rogers City
Nicknamed the 'Nautical City', this charming little town bordering Lake Huron has plenty to offer visitors. Downtown Rogers City is home to Lakeside Park, a picturesque recreation area that shares a border with Lake Huron. The park sits on 10 acres of land and encompasses the Rogers City Marina, a swimming beach with volleyball and basketball courts, playgrounds, and a picnic pavilion.
Rogers City is also a haven for outdoor enthusiasts, with ample opportunities for fishing in the sparkling waters of the lake and riding the Huron Sunrise Trail, an 11-mile-long footpath and cycleway that runs from the south to the north end of town.
Other nearby attractions include the P.H. Hoeft State Park and the 40 Mile Point Lighthouse. The Cheboygan State Park and Mackinac Island are also within easy reach if you fancy taking a short detour.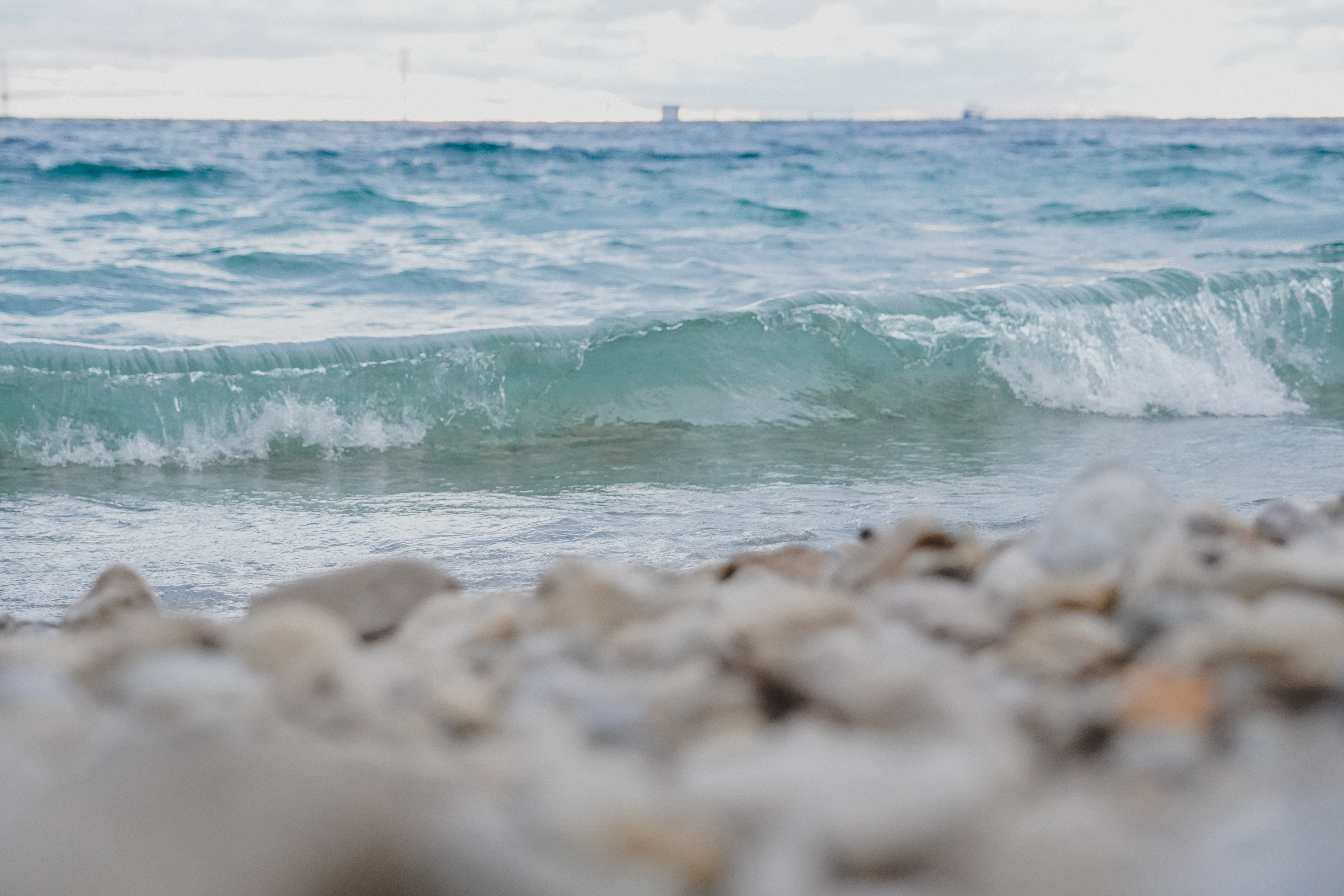 Where to stay: If you're looking for lodging that's just steps away from the beach, try the Purple Martin Lakeside Inn. This charming bed and breakfast is situated inside a bird sanctuary and offers a complimentary breakfast to guests.
14. Saugatuck Dunes State Park
Located just north of Oval Beach, on the other side of the Kalamazoo River, is this secluded strip of beach that runs for three miles along the Lake Michigan coastline.
The Saugatuck Dunes State Park comprises 1,000 acres of coastal dunes, sandy hiking trails, and opportunities for bird watching.
It's also located within the popular little beach town of Saugatuck, which is known for its pristine beaches, award-winning wineries and breweries, and artist community.
Where to stay: To make the most out of your visit, we recommend staying overnight at The Hotel Saugatuck, which offers refined rooms with whirlpool tubs, breakfast, and free evening desserts.
15. Sleeping Bear Dunes National Lakeshore Beaches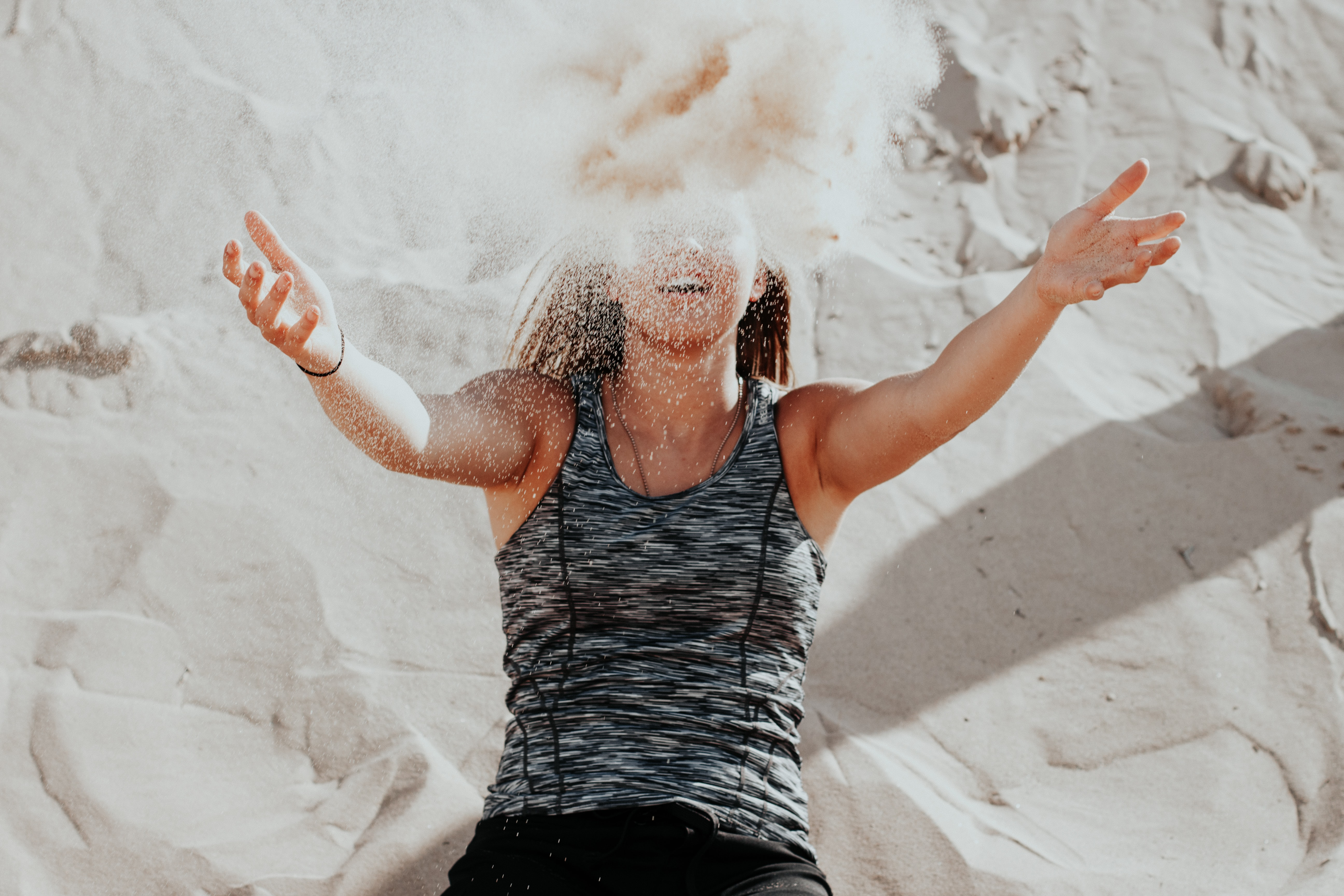 Running for more than 30 miles along Lake Michigan's eastern shoreline is the Sleeping Bear Dunes National Lakeshore. Featuring soft sugar sand beaches, clear, turquoise waters, massive sand dunes, and endless hiking and biking trails, it's no wonder this area has been named one of the most beautiful places in America.
The lakeshore also encompasses North Manitou Island and South Manitou Island, which you can view from almost any point along the shoreline.
In addition, the Sleeping Bear Dunes National Lakeshore boasts some of the most beautiful inland lakes in the entire country. Besides Lake Michigan, Glen Lake, Platte Lake, Crystal Lake, and Lake Leelanau are all located nearby.
Overall, if you're looking for a family-friendly location with pristine beaches, towering sand dunes, and verdant forests, then Sleeping Bear Dunes National Lakeshore could be for you. You'll also love the nearby beach towns of Glen Arbor, Frankfort, Empire, and Leland.
Where to stay: The Sylvan Inn, a charming bed and breakfast located in downtown Glen Arbor, or the M22 Inn, which makes a great base from which to explore the sand dunes.
16. South Beach Park, South Haven
Boasting one of the area's most popular beaches, South Haven lives up to its name as a vacationer's paradise. This delightful beach town is home to South Beach Park, a family-friendly park with soft-sand beaches and crystal-clear waters that draws flocks of visitors every year.
There are plenty of amenities to enjoy here, too. You can stroll along the South Beach pier to the lighthouse, acquire paddleboard rentals from the concession stand, cool off at the Splash Pad, or hang out at the skate park.
Also, be sure to head to the beach toward the evening to catch a spectacular Lake Michigan sunset.
17. Tiscornia Beach
Set in 16 acres of parkland, this beautiful beach in the popular resort town of St. Joseph is ideal for a family beach day. Nicknamed the 'Riviera of the Midwest', St. Joseph is a favorite holiday destination among locals and visitors alike.
Besides the beach, the main highlights of the area include the North Pier Lighthouse and jetty, which is a prime spot for watching sunsets and fishing.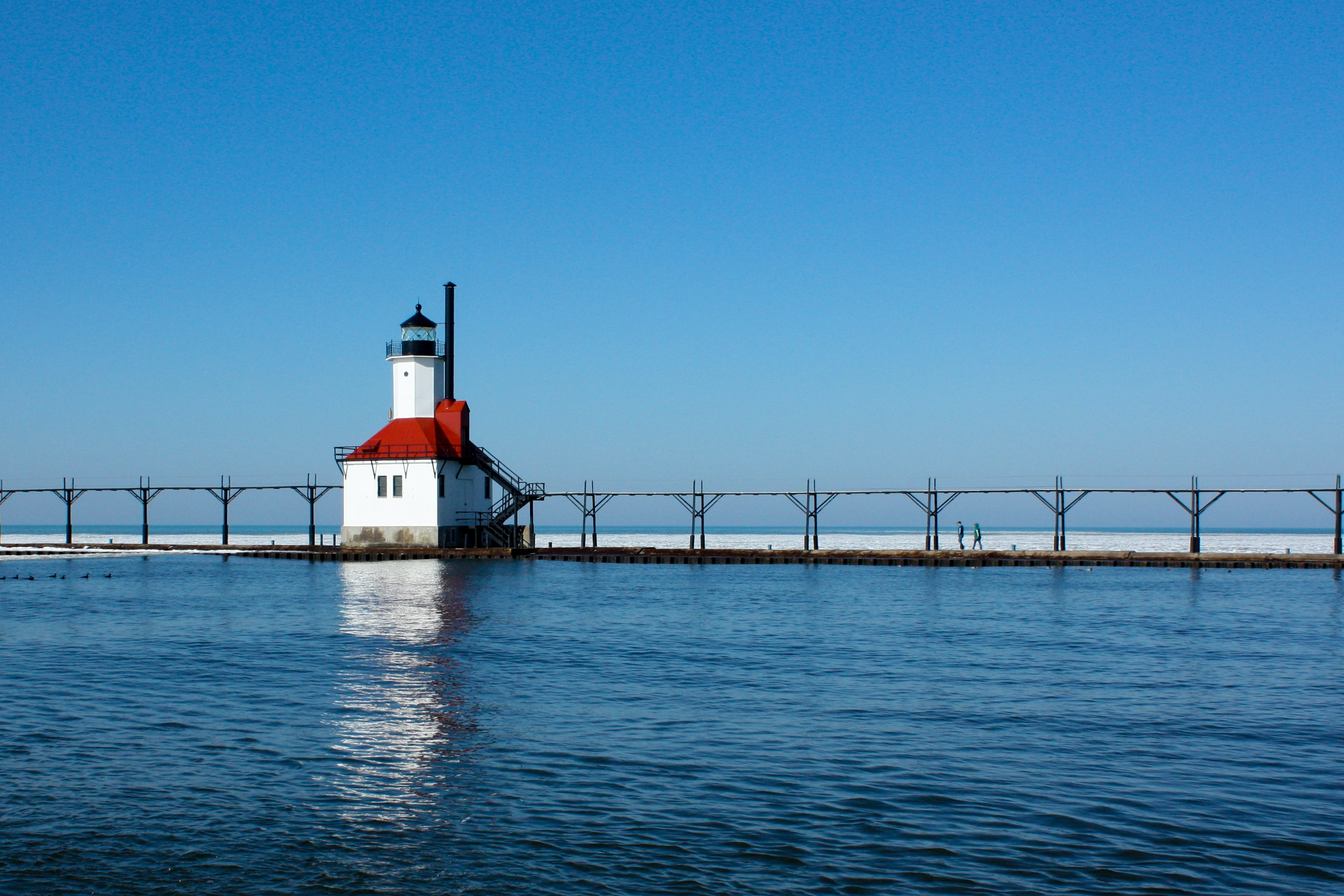 Where to stay: Given its popularity as a vacation destination, there are plenty of accommodation options in St. Joseph, ranging from upscale hotels with all the bells and whistles to laid-back vacation rentals.
18. Silver Beach
Another popular beach in St. Joseph, Silver Beach is a great spot for activities like swimming, kayaking, paddle boarding, and beach volleyball. There's also a giant Splash Pad for visitors of all ages to enjoy.
In addition, Silver Beach doesn't get as crowded as you might expect for such a popular vacation spot. With over 2,000 feet of beach, there's ample space for you to spread out and enjoy yourself on the sand without having to worry about your neighbor.
Where to stay: St. Joseph is full of accommodation options for families, couples, and individuals looking for the ultimate beach vacation. The Hilton Garden Inn Benton Harbor is an excellent choice, offering clean rooms, an indoor pool, and an on-site restaurant. The Inn at Harbor Shores is another full-service hotel with a spa, a salon, fitness facilities, and a golf course. There are also two swimming pools and a restaurant.
19. Silver Lake State Park
Situated in the heart of the Silver Lake Sand Dunes, Silver Lake State Park comprises nearly 3,000 acres of mature woodland and coastal dunes. These dunes are among the only ones that are open to off-road vehicles (ORVs) on this side of the Mississippi.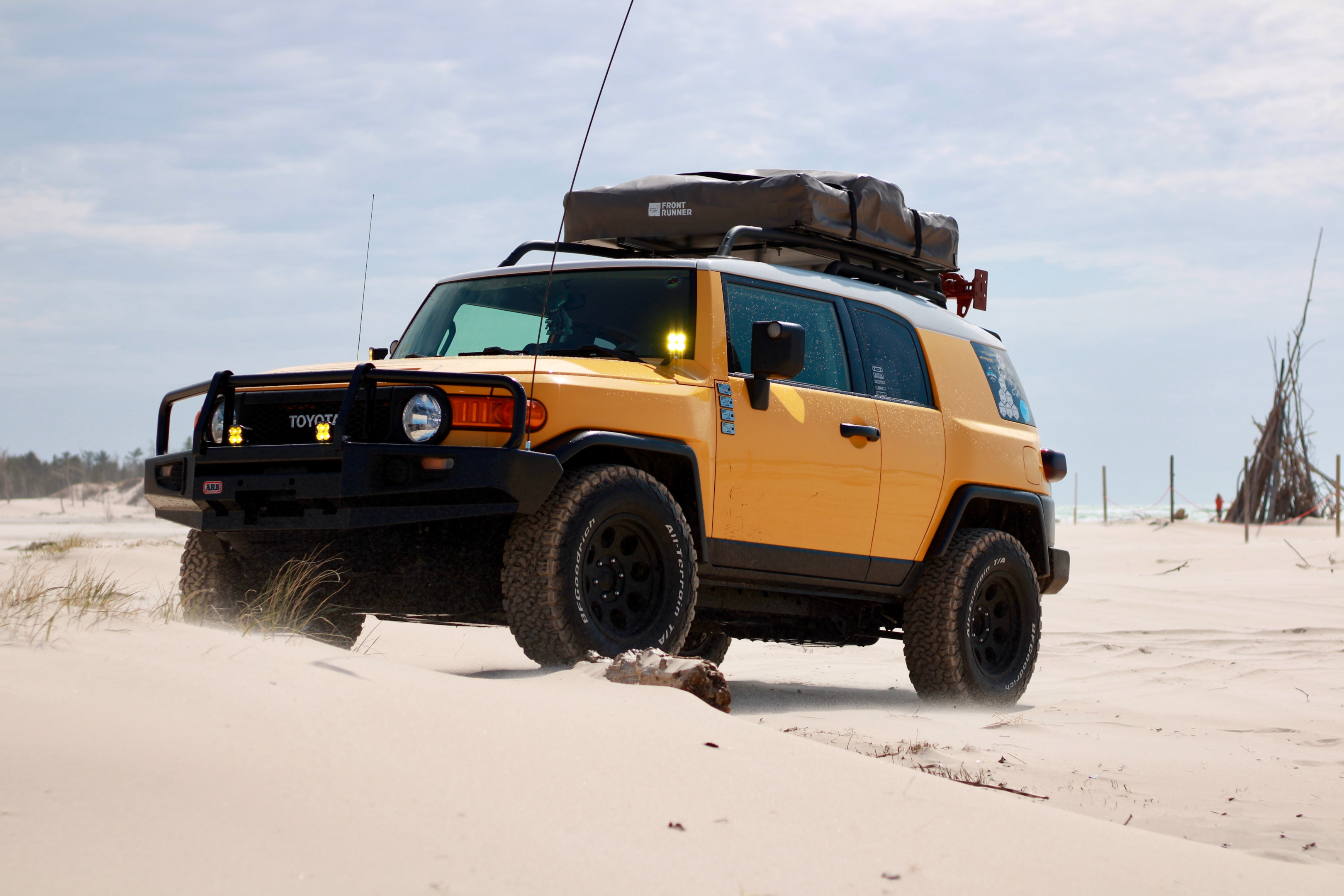 There's also a swimming beach, hiking trails, and opportunities for fishing. If you decide to visit, note that it is a long walk from the parking lot to the shores of Lake Michigan, but it is possible to rent an off-road vehicle that will allow you to drive right over the dunes and onto the beach.
20. Warren Dunes State Park
Warren Dunes State Park is one of the most popular state parks in Michigan, offering over 1,950 acres of recreational space on the eastern shores of Lake Michigan.
Large sand dunes are found throughout the park, with the most significant being Tower Hill at 240 feet high. Warren Dunes State Park also offers a range of amenities for visitors to enjoy, including campsites and cabin rentals. Pets are also welcome here.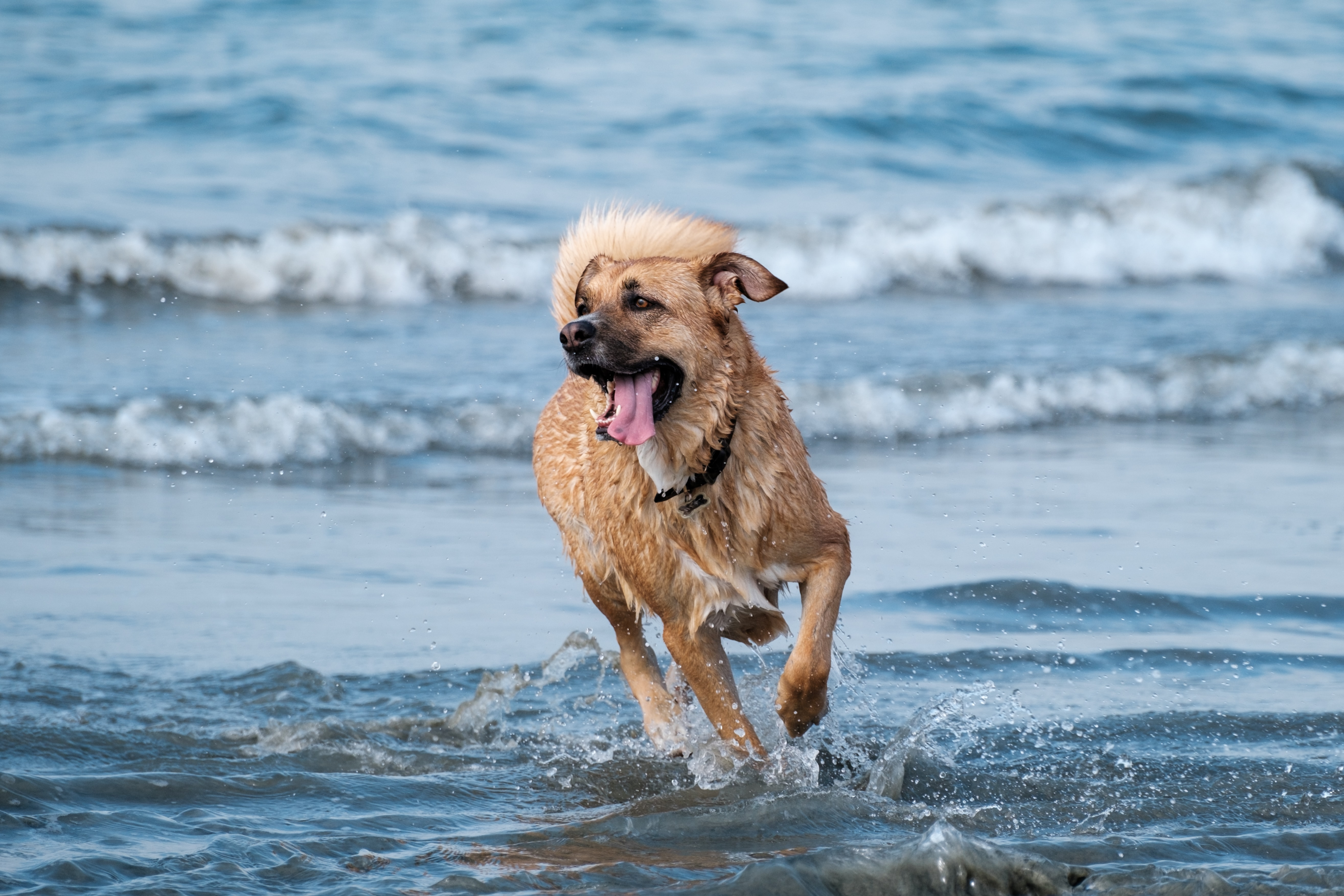 Where to stay: The New Buffalo Inn and Spa offers clean and comfortable accommodation just a short drive from the beach. Another good option is the Fairfield Inn and Suites located just 15 minutes away from the Warren Dunes State Park.
More Lake Michigan Beaches
21. Cheboygan State Park
22. Carl D. Bradley Lakeview Memorial Park
23. Great Sand Bay
24. Jean Klock Park
25. Miners Beach in Pictured Rocks National Lakeshore
26. Orchard Beach State Park
27. Tawas Point State Park
28. Stearns Park
29. William Sterling State Park
30. Wilderness State Park