Exploring the plethora of kids' clubs, activities, Kids Sail Free deals, family deals, and cabins to identify the best cruises for kids is no easy feat.
There are so many things to consider, and the wide variety of cruise lines and ships for kids makes it all the more tricky to choose the cruises ideal for family vacations.
This post will cover all the kid-friendly cruise lines and cruise ships that will ensure an unforgettable holiday. We include the newer cruise ships as our top picks, as they tend to offer all the latest innovations and fun activities in the cruise industry, such as rope courses, water parks, and rock-climbing walls, that will entertain kids for days.
Every family is unique and would like a different family vacation, and the cruise lines and ships mentioned below are certainly not an exhaustive list, but it does serve as a helpful guideline as to what you should be looking for on cruises for kids.
Top 5 Best Cruise Lines For Families
Royal Caribbean International Kid-Friendly Cruises
Royal Caribbean boasts some of the best cruise ships in the world, and some are better suited for family cruises than others. The best cruise ships for kids include Wonder of the Seas, Anthem of the Seas, Odyssey of the Seas, Symphony of the Seas, Allure of the Seas, Harmony of the Seas, and Oasis of the Seas.
Why Royal Caribbean Cruises are the Best Cruises for Kids
The ships listed above are the largest cruise ships of the Royal Caribbean cruise line, and they undoubtedly make for the best cruises for kids and family members of all ages.
The Oasis Class ships, in particular, boast a wide range of incredible family-friendly entertainment and activities, including various lovely pools, an ice-skating rink, rock-climbing walls, surf simulators, parades, a zipline, and so much more, all included in the Royal Caribbean kids program.
These massive cruise ships have so many kid-friendly attractions that you won't know where to start. One of these is the Ultimate Abyss slide, a kid's favorite! This slide is an astonishing ten stories high and features both sound and light features that will keep your kid smiling the entire ride.
If you're looking for a more sophisticated atmosphere while still keeping your children in mind, Anthem of the Seas is perfect for you. This fantastic cruise ship offers everything from bumper cars and roller skating to a skydiving simulator, the famous North Star, and video game tournaments.
Royal Caribbean International – www.royalcaribbean.com
The impressive theater onboard will entertain the whole family with excellent shows with state-of-the-art equipment and technology.
When parents want a little peace, the solarium welcomes them with all the relaxation they may need. These areas are abundant in entertainment and dining options. While adults take a moment to themselves, the kids' club will ensure the kids have a ball while under the care of the nursery staff.
This ship is ideal because it offers something for everyone. While kids play, adults can have some fun of their own. Not only is Royal Caribbean one of the best cruise lines across the board, but it is also the best cruise line for a family cruise.
Royal Caribbean International – www.royalcaribbean.com
The Kids' Club on Royal Caribbean Cruise ships
A large portion of Royal Caribbean cruise ships is dedicated to the Kids' Club, which is additionally separated into designated areas suitable for toddlers, children, and teens. The Kids' Club features everything from a video arcade, science lab, theater, and arts and crafts workshop to interactive activities, classes, and the Scratch DJ Academy.
The cruise line also has both a Royal Babies and a Royal Tots program that offers various activities and classes suitable for younger family members. Adventure Ocean features dedicated areas for every age group, and teens have their own club with a wonderful coffee shop-inspired hangout zone. The staff appointed to look after kids on Royal Caribbean ships are highly qualified and friendly, so you can be assured your kids are in capable hands.
Royal Caribbean International – www.royalcaribbean.com
Additional Kid-Friendly Features on Royal Caribbean Ships
The kid-friendly cruises of Royal Caribbean are surprisingly affordable, given all the fun and educational activities the ships offer. Moreover, if you book a family cruise outside the designated blackout dates, you can benefit from the Kids Sail Free promotion and other discounts available throughout the year.
The cruise line's ships are abundant in family cabins and suits that can accommodate the whole family comfortably. The Ultimate Family Suite is undoubtedly the best option for a family vacation and is available on Spectrum of the Seas, Wonder of the Seas, and Symphony of the Seas. This amazing suite features a LEGO wall, a two-deck slide, and abundant games.
The Royal Caribbean ships offer more than enough dining establishments for every taste and preference. Whether you're looking for a pizza, hot dog joint, or upper-class specialty restaurants, you'll have plenty of options.
Older children and family members will be delighted by the Broadway-inspired performances, ice skating shows, and the parade. Teens may also be intrigued to find all the fabulous spa treatments on offer.
Royal Caribbean International – www.royalcaribbean.com
Disney Cruise Line Kid-Friendly Cruises
Needless to say, Disney cruise line is one of the best cruise lines for families with kids of all ages. The cruise ships best suited for kids include Disney Dream, Disney Wish, Disney Fantasy, Disney Wonder, and Disney Magic.
Why Disney Cruise Line Offers The Best Cruises for Kids
Disney is well-known across the world for having the best theme parks you'll ever find. Additionally, Disney Cruise Line brings some of the best cruises for kids to the industry.
The newest addition to the fleet, Disney Wish, is the best option for families with kids ages four to 11. This cruise line boasts some of the best kid-friendly activities, facilities, and dining options for kids within this age group.
Although Disney Cruise Line also incorporates multiple features to cater to teens and tweens, it remains the best cruise for younger kids. The new and refurbished cruise ships, such as Disney Wish, Disney Fantasy, Disney Magic, Disney Dream, and Disney Wonder, are the best options for family cruises, as they have the latest features you'll undoubtedly want to enjoy on your cruise vacation.
Disney Cruise Line – disneycruise.disney.go.com
The Kids' Club on Disney Cruise Line's Ships
Disney Cruise Line has a special approach to their kids' programs to better accommodate friends and siblings who are going on a cruise together. Disney's Kids' Club generally caters to kids ages three to 12, and additional options are available for tweens and teens.
The Oceaneer Lab is particularly suited for older children, while the Oceaneer Club is perfect for the little ones. You'll find many themed play areas on the ship, including the Fairytale Hall on Disney Wish, Star Wars: Cargo Bay, Marvel Super Hero Academy, Monsters Academy, and even a SHIELD command post where kids can play a virtual game and interact with the Avengers. The nursery staff is dedicated to caring for the littlest cruisers abroad, including babies between six months and three years of age.
The Millennium Falcon from Star Wars is replicated on Disney Dream, where a true Jedi Master teaches kids how to use a lightsaber. Disney cruise line's ships also offer a tweens club for children between the ages of 11 and 14 to enjoy karaoke and play video games. The teen club has a coffee shop vibe where teens can hang out and chat.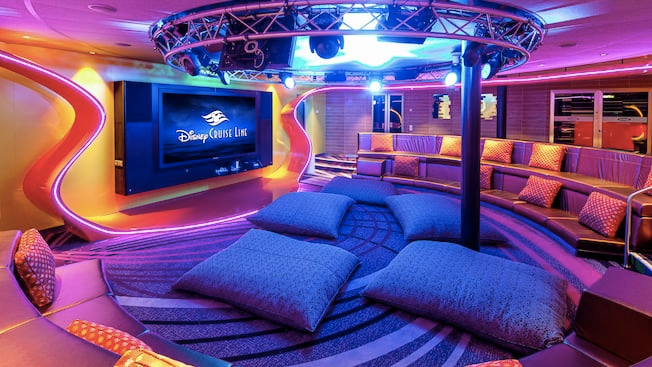 Disney Cruise Line – disneycruise.disney.go.com
Additional Kid-Friendly Features on Disney Cruise Ships
From family rooms to kid-friendly activities, Disney ships are stocked full of fun for all age groups. There is also a kids' pool and a popular family pool onboard with some exciting water slides. The AquaLab features geysers and sprayers the tiniest guests will absolutely love, and kids will go crazy went they see their favorite Disney characters strutting around the cruise ship.
The family rooms on Disney Cruise Ships contain bunk beds, curtain divides, and star constellations in twinkle lights. They also offer more than enough storage space for a family cruise. The spacious bathrooms allow families of all sizes to shower and bathe comfortably while the separate toilet is occupied.
All Disney cruise ships host magical Pirates of the Caribbean-themed parties, complete with appearances by the renowned Jack Sparrow and even fireworks. The cruise line holds a number of other themed events, including a Marvel Day at Sea, a Star Wars Day, and Christmas and Halloween-themed events during festive times.
Your little princess or pirate will have a blast at the Bibbidy Bobbidi Boutique, where they can choose costumes of their favorite Disney characters and receive a complete Disney makeover.
The restaurants on board are nothing short of excellent. Many restaurants offer great kids' activities, such as Finding Nemo dinner shows, performances by Tangled characters, and dining at Rapunzel's Royal Table.
You can expect the waiting staff to engage all kids and go to great lengths to get a smile or a laugh. For a romantic date night, the ships also have adult-only dining options so that parents can enjoy some quality time while the kids are taken care of at the kids' club.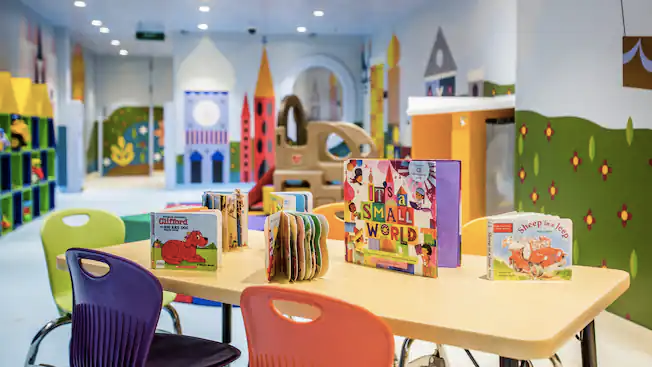 Disney Cruise Line – disneycruise.disney.go.com
Norwegian Cruise Line Kid-Friendly Cruises
Norwegian Cruise Line boasts an impressive fleet of incredible cruise ships. Some NCL ships perfect for family cruises include Norwegian Escape, Norwegian Star, Norwegian Prima, Norwegian Dawn, Norwegian Epic, Norwegian Getaway, Norwegian Breakaway, and Norwegian Star.
Why Norwegian Cruise Line Offers The Best Cruises for Kids
Norwegian Cruise Line is praised for bringing such a laid-back atmosphere to a cruise vacation. What makes it such a tremendous kid-friendly cruise line is that families aren't restricted to inflexible dining times, dress codes, and venues.
The latest ships of Norwegian Cruise Line have everything you would expect from mega-ships, including all the facilities you need for kids to have a ball. Cruise ships like Norwegian Bliss and Norwegian Encore are more suited for adults than kids.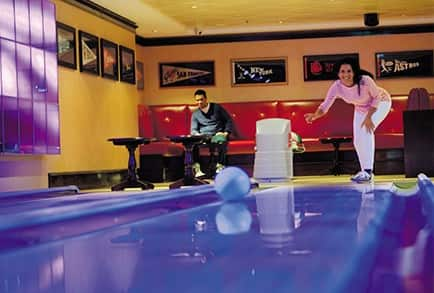 Norwegian Cruise Line – www.ncl.com
The Kids' Club on Norwegian Cruise Line Ships
The Splash Academy on Norwegian Cruise Line ships is perfect for kids between the ages of three and twelve. Everything from art projects, mini-golf, and karaoke to video games and sports tournaments can be enjoyed here.
On Norwegian Epic, you'll find an interactive lit dance floor, a jungle gym, and more than enough room to run around. The multi-story Splash Academy on Norwegian Cruise Line ships is the biggest kids' club found on any ship sailing the sea today. These areas feature a circus school, high-tech games, and even a kids-only cinema.
Teens also have a place of their own, where they can indulge in video games, air hockey, TV shows, and just chill on plush couches. When parents want to have some time to themselves, there is a late-night babysitting service available that cares for children and babies of all ages.
Norwegian Cruise Line – www.ncl.com
Additional Kid-Friendly Features on Norwegian Cruise Line Ships
Offering some of the best family cruises in the industry, Norwegian Cruise Line truly stands out when it comes to features and activities for kids, especially for those who love sports activities. Batting cages, rappelling walls, rock climbing walls, bowling alleys, and incredible water parks can all be found on these cruise ships.
Norwegian Getaway and Breakaway features waterslides that span several decks and a walking plank of eight feet extending over the ship's edge. NCL Escape has the biggest rope course of all cruise ships worldwide, in addition to the largest water park.
Norwegian Epis is a wonderful cruise ship for kids, as it consists of 47 large dual-bedroom villas and features a timeless musical performance kids will simply adore. In addition to the family villas, there are also 40 mini-suits ideal for larger families.
The kids' menu onboard Norwegian ships has everything your little ones could ever need, from waffles and pizza to chicken fingers, ice cream, and pasta. Moreover, kids above the age of 12 can eat for free at any specialty restaurants their parents frequent.

Norwegian Cruise Line – www.ncl.com
Princess Cruises Kid-Friendly Cruises
Princess Cruises are well-known for its expansive family-friendly programs. The Princess cruise ships best equipped for family vacations include Sky Princess, Emerald Princess, Enchanted Princess, Regal Princess, Caribbean Princess, Island Princess, Ruby Princess, and Royal Princess.
Why Princess Cruises Offers The Best Cruises for Kids
The ships of Princess Cruises make for some of the best cruises for kids, as they feature such a wide variety of accommodation options, facilities, and family-friendly programs. From the impressive Reef Family Splash Zone onboard Caribbean Princess to the laser shooting ranges, batting cages, and massive kids' clubs on Regal and Royal Princess, there is so much to explore while you're not lounging in a cabana by the poolside.
Princess Cruises' collaboration with Discovery has led to a world of adventure for kids and teens on all its modern and vibrant cruise ships.
Princess Cruises – www.princess.com
The Kids' Clubs on Princess cruises' Ships
The kids' clubs of Princess Cruises are dubbed Camp Discovery and feature designated areas for particular age groups. Kids between the ages of three and seven can have the time of their lives at The Treehouse, while The Beach House caters to teens between the ages of 13 and 17.
A plethora of kids-centered activities, such as scavenger hunts, science and magic classes, video games, storytelling, and art projects, is sure to keep your children entertained for days. The kids' clubs are also fully equipped with skeeball, foosball, and air hockey tables, and teens can spend their time partaking in sports tournaments, arcade games, dance classes, themed parties, and late-night movies.
Princess Cruises – www.princess.com
Additional Kid-Friendly Features on Princess Cruises' Ships
Princess Grand Class ships, including Emerald Princess, Crown princess, and Ruby Princess, feature two massive pools and smaller splash pools perfect for families. Regal and Royal Princess also boast lovely outdoor play areas ideal for kids of three to seven years to swing around on the monkey bars.
Another area is especially dedicated to teens and outfitted with an outdoor party venue and teens-only hot tubs. Many agree that Caribbean princess is the best cruise for kids, as the Reef Family Splash Zone makes for hours of family fun.
The cruise line developed an immense outdoor movie theater called Movies Under the Stars that showcases only the best movies by the poolside when the sun goes down. All movies are suited for kids and teens to enjoy.
The cruise line's association with Discovery caters to the whole family, not just the kids. Shark Week at Sea is a wonderful themed event where families can play exciting games and participate in some interactive activities together.
Some shore excursions offered by Princess Cruises are designated Discovery Family Tours, which cater specifically to families with children between three and 12 years. These tours are designed to connect children with the fantastic destinations they visit with a number of interactive activities. Those who wish to spot some sloths, whales, sharks, and other animal friends on shore excursions should opt for Animal Plant Tours.
Princess Cruises – www.princess.com
MSC Cruises Kid-Friendly Cruises
MSC Cruises is fast becoming one of the most popular cruise lines for families with kids. MSC Seaside, MSC Virtuosa, MSC Meraviglia, MSC Bellissima, MSC Armonia, MSC Grandiosa, and MSC Preziosa are ideal for cruise getaways with kids.
Why MSC Cruises Offers The Best Cruises for Kids
MSC Cruises goes to great lengths to ensure the whole family has a cruise experience they'll remember forever. Exclusive kids clubs cater to children from infancy to the age of 12, and teens have their own dedicated space on all MSC cruise ships.
MSC Seaside has been reported to be the best option for kid-friendly cruises, as it boasts a LEGO-themed play area, an interactive lab, virtual reality technology, and an abundance of outdoor spaces where families can spend some quality time together.
The Kids' Clubs on MSC cruises' Ships
Whichever MSC cruise ship you choose, you can rest assured you'll be provided with only the best service and amenities. MSC Cruises has ensured all their ships offer plenty to keep even the youngest cruisers happy.
Toddlers and small children will have a ball at the Miniclub, while older kids can hang out at the Junior Club and play some video games, partake in arts and crafts, and even enjoy some exciting game shows.
The Youth Club caters to teens and is fully equipped with a Formula 1 simulator, sports tournaments, foosball, music-streaming stations, and selfie-sharing.
Additional Kid-Friendly Features on MSC Cruises Ships
Although the unique qualities that make MSC Cruises so special truly shine in their kids' clubs, these cruise ships have so many other additions that make them the best cruises for families. Splash zones, pools, and waterslides on the larger cruise ships are really something to behold, and MSC offers plenty of shore excursions aimed at engaging the entire family.
The staterooms of MSC ships cater to families of all sizes. The Super Family Cabins feature two triple staterooms, while the Executive Family Suites consist of ample storage space and two queen beds.
You can expect wonderful kids-only dinners and family meals in the main dining room, while the buffet is also perfect for getting everyone's tummies full with their favorite treats. A prepaid card called My Smart Card gives kids the opportunity to buy drinks, snacks, and even arcade games without having to run back to their parents so often.
The cruise industry has expanded dramatically in recent years, and the best cruise lines recognize families' needs to find cruises that cater to both adults and children. With so many options to explore, we hope this list of the five best cruises for kids makes the decision-making process a bit simpler.