Hattiesburg was founded in 1882 and is located at the intersection of six major US highways in Mississippi. It is often referred to as a hub city for this very reason.
Downtown Hattiesburg has a rich history, showcased through the 19th Century homes, military museums, and celebration of African American heritage. In addition, many famous blues musicians have lived in Hattiesburg, making it a significant stop on the Mississippi Blues Trail.
Read on to discover different popular attractions to add to your own Hattiesburg itinerary.
34 Best Things To Do in Hattiesburg
1. African-American Military History Museum
The African-American soldiers from Hattiesburg who served their nation since the Spanish-American war are honored in the African American Military Museum. Among these are the first US African-American aviator, Jesse Leroy Brown, and WWII nurse, Ruth Bailey Earl.
The museum was built by volunteers in 1942 inside a former Camp Shelby warehouse as a USO club for soldiers and has since been added to the national register of historic places. It is the only museum built exclusively to honor African-American soldiers that still exists.
The African-American Military History Museum can be found on the Register of Historic Places and is classified as a Mississippi Landmark. It is a must-see on any trip to Hattiesburg, Mississippi.
Website:hattiesburguso.com
Address:305 E 6th St, Hattiesburg.
Phone: +1601-450-1942
2. Pocket Museum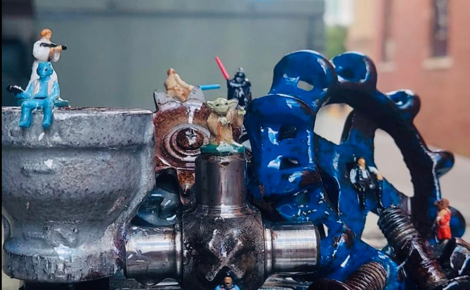 The Pocket Museum opened in 2020 and is considered Mississippi's smallest museum. It consists of a charming window display, which only has four shelves.
Since its opening, the cheeky miniature displays of the Pocket Museum have become very popular among locals and tourists and have expanded to include outdoor exhibits of varying sizes. They are chosen from submissions by the public and change every month.
It is a great place to stop for lunch as there are picnic tables with umbrellas where visitors can sit. The location of the Pocket Museum is kept vague, and trying to find it in Downtown Hattiesburg is considered an essential part of the experience.
Website:@hattiesburgpocketmuseum
Location:An alley in Downtown Hattiesburg.
E-mail: pocket@hattiesburg.org
3. Hattiesburg Zoo
The Hattiesburg Zoo, located in Kamper Park, is home to nearly 80 animal species from across the globe. It was opened in 1902 and spans around 12 acres.
There are many activities to be enjoyed in the Hattiesburg Zoo, such as the Touch Africa Petting Zoo, African Drum Station, Asbury Discovery Center, Australian Wallaby Walkabout, and the EdZOOcation Center. In addition, the zoo has picnic areas, a concession stand, and a gift shop for buying souvenirs.
The zoo also regularly hosts events, such as the 45-minute Sloth Experience. It is an ideal place for a family outing.
The Hattiesburg Zoo is open from Tuesdays to Sundays from 10 AM to 4 PM.
Website:hattieburgzoo.com
Address:107 S 17th Ave, Kamper Park.
Phone: +1601-545-4576
4. Mississippi Armed Forces Museum
Also located inside Camp Shelby is the Mississippi's military history museum.
The Armed Forces Museum began in 1984 in a warehouse when two military veterans donated their personal collections and artifacts. Today, the museum honors the lives of all Mississippi veterans, including those who served during the late 19th century, World War 1 and 2, the Korean war, and the war in Vietnam.
There are eight galleries, which house as many as 17000 artifacts, making it the largest collection of military artifacts in Mississippi. In addition, the museum's outdoor exhibits include military aircraft, tanks, and artillery.
Website:msarmedforcesmuseum.org
Address:Bldg. 850, 1001 Lee Ave W, Hattiesburg.
Phone: +1601-558-2757
5. Mississippi Blues Trail
Erected in 2006 by the Mississippi Blues Commission, these Mississippi Blues Trail markers contain information and facts about Hattiesburg's fascinating history as the birthplace and home of many famous blues musicians.
The markers are scattered all over the city at historical sites linked to the history of blues music, from city street corners to cotton fields. It is an ongoing project, and the trail is continuously being added to.
The Blues Trail is a great way to explore the city and learn more about its historic places. Maps can be downloaded in PDF format or found on the mobile app.
Website:msbluestrail.org
E-mail: smbarretta@yahoo.com
6. Downtown Hattiesburg
Downtown Hattiesburg has a variety of architectural styles, and Hattiesburg's emphasis on art and culture can still be seen in the beautiful, historic downtown district today- with its many art installations and painted murals on exposed brick walls.
There are also many seasonal events to be enjoyed in Hattiesburg like the Dearly Departed Walking Tours offered in the fall or the Craft Beer Fest that happens during the summertime.
This hub city historic district is a fast-growing area, with new restaurants and businesses opening up regularly. Most things are within walking distance and can be explored easily on foot.
Website:downtownhattiesburg.com
Location:723 N Main St, Hattiesburg.
7. Longleaf Trace
The Longleaf Trace forms part of the De Soto National Forest and stretches over a distance of 44 miles – from Hattiesburg to Prentiss, Mississippi. It is a paved area perfect for walking or cycling horse riding, rollerblading, and other recreational activities.
The gateway to Longleaf Trace is on the University of Southern Mississippi Campus. Here, visitors can find the staff at the Welcome Center who can provide them with maps and advice about Longleaf Trace- such as which trees can be identified along the trail route.
Maps can also be downloaded directly from the website, and there are parking facilities at most of the entrances to the trail.
Website:www.longleaftrace.org
Address:2895 West 4th St, Hattiesburg.
8. Paul B. Johnson State Park
Considered an underrated tourist attraction, the Paul B. Johnson State Park is located around 10 miles from Hattiesburg, on the banks of the Geiger Lake (previously known as Lake Shelby).
Located about 20 minutes from the Southern Miss Campus, the state park is filled with beautiful giant oak trees, evergreen longleaf pines, and dogwoods. It is the ideal place to experience the beautiful scenery of Mississippi's Pine Region.
Geiger Lake is famous as a fishing spot, and the lake is often used for boating and waterskiing. The park also has a visitor center, game room, picnic areas, hiking trails, splash pad, and playgrounds – making it a fun family destination.
Website:www.mdwfp.com
Address:319 Geiger Lake Rd, Hattiesburg.
Phone: +1601-582-7721
9. Southern Prohibition Brewing
Southern Prohibition Brewing is a brewery and taproom located in the downtown district of Hattiesburg. There is a wide selection of craft beer available, and the brewery is modern.
SoPro occupies a previously-abandoned industrial warehouse in Downtown Hattiesburg and has a pleasant outdoor patio where visitors can enjoy the breeze on hotter days. The Southern Prohibition Brewing menu is rotational, meaning there is always something new to taste- even after visiting a few times!
Southern Prohibition Brewing is not a restaurant, but pizzas may be bought from their food truck. It is an ideal spot for visitors traveling alone or young couples without children who want a fun evening out.
Website:www.soprobrewing.com
Address:301 Mobile St, Hattiesburg.
E-Mail: info@soprobrewing.com
10. The Lucky Rabbit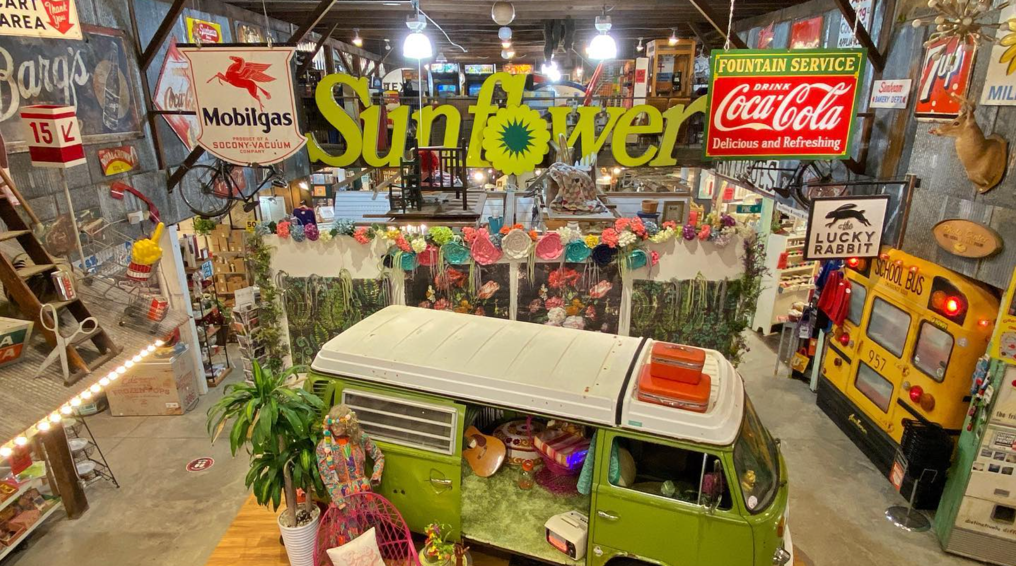 The Lucky Rabbit is a large, eclectic variety store that was opened in 2015. It was featured occasionally on the hit HGTV program "Home Town" and has become one of the most popular things to do in Hattiesburg, MS.
The shop has unmistakable southern charm, with its large vintage displays of arcades, vending machines, and working payphone booths. The displays at the Lucky Rabbit are great for taking pictures- such as the vintage 70s Volkswagen Bus.
The market vendors sell nostalgia-based souvenirs, vintage Americana, antiques, unique handmade items, and collectibles. Prices are reasonable, and it is ideal for visitors who enjoy thrift shopping.
Website:www.theluckyrabbit.com
Address:217 Mobile St, Hattiesburg.
11. All American Rose Garden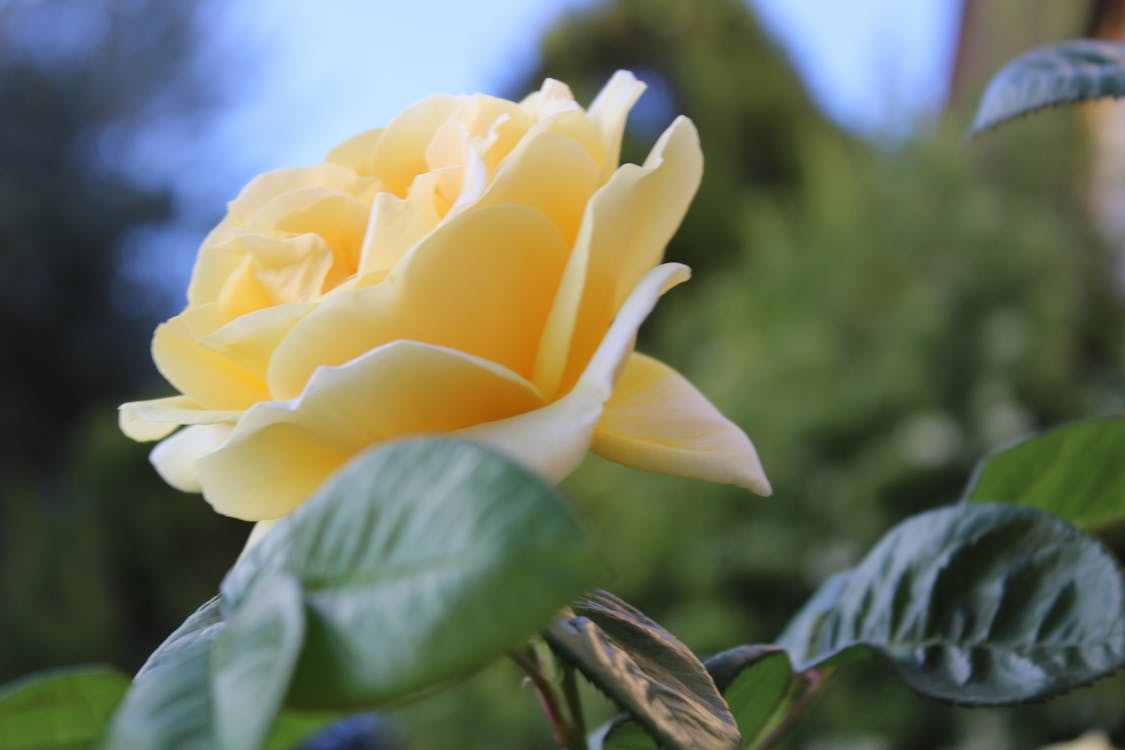 At the main entrance of the University of Southern Mississippi Campus, tourists are greeted with the spectacular site of over 800 rose bushes in the campus' American rose garden. It is popular locally and among tourists for its beauty and lovely fragrance.
The rose garden was planted by the Hattiesburg's Rose Society in 1973 and today boasts a variety of 36 different rose species, as well as five species of drift roses. In 1975 All-American Rose Selections, Inc. named it a Public Rose Garden, and it was featured in a 1992 September Issue of American Rose magazine.
The All-American Rose Garden is open to the public, but taking or cutting any of the roses is strictly forbidden, and anyone caught doing so will have to pay a fine. The Southern Miss Rose Garden is another must-see on any trip to Hattiesburg, Mississippi.
Website:www.usm.edu
Address: 118 College Dr, Hattiesburg.
Phone: +1601-266-1000
12. Alley Cats Axe Throwing Company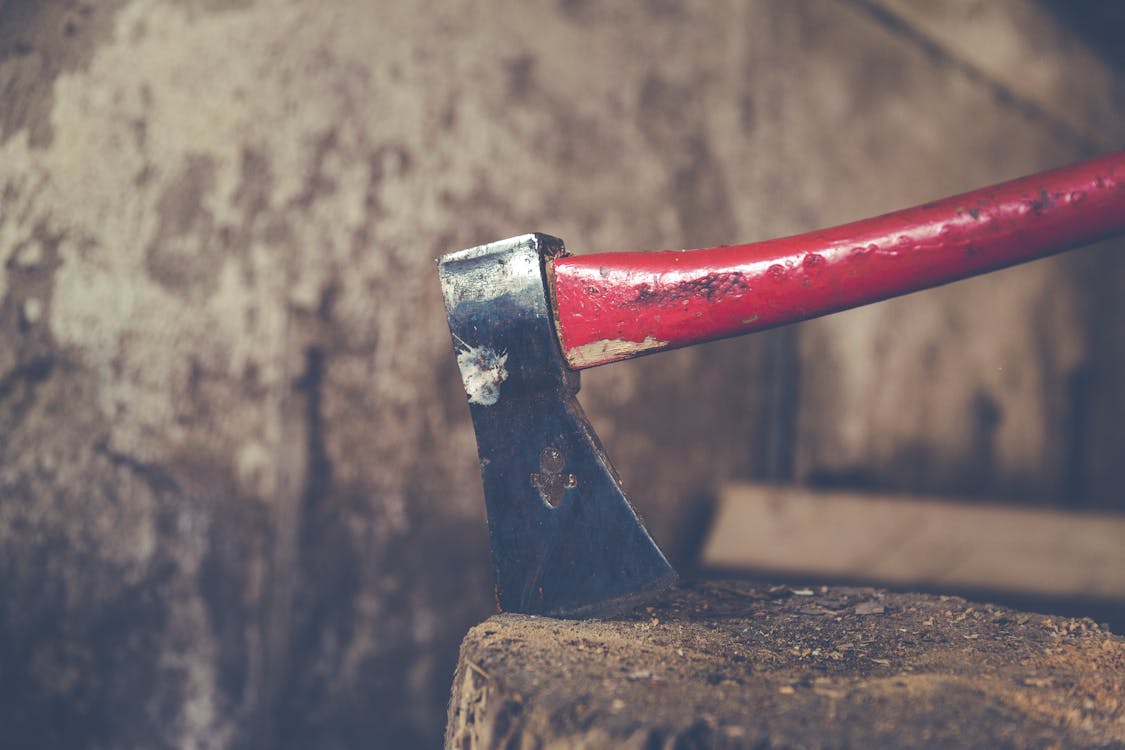 Axe-throwing has been a popular pass-time in Canada for over a decade and has since become the same for Americans. The Alley Cats Axe Throwing Company in Hattiesburg is one of the few places where adventurous tourists can try their hand at this exciting activity.
Alley Cats provide a safe and fun environment. Visitors can choose between traditional axes or hatchets and aim for a bulls-eye – much like throwing darts.
For visitors who just come along to watch others partake in so much fun, there are lounge areas with comfortable seats and snacks.
Website:www.acaxeco.com
Address:220 West Pine Street, Hattiesburg.
Phone: +1601-329-2340
13. Mohawk Steel And Glass
Mohawk Steel And Glass is located on a Christmas tree farm in Hattiesburg. It's an excellent, family-friendly attraction where visitors can learn how to blow their own glass ornaments, flowers, or even vases.
When visiting Mohawk Steel and glass, visitors will learn more about how sand is turned into glass and will be assisted in their attempts at this 400-year-old art form. No previous art experience or special skills are needed, and it is open to visitors of all ages.
Mohawk Steel and Glass also has an on-site gift shop where beautiful glass artworks can be bought.
Website:mohawksteelglass.square.site
Address:50 Hegwood Rd, Hattiesburg.
Phone: +1601-467-6959
14. Public Art Mural Trail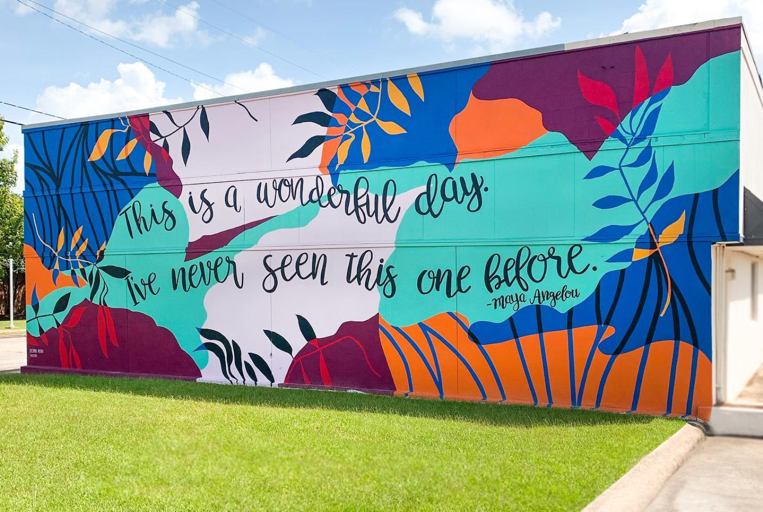 The Public Art Mural Trail is composed of over 20 murals scattered all over the city of Hattiesburg, Mississippi. Some murals are massive and can be spotted easily, while some are smaller and may be hidden on the sides of buildings or in alleyways.
Many of these murals are excellent spots for taking pictures, such as the #hattiesbird wings mural. Additionally, some of the murals have been painted by famous artists, such as #WhatLiftsYou by Kelsey Montague on the side of the parking garage on West Pine Street.
The Public Art Mural Trail also includes some sculptural works, and the map can be downloaded directly from the Hattiesburg Alliance for Public Art Website. Additionally, there is the option of following a virtual map.
Website:hburgart.com
Phone: +1601-296-7475
15. University of Southern Mississippi Campus
Besides the gorgeous All-American Rose Garden, the Southern Miss University campus also has many other beautiful sites to behold – such as the Aubrey K. Lucas Administration building (fondly called "The Dome") that was erected in 1930, or the Oseola McCarty sculpture, made in honor of her generosity to the University and its students.
Another stunning artwork on the campus ground is the golden "Lofty Return" Hattiesburg eagle statue, a companion to an identical sculpture in the Gulf Park Southern Miss campus. These statues were erected in 2013 to symbolically tie both campuses of the University of Southern Mississippi together.
The campus spans over 300 acres of land, and the entire campus was designed to be pedestrian-friendly.
Website:www.usm.edu
Address:118 College Dr, Hattiesburg.
Phone: +1601-2661-000
16. College Town Escape Rooms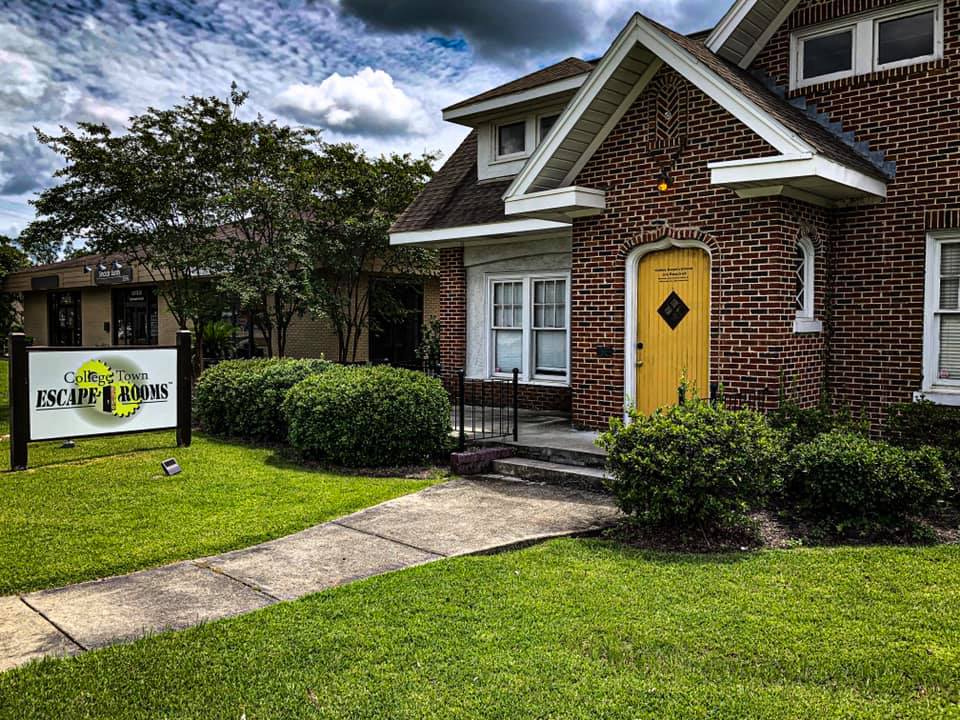 College Town Escape Rooms is a popular attraction in Hattiesburg, Mississippi. This unique venue allows individuals and groups to put their problem-solving skills to the test by working together to solve puzzles and riddles within a 60-minute time limit.
Whether you're a college student looking for a fun way to spend your Saturday afternoon or simply someone who enjoys thinking outside the box and putting their brainpower to use, College Town Escape Rooms is guaranteed to keep you engaged and entertained.
There are four different rooms to choose from, each with varying difficulty levels. So if you're looking for something new and exciting to do in your free time, be sure to check out College Town Escape Rooms on your trip to Hattiesburg.
Website:www.collegetownescaperooms.com
Address:2206 Hardy Street, Hattiesburg.
Phone: +1601-813-6951
17. Colludium Brewing Company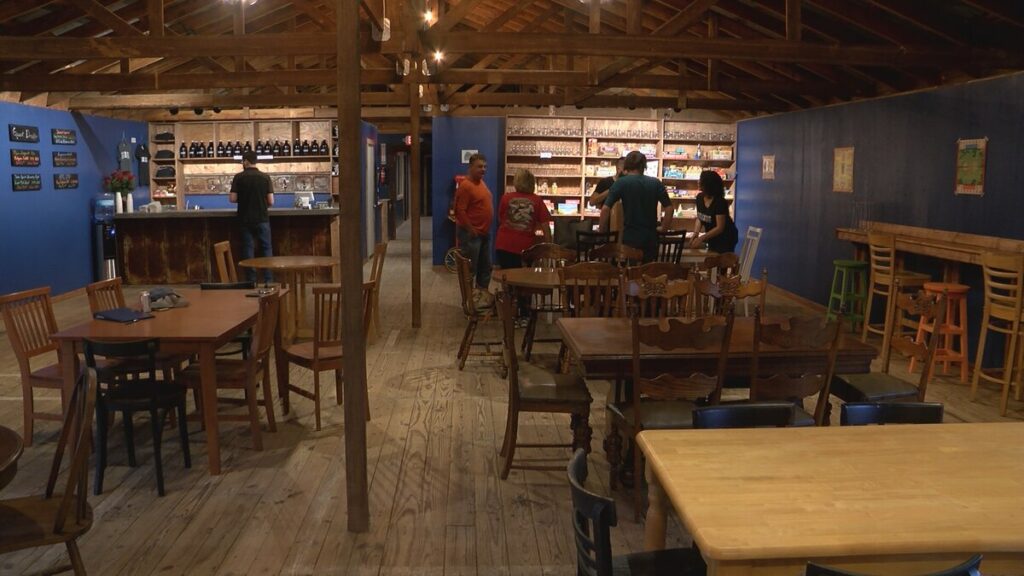 Colludium Brewing Company is a popular craft brewery located in Hattiesburg, Mississippi. This local establishment has been a fixture in the community since it opened its doors over a decade ago, and it has gained a loyal following among aficionados of high-quality craft beer.
Colludium takes great pride in its small-batch brewing process, which uses only the finest ingredients to create its unique range of beers. Whether you are a beer connoisseur or simply enjoy a quality pint, Colludium Brewing Company has a great atmosphere.
All the craft beers are made on-site, and there are over a hundred board games for guests to enjoy, making it an excellent place for family outings.
Website:www.colludiumbrewing.com
Address:2108 W 4th St, Hattiesburg.
Phone: +1601-402-7194
18. Crescent City Grill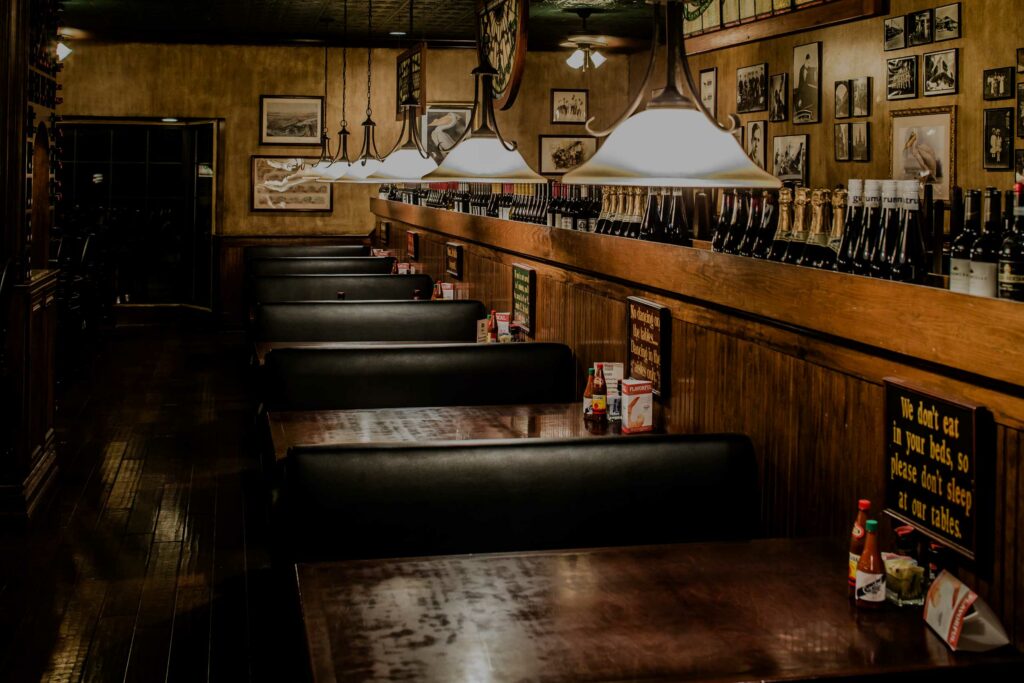 Crescent City Grill is a popular Cajun restaurant in Hattiesburg that has delighted diners with its delicious Southern cuisine for years. Inspired by New Orleans-style diners, it has no shortage of Southern charm.
The diner has won numerous awards for its excellent food, including the prestigious Crescent City Grill Award for Best BBQ Ribs in the state. So whether you are craving fried seafood, juicy hamburgers, homemade biscuits and gravy, or award-winning BBQ ribs, Crescent City Grill has something to satisfy all appetites.
It has a warm and welcoming atmosphere and friendly service, a great seasonal menu, and an extensive selection of craft beer. Crescent City Grill is the perfect place to enjoy a great meal with family and friends.
Website:crescentcitygrill.net
Address:3810 Hardy St, Hattiesburg.
Phone: +1601-264-0656
19. Eagle Action Sportz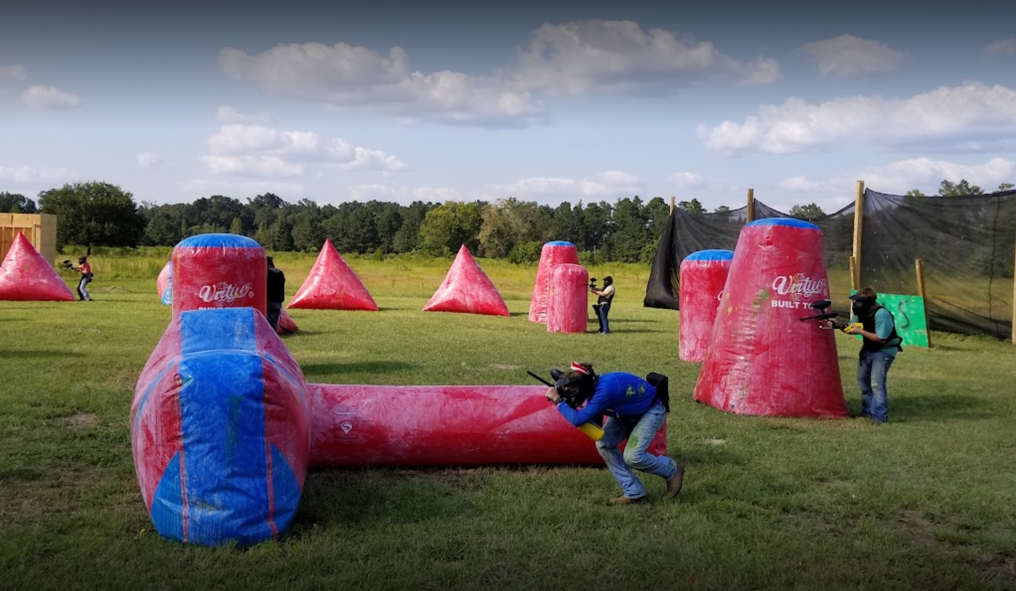 Eagle Action Sportz is a popular paintball facility located in Hattiesburg, Mississippi. Founded by Gunther Eagle over 20 years ago, the facility has grown to become one of the premier destinations for paintball enthusiasts from all around the state.
With its expansive fields, diverse selection of equipment, and dedicated team of experienced staff members, Eagle Action Sportz offers a premium recreational experience for players of all ages and skill levels. There are three different fields with obstacles and targets to choose from.
For those who don't own their own gear, Eagle Action Sportz offers a range of rental packages. So whether you are looking to brush up on your game or just want to try something new and exciting with friends, Eagle Action Sportz is the place to go for all your paintball needs.
Website:www.eagleactionsportz.com
Address:70 Ryner Rd, Hattiesburg.
Phone: +1601-447-2876
20. McLeod House
McLeod House is an iconic landmark in the city of Hattiesburg. Located at the heart of the city's downtown district, McLeod House is a stunning example of late 19th-century architecture, with its ornate Queen Ann style and intricate detailing.
McLeod House was built in 1890 by David McLeod, one of Hattiesburg's earliest settlers, and it quickly became a hub for local civic life. Over the years, McLeod House has played host to various important community events and gatherings, including award ceremonies, cultural festivals, and political rallies.
Today, McLeod House is listed on the National Register of Historic Places and remains an integral part of Hattiesburg's history and cultural heritage. So whether you're interested in local history or simply looking for a unique place to explore, McLeod House is well worth a visit.
Website:www.hmdb.org
Address:802 North Main Street, Hattiesburg.
21. Okatoma Creek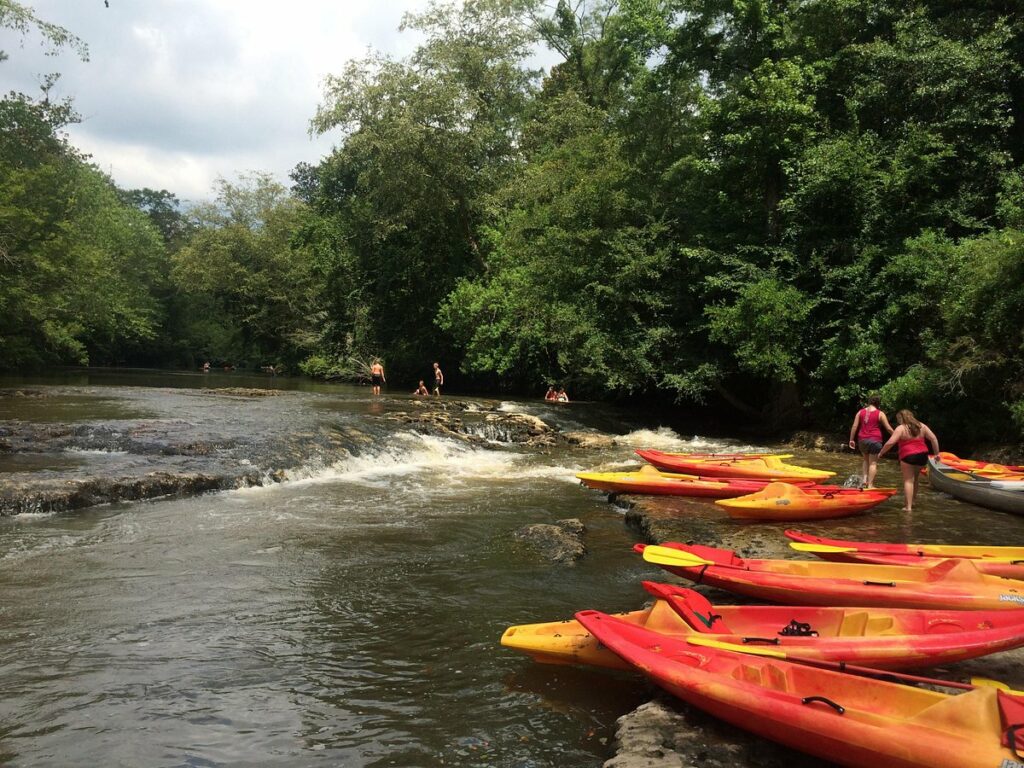 Okatoma Creek is an affluent of the Bouie River, located in southern Mississippi. It flows for approximately 80 miles before emptying into the Bouie River near Hattiesburg.
Okatoma Creek is popular for its recreational opportunities, such as fishing, canoeing, and kayaking. The creek is also home to various plant and animal life, including cypress trees, ospreys, and alligators.
Okatoma Creek provides a unique recreational opportunity for residents and visitors alike, with camping and picnic sites for visitors to stop for lunch or stay for the night. The best time to visit Okatoma creek is during the fall or springtime, and it is a great stop on any trip to Hattiesburg.
Website:okatoma.com
Address:20 Mins from Hattiesburg's Downtown District.
Phone: 1-888-OKATOMA
22. Area Historical Society Museum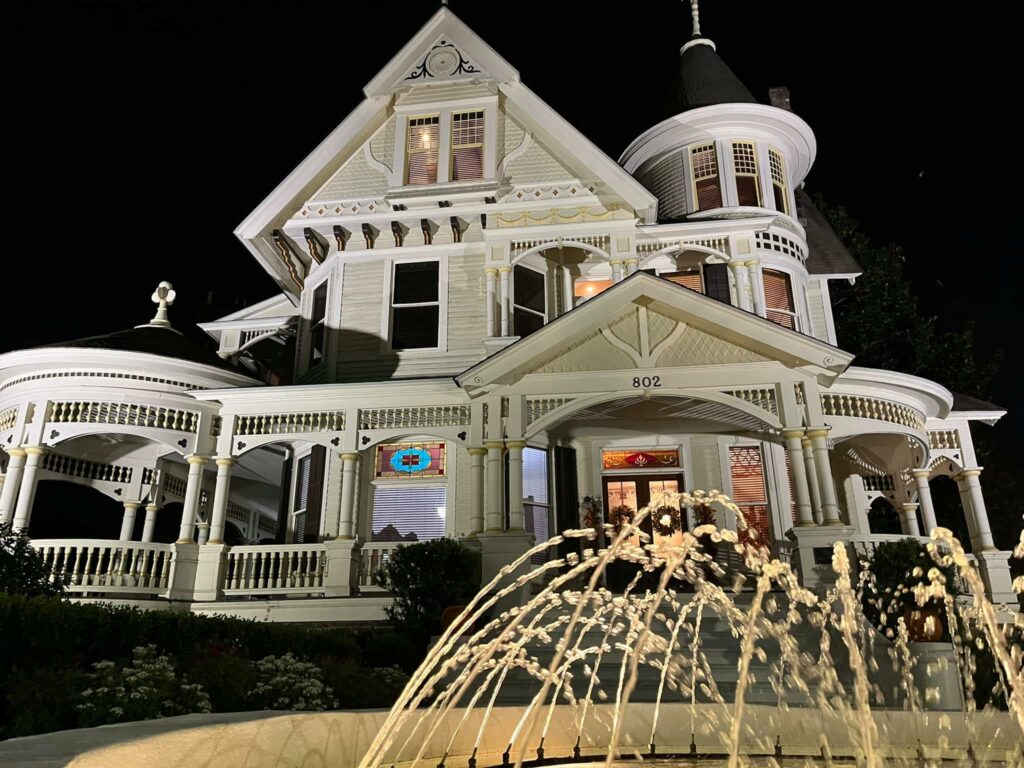 The Area Historical Society Museum is a great place to learn about the history of the area. The museum has a wide variety of exhibits, ranging from early Choctaw Native American life to the Civil War, and has been dedicated to preserving Hattiesburg's history since 1970.
The staff is very knowledgeable and passionate about the history of the area, and they're always happy to answer any questions you might have. In addition, the museum hosts several events throughout the year, such as lectures, performances, and opportunities to learn about local history.
If you're interested in learning more about the history of Hattiesburg and the surrounding area, it is definitely worth stopping by the Area Historical Society Museum in Hattiesburg, Mississippi.
Website:www.hahs.org
Address:723 Main Street, Hattiesburg.
Phone: +1601-545-4944
23. Birdhouse Café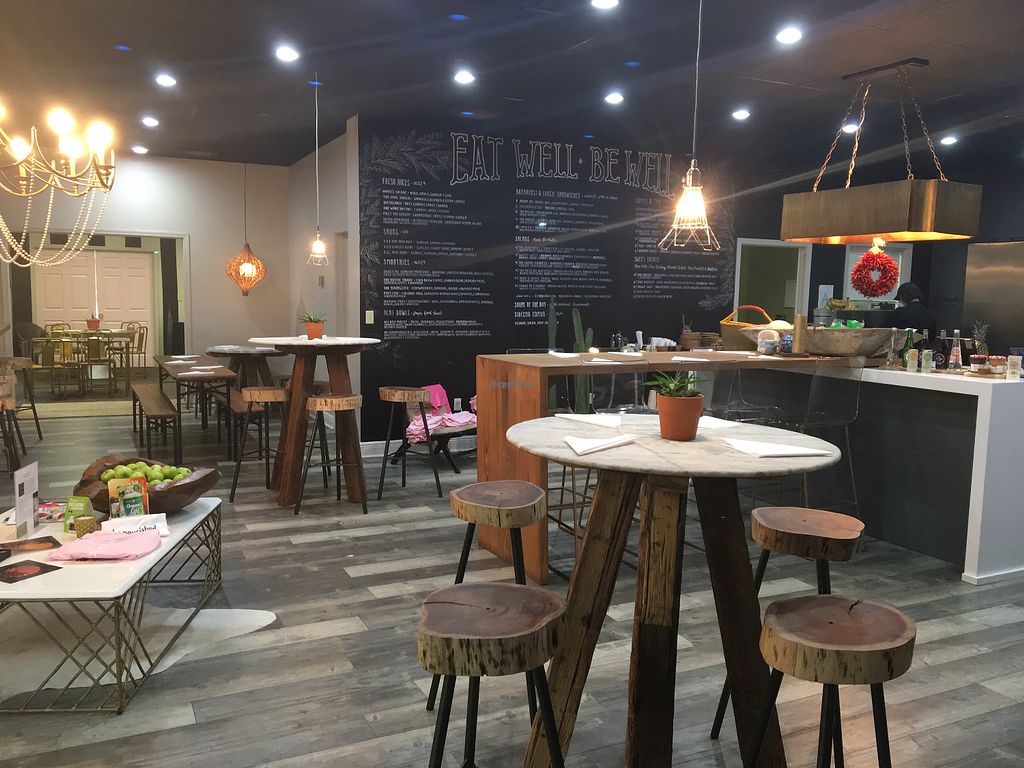 The Birdhouse Café is a popular restaurant in the heart of Hattiesburg. Located just off the main street in Downtown Hattiesburg, this charming and eclectic eatery draws customers of all ages from near and far with its fantastic food, welcoming atmosphere, and convenient location.
Whether you are in the mood for some fresh seafood or a comforting bowl of stew, the Birdhouse Café has something delicious to satisfy your palate. Its large storefront windows let in plenty of natural light, making it the perfect spot to enjoy a leisurely brunch or an afternoon coffee.
If you are looking for a unique dining experience that reflects the Southern charm of life in Mississippi, be sure to visit the Birdhouse Café.
Website:birdhousecafe.net
Address:6763 US-98, Hattiesburg.
Phone: +1601-606-7203
24. Chain Park At Twin Forks

Chain Park at Twin Forks is a popular recreational area in Hattiesburg. Unlike many parks, Chain Park is not set on a single piece of land but rather made up of multiple pedestrian walkways that connect the Chain Bridge to the wooded trails along the banks of the nearby rivers.
It was designed and built to provide better parks for the Hattiesburg community and stretches over 36 acres. There are many different amenities for visitors to enjoy, including exercise stations, picnic areas, and playgrounds.
This unique design makes Chain Park ideal for people who love to explore and enjoy nature. It is perfect for a peaceful stroll down one of the meandering sidewalks or a vigorous bike ride along one of the winding pathways, and Chain Park is sure to captivate and inspire you.
Website:www.hattiesburgms.com
Address:5619 Highway 42, Hattiesburg.
Phone: +1601-516-0872
25. Danforth Chapel and Chapel Place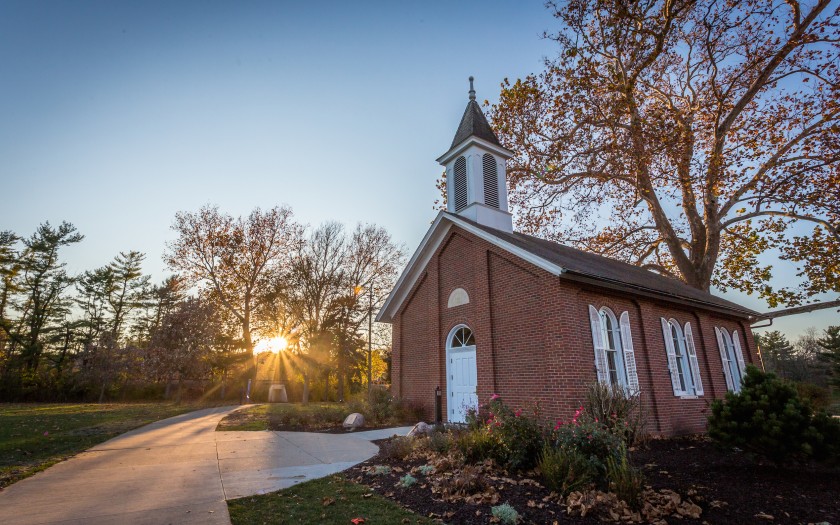 Danforth Chapel and Chapel Place are two of Hattiesburg's most iconic buildings.
Danforth Chapel was built in 1884 and is one of the oldest buildings on the University of Southern Mississippi campus. The chapel is a popular spot for weddings and other special events.
Chapel Place was built in 1892 and is home to a variety of businesses, including a law firm, a day spa, and a florist. The building is also home to the Hattiesburg Convention Commission.
Both Danforth Chapel and Chapel Place are located in the historic Downtown Hattiesburg district and are listed on the National Register of Historic Places. It is well worth visiting, even if it is just to see the gorgeous stained-glass windows in the Chapel.
Website:www.usm.edu
Address:119 College Dr, Hattiesburg.
Phone: +1601-2661-000
26. Depot Kitchen And Market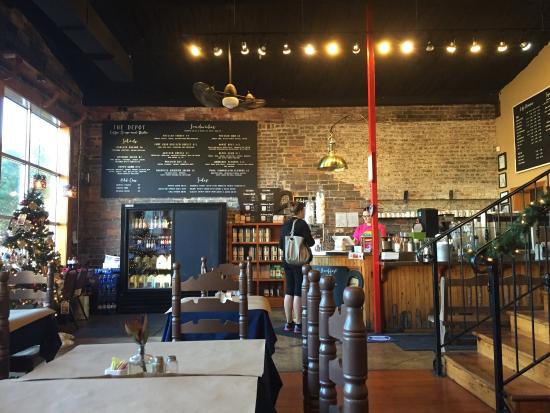 Depot Kitchen and Market is a local favorite in Hattiesburg. The restaurant is known for its delicious Southern cooking, as well as its welcoming atmosphere, and it is the perfect place to enjoy a casual meal with friends or family.
The menu features many favorite Southern comfort food dishes, including fried chicken, collard greens, and cornbread. The restaurant also offers a variety of delectable desserts, such as peach cobbler and chocolate pie.
In addition to its great food, Depot Kitchen and Market also offers a unique shopping experience. The market sells various local goods, ranging from Mississippi-made pottery to hand-crafted jewelry.
Website:www.depothattiesburg.com
Address:209 Buschman St, Hattiesburg.
Phone: +1601-602-4040
27. 1964 Freedom Summer Trail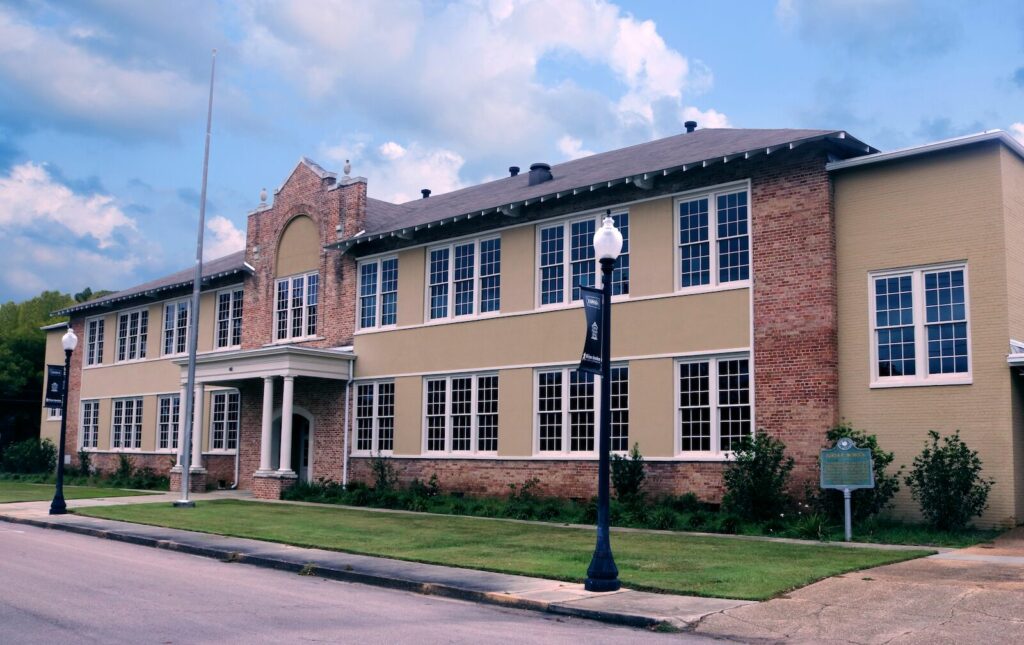 1964 Freedom Summer Trail is a 3.5-mile walking and biking trail located in Hattiesburg, Mississippi. The trail is a living history exhibit that tells the story of the 1964 Freedom Summer when more than 1,000 civil rights activists came to Mississippi to register African American voters and help start Freedom Schools.
The 1964 Freedom Summer Trail features outdoor exhibits with audio recordings of eyewitness accounts, photographs, and historical markers. The self-guided audio tour of the trail also includes a replica of the freedom school that was burned down by white supremacists during the Freedom Summer.
The 1964 Freedom Summer Trail is a powerful reminder of the importance of civil rights and the struggle for equality. It is the perfect activity for people who are interested in learning more about the history of Hattiesburg.
Website:hburgfreedomtrail.org
Address:5 Convention Center Plaza, Hattiesburg.
28. Ghost Signs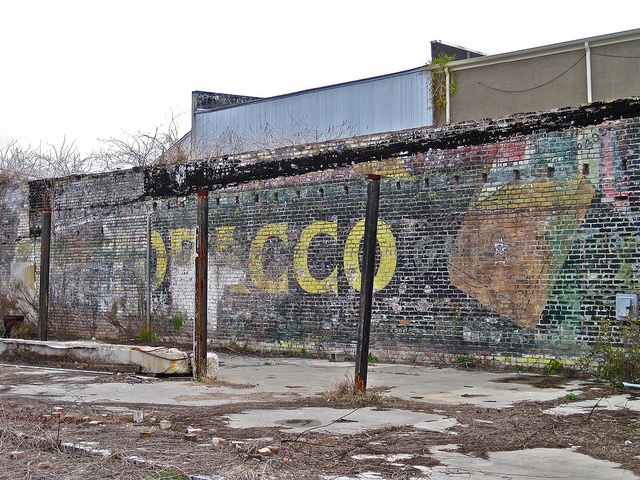 Ghost signs are old, faded signs that can be found on buildings worldwide, and Hattiesburg is no exception. Ghost signs can be found on buildings all over Hattiesburg's Downtown District.
These signs offer a glimpse into the past when businesses were booming, and Main Street was the center of activity. Today, many of these businesses are long gone, but their ghost signs remain.
While some have been restored, others continue to fade away with each passing year. But, for those who take the time to look, ghost signs can be a fascinating window into Hattiesburg's history.
Address:126 Mobile St, Hattiesburg.
29. Seanger Theater
Seanger Theater is one of the most iconic cultural landmarks in Hattiesburg, Mississippi. Located in the heart of downtown, Seanger Theater is a quaint and charming theater that has been a fixture of the local arts scene for over 80 years.
Opened in 1921, and designed by an architect from New Orleans, the Seanger Theater is known for its lavish architecture and exquisite Art Deco design, which reflects the opulence of the Jazz Age and the vibrancy of the city. It is still active today, and it is the perfect place to enjoy a Broadway show, a classic film, or an evening of live music.
There's no denying that this historic theater is a must-visit destination for those who appreciate great art.
Website:hattiesburgseanger.com
Address:201 Forrest St, Hattiesburg.
Phone: +1601-584-4888
30. Sarah Ellen Gillepsie Museum Of Art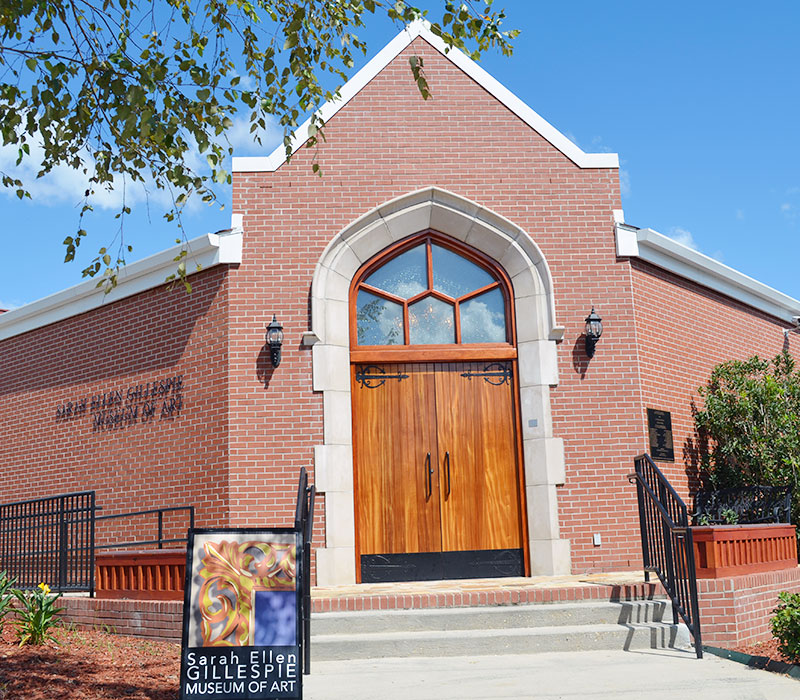 Sarah Ellen Gillespie Museum of Art is an art museum in Hattiesburg, founded in 1984 by artist Sarah Ellen Gillespie.
Sarah's collection included paintings, sculptures, and lithographs from world-renowned artists such as Pablo Picasso, Joan Miro, and Salvador Dali. In addition to Sarah's collection, the museum also has a variety of other artwork from different artists.
The mission of the Sarah Ellen Gillespie Museum of Art is to promote the understanding and appreciation of art through education and exhibition. The museum offers a variety of educational programs for all ages, including docent-led tours, classes, workshops, and lectures.
The museum is also home to a community outreach program that provides free art supplies and classes to local schools.
Website:www.wmcarey.edu
Address:498 Tuscan Ave, Hattiesburg.
Phone: +1601-318-6051
31. Shadow Ridge Golf Club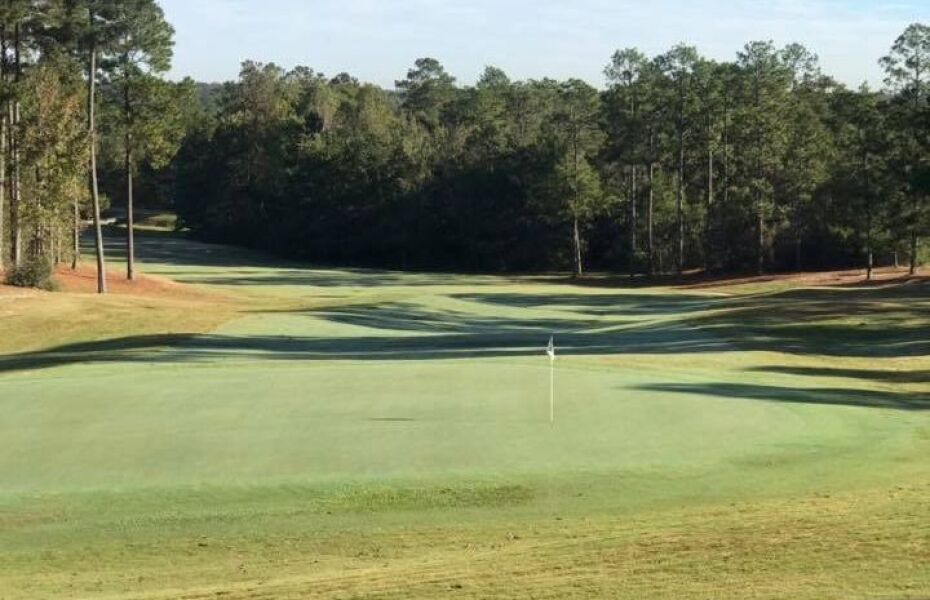 Shadow Ridge Golf Club is a premier golf destination in Hattiesburg. The course features rolling hills, lush fairways, and challenging obstacles that make it a favorite among golfers of all skill levels.
In addition to the 18-hole championship course, Shadow Ridge Golf Club also offers a 9-hole executive course, perfect for those looking to practice their short game. The club also features a state-of-the-art on-site pro shop, dining facilities, and a practice range.
Shadow Ridge offers lessons from PGA professionals, and tee times can be booked ahead through the website. So whether you're a beginner or a seasoned pro, Shadow Ridge Golf Club is the perfect place to tee off.
Website:www.shadowridgegolfcommunity.com
Address:101 Shadow Lake Dr, Hattiesburg.
Phone: +1601-296-0286
32. Tatum Park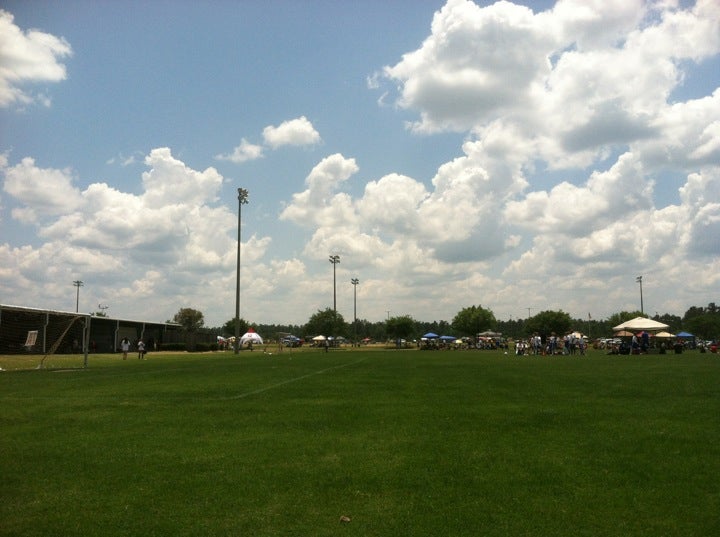 Tatum Park is a beautiful green space in the city. Situated along the banks of Tatum Creek and surrounded by lush, verdant trees, Tatum Park offers visitors a peaceful respite from the hustle and bustle of everyday life.
But Tatum Park is also an ideal place for people to get active and participate in various sports activities. Visitors can go for a run through the park's winding, tree-lined paths or enjoy a game of basketball with friends on one of its well-maintained courts.
Tatum Park has something for everyone, whether you're a local resident looking to get some exercise or just passing through town and need a break from exploring the city of Hattiesburg. In addition, it is an excellent place for kids to enjoy.
Website:www.visithburg.org
Address:101 Parkway Blvd, Hattiesburg.
Phone: +1601-545-4623
33. Donaelle's Bar and Grill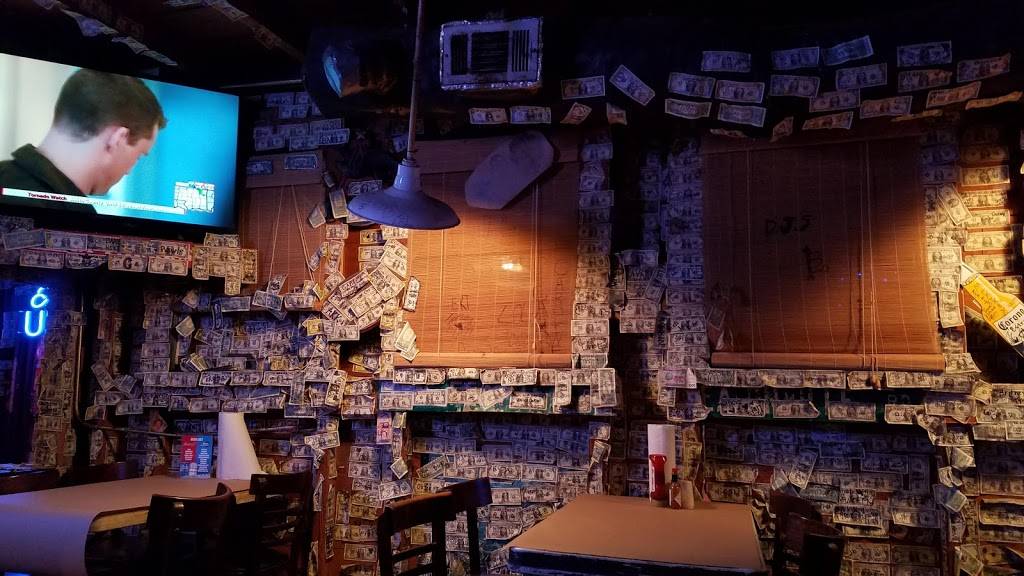 Donaelle's Bar and Grill is a popular restaurant located in an old WWII roadhouse in Hattiesburg. Known for its incredible steaks, this bustling eatery has a wide selection of classic American cuisine that is bound to appeal to every taste and appetite.
Whether you're in the mood for a juicy cheeseburger, a steaming plate of ribs, or a comforting bowl of mac and cheese, Donaelle's has you covered. Additionally, Donaelle's also offers an extensive beer and wine menu.
It is a great, family-friendly place to kick back, relax, and unwind while enjoying some delicious food.
Website:@donaelles
Address:4321 US 49, Hattiesburg.
Phone: +1601-545-3860
34. T Bones Records and Café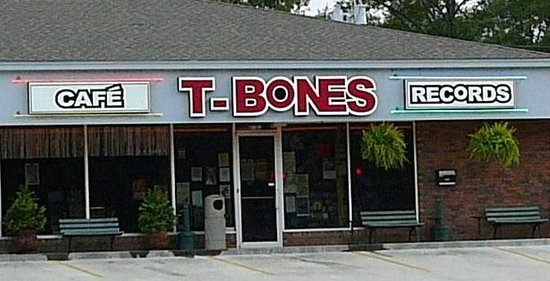 T Bones Records and Café is an iconic local business in Hattiesburg, known for its delicious food, great coffee, and, of course, its incredible selection of music. T Bones has been a Hattiesburg fixture in the community for over 20 years, and it shows no signs of slowing down.
The inviting café is always bustling with activity, whether it's locals grabbing a quick bite or touring musicians stopping in for coffee, tea, pastries, or sandwiches. It specializes in buying, selling, and trading used records, CDs, cassette tapes, and turntables.
T Bones is also known for its support of the local music scene. In addition to featuring local musicians on its stage, T Bones often hosts open mic nights and sells records from local artists.
Website:www.tbonescafe.com
Address:2101 Hardy St, Hattiesburg.
Phone: 601-583-0099