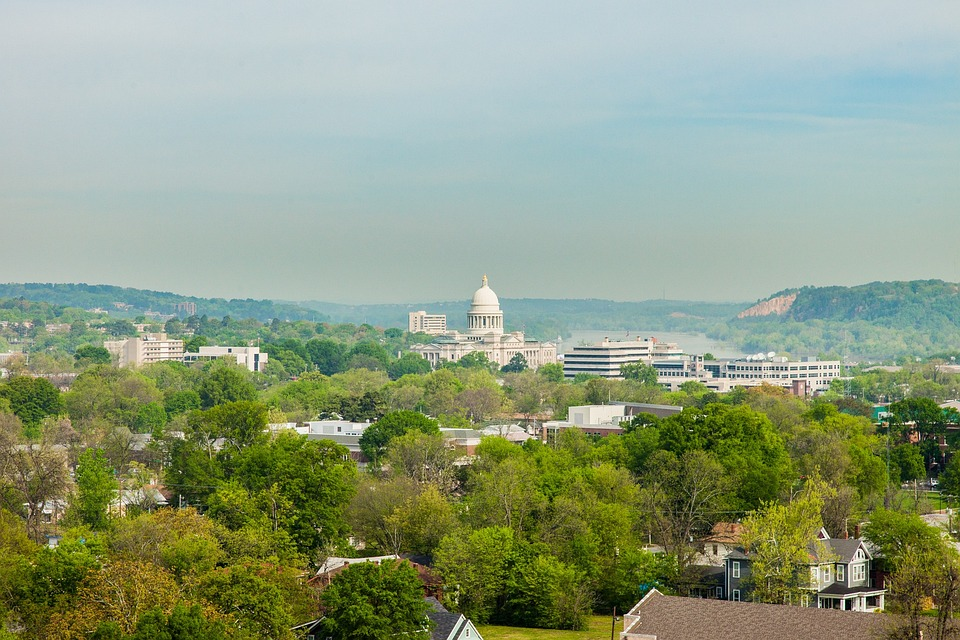 Set in the south of the scenic state of Arkansas, Little Rock is an exciting city rich in culture, history, and some of the best restaurants in the country.
Foodies swarm to Little Rock for its impressive food scene that offers diverse flavors inspired by worldwide cuisines in addition to local favorites.
From charming bistros and quaint cafes to world-class eateries and creative continental cuisine, Little Rock restaurants have something for every palate.
With the immense plethora of restaurants in Little Rock, Arkansas, to choose from, visitors will be baffled when deciding where to start their food extravaganza. The list below highlights some of the best restaurants in Little Rock you'd do well sampling.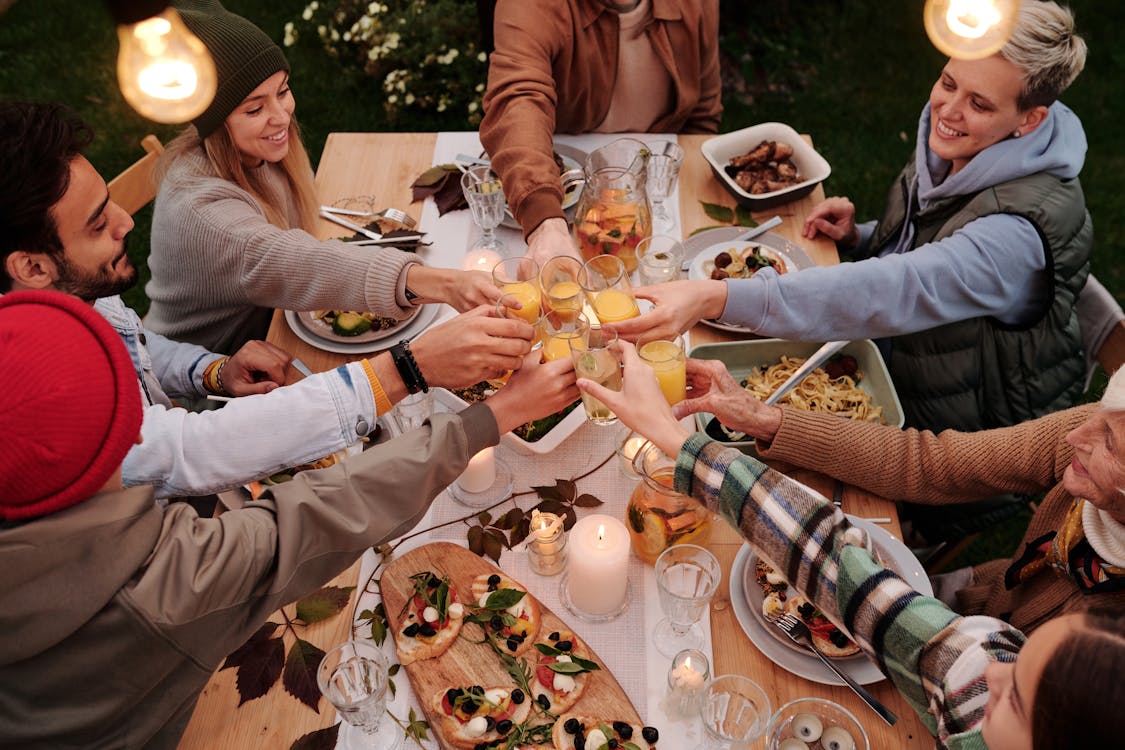 1. Brave New Restaurant
Where: 2300 Cottondale Lane Suite 105, Little Rock
Brave New Restaurant offers the perfect balance between a casual atmosphere and a refined dining experience. Set in the lively heart of Riverdale, Brave New Restaurant boasts an eclectic menu featuring locally-sourced ingredients.
The delicious food at this trendy restaurant comes at a reasonable price and is served by friendly staff with a love for the freshness of the dishes they deliver. Every meal is created with impeccable attention to detail, and dining at Brave New Restaurant is sure to make for some photo-worthy moments.
Picturesque views of the Arkansas River invite you into this lovely eatery for a romantic evening. Brave New Restaurant has been a favorite among locals for more than two decades, and the quality of the food and service speaks of its extensive experience.
Maekju, CC BY-SA 4.0 <https://creativecommons.org/licenses/by-sa/4.0>, via Wikimedia Commons
2. Kemuri Restaurant
Where: 2601 Kavanaugh Boulevard, Little Rock
Although Little Rock, Arkansas, took a while to expand its selection of Japanese cuisine, it was certainly worth the wait, as the most creative sushi restaurant in the country made its home here.
Kemuri is a contemporary Japanese restaurant in Little Rock, AR, featuring sushi delights and sleek decor true to Japanese culture. Bistro-style tables, industrial elements, a vibrant blue and white sushi bar, and indoor and outdoor dining options add to the excellence of this posh modern Japanese restaurant.
When it comes to the menu, you'll be hard-pressed to try every item. Sushi rolls are Kemuri's specialty and feature everything from masago aioli and tempura shrimp to The Crazy Monkey roll and flame-kissed spicy crab.
Beyond the extensive range of sushi options, Kemuri also cooks up seafood masterpieces, robata-style skewers, and various smoked delights.
Kemuri Restaurant – https://kemurirestaurant.com/
3. Bruno's Little Italy
Where: 310 Main Street, Little Rock
Nestled in downtown Little Rock, Bruno's Little Italy is an off-shoot of the patriarch Vincent Bruno's original Bruno's of the 1940s. Bruno's Little Italy was one of the key players in reviving the contemporary Main Street of the downtown area.
Bruno's features authentic Italian decor, including red-checkered table linens, immense pizza ovens, and the freshest herbs and spices in the region. The comforting smells of sizzling pizzas and pasta welcome you in to sample some of Bruno's legendary raviolo and salmon.
Bruno's Little Italy – http://www.brunoslittleitaly.com/
4. Arthur's Prime Steak House
Where: 16100 Chenal Parkway, Little Rock
This upscale restaurant offers everything from raspberry chipotle paired with pork tenderloin to world-class wines and creme brulee. Arthur's Prime Steak House is an elegant Little Rock treasure draped in sophistication, which is evident in the leather chairs, dark wood features, and white table linens, complimented by one of the best Mona Lisa replicas in the world.
With only the best quality meat cuts and excellent service, Arthur's Prime Steak House is the epitome of Arkansas charm and makes for an unrivaled fine dining experience.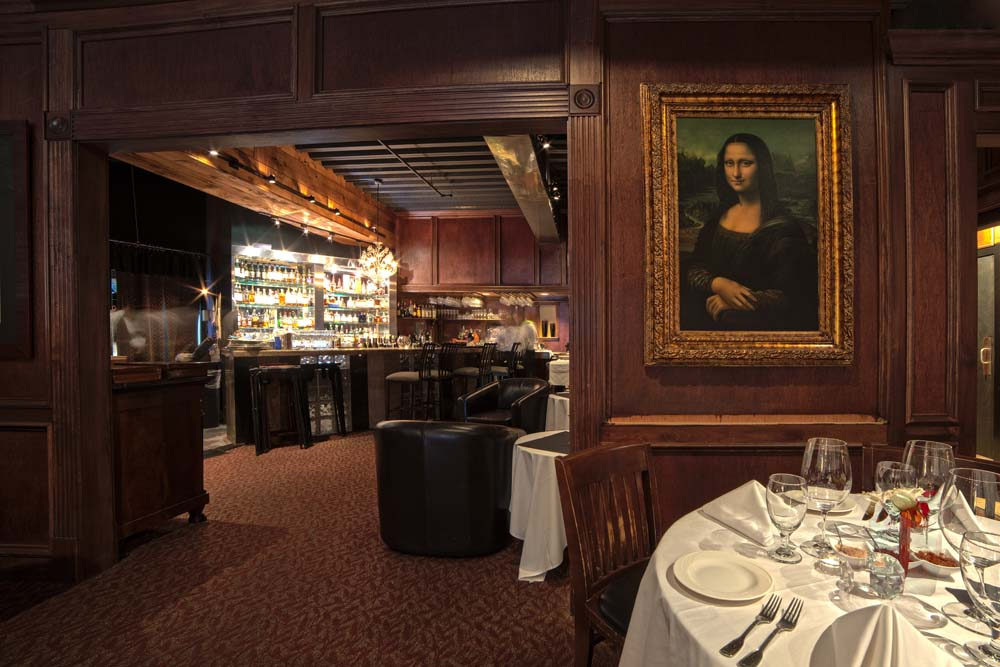 Arthur's Prime Steakhouse – https://www.arthursprime.com/
5. The Root Cafe
Where: 1500 S. Main Street, Little Rock
The Root Cafe is incredibly passionate about the community of Little Rock and supports it by all means possible. This unmissable farm-to-table restaurant sources produce and top-grade ingredients from local farms in Arkansas to deliver an authentic Little Rock dining experience.
Therefore, you can expect all the ingredients to be crisp and fresh, whether you indulge in the delicious veggies, hot chicken, nuts, and cheese or spoil yourself with a scrumptious burger and spiced pecan salad. The Root Cafe has an extensive breakfast menu that features everything from pancakes to eggs and small bites.
The dinner menu at The Root Cafe is sure to impress and includes unique local food creations like pea relish and smoked shiitakes. Whether you dine at The Root Cafe or order take-out, you are guaranteed to come back for more after getting a taste of its delicious food.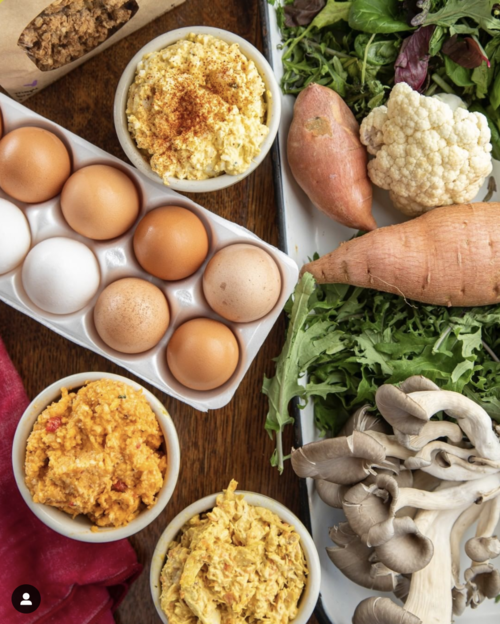 The Root Cafe – https://www.therootcafe.com/
6. The Pantry Restaurant
Where: 11401 North Rodney Parham Road, Little Rock
The Pantry has been offering unparalleled German and Czech classics to Little Rock locals for over a decade. The Pantry Crest is another branch of the Pantry Eateries in West Little Rock, which just goes to show how popular this restaurant is.
Beyond the European-inspired dishes, The Pantry has some great classic American dishes on offer too. The Pantry's specialties include Svickova, which is a Czech roast beef drenched in a creamy root vegetable sauce. Moreover, the Portobello, goat cheese flatbread, and stewed cranberries are to die for.
The Pantry doesn't only see to your culinary needs but also boasts a full bar with signature cocktails, imported beer brews, and fine wines that round off the Czech and German classics perfectly.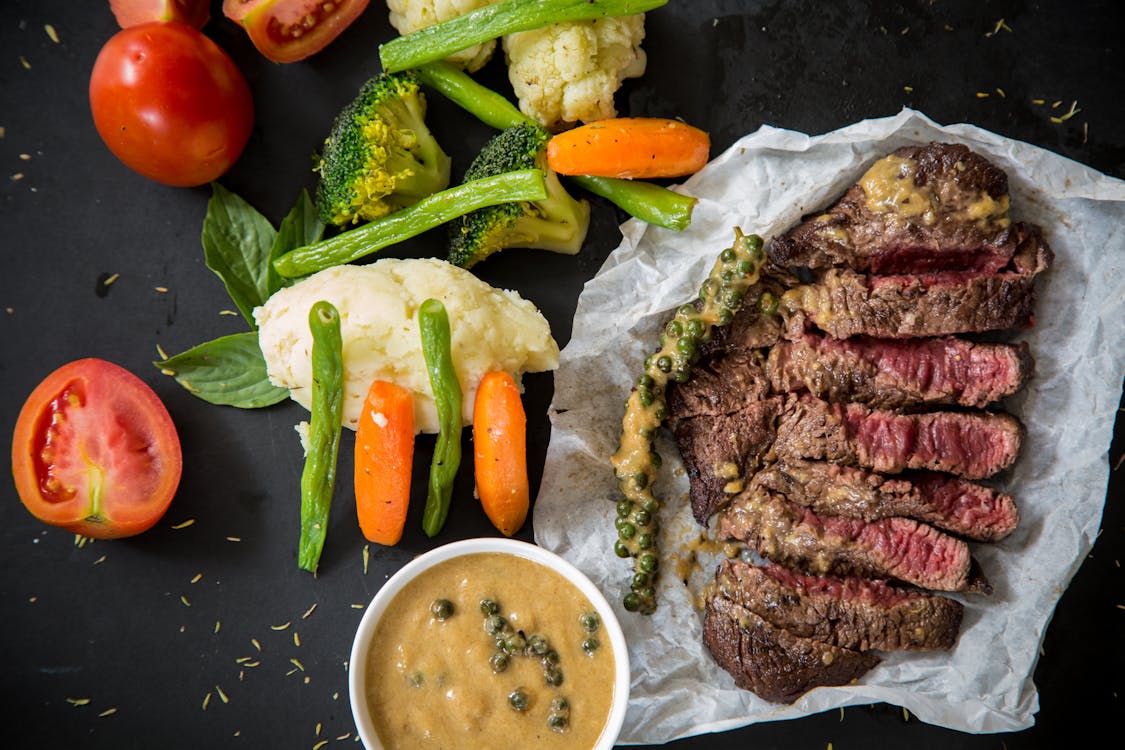 7. Doe's Eat Place
Where: 1023 West Markham Street, Little Rock
Doe's Eat Place is a grounded and charming eatery in Little Rock that offers an unforgettable casual dining experience.
This inviting restaurant in downtown Little Rock is drenched in southern hospitality and rustic charm and has been a favorite among big names, like Bill Clinton, for years, making Doe's Eat Place a Little Rock landmark.
Known and loved for its porterhouse steak, top-grade sirloin, and T-bone, Doe's Eat Place also serves incredible classic American cuisine, including gourmet sandwiches and burgers. Pair your delicious food with one of the craft beers and round off the meal with a sweet tea unique to the south.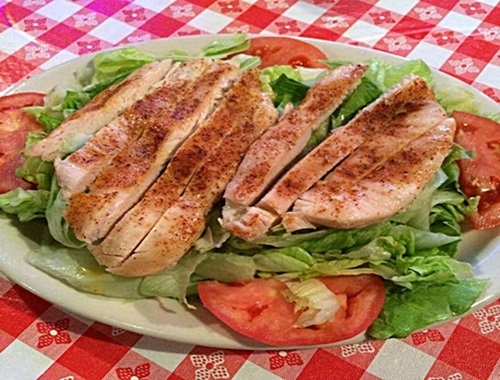 Doe's Eat Place – https://doeseatplacelr.com/index.html
8. Lost Forty Brewing
Where: 501 Byrd St, Little Rock
Set in the heart of Little Rock, Arkansas, on the lovely Byrd Street, Lost Forty Brewing is a craft microbrewery that boasts incredible brews to pair with tasty sandwiches, delicious pizzas, and top-quality meats.
The laid-back vibe and outdoor dining contribute to the amazing Sunday brunch experience at Lost Forty Brewing. The place is also dog-friendly, so if you're looking for a relaxed environment filled with the sounds of laughing families, this is the place to be.
The Brisket Sandwich is sure to satisfy any hefty lunch cravings you may have. Pair it with one of the classic beer offerings, and you'll have a spread to envy.
Lost Forty Brewing – https://www.lost40brewing.com/
9. Petit and Kreet
Where: 1620 Market St, Little Rock
With a menu showcasing local chefs and delicious food, Petit and Kreet is undoubtedly one of the best restaurants in Little Rock, Arkansas. The rustic ambience paired with the aromas of steaming local ingredients delights the senses as you step into this delightful eatery.
The food menu includes solely dinner options, and the restaurant is open every day of the week but Sundays. Petit and Kreet is one of the best fine dining establishments in Little Rock and holds a unique atmosphere that warms you from the inside.
Petit and Kreet – https://www.petitandkeet.com/
10. Capers
Where: 14502 Cantrell Road, Little Rock
Capers has been a much-loved Little Rock restaurant for over two decades. Its excellent reputation is supported by some of the outstanding merits it has received, including Best Outdoor Dining, Best Wine List, and Most Romantic restaurant in Little Rock.
The large patio is arguably the best part of Capers and is draped in romantic elements like string lights and vibrant foliage. The magic of the rustic atmosphere is only surpassed by the extensive food menu featuring Cajun delights, including crab cakes, stuffed artichokes, and warm camembert, among so many more.
The entrees at Capers set the stage for the delectable main meals to come and include favorites like shrimp and grits, chicken piccata, and tortilla-encrusted red snapper.
Capers Restaurant – https://www.capersrestaurant.com/
11. Sonny Williams' Steak Room
Where: 500 President Clinton Avenue Suite 1, Little Rock
Sonny Williams' Steak House holds the highly regarded title of the Best Steakhouse in Arkansas and truly lives up to its name. If you're looking for specialty meats and thick cuts of prime steaks, this upscale restaurant is a safe bet.
Beyond its red meat paradise, Sonny Williams' Steak Room also boasts a wide range of seafood treasures, including scallops, shrimp, mussels, Chilean seabass, and Alaskan king crab. The wine list leaves little to be desired, and there is an option for every preference.
Sonny Williams' Steak Room is the perfect setting for a romantic night out in Little Rock, Arkansas, and is ideally located near many major attractions the city holds.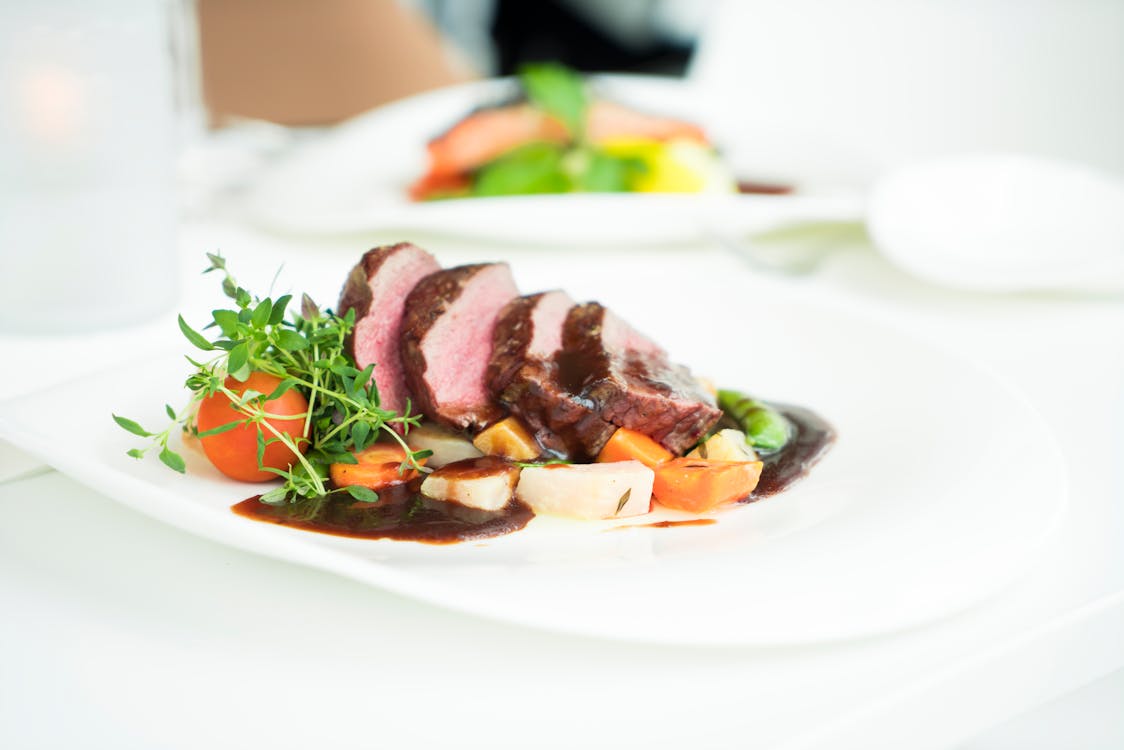 12. Taj Mahal Indian Kitchen
Where: 1520 Market Street, Little Rock
Craving some authentic Halal Indian meals among the thousands of Little Rock restaurants? Look no further because Taj Mahal Indian Kitchen has everything you need.
Although spices play a major role in Indian food, this great restaurant maintains the balance between spice and flavor perfectly. You can expect only the most authentic Indian elements at Taj Mahal Indian Kitchen, including a massive clay oven that carefully curates classics like chicken tandoori, seekh kebab, and tandoori masala lamb chops.
There are also plenty of vegan options available, and the brunch buffet may well become a regular endeavor after you've sampled some of these unique flavors.
Taj Mahal Indian Kitchen – https://tajmahalar.com/index.html
13. Three Fold Noodles and Dumplings Co.
Where: 611 S Main St, Little Rock
Three Fold Noodles has earned its title as one of the best places to eat in Little Rock, Arkansas, by delivering the most delicious homemade Chinese noodles you'll ever come across. Additionally, their steamed buns and dumplings make headlines in the city.
The best way to start off a night at this fantastic restaurant is with one of the signature noodle bowls Three Folds Noodles is known for. There is a flavor to inspire guests of all ages and preferences, so Three Folds Noodles and Dumplings Co. is a great place to take the family.
14. YaYas Euro Bistro
Where: 17711 Chenal Pkwy, Little Rock
Set along the scenic Chenal Parkway, YaYas Euro Bistro delivers only the best creative continental cuisine in a unique and wide-open setting. This inviting bistro offers delicious food and an incredibly personalized experience, making it the perfect backdrop for a celebration.
YaYas Euro Bistro has so many must-try options that you'd be challenged to choose just one. Fortunately, the brunch buffet allows you to sample as many exquisite dishes as you like. If you want to direct all your attention to a single meal, the Grilled Salmon, Bruschetta, and Roasted Pork Chops come highly recommended.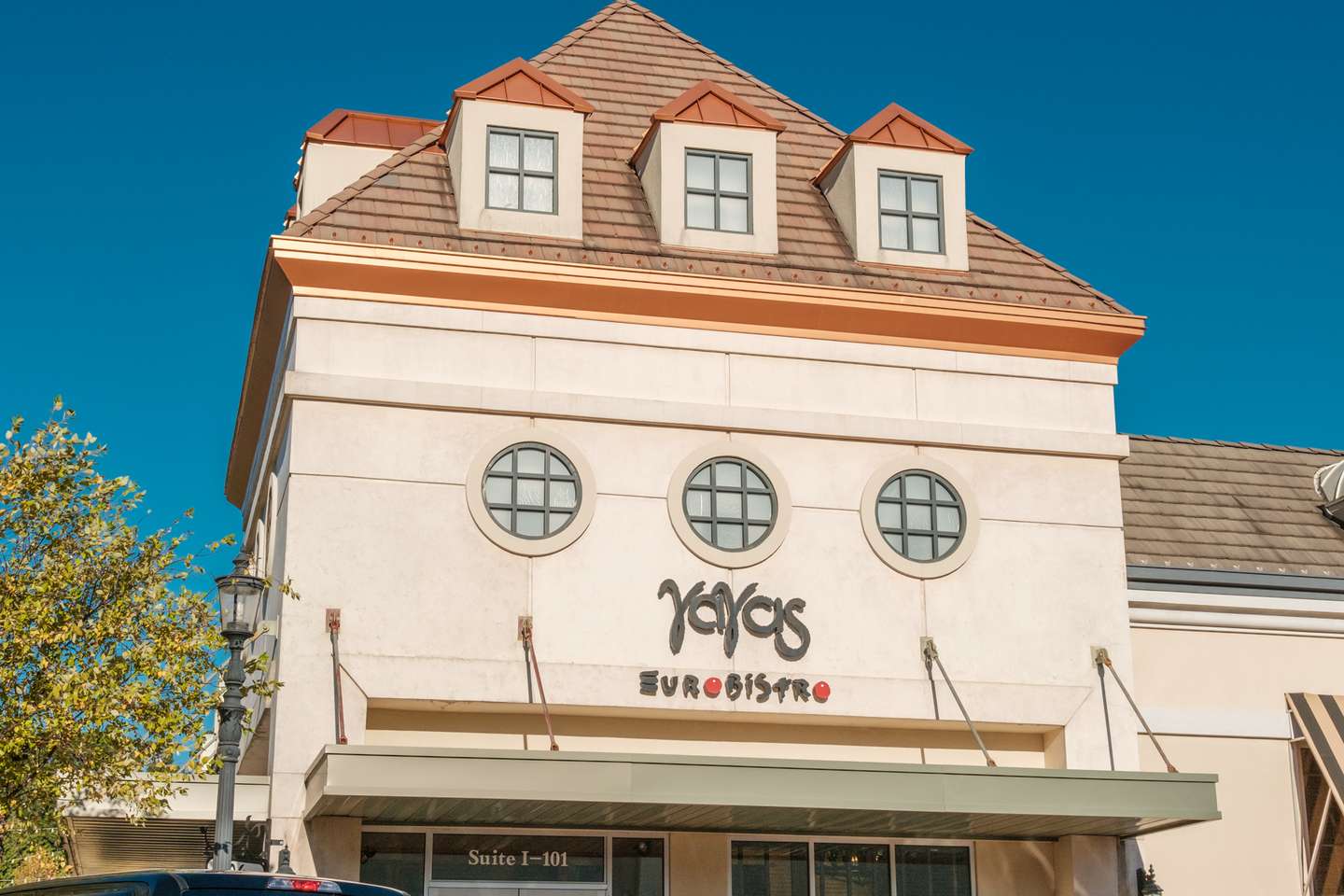 YaYas Euro Bistro – https://www.yayaseurobistro.com/
15. EJ's Eats and Drinks
Where: 523 Center St, Little Rock
If you're in the mood for some traditional American cuisine with a special touch, EJ's has everything you need. The reputable chefs cook every chip from scratch and pair it with finger-licking burgers, sandwiches, and soups.
EJ's Eats and Drinks is the epitome of comfort food, and the Sunday brunch buffet is sure to satisfy your craving for fried delights and fresh produce for days. Sip on a bucket of Mimosa and take in the southern charm of one of the best restaurants in Little Rock in this easy-going little hideaway.
16. Cache Restaurant
Where: 425 President Clinton Avenue, Little Rock
Cache Restaurant, set in downtown Little Rock, is named after the serene Cache River. This sophisticated eatery brings a modern twist to southern charm and features funky fixtures, heavy dark wood tables, and a warm and inviting atmosphere.
Dine on mouth-watering pasta with tasty sauces while staring out onto the breathtaking views of the waterway. The dinner menu is sure to have that taste you've been searching for and includes classics like blackened shrimp, loaded baked potato, and extraordinary meaty creations.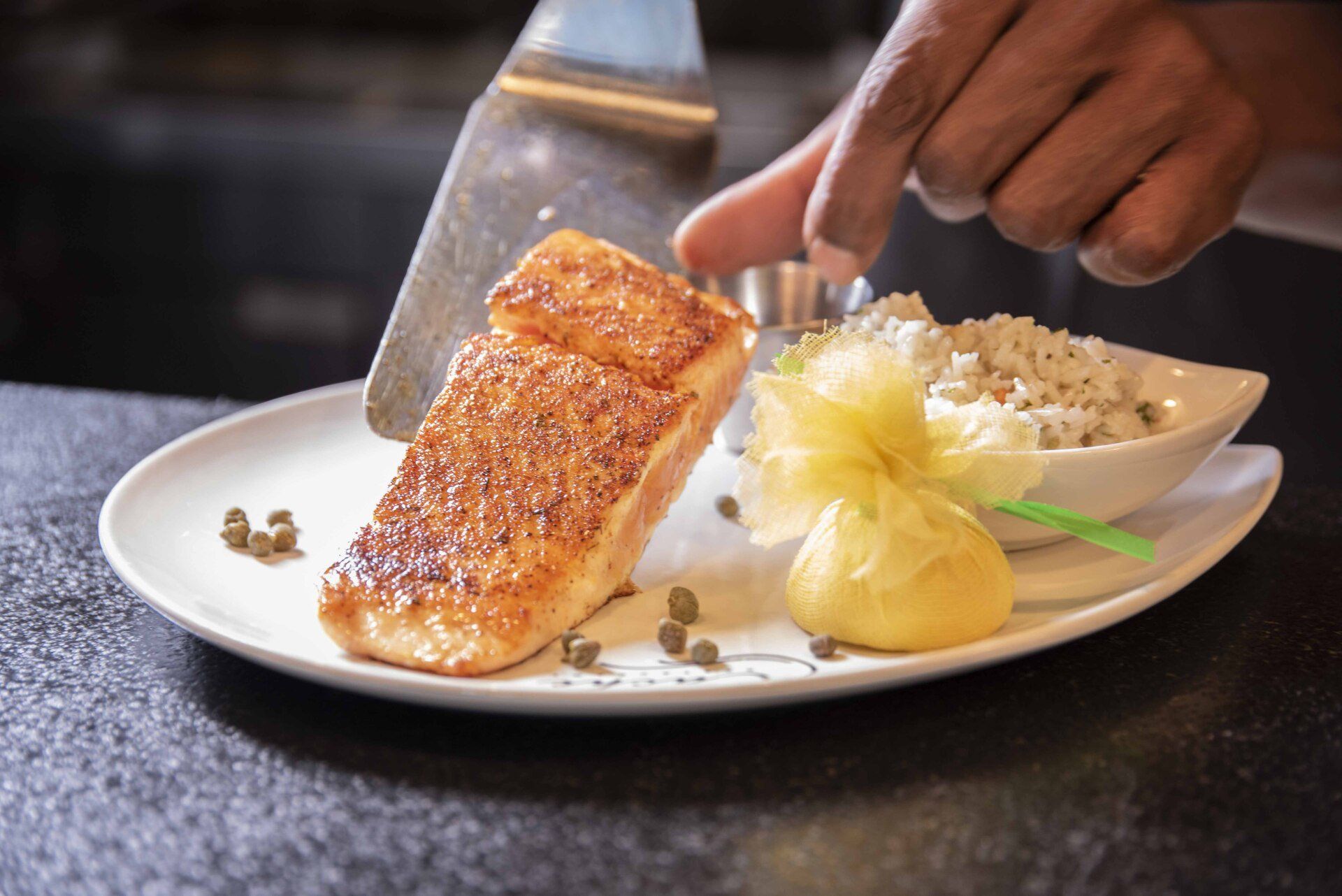 Cache Little Rock –https://www.cachelittlerock.com/
17. Tokyo House
Where: 11 Shackleford Dr, Little Rock
Tokyo House certainly deserves a spot on a list of the best restaurants in Little Rock as its buffet dinner and sushi lunches are of the very best quality. The sushi chef ensures there are no less than 50 kinds of such rolls available at any given moment, so you'll be spoilt for choices of what to try first.
If you're going on a lunch outing, be sure to arrive hungry, as Tokyo House boasts an incredible lunch buffet between 11:00 and 15:00 at a very affordable rate. In addition to the plethora of sushi options, this Japanese gem also has an unmatched dinner menu featuring noodle bowls, fried rice, and yakisoba on offer.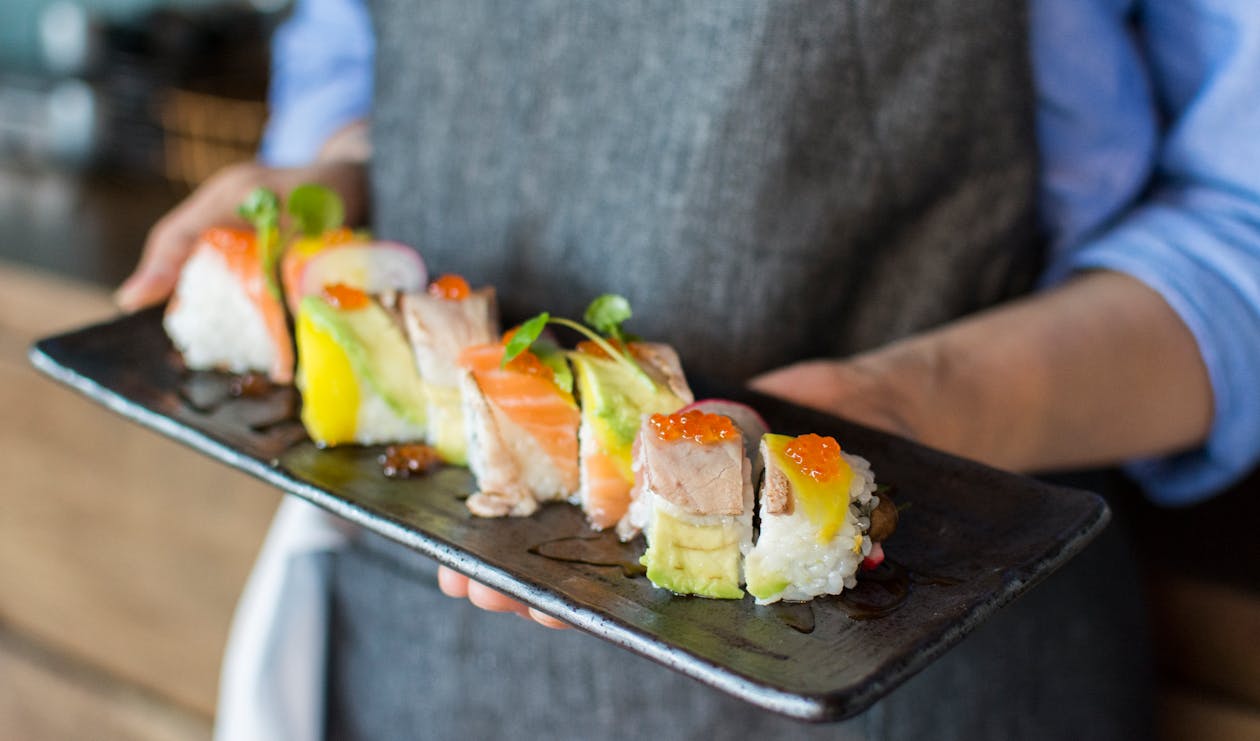 18. Trio's Restaurant
Where: 8201 Cantrell Road, Little Rock
The result of a gourmet shop with freshly brewed coffee and tasty treats, Trio's Restaurant has become one of the best restaurants in Little Rock, Arkansas, for large group gatherings.
Trio's restaurant primarily specializes in private dining events but also offers intimate experiences for a couples' night out. Coined the Grand Dame of restaurants in Little Rock, Trio's is a family-friendly gem that offers carefully curated local ingredients transformed into creative American dishes sure to delight the senses.
Trio's Restaurant – https://www.triosrestaurant.com/
19. Capeo
Where: 425 Main Street, North Little Rock
White tablecloths, soothing yellow walls, arched doorways, and soft chairs can all be found in the romantic setting of Capeo. Located in downtown Little Rock, this lovely Italian restaurant offers an eclectic menu with a wide variety of delights, including pasta, seafood, pizzas, and so much more.
The freshest produce decorates the Italian pleasures, and those who seek a relaxed yet sophisticated vibe will not be disappointed. Capeo is open six nights weekly and attracts many hungry guests from all over the city, so be sure to reserve your table if you want a taste of one of the best downtown food places in Little Rock, Arkansas.
Ristorante Capeo – https://www.facebook.com/RistoranteCapeo/photos
20. Samantha's Tap Room and Wood Grill
Where: 322 Main St, Little Rock
If you're browsing around downtown Little Rock, Arkansas, and looking for a tasty bite, Samantha's Tap Room and Wood Grill will exceed all your expectations. This delightful restaurant brings comfort and upscale elegance together in perfect harmony.
With over thirty beers and twenty wines available on tap, you'll be tempted to stay for hours and spend your time sampling everything from cheese platters and grilled artichokes to parmesan salsa and surf and turf.
The main meal menu will leave you breathless and features unrivaled pleasures like bacon-wrapped dates, chipotle mac and cheese, loaded baked potato, and filet mignon, among so many other amazing options.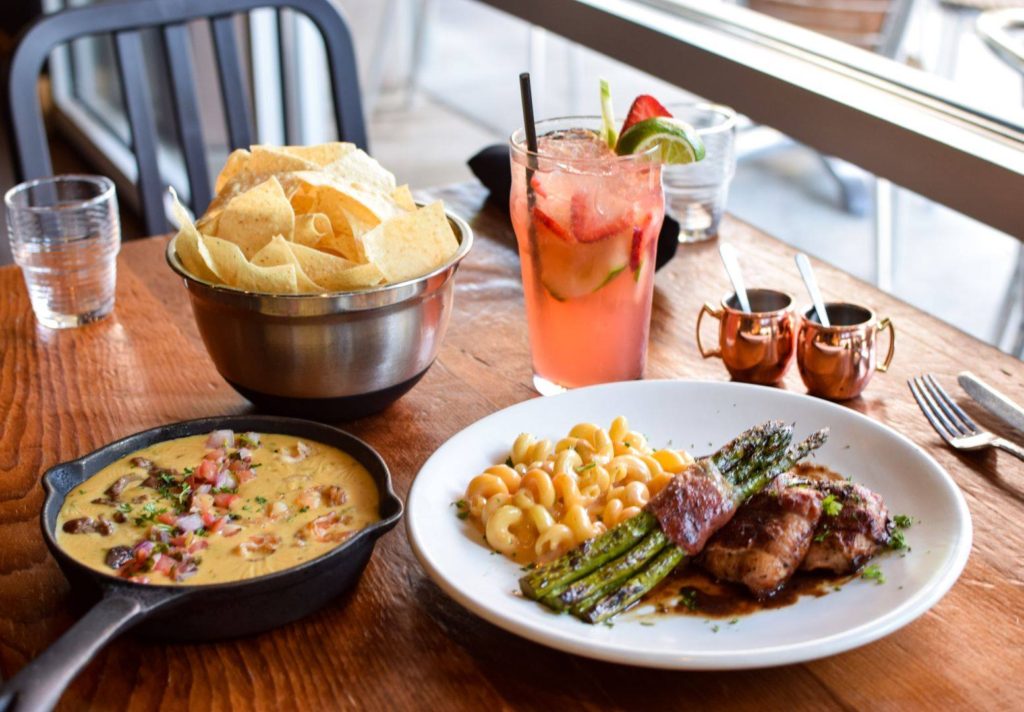 Samantha's Tap Room and Wood Grill – https://samstap.com/
21. The Terrace Mediterranean Kitchen
Where: 2200 North Rodney Parham Road, Little Rock
If you're looking for a refreshing change to heavy meals and want to switch it up with some Mediterranean food, The Terrace Mediterranean Kitchen is where you'll find it.
For over three decades, The Terrace Mediterranean Kitchen has brought life to Mediterranean culture. You'll find a wide selection of classic recipes from babaghanouj to moussaka perfectly paired with some of the finest wines in the country.
This excellent eatery offers the perfect romantic night out for two with an atmosphere of peace and relaxation combined with the colorful nature of the Mediterranean world.
The Terrace Mediterranean Kitchen – https://www.theterracelittlerock.com/
22. Ciao Baci
Where: 605 Beechwood Street, Little Rock
Ciao Baci is set in the heart of the beautiful neighborhood of Hillcrest and serves the most delicious gourmet Italian dishes prepared will fresh local ingredients.
What makes Ciao Baci one of the most distinctive restaurants in Little Rock is the fact that it is housed in a charming old home, contributing to the romantic atmosphere and festive ambience.
The outdoor seating area is found on the house's charming porch, decorated with string lights and wooden furniture. Ciao Baci offers seasonal menus, so you can surprise your palate every time you visit.
They are especially known for their spring green pesto cavalappi and roasted chicken, but you will never run out of fantastic options to indulge in.
Ciao Baci – https://ciaobacilr.com/
23. Table 28
This luxurious restaurant is set within the Burgundy Hotel diners, serving American cuisine that is nothing short of excellent. Table 28 certainly needs mentioning in our Little Rock restaurant guide, as its menu is so incredibly diverse and impressive that you'd be tempted to come back for every item.
From curry chicken meatballs and veggie risotto to octopus and blackened redfish, every dish surprises and delights foodies of all preferences. Table 28 only offers a dinner menu and is open between four and six every night, Monday through Thursday.
After a delicious meal, be sure to try one of the delectable desserts to satisfy your sweet tooth. Table 28 offers some of the most comforting desserts you could hope for, including smores and sticky toffee pudding.
Table 28 – https://www.table28lr.com/
24. Zaza
Where: 5600 Kavanaugh Blvd, Little Rock
There is no better way to end a long day than with a tasty slice of quality pizza and a refreshing salad. Zaza is one of the few places in Little Rock, Arkansas, that prepares its pizzas in a Neapolitan wood-fired oven, so unparalleled flavors are guaranteed.
This traditional Italian eatery sources all its ingredients from local Little Rock farms and serves some of the best roasted chicken caesar salads and Italian sausage pizzas in the city.
Their Sicilian Anchoviy and Atomica pizza is to die for, and the sizzling hot pizza oven ensures the crust is crispy and smokey.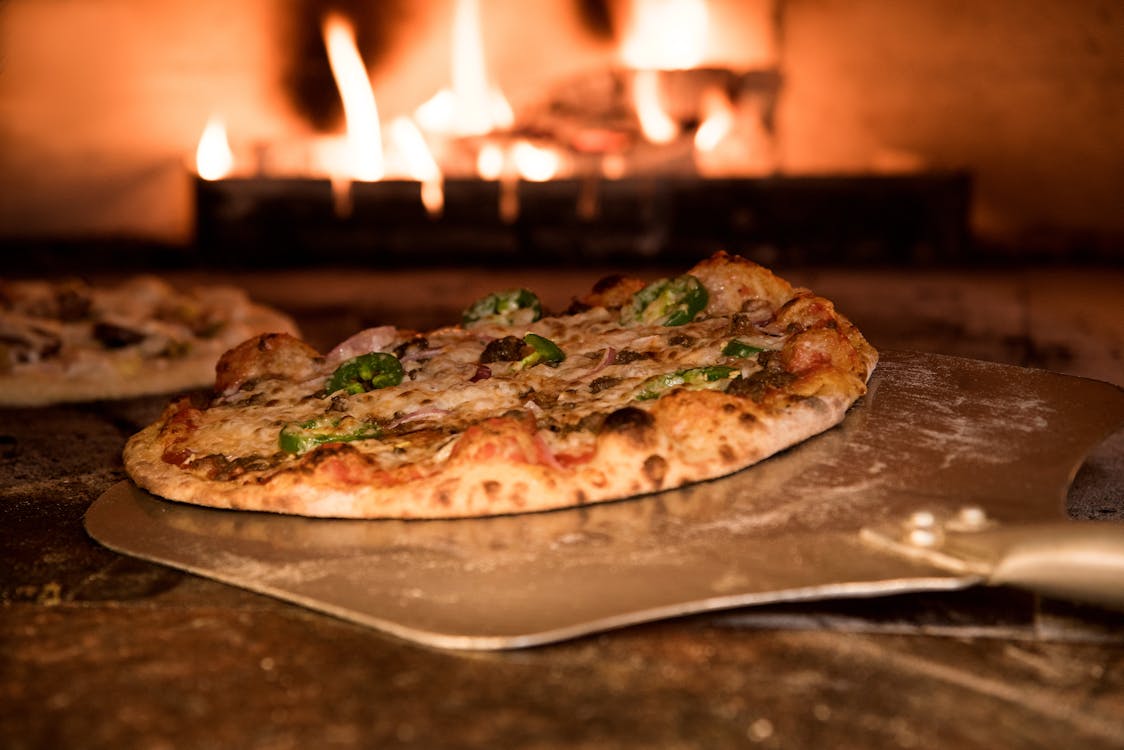 25. Purple Cow Restaurant
Where: 8026 Cantrell Road, Little Rock
One of the most popular family-friendly restaurants in Little Rock, Purple Cow is a nostalgic eatery that reminds you of authentic 50s diners.
This amazing restaurant features pops of purple everywhere you look, and the service is impeccable. Purple Cow expanded across the state, but the Little Rock branch is a local favorite and offers families a warm setting in which to enjoy some quality time together.
You will find various burgers and gourmet sandwiches paired with soda fountain drinks and milkshakes. You'd be hard-pressed to find a better place to bring companions of all ages and tastes in Little Rock, Arkansas.
Purple Cow Restaurant – https://www.purplecowlr.com/