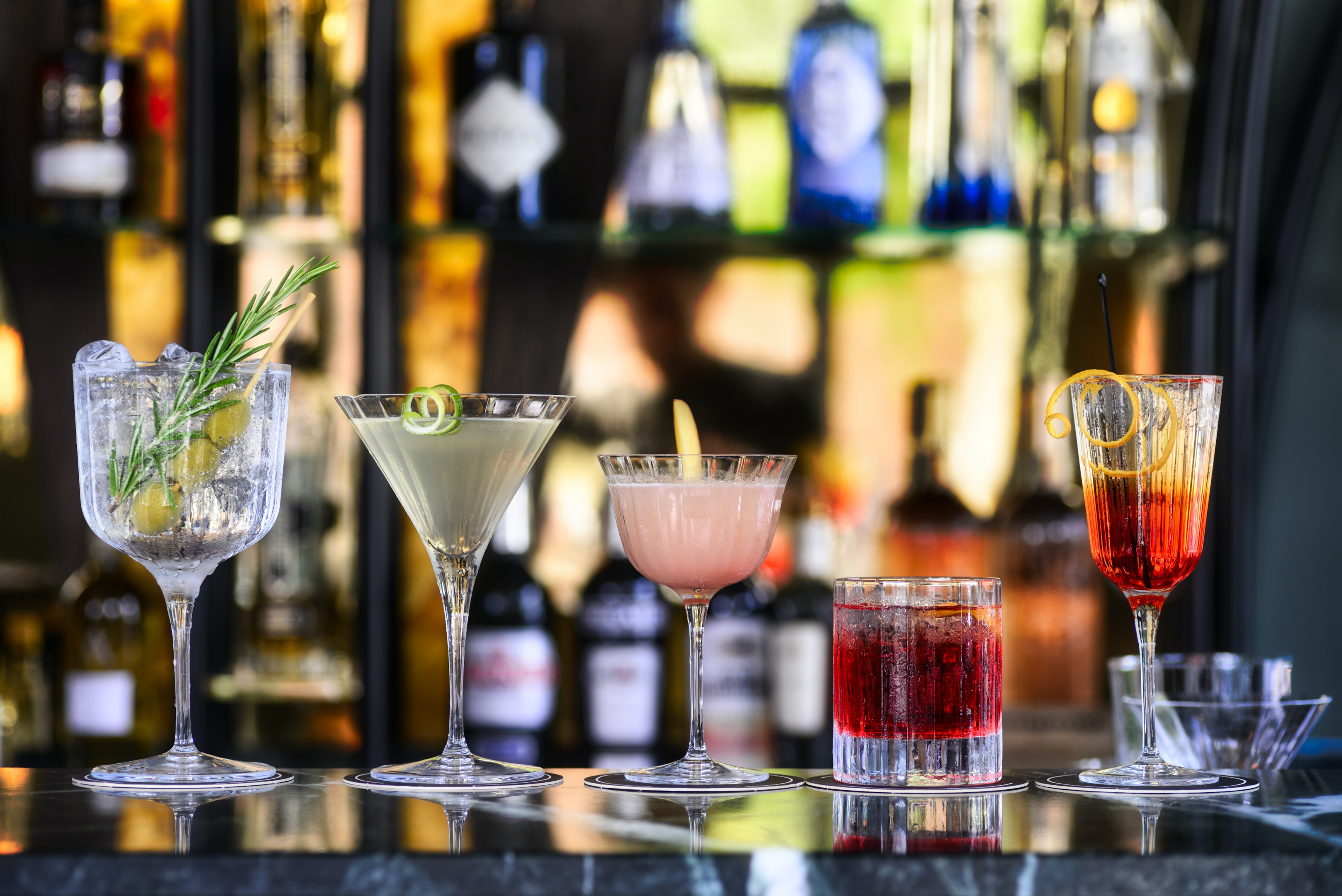 From classy to quirky and even downright weird, the city of Asheville, North Carolina has a vast array of bars for visitors to choose from.
As a matter of fact, a trip here wouldn't be complete without some bar hopping.
Check out The Montford Rooftop Bar for seasonal craft cocktails paired with breathtaking views of the Blue Ridge Mountains, Capella on 9 for the tapas-style menu, or the Social Lounge for a sophisticated night out.
Alternatively, visit one of the countless wine bars that the city has to offer, such as Bottle Riot, 5 Walnut, La Bodega, and Walls.
For those in the mood for something sweet, head to Crave Dessert Bar for smoky cocktails combined with sugary delights.
Naturally, some of the best bars in Asheville are local dive and sports bars offering traditional pub fare alongside reasonably-priced drinks. Check out Bone & Broth, The Malvern, and Fleetwood's.
You'll also find over a dozen distilleries specializing in creative handcrafted cocktails, such as Chemist's Antidote, Cultivated Cocktails, and Dalton Distillery. If you're a book lover, be sure to stop by The Battery Park Book Exchange for a literary cocktail or two.
Explore all the best bars in Asheville, NC in the following guide, which includes some of the finest wine, cocktail, and rooftop bars that the city has to offer.
20 Best Bars in Asheville
Whether you're looking for casual, elegant, or unusual, these Asheville bars have something for everyone!
1. Asheville Guitar Bar
If you're looking for hidden gems in Asheville's River Arts District, this is one of them. The Asheville Guitar Bar is a live music venue with no shortage of musical talent or tasty refreshments, making it a great option for those looking to enjoy a few drinks in a more intimate setting.
The Asheville Guitar Bar is also a favorite hangout among locals, especially the older folk, whom you may find dancing up front to their favorite tunes. You may feel inclined to join them, or perhaps you'll be content to sit and observe from the bar with a cold beer or a glass of wine in hand. Either way, you're sure to enjoy your time at this delightful little establishment.
2. Battery Park Book Exchange & Champagne Bar
One of Downtown Asheville's must-visits, the Battery Park Book Exchange is a champagne bar with a difference. It occupies an impressive two-story bookstore that's charmingly decorated with art and antiques. It also boasts a quaint outdoor seating area that features the occasional live music performance.
Here, you can enjoy literary-themed sparkling cocktails like the Great Gatsby and the Secret Garden, as well as a large selection of wine and champagne. The chef here has also created a veritable smorgasbord of delicious bites using fresh local ingredients. Their cheese and charcuterie boards are the most-raved about items on the menu, although you can also find a selection of seasonal soups and salads, mouthwatering pastries, and gourmet paninis for a more satisfying meal.
So, if you're a lover of both books and booze, then you'll definitely want to stop by the Battery Park Book Exchange & Champagne Bar the next time you're in Asheville, NC!
3. Ben's Tune-Up
If you enjoy Japanese sake, you may want to check out this trendy brewery and sake garden on Hilliard Avenue in Downtown Asheville. Set inside a former automotive garage, the restaurant offers an unlikely combination of Asian and Appalachian culture. While they may not seem to go together at first, Ben has somehow managed to create a harmonious blend between the two, resulting in a truly unique establishment.
Don't get us wrong: the sake at Ben's distillery is true sake, but it's made using rice grown on American soil and Appalachian water. It also comes slightly carbonated in bottles and cans. In fact, if the label weren't on the container, it might be mistaken for a beer that tastes a little different.
If sake isn't really your thing though, not to worry; Ben's Tune Up also offers an array of local craft beer. Pair your drink of choice with one of the restaurant's unique entrées, which range from Asian-inspired dishes like Fried Tofu, Edamame Dumplings, and Sesame Noodle Salad to classic Southern favorites like burgers and fries.
4. Bone & Broth
Bone & Broth is another off-the-beaten-path restaurant and bar on the outskirts of Downtown Asheville that's perfect for anyone looking for a local hotspot with plenty of good food and drinks.
With its exposed brick walls and rustic lighting, you'll love dining at this cozy establishment that's known for its premium dry-aged steaks, handcrafted burgers, and daily specials.
Oh, and did we mention that their cocktails are out of this world? You can also find a great selection of local beers on tap at their classic mahogany bar, as well as wine and other spirits.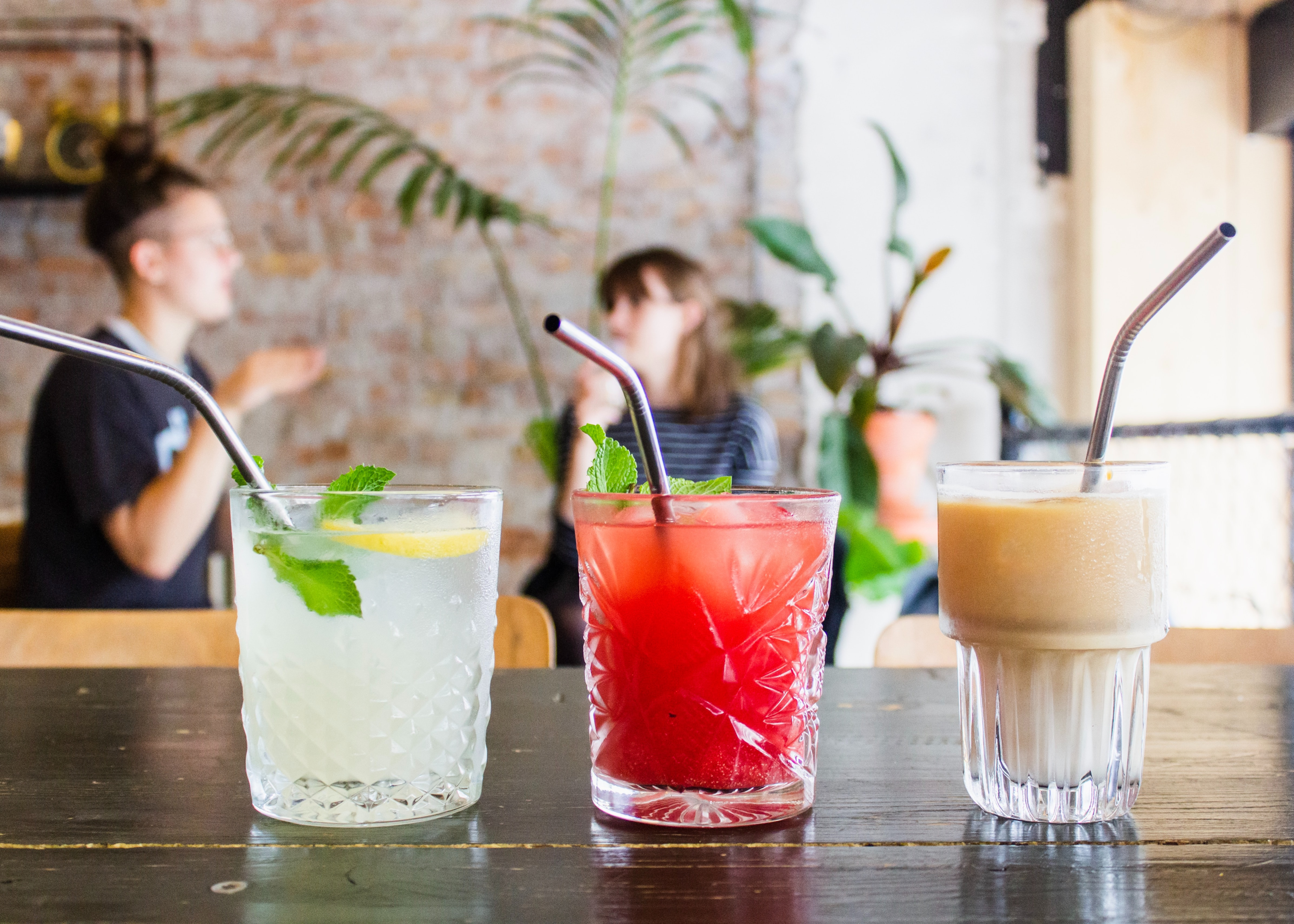 5. Bottle Riot
If you're looking for one of the best wine bars in Asheville, Bottle Riot is your go-to. Here, you'll sip on wine glasses as large as your face while listening to local musicians play their tunes. The bar also offers a wide selection of cocktails alongside an even wider array of European beers and ciders, so you're bound to find something you like here.
In addition to alcoholic beverages, you can also order a variety of small plates like their Three Cheese Board. For those looking for a more filling meal, however, try the Bull and Beggar next door or the local favorite, All Souls Pizza, up the road.
6. Crave Dessert Bar
Those with a sweet tooth won't be able to resist any of the tantalizing desserts at this cozy bar and eatery, but that's not all that it has to offer. Enjoy handcrafted cocktails, local craft beers, wine, and champagne alongside an array of sweet and savory small plates – all served in a comfortable and relaxed setting.
We recommend coming here after a hearty dinner at one of Downtown Asheville's many excellent restaurants, although that shouldn't stop you from arriving at any other time of day.
Indulge in a slice of their decadent dark chocolate cake or Italian donuts, or linger over one of their savory small plates, handhelds, or flatbreads while smoking hookah or sipping on your favorite drink.
7. Cultivated Cocktails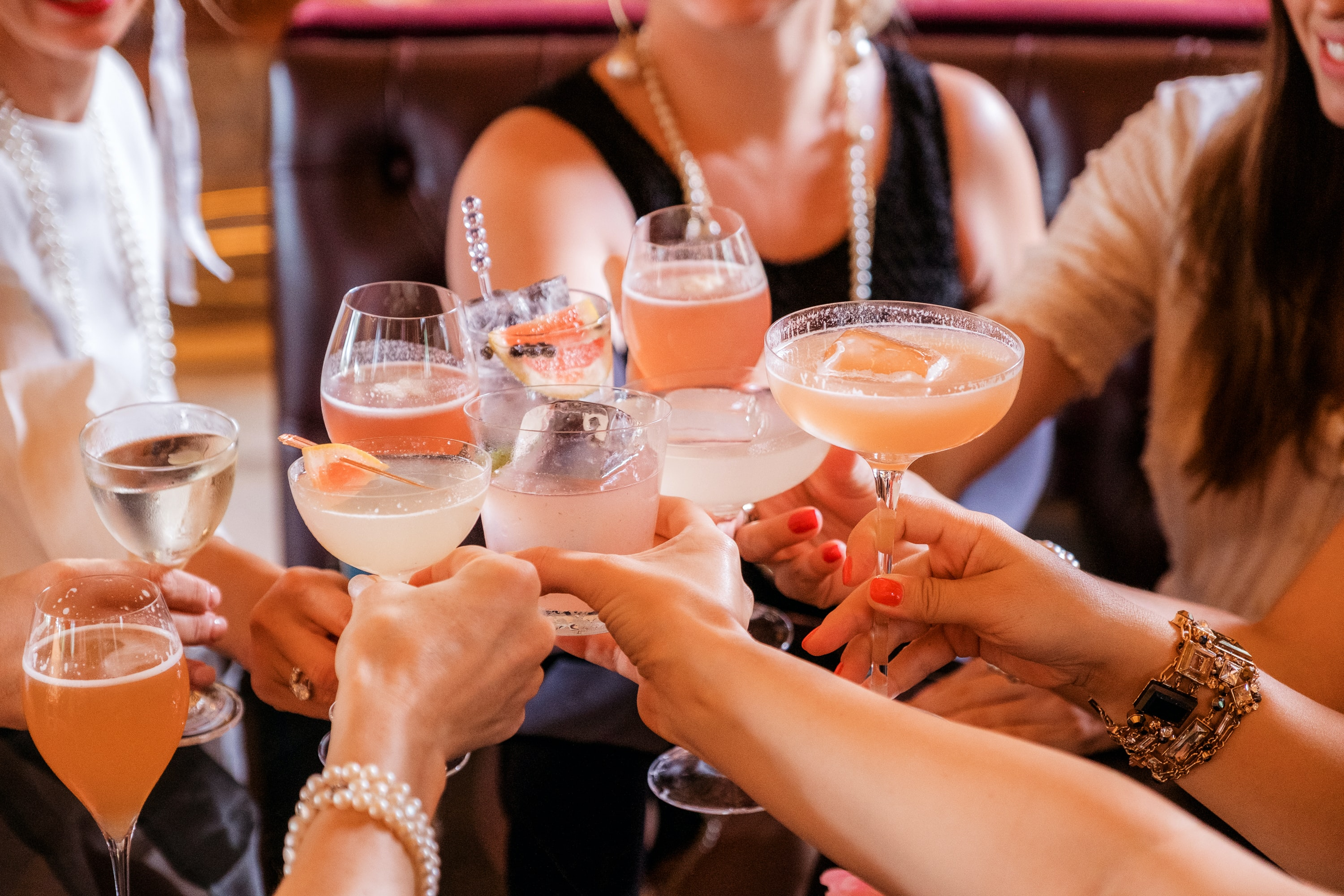 Despite being better known for its beer, Asheville also boasts several noteworthy distilleries and Cultivated Cocktails is one of them. This small family-owned business specializes in rum and gin, offering free tours about how the spirits are made as well as a curated menu of snacks and small plates to enjoy with your drinks.
You can also pick up one of their rotating 'cocktail kits' that will allow you to make your own delicious creations in the comfort of your home. Also, check out their Instagram page for more amazing cocktail recipes.
8. District 42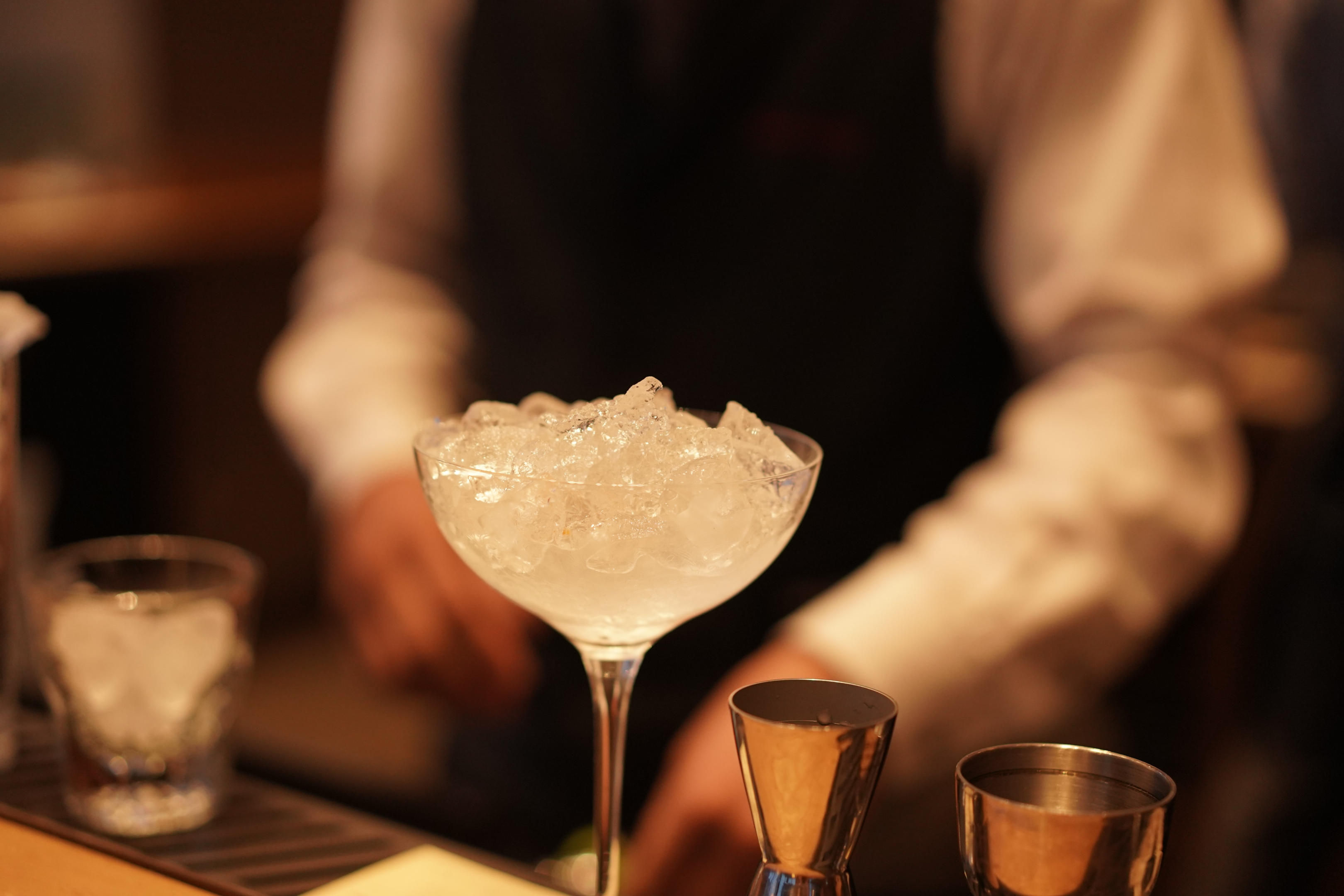 One of the classiest bars in Downtown Asheville, District 42 is located inside the refined Kimpton Hotel Arras, making it one of the more expensive establishments on our list.
This all-day lounge and bar offers artisanal cocktails in a trendy and modern setting, plus a selection of shareable small plates, handhelds, salads, and desserts. There's also a pizza bar that's open seven days a week.
Although you may miss the more local vibes found in casual neighborhood bars, District 42 is great for special occasions and more formal affairs.
9. Fleetwood's Chapel
If you're looking for one of the most unique bar experiences in West Asheville, head to Fleetwood's Chapel – a Vegas-style wedding chapel and bar that also sells vintage clothing.
Among all the weird and wonderful items on display here, you'll find murals by local artist Kathryn Crawford, an open coffin, and a nod to all things 'Rock n' Roll'. You might also catch one of the live music performances or events that the venue is known to host, plus you'll be able to enjoy a variety of local ciders, beers, and wine at the bar.
There's no doubt about it – this Rock n' Roll West Asheville bar will either crack you up or haunt you for the rest of your life.
10. Library Lounge
One of the more exclusive Asheville bars, the Library Lounge is located inside The Inn on the luxury Biltmore Estate.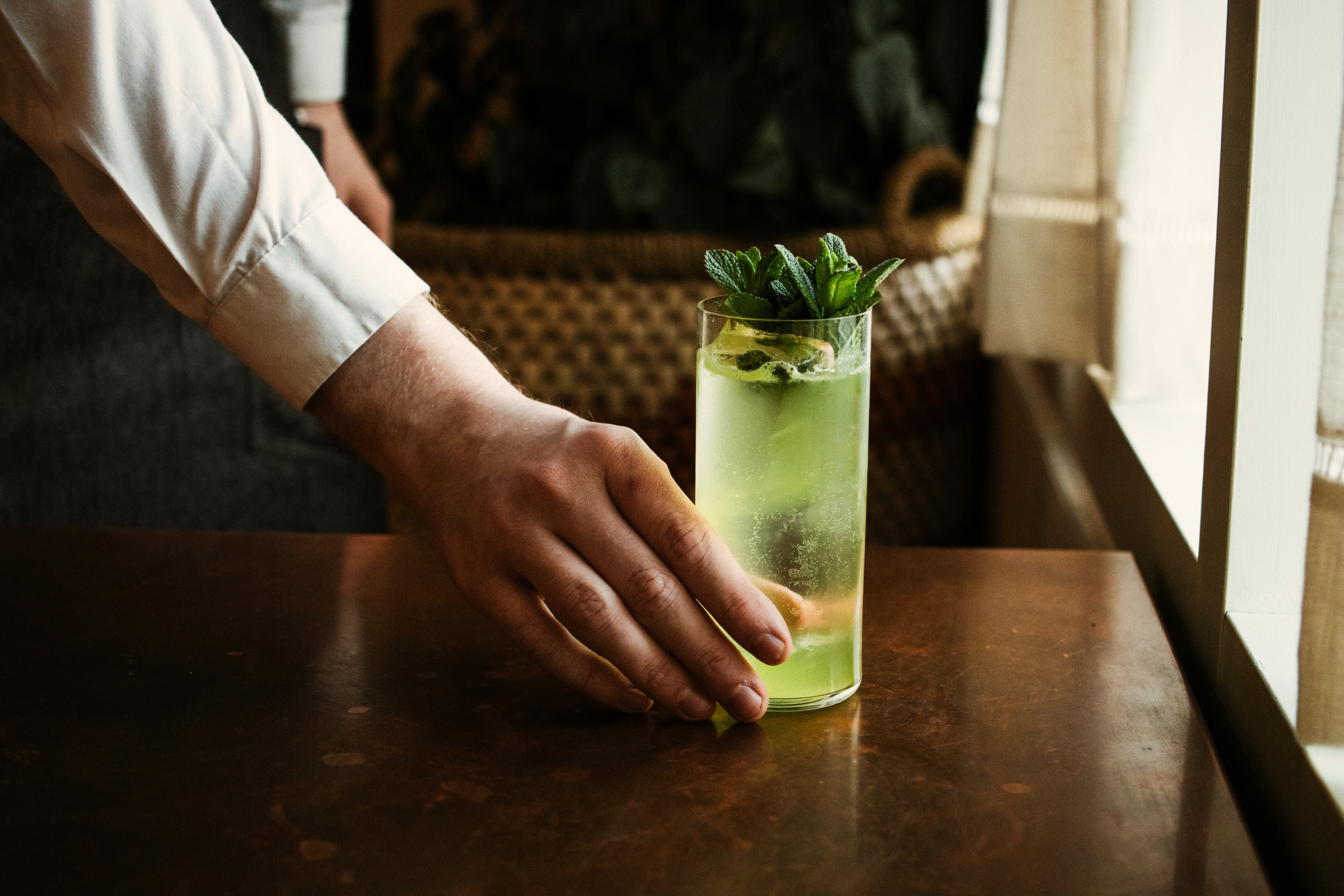 Perfect for book lovers, this elegant bar is ensconced by tall bookshelves and windows offering breathtaking views of the grounds and the Blue Ridge Mountains beyond. It also overlooks Antler Hill Village – another splendid Biltmore bar and restaurant area – where you can find Biltmore's winery, Cedric's Tavern, and The Creamery.
For drinks, try any one of the Library Lounge's seasonal cocktails or a glass of Biltmore wine. You can also pair your drink with a variety of small bites such as craft cheese and charcuterie, shrimp cocktail, sliders, and desserts. Think ice cream sandwiches, cookies, and mousse.
Given its sophisticated setting, the bar encourages its patrons to wear 'resort elegant' attire, especially for evening cocktails and entertainment, making this a great spot for special occasions.
11. Rankin Vault Cocktail Lounge
Home of 'Asheville's best burger', the Rankin Vault Cocktail Lounge is an excellent option for those who want to enjoy a few drinks in a casual atmosphere paired with wholesome, farm-to-table food.
Interestingly, the bar features a converted bank vault that serves as a room with seating for up to 12 people. There's also a back room featuring worn couches for a laid-back experience. However, if the weather's fine then you may want to take advantage of the outdoor seating area, which is ideal for people-watching.
Alongside creative cocktails and award-winning burgers, Rankin Vault serves up traditional pub fare, including salads, sandwiches, hot dogs, and nachos.
Open until late, Rankin Vault is also a great spot to stop for a snack after a long night on the town.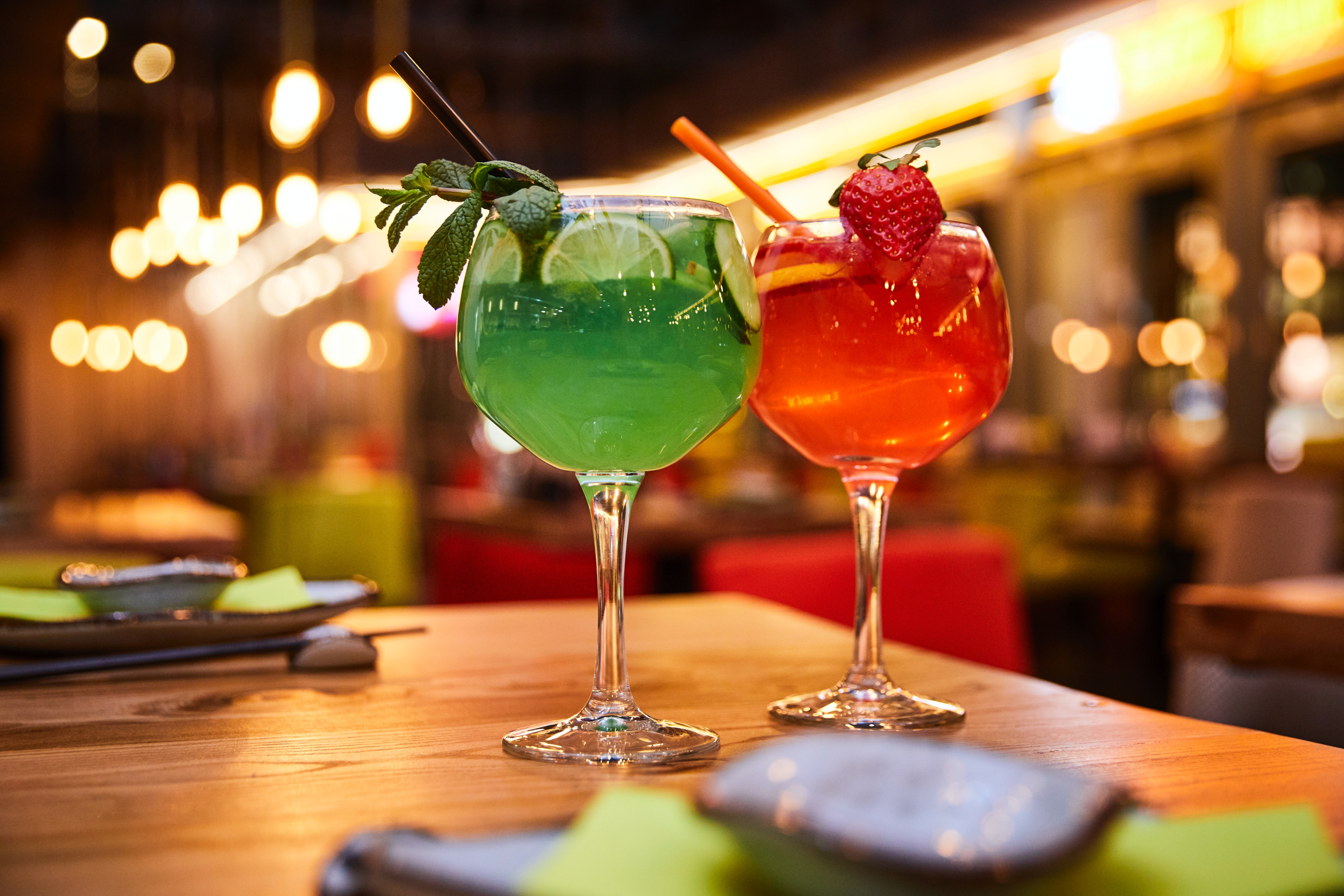 12. Saint Brighids
Possibly one of the coolest bars in Asheville, NC, you might want to add Saint Brighids to your bucket list of best beer bars to visit in the area.
Located in the River Arts District's stunning European art and home decor market, this spacious bar pays homage to the Irish patron saint of brewers. It serves a little bit of everything, from wine and beer to mead and cider.
Order a drink and sit at a table or take a stroll around the market for some art and home decor pieces.
You can find all kinds of odds and ends here, from paintings, furniture, and jewelry to embroidered jean jackets, blown glass lighting, Pez machines transformed into pot holders, and more. Exploring this area is also a great way to spend a weekend in Asheville if you're looking for something to do.
13. Top Of The Monk
Located upstairs from the Thirsty Monk – one of Asheville's most beloved craft cocktail bars and breweries – is this rooftop bar that's worth the climb for those who prefer spirits and brews.
Top of the Monk also features a robust whiskey menu, and unlike other Asheville bars, they use the right ice cubes, so you won't find any watered-down drinks here!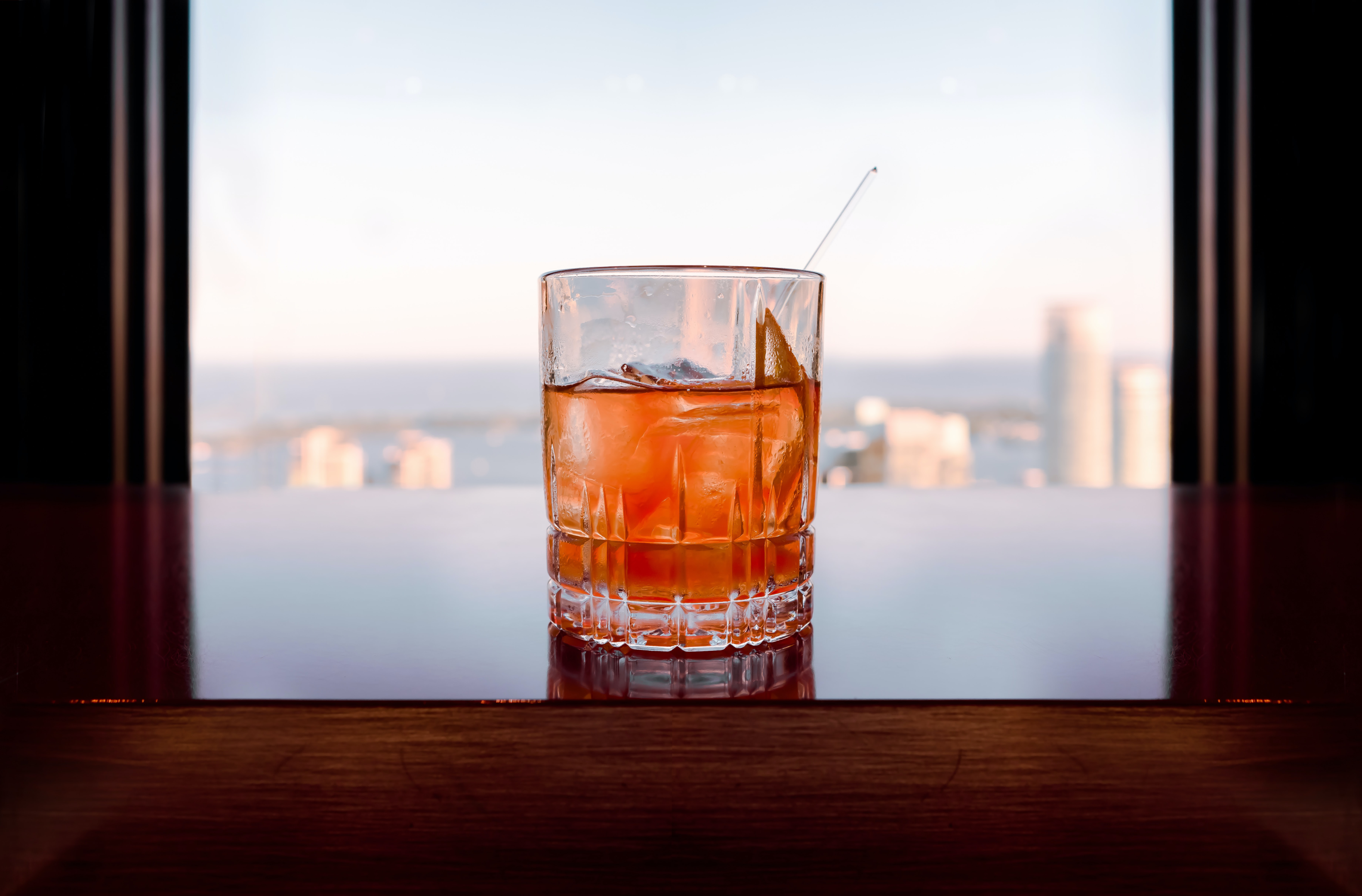 The interior of the bar is cozy, making it a great spot for date night or a get-together with a small group of friends. Also, don't forget to check out the rooftop patio where you can catch a glimpse of the stars and the Blue Ridge Mountains beyond.
All in all, Top of the Monk is ideal for those looking for some grown-up fun in a laid-back setting with a perfectly-made drink in hand.
14. The Great Hall Bar
If you're looking for one of the most romantic fine dining experiences in Asheville, NC, head to The Omni Grove Park Inn.
Although this is a luxury resort for holidaymakers, conferences, and weddings, the Grove Park's Edison and The Great Hall Bar are both excellent options for drinks and small bites.
Located inside the lobby at the Omni Grove Park Inn, The Great Hall Bar boasts old-world rustic charm with impressive floor-to-ceiling stone fireplaces and comfortable seating, perfect for relaxing with one of their handcrafted cocktails or a glass of wine.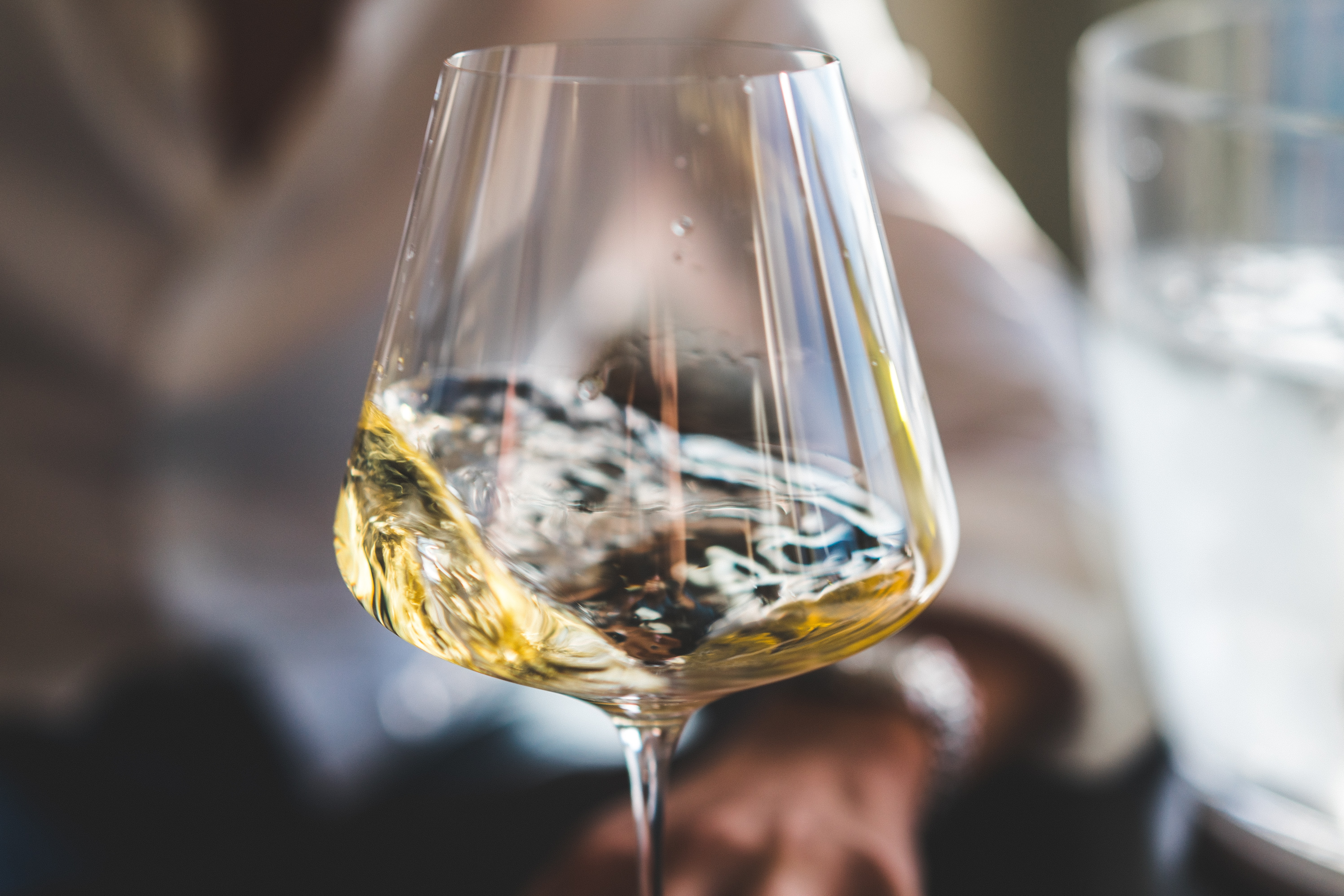 You can also find a splendid selection of gourmet sandwiches, charcuterie, and desserts at The Great Hall Bar, which can be enjoyed along with spectacular views of the surrounding Blue Ridge Mountains.
15. The Malvern
The Malvern gastropub specializes in locally-sourced food and drinks served in a comfortable setting. While nothing fancy, the Malvern has earned its spot on our list of the best bars in Asheville, NC due to its friendly service and high-quality cocktails. They also have an assortment of local beer and hard cider available on tap.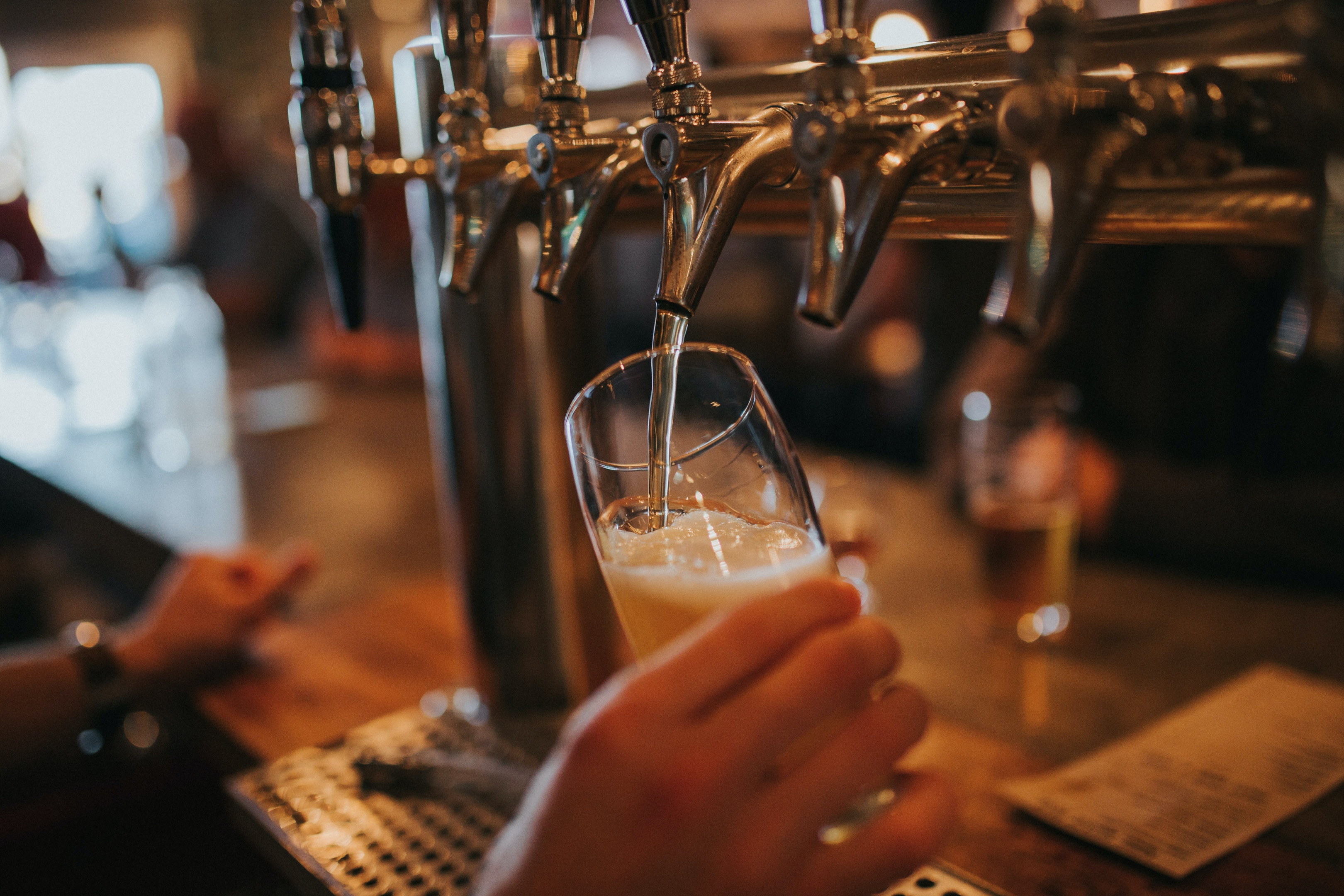 The menu is simple, featuring a reasonable selection of salads, sandwiches, and appetizers. Their burger comes highly recommended, which consists of a six-ounce beef patty served on a toasted soft white bun with melted cheddar cheese, shredded lettuce, and slices of pickled red onion. Find gluten-free buns here too.
If you prefer bars with that tavern feel, The Malvern will not disappoint. Find a seat at the bar, grab a booth, or sit outside on the patio if the weather permits.
16. The Odd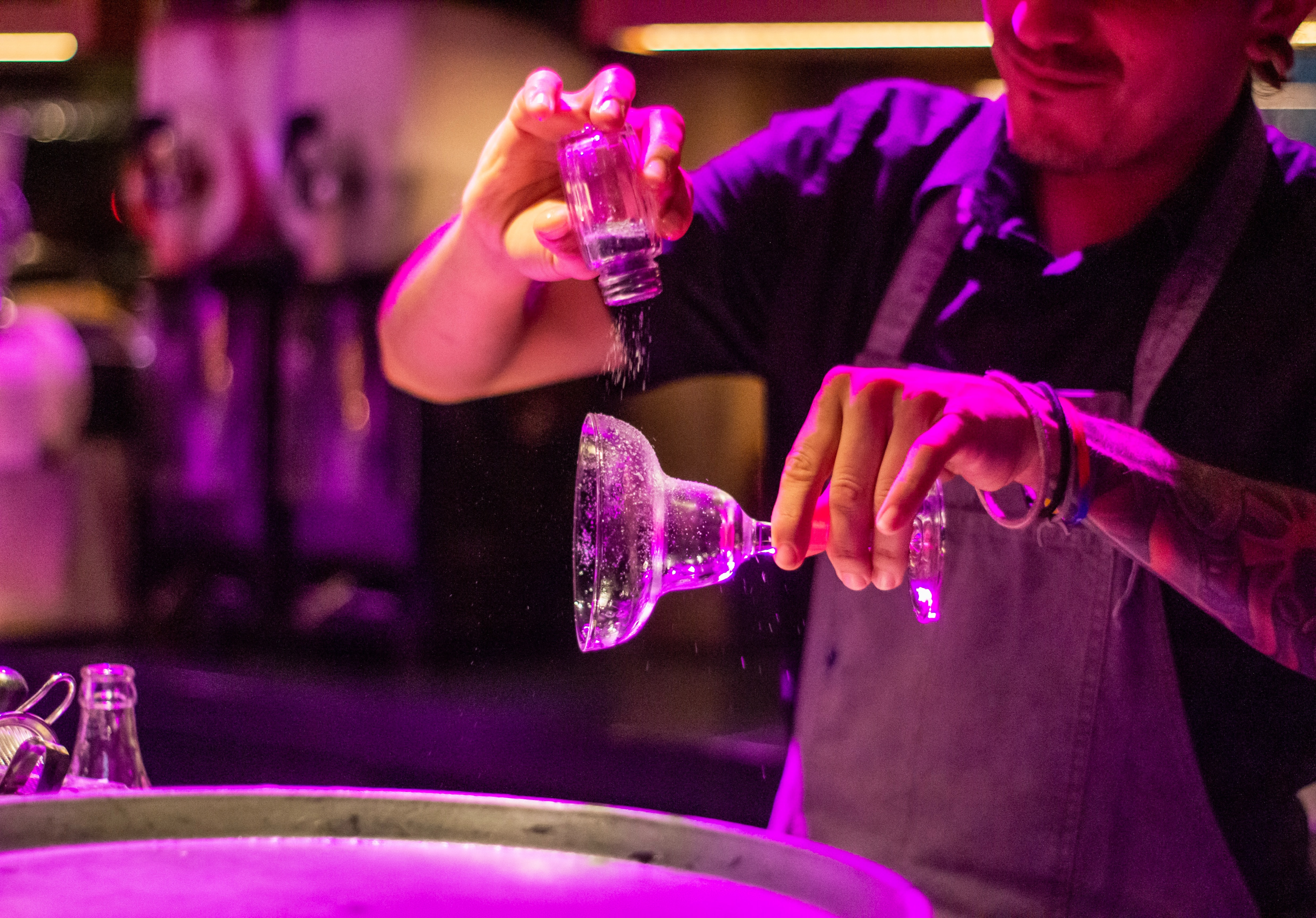 Part music venue, part oddities' museum, anyone who lives for a freaky experience will love visiting this bar in West Asheville. The Odd (formerly known as The Odditorium) offers a bit of wicked fun to anyone who enters, along with scrumptious food and a quirky cocktail menu.
The bar also hosts a variety of events throughout the year, including community flea markets, performances by local musicians, drag shows, and more.
The interior features an impressive collection of anomalies, including skeletons and taxidermies, while the outside is decorated by murals from local artists that range from sweet and pretty to unsettling and dark.
Honestly, it's worth a visit even if not eating or drinking just to experience all the curiosities on display.
17. The Montford Rooftop Bar
One of the best rooftop bars in Downtown Asheville, NC, The Montford Rooftop Bar offers seasonal craft cocktails, local beer, and wine plus a selection of tasty appetizers.
Sit inside their swanky bar area, where you can enjoy unobstructed views of the majestic Blue Ridge Mountains from the sprawling windows, or on the outdoor terrace when the weather permits.
On the food menu, choose from cheese and charcuterie boards, chicken wings, crab cakes, flatbreads, sandwiches, and desserts. The Montford also serves one or two large plates for those looking for a more satisfying meal.
Note that The Montford Rooftop Bar has limited availability for walk-ins, so reservations are highly recommended.
18. The Social Lounge
Those looking for another late-night bar in Downtown Asheville should check out The Social Lounge. This premiere cocktail bar offers dreamy seasonal craft cocktails, local beers, and small plates in a chic, yet welcoming, environment. It also has a rooftop bar area where you'll encounter amazing views of the city.
Come here for brunch on the weekends between 10 a.m. and 2 p.m. and order their Fig and Goat Cheese Omelette, Fluffy Ricotta Pancakes, or Eggs Benedict alongside a classic mimosa or one of their signature cocktails.
Or, head here for one of the most memorable late-night dining experiences in Downtown Asheville. The Social Lounge shares a menu with its sister restaurant, Strada Italiano, which specializes in regional Italian cuisine. Try their Tuscan Stuffed Figs, fresh mussels in your choice of sauce, or charcuterie board before tucking into your main entrée, which might consist of one of their hand-tossed pizzas or pasta dishes.
Both Strada Italiano and The Social Lounge offer gluten-free and vegan options for those with food intolerances and preferences.
19. The Times Bar & Coffee Shop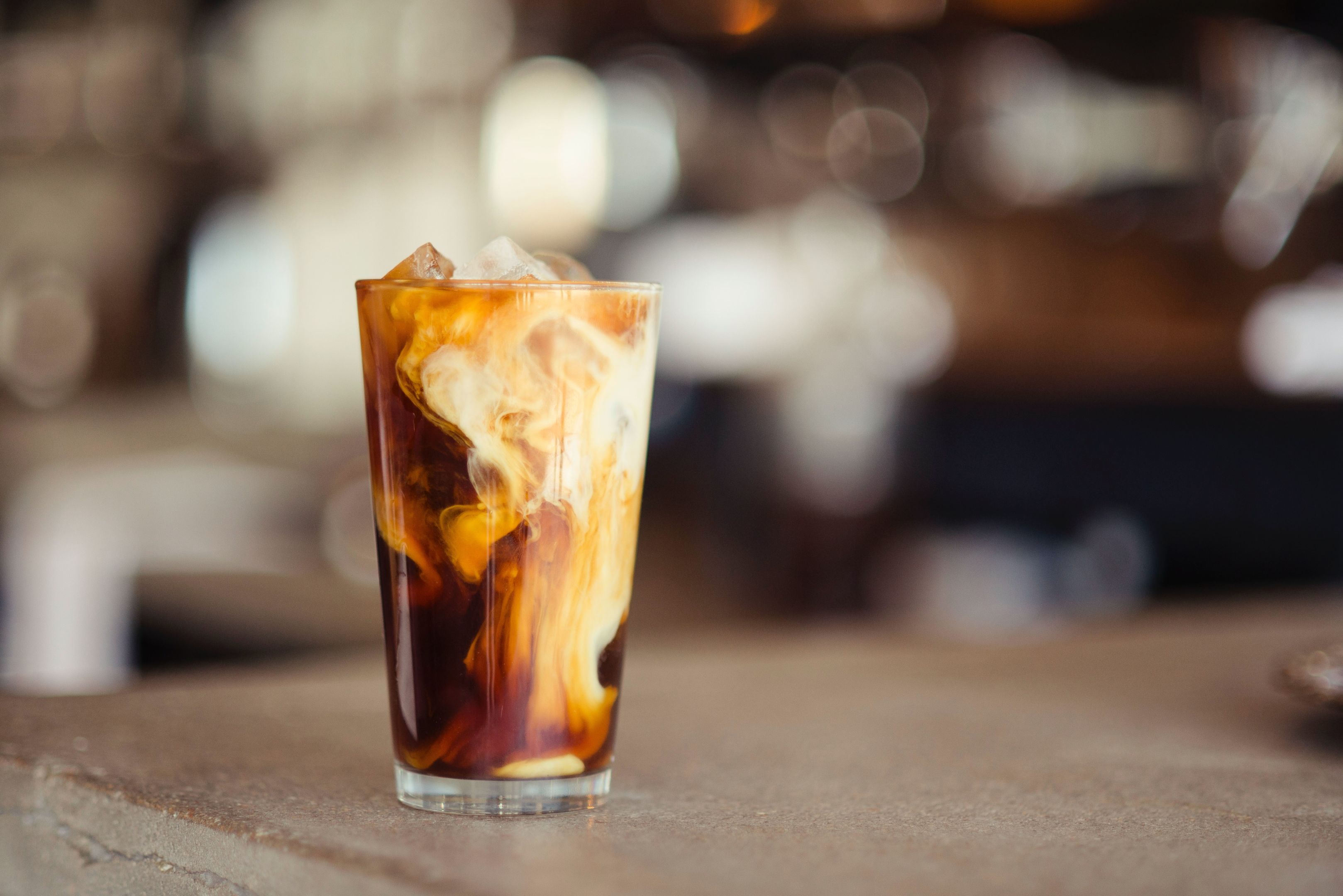 Nestled in the heart of Downtown Asheville is this trendy craft cocktail bar and café that's perfect for both boozy and non-alcoholic drinkers.
The team here specializes in both classic and seasonally-inspired cocktails, craft coffees, and offers a rotating selection of imported wines and local beers, so you're bound to find something you like.
Enjoy one of their novel craft cocktails or decadent caffeinated drinks in their cozy bar after exploring the S&W Market and grabbing a bite to eat there, or mix it up with drinks before and dinner afterward.
The Times Bar and Coffee Shop also offers boozy lattes, Bloody Marys, and mimosas during the day.
Also, note that while service here is top-tier, so can the prices, making this a great spot for those who want to indulge a little.
20. The Whale
Craft beer enthusiasts will love visiting this quaint establishment that shares a dog-friendly outdoor seating area with the Haywood Common Kitchen.
The Whale is best known for its expansive local and international craft beer list, which offers patrons the opportunity to sample a range of brews from around the globe. Choose from canned beers or opt for one of the drafts available on tap.
Feeling peckish? Head next door to the Haywood Common Kitchen to place your order for a variety of mouthwatering meals made with locally-sourced ingredients. Find salads, sandwiches, poké bowls, burgers, and more on the menu. You can also enjoy handcrafted cocktails, non-alcoholic drinks, and coffee here if craft beer isn't really your thing.
More Bars in Asheville, NC
21. Asheville Biergarten
22. Asheville Club
23. Asheville Yacht Club
24. Barley's Taproom
25. Capella on 9
26. Creekside Taphouse
27. Dirty Jack's
28. Foggy Mountain Brew Pub
29. Hemingway's Cuba
30. LaZoom Room Bar & Gorilla
31. Off The Wagon Dueling Piano Bar
32. Storm Rhum Bar
33. The Golden Pineapple
34. The Village Porch
35. Thirsty Monk Brewery