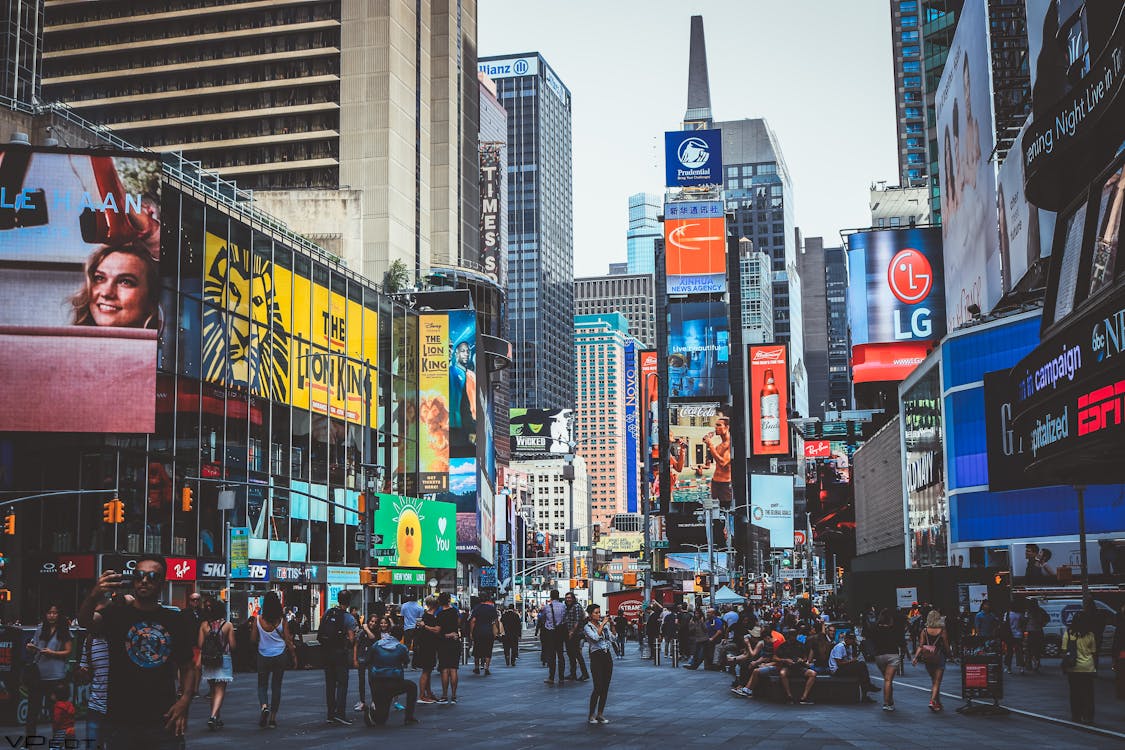 Hibernating in a New York City bar is a great way to combat the winter storming outside, but after months of freezing weather, even that can get a bit monotonous. Luckily, New York City has no shortage of bustling bars with games to enjoy for hours on end.
New York City bars are known to be the life of the city, and what better way to pass the time than with a round of skee-ball while sipping on craft beers? Not to mention how fun games can turn a bad date night into a pretty exhilarating time.
In this post, we'll introduce you to some of the best bars with games in New York City, so you'll never be at a loss for things to do.
1. Nancy Whiskey Pub
Where: 1 Lispenard St, New York
Nancy Whiskey Pub has been the center of the brimming Tribeca Neighborhood since 1967, keeping its customers happy with a hearty food menu, cheap beers, a booming jukebox, and a shuffleboard table where you can get your blood pumping on those cold winter nights.
2. The Uncommons
Where: 230 Thompson St, New York
The Uncommons is the only board game cafe in Manhattan, attracting thousands of board game enthusiasts across the city for a night of competition and fun.
All you need to join the excitement is a $5 bill, which grants you all-day access to more than 750 board games piled high up the wall. You'll certainly find some classics, such as Magic: The Gathering, Card Against Humanity, and Settlers of Catan, among so many more.
Don't get too distracted when you play games to try their legendary craft beer and comfort food, which are sure to keep you satisfied for hours.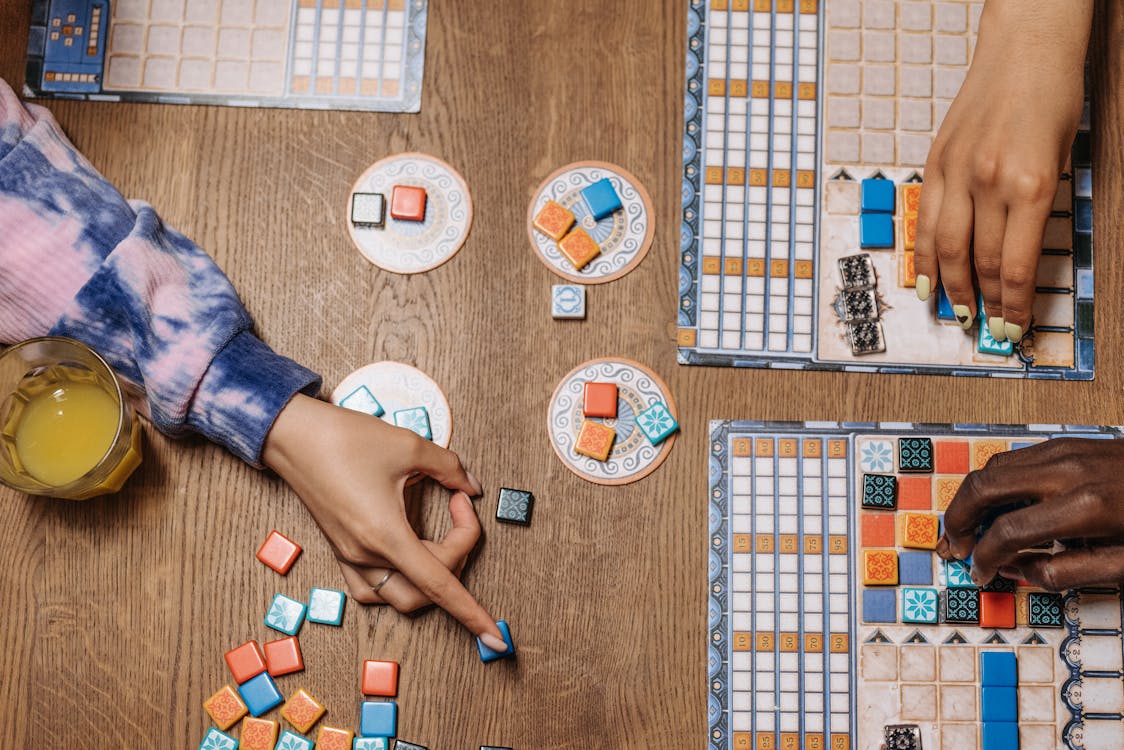 3. SPIN
Where: 7 E 54th St, New York
SPIN, a full bar in the vibrant Flatiron District of New York City, was founded by two best friends who recognized the timeless enjoyment a game of ping pong would bring customers.
Across the Globe, SPIN has a total of nine locations, all featuring twelve ping pong tables, a cocktail bar, and a full restaurant. This bar hosts ping pong tournaments every week and even a league where the more competitive customers can play ping pong against fair opponents.
SPIN offers professional advice and support for new table tennis players looking to improve their skills and show off their talent at this unpretentious neighborhood bar.
SPIN – https://wearespin.com/
4. Five Iron Golf
Where: 138 5th Ave, New York
Anxious to play a round of golf when the weather doesn't allow it? Make your way to Five Iron Golf, where the drinks are cold and the balls are rolling.
This distinctive indoor golf club grew as the result of the high demand for golf classes in the Financial District of New York, and today even offers top-class golf simulators. Five Iron is also a fun place to spend a leisurely time playing other bar games, as it is abundant in shuffleboard, ping pong, and pool tables and features a full bar and tempting menu.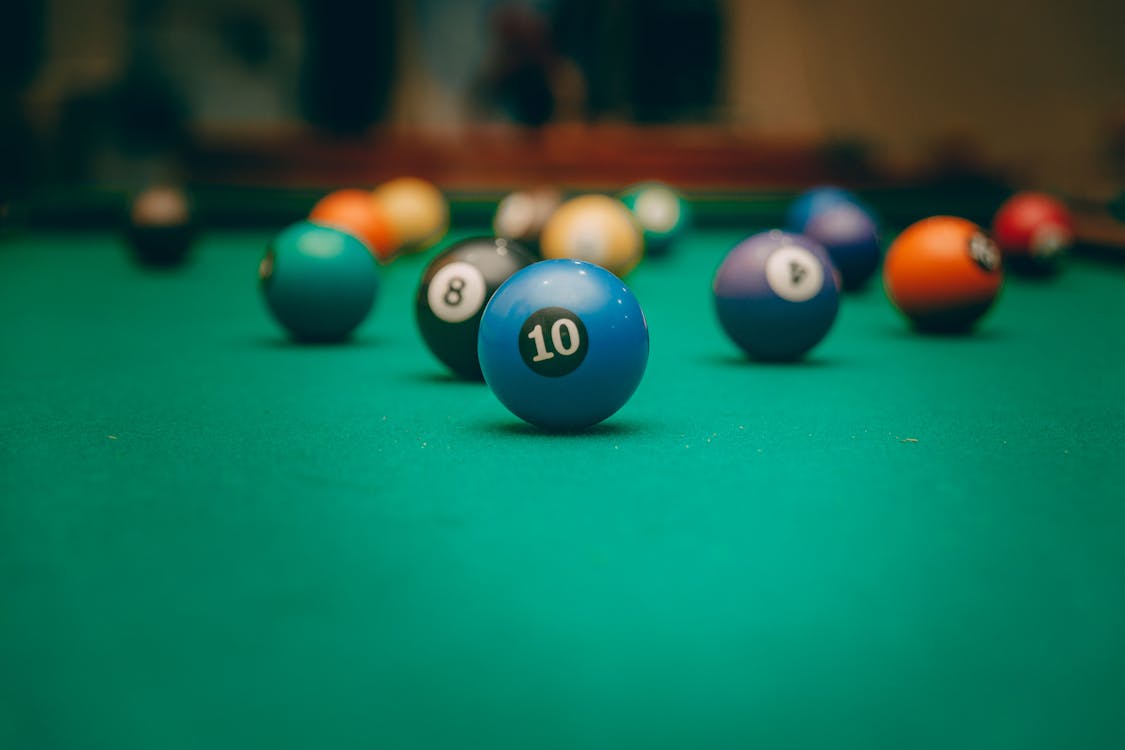 5. Barcade
If you are a long-time enthusiast of arcade games, Barcade is the place for you. Coined the first New York bar that brings play to the pub, Barcade offers over 40 classic arcade games, including Donkey Kong and Ms. Pac-Man.
Beyond the thrilling arcade games, you can choose between 25 delicious locally brewed beers. Be sure to buy your tokens for the games upfront at 25 cents a piece so you can enjoy uninterrupted excitement.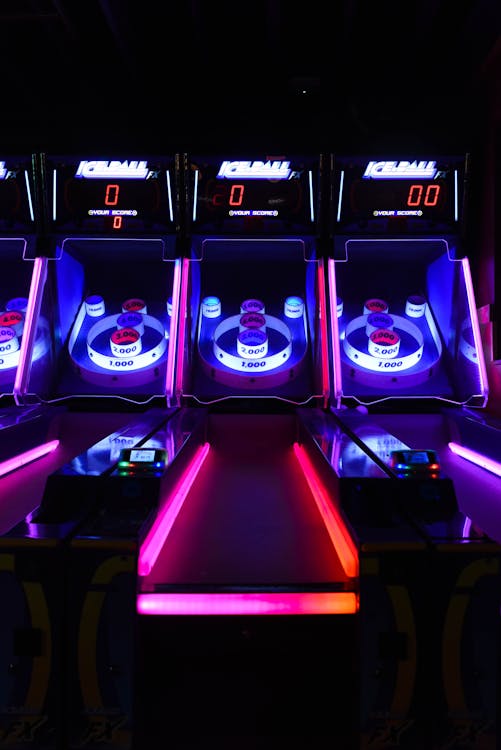 6. Ace Bar
Where: 531 E 5th St, New York
From pool tables and skee-ball lanes to pinball machines, you'll find everything you could dream of at Ace Bar for incredibly low rates. Every Saturday night, this amazing bar hosts trivia games and darts for no additional price, and the bar features a big screen for video game tournaments and twelve beers on tap.
Each game has its own big leagues, such as the famous Big Buck Hunter and Skee Ball tournaments, for those seeking more serious competition. The bar also boasts an impressive retro lunchbox collection boasting hundreds of lunch boxes from the last forty years.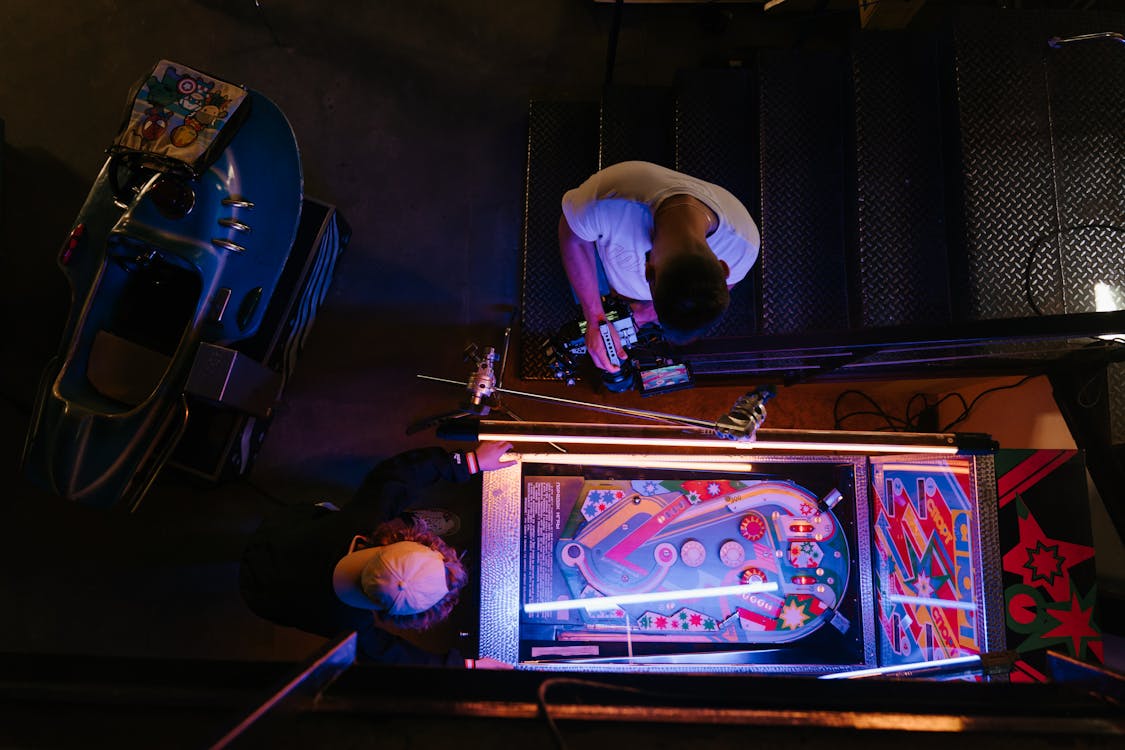 7. Union Hall
Where: 702 Union St, Brooklyn
Closely resembling lawn bowling, Union Hall is home to the thrilling Italian sport known as bocce.
Set in the heart of Park Slope, Union Hall features two indoor bocce courts, a bustling bar with live comedy shows, a cozy fireplace, and strong cocktails. Don't worry if you've never played or never even heard of bocce, as you're sure to be surrounded by other curious customers who'd like to give it a go.
A game of bocce lasts an hour, and every team pays $40 for their session. Come with friends or make some new ones. Either way, Union hall is sure to be a ball!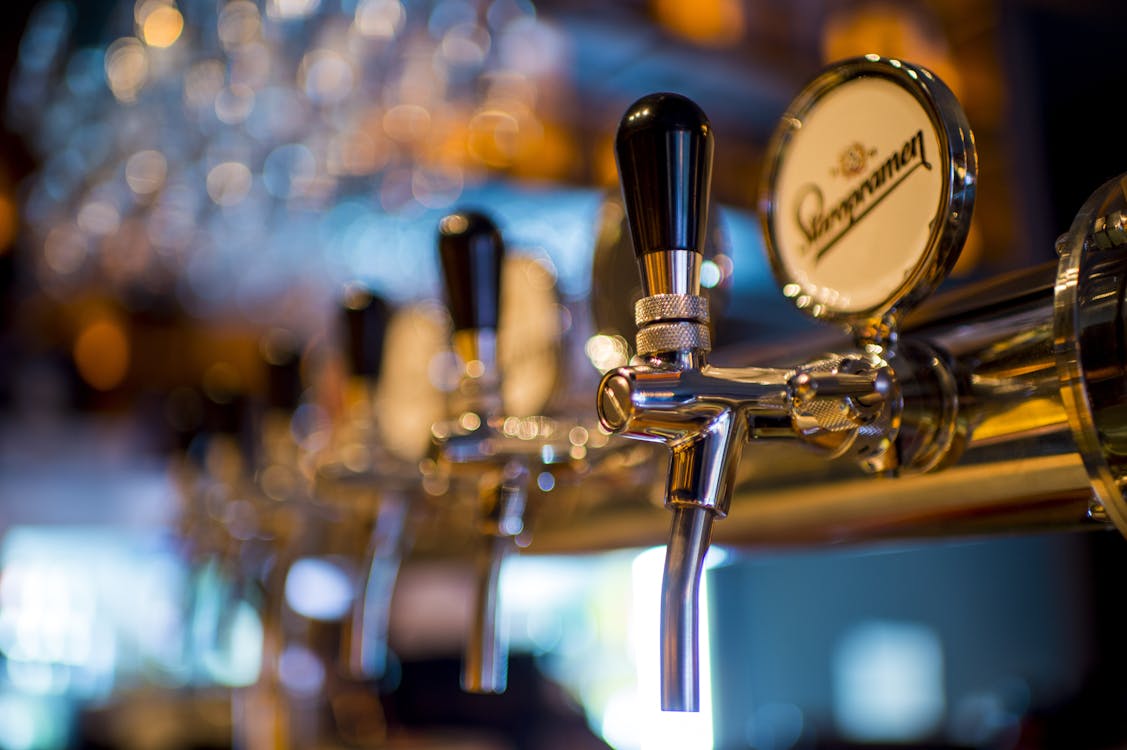 8. Boobie Trap
Where: 308 Bleecker St, Brooklyn
This quirky dive bar is nestled in the lovely area of Bushwick and boasts kitschy boob-themed decor, crude but hilariously humorous signs, and a wide range of board games.
They further run occasional drink and draw events, Connect Four competitions, and bingo nights. The bathroom ceiling is certainly a sight to behold, with rubber boobs lit up by Barbie chandeliers and striped walls lined with dinosaurs and troll dolls, making Boobie Trap one of the most distinctive dive bars in the city.
9. Two Bit's Retro Arcade
Where: 153 Essex Street, Manhattan
This charming, intimate bar features an abundance of classic arcade games everyone remembers from the 90s and 80s, with a few pinball machines to enjoy in between games.
This little bar offers the perfect atmosphere for a twist on the traditional date night, where you can sip on draft beers and participate in a little friendly competition with your significant other.
10. Baby Grand
Where: 29 W 17th St, New York
Baby Grand doesn't offer shuffleboard tables or board games but is rather famous for its karaoke culture. This boutique karaoke bar is the ideal spot to take part in sing-a-longs with your friends in a lively yet intimate environment.
There are plenty of private rooms and a decent bar, as you will surely need some liquid courage to flaunt your singing skills in front of everyone. If you like the idea but don't fancy the crowds, weekdays are a bit more low-key.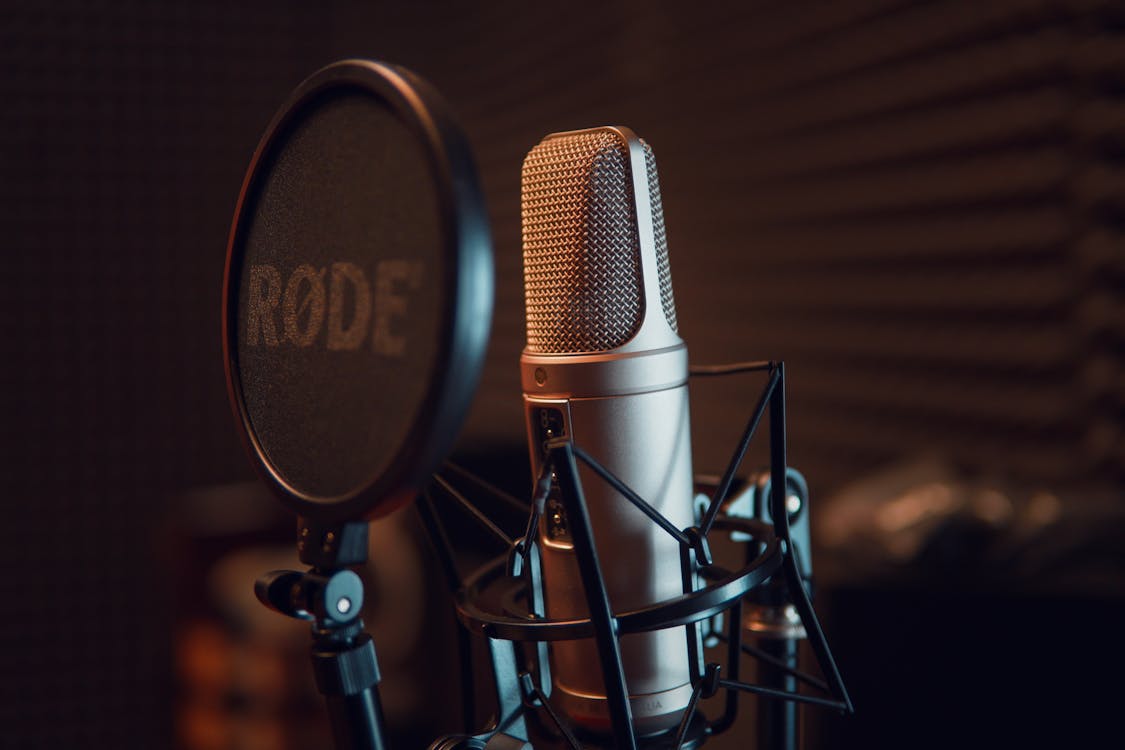 11. The Royal Palms Shuffleboard Club
Where: 514 Union St, Brooklyn
A refreshing twist on typical sports bars, this is an actual shuffleboard club designed in a bar-like fashion. You can still enjoy delicious cocktails and great beers with a food truck for every taste and preference. This is a haven for shuffleboard enthusiasts who enjoy good food and drinks.
Take your place at a shuffleboard table after developing your skills at a free lesson. The Royal Palms caters to beginners and experts and guarantees a great time.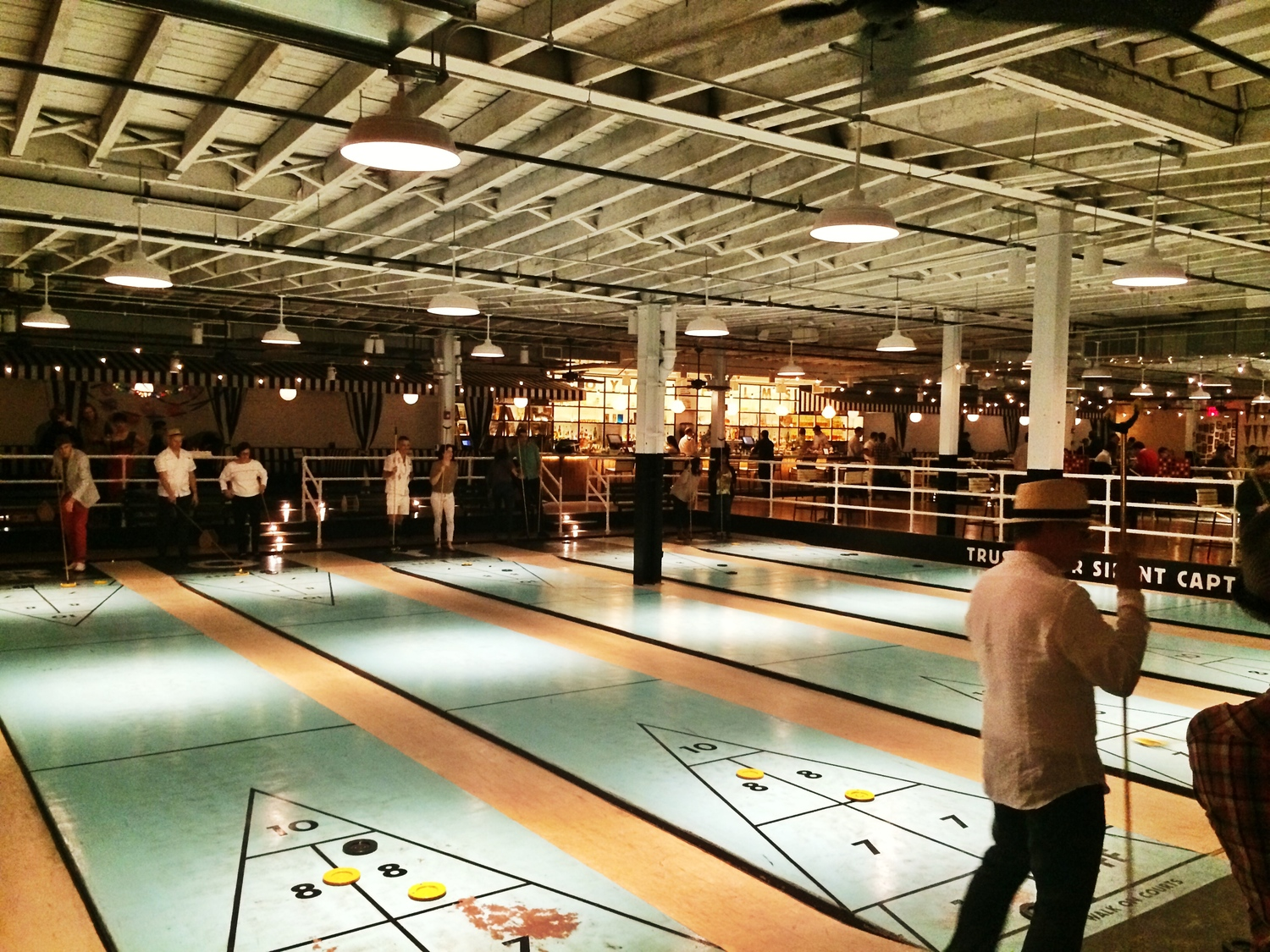 Royal Palms Shuffle Club – https://www.royalpalmsshuffle.com/
12. Break Bar and Billiards
Where: 32-04 Broadway, Queens
Break Bar and Billiards is ideal if you're looking for a place to play pool where beginners and experts can shoot the night away.
You'll also find a myriad of arcade games, dart boards, hoops, and foosball tables, all paid for by a single drink, which can easily turn into drinking games. Indulge in some traditional bar foods and great beers for reasonable prices, and be sure not to miss Happy Hour!
Break Bar and Billiards – https://break-ny.com/
13. Brooklyn Crab
Where: 24 Reed St, Brooklyn
If you're looking for a classic mini-golf expedition, head to Brooklyn Crab, where the atmosphere is bustling and the glasses are full. This immense bar features indoor and outdoor seating and specializes in lobster and crab dishes.
Choose your spot across any of the multiple stories or hang out in the sun in the backyard filled with all sorts of games, of which mini-golf is the most popular.
14. Kick Axe Throwing
Where: 622 Degraw St, Brooklyn
If you, like me, enjoy trying new and different games, Kick Axe Throwing is the place for you. Take your aim at a large wooden target and really put your back into it.
The concept of axe throwing inside a bar may seem a bit alarming at first, but rest assured that all games are highly controlled without taking away from the fun.
Kick Axe Throwing – https://www.kickaxe.com/
15. Nowadays
Where: 56-06 Cooper Ave, Queens
This wonderful bar conveys the message that the good old days are "Nowadays." Famous for its dance floor where the whole bar gathers, ping pong tables, hearty foods, local craft beers, and an expansive grassy backyard.
Nowadays also hosts live music with late-night DJs attracting hundreds across the city. Summertime brings vibrant events like film series and outdoor barbecues. Friday and Saturday night parties are unmissable at Nowadays!
16. Fat Cat Music
Where: 75 Christopher Street, Manhattan
This casual and homey bar offers ten ping pong tables, six shuffleboard tables, Scrabble, foosball, checkers, chess, and even nine pools!
You can expect only the best vibes as there are only craft beers available and no hard liquor. Music lovers are especially fond of Fat Cat Music, as the bar hosts a minimum of two live bands every single night. If you have a gift for jazz music, be sure to catch the late-night jam sessions with other music enthusiasts.
17. Bushwick Country Club
Where: 608 Grand St, Brooklyn
Ironically, Bushwick Country Club isn't set in Bushwick but rather in Williamsburg, and it certainly isn't an uptight country club.
Bushwick Country Club goes hand in hand with Five Iron Golf as one of the best places to practice your golf skills. You'll find plenty of mini-golf courses in the backyard, as well as a wide selection of games, including Big Buck Hunter, Connect Four, and a photo booth.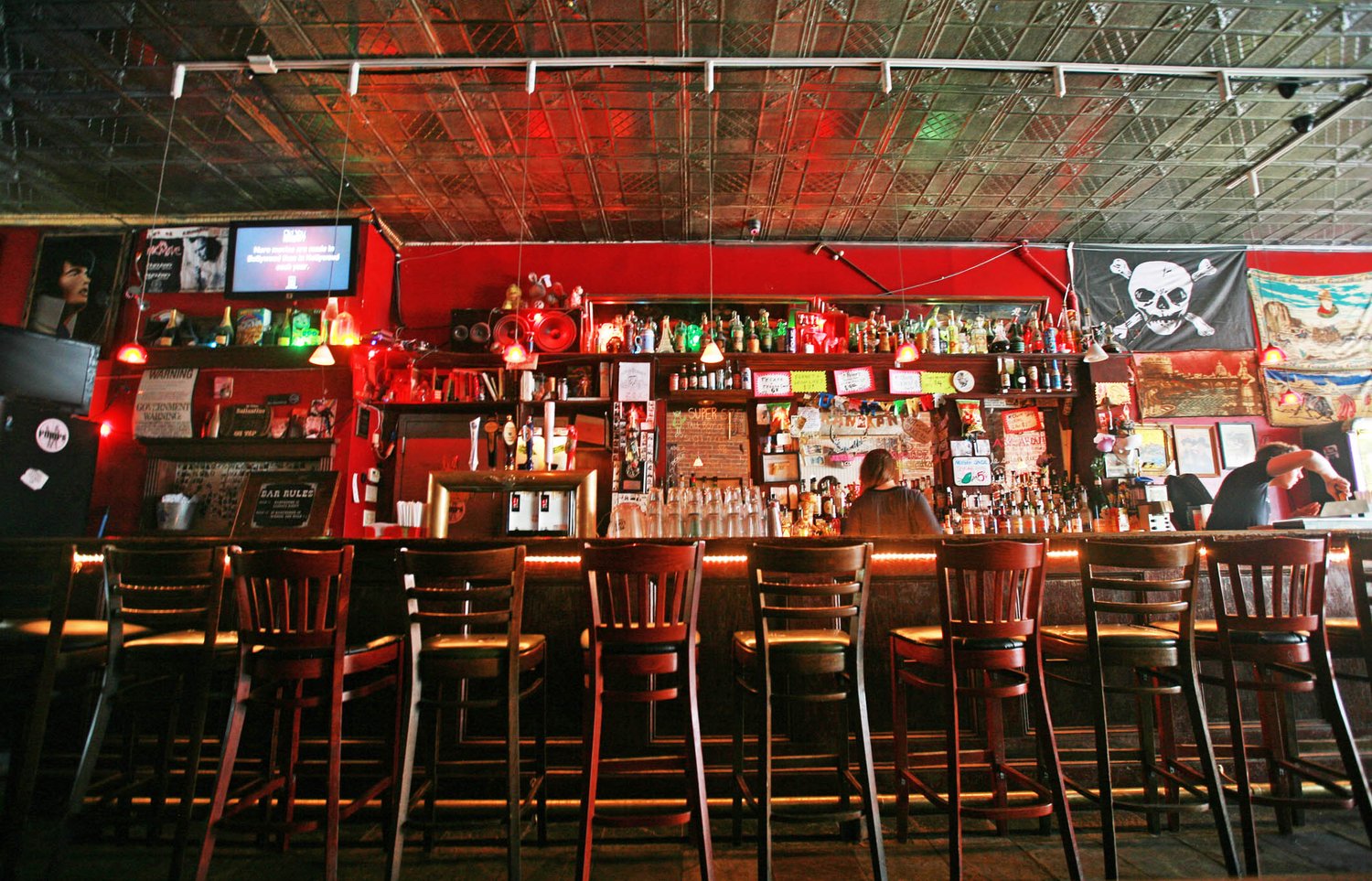 Bushwick Country Club – https://www.bushwickcountryclub.com/
18. The Lost Lady
Where: 171 Avenue C, Manhattan
The Lost Lady is casual yet classy, set in the heart of East Village, and offers scrumptious tacos, chilled beers, margaritas, a jukebox, and a shuffleboard table.
The bar follows a nautical theme that takes you to the ocean bottom, where you're sure to meet some new friends after a long day of strolling through Central Park.
Evidently, whether you're looking to hang by a pool table, play a game of darts, show off your skills at a shuffleboard table or simply enjoy a beer over a few board games, New York City will not disappoint. So take your pick and join hundreds of fellow game fanatics on nights filled with laughter and friendly competition.