Located in Western North Carolina, Asheville is an excellent vacation destination with a lot to offer its visitors. If you're planning on visiting Asheville soon, you may be wondering where to stay in this small city.
There are many options to choose from, including historic B&Bs, luxurious resorts with views of the Blue Ridge Mountains, and hotels in the vibrant Downtown Asheville. Keep in mind that these accommodations tend to fill up quickly, so be sure to book your stay well in advance.
With so many options to choose from, you're bound to find a great place that will tick all your boxes! Keep reading to discover the best places to stay in Asheville, North Carolina.
Downtown Asheville
Located just twenty minutes from Asheville Regional Airport, Downtown Asheville is one of the best places to stay in the city. Here, visitors can find a variety of things to do, such as visiting coffee shops, stores, and local attractions like the Asheville Pinball Museum.
If you're an art lover and interested in seeing more of the local art scene, you can stop by the Asheville Art Museum. The Downtown area is also located near the French Broad River and the Biltmore Village River Arts District.
Here are some of the best Downtown Asheville hotels and accommodation options.
Aloft (Asheville Downtown)
Newly renovated and located in Downtown Asheville, Aloft is a great property by Marriott that is perfect for anyone looking for a modern, trendy hotel.
It is home to luxe rooms, sprawling public areas, and vibrant murals well worth seeing. There is also a great bar, patio seating where visitors can overlook the bustling Downtown area, a rooftop pool with views of the mountains, and regular live music performances.
It is ideal for a short trip with some friends or a romantic couple's weekend.
Some of the dining options nearby include Double D's, The Blackbird Restaurant, Barley's Taproom, and Chestnut. And, if you're looking for somewhere to spend an adult-friendly evening, be sure to stop by one of the best wine bars in Asheville, the Marked Tree Vineyard Tasting Room.
DoubleTree by Hilton (Asheville/Downtown)
Formerly known as Hyatt Place, DoubleTree is a Hilton property famous for its excellent location with stunning views and great drinks. If you're driving into Downtown Asheville, DoubleTree can be seen towering over the I-240.
Locals and visitors alike consider DoubleTree one of the best places to grab a drink or bite to eat, and with its excellent rooftop bar, that comes as no surprise. The Montford also offers stunning views of the historic Montford neighborhood, hence the name.
The hotel is home to free Wi-fi, a 24/7 fitness center, and a luxurious pool. Nearby attractions include the Grove Arcade and Battery Park Book Exchange.
The Foundry Hotel Asheville
Another prime location in Asheville is The Foundry Hotel, the proud owner of a four-star rating. It pays homage to the industrial history of Asheville, with a historic brick façade where visitors can take a stroll and sprawling lawns with chairs and firepits.
There is also a large bar and lounge, offering craft beer and a trendy interior. The walls are dotted with glowing sconces, creating a peaceful atmosphere, and making it easy to forget that the busy Downtown area is located just outside the property.
Inside the hotel, visitors can dine at the famous Benne on Eagle, an Appalachia-style eatery with award-winning chefs. Dining options nearby include Asheville Chocolate, Old Europe, French Broad Chocolate Lounge, Limones, Cúrate, and Posana.
If you're a beer lover, the hotel is also within walking distance from great breweries, like One World, Bharmari Brewing, and Dssolvr. And, if you're looking for somewhere to spend an evening out, be sure to stop by Pack's Tavern, Wicked Weed brewing, and Pack Square.
The area is also the location of the oldest Black neighborhood in Asheville, "The Block", and there are several stunning murals in Triangle Park paying tribute to residents of the area.
Other Popular Downtown Asheville Hotels
AC Hotel by Marriott (Downtown Asheville)
Located on Broadway Street, this pet-friendly hotel is known for its central location and stunning views. It is a great option if you're in the mood for exploring the city on foot.
Hotel Indigo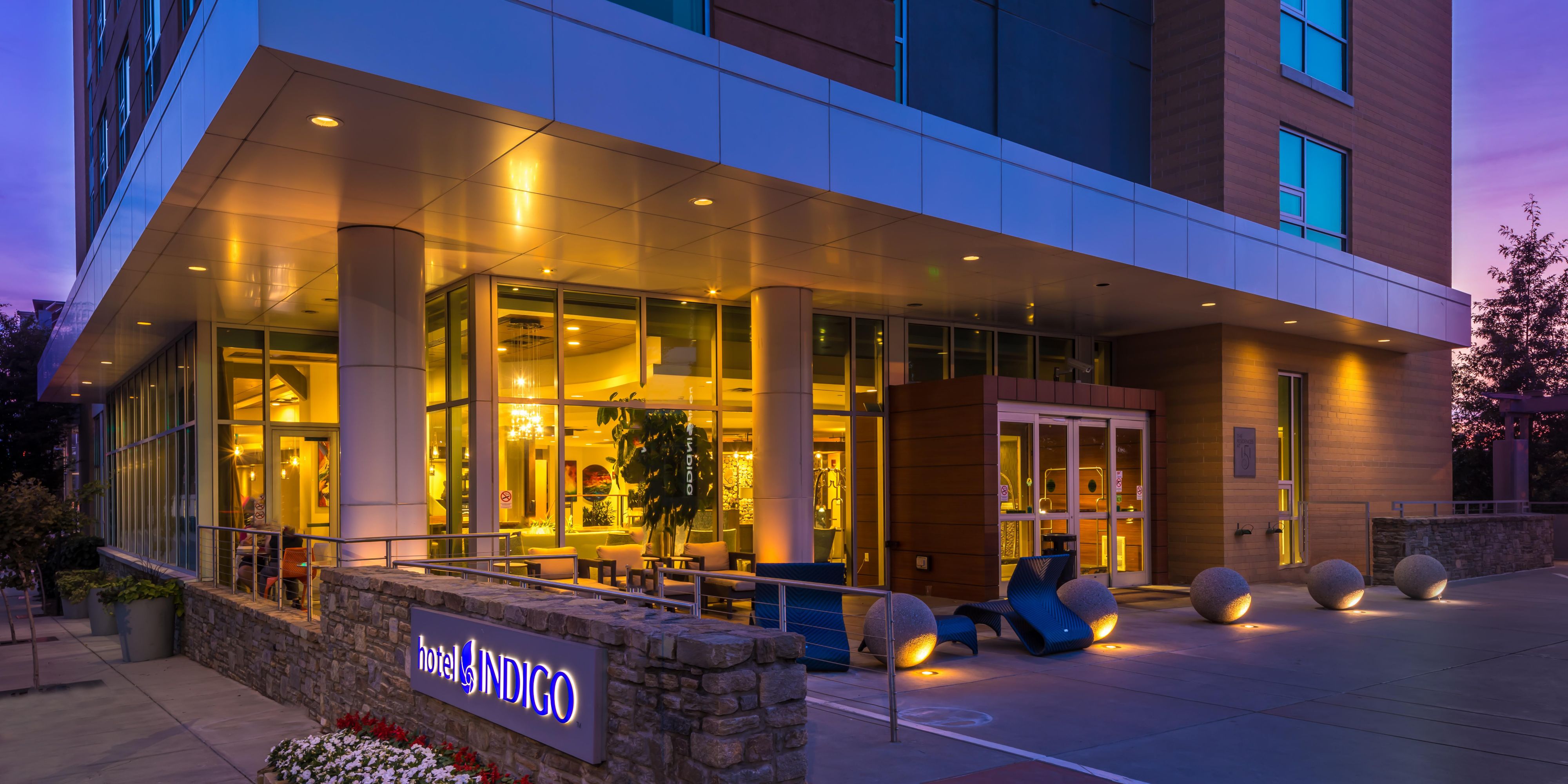 This modern hotel is luxurious and pretty and can be found on Haywood Street. It is located within walking distance of the Thomas Wolfe Memorial, making it a great accommodation option for history lovers. All the rooms are home to clean hardwood floors, and the hotel offers an on-site bar and restaurant.
Cambria Hotel
Cambria hotel can be found on Page Avenue alongside one of the best distilleries in Asheville, Cultivated Cocktails, and across the street from Grove Arcade. It is also located near the US Cellular Center, making it a great spot if you have an event to attend. Dining options nearby include Asheville Proper.
The Windsor Boutique Hotel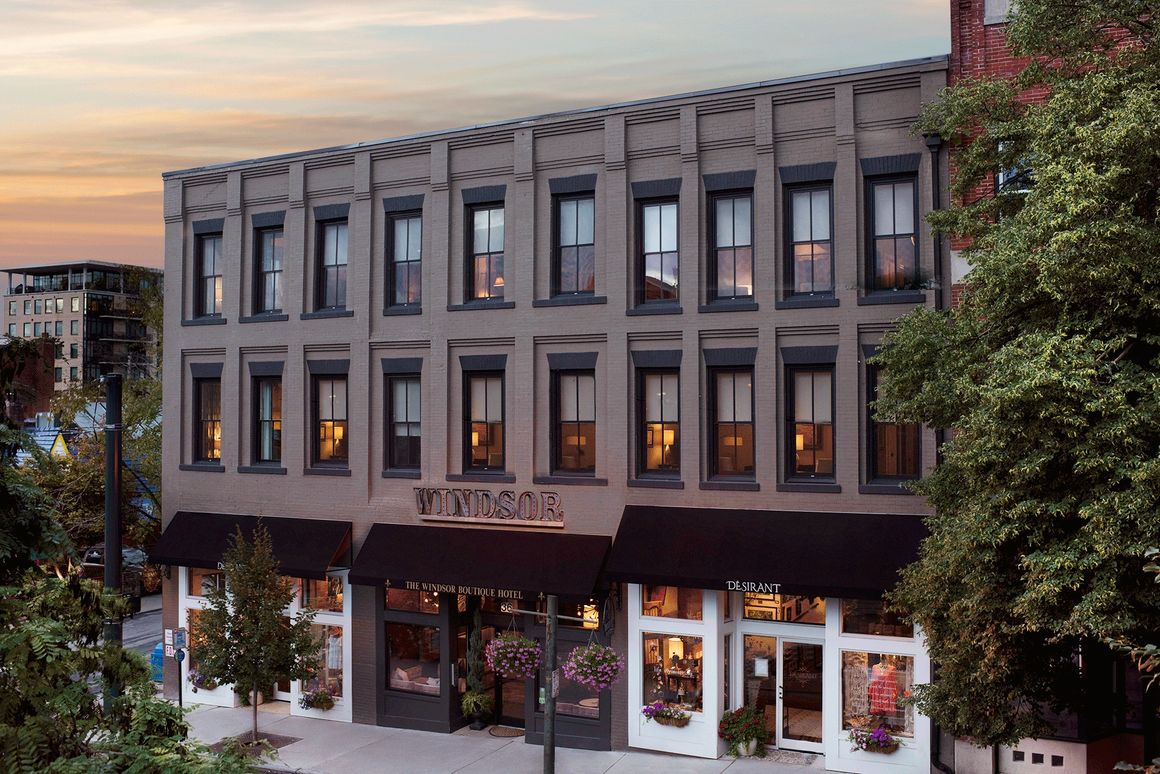 The Windsor Boutique Hotel has existed since the early 1900s, making it a historic site in Downtown Asheville. It is known for winning Trip Advisor's Traveler's Choice award, and upon visiting, it is easy to see why.
Haywood Park Hotel
This boutique hotel in the heart of Downtown Asheville offers free Wi-Fi, free champagne upon arrival, and a complimentary breakfast. It is also located near Isa's French Bistro, one of Asheville's most popular restaurants to go to for brunch or some delicious breakfast.
Outside of Downtown
Asheville Cottages
There are plenty of other accommodation options in the city if you're looking for something other than a hotel. One of the best places to stay in Asheville is Asheville Cottages.
Run by the Manche family, the property includes various luxury cottages with three bedrooms, hot tubs, and private driveways. Other amenities include private decks with grills, gas fireplaces, heated bathroom floors, and showers with multiple showerheads. The cottages also include full-sized kitchens with snack baskets and cleaning supplies.
Outside, there are communal areas with fire pits, where visitors can mingle or relax in one of the outdoor rocking chairs. Due to its location far from the highway, Asheville Cottages offers a peaceful and quiet respite from the bustling city.
Nearby attractions include the NC Arboretum, Asheville Outlets, Papas and Beer, and Apollo flame.
Grand Bohemian Hotel Asheville
If you're looking for places to stay in the Biltmore Village, Grand Bohemian Asheville is a great option. Located around three miles from the heart of Downtown Asheville, and just across the street from Biltmore Estate, this is a bustling area great for those who love exploring. It is filled with restaurants, breweries, and local shops.
Grand Bohemian is known for its character, great ambiance, and luxurious atmosphere. The hotel is located inside a rusting hunting lodge from the 19th century but comes with all the modern amenities one would expect from a 21st-century hotel.
The hotel has a four-star rating and includes a gym, spa, and business center. It also offers complimentary Wi-Fi and is pet-friendly, so you can take your furry best friend along when you visit.
The hotel is known for its on-site restaurant, Red Stag Grill, which offers a great mix of local and European cuisine. Visitors can also enjoy some great cocktails and charcuterie at the bar. Nearby dining options include Corner Kitchen, an excellent lunch spot, and Well-Bred Bakery, an ideal spot for grabbing a quick cup of java.
The staff is friendly, and the lobby is home to a cozy fireplace with lush seating. There are also some spy purple lights, antler chandeliers with crystals, and flowery chairs.
Keep in mind that the décor includes hunting-themed items, such as taxidermy and old hunting rifles, so it may not be ideal for vegans or those who don't enjoy hunting.
Hampton Inn and Suites (Asheville Biltmore Area)
Located across from the Asheville Outlets, this hotel is a local favorite. It offers free Wi-Fi and parking and is home to a bar, pool, and outdoor patio area with a fire pit. Its central location also makes it perfect for visitors who plan on stopping by Downtown Asheville, the Blue Ridge Parkway, or Biltmore.
Other nearby attractions include the Bent Creek Experimental Forest, filled with great trails for mountain biking, and the North Carolina Arboretum. There are also some excellent hiking trails in the nearby NC Blue Ridge Parkway, including Skinny Dip Falls, Mount Pisgah, Black Balsam, Graveyard Fields, and Fryingpan Tower.
Additionally, there are many dining options located near the hotel for visitors who want to have a quick breakfast or lunch.
Other Places in Asheville
The Residences at Biltmore
Fondly referred to as an 'aparthotel', the Residences at Biltmore is another great accommodation option located in the historic Biltmore Village. Here, visitors can choose between studios and suites with one to three bedrooms.
Country Inn & Suites by Radisson
Located close to the River Arts District in Asheville, just off the highway, this is a clean and sleek hotel with much to offer visitors. Many travelers find that it is also an excellent hotel to spend the last night of their trip, before heading back home.
Hilton Asheville Biltmore Park
If you're not planning on staying in the Downtown area, but you still want a variety of shopping and dining options to explore nearby, the Hilton in Biltmore Park Town Square is a great option. Here you will find various restaurants, shops, and entertainment to keep you busy while you're visiting this great city.
Resorts and Biltmore Accommodations
Village Hotel on Biltmore Estate
Formerly the residence of Edith and George Vanderbilt, the Biltmore Estate is known for being the largest home in America. The massive estate draws many Americans every year and offers annual passes which include discounts on lodging, food, and events.
Many frequent visitors agree that the ticket price is well worth it, for the fascinating history, great tours, excellent food and dining, delicious wine, and a wealth of hiking and biking trails. The Village Hotel is considered one of the best accommodation options on the property, with a central location, spa access, and moderate prices.
There are plenty of amenities to be enjoyed here, including a pool and a restaurant that serves delicious meals three times a day. The restaurant specializes in Southern and traditional American cuisine, with dishes such as breakfast egg platters, soups, salads, sandwiches, salmon, steak, and pot roast.
Other restaurants include the Kitchen Café, offering great sandwiches and gourmet lattes, and Cedric's Tavern, which offers excellent seasonal cocktails.
Another draw to the Biltmore Estate is that it's child-friendly and offers various activities to keep the young ones entertained, including playing at the large playground, looking at animals at the farmyard, mountain biking at the Bike Barn, and watching live demonstrations.
The Inn on Biltmore Estate
The Inn is another great place to stay on the historic Biltmore Estate in West Asheville. With a four-star rating, this luxury hotel can get pricey but is ideal for visitors looking for something more upscale. It is renowned by many travel publications and offers things like spa treatments and stunning views of the Blue Ridge Mountains to entertain guests.
Of the properties on the estate, The Inn is home to the most conveniences. One of the most popular is the sleek Library Lounge bar, where visitors can enjoy tapas and seasonal cocktails. However, keep in mind that the bar has a strict dress code.
Omni Grove Park Inn – Asheville
Famous for housing F. Scott Fitzgerald for a summer while Zelda was in Highland Hospital, the Omni Grove Park Inn is a great resort that has been open to the public since the early 1900s. It offers a similar atmosphere to Disney World resorts, but with added luxury and stunning mountain views.
It is also ideal for a couple's getaway and is often considered one of the most romantic accommodation options in Asheville. Located in North Asheville, this breathtaking resort is also a popular spot to meet friends for drinks. And, if you're fond of the paranormal, it is also rumored to be home to the floating Pink Lady.
There are some excellent restaurants on-site, such as Edison. Here, visitors can enjoy light fare or dinner and delicious cocktails with seasonal flavors. Wrap up the evening by watching the stunning sunset at the Sunset Terrace, another great option if you're looking for fine dining.
Additionally, the hotel is home to a luxurious spa, one of the best in North America, and hosts an annual gingerbread competition during the holidays. There are also several indoor and outdoor pools, and guests can enjoy a round of golf.
Bed and Breakfasts
1900 Inn on Montford

This charming bed and breakfast is located in Asheville's historic Montford neighborhood. It is known for its stunning exterior, live music over the weekend, and three-course breakfasts. It is located around a mile from Downtown Asheville, and each room includes a fireplace, television, and a small fridge. The Inn is also pet-friendly and offers free parking.
Nearby attractions include the Riverside Cemetery, where O. Henry and Thomas Wolfe are buried, the Asheville Botanical Gardens, and Beaver Lake. There are also some delicious restaurants nearby, such as Nine Mile.
And, if you're visiting Asheville from May to October, you can take in a performance or two at Shakespeare in the Park.
Other Great Asheville B&Bs
Black Walnut Bed and Breakfast Inn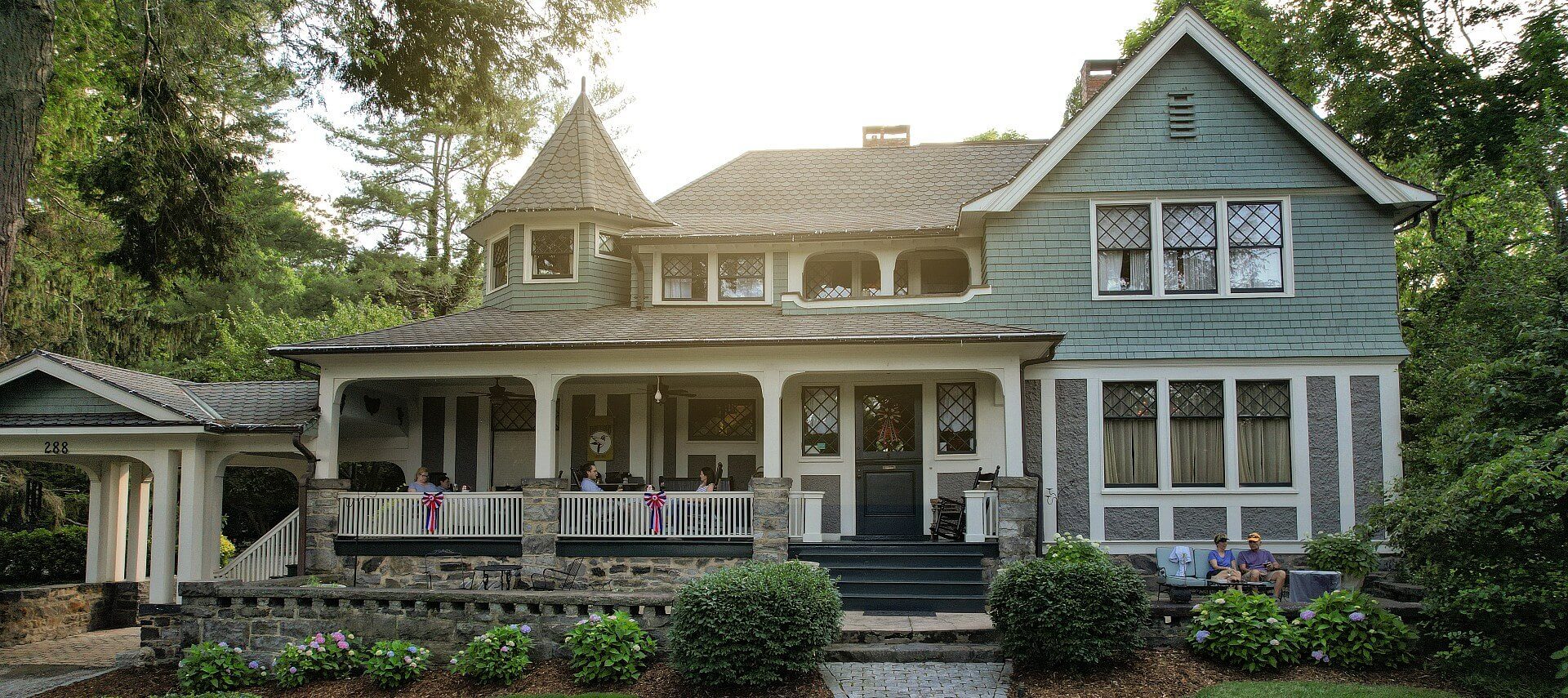 Built and designed in 1899 by Richard Sharp-smith, the supervising architect for Biltmore Mansion, the Black Walnut has eight rooms – two of which are pet friendly. It offers afternoon tea and is located near Downtown Asheville, making it easy to enjoy all the Downtown attractions or stop by local restaurants while you're staying in the area.
The 1899 Wright Inn and Carriage House
Located just a mile from Downtown Asheville, this B&B is known for its rich history. It dates back to the late 1800s, built in a Queen Anne or Georgian style, and is often one of the most popular stops on historic trolley tours through Asheville. It also offers free parking.
Near Asheville
1898 Waverly Inn (Hendersonville)
If you're struggling to find accommodation options in Asheville, but you still want to visit this wonderful city, you could opt for staying in a nearby area.
Located in Hendersonville, North Carolina, the 1898 Waverly Inn is only about forty minutes from Asheville. It is a stunning bed and breakfast with friendly hosts. While the bedrooms and bathrooms may on the smaller side, this charming B&B offers complimentary parking, breakfast, and happy hour in the early evening with local beverages. The bed and breakfast is also accommodating in terms of gluten or lactose-free guests.
Additionally, it is conveniently located within walking distance from Downtown Hendersonville, where visitors can enjoy amazing restaurants like Umi Sushi. There are also some great breweries, like Oklawaha, if you're looking for brews with less gluten, and D9, which offers some great sours.
And, if you're fond of nature, be sure to stop by Dupont Forest to check out its waterfalls. These waterfalls were famously featured in The Hunger Games and The Last of The Mohicans.
Hendersonville is also known for its apple orchards during the fall and its great wineries, such as Point Lookout Vineyards and Stone Ashe.
Black Mountain Inn (Black Mountain)
Located twenty-five minutes from Asheville city center, this is another great bed and breakfast option. The quaint town of Black Mountain is home to some great attractions and activities, including hiking. There are also many dining and shopping options to make use of.
One of the draws to Black Mountain is the variety of local breweries, such as Oak & Gris. Here, visitors can try some of the distillery's excellent craft cocktails.
Black Mountain Inn is set inside a 19th-century building, which includes claw-foot tubs in charming rooms, a sauna, and a lovely garden.
Nearby attractions include Lake Tomahawk Park, home to one of the best lakes in North Carolina, The Dripolater, a great place to stop for coffee, and White Horse, where you can take in a live performance.
If you're fond of history, be sure to stop by the Swannanoa Valley Museum while you're in the area.