River cruise ships often feature French balconies. Those who have only sailed on ocean cruise ships, however, may be surprised to see that the French balconies on a river cruise ship are quite a unique sight.
If you are thinking about booking cabins with French balconies on your next river cruise, this post will answer some of your questions and help you make a decision.
What is A French Balcony?
French Balcony cabins feature a balcony that you can't step onto. It consists of floor-to-ceiling doors that slide open to a railing, but there isn't any space for balcony furniture.
A French balcony is also known as a Juliet balcony, and it offers you the atmosphere and fresh air of a typical veranda without the outside space of a veranda.
Other Names for a French Balcony:
Juliet balcony (The nickname caught on due to performances of Romeo and Juliet featuring a French balcony even though the original Juliet looked out the bedroom window)
False balcony
Panorama balcony
Open-air balcony
Advantages of a French Balcony
You can open the curtains to reveal the gorgeous view that you can enjoy with a cup of tea in bed, a sight you cannot get with just a small window.
As some windows on cruise ships don't open, you can open the French balcony to invite some fresh air into the cabin.
You can enjoy the scenery while still being comfortable and warm inside your French balcony cabin.
Disadvantages of a French Balcony
When you look out of your French balcony, you can only enjoy the view of one side of the ship, whereas the upper deck allows you to see so much more.
A balcony stateroom doesn't seem so appealing when the ship docks, as it might dock right next to another ship or a bank, where strangers can see right into your cabin.
French balcony cabins on river ships often cost a lot more than a cabin with a window, so only consider this option if your budget allows it.
Uniworld Boutique River Cruises – https://www.uniworld.com/za
French Balcony vs. Veranda
There is no obvious winner when it comes to the eternal debate between a French balcony and a veranda, as it entirely depends on the preference of the cruiser.
A French balcony is a great choice if you seek beautiful views without being interrupted by the rain and wind because French balconies are enclosed.
However, a veranda is the better option if you want to be immersed in your surroundings. Verandas are open-air balconies that allow you to really take in the picturesque views and enjoy the fresh air. A cabin with a sit-out veranda will generally be a bit more expensive.
On ocean cruise ships, a veranda is an ideal spot to enjoy the calm sea days, whereas river cruises don't typically include much downtime during the day.
You can always enjoy your morning coffee on your veranda if the weather allows it, or simply slide open the French balcony doors to enjoy the view. As the day progresses, you will likely be exploring most of the time, and your veranda will be unoccupied the whole day.
Even when the weather is great, you'll probably want to take advantage of it on the top deck, lounging next to the pool with a book in hand.
The best place to watch the panoramic view is undoubtedly from the top deck, so even if you have an extensive veranda, you'll still want to go there instead.
So unless you're a die-hard introvert, splurging on a veranda isn't necessarily the best way to go. A French balcony will still allow you to enjoy fresh air and beautiful views at a much more moderate price.
Why Are There French Balconies of River Cruise Ships?
A river cruise ship is quite small compared to the mainstream ocean cruise ships, so French balcony cabins save some space on the ship overall and give you more cabin space.
Most river cruise ships that sail on European waterways experience less-than-perfect weather, so sitting on an open-air outside balcony may not be the most comfortable way to enjoy the cruise. A French Balcony keeps you nestled in the warmth of your cabin while still displaying the beautiful view and fresh air you seek.
Are There Any Veranda Cabins on River Cruises
Most river cruise lines don't include true balconies on their ships, although some do. A true balcony is a veranda, also known as a step-out balcony.
There are four types of cabins in a typical river cruise ship, namely:
A window cabin, where the cabin is located beneath the waterline and features a small ceiling window.
A French balcony stateroom, which features floor-to-ceiling doors opening up to a railing.
A Veranda cabin featuring a true balcony
A suite, featuring a large stateroom that may include a separate living area and bedroom.
There are no inside cabins on river cruise ships, contrary to ocean cruise ships. River cruise ships are just narrow enough to fit through locks, but all the cabins feature a window.
Be sure to check the window size if you want to book a cabin with a window because, although some cabins include standard windows, cabins below the waterline only include very small windows that you may not be able to look out of without standing on something.
Types of French Balconies
There are different types of French balconies or open-air balconies. Some have standard patio doors that open half the wall space, while others have floor-to-ceiling glass serving as a wall-to-wall window.
Some French balconies drop down and don't have sliding glass doors. The top half of the glass door, instead, lowers down to open the space. Dropdown French balconies are arguably the best types of French balconies because the open space sometimes stretches the entire width of the cabin, offering the best view.
French Balconies and Verandas on Different River Cruise Lines
Viking River cruises
Although Viking River Cruises offer French balconies, they are now promoting the veranda cabins. This cruise line has been in the river cruising business for a long time, so they can certainly persuade their customers to opt for the veranda.
There are smaller French balconies on the Viking Longships, but it could be argued that these balconies have been compromised by the veranda above the French balcony cabins.
Uniworld River Cruises
French balconies add a touch of elegance to the exterior of a river cruise ship. A series of verandas often gives the look of a Canary Island waterfront riddled with apartments. Uniworld realized this and decided to close their verandas with glass that can be removed electronically to convey a clean and sleek appearance.
Form and shape matter greatly when it comes to the boutique river cruise line. A good tip to keep in mind is that the French Balcony stateroom with electronic windows is the same size as the upper deck veranda cabin, but the veranda takes more space off the cabin's interior.
Riviera, Tauck, and Avalon Waterways
The MS Savor and MS Inspire are the two inspiration class ships by Tauck River cruises that don't feature any verandas. The cruise line has put its foot down when it comes to verandas but introduced more and bigger than usual suites for those travelers seeking luxury.
You might think there is more than enough extra space for a veranda in these suites, but they simply went a different route.
The beautiful MS Savor staterooms feature everything from a separate seating area to a Nespresso machine but no veranda. The cabin offers much more space because of that.
Avalon is another cruise line that is continuously launching more suite ships. Most cabins are now up to 200 square feet and feature a lovely French Balcony. The flat glass door stretches across the entire wall and truly brings you closer to your surroundings.
One of the best innovations in French balconies lately is the French balcony glass that disappears completely. The Charles Dickens and William Shakespeare Riviera ships offer four suites with ample outside space. All other staterooms on the middle deck and the upper deck feature a full glass wall that opens up completely and disappears in the wall while doing so. If you're looking for a world-class cruising experience, this might be the perfect river cruise for you.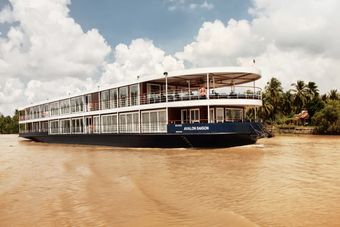 Avalon Waterways – https://www.avalonwaterways.com/
Tips for Choosing a French Balcony Cabin on a River Cruise
You Don't HAVE to Get a French Balcony
Having a French balcony on board a river ship may not be practicable due to size and specification limitations. However, if you can afford it, you may take advantage of this feature.
If you feel a bit claustrophobic, you can always head out to the deck for some sun, fresh air, and gorgeous views.
A river does offer nearly as much space as the ocean, and the river ship needs to pass through rather narrow portions. Therefore, the ship has to conform to certain space restrictions.
The extra fee associated with a French Balcony may not always be worth it, and you may wish you had opted for a cabin with a step-out balcony/true balcony for all the benefits it entails.
Some River Cruise Ships Offer a French Balcony With a Small Sitting Area
As river cruise ships are modernizing and expanding, some are beginning to include a small table with two chairs right by the French balconies, though being much smaller than a regular true balcony sitting area.
Additionally, some river ships offer cabins with a Panorama French balcony, providing floor-to-ceiling glass windows that can open to the views and fresh air. Full Open-Air French Balconies are also on offer, which stretches the entire width of the cabin. Needless to say, these cabins are more expensive than those with regular French balconies.
You Can Opt for Both a French Balcony and a Veranda
If you really want to go all out, no one is stopping you from getting a cabin with both a French balcony and a veranda. This option is ideal for those who wish to stay in their cabins and enjoy the views in privacy.
The veranda offers the option to enjoy the sun outside as well. These room designs are often referred to as the twin-balcony set-up and offer one French Balcony and one regular balcony.
If your budget allows it, having both a French balcony and a full balcony is a great way to enjoy your trip, but it is entirely up to personal preference.
Book Far in Advance
Booking a year in advance is a great way to ensure you get the stateroom you want. Moreover, many cruise lines offer great discounts and promotions for those who book so early. Most rooms will still be available for booking a year before the ship sets sail, so you have a much better chance of choosing between the best cabins for the best prices.
Choose a Room on the Upper Deck
The best spot to see the riverbank and the views from all sides of the ship is the upper deck. Therefore, getting a stateroom near the upper deck will improve your views and photo ops.
It is worth noting, however, that the wind close to the upper deck is much stronger than on the lower deck. In fact, the wind may be so disturbing that you won't even want to open your French balcony.
Standard staterooms typically feature French balconies due to the limited size of river ships compared to ocean cruise ships, but French balconies are also a great way to enjoy the views in spite of bad weather.
In Conclusion
French balconies are much more common than true balconies on river cruise ships. Many French balconies offer the same benefits as a regular balcony and save a lot of cabin space. Whether you decide on a cabin with a small window, a veranda, or a French balcony is entirely based on your personal preference. Whatever path you choose, you will always be able to enjoy 360-degree views from the top deck, as any stateroom can only provide views of one side of the ship.