Like hotels, cruise ships have different kinds of rooms, known as cabins or staterooms. These are sometimes difficult to distinguish, especially for the first-time cruiser. Cruise ship cabins also vary considerably, from compact and utilitarian to large and lavish. There are rooms designed for entire families, and rooms designed for solo travelers. To complicate matters further, many cruise lines offer over two dozen room types per ship.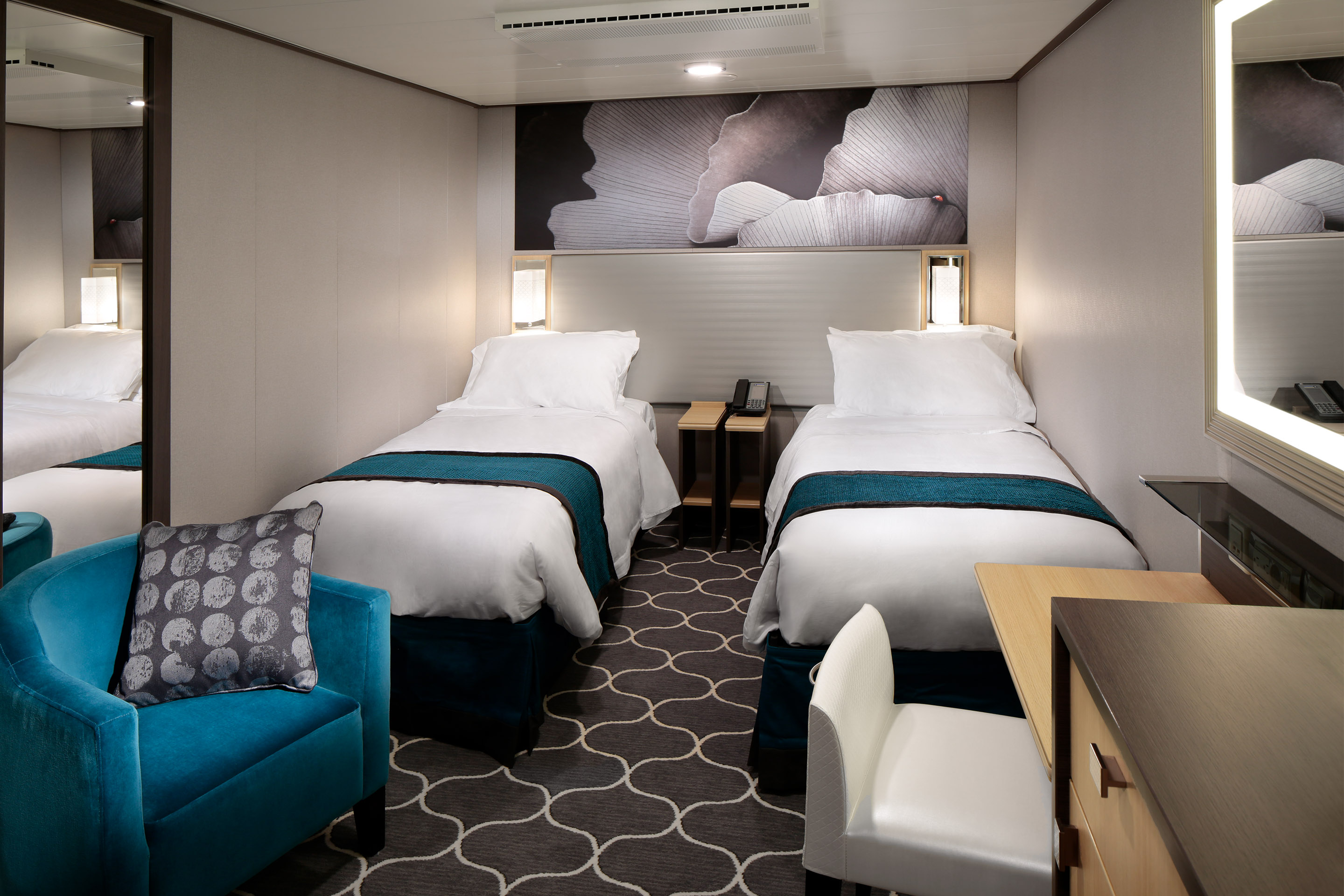 Fortunately, certain factors can help you decide which cabin is right for you. These include the size, cost, location, view, and amenities, to name a few. There are also other things that you need to consider, such as: Are you prone to seasickness? Do you prefer peace and quiet as opposed to noise and large crowds? Are you simply looking for a place to lay your head after a long day of activities – no fancy extras needed? Or are there certain add-ons that you cannot live without?
Let's dive into the different kinds of cabins on a cruise ship to find out which one is right for you.
Cruise Ship Room Basics
Before we begin to break down the types of cabins on a cruise ship, here is an overview of some of the common features that every cabin has.
In general, cruise rooms come with a bed, a private bathroom with a shower, a closet, a vanity area, a television, and a safety deposit box.
So, while any room you select may have more amenities, you should know that every cabin comes with certain standard features that you don't have to worry about missing out on.
Cruise Ship Room Categories
There are essentially four types of rooms on a cruise ship. Let's take a look at each one in more detail.
1. Interior Rooms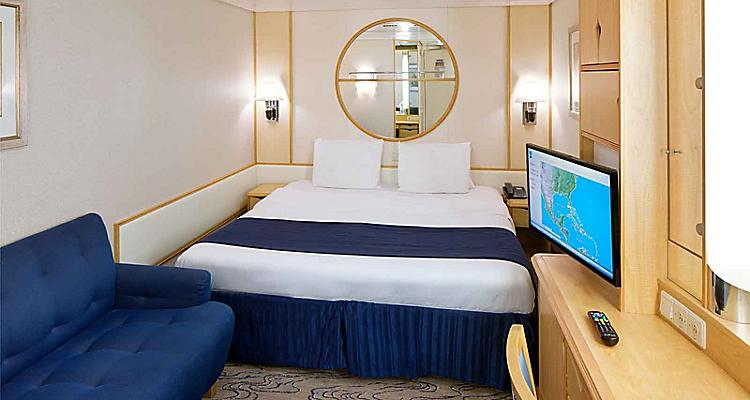 Also known as inside rooms, these cabins tend to be the smallest and most budget-friendly of them all. However, that's not to say that these rooms are cramped. On the contrary, interior rooms can accommodate up to four people, depending on the layout.
The only downside to an interior room is that they don't feature any windows, portholes, or balconies. That being said, keep in mind that there is usually so much to do onboard the ship that the time spent in the room is minimal. There is also the advantage of the cost.
Some cruise lines like Royal Caribbean offer a step up from the regular inside cabins in that they feature "virtual balconies". These rooms come fitted with floor-to-ceiling HD televisions that display a real-time high-definition view of what is outside the cruise ship. They even feature a virtual balcony to complete the illusion.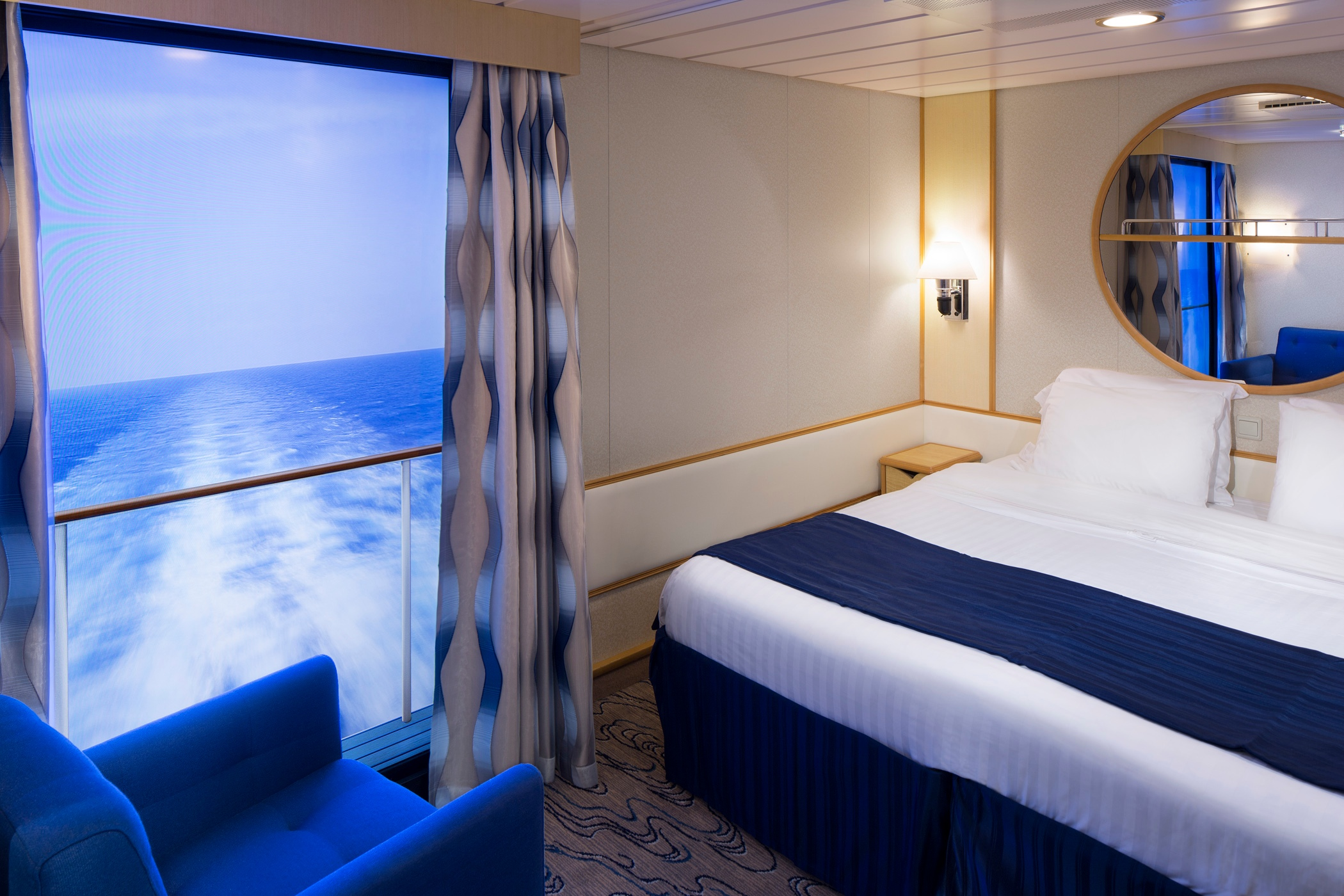 2. Oceanview Rooms
A jump up from a regular interior room is an oceanview cabin, which comes fitted with an outside window or porthole. While the porthole windows do not open, they do allow in some natural light and provide a glimpse of the ocean from your room.
How big the window is will depend on the cruise ship, but they are generally large enough to easily see out of without needing to be right up close.
Oceanview cabins are typically more expensive than interior rooms, but they can be a great compromise between an inside cabin and a full-on balcony room. Just like inside rooms, they can accommodate up to four guests.
3. Balcony Rooms
Often considered the most value for money, balcony rooms are a popular cabin category for several reasons. For starters, they offer a private balcony in addition to all the other standard room amenities.
This means you can go out and enjoy the fresh air from the comfort of your own room, which can be a blessing on the often-overcrowded cruise ships. It also provides you with a front-row seat to any sights and attractions that you might pass on your voyage.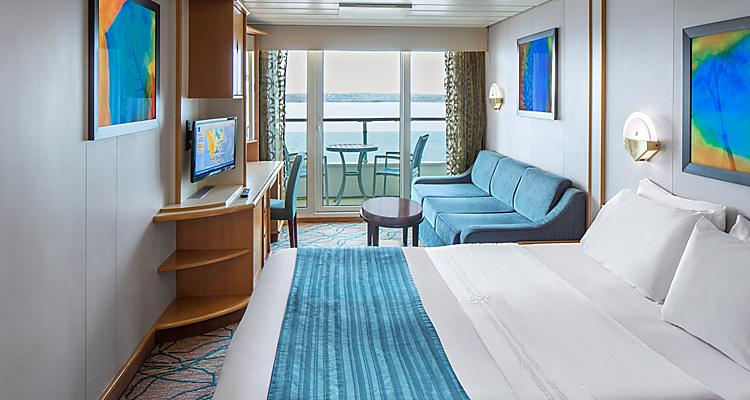 Each balcony comes furnished with a table and chairs. Some of the larger ones even have loungers.
There are several different types of balcony cabins that can be categorized according to room location and size. Generally speaking, however, balcony rooms can sleep up to four guests.
Two of the most unique types of balcony cabins that exist are the Boardwalk and Central Park rooms, which are only offered aboard Royal Caribbean's Oasis Class ships. These cabins offer a view of either the Boardwalk or Central Park neighborhoods instead of the ocean and are often priced for less than a traditional balcony room.
In terms of cost, a balcony cabin usually falls within most people's budget, although the price can go up depending on the cabin size and location.
4. Suites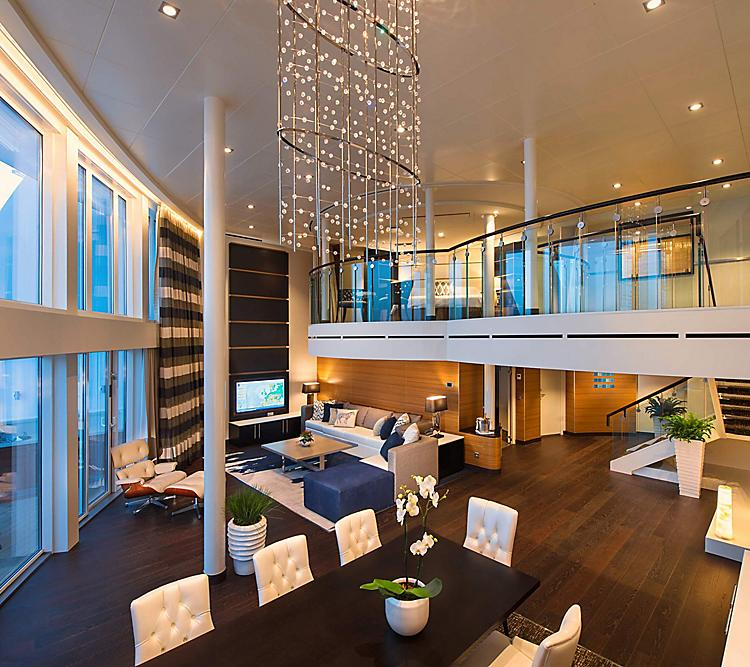 The piece de resistance of any cabin on a cruise ship; suites are all about providing luxury accommodation to guests. These rooms are typically in the best locations on the ship and offer the most space, with separate living and sleeping areas to boot. They also feature large balconies and come with extra amenities and perks.
Like balcony cabins, suites can be broken down into different types based on their size, location, the number of guests they can accommodate, and benefits.
On the lowest tier is the Junior Suite, which is essentially an upgraded balcony cabin that offers significantly more space plus a few extra benefits, such as a complimentary bottle of wine or champagne, an expanded room service menu, or fresh fruit delivered to your cabin. Most Junior Suites also have a bathroom with a shower-tub combo.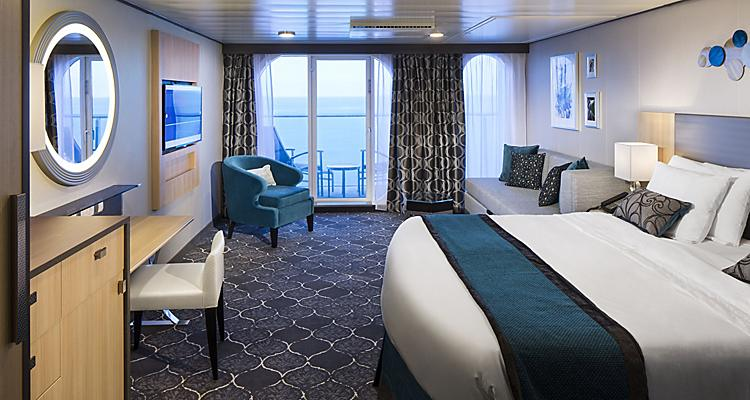 The next step up from a Junior Suite is a Grand Suite. Grand Suites take the square footage of the room up a notch, and typically feature an open-plan living and sleeping area with a dividing curtain in the middle. The bathrooms feature double vanities.
Some cruise lines, such as Royal Caribbean, offer Owner's Suites – one of the largest and most luxurious of all cabins on a cruise ship. These spacious rooms feature more separate living and sleeping areas than a Grand Suite, large bathrooms with a separate shower and whirlpool bathtub, as well as an expanded entryway/bar area, often with a small dining table.
While the abovementioned suites are all more or less standard, suite categories can vary from one ship to the next. For example, aboard Royal Caribbean's Quantum and Oasis Class ships there is the Royal Suite Class, a special category of suites that offers enhanced benefits to guests.
Let's look at a few of the suites that stand out on this particular cruise line:
Royal Loft Suite: Some suites on Royal Caribbean's Quantum and Oasis Class ships feature two levels, maximizing the amount of living space you get. These double-story loft suites come in several sizes, can accommodate up to six guests, and feature a large private balcony with a dining table and loungers, plus a whirlpool tub.
Ultimate Family Suite: Featuring an in-suite slide that connects the kids' bedroom to the living area, the Ultimate Family Suite has just about everything a family with young children could want while at sea. This includes an air hockey table, an enormous balcony with a hot tub and a climbing wall, a playroom, and more. Although there are only two bedrooms, it can sleep up to eight people.The Ultimate Family Suite is available on Royal Caribbean's Symphony of the Seas and Spectrum of the Seas.
AquaTheater suite: The main draw card of this spacious cabin on Royal Caribbean's Oasis Class ships is its huge wraparound balcony that provides guests with a front-row seat to the acrobatic dive shows at the AquaTheater. It also features two bedrooms, a comfortable living area with a dining table, and can accommodate up to eight people.
In short, suites are the largest and most luxurious cruise cabins. This is reflected in their high price tag, which will be the ultimate deciding factor when it comes to booking this type of room.
Other Cruise Ship Rooms
Studio Cabins
Patented by Norwegian Cruise Line, studio cabins are a lesser-known category of rooms designed for those traveling alone.
These are smaller (usually inside) cabins that don't charge solo cruisers the usual single supplement fee. In case you weren't aware, the single supplement is a surcharge added to the cruise fare of a single passenger for a stateroom that was designed for use by two people.
This means solo cabins can save you a bundle while cruising by yourself, but these rooms often sell out quickly due to limited availability, so be sure to make your deposit as quickly as possible once tickets become available.
Panoramic Staterooms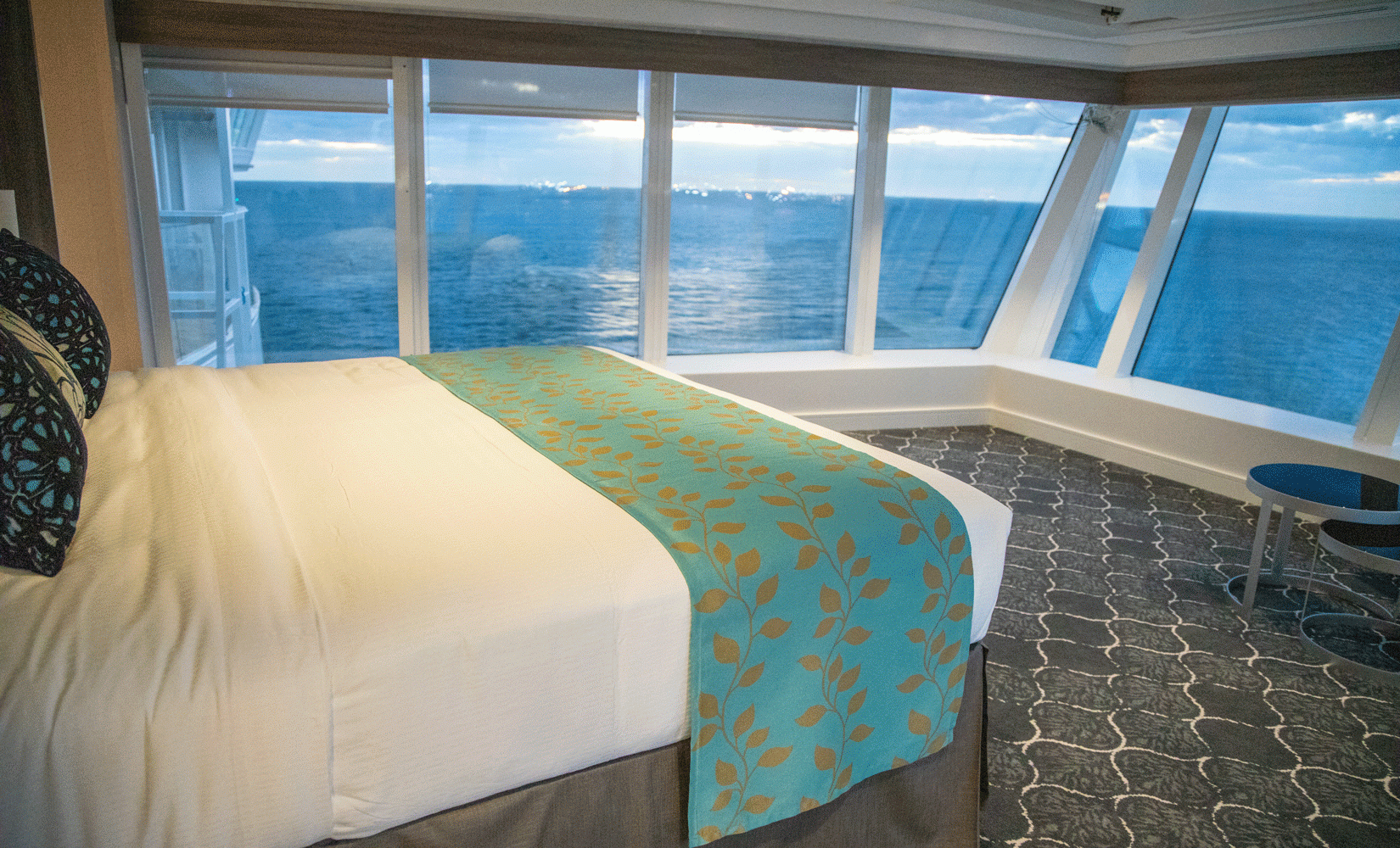 Featuring floor-to-ceiling windows, the panoramic stateroom offers a compromise between a balcony cabin and an oceanview room.
It's a relatively new type of cabin that features the same amount of space as a balcony room but without the private outdoor area. Instead, impressive floor-to-ceiling windows provide sweeping views of the ocean from virtually every corner of the room – often at a lower price than a balcony cabin.
In addition to offering spectacular ocean views, the Ocean View Panoramic Suite (category VP) aboard Royal Caribbean Voyager and Freedom Class ships are entitled to full suite benefits, such as complimentary alcoholic beverages, luxury bathroom toiletries, and priority boarding on embarkation day.
Where is the Best Room Location on a Cruise Ship?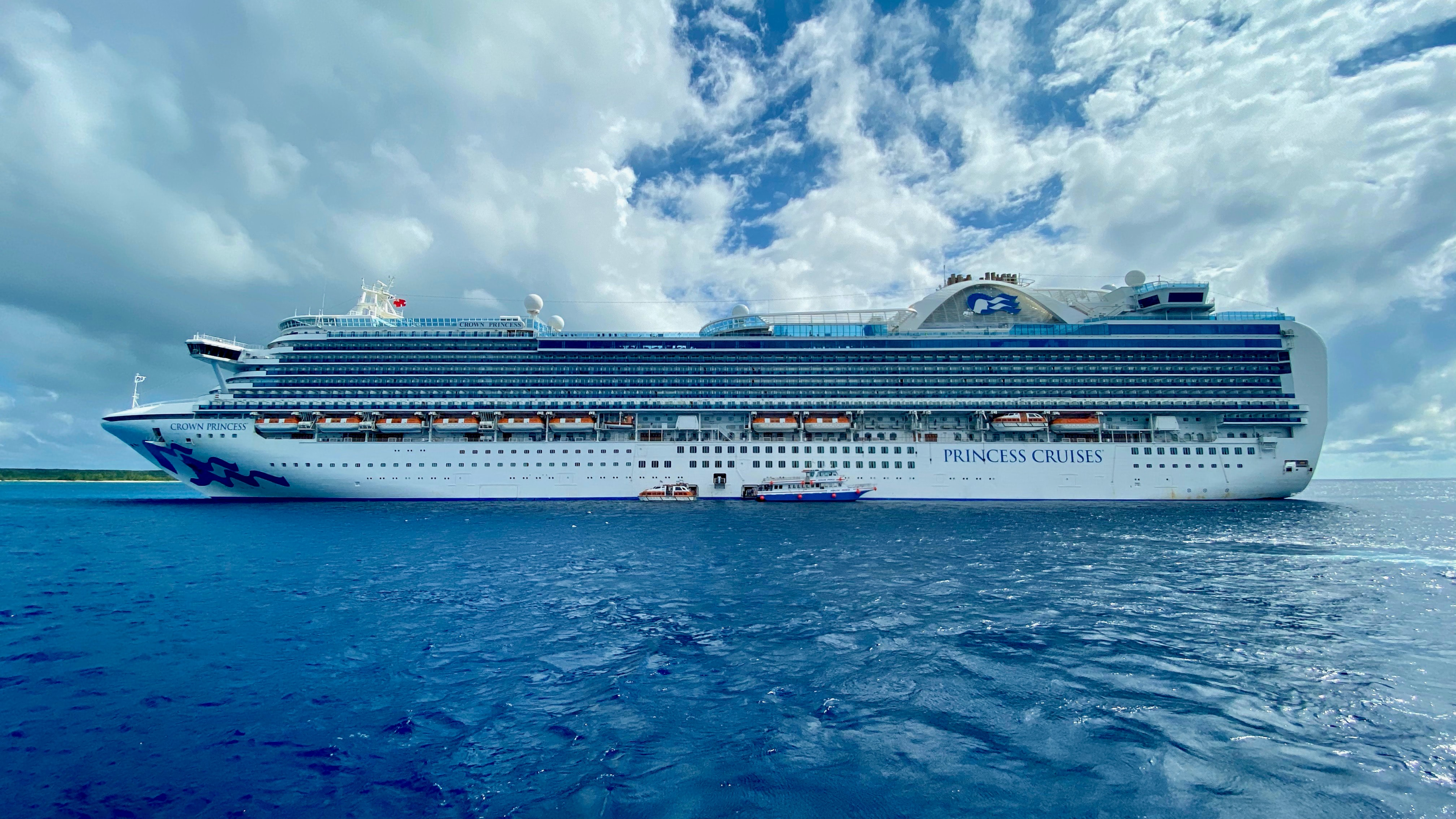 Where your room is situated on a cruise ship can make all the difference in ensuring a great trip. It also depends on the person and how you want to spend time on the cruise. For instance, are you someone who gets seasick easily? Are you looking for a good night's rest or are you planning to be up partying till past midnight?
Here are some tips to help you choose the cabin location that's best for you:
If you want to avoid getting seasick, choose a cabin on one of the lower decks, as close to the ship's center as possible. This is because the higher levels and cabins towards the front (forward) or back (aft) of the ship experience the most sway.
Think carefully about where your cabin is in relation to the dining, drinking, and entertainment venues aboard the ship, as well as the swimming pools. Being far away from these areas can be great for avoiding noise, but it can also mean long walks to and from your room during the day.
Check the deck plans of your vessel before booking your room. These will tell you exactly where all the service areas on the ship are located. So, if peace and quiet are what you're after, opt for a room that's as far away from public places as possible.
Verdict: What is the Best Cabin on a Cruise Ship?
No cabin on a cruise ship is inherently "bad"; it's simply a matter of choosing the room that suits your preferences and budget.
Generally speaking, you can't go wrong with a balcony room, especially if it's your first time cruising. These are usually good value for money, offering ample living space and the perk of having your own private balcony.
That being said, you could save a bundle of money by opting for an ocean view or interior room. This is great if you plan to spend more time hanging around the ship than in your room, or if you want some extra spending money for shore excursions, souvenirs, or add-ons like drink packages.
However, if you're no stranger to flying first class or staying in bigger rooms at hotels, then a suite could be for you.
When all is said and done, the best cabin for you will depend on what you can afford and would feel most comfortable staying in.