South of Nassau you will find Exuma, a remote archipelago in the Bahamas. However, unlike others located in similar areas, there is much more to do in Exuma than just visiting the white sand beaches. This is definitely a bucket list destination and the best way to visit it is via an all-inclusive resort. This type of accommodation provides an enriched family vacation experience, and is even ideal for couples wanting a romantic vacation without the children. This list includes all kinds of resorts and there is sure to be something here to suit your needs.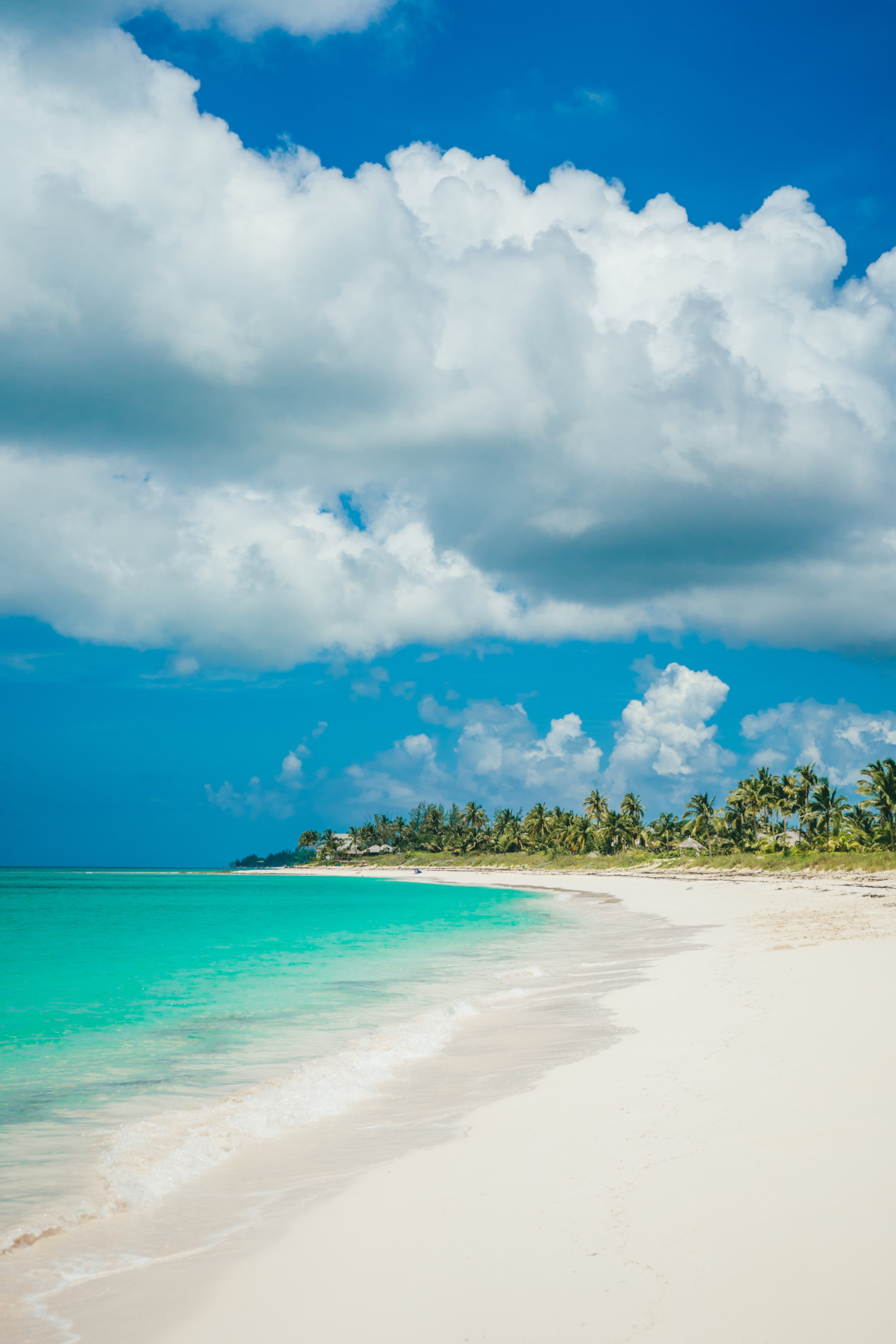 Saint Francis Resort & Marina
This popular destination is great for people who want the secluded marina experience. If you're specifically looking for white sand beaches to relax on and nature to admire then St. Francis is for you. The beaches here are secluded, windsurfing and scuba diving are common, and the food is amazing – especially the seafood. Furthermore, St. Francis takes the term 'all-inclusive' seriously as there isn't much they cannot provide. There are eight bungalows that are completely full-service and facing the ocean. Each bungalow has a coffee maker, small refrigerator, walk-in shower, and a king-size bed. Bungalows are decorated in natural hues to focus more attention to the beauty of the scenery around you.
Each Bungalow will have:
Room-service
Hair Dryer
Bath amenities
Private shower
coffee maker
minifridge
King-size bed
Blackout curtains
Private balcony
Sound-proof room
Oceanview
Air conditioning
The restaurant on-site serves Caribbean influenced traditional food made with fresh ingredients, for dinner, lunch, and breakfast. There is an outdoor terrace with spectacular views of the ocean and surrounding nature. The indoor bar has international snacks and a wide variety of cool beverages. There is also a weekly special BBQ dinner which visitors are welcome to participate in. The restaurant has a kids' menu, there is a BBQ area, and lounge bar.
This particular destination is great for visitors who want the real island experience. Including the private marina where you can rent a powerboat, or watch boats as they pass by in the bay. There are several sports available with equipment for hire, and a shared area with video and board games. Evenings are packed with music and drinks at themed events.
There are theme-night parties, scuba diving, fishing, outdoor play equipment for kids, windsurfing, video games, board games, a shared TV area, powerboat rentals, and beach sports like volleyball, yoga, and full access to the marina.
Exuma Beach Resort
If you're looking for a home away from home vacation then Exuma Beach is for you. This is one of the best destinations on South Hutchinson Island where you can enjoy pristine white-sand beaches. The food is fantastic, the amenities are thoughtful, and visitors can enjoy the gracious island hospitality. You can choose between garden or sea views among the 33 air-conditioned accommodation units. Each room has a separate seating area and a private terrace. If you are visiting with your family then the Cottage is best. There is a concierge service, full kitchen, and additional pull-out queeen-size bed.
In all the Exuma Beach rooms you can find:
Flat-screen TV
Work desk
Ironing board with Iron
Hairdryer
Minifridge
Sitting area
Private balcony
Free WiFi
Air conditioning
There is both indoor and outdoor seating reserved for diners. Outdoor seating is next to the water on a patio, and indoor seating is air conditioned. The restaurant has dinner and lunch options that marry Caribbean and Bahamas cuisines. Breakfast is served buffet-style and can be enjoyed privately within your room. Room-service is available, a kids menu, and a bar.
Guests have access to a private beach with hammocks and sun loungers. There is also a pool that is great for kids as there are floaties and pool toys also available. There are on-site spa facilities where guests can get face treatments or a massage. The concierge service can arrange activities or excursions, including island tours.
Some amenities at Exuma Beach to enjoy are:
Live music with night entertainment
Spa facilities
Sports facilities (water and beach)
Nearby golf course
Billiards
Kids entertainment
Private beach
Swimming pool with pool toys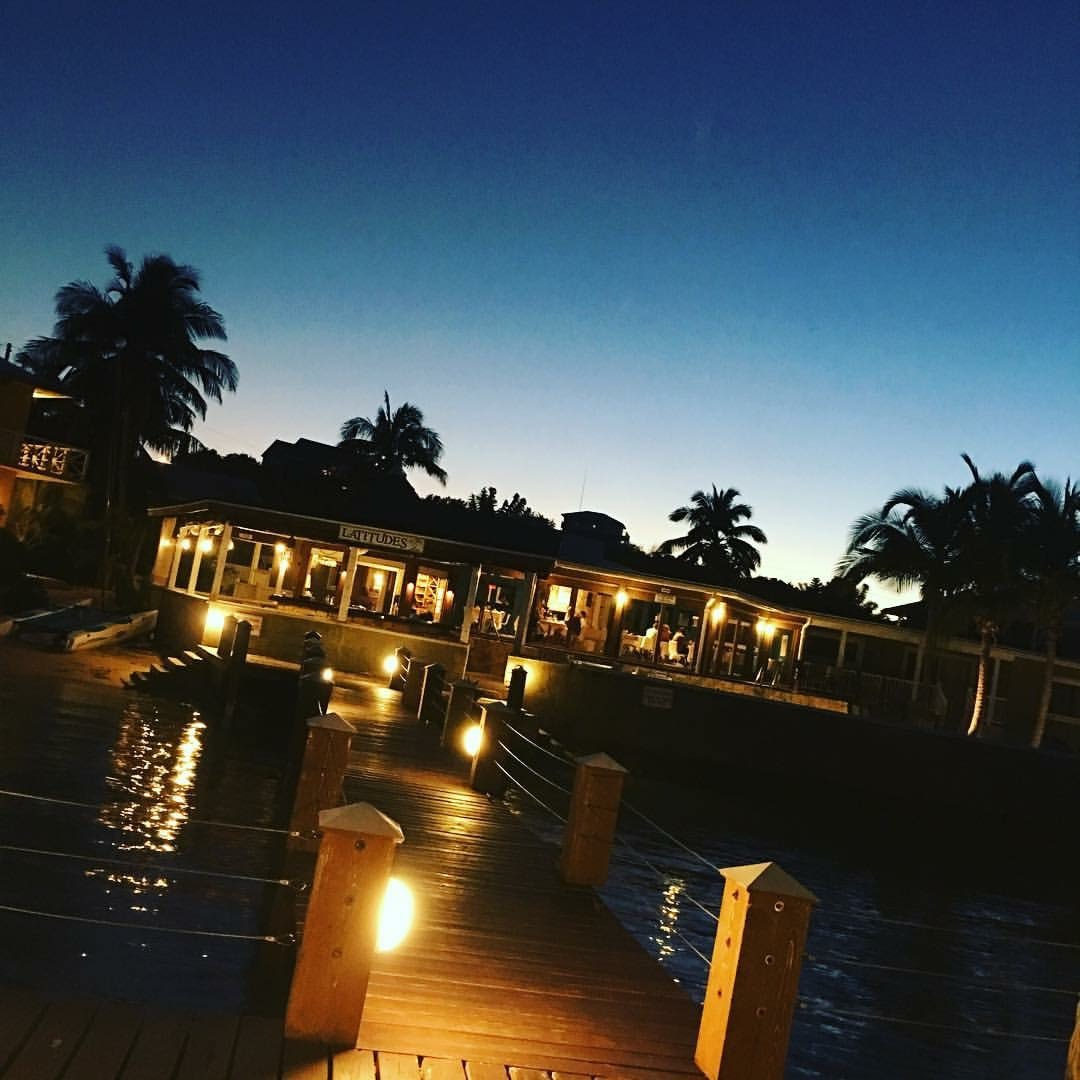 Grand Isle Resort
For those who are in need of luxury and pampering, Grand Isle is perfect. Grand Isle is located right on Emerald Bay where guests can fish or sunbathe at their leisure. Most visitors will be delighted to learn that there are many child-friendly activities including a pool. The name of the game in the Emerald Bay is relaxation and tranquility. There are a total of 78 rooms available and the decor all reflects earth tones so as not to detract from the serene island surroundings. Rooms have private balconies and marble-soaking tubs.
The key amenities at Grand Isle is:
Whirlpool Spa Bath
En Suite Private Marble Baths
Coffee Maker
Refrigerator
Free WiFi
LCD TV
DVD Player in certain rooms
Cable
Central Air Conditioning
There are three restaurants on-site. The Palapa which is located by the pool specializes in Caribbean cuisine, where the Grill House specializes in Asian/Bahamas fushion food. Sandy Toes is a beach bar that serves more casual snacks.
The on-site spa (SeaStar) specializes in seawater-infused therapies to enhance your sense of wellness. There is an infinity pool overlooking the sea and a gym. There is an island-style playroom for kids in the form of the Hummingbird Hut. There is a golf course to enjoy on your vacation and each room comes with its own cart.
Amenities for each room includes:
Access to the fitness center
a nearby golf course
children's activities
access to the beach
spa
an infinity pool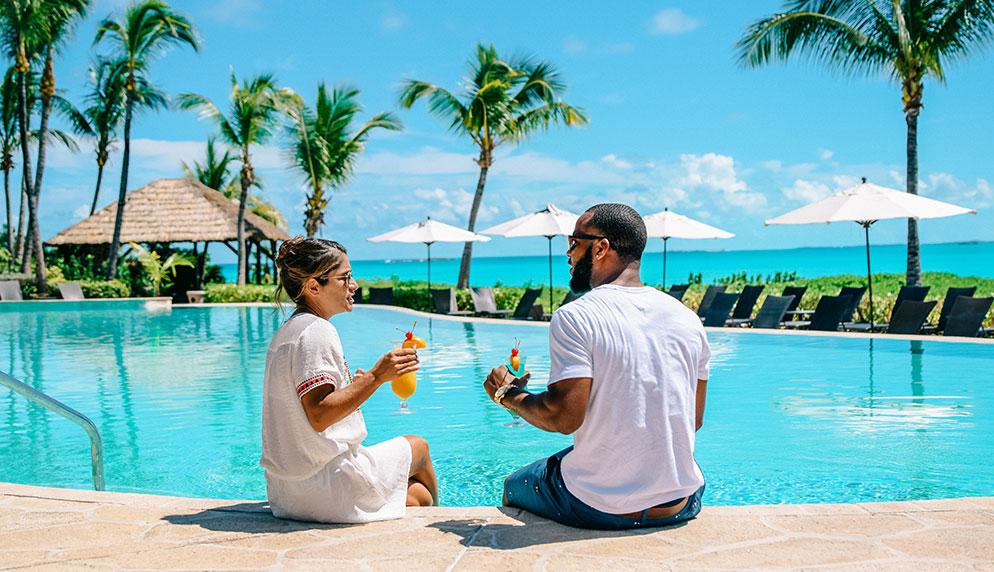 Peace & Plenty Resort
Guests who want to explore the island and enjoy ocean adventures will love this destination. Located in a popular spot on the island, this property allows guests to relax in a manner that is true to local culture. The luxurious experience is enhanced by contact with the culture of locals to the island. There are quite a few luxury amenities at this location and several different levels of luxury can be included in your accommodation costs.
Standard amenities include:
Free WiFi
Flat-screen TV
Coffee/tea maker
Minibar
Kitchenette
En-suite bathroom
Sitting area
Private balcony
A choice of two double beds, a queen bed, or a king bed
There are several dining options to experience, including three bars, two lounges, and a restaurant. Copia restaurant specializes in island flavors, The Flagler Room is a great place for drinks and cocktails before dinner, as are Doc's and the Beach Club.
Both adventure and learning can accompany your leisure vacation at Peace & Plenty. There are gift shops, an on-site Marina, a children's play area, pool, and a picnic area. There are also day trips and excursions that can be arranged, boat rentals, a golf course, fitness classes, spa facilities, beach access and sports on or in the sea.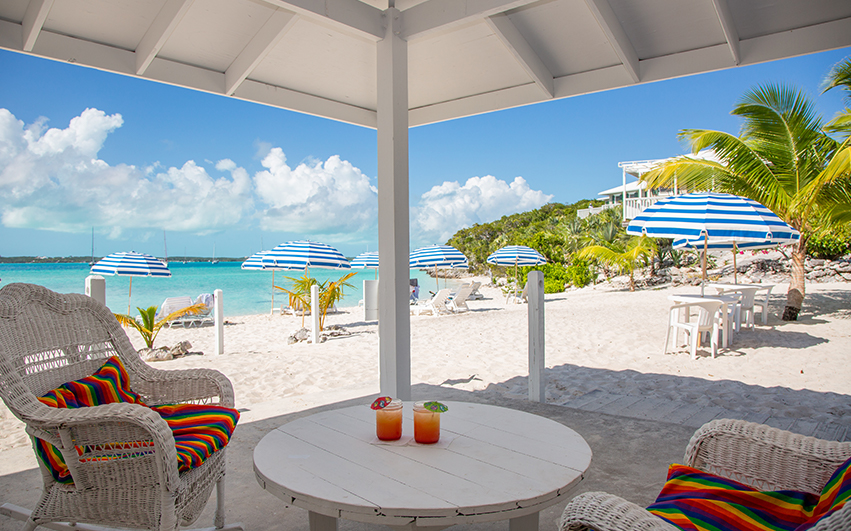 Kahari Resort
Kahari is a great option for eco-friendly travelers. Kahari is located on Great Exuma offering fine cuisine, several personalized services, and eco-travel. The beach is unspoiled and guests have access to calm sapphire blue waters and a beautiful landscape among accommodation that is sustainable and uses renewable energy. This private island retreat is not very far away from Exuma, so a quick trip is quite possible. There are 12 bungalows with access to decadent luxury.
Some features available to all guests:
Air conditioning
Coffee/tea maker
Free WiFi
Snorkeling gear
Minibar
En-suite bathroom
Private balcony
Lounge area
King size bed
There is no other place in Exuma which offers more authentic island dining than Kahari. In-room dining is available, or you can have drinks at the bar, or a meal at the restaurant.
The natural beauty around Kahari pairs very well with its world-class luxury accommodation on the main island. Furthermore, this resort on Great Exuma Island is devoted to preservation of the nature around them, while still providing exciting adventures like eco-tours, sea activities, and learning opportunities. Day trips and excursions are possible, while there is a picnic area, fitness center, spa, pool area, beach access, and marine sports to enjoy.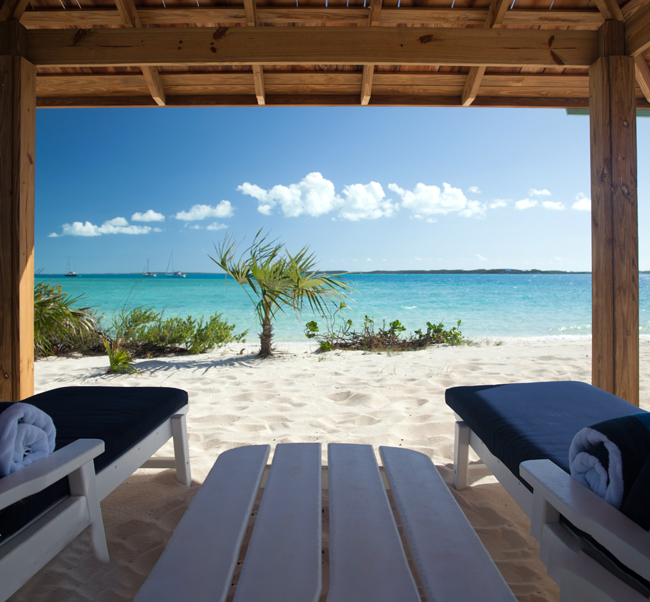 Hideaways At Palm Bay
If you are looking for a casual family vacation then Hideaways is a great option. Hideaways is on the island of Great Exuma and can be found on a white sand beach in a serene location. This resort is great for family-friendly fun that is focused on the pristine beaches in the area.
The rooms are luxurious, relaxed, and exotic, in a manner that is authentic to the Bahamas. There are 40 accommodation options that are great for couples, groups, or families. Home-like amenities are available in each unit:
WiFi
Ironing facilities
Cable TV
Air conditioning
En-Suite bathroom
Kitchen
Dining room
Private balcony
Living room
A choice of queen, or king-size beds
The restaurant on-site is elegant but simple and serves all meals. Their specialty is local Bahamas dishes that bring homage to island culture. There are also several places where you can get a drink. In-room dining is available, along with public BBQ grills, a lounge, two bars, and a restaurant.
Hideaway is great for families to have fun together. There is a game room, fitness center, and an outdoor pool where people can enjoy their vacation in the sun. Great Exuma is also available for exploration and you can meet the locals in town. Take a day trip, visit a picnic area, enjoy the nightlife, arcade room, tennis court, fitness center, spa, pool area, beach access, and water sports.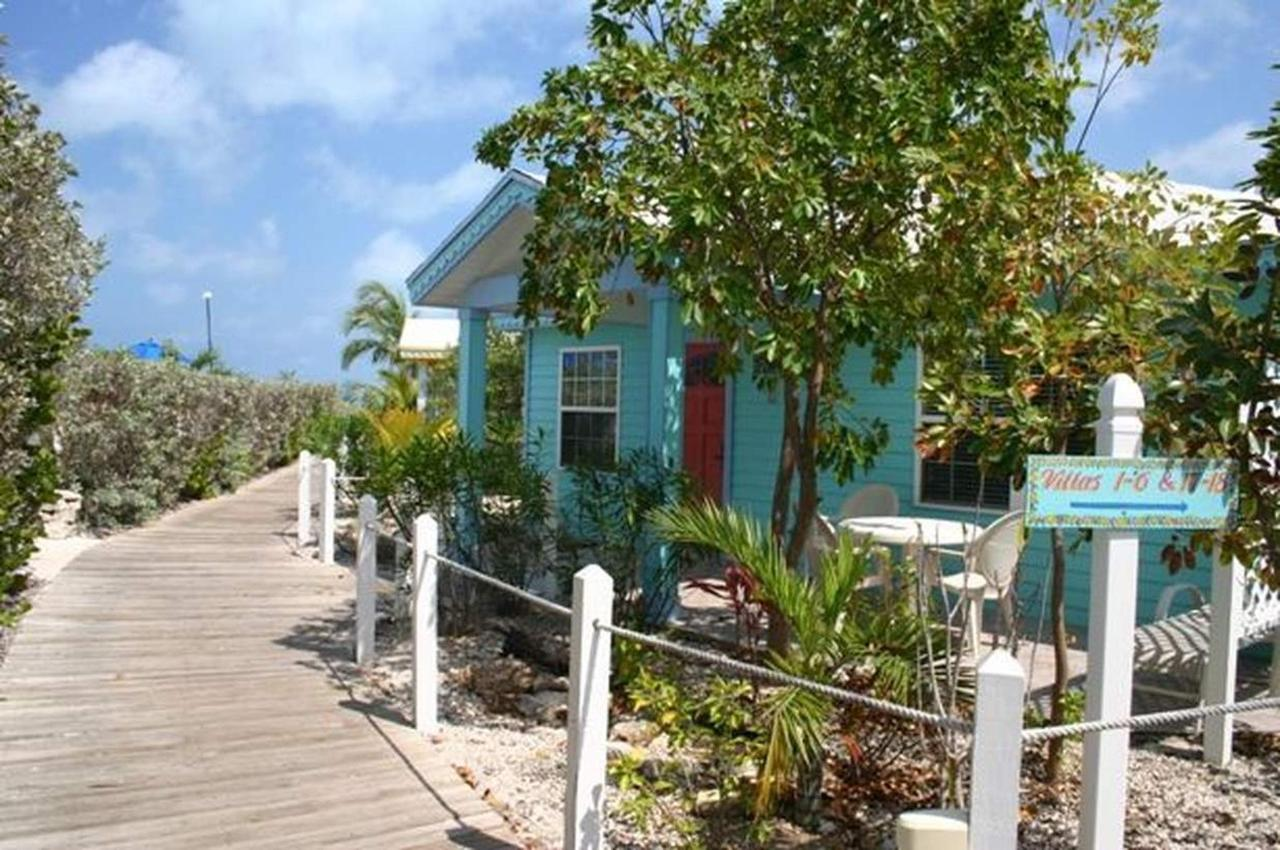 Fowl Cay Resort
This resort is ideal for guests wanting a private island getaway. If you want to be treated like royalty, surrounded by beauty and luxury, including unlimited meals and drinks, along with your own personal boat, then this is the resort for you. Located on the Exuma islands are only a limited number of cottages, so book early to avoid disappointment. Fishing gear and golf carts are included at your cottage. You can also choose between three-, two-, or one-bedroom villas at the resort. The living spaces are open-plan, the ocean views are stunning, kitchens are fully furnished, and there are private terraces, and quite uniquely to this resort, a private speedboat is included.
Some features to expect in each unit are:
Satellite TV
Dining area
Living room
Fireplace
Breakfast bar
Kitchen
Air conditioning
The Hill House restaurant is great for local seafood dishes served for dinner and lunch. The restaurant is on the highest point on Great Exuma which provides diners with a panoramic view of the surrounding island. There is also a BBQ grill at each villa and in-room dining is available.
Their all-inclusive plan is fantastic and allows for unlimited fuel for the powerboat, drinks, food, and professional fishing equipment. Accommodation is also cleaned daily. The boat allows guests to explore the island on their own. You can also expect the following at all accommodation:
Tennis court
Housekeeping
Game equipment
Fishing equipment
Sports equipment
Personal powerboat
Freshwater pool
Kayak
Snorkeling gear
Golf cart
Sandals Emerald Bay
Sandals Emerald Bay is great for couples who want to play some premium golf. This is paradise in a remote part of the Bahamas island of Great Exuma. The atmosphere is easy going but the facilities and accommodation are quite luxurious. Sandals Emerald Bay has three pools, including an extravagant zero-entry half-acre pool with stone carved fire pits all around it. There are also eleven restaurants that serve dishes of the best quality.
The resort spans 500-acres with 245 luxury rooms with a variety of views available. Their accommodation can be found right on a stretch of white sand beach on Emerald Bay. All the rooms at Sandals Emerald Bay start at Club level and become even more high-end from there. You will also find that about half of the rooms available will include a Butler Service.
Amenities at Sandals Emerald Bay include:
A Red Lane Spa Amenity Kit
Plush robes (His & Hers)
Pillow Menu
In-Room Electronic Safe
In-Room Bar stocked with premium brands
HD smart TV with Cable
Free WiFi
Bathtub
Air conditioning
There are several dining options at Sandals Emerald Bay so there is something for everyone. Additionally, there is a swim-up bar, six other bars, and 11 restaurants. The restaurants truly encompass several cuisines from across the world, anything from Japanese to French, even including a British Pub.
There are three amazing pools at Sandals Emerald Bay in addition to the magnificent coastline upon which the resort sits. This is also arguably the most beautiful beach on the island of Great Exuma. The resort also has its very own 18-hole golf course overlooking the Caribbean designed by Greg Norman.
Sandals Emerald Bay has great night entertainment, tennis, the Greg Norman golf course, PADI dive center, water sports, fitness center, the Red Lane Spa, whirlpools, and four outdoor pools.
Frequently Asked Questions
When is a good time to visit Exuma?
It is best to plan your visit to Exuma between May and August. It is not as busy this time of year, so accommodation and flights are not as busy during these months.
Attractions in Exuma, Bahamas to Visit on your Trip
Exuma Island Hopping and Swimming Pigs Tour
Many people are drawn to Exuma cays for their world famous swimming pigs. Needless to say, there are quite a few guided tours around the island, and Island hopping is a great way to spend your time in Exuma. This specific tour takes guests from Paradise Island to Exuma on a powerboat, which allows for multiple trips within an hour. There is also a stop at a restaurant for lunch.
This specific tour lasts 8h 30m and provides a truly immersive experience of Exuma, Bahamas. Tours are conducted in English and the focus is visiting several cays to view local wildlife and marine life.
Light snacks are available throughout the trip, over 18s can enjoy a local beer, and lunch is included at a local restaurant. Snorkeling equipment is included, there is a bathroom onboard and all facility and landing fees are included. The entrance fee at Pig Beach is also included.
The following stops are made throughout the tour:
Norman's Cay, Out Islands, Bahamas
Compass Cay, Out Islands, Bahamas

The main attraction here is the nurse sharks. The nurse sharks are quite accustomed to tours so they are not shy and are actually eager to greet the tourists who come to see them. Tourists are also allowed to swim in the clear waters along with the nurse sharks which makes for great photo opportunities.

Great Exuma, Out Islands, Bahamas

The stop at Great Exuma includes lunch at a local restaurant, which is usually a traditional Bahamas buffet. After lunch tourists will get back on the boat to continue the tour.

Pig Beach, Great Exuma, Bahamas
Exuma, Bahamas

The boat will stop on a sandbar where guests can take photos, sunbathe, or swim, before the tour returns to Paradise Island.
This tour is not recommended for people who have back problems, are pregnant, or have serious medical conditions such as heart problems. It is also recommended that you are a moderate fitness level before attempting this tour.
This tour is weather dependent, so in bad weather the tour is cancelled and you will be offered a full refund or a different date. The tour also has a minimum number of travelers which means that it might be cancelled if the minimum number is not met. In this case you will also be offered a refund or different date.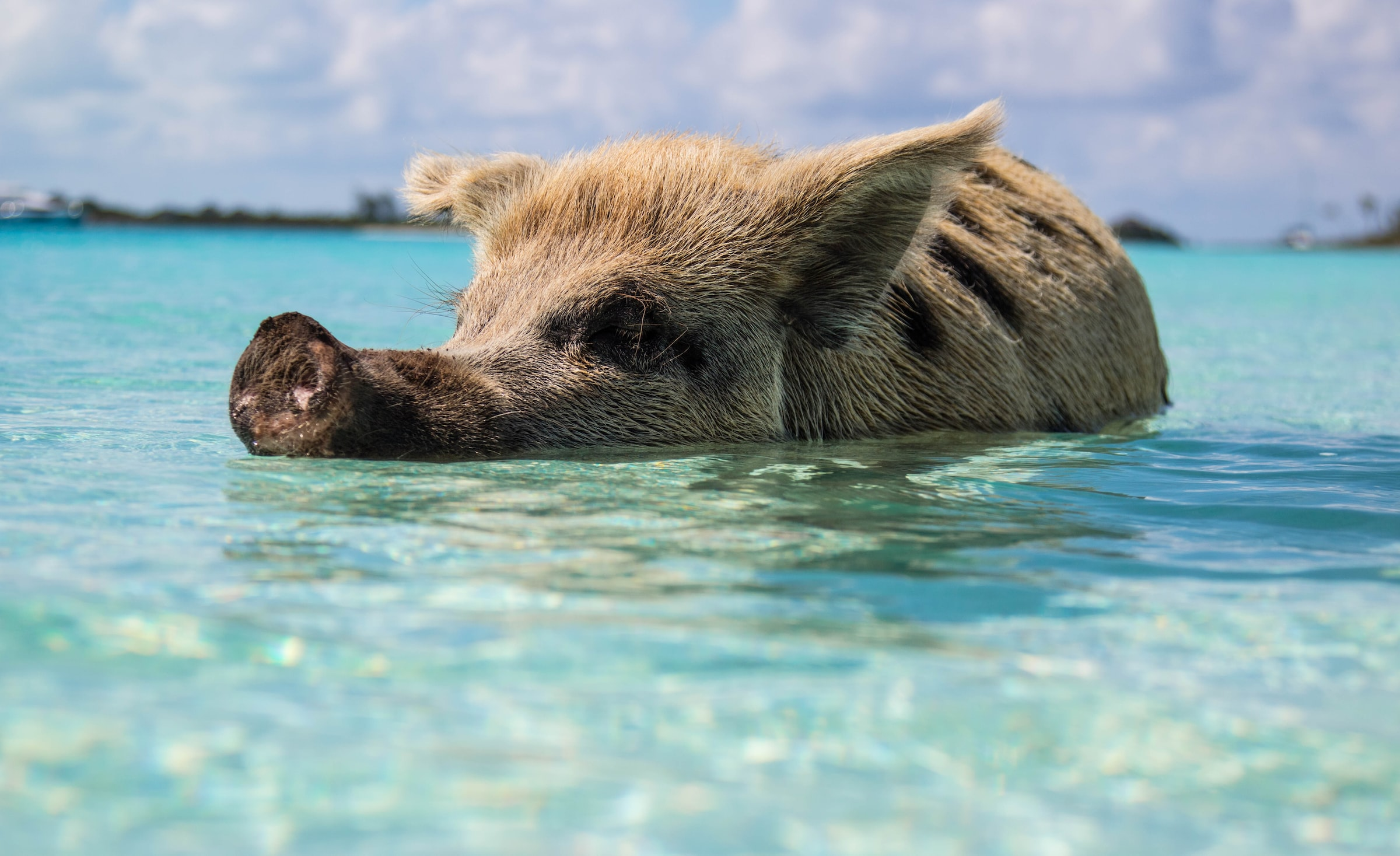 Full Day Private Catamaran Charter
This catamaran tour sails from Staniel Cay (home to the world famous swimming pigs). The itinerary is customized to suit individual desires and interests. Things to do might include a visit to island restaurants, feeding the swimming pigs, swim with sharks, hiking, and snorkeling.
The average duration is around 8 hours and is conducted in English. Coffee and tea are included along with bottled water, snacks, lunch, alcoholic beverages, and use of snorkeling equipment.
You will be able to sail to another island, such as Stocking island, Sandy Cay, Compass Cay, Cancer Beach, Emerald bay, and Great Exuma. If you cannot depart from Staniel Cay, you can arrange for departure from George Town or Nassau as well. You will return to your original departure point.
Please note that these tours are not wheelchair accessible and are not suited to individuals with serious medical conditions like heart problems, but service animals are allowed. It is recommended that travelers are moderately fit when attempting these tours.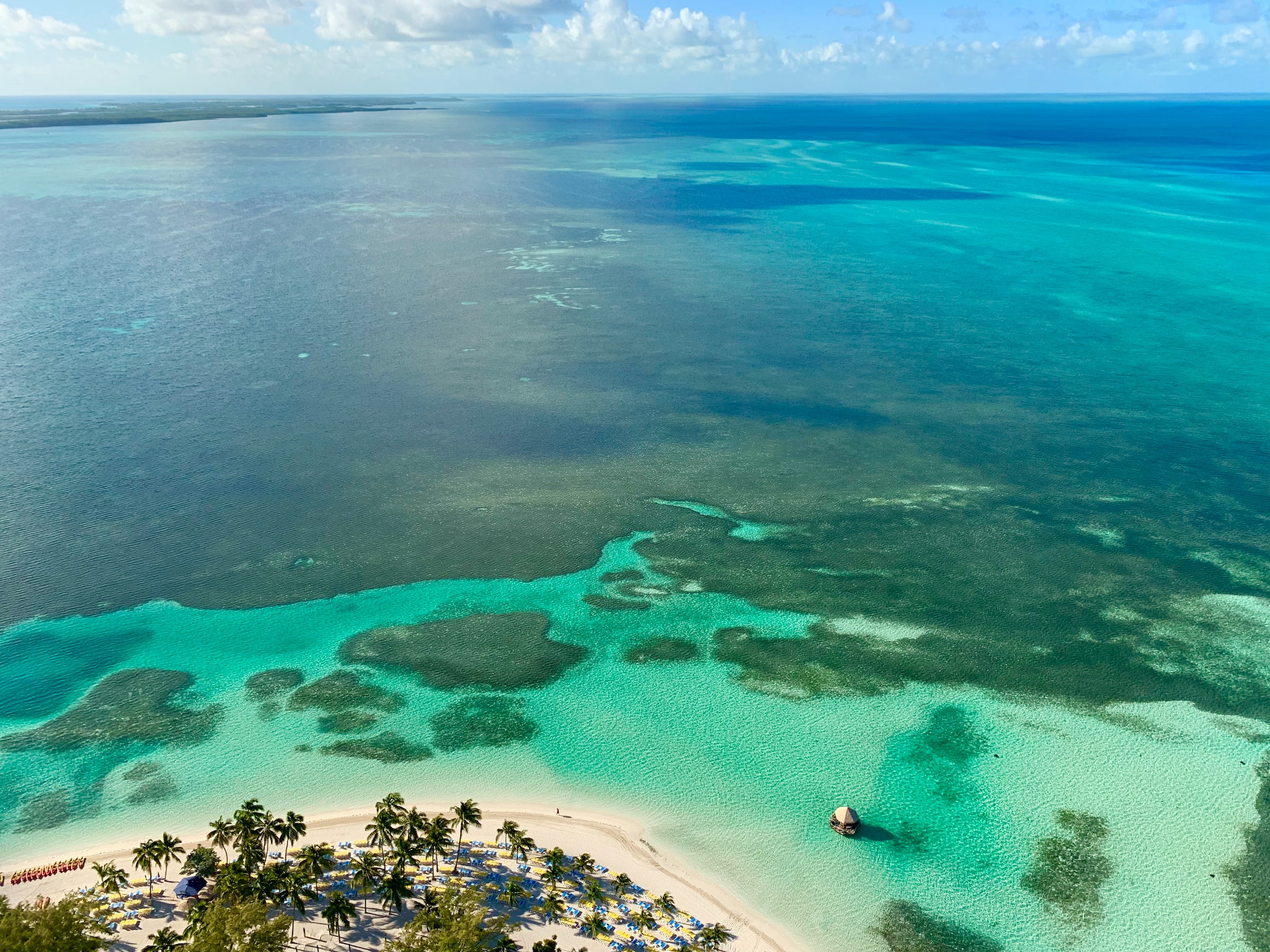 Explore Emerald Bay
If you are able to stay at Sandals Emerald Bay then you will have full access to Emerald Bay. There are a lot of world-class attractions and dining experiences at Sandals Emerald Bay.
Explore the Exuma Cays Land and Sea Park
The first land and sea park in the world can be found at Exuma Cays. It is a refuge for wildlife and an ecological preserve. There are many land animals to see in the area, but most people come to see the marine life. Nurse sharks, reef sharks, angelfish, and Nassau groupers are plentiful along with much more. There are many uninhabited cays in the national park which allow for great snorkeling and scuba diving opportunities. The Sea Aquarium and Submerged Plan are must-see attractions.
Feed the Swimming Pigs at Staniel Cay
The Big Major Cay is home to pigs. This presence of pigs on Big Major Cay and Staniel Cay is one of the main attractions on the island. The pigs are quite used to tourists, so they will swim out to your boat when you are on your way to the island. You might be able to swim with the pigs or have lunch with them if they are feeling friendly on the day.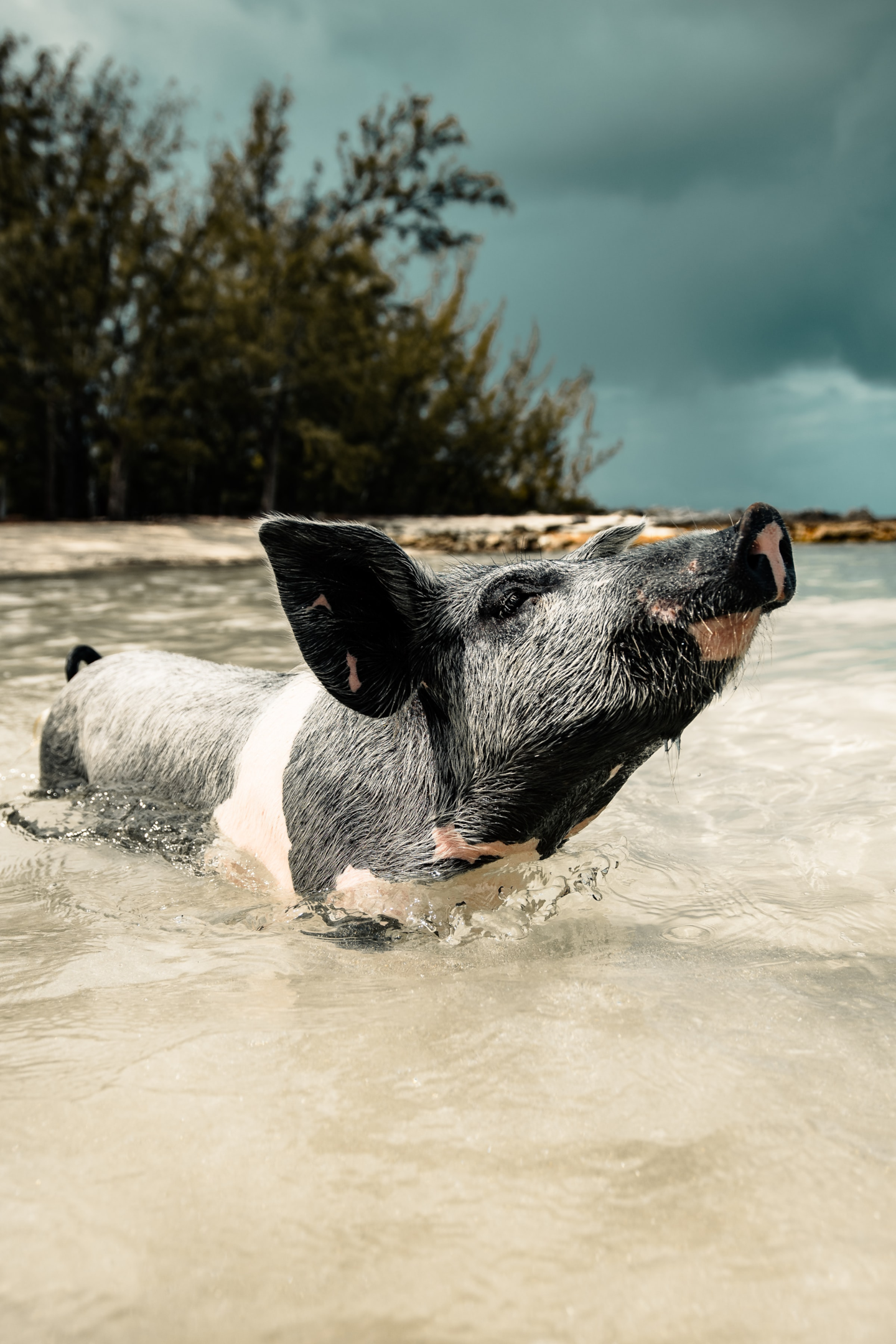 Hang Out in George Town
While Nassau is the capital city of the Bahamas, George Town is also quite popular and draws many tourists every year. The government building in George Town is quite a popular attraction, specifically for its pink and white exterior. The Straw Market is great for souvenirs and taking a leisurely stroll around the island and chatting with the permanent residents can be a great way to spend the day.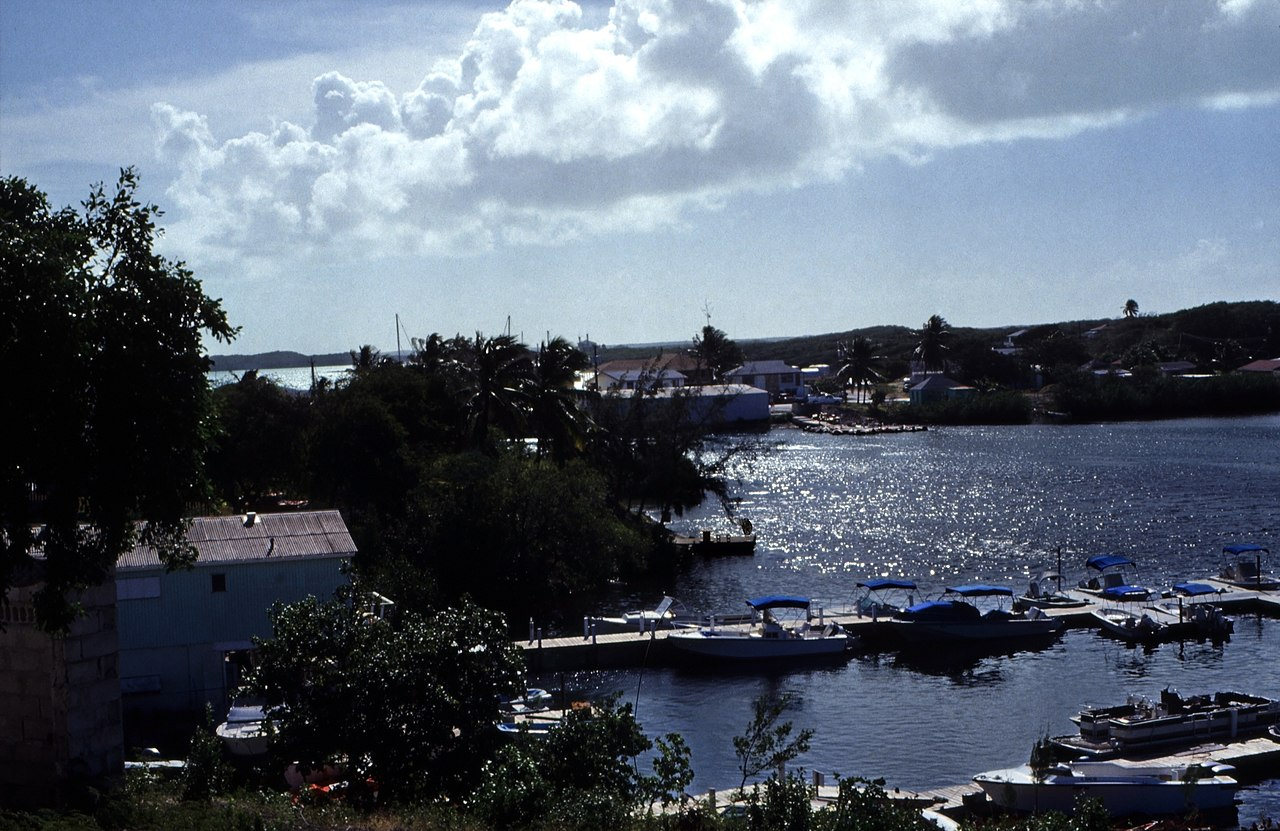 Tropic of Cancer Beach
The Tropic of Cancer Beach is arguably one of the most beautiful beaches on Exuma Island. Although this place is quite popular there are many people who do not know about it, so it is less likely to draw large crowds.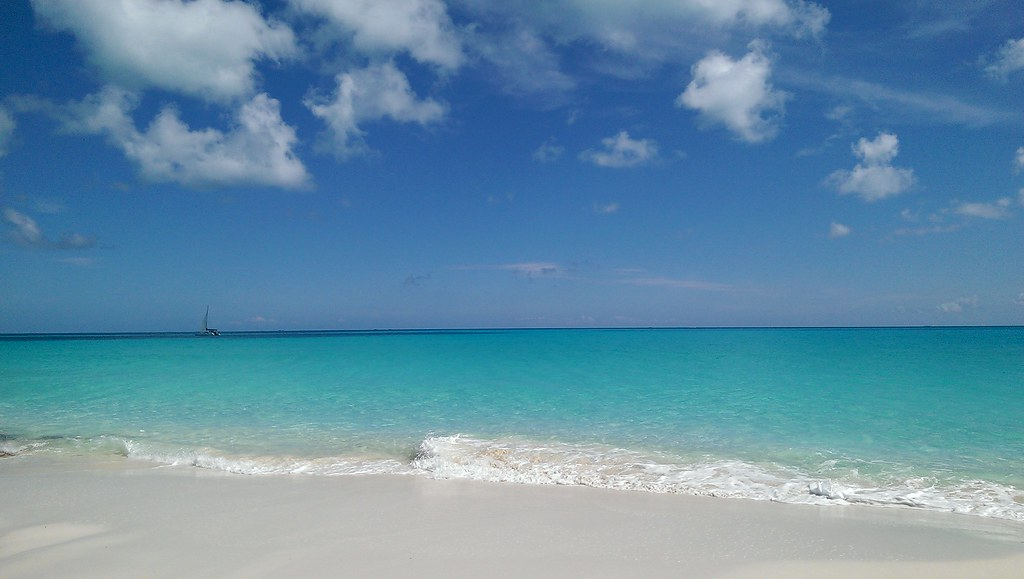 Final Thoughts
Exuma, Bahamas is full of untouched natural landscapes and ocean views. These Bahamas islands offer both adventure and relaxation for you to enjoy on your trip. The waters are some of the clearest on Earth and a trip to Exuma, Bahamas means access to several tropic beaches where you can take advantage of these crystaline waters. The all-inclusive resorts in Exuma, Bahamas have private attractions, but even a normal stay on the island will get you access to both land and sea based attractions that are to die for. Take a trip to paradise today!