Getting the chance to sit down at a table and enjoy a great barbeque meal with your friends is one of the best ways to cap the week. Korean barbecue (Korean BBQ) gives you a chance to become a chef by bringing the grill to the table. That's right, you're cooking the meat on your own, giving you the full dining experience.
Korean BBQ often features thinly sliced meats marinated in bulgogi or galbi sauce. However, other Korean barbecue restaurants offer thicker cuts of pork belly, beef belly, pork jowl, chicken, and seafood. Regardless of the cut of meat, Korean BBQ focuses on the balance and contrast between the flavors and textures of each dish.
What is Korean BBQ?
Korean BBQ has been around for ages but has only recently become a worldwide craze with the boom of Korean dramas and music. Generally, barbeque refers to the cooking method that involves grilling meat and other food. That being said, barbecue has taken on many different meanings around the world.
In the United States, for example, barbecues might feature big cuts of meat like beef brisket, pork buts, and big steaks like rib-eye. Additionally, the meat is also often smoked first before being grilled.
In Korea, the meat is often cut into smaller, tender pieces perfect for stuffing lettuce wraps topped with seasoned scallions, cucumbers, and bean sprouts. The options will also include less common cuts, such as intestines, neck, leg, and skin.
In addition to smaller cuts of marinated meat, Korean BBQ also uses ssamjang, a sauce of soybean paste and red pepper paste, to give the dish a more umami flavor.
Let's Talk About Banchan…
If you've ever been to Korean restaurants, you would know that Banchan is a key part of Korean BBQ. Banchan refers to the many side dishes placed around the grill for everyone to share. Banchan helps cut down all the fat that settles in your mouth while eating the meat. It also gives each mouthful a unique taste, depending on the combinations.
Some of the most common banchan include:
Kimchi – one of the most traditional Korean BBQ side dishes featuring a combination of salted, fermented vegetables, garlic, ginger, and chili pepper
Kimchi Fried Rice – a Korean-style fried rice dish featuring chopped-up kimchi
Kongnamul – soy bean sprouts seasoned with garlic, sesame oil, and soy sauce
Danmuji – Korean pickled daikon reddish that adds a crunchy sweet-tart element to the dish
Gamja – Gamja is an umbrella term that refers to the many potato side dishes served at a Korean BBQ joint. There's gamja saelleodeu (potato salad), gamja jorim (sweet and savory braised potatoes), and gamja bokkeum (sticky soy-glazed potatoes)
Eggs – Like potatoes, there are a number of Korean side dishes made of eggs, including Gyeran jangjorim (soy-marinated eggs), gyeran mari (rolled omelet), and gyeranjim (steamed egg)
What About Sauces…
You can't have Korean BBQ without sauces. Korean BBQ is all about being able to customize every bite to your heart's content. There are four types of Korean BBQ sauces offered in most all-you-can-eat establishments.
Ssamjang – Ssamjang, or wrap sauce, is a Korean BBQ sauce made of soybean paste, hot pepper paste, sugar, green onions, garlic, sesame oil, and sesame seeds. It's a good sauce to put on your lettuce wraps if you want a savory and sweet bite with a hint of spiciness
Toasted sesame oil – If you're after the pure flavor of the meat, it is best to dip your wrap in a little toasted sesame oil and finish it off with a sprinkle of salt. This is the best sauce option if you're eating meat that has not been marinated
Salt – When you add a dash of salt to meat, you are helping bring out its umami flavors. That being said, few establishments offer flakey sea salt, which is a luxury "sauce"
Cheese Fondue – Let's face it. There is nothing that truly elevates a dish more than good ol' cheese. Need I say more?
Where Do We Get Korean BBQ in Las Vegas, NV?
If you're ready to dig in, here are some of the best Korean BBQ restaurants in Las Vegas. Do note that while most of these restaurants reside in the Chinatown area, a few can also be found around the valley.
Biwon Korean BBQ and Sushi All-You-Can-Eat
Website: www.biwonlv.com
Pricing: AYCE Korean BBQ $26.95 (standard) & $31.95 (premium); AYCE Sushi $25.95 (lunch) & $30.95 (all day); AYCE KBBQ and Sushi ($41.95)
If you're dining as a large group, Biwon is the perfect place to go. This Korean BBQ restaurant allows guests to choose between all-you-can-eat (AYCE) Korean barbecue, AYCE sushi, or a combination of both for an all-out feast.
Their AYCE menu includes appetizers ranging from corn cheese, gyoza, jap-chae, edamame, steamed egg, takoyaki, and calamari tempura.
Their standard Korean BBQ menu includes beef brisket, beef belly, spicy pork, spicy chicken, pork shoulder, and garlic butter squid. The premium Korean BBQ menu items include ribeye, top sirloin, pork jowl, beef tongue, shrimp, and green tea pork belly.
---
Hobak Korean BBQ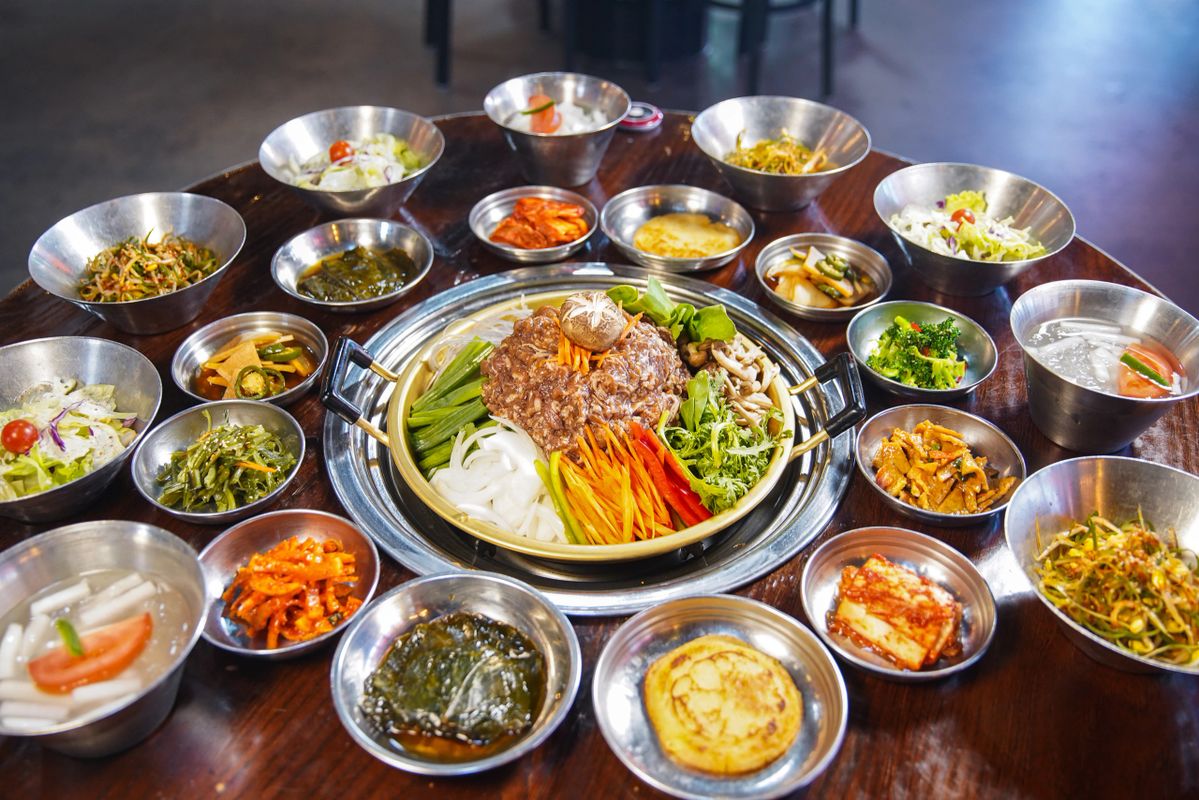 Located along Spring Mountain Road, Hobak Korean BBQ is one of the more unique Korean BBQ restaurants as it is the servers, not the guests, who cook the meat—a gesture that is uncommon at Korean barbecue establishments.
Hobak does not offer an AYCE menu, which means it may not be fit for large gatherings. However, there are plenty of options to choose from on their a la carte menu, including Angus boneless short ribs, Angus rib eye, Hobak skirt steak, spicy pork belly, aged pork ribs, and wagyu bulgogi. For the sides, we recommend their bean paste stew, cheddar cheese, and rice pop ice cream to cap the meal.
---
Master Kim's Korean BBQ
Website: masterkimslv.com
Pricing: Tier 1 – $28.95, Tier 2 – $32.95, Tier 3 – $39.95. For a la carte items, please refers to the menu.
At Master Kim's, diners are led to comfortable booths to settle down prior to the feast. Things are done a little differently at Master Kim's Korean BBQ. Instead of calling a server to order your meat, you can just snag a plate off a conveyor belt near your table and proceed to grill your chosen cut.
Master Kim's has a three-tier AYCE KBBQ menu. The first tier has 17 meat choices from Black Angus Beef Brisket, Black Angus New York Steak, Kurobuta Pork Shoulder Blade, Teriyaki Chicken, and Lightly Salted Squid.
The second tier expands the menu from 17 to 24 choices, adding more premium items such as Black Angus Spicy Boneless Short Rib, Black Angus La Kalbi, Beef Stomach Tripe, Miso Organic Pork Belly, and Butter Lemon Shrimp.
The third and final tier is truly a feast for the gods, with guests having up to 27 choices, including Black Angus Rib Eye Steak, Black Angus Salted Beef Boneless Short Ribs, Rib Finger Meat, and Wine Organic Pork Belly.
Regardless of your chosen tier, you will have side dishes, soups, homemade noodles, and desserts available to you.
---
Napal Baji BBQ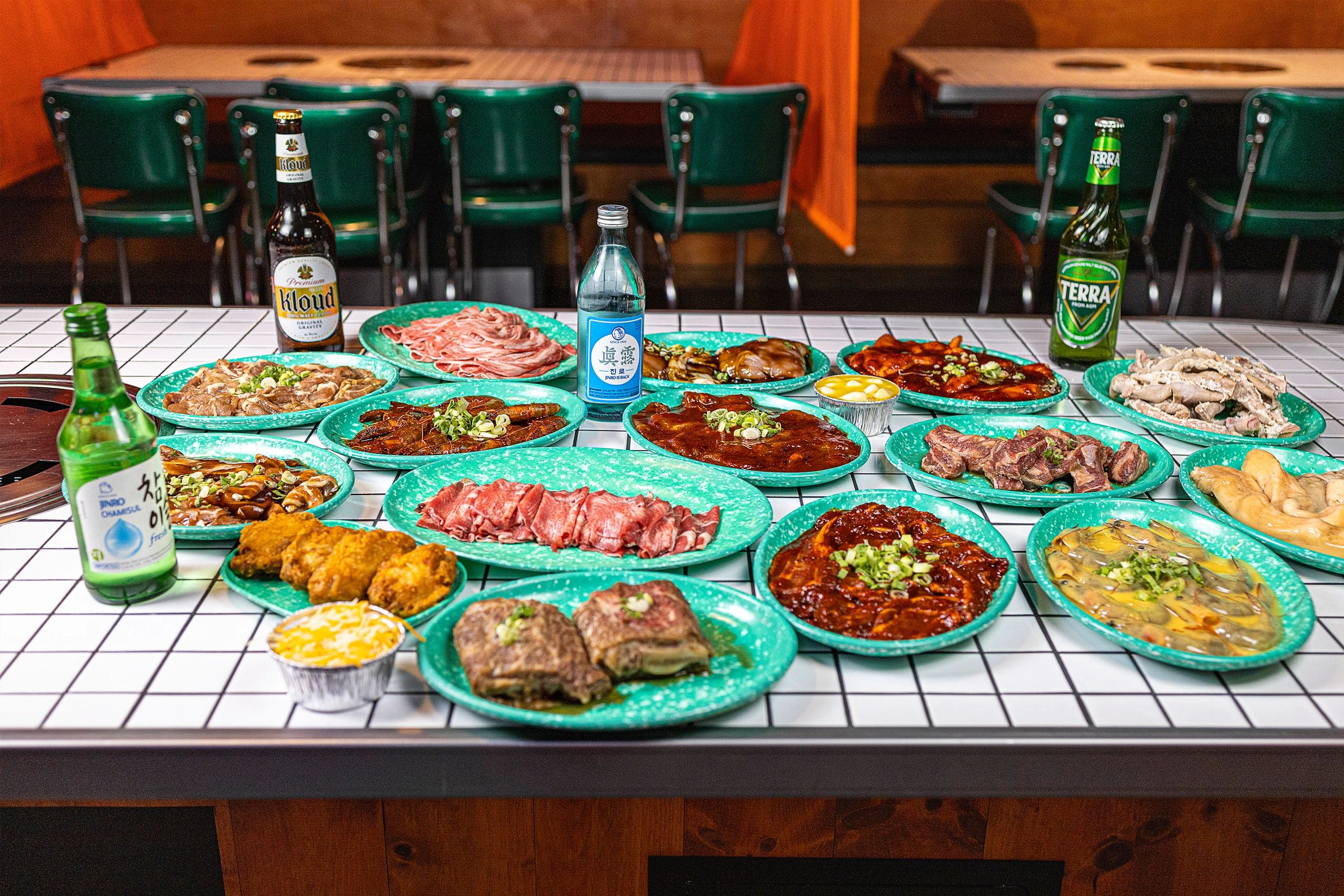 With a name that translates to "flared pants," you know you're in for a glimpse of the roaring '80s. Napal Baji is a popular late-night pub that serves a wide variety of Korean BBQ favorites. The restaurant features three AYCE menus at an affordable price. You can also enjoy great food while listening to live music.
Compared to other Korean BBQ restaurants in Las Vegas, Napal Baji has perhaps the most extensive banchan options, including kimchi fried rice, egg fried rice, tteokbokki, Korean fried chicken, shrimp rangoon, salad, and honey walnut shrimp.
In addition, Napal Baji also offers special menu items, including Masago rice bowl, galbi stone pot rice bowl, Napal special cold noodle, and premium Napal pocha udon.
---
Gen Korean BBQ
Located in the Galleria Mall, Gen Korean BBQ is an extremely popular restaurant where you can get your KBBQ fix. The restaurant itself has 11 branches across the U.S., a testament to the brand's excellent service and meat quality.
Gen Korean BBQ's menu carries items that are uncommon in other Korean BBQ joints in Las Vegas, including honey chicken, cajun chicken, Hawaiian pork belly, Hawaiian bacon, smoked pork belly, and pork chop.
---