Sky Princess is an impressive cruise ship of the cruise line Princess Cruises that boasts incredible cabins and suites alike. However, just like any other cruise ship, some Sky Princess cabins are not as great as others.
If you are cruising on Sky Princess soon, this post will help you navigate the best Sky Princess cabins to choose from, along with the cabins you will do well avoiding, so you can plan a trip you'll always remember.
kees torn, CC BY-SA 2.0 <https://creativecommons.org/licenses/by-sa/2.0>, via Wikimedia Commons
Types of Sky Princess Cabins
In total, there are six different cabin types to choose from:
Interior Cabins
Premium Ocean-view Cabins
Balcony Cabins
Delux Balcony Cabins
Mini-Suite
Suites
There are several factors to consider before booking a Sky Princess cabin, including the number of people you are traveling with and your overall budget.
Inside Cabins on Sky Princess
The inside cabins on Sky Princess are the least expensive option, so if you're cruising on a budget, this cabin category may be perfect for you.
Each inside cabin sleeps between two and four guests. Although the interior cabins don't have any windows, interior rooms are still a great option for those planning to spend most of their time on the deck anyway.
There are two twin beds in every Sky Princess inside cabin, and in some of these cabins, the twin beds can be converted into a proper Queen-size bed.
Some inside cabins feature two additional Pullman beds, so if your children are joining you, these Sky Princess inside cabins can accommodate up to four people. However, if there is an extra Pullman bed, the twin beds cannot be converted into a Queen-sized bed, meaning the adults will have to sleep separately, which is not very desirable.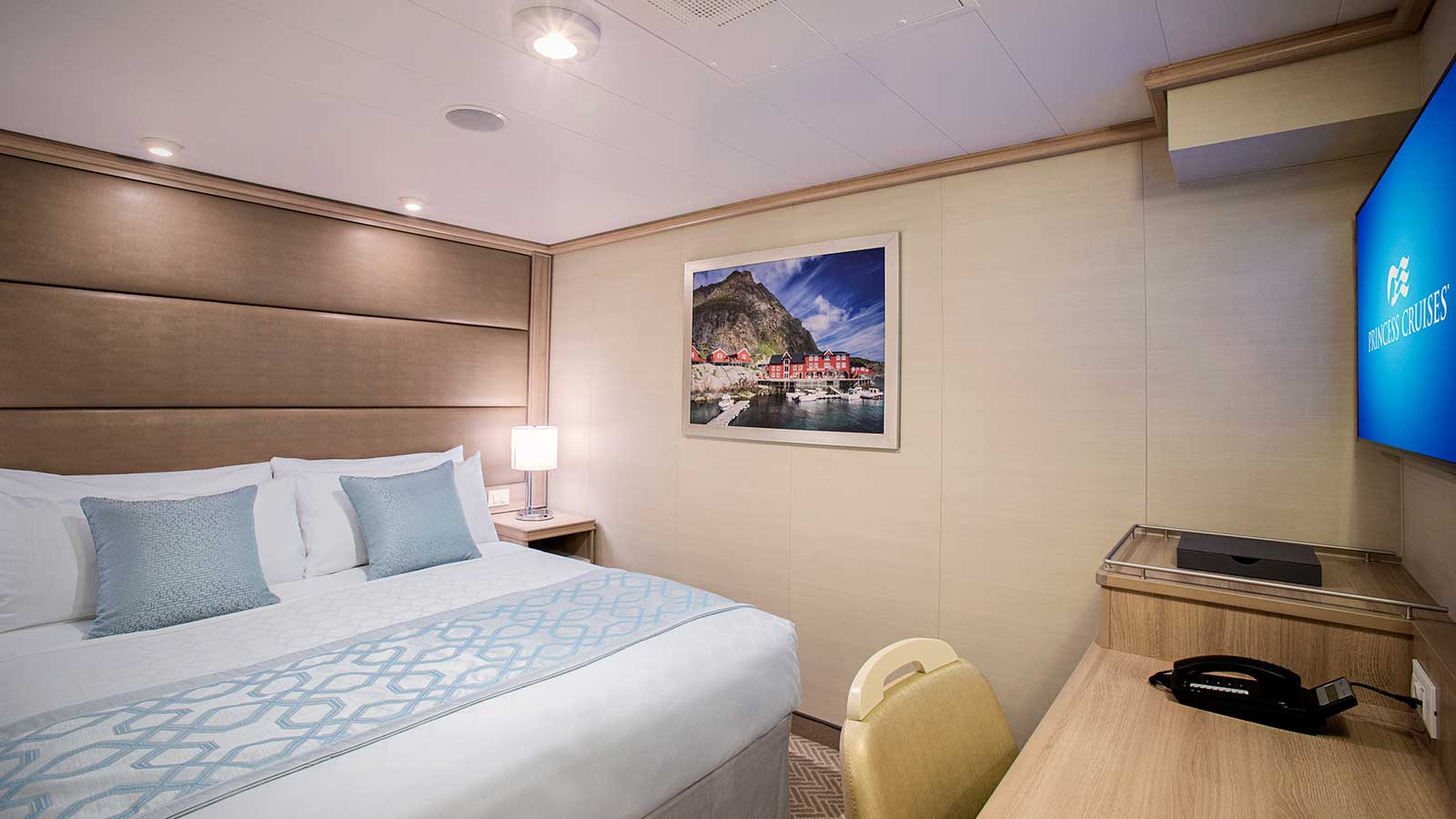 Princess – www.princess.com
Outside Cabins on Sky Princess
The Sky Princess outside cabins are really quite unique. Instead of merely featuring a small window or porthole, outside cabins boast massive slanted windows reaching from the floor to the ceiling.
Every outside cabin consists of twin beds that can be converted into a full Queen-sized bed, but you won't find a Pullman bed, so these cabins only accommodate two guests.
There are six Sky Princess outside cabins, which are all forward-facing and set on the Sun Deck. One of the six outside cabins is accessible for wheelchairs. These cabins tend to sell out fast, so if an outside cabin piques your interest, you better book quickly!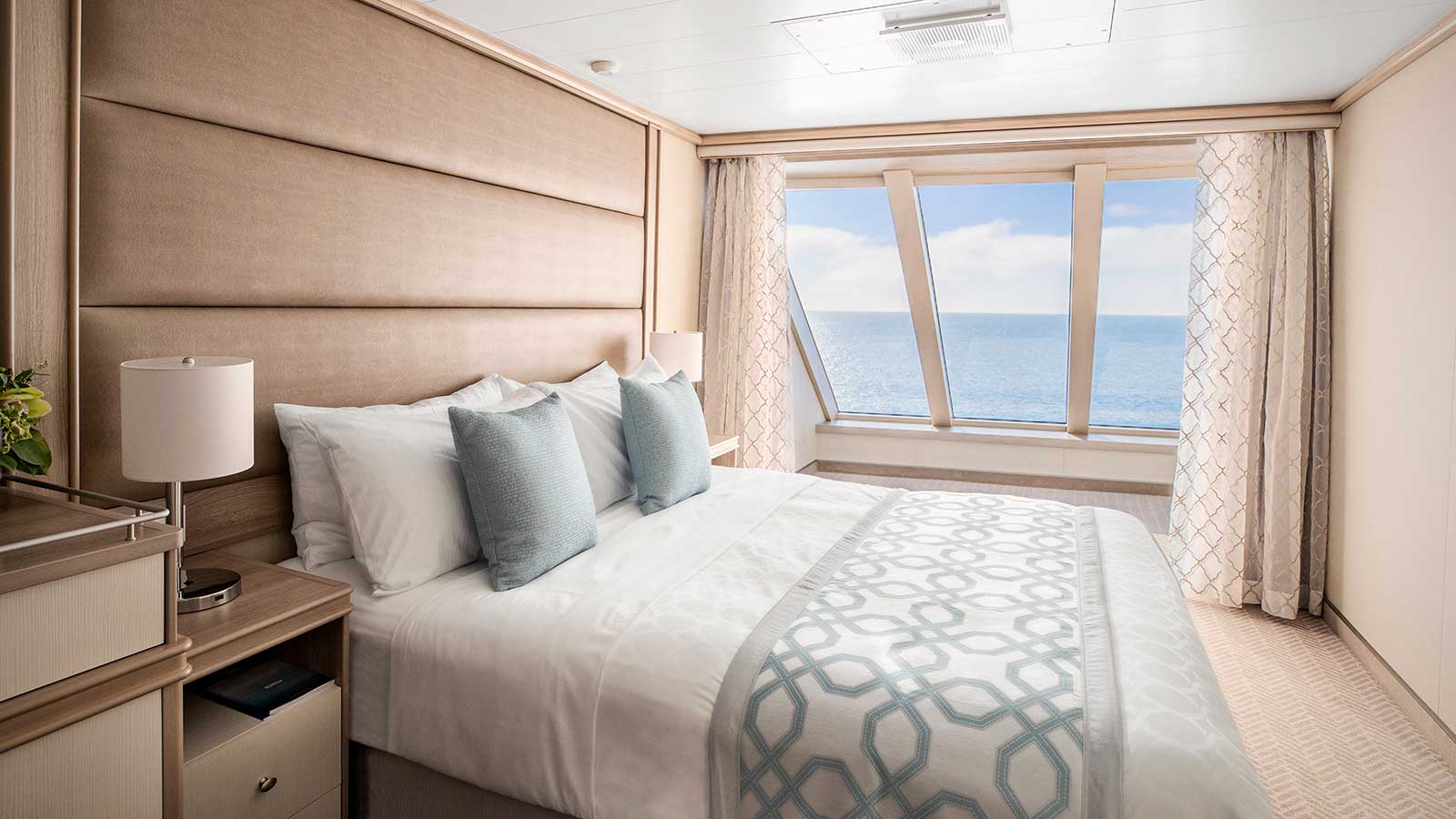 Princess – www.princess.com
Balcony Cabins on Sky Princess
Sky Princess balcony cabins are great for guests who prefer enjoying the beautiful ocean views from the comfort and solitude of their own private balcony.
Sky Princess has three different types of balcony cabins, namely:
Standard balcony cabins
Deluxe balcony cabins
Premium Deluxe Balcony cabins
Premium Deluxe Balcony Cabin vs. Deluxe Balcony Cabin vs. Standard Balcony Staterooms
Most of the Sky Princess balcony cabins sleep only two people, but some contain Pullman beds for a third and fourth guest. The Deluxe Balcony Cabins are a bit bigger and feature a sofa bed where two additional guests can sleep.
If you will be traveling with your family and want to book a balcony cabin, the main beds will be twin beds with two Pullman beds for the kids. The twin beds can't be converted into a Queen-sized bed because it obstructs access to the ladders.
Therefore, the Deluxe Balcony cabin or the Premium Deluxe Balcony cabin is your best bet if you and your partner would like to share a bed while the kids take the sofa bed.
The Premium Deluxe Balcony cabin is very similar to the Deluxe Balcony cabin but features a more spacious balcony. These cabins can sleep three passengers on the sofa bed and a fourth on the Pullman bed.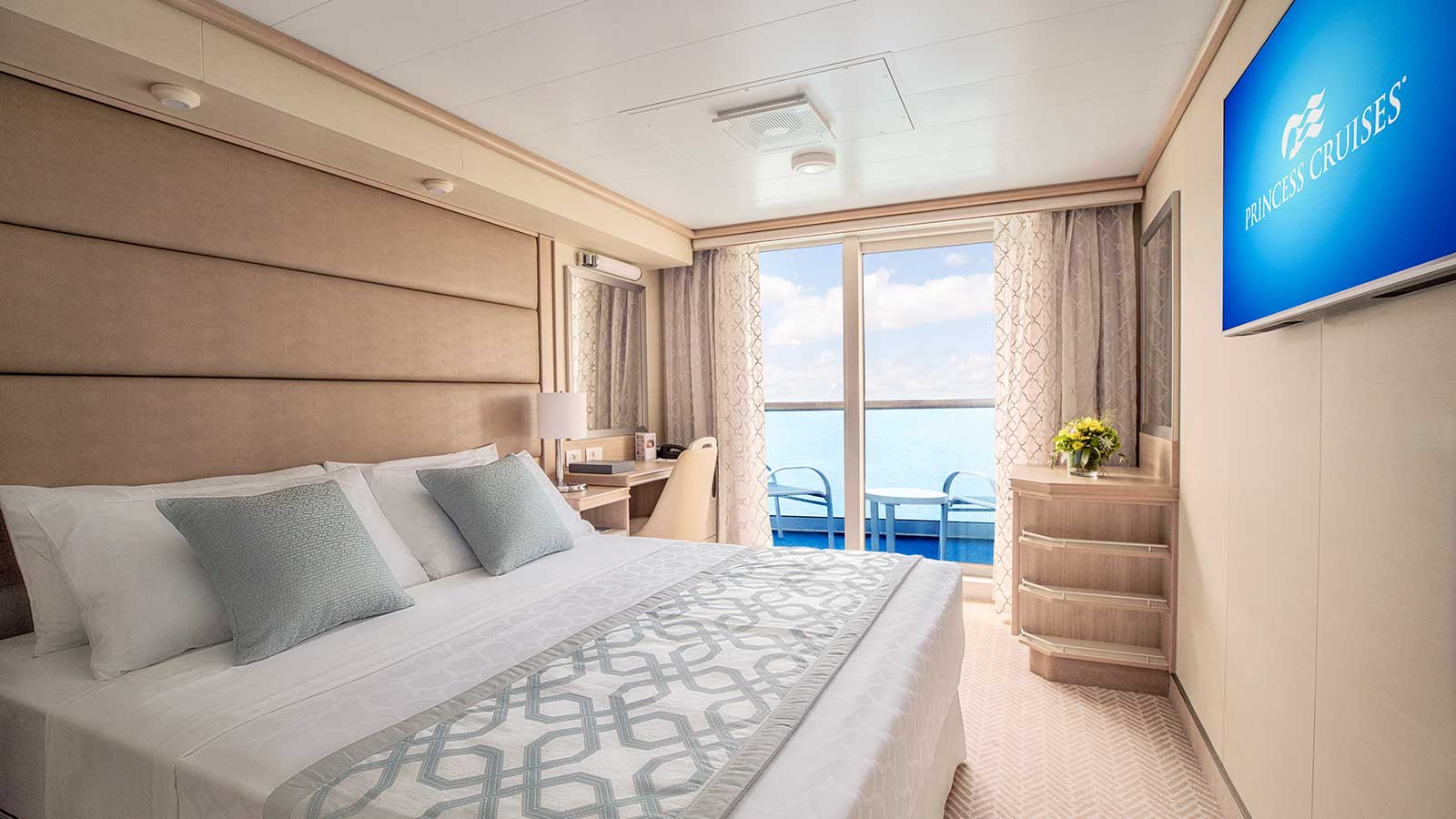 Princess – www.princess.com
Mini-Suites on Sky Princess
Sky Princess Mini-Suites are a pleasant upgrade from a balcony cabin, as it is much larger than both standard rooms with balconies and Deluxe Balcony cabins.
Beyond the extra space, Mini-Suite guests are provided with a sparkling glass of Champagne on the day of embarkation and enjoy many other perks.
Perks of the Mini-Suite on Sky Princess:
Upgraded bathroom amenities, including a massage shower and a bathtub
A separate living area with a coffee table and a sofa bed
Extra balcony furniture (four chairs instead of two)
Premium pillows and a luxury mattress topper
A curtain separating the main bed from the sofa bed
Two TVs instead of one
Club Class Mini-Suite
In addition to the amenities offered in a standard Sky Princess Mini-Suite, Club Class Mini-Suites offer VIP amenities that are exclusive to full-suite guests.
Perks of the Club Class Mini-Suite
Half bottles of red and white wine on the day of embarkation
Priority boarding and disembarkation privileges
Free premium canopies upon request
Princess Luxury Bed with a plush duvet and Jacquard-woven cotton sheets
Luxurious bathrobes
Choice of the best Mini-Suite locations on the ship
Priority reservations at the main dining room and restaurants and shore excursion reservations
Club Class Dining with exclusive access to the Main Dining Room and additional menu options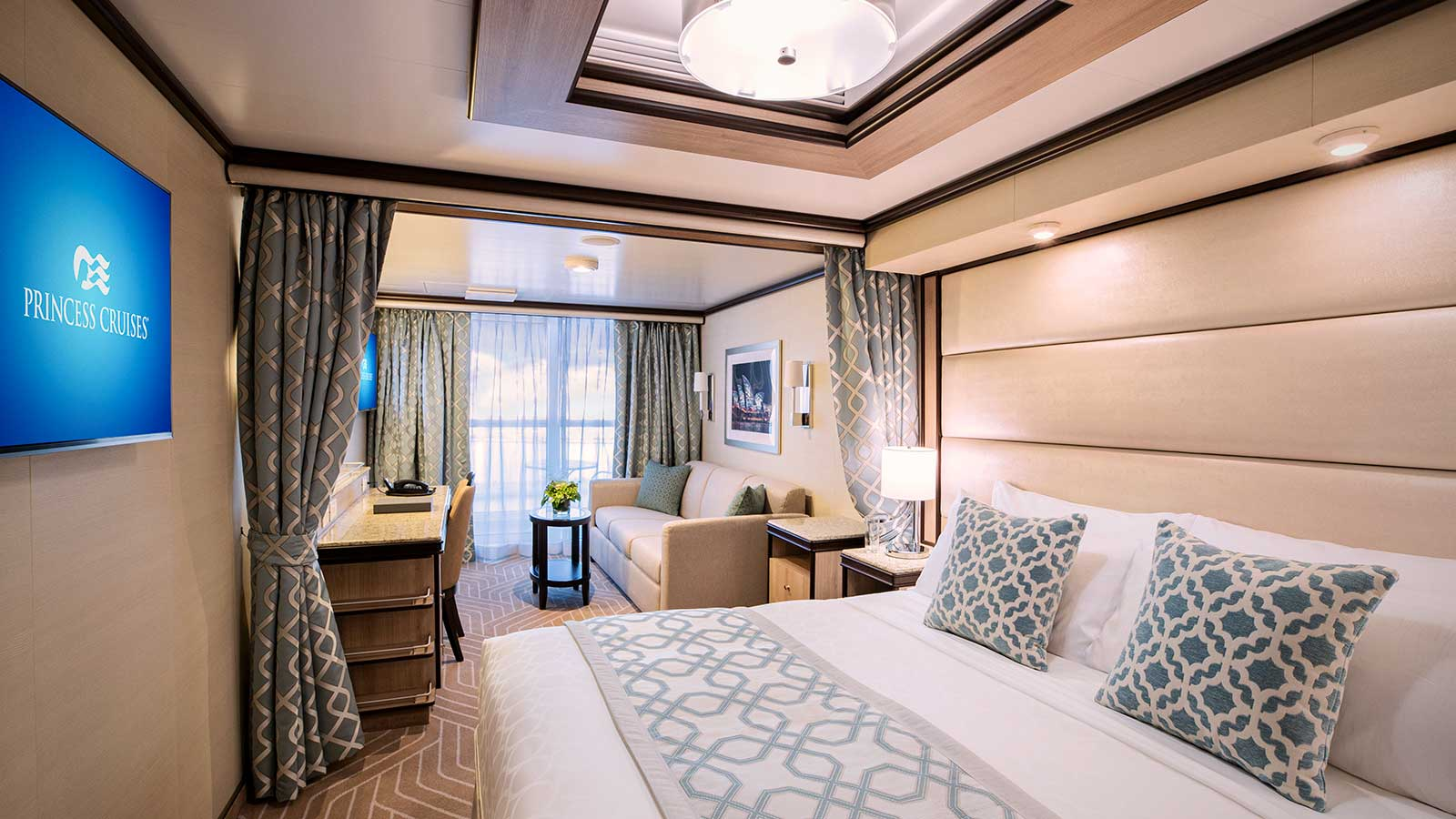 Princess – www.princess.com
Suites on Sky Princess
If a separate seating area, enhanced amenities, and abundant space are things you value, the wonderful suites on Sky Princess may be just the thing you need.
Sky Princess offers six types of suites to choose from:
Window Suite
Sky Princess offers two Window Suites set on the Sun Deck's forward corners and boasting panoramic views. Although the Window Suite does not have a balcony, it features floor-to-ceiling glass windows opening up to mesmerizing scenery and many enhanced amenities, including upgraded bathroom amenities.
Every Window Suite contains a separate seating area and a sofa bed that sleeps a third passenger.
Vista Suite
There are six Vista Suites aboard Sky princess, all located on the Sun Deck. There is no separate seating area in the Vista Suites, but they do feature two spacious wardrobes and a sofa bed for a third passenger to sleep on. Vista Suites only have one TV instead of two, as with other suites.
Premium Suite
Sky Princess offers eight Premium Suites located on decks nine and 12. Up to four people can sleep in one Premium Suite, as it contains a sofa bed in a separate living room.
Penthouse Suites
All Penthouse Suites on Sky Princess are set on decks 9, 14, and 15. Penthouse Suites contain a sofa bed and a large sitting area and accommodate up to four passengers.
The Penthouse Suite on deck 9 has a very large balcony, so if space is a concern, this is the one for you.
Owners Suite
There are two Owners Suites aboard Sky Princess set on deck 8. Up to four passengers can sleep in an Owners Suite, which features a large wraparound balcony.
Sky Suites
There are two Sky Suites on Sky Princess, and they are undoubtedly the best suite options available, being the largest rooms of the Princess cruises fleet. Each Sky Suite features a massive balcony size with amazing 270-degree views.
Up to five guests can sleep in every Sky Suite, spread out over two bedrooms, each with its own bathroom. The Sky Suite consists of three large wardrobes, an outdoor daybed, a mini-bar, a TV, sun loungers, a dining table, a fridge, and even a telescope.
Perks of Sky Princess Suites
The suites come with increasing benefits, ranging from Mini Suite to Club Class Mini-Suite to a Full Suite, as you upgrade from one suite to the next. In general, all Sky Princess cruise Suites come with 24-hour complimentary room service, luxury mattress topper and pillows, upgraded bath amenities, a complimentary mini-bar, writing and coffee table, and so much more.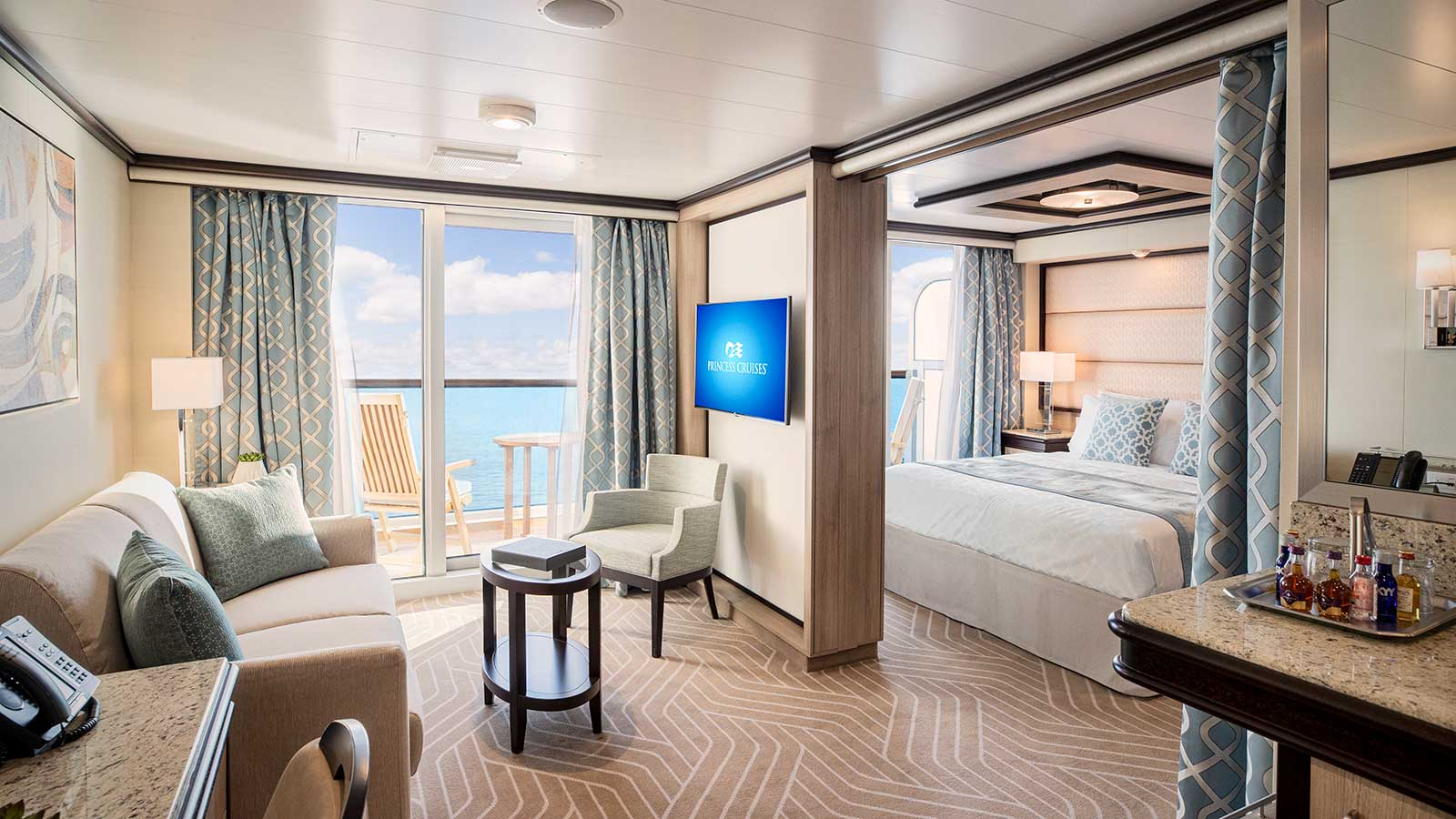 Princess – www.princess.com
Aft Cabins on Sky Princess
Aft cabins are found at the back of Sky Princess and boast incredible views over the wake of the ship. It is believed that aft cabins are actually some of the best cabins aboard, as they are often much bigger than standard cabins and don't get as much wind.
There are three types of aft cabins on Sky Princess:
Premium Deluxe Balcony cabins on decks 15 and 8
Penthouse Suites on decks 15 and 9
Owners Suites on deck 8
Connecting Rooms on Sky Princess
Families and groups who want two cabins connected by a door can enjoy connecting rooms.
Sky Princess offers seven options for connecting rooms:
Two inside cabins
A Deluxe Balcony cabin and a Standard Balcony cabin
Two Standard Balcony cabins
A Mini-Suite and a Standard Balcony cabin
Two Mini-suites
Two Premium Deluxe Balcony cabins
Two Deluxe Balcony cabins
It is important to look for connecting cabins with extra beds if you have more than four people in your group, as not all have them.
Accessible Cabins on Sky Princess
Sky Princess accessible cabins are much bigger and contain extra-wide rooms and doors without any steps. These cabins have wheelchairs in mind and are intended for guests with disabilities.
There are six types of accessible cabins on Sky Princess:
Oceanview cabins on deck 17
Inside cabins on decks 8 and 9
Balcony cabins on decks 15, 12, 11, 10, and 9
Mini-Suite on deck 10
Penthouse Suite on deck 14
Club Class Mini-Suites on decks 12 and 11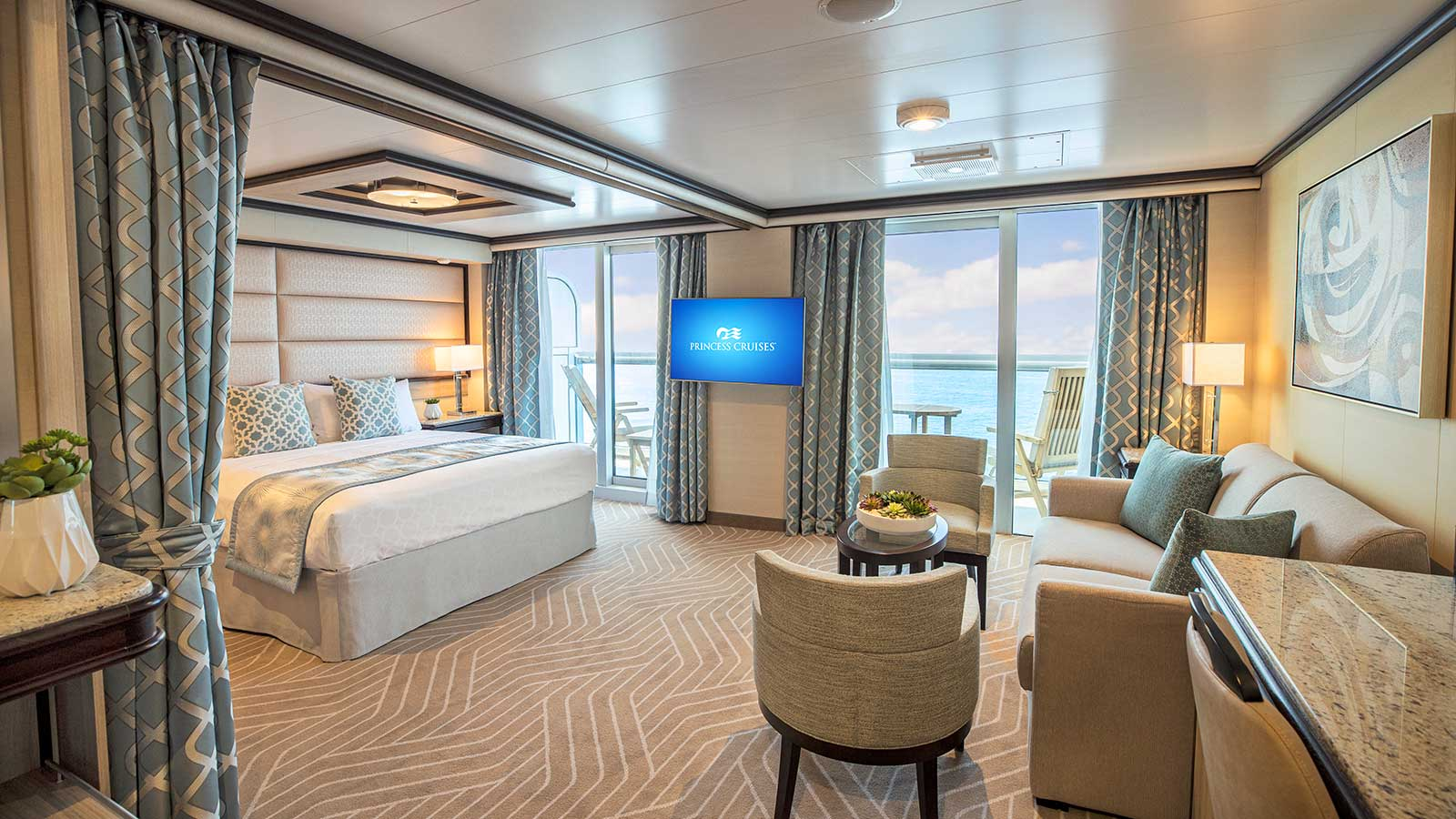 Princess – www.princess.com
Sky Princess Cabins You Should Avoid
Some staterooms could really come in the way of having a great Sky Princess cruise, so be sure to keep the following in mind when exploring the various cabin categories.
Balconies You Can Use During Sea Days
The forward-facing balcony cabins or suites located on decks 15 and 16 only allow usage of the balconies when the ship is ported, as the wind can become very disturbing when the balcony doors are open on sea days.
Although many of these cabins have rather large balconies, it doesn't really benefit you if you can't use them.
Balconies That Require Standing Up to View The Ocean
Another common issue with cabins located at the front of the cruise ship is that the balcony railings aren't made of glass but of metal. This obstructs your view of the sea when you are sitting down.
Cabins with Beds Blocking the Doors of the Balcony
When you make use of the sofa bed or upper beds in particular cabins, the doors of your balcony will be blocked. Provided your room steward will still put the beds away in the morning and set them back in place at night, it may still be a bit annoying if you want to sit on your balcony first thing in the morning.
Such cabins are still great for two guests, but larger families would do well avoiding them and finding another cabin that doesn't have this problem.
Balconies with Views that are Obstructed
Some balcony cabins on Sky Princess are situated in a way that obstructs the view due to the presence of lifeboats or the bridge. However, views that are obstructed aren't always a big disadvantage, as these cabins are often more affordable.
A balcony cabin with an obstructed view could actually be one of the best cruise deals you'll find if you plan on spending most of your time on the deck anyway.
Cabins That Worsen Seasickness
If you tend to feel sick on a cruise ship, you should certainly avoid all the cabins set in the front of the ship on the high decks. The movement of the ship is most felt here, so a mid-deck or low-deck cabin would be a better option.
Balconies Without Privacy
Some of the balcony cabins situated on deck 9 have larger balconies than others, which may seem beneficial, but it is worth noting that many of these balconies can be seen from the rooms above them.
These Deluxe Balconies are so large because they extend further outward than other balconies, so you will have to decide whether someone overlooking your balcony bothers you or not. Unless you stay at the very back of your balcony, you won't have any privacy.
Cabins that are Far Away from Everything
If you're not a fan of walking far to reach your destination, you will do well choosing a cabin close to the elevators.
Most top Sky Princess attractions are located at the back end of the cruise ship, including the main dining rooms, the kids' club, and the Vista Lounge. Therefore, cabins set in the front of the ship may entail some walking.
The low and high decks will always require using the elevator, but walking from the front to the back of the ship may take up to ten minutes.
Cabins Situated Outside the Laundry Room
Especially if you're going on one of the longer Sky Princess cruises, you should avoid booking a room located across from the laundry rooms. Guests may be washing their clothes during all hours of the day, which could become a bit annoying.
Cabins That Are Noisy In the Mornings
If you enjoy sleeping in, you should avoid booking a cabin underneath any of the open decks, such as the Lido Deck, Sun Deck, and Sky Deck, as the sun loungers may be a bit too loud for your liking in the morning. Being woken up by a deck chair dragging across the floor doesn't sound very relaxing, does it?
Cabins That Are Noisy at Night
Similarly, if you like to go to sleep early, avoid booking a cabin situated above the ship's theatre. Theatre performances on Sky Princess cruises can go on until quite late, and the noise will reach your cabin when you're trying to sleep.
Interconnecting Door Cabins
If you're not cruising with your family or in a group, don't book a cabin with a connecting door. Unless you booked both cabins, having your neighbors separated by a thin door won't be very pleasant.
Moreover, if you book an interconnecting cabin, you may be robbing a family of the cabins they need to keep their group together.
Bene Riobó, CC BY-SA 4.0 <https://creativecommons.org/licenses/by-sa/4.0>, via Wikimedia Commons
In Closing
Sky Princess offers a room for every budget and preference. The Sky Suites are hands-down the most luxurious staterooms on Sky Princess, but they come at a higher price than other rooms and suites that might also have what you need.
Whatever stateroom you decide on, Sky Princess is sure to exceed your expectations. However, keep the pitfalls mentioned above in mind when choosing your cabin, as some rooms come with certain issues that may be a very unpleasant surprise once you board.