North Hills is an idyllic Midtown neighborhood in Raleigh, North Carolina. It is a great destination for a weekend in Raleigh, whether you are from the city or just there to visit Raleigh.
Traveling only five miles north of downtown Raleigh will get you into the North Hills area. It is one of the most popular Raleigh neighborhoods and is one of the most upscale locations in the area. North Hills has something for everyone with premier hotels, apartments, greenspaces, outdoor concerts, indie bookstores, a bowling alley, a cinema, spas and salons, bars, restaurants, boutiques, and over 130 shops. People love North Hills, some come to dine, shop, work, and others come to stay.
North Hills, Raleigh has three different districts; Park District, Lassiter District, and Main District. The neighborhood of North Hills is very friendly to pedestrians and shopping on the promenade is safe and enjoyable. You will also find that things are within walking distance in North Hills, so it is possible to park your car and get to know the area on foot.
North Hills is also a varied space to shop in as there are a number of different price points throughout the neighborhood so you will not be short of options for restaurants or places to go shopping. It is one of the best places in Raleigh to shop. Christmas time in North Hills is quite magical and the large Christmas tree is a major draw.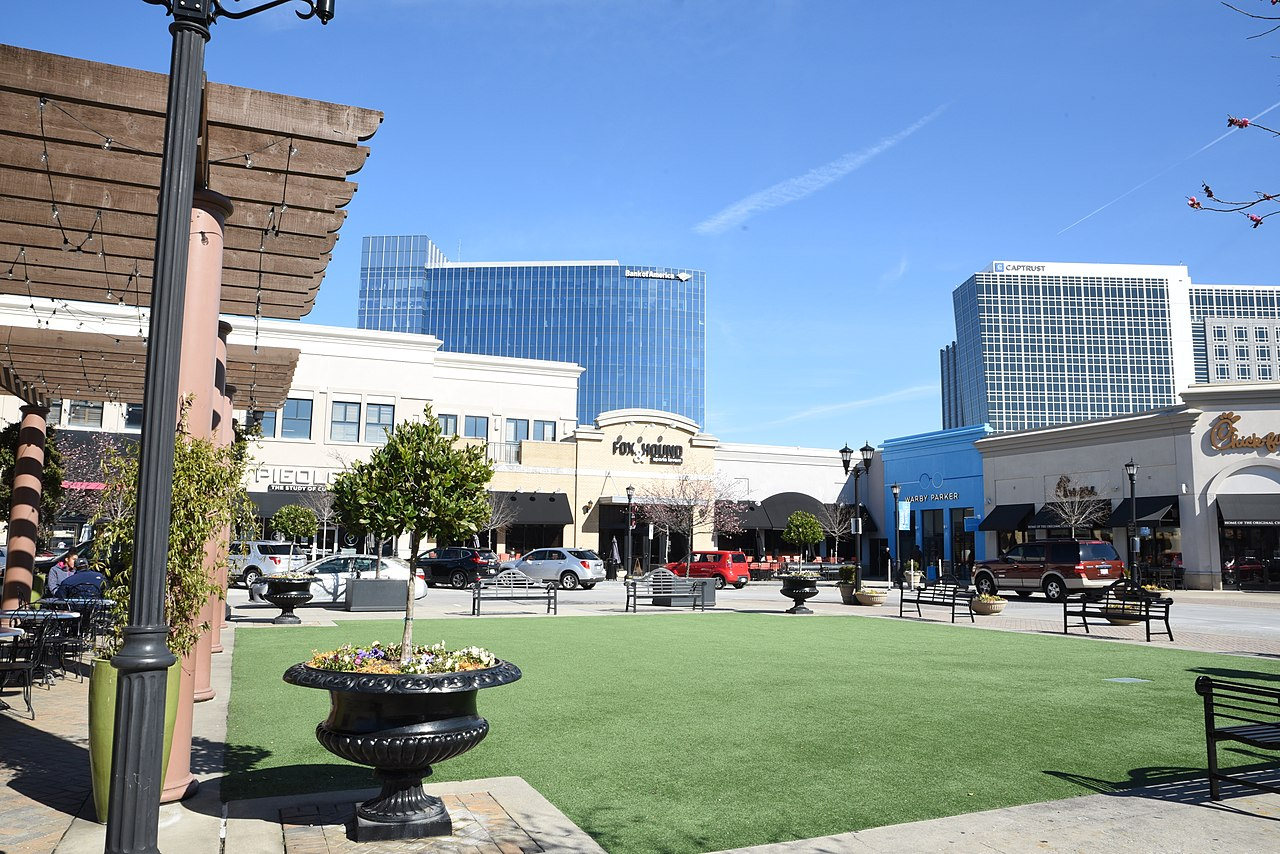 Have a Meal at Coquette Brasserie
Coquette Brasserie offers guests a taste of Paris right here in North Hills. The classic bistro design with authentic cuisine makes clear the true French influence at the Brasserie. The Parisian cafe experience is a great thing to be a part of. You can savor Belgian draft beer, French cocktails, and an extensive French wine list along with the brilliant food.
The charcuterie board is quite substantial and delicious, and they also serve Escargot (snails). The French Onion Soup is absolutely amazing. You can try an authentic dessert, even options like Macarons or Profiteroles as mini desserts. This is hands down one of the best North Hills, Raleigh, restaurants on our list.

Drinks at Vita Vite
After a busy day meandering about North Hills, Vita Vite is a great place to get a glass of wine before deciding on a place to dine for the evening. This location doubles as an art gallery and wine bar with an Italian moniker meaning "life" and "vine". The goal of this place is to bring people together, to create a community space where spirit can be shared.
The wines here are seasonal and include some bubbly varieties and craft beers that are regularly rotated. There are also vendors and artisans selling their goods here, so you can explore and shop at your leisure. The lively ambiance is further enhanced by the large glass windows letting natural light into the space. There are some small plates to order, but the primary goal here is to drink wine and beer.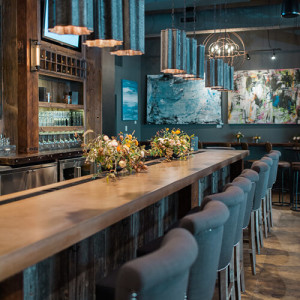 Ice Cream at Ben & Jerry's or Kilwins
North Hills truly has something for everyone, including ice cream lovers! In fact, North Hills has both Kilwins and Ben & Jerry's. Kilwins is in the Park District, while Ben & Jerry's is in the Main District. It can be great to go there on your own or to visit with the family. The entire point is there is ice cream that needs eating!
Shopping (a Bookstore and some Clothing)
There are many different clothing stores in the North Hills area that you can explore. If books are more your speed then try Quail Ridge Books. It is an independent bookshop in the Lassiter District. The bookstore has been around for quite a few years, having been founded back in 1984. There are also quite a few events related to the bookstore, including a $15 annual Readers' Club membership.
Bowling at Kings Dining & Entertainment
While there are plenty of places to dine and shop, there is also an upscale bowling lounge to visit in North Hills. This is generally an activity that most people will enjoy and is a great way to enjoy some good honest fun with friends or family. It is best to reserve a lane in advance as it is quite a popular destination and often fills up quickly. You also can't go wrong with a bite to eat here (tacos, pizza, fries, wings, burgers, etc.). Or try out one of their other games.
Dine at Rosewater Kitchen & Bar
Brunch is a way of life in this city, and one of the best brunch spots Raleigh has to offer is the Rosewater Kitchen & Bar. This is one Raleigh restaurant that just won't disappoint. You will find a range of fare here including global and local cuisines produced from sustainable ingredients sourced from foragers, fishermen, farmers, and gardeners. There is also NC craft beer and unique cocktails to sample. The giant Cinnamon Bun with cream cheese frosting and brown sugar, is delightful, along with the Chicken Fried Pork Chop with preserved lemon, sunny-side-up eggs, and smoked marrow red eye gravy.
The fare is inspired by European romance and is one of the best places to dine in Midtown Raleigh. The decor and ambiance are truly remarkable and there is a patio where you can dine in the sun, and a garden room surrounded by flowers and plants. This is one dining experience in North Hills that you would not want to miss. We recommend that you make reservations for this experience to avoid disappointment.
After dinner drinks
There are several different places around the center of North Hills, Raleigh like Bartaco, Vita Vite Wine Bar, and Level7. Not to mention the year-round events in the North Hills, Raleigh area.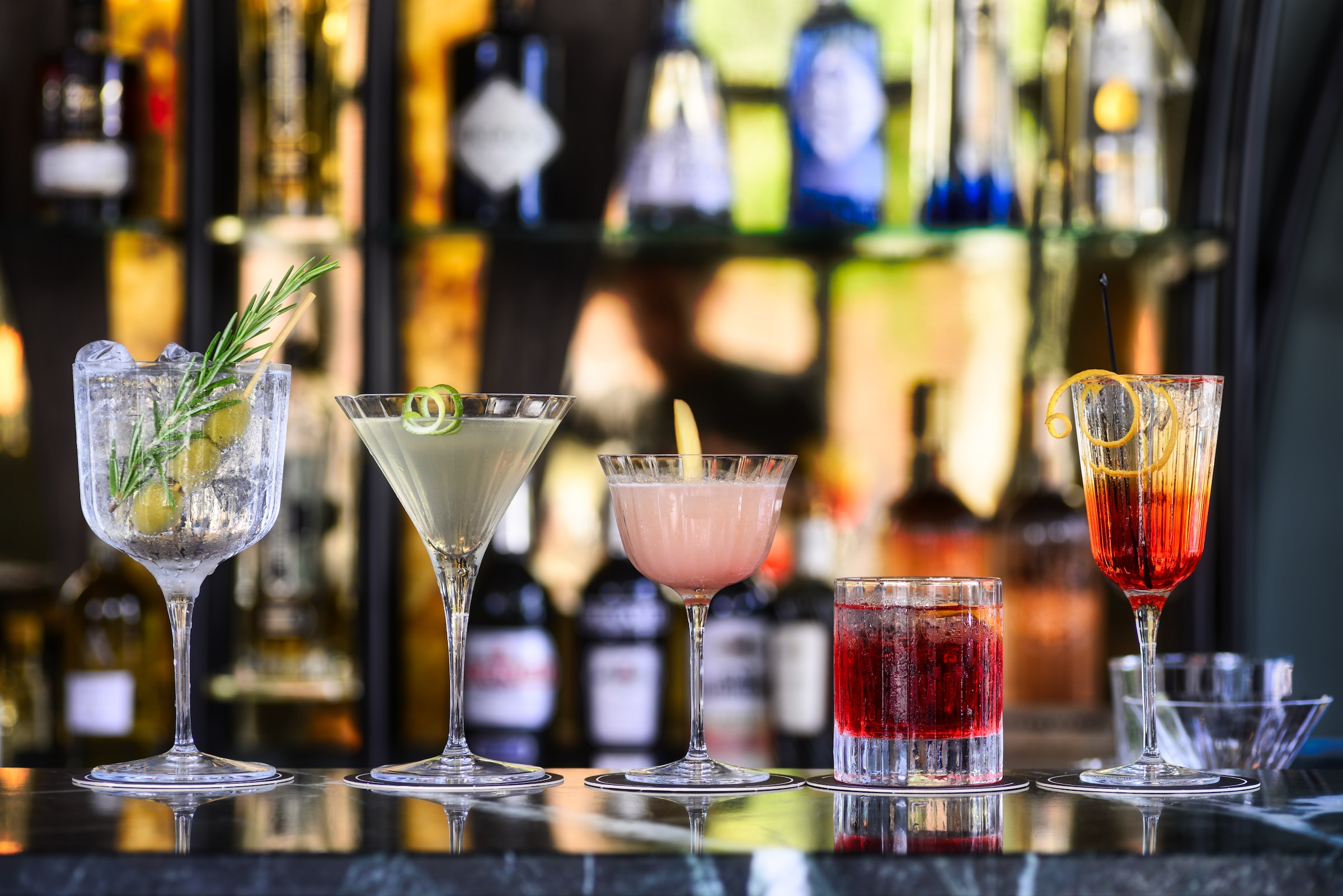 Dinner at Vivace
This traditional Italian restaurant serves classic dishes in a modern atmosphere. There are delicious mini desserts, a children's menu, an extensive wine list, handmade pasta, and other authentic Italian dishes at one of the best restaurants in Raleigh. The beer collection and signature cocktails are spectacular. In the warmer months you can sit out on the patio, but the indoor upscale rustic setting that is quite delectable. Some of their more popular dishes include mini desserts, Steamed Pei Mussels, Crispy Brussel Sprouts, Bolognese Pappardelle, and Black Pepper Spaghetti. This is a North Hills dining experience that offers you the opportunity to dress down and relax or dress up and enjoy the semi-upscale dining experience. It is important to make reservations here as well.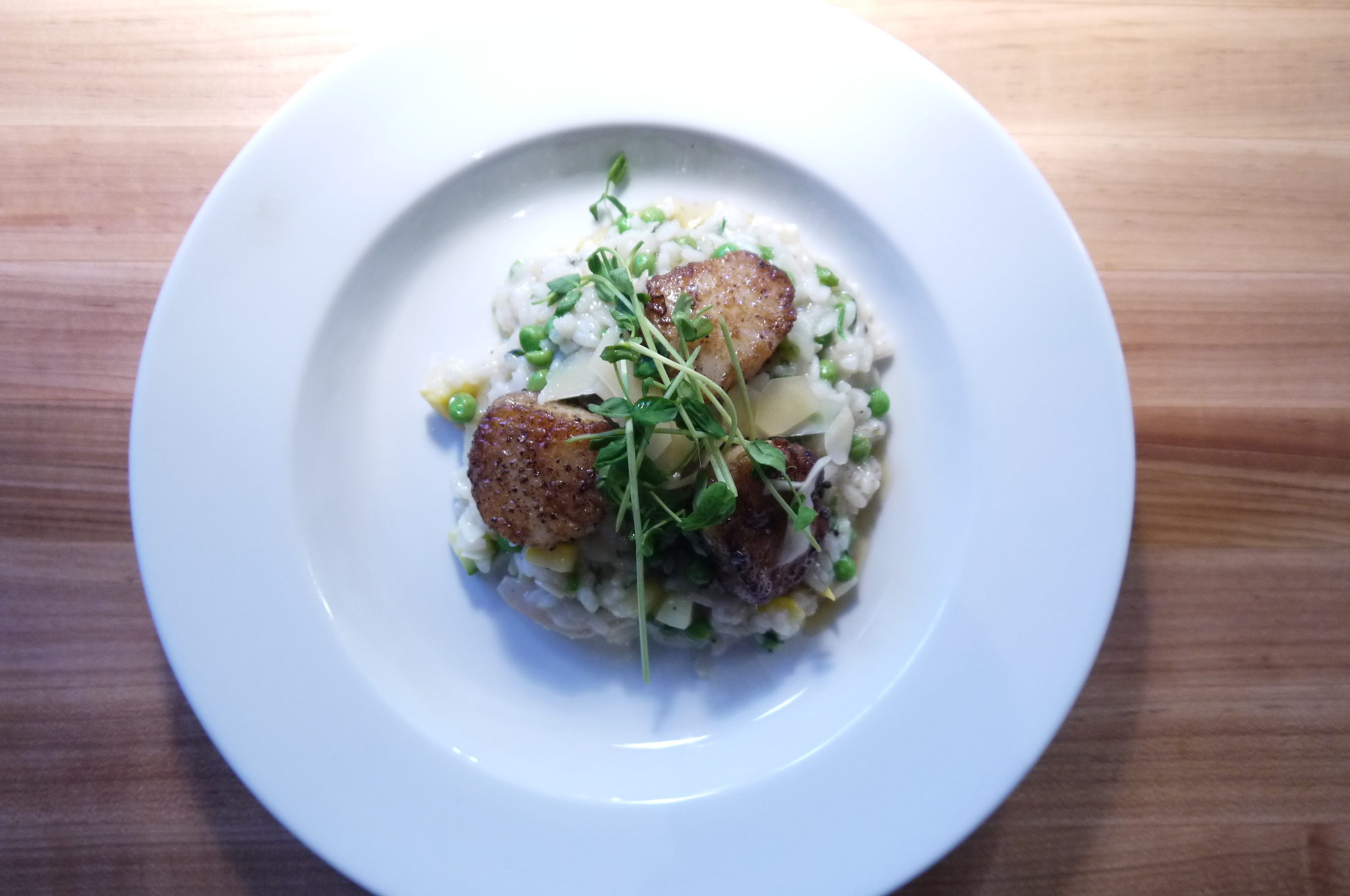 Pre-dinner drinks at Level7 Rooftop Bar
Level7 is by far one of the top rooftop bars in Raleigh with a sophisticated atmosphere and delicious small bites, wines, craft beer, and craft cocktails. The European-inspired experience at Level7 is one of a kind. The beautiful views out over North Hills are truly spectacular and akin to things you might otherwise only see in places like NYC or Vegas. Here in North Hills you can grab a late-night drink while enjoying the scenery before retiring for dinner.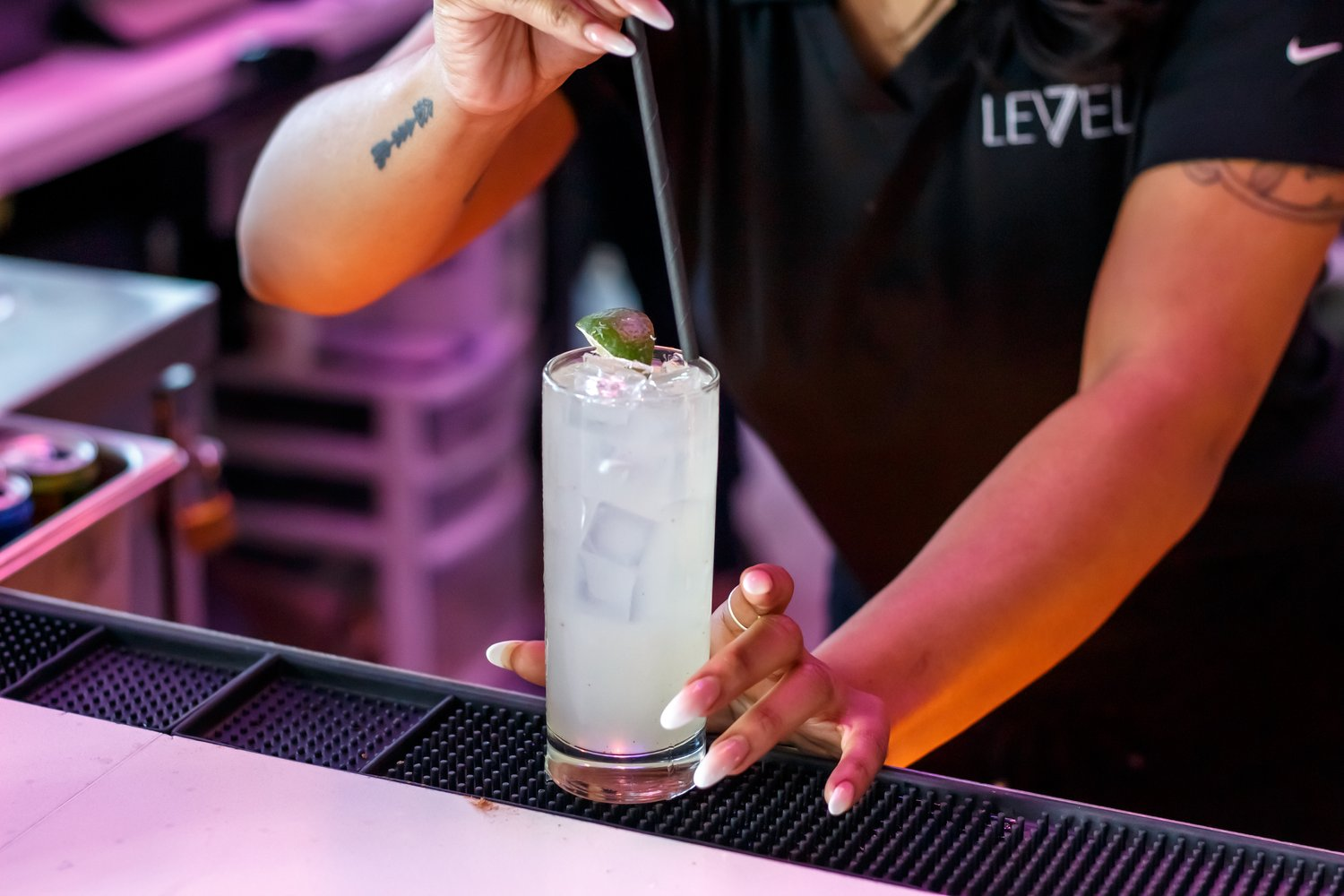 Check-in at AC Hotel
If you are traveling to North Hills, Raleigh, we would strongly recommend spending a night at the AC Hotel. There are several restaurants and shopping opportunities within walking distance of the hotel. There are many hotels in downtown Raleigh, but why travel there when you can stay right in North Hills?
There is a small shop in the lobby where you can stock up on essentials and is home to Level7. Right across the street is the Rosewater Kitchen & Bar which is a great place for brunch. Wifi is free, there is a workspace area, a glass-enclosed rain shower, and tea/coffee maker and a TV in every room.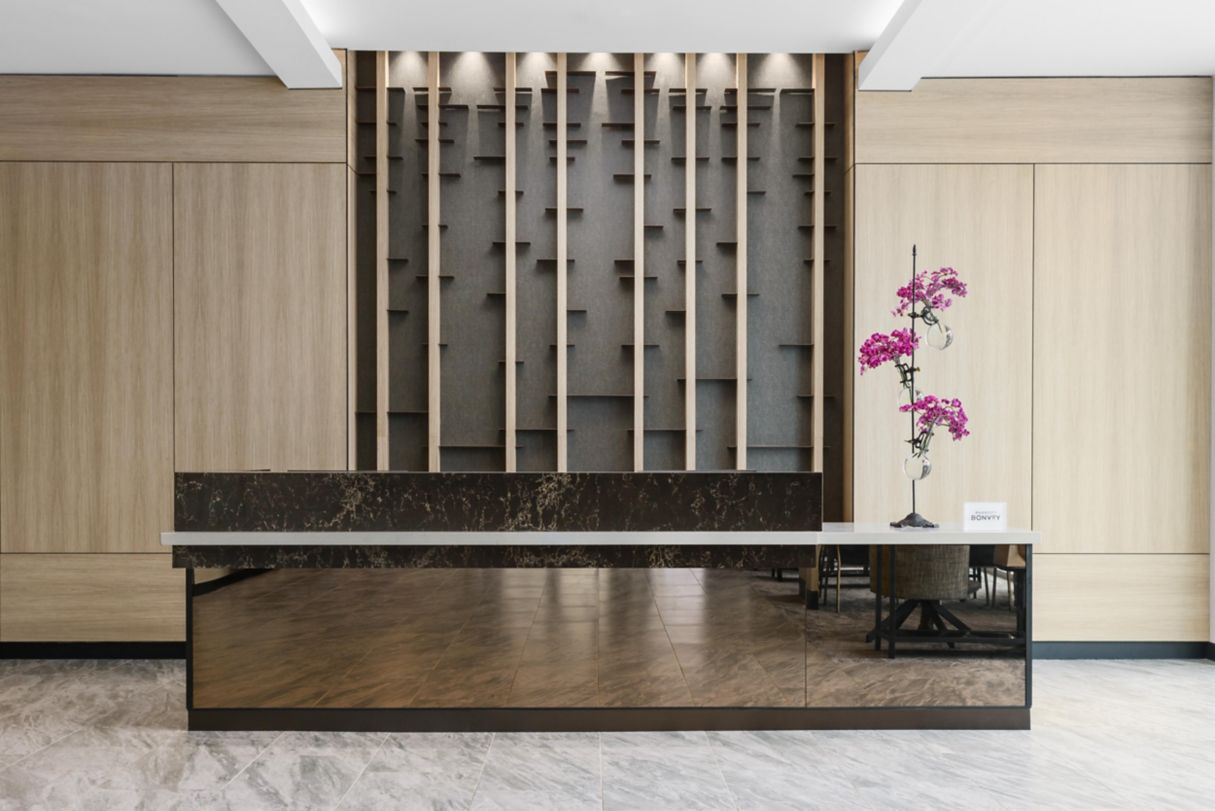 Lunch at Bartaco
Street food is one of the great triumphs of diversity and culture, and this restaurant brings homage to street food. The beach bar vibes are truly amazing and offer a fun escape from the stresses of daily life. Margaritas and fresh Mexican food in Midtown, Raleigh is right at home at Bartaco. There is a bar right at the center of the restaurant where patrons can enjoy a refreshing drink. Tacos are a specialty here and they have any topping you can imagine, including flavors from Mexico, Spain, Asia, and the Mediterranean.
While there are 13 protein choices, do not fear, there are also vegetarian and vegan options like chickpeas, mushrooms, and cauliflower. Their fresh and delicious ingredients should not be missed. This is more than just somewhere to eat; it is an experience with friendly staff and colorful food.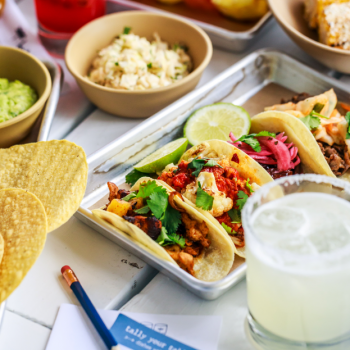 Shopping in North Hills, Again
Shopping in North Hills is an absolute must. It is one of the most popular pass times in North Hills and there is quite a variety of shops to choose from. From gifts, decor, fashion, boutiques, and brand names. Some examples of our favorite stores include:
Uniquities in NC specializes in Denim, but sells a number of other women's items as well.
Lululemon specializes in yoga apparel. They often work with local communities for research so that they can continue to improve their products.
Liles tailor-makes men clothing for any taste or style.
Voda is laid-back and is great for date night, brunch, or a shopping trip.
Brunch at STIR
If brunch is your thing then we strongly recommend STIR. There is a lively attitude with a large outdoor patio where you can sip some craft cocktails. There is a wide selection of premium oysters that pair beautifully with their wide range of in-house blends that are made over artisanal ice.
Their Strawberry Nutella Waffles, the Baja Omelet (breakfast potatoes, charred salsa, Mexicana crema, avocado, pico, cheese blend, onions, and peppers, the Filet Benedict (breakfast potatoes, roasted tomatoes, Hollandaise, English muffins, poached eggs, and petite filet), and the Deviled Eggs (avocado, bacon, and pimento cheese). This is a great restaurant to share with friends while relaxing in North Hills.
Midtown Farmers' Market
The farmers market runs between mid-April and early November. This jewel of North Hills, Raleigh is the perfect place to find local creators, crafters, and farmers selling various different locally grown goods and produce. It remains one of the community favorites in Midtown Raleigh. You can find the Farmers Market about 0.4 miles from Jubala in North Hills on the Commons.
Coffee at Jubala, North Hills
Speaking of Jubala, this is one of the local favorite coffee shops in North Hills, Raleigh. There are already three Raleigh locations including the one in Park District of North Hills. It is a specialty coffee shop that is specifically well-known for its lattes. The coffee bar menu is prepared by expertly trained baristas and includes delicacies like Black Cherry Coffee Soda, London Fog, Spring Lattes, Hot Chocolates, Iced Flash Coffee, Batch Brew, Pour Over, Miele, Mocha, Chai Latte, Americano, Cortado, Flat Whites, Cappuccinos, and an assortment of teas.
If you're feeling a bit peckish then fear not; their comfort foods will fill you up with joy and love. Their banana Nutella waffles are a fan favorite, but so are their variety of biscuits with fillings like pimento cheese, egg, and bacon. Everything on their menu is made to order. They emphasize customer service, have a great ambiance, and have amazing food and coffee. Make sure to visit Jubala in North Hills.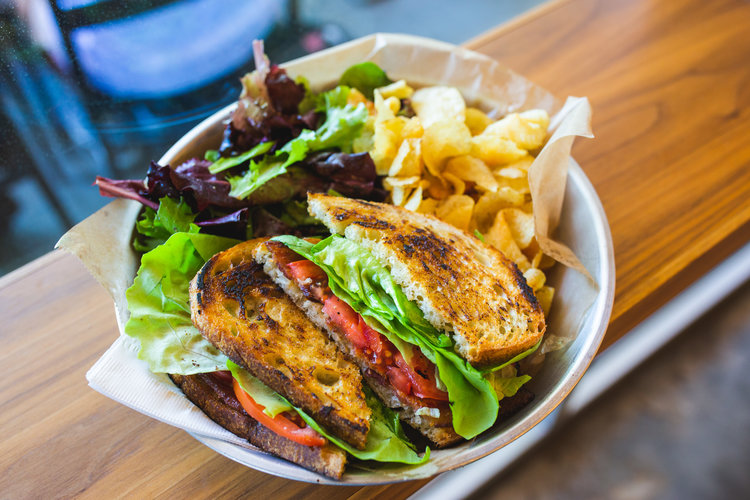 Parking at North Hills
North Hills has no shortage of parking, including below and above-ground lots. That being said, North Hills can become quite busy during event times, holidays, and weekends, so you could potentially have some difficulty occasionally. There are local websites where you can see a list of North Hills parking garages, but bear in mind that the Main District is undergoing a lot of construction currently. If you have guests coming from out of town North Hills in Raleigh is a good place to meet up for a weekend. North Hills has something for everyone from dinner to shopping.
Events in North Hills
There are quite a few North Hills festivals and events throughout the year. Between mid-April and the end of June, North Hills has a Midtown Beach Music Festival on Thursday nights in Midtown Park. R&B, Oldies, Motown, and Beach Music are the most popular genres. There are also Wellness Wednesdays in North Hills where there are fitness opportunities set up.