The Ideal Mature Cruise Wear 2022
Thinking about taking a cruise vacation? You'll be spending a lot of time on the cruise ship, so it's important to consider what you might want to wear. But making a packing list can be one of the most fun or most challenging parts of the entire trip!
There are many different factors to consider when packing for your upcoming cruise. You might have limited space in your suitcase and need to avoid wrinkling your cruise clothes as much as possible. And, if you're over a certain age, the task of deciding what to wear on a cruise can become even more challenging. This means choosing specific colors and patterns, avoiding certain types of fabric, and bringing items that can easily mix and match.
If you are over the age of 50 and planning a cruise, you will find this article helpful. Read on for excellent casual cruise wear outfit ideas, formal night options, accessories, bathing suits, and cover-ups to wear on your next cruise!
Daywear
Most cruise lines have a fairly casual dress code during the day, which means that wearing a t-shirt, tank top, or pretty blouse with some comfortable shorts and tennis shoes as a cruise outfit is completely acceptable.
However, there may still be some planning involved. Some days may include a shore excursion, in which case some comfortable shoes will need to be worn with your outfit. Other days may include a beach day, where you'll be needing a swimsuit and some SPF lip balm.
Read on to discover the most essential day cruise outfits and items.
Sundresses and Maxi Dresses
Maxi and midi dresses are essential clothing items that you can wear again and again. When it comes to what you should wear on a cruise, they are no exception. A cute maxi dress or sundress will allow you to stay cool and look stylish in hot places without air-conditioning, like on a Mediterranean cruise or a Caribbean cruise. These beautiful dresses can also be dressed up or down easily, depending on the occasion, which makes it easier to pack light.
No matter what your age or body type is; there are plenty of maxi and summer dresses out there that will suit you. More and more mature women are embracing a more adventurous attitude to fashion and breaking out of the restrictive 'muumuu' mold. Why shouldn't you?
Be sure to pack a few of these dresses among other cruise essentials in your packing cubes.
Rompers and Shorts
If you're going on a cruise to a hot location, you'll definitely want to pack some shorts or rompers.
Shorts are versatile and you can pair them with almost any top. For more casual outfits, you can wear shorts with a t-shirt and some flip-flops. For something smarter, you can swap your flip-flops out for wedge heels, and pair them with a floral top with a little more coverage.
Rompers are a great way to save space in your suitcase since they're an outfit all by themselves. If you pack a romper with a nautical stripe, it will be ideal to wear on a port or sea day.
Evening Wear
Part of the fun of cruising is dressing up. Cruise lines create a variety of different evenings, from smart casual evenings to cocktail parties or formal nights in the dining room. If you're over 50 and planning to take a cruise, you may be concerned about what type of clothing is appropriate for these evenings. The good news is that there are plenty of cruises and itineraries, so you have a variety to choose from.
In addition to your standard casual and formal dinners, many cruises also offer more creative activities like art auctions or even a murder mystery dinner with costumes required.
However, in general, the dress code for most cruise ships isn't as restrictive as you might think. If you plan on taking a cruise anytime soon, it's best to check the dress code beforehand so that you can pack accordingly.
Here are some of our favorite evening wear items to pack for a cruise.
Cocktail Dresses
There's no doubt that the cocktail dress is a glamorous piece of clothing. When worn at the right event, it can make you feel like a Hollywood star. However, it can be difficult to find the right cocktail dress if you're on the older end of the age spectrum. Many of them are cut quite revealing and leave little to the imagination.
If you're looking for something more appropriate for your age range, opt for a long or mid-length cocktail dress. You can never go wrong with the classic little black dress!
Cocktail dresses come in a variety of styles, and you may need to shop around for something flattering to your figure. One style that looks great on most women is a halter top.
Floral Dresses
Floral dresses are perfect for casual evenings on a cruise, but can also be dressed up to suit a smart casual dinner. Who says women over fifty have to stick to solid colors?
Flower power is the way forward! Whether you're into bold hues or neutral pastels, there are plenty of options out there for mature women. A short floral dress with bell sleeves is perfect for dinner, and a long halter-neck floral dress can be paired easily with a shawl for some of the colder evenings on the deck.
Off-the-shoulder and Floral Tops
If you're not crazy about dresses, or you want to add some variety to your cruise outfits, be sure to pack some floral tops. They look amazing with some white pants or dark jeans and can be worn to more casual and smart casual occasions.
We recommend an off-the-shoulder or spaghetti strap floral top if you're looking for something sexier, or a bell sleeve for a more comfortable look.
Capri Pants, Jeans, and Trousers
Because modern-day cruise wear is much more casual than it used to be, capri pants, dark jeans, and trousers will be your bread and butter! You can wear them on colder days, or pair them with a pretty top in the evenings.
There are also a wide variety of denim and capri pants that come with built-in tummy support if you're looking for some added comfort.
Jumpsuit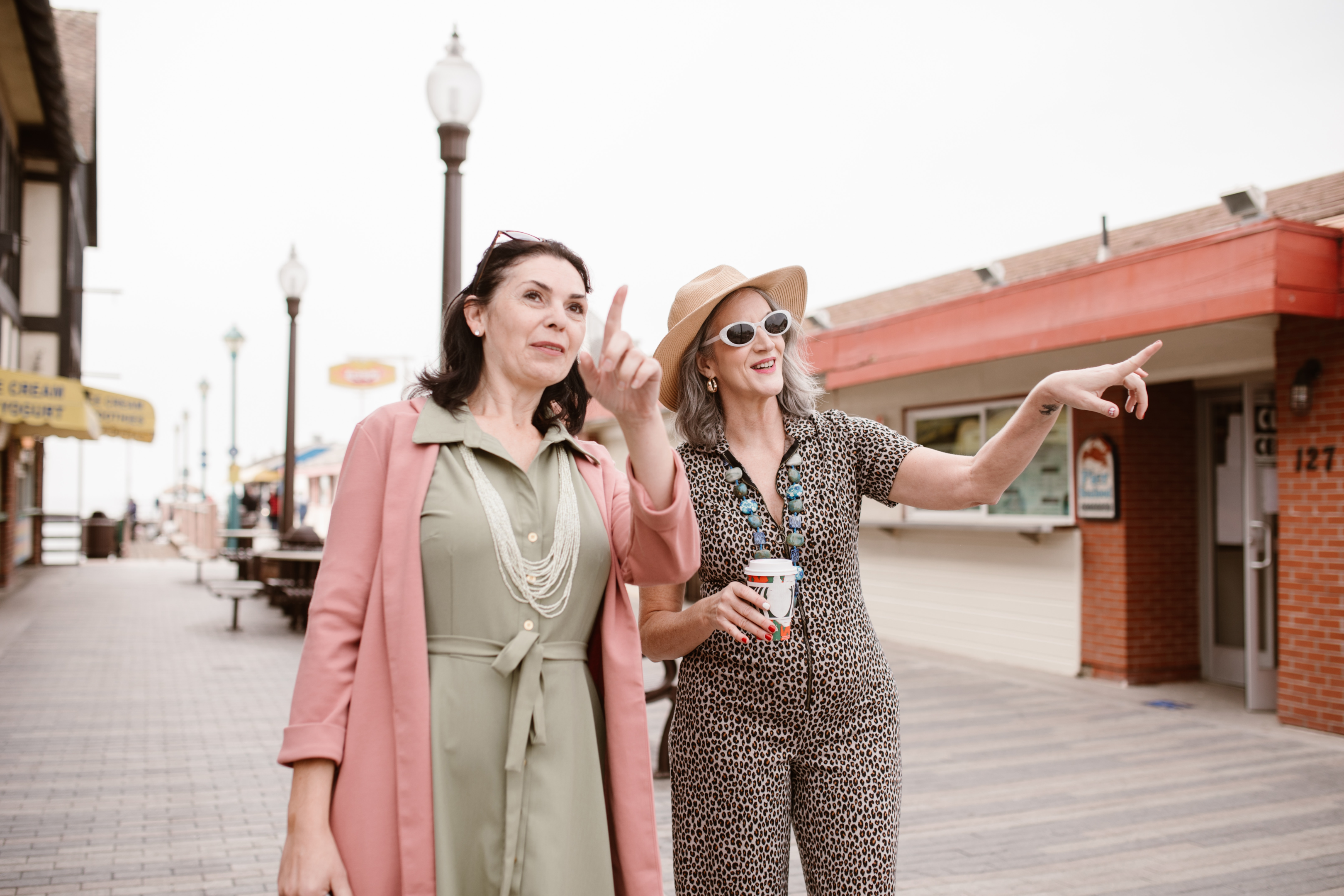 Alternatively, you can opt for jumpsuits! Much like floral dresses and tops, these come in almost every style and pattern imaginable, and they are a great way to save space in your suitcase on a cruise.
Swimwear
Whether you're sunbathing on the pool deck or out on a beach day, going on a cruise means your packing list will include some swimwear. For women of mature age, this might mean more than just a bikini.
Bathing Suit
The first thing most people think of packing for a cruise is a bathing suit. However, it would be a great idea to pack two, so that they can take turns drying out after you've been in the water.
While we believe that women of all shapes, sizes, and ages can rock a bikini, you may want something less revealing. In that case, we'd suggest opting for a flattering one-piece swimsuit instead. And the great part about them is that they can still be stylish and sexy!
If you have great shoulders but feel more self-conscious about your torso, you can try a bathing suit with built-in tummy control. Or, if you're still happy with your chest but don't like your thighs, you can try a swim dress with a plunging neckline.
Cover-Up
Another great space-saving tip is to invest in a swimsuit cover-up before going on your cruise. They turn a swimsuit into an acceptable, casual outfit to wear indoors or at cruise ship restaurants.
The kind of cover-up you decide to wear is entirely up to you, and they come in many different styles. There are cover-up dresses, which are perhaps the best option if you plan on spending time indoors. However, if you're simply looking for something to wear on the beach after coming out of the water, or on your way to your cabin before changing into some dry clothes, you can try a wrap skirt or a sheer lace cover-up dress.
Essential Accessories
Cruise vacations offer a unique experience onboard and when exploring ports of call. Because you won't be spending all your days in your cabin like with other types of travel, and you're not going to have access to your entire personal wardrobe, you'll need to pack smartly. Here is a list of the most essential cruise accessories before setting sail.
Sunhats
There's nothing quite as charming as a woman in a wide-brimmed hat. It's the perfect way to protect your face and neck from the sun, while still looking stylish. A wide-brimmed sunhat can also be very versatile, depending on what you wear it with. Apart from lip balms with SPF, some sunscreen, and some after-sun gel, a foldable sunhat is a must-have item if you're going on a cruise.
Shawls or cardigans
Even on a Caribbean cruise or Mediterranean cruise, evenings on cruise ships can get quite chilly- especially if you're out on the deck in the sea breeze. Be sure to include some light cardigans or pashmina shawls in your packing list.
Flip Flops
Even if you're not fond of wearing flip-flops, we would still suggest throwing a pair of these in your suitcase before going on a cruise.
They're inexpensive, easy to pack, and come in so many cute patterns that they may even convert the biggest flip-flop hater. You can also buy some orthopedic flip flops, which include foot support and are more comfortable to walk in for longer periods of time.
Another great thing about these little gems is that they are a life-saver in wardrobe malfunctions, like snapped straps on sandals or broken heels. They can be easily carried in your bag, to have on hand in case of an emergency.
Purses and handbags
On a cruise, carrying a purse or wallet is fairly optional, and most passengers find that it's not really necessary.
However, a casual tote bag might come in handy by the pool area, on the beach, or during port days for storing sun protection, chapstick, your favorite book, reading glasses, and water bottles. And, if you're joining some smart casual or formal evenings, you can spice up your outfit with an evening bag or a small clutch to store your cabin key card, lipstick, and cell phone.
Ultimate Cruise Wear Capsule Wardrobe / Cruise Packing List
Cruise season is approaching fast! If you're planning on taking a cruise this year, now is the perfect time to start getting your vacation prep in order. You don't want to be caught off guard and miss out on the opportunity, right? A cruise vacation is unique in that it offers travelers a chance to see so many different places in just a few days. But because you will be spending those days at sea with limited storage space, creating an effective capsule wardrobe with cruise-appropriate clothing is key.
Regardless of where you're going, packing for a seven-day cruise can be tricky. There might be some chilly evenings or foggy mornings during your stay. Depending on how formal the evening activities are going to be, you might also need some decent cocktail attire. To help you pack, here is our ultimate cruise wear capsule wardrobe guide for women:
Three to Five Tops (Daywear and Evening Wear)
Two to Three Pairs of Shorts
Two to Three Pairs of Capri Pants or Jeans (Substitute One for a Maxi Skirt)
Two to Three Sundresses or Maxi Dresses
Two to Three Smart-Casual Dresses
One to Two Formal Dresses / Cocktail Dresses (Substitute One for Little Black Dress)
Two Shawls or Cardigans
One Pair of Comfortable Walking Shoes
One Pair of Flip Flops or Casual Sandals
One Pair of Wedge Heels or Espadrilles (Smart-Casual Daywear)
One Pair of Formal Heels or Flat Dressy Shoes
One Tote Bag (On Deck and Shore Excursion)
One Evening Purse or Clutch Bag
Two Bathing Suits
Two Cover-Ups
One Sunhat
One Pair of Sunglasses
Keep in mind that you may need to research the dress codes for your specific ship beforehand and read their guides on what is not allowed on board, as most cruises have certain restrictions.