When we think about Las Vegas we know about the luxury hotels, the lively nightlife, and many casinos, but a significant part of the Las Vegas experience is related to food. Some of the best restaurants in the United States can be found right here in Las Vegas.
While we do love a-la-carte restaurants, who doesn't like a spectacular buffet? And what better than the Bacchanal Buffet at Caesars Palace. This is the largest and most extensive buffet in Las Vegas and they have a Bacchanal brunch buffet, and a dinner buffet that will leave you absolutely stuffed with some of the best food on the strip. We have made an extensive summary of the Bacchanal Buffet at Caesars Palace.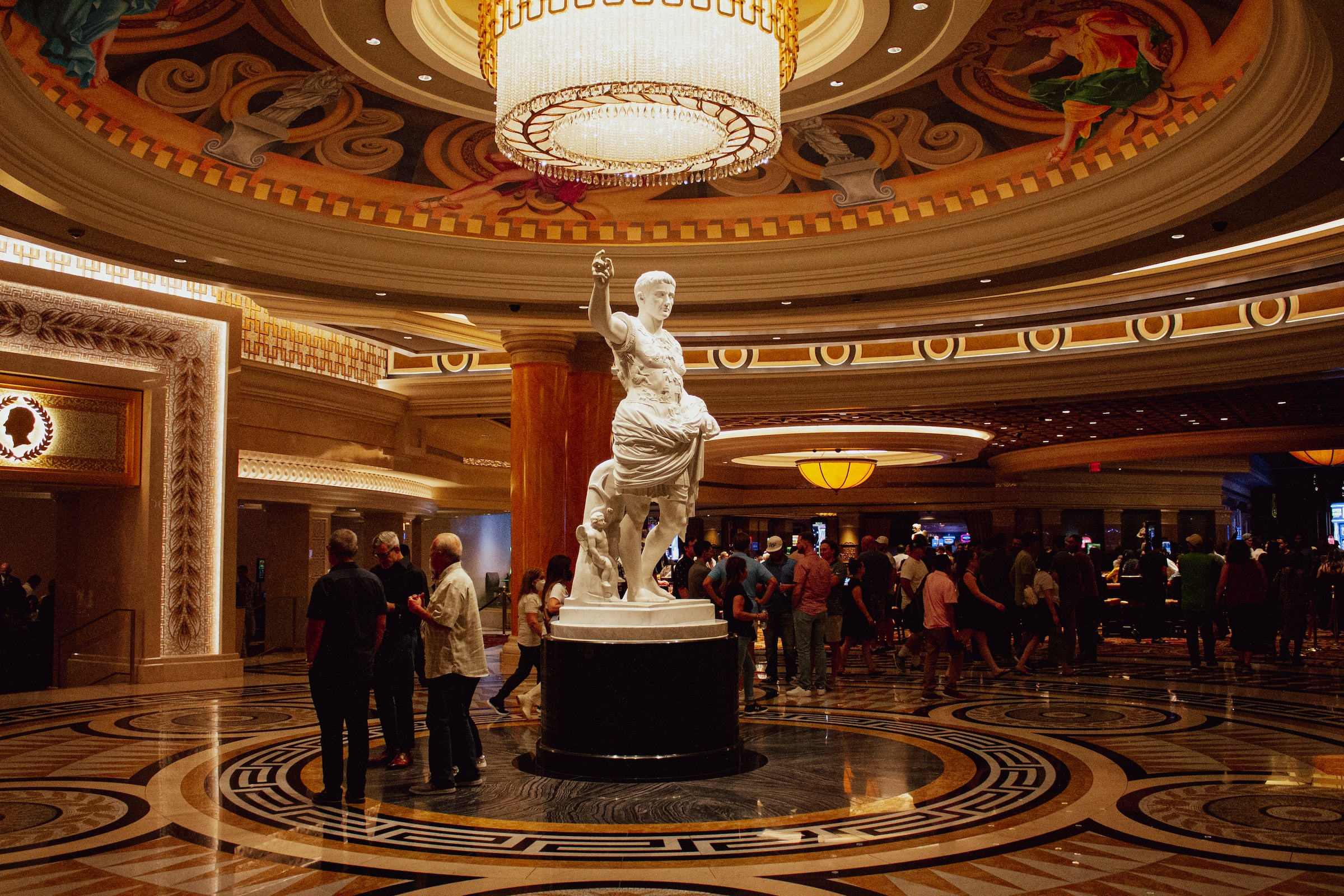 Overview And A Bit Of History of the Bacchanal Buffet
The Bacchanal Buffet opened back in 2012. The space is beautifully decorated and highlights rich glass and stone textures and can be found inside of Caesars Palace, Las Vegas. The Bacchanal Buffet very quickly became known for their wide variety of dishes and unforgettable food experience.
The Buffet options are always evolving and serve dishes from various cuisines around the world. Unfortunately, during the 2020 pandemic the restaurant had to close, like most other establishments on the list. Now, the newly renovated Bacchanal buffet is open again and attracting crowds once more.
What's New about the Bacchanal Buffet?
After remodeling the location at Caesars Palace, Las Vegas, there are still nine kitchens and beautiful decor. So let's explore the things that have changed. First and foremost the Bacchanal Buffet has expanded and even more dishes are included in the selection. There are mobile food cards crossing the space periodically.
There are new and improved health measures for the safety of all patrons. There is a new and improved reservation system so that people don't need to wait in line anymore, and no one misses out. Needless to say, the buffet is better than ever and the pandemic has been good for its improvement plans.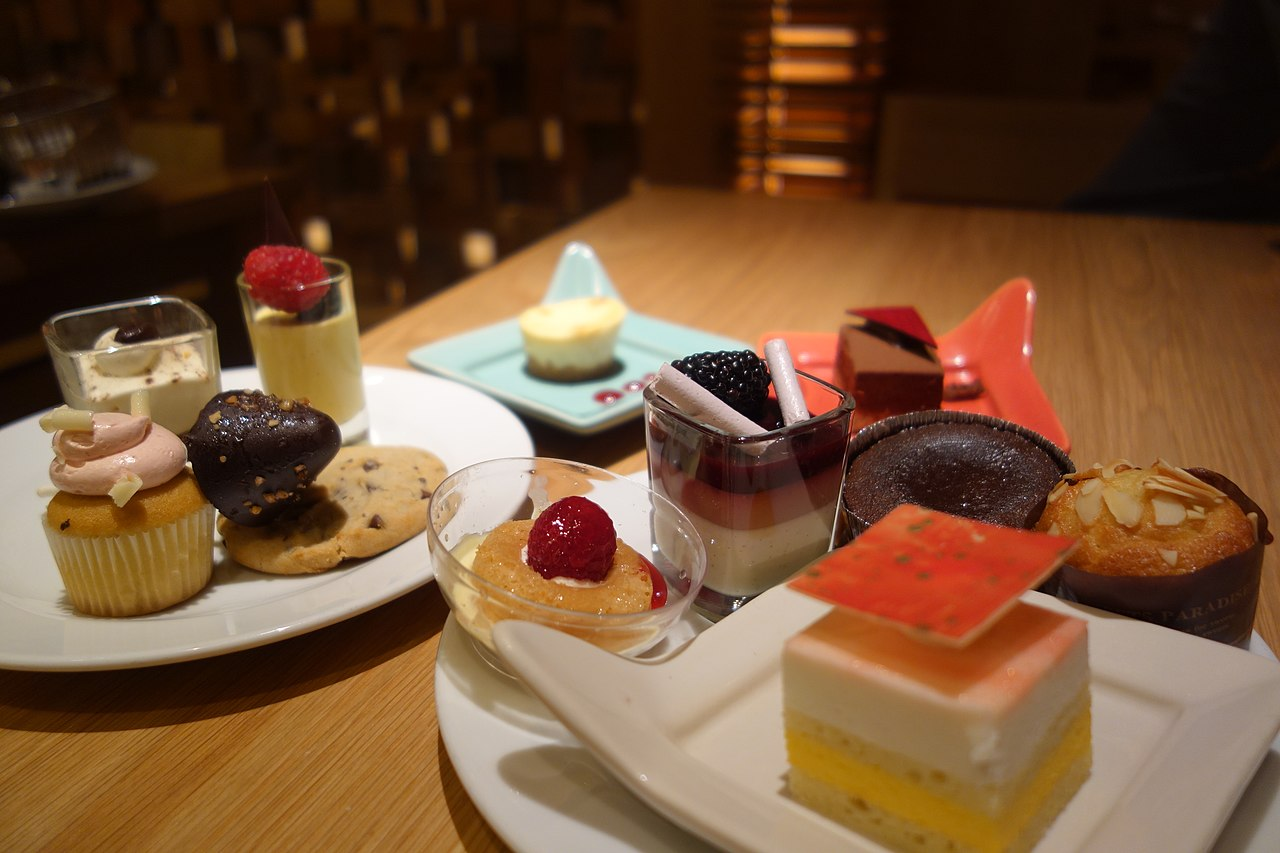 The Bacchanal Buffet Food
What Are The Nine Kitchens?
The Bacchanal Buffet specialty dishes are still being prepared in the signature nine kitchens. The nine kitchens are:
Dessert
Deli
Pizza
Seafood
American
Japanese
Chinese
Italian
Mexican
While these kitchens are the main macs, there are a number of dishes that show up and do not specifically belong in any of these kitchens. You can also expect to see, for example, dishes from Latin America, Laos, Indonesia, Vietnam, and Thailand.
What Are The Roaming Carts?
The roaming carts are quite new to the Bacchanal Buffet experience. They are mobile hubs of additional delicious treats like gourmet wagyu hotdogs and dim sum that move between tables.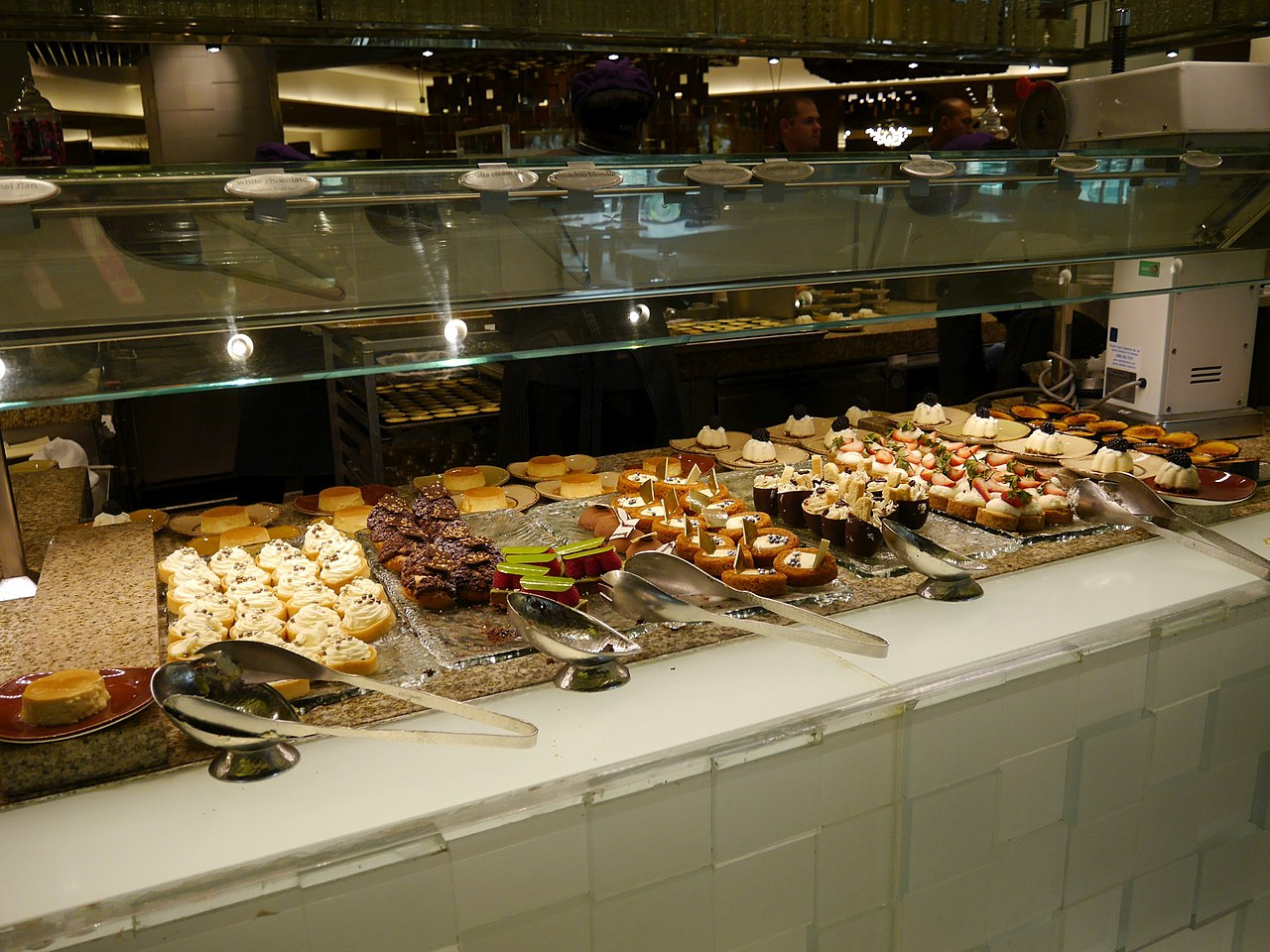 What's On The Bacchanal Buffet Menu at Caesars Palace?
The truth is that the Bacchanal Buffet has no set menu. Chefs change the offerings on a whim and there is no way to predict what will be available when you visit. Even the Bacchanal Buffet brunch menu is continuously changing and adapting.
What you can be certain of from the Bacchanal Buffet is the excellent flavor that will include a brunch buffet and dinner buffet, with vegetarian options, seafood, and meats. Many of the world's major cuisines are strongly represented, even if they do not have a designated 'kitchen'.
Plus, there is a vast dessert bar to enjoy, including brunch desserts. We do need to confirm that there is no traditional salad bar, but there is a wide selection of salads that you can choose from and these salads will differ depending on where in the buffet area you are looking. There are also warm and cold salad offerings.
What Are Some Dishes usually on offer?
As we have mentioned there is no set list of dishes, and this buffet is quite a bit larger and more diverse than a normal buffet. However, we have compiled some highlights that we hope will be available upon your next visit.
Desserts
Crème brulee, maple cinnamon rolls, mint oreo chocolate mousse, salted caramel popcorn, Earl Grey mousse, a wide selection of gelato, crepes made to order with various toppings, including bananas foster sauce, mixed berries, caramel, chocolate, or Nutella.
Other
Jicama citrus salad, breakfast buffets like eggs benedict and fried quail egg, assorted breads, condiments, charcuterie boards, foie gras, and Roman-style pizza.
Vegetarian and vegan
Crispy fried polenta, sweet corn chowder, roasted cauliflower salad, coconut-carrot gazpacho, tomato tartar, etc.
Mexican and Latin American
Mexican pork stew, carne asada tacos, duck carnitas quesadillas, ceviche de pulpo, tacos al pastor, etc.
Asian
Vietnamese pho, fried rice, glass noodle stir fry, egg flower soup, roasted pork belly, Sichuan fish, ramen, kimchi, sushi, Korean fried chicken, hot & sour soup, and dim sum.
Fish and seafood
Cold crab legs, if you are lucky a whole crab station, snow crab legs, king crab legs, sea scallops, sweet shrimp cocktail, lobster claws, lobster bisque, spicy seafood boil bags, turmeric grilled baby octopus, shrimp cocktail, steamed crab legs, and an unending list of other fresh seafood dishes.
Meat and poultry
Honey glazed ham, BBQ duck wings, whole roast suckling pig, roasted bone marrow, roasted turkey, slow braised beef shoulder, corned beef hash, grilled lamb T-bone, rotisserie chicken, prime rib, and a whole selection of perfectly prepared offerings to tantalize your tastebuds.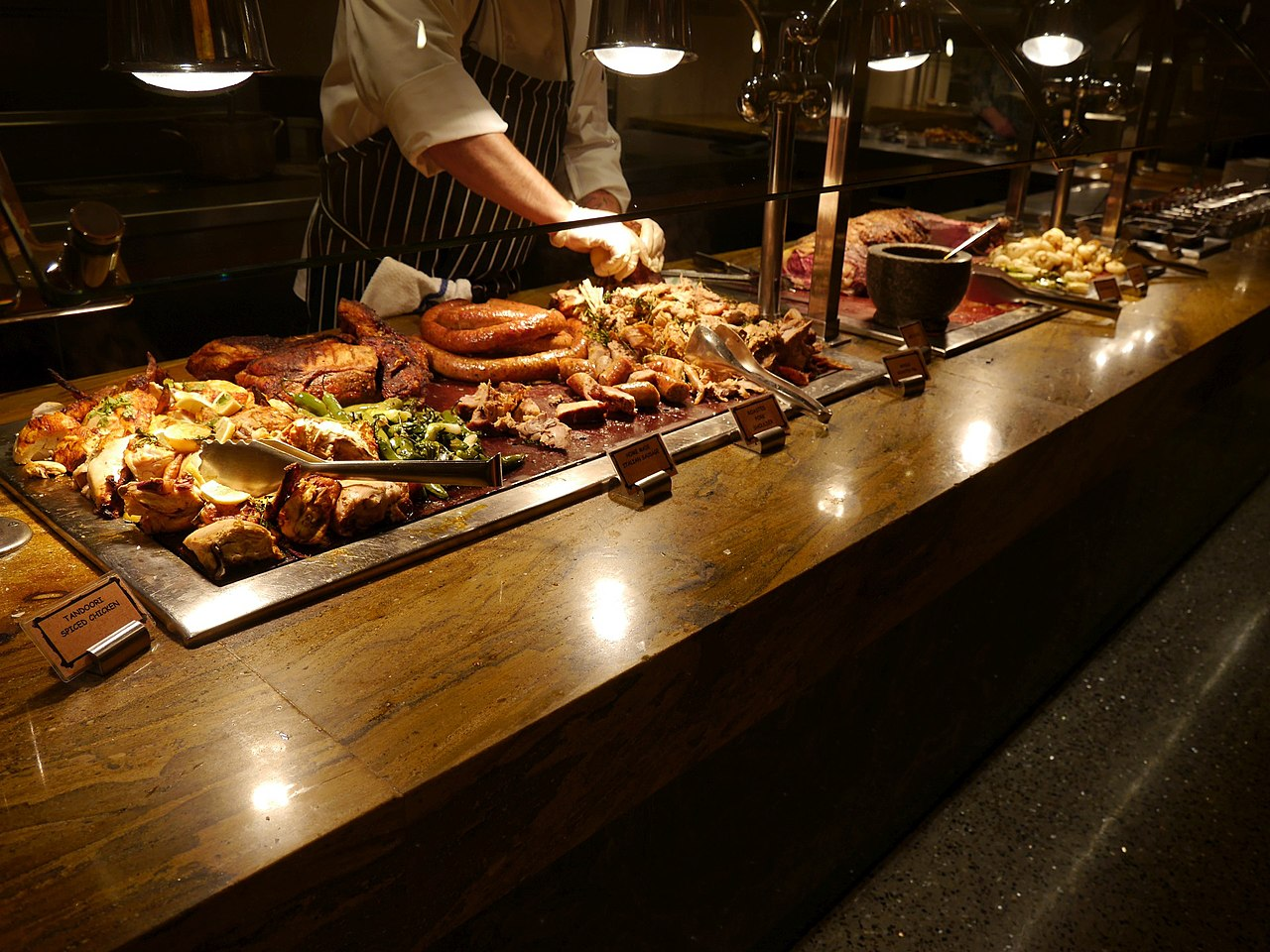 Where To Begin?
At the Bacchanal Buffet the biggest problem you will have is knowing where to begin. You might also find some entirely unfamiliar dishes, so it can all be a little overwhelming at the beginning.
The cooks and chefs at any of the Bacchanal Buffet kitchens would be more than happy to talk to patrons about their various dishes including how they are prepared and how they were intended to be eaten. All buffet staff are trained, so you can get this information from anyone. As far as Vegas buffets go this one provides ample information and options, but will always leave the final decision up to you.
Getting In The Bacchanal
Opening Hours: Bacchanal Buffet
The Bacchanal Buffet dining room is open every day. Monday to Thursday from 3:30 pm to 10 pm (so there is no breakfast or brunch buffet on these days, but the full dinner menu is available, and Friday to Sunday 9 am to 10 pm. That being said, we encourage you to always check the times on the website to make sure that they have not changed in the meantime.
Are only residents allowed?
The Bacchanal Buffet is open to anyone, you do not need to be a Caesars Palace resident.
Does Caesars Palace, Las Vegas take bookings for the Bacchanal Buffet?
The Bacchanal Buffet in Las Vegas has introduced a booking system recently so that more people can enjoy the buffet without having to wait. It is always best to book in advanced anyway as it does guarantee you a seat and avoids disappointment. You will find that it tends to be fully booked, sometimes even two weeks ahead. It is therefore best to book as soon as possible. During off-peak times there might be room for walk-ins, but it tends to be risk to rely on this alone. Reservations can be made on Opentable, but for group reservations it is best to contact Bacchanal Buffet directly.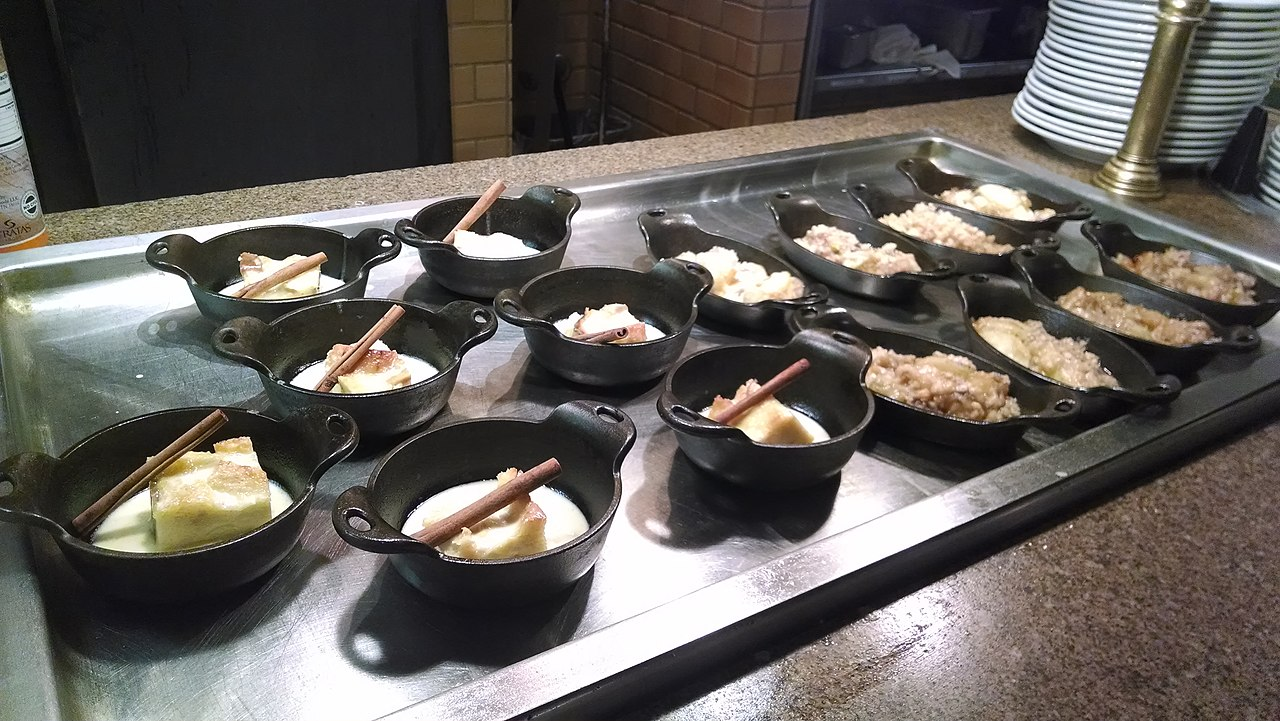 How much does the Bacchanal Buffet cost?
The current Bacchanal buffet prices are:
The Regular Brunch for children 4 to 10 years old is $32.50, and adults over 10 is $64.99.
The Crab Brunch for children 4 to 10 years old is $39.99, and adults over 10 is $79.99.
The Dinner Buffet for children 4 to 10 years old is $39.99, and adults over 10 is $79.99.
The all you can drink supplement is $19.99 and includes high end alcohol.
How Long Can You Stay?
The Bacchanal Buffet pricing is reasonable and it is arguably far more popular than any other buffet in Las Vegas, for this reason both the brunch and dinner price only includes a maximum duration of 90 minutes.
Is there a queue or how long will I have to wait?
The booking system has definitely reduced the wait times significantly, however, it does not completely eliminate waiting times and even with a booking you might need to wait in line. Maximum waiting times will be between half an hour to 45 minutes during peak-times. Without a booking you can expect to stand in line for well over an hour.
Is It Family/child-friendly?
The Bacchanal Buffet is definitely child-friendly and even has specially adjusted prices for children under the age of 10.
Is there a Dress Code?
While the official dress code is "smart casual" they are quite happy to admit you as long as you are dressed within reason. You can wear sports leisure, jeans, sneakers, etc.
Dietary Requirements
Special Dietary Requirements And Allergies
The buffet fully caters to anyone with allergies and special dietary requirements. If you are unsure of your options then we recommend that you speak to the staff directly.
Vegetarian and Vegan Food
After the COVID pandemic and their renovations there has been a significant effort to cater for vegans and vegetarians with a wide variety of meat-free and plant-based dishes.
A Feast For All The Senses
A meal at the Bacchanal Buffet is a true experience on its own and far more than just a usual night dining out. All of your senses will be involved in this experience and you will enjoy more than the taste of these beautiful dishes. Even the room you are in is beautifully decorated and you can indulge in anything from authentic Italian dishes to steamed crab legs, king crab legs, or a whole snow crab. Not to mention the juicy prime rib. Yes, the Bacchanal Buffet at Caesars Palace dinner menu, as well as their brunch options will not leave you disappointed.