Located in the Blue Ridge Mountains in western North Carolina, Asheville is a bustling city known for its historic architecture, such as the 19th Century Basilica of Saint Lawrence. It is also known for its vibrant art scene, including the Downtown Art District and River Arts District. Here, visitors can enjoy museums, art galleries, and artists' studios located inside converted factory buildings.
If you're traveling to Asheville for the first time, you may find yourself tired after a long day of exploring and sightseeing, and in desperate need of a place to sit back, relax, and have a cup of coffee.
Luckily, Asheville is home to some of the best coffee in the state and a wide variety of great coffee shops to choose from. Keep reading to discover our list of the best coffee shops in Asheville (NC) and plan your trip today!
Best Asheville Coffee Shops
PennyCup Coffee Co.
PennyCup Coffee Co. is one of the best coffee shops in Asheville. They are a small-batch roaster with a focus on providing sustainable and eco-friendly coffee. There are four locations scattered throughout Asheville, in some of the most unique neighborhoods.
It offers a relaxed atmosphere that is ideal for working or watching as customers come and go. It is also an excellent place to buy coffee beans if you enjoy grinding them yourself.
It is also considered one of the less touristy coffee shops in the city.
Double D's Coffee & Desserts
Located inside a big, red double-decker bus in Downtown Asheville, Double D's is a favorite among tourists. It is known for its unique appearance and the excellent photo opportunities it offers.
Double D's is one of the best food trucks in the area and serves some of the most delicious coffee in the city. Additionally, there are various tasty iced drinks such as milkshakes, frappes, and smoothies. Be sure to try some of their signature desserts while you're there.
Visitors can choose between sitting on top of the bus or on the closed-in patio outside. They can also make use of the WiFi. However, keep in mind that Double D's only accepts cash payments.
Trade and Lore Coffee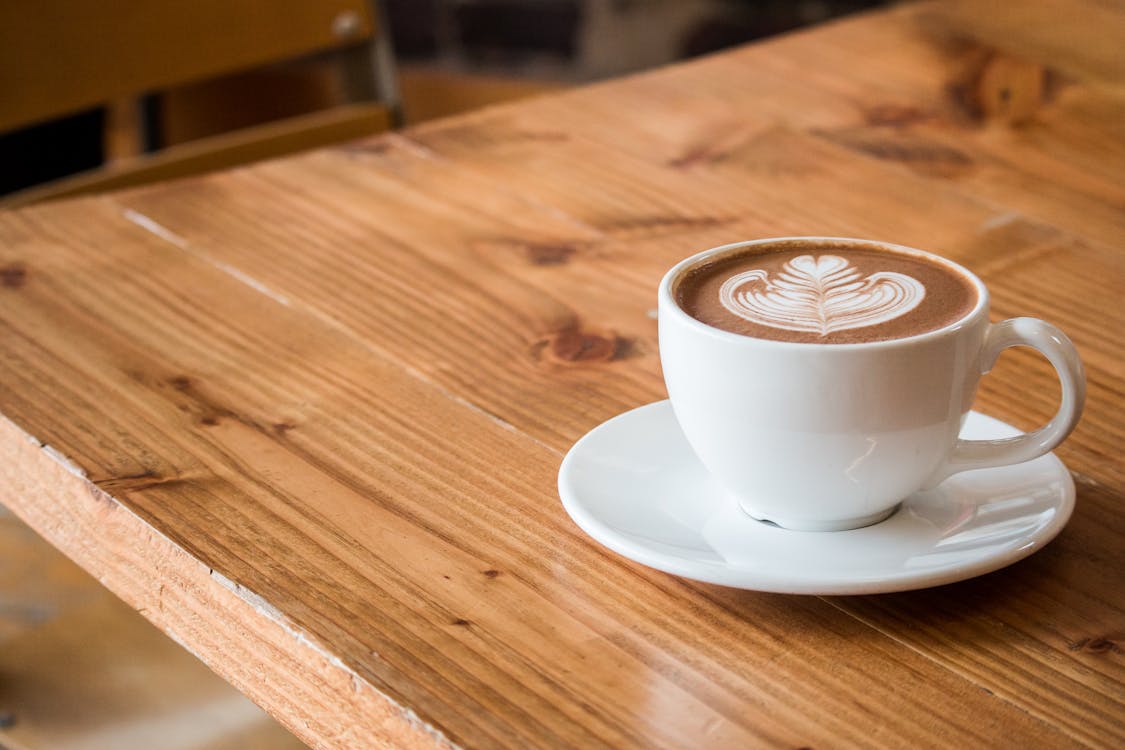 If you're looking for a beautiful and serene coffee shop in Downtown Asheville, be sure to stop by Trade and Lore Coffee. It offers a whimsical experience, with stunning décor and ambiance, and makes for a great place to go on a date.
The establishment focuses mainly on craft beer and specialty coffee. The coffee beans, honey, milk, and baked goods offered at Trade and Lore are all locally sourced and of the highest quality.
And, if you're looking for some vegan cuisine after stopping for a hot brew at Trade and Lore, you can head across the street to Laughing Seed Cafe – one of the best vegan and vegetarian restaurants in Asheville.
Rowan Coffee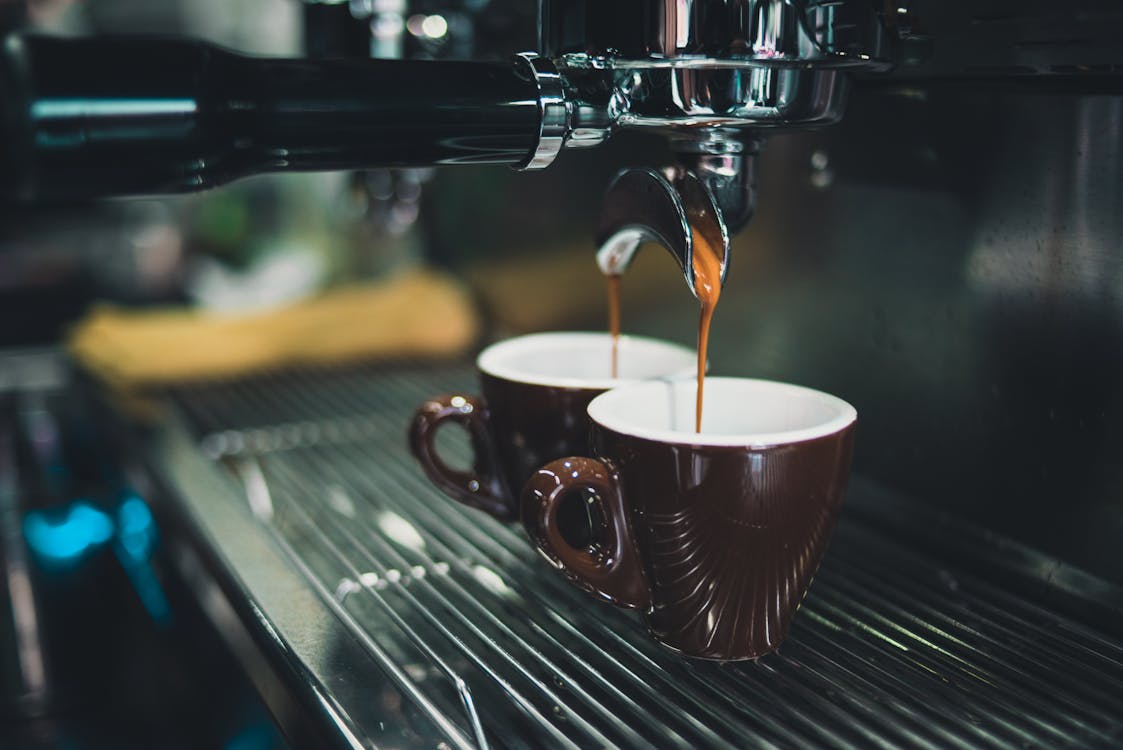 Another local favorite in the Downtown area, and one of the newest coffee shops in the city, is Rowan. Rowan started its life as a series of pop-up stands before settling into the permanent brick-and-mortar location it has today.
This historic building is stunning and while the menu is fairly simple, Rowan serves some of the best lattes in the city. There are various flavored add-ins to choose from, and lactose-free guests can choose between several milk alternatives.
Be sure to stop by Rowan if you're visiting Asheville at Halloween, to see the ceiling decorated with countless floating candles.
Summit Coffee Co.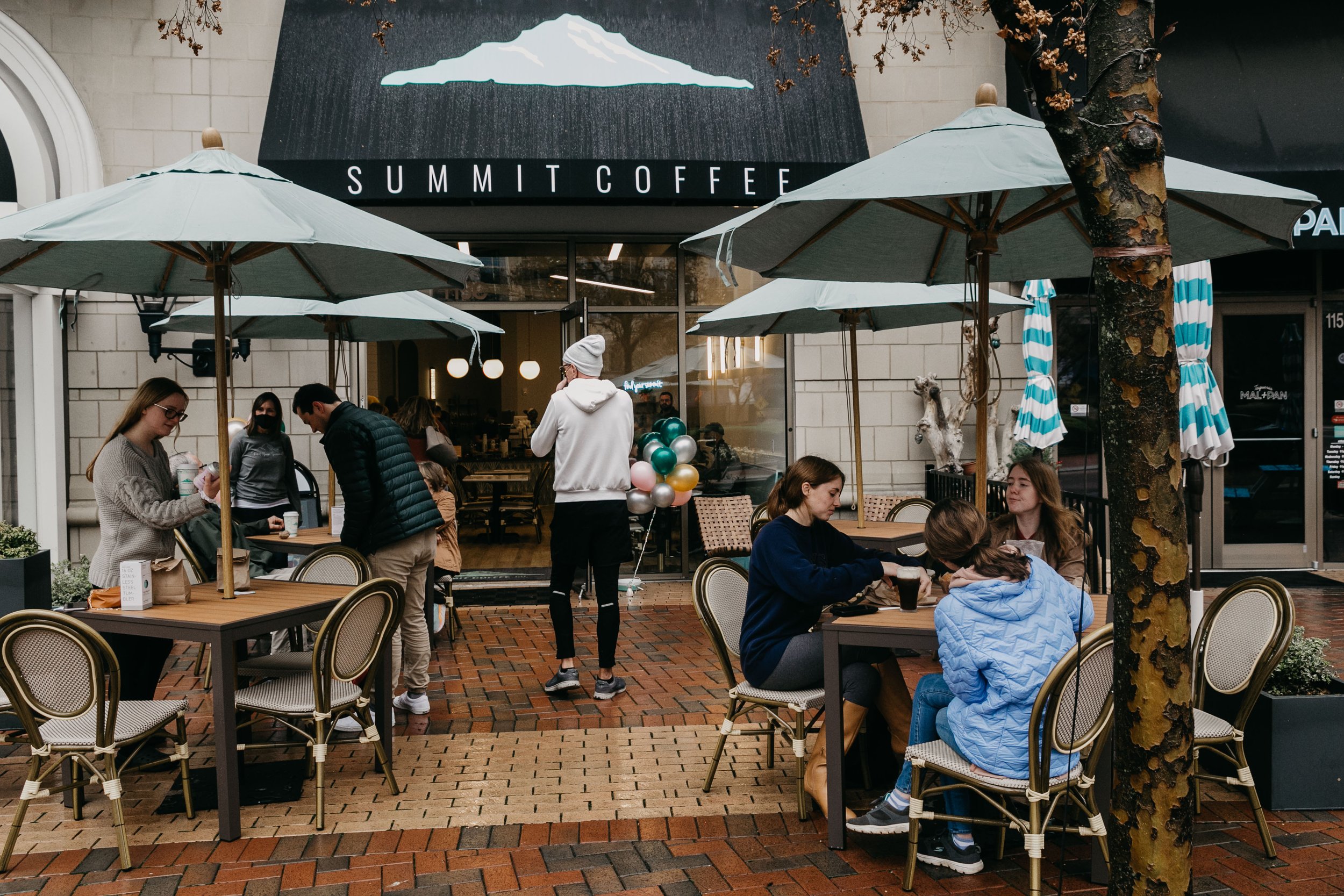 With locations all over North Carolina, Summit is one of the bigger franchises to be found in Asheville. There are also various Summit Coffee locations in the city, but we prefer their cozy Downtown location. It can be found at the historic Grove Arcade on Page Avenue and offers great outdoor seating if you're fond of watching people go by.
Other nearby attractions include the Cultivated Cocktails Distillery, the Asheville Pinball Museum, and the Battery Park Book Exchange.
However, if you're looking for something more trendy, you can head over to their River Arts District location, where you'll be able to see some stunning street art or stop by shops, the newly-renovated riverwalk, or artists' studios. Be sure to stop by Famous 12 Bones BBQ while you're there.
Old Europe Pastries
Opened in 1994, Old Europe is one of the oldest and longest-running coffee shops in the city. As the name may suggest, it offers some of the most delicious pastries in Asheville. Customers can also order baked goods and desserts for delivery. This can be done online or by using a food delivery service.
Old Europe also offers a variety of options for people who are vegan or have gluten-free or lactose-free dietary requirements. Be sure to try one of the traditional Hungarian desserts, it is one of Old Europe's signature menu items.
Malaprop's Bookstore/Café
Malaprop's is an iconic Asheville attraction and a must-see on any visit to the city. It is known for supporting local authors and offers things like book recommendations, indie titles, and gifts for book lovers. The café also plays host to regular author events.
Be sure to stop by Malaprop's on your next trip to Asheville for some excellent coffee and to peruse their shelves.
Vortex Doughnuts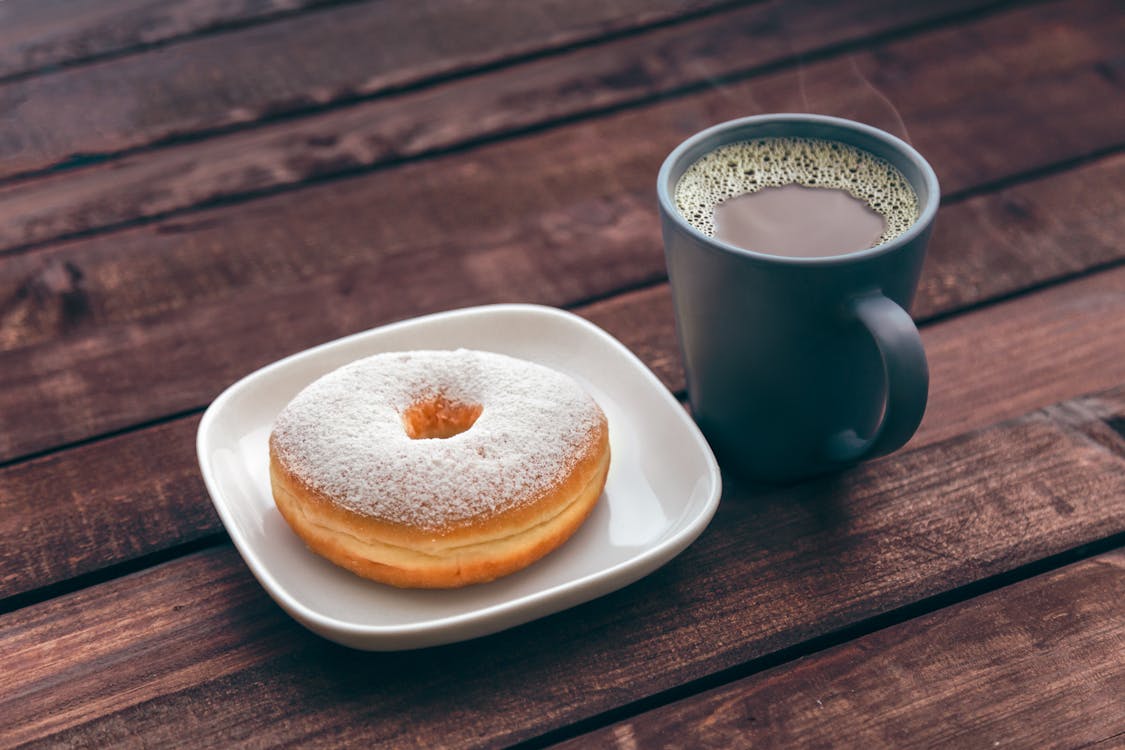 Vortex Doughnuts is an excellent place to visit if you enjoy having a sweet treat with your coffee. It is located in the South Slope area of Asheville and offers vegan and gluten-free options.
The area is also home to Dobra Tea, a great place to sample some signature drinks, Catawba Brewing, and Buxton Hall BBQ.
Battery Park Book Exchange
The Battery Park Book Exchange is known for its excellent selection of wine and literature-themed cocktails. It is also a great spot to stop for brunch over the weekend and partake in some of their delicious charcuterie boards.
And, if you're a book lover, this is one of the best coffee shops in Asheville. There are several rooms with endless rows of bookshelves to be explored, and it makes for the perfect place to spend time with friends or family.
Additionally, the Battery Park Book Exchange plays host to regular poetry readings.
This charming book café can be found in Grove Arcade, so be sure to explore some of the nearby shops and attractions while you're in the area.
French Broad Chocolate Lounge
French Broad Chocolate Lounge is a crowd-favorite for travelers and locals alike. It is located in Pack Square and fills up quickly, which may mean standing in a line. However, many frequent visitors agree that it's well worth waiting for.
It is known for its delicious coffee, hot chocolate, and desserts. It also offers some vegan options, like vegan affogato or vegan hot chocolate, and some gluten-free options. Be sure to try the signature truffles while you're there.
Nearby attractions include the Asheville Art Museum.
Izzy's Coffee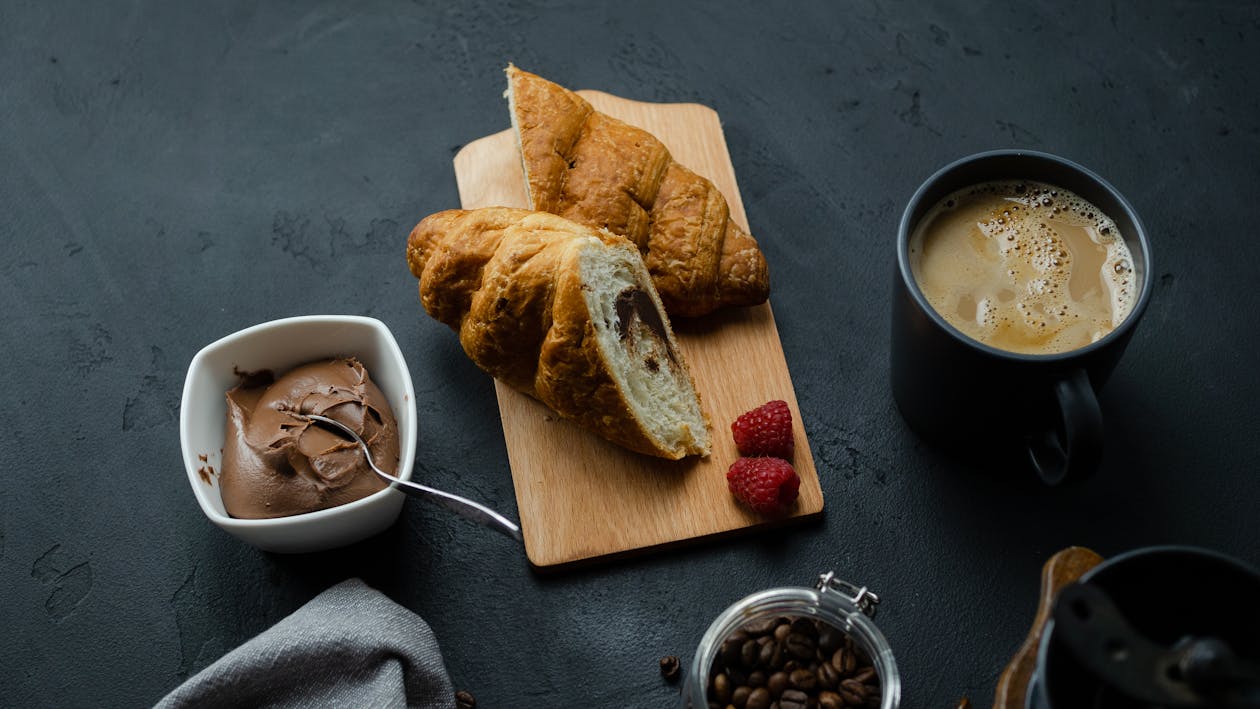 Izzy's Coffee is home to two locations in the city, including one in Downtown Asheville. It is the ideal place for creative minds and art lovers, with a cozy atmosphere and many artworks to be enjoyed as part of the décor.
The chain is known for its delicious coffee and quirky merchandise, including an adorable opossum shirt. Both locations offer lactose-free replacements, such as the soy milk option.
Nearby attractions worth visiting include Downtown Books and News, the sister store to Malaprop's, and Dobra Tea.
Bean Werks Coffee & Tea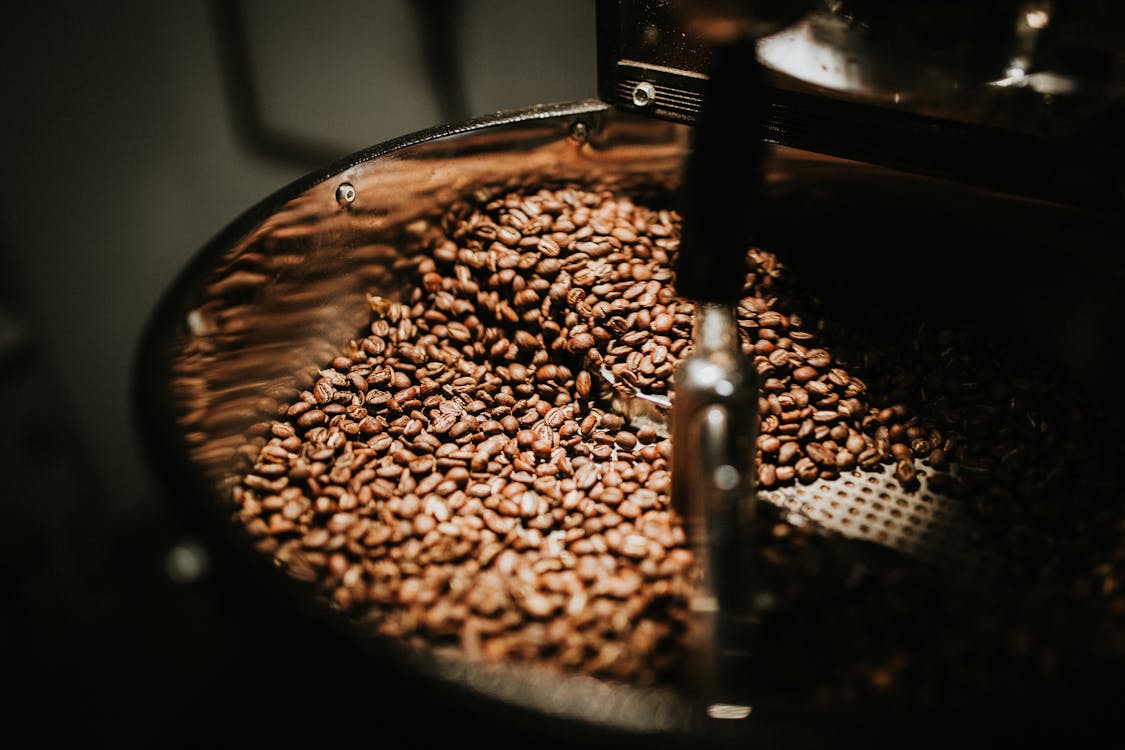 Opened in 1996, Bean Werks is an amazing coffee shop in West Asheville. It boasts high-quality, small-batch, artisanal roasts of both coffee and tea, which means there's something for everyone. Another part of its appeal is its focus on being environmentally friendly and implementing sustainable practices in the business.
There are various great restaurants located nearby. Other nearby attractions also include Jargon, Nine Mile, and Thai Pearl.
High Five Coffee
This is a popular family-owned chain with various High Five Coffee locations all over Asheville. Their beans are roasted and come from Durham's Counter Culture Coffee, and they offer various classic coffee drinks. There are also some in-house specialties well worth trying if it's your first time visiting.
If you're on a tight schedule, we recommend visiting the flagship coffee shop on Broadway Street, in the Five Points and Montford neighborhoods. Nearby attractions include the Riverside Cemetery, where tourists can visit Thomas Wolfe's grave.
There is also a great location in Downtown Asheville, on Rankin Avenue. Nearby attractions include French Broad River and Pack's Tavern.
Well-Bred Bakery & Café
Well-Bred Bakery & Café is a favorite among locals who live in the Weaverville, Downtown, and Biltmore Village areas.
It is considered one of the very best Asheville coffee shops and offers signature menu items like chai tea with oat milk. As the name may suggest, visitors can also enjoy a variety of delicious breakfast and lunch menu items, such as sandwiches and fresh pastries.
There are several locations to choose from, but our favorite is the one on Boston Way. It has nearby attractions Corner Kitchen.
If you opt for the Weaverville location, be sure to stop by some of the local restaurants nearby, such as the Glass Onion or Stoney Knob Café. There is also a lake nearby that is perfect for relaxing strolls.
Asheville Chocolate
Similar to the infamous French Broad Chocolates, Asheville Chocolate is known for its delectable treats and excellent coffee. It offers a relaxed, cozy atmosphere with great indoor seating and beautiful photography lining the walls.
Some of the favorites to enjoy here are hot chocolate, affogato, and mocha made with homemade tea or ganache. They also offer desserts like gelato and gourmet truffles.
The main appeal of Asheville Chocolate is its ever-changing, seasonal menu, which boasts decadent flavors and many vegan options to choose from. It is an excellent place to stop by if you enjoy a sweet treat to compliment the bitterness of your coffee.
This is one of our favorite coffee shops in Asheville!
The Rhu
Known for its great breakfast and lunch options, delicious pastries, and serving the best brownie in the world, The Rhu is a charming coffee shop in Downtown Asheville with a lot to offer. Frequent visitors agree that it has great seating and sweet décor that combine to make a truly laid-back and cozy atmosphere.
Besides its great coffee, visitors can also enjoy menu items like breakfast sandwiches, fresh pastries, biscuits, and bagels. Travelers and locals alike can order from the online menu and have it delivered, but keep in mind that coffee and pastries cannot be ordered for delivery.
Session Café & Bar
Session Café and Bar is a hidden gem located inside the historic Citizen Times building that is too good not to share. The building also contains the Citizen Vinyl Record Press and is located just across the street from the Grove Arcade. Other attractions inside the building include a plant store, an art and record store, and a recording studio.
The espresso drinks menu is especially delicious, with flavors like almond cinnamon, lavender honey, and rosemary brown sugar. Other specialty drinks include house herbal blends, Asheville Tea Company teas, sodas, spritzes, beer, wine, and cocktails.
Another draw to Session Café and Bar is its friendly staff and amazing gourmet food. Our favorites include the grilled cheese sandwich and the egg salad sandwich.
There is great seating available inside and some good music to set the mood. It makes for a great place to spend time with friends or get some work done if you don't mind the bustle of people coming and going.
Grind
Grind is another new addition to the Asheville coffee scene and is the only Black-owned café in the city. They offer a range of specialty coffee drinks, including the viral dalgona whipped espresso drink. It also plays host to regular events to support other Black-owned businesses in the area.
It is located in the River Arts District, which makes it an excellent place to visit after a long day of exploring. The staff is friendly, and there are great flavors on the menu, including the signature toasted marshmallow syrup dalgona.
If you're in the mood for a sweet treat, you can also sample some of the freshly-baked pastries.
Ultra Coffeebar
Another great establishment to visit while you're in the River Arts District is Ultra Coffeebar. It is known for its full espresso menu, with homemade syrups, decaf options, and cord brews to choose from, as well as its excellent breakfast and lunch selection.
The staff is always friendly, and the outdoor seating is breezy and comfortable. We recommend trying one of their delicious bagel sandwiches, such as the signature Sunrise Bagel. Toppings include egg, pickled onion, tomato, spinach, and garlic herb cream cheese.
They also offer many vegan options.
Farewell Coffee
If you're a plant and coffee lover, be sure to stop by Farewell Coffee in the South Slope area on your next trip to Asheville. Besides its lush greenery, this beautiful coffee shop is known for its excellent coffee, great merchandise, and delicious whole beans. The atmosphere is relaxing, making it a great place to sit down with a laptop and a delicious brew for a day's work.
The drinks are brewed in small batches, with a frequently rotating offering. Farewell is especially popular for its creative espresso drinks with delectable flavors like vanilla, lavender, and honey rose. Other hot drinks include chai latte, matcha latte, and a variety of teas. And, if you're looking for something more adult-friendly, you can choose a glass of something from their wine menu.
There are also a few food options to enjoy, including fresh pastries, bread and olive oil, croissants, breakfast sandwiches, muffins, and stroopwafels.
Battlecat Coffee Bar
Located in West Asheville, BattleCat is a great independent coffee shop where visitors can enjoy good coffee, amazing breakfasts, and stunning local artwork.
Breakfast or lunch sandwiches can be ordered from Tiger Bay Café, found inside the same building as BattleCat Coffee Bar. BattleCat offers some of the best iced lattes in the city, so be sure to grab one of those before heading to Tiger Bay for a bagel sandwich or a breakfast panini.
Odd's Café
Another local gem in West Asheville, Odd's Cafe is the perfect place to hang out with friends or family. The building has large windows, making the coffee shop feel light and airy when the weather is nice.
Staff is always friendly, and Odd's likes to support their community by featuring works by local artists and selling fresh treats from local bakers. Be sure to sample the delicious quiche while you're there!
Besides its quirky atmosphere, Odd's Cafe is one of the Asheville coffee shops known for its great coffee. It offers an extensive espresso menu, chai, matcha, tea, smoothies, bottled drinks, and sodas. Guests can also purchase bags of local whole beans.
OWL Bakery
While OWL Bakery is technically not a coffee shop, it serves excellent brews that would be a shame not to mention! They are known for their exceptional drip coffee as well as their delicious pastries.
OWL Bakery also offers a unique drive-through experience, where visitors order their drinks and food from a window before parking. The orders can then be enjoyed on the go, or at one of the tables outside.
Specialty drinks include hibiscus lemonade, hot chocolate, London Fog, and mimosas. Many frequent visitors also recommend trying a latte with vanilla and cardamom.
Perhaps the most popular food item on the menu is the apple turnover. Keep in mind that they sell out fast, so be sure to get there early if you want to grab one! There are also many other great items on the menu, such as the almond rose croissants, cardamom buns, and morning buns.
If you're looking for a great gluten-free item, be sure to try the daily squirrel loaf.
Liberty House Coffee and Café
Liberty House is a favorite coffee shop among locals and tourists alike, beloved for its soothing atmosphere and beautiful garden seating ideal for all coffee lovers looking for some peace and relaxation.
The café serves amazing drip coffee with a free top-up, as well as seasonal specials, espresso, tea, and cold beverages. Be sure to try some of their sweet treats while you're there, like their specialty sourdough pancake.
All Day Darling
All Day Darling is known for its happy atmosphere, cute name, bright interior, and yellow espresso machine. It offers great food and some of the best coffee in Asheville, making it well worth the visit. It is located in the Montford area, near Tempie Avery Park, and many locals enjoy grabbing a latte on the go before heading to work or one of the nearby attractions.
Signature drinks that should not be missed include the Lululemonade and the golden mocha with cardamom.
Part of All Day Darling's appeal, as its name may suggest, is the all-day breakfast. It includes eggs, greens, avocado, and a choice of bacon, ham, or sausage. Visitors can also replace the toast with a gluten-free alternative.
Gallivant Coffee
Another one of Asheville's hidden gems and the perfect place to find a great cup of locally roasted coffee is Gallivant. It is one of the newer coffee shops in Asheville and offers an entirely plant-based menu.
Visitors can stop by for their seasonal nitro cold brew, their full espresso menu, or their fun signature drinks like the oak-smoked sea salt and honey latte or the wildflower latte. There is seating inside as well as on the outdoor patio.
Gallivant Coffee also offers some delicious homemade pastries, muffins, scones, cinnamon buns, and bagels. If you're visiting in the morning, be sure to try the breakfast empanada.