While Caesars Palace is home to a range of attractions and amenities, it is also known for its world-renowned restaurants and fantastic dining options.
The hotel is home to some of the best restaurants in Las Vegas, serving cuisine from all over the world. Many non-hotel guests visit Caesars Palace simply for the food. With so many options, there is bound to be something to delight the taste buds of even the harshest food critic!
Keep reading to discover our list of the best restaurants in Caesars Palace.
Caesars Palace in Las Vegas
Founded in 1966, Caesars Palace is a luxury hotel located between the Mirage and the Bellagio on the western side of the Las Vegas Strip. It is home to a casino and offers visitors a unique experience with a Roman Empire theme. There are six towers with nearly four thousand rooms for guests to choose from.
Besides the variety of dining and gambling options, the hotel also offers an array of entertainment options. Caesars Palace is known for hosting famous performers such as Shania Twain, Frank Sinatra, Chere, Bette Midler, and Elton John – among many others.
The hotel was designed to make each of its guests feel like a Caesar and give them a luxurious experience they won't forget. It is for this reason that the name of the hotel is spelled "Caesars Palace" (as opposed to "Caesar's Palace"), as a nod to all the "Caesars" staying at the hotel.
Best Restaurants in Caesars Palace
Fine Dining Options
There is a variety of options to choose from if you're looking for fine dining in Caesars Palace, from celebrity chef restaurants to celebrity favorites.
Hell's Kitchen by Gordon Ramsay
Named after the popular television show, celebrity chef Gordon Ramsay has opened a restaurant in Las Vegas. While visitors may not be able to see the chef himself, they are given a unique look at all the action in a high-end kitchen from their seats in the dining room. There is also a private dining room that can be booked for events or special occasions.
The restaurant also includes stunning, floor-to-ceiling windows overlooking the Las Vegas strip, offering some stunning views of the bustling city and people walking around. These views are especially beautiful at night when the lights illuminate the desert.
The Hell's Kitchen a la carte menu includes a wide variety of classic dishes and delicious drinks. There is also Ramsay's signature beef wellington dish, which is wrapped in a puff pastry and cooked until medium rare, and his delicious crusted lamb chop rack.
If you're looking for a unique cocktail, be sure to try the signature Smokebox. And, if you're in the mood for something sweet after your meal, order a portion of delicious sticky toffee pudding.
Amalfi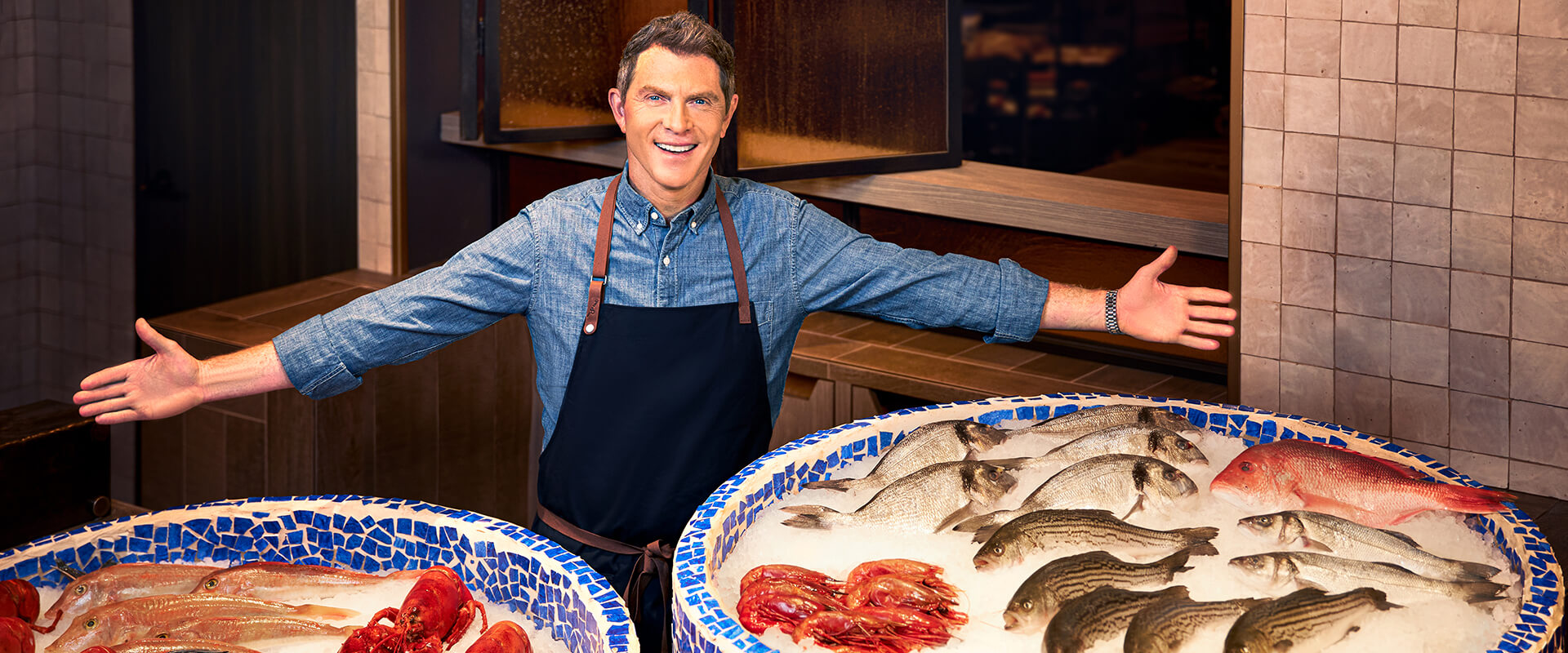 Amalfi is owned by the celebrity chef, Bobb Flay, and was inspired by his travels to the Amalfi coast. The restaurant offers Mediterranean dishes and fresh flavors.
Inside the restaurant, there is a counter with a fishmonger, and guests can browse through a fresh seafood display. There is also a wide range of dishes available on the dinner menu, including things like antipasti, fresh fish, and handmade pasta.
Some of the signature dishes that should not be missed when visiting Amalfi are the squid ink fettuccine and the charred octopus. Guests can also select fish from the assortment of daily, fresh offerings.
Once you're done, be sure to try Bobby's signature dessert – the pistachio sundae. Visitors looking for a drink can stop by the lounge to sample some Campari spirits and Campania wines.
Mr. Chow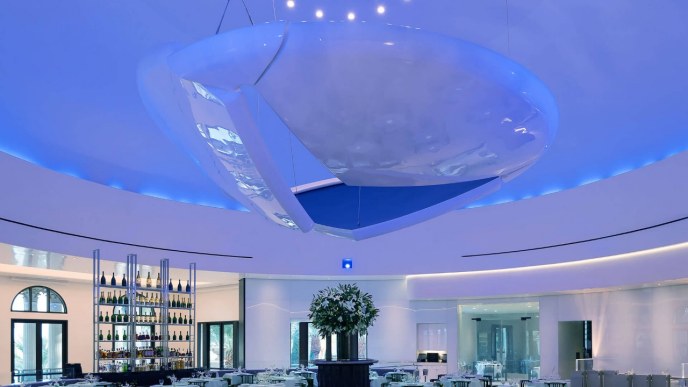 If you're looking for impeccable service and authentic Beijing cuisine, Mr. Chow is the place to be. The restaurant itself has unique architecture, including moving artworks that morph into different shapes, making the dining experience one of a kind.
Another thing that makes Mr. Chow so interesting, is the fact that all meals are served "family-style". The table can order several different dishes, and guests can sample whatever they'd like. If you're looking for a signature dish at Mr. Chow, keep an eye out for the green prawns, Beijing duck, chow noodles, or chicken satay.
Additionally, all the Mr. Chow noodles are hand-pulled. Guests have a chance to see this being done at the nightly show where the chef showcases his impressive skills of turning dough into ribbons.
Nobu restaurant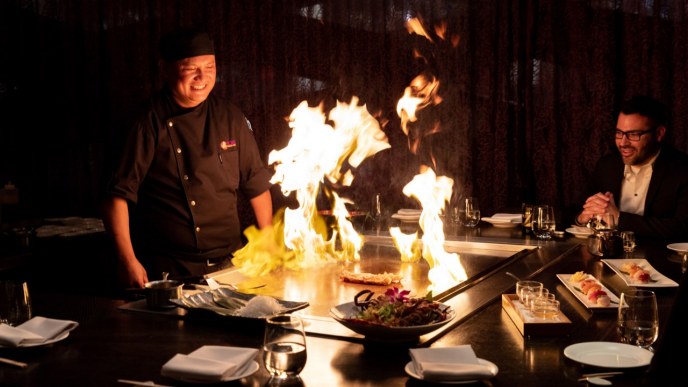 A favorite restaurant among visiting celebrities in Sin City is Nobu. It offers two options – a main dining room and the Teppanyaki tables. Many guests are fond of these tables as dishes are prepared in front of you, are served with sushi as a starter, and contain all the signature sauces.
Keep in mind that the Teppanyaki tables have their own exclusive menu, which is not the same menu offered in the main dining room.
However, that is not to say that guests dining in the main room will have to miss out. There are still many options available, including sushi made by the world-renowned, celebrity chef Nobu Matsuhisa. Some of his signature dishes that can be enjoyed from the main menu include an assortment of sashimi, sushi, and nigiri, as well as things like yellowtail with jalapeno and black cod lettuce cups with miso and garlic chips.
Later in the evening, the restaurant closes and the lounge opens. The lounge offers an exclusive menu of its own, which includes handmade sake among other rare sakes.
Old Homestead Steakhouse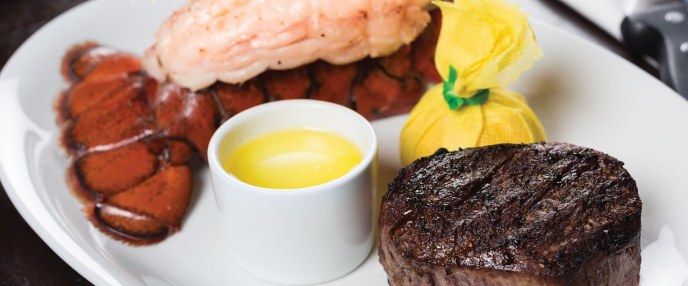 Many frequent visitors agree that one cannot make a list of fine dining options without including at least one good, old-fashioned steakhouse. The restaurant forms part of a family of similar establishments dating back to the late 60s and offers only the finest cuts and steaks.
The restaurant has become known for its attention to detail and is home to a wine cellar with over fifteen thousand bottles to choose from. And, if you're looking for a decadent dessert to finish off your evening, be sure to try the Big Fat Chocolate Cake.
Restaurant Guy Savoy
For those interested in some elegant French cuisine, we can recommend Restaurant Guy Savoy. The restaurant features a menu inspired by its Paris counterpart and includes classic dishes such as black truffle soup, foie gras, artichoke, and Colors of Caviar.
There is also the option of experiencing more elevated dining, through the Krug Chef's Table. Here, guests can enjoy Krug champagnes and a ten-course meal with a kitchen view.
Casual Dining Options
If you're looking for something more laid-back that you won't need to dress up for, there are also plenty of casual eateries at Caesars Palace.
Bacchanal Buffet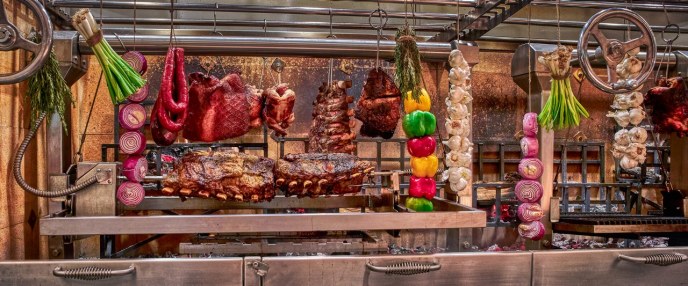 Guests who are naturally indecisive will be delighted to know that the Bacchanal Buffet raises the bar for buffet dining in Las Vegas. It offers hundreds of curated dishes, served from nine open-plan kitchens.
The restaurant offers a wide variety of classic buffet dishes, as well as some signature menu items like street tacos, prime rib, and dim sum. Be sure to try the signature Chipotle bourbon BBQ oysters while you're there.
Desserts come in a wide variety of bite-sized portions, making it easy to sample a few different options. Note that the Bacchanal Buffet can get crowded, which means it may be worthwhile to invest in an express pass or an all-you-can-drink pass.
Beijing Noodle No 9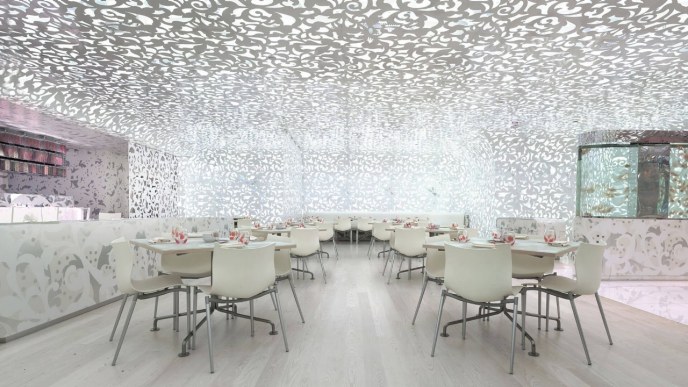 Beijing Noodle No 9 greets guests with an impressive fish tank display and an even more impressive menu. It includes many options well worth trying, making it easy to eat here on several occasions without having the same dish twice.
There are exotic dishes like jellyfish or ox tongue. One of the signature dishes is the handmade dumplings, where guests can decide between seven different fillings. Finally, you can finish off your meal with some Thai tea or a signature cocktail of your choosing.
Cafe Americano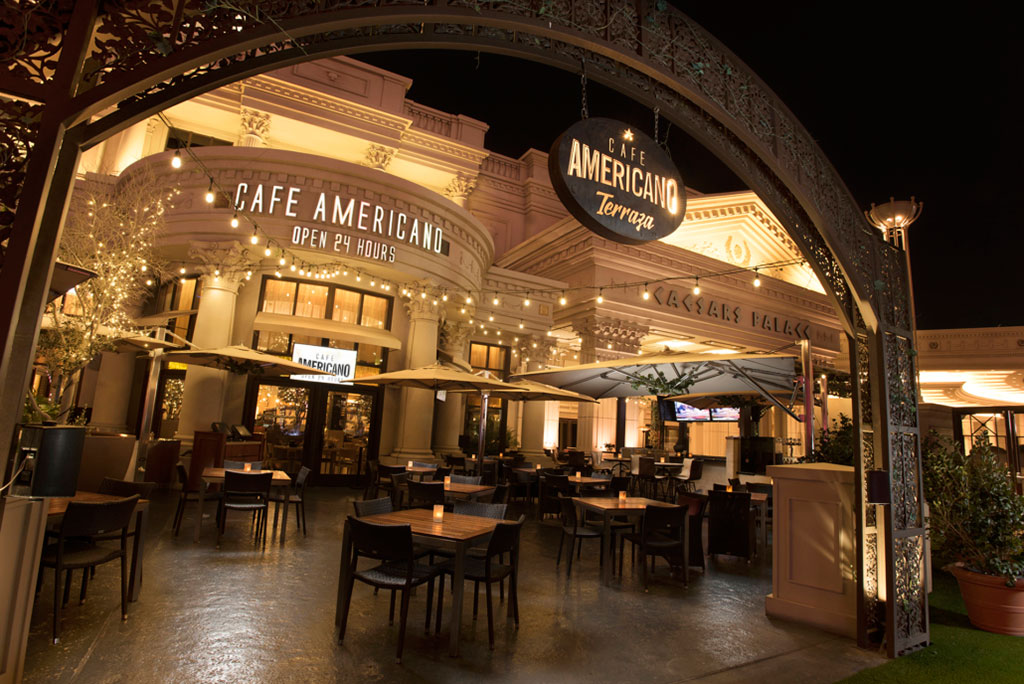 This is a great option for foreign travelers or visitors in the mood for authentic American food.
Café Americana offers both Latin and American dishes and is open 24/7, which means visitors can enjoy something delicious whenever they want to. It offers meals three times a day and snacks in between. If you're visiting for breakfast, be sure to try the jumbo lump crab omelet or pan-roasted salmon.
One of the signature drinks is a bloody mary called the Bloody 'Merica, a self-proclaimed cure for being hungover that includes bacon, onions, smokey bouillon, and pork olives.
Gordon Ramsay Pub & Grill
If you're looking for an authentic English pub experience while visiting Caesars Palace, be sure to stop by Gordon Ramsay Pub and Grill. Visitors can expect the same cozy atmosphere that is so quintessential of old English pubs while enjoying cuisine that meets this celebrity chef's high standards.
The restaurant has two sections – the pub and the grill – and each section has its own menu.
On the side with the pub, guests can expect traditional pub fares like shepherd's pie, scotch eggs, and Ramsay's famous fish and chips. The menu on the other side includes more upscale items, with hot dishes like prime New York Strip steak, beef wellington, and Scottish salmon.
As one would expect from a pub, there is a selection of sixty-four bottled beers and thirty-six beers on tap to choose from.
Quick-Serve Dining Options
In some cases, like on your way to the casino or your next show, you may be looking for a quick bite to enjoy on the go. There are a few options to choose from at Caesars.
Brioche by Guy Savoy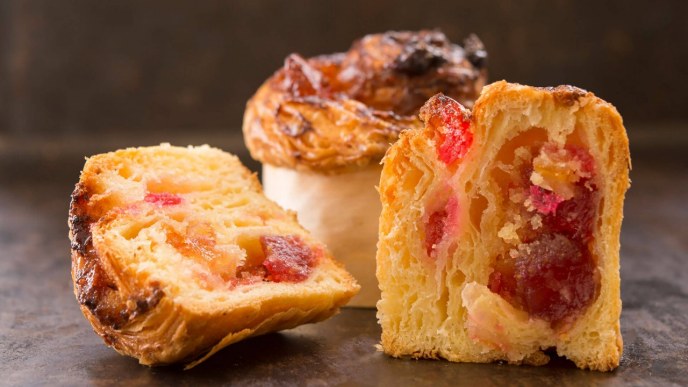 Another eatery by famed chef Guy Savoy, Brioche is a charming shop that offers both sweet and savory baked goods.
One of the most popular things to try here is the flaky pastry, with your choice of sweet fillings like banana and Nutella, cinnamon, candied fruit, or peanut butter and jelly. However, if you're in the mood for something savory, you can opt for other fillings like parmesan and nuts or mushrooms.
Brioche is known for its coffee, so be sure to try some freshly brewed Coperaco while you're there.
Pronto by Giada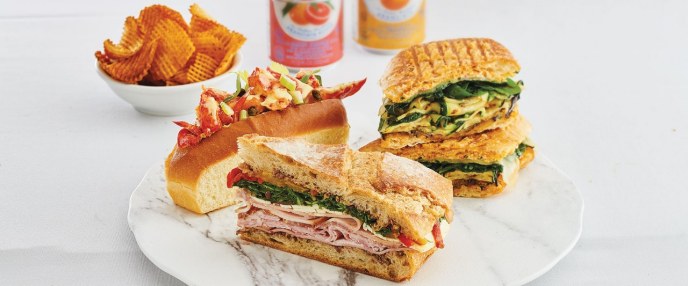 Created by celebrity chef Giada De Laurentiis, Pronto is a great restaurant if you're looking for Italian cuisine on the go. Guests can enjoy breakfast, lunch, and dinner, all made from fresh ingredients and true to De Laurentiis' style of cooking.
Everything is served fast, and guests have a wide variety to choose from. Some of the most popular choices include smoothies, breakfast sandwiches, paninis, homemade pastries, salads, and lobster rolls. The gooey grilled cheese is one of the signature menu items – a must-have on any trip to Caesars Palace.
Pronto is also home to an adjacent wine bar, where guests can enjoy flights or glasses of over forty different wines.
Forum Food Hall
The Caesars Palace version of a food court is called the Forum Food Hall. Here, guests can enjoy a variety of quick bites, such as TaCo, DoFara Pizza, The Halal Guys, Bobby's Burgers, and Tiger Wok.
There are tables available if you prefer sitting down, or you can enjoy your food on the go. Guests can even have their food delivered directly to their rooms.
It's a great option if you need to feed an entire family, guaranteed to have something for everyone.
Forum Shops Restaurants
If you're fond of shopping, you'll be delighted to hear that there are several restaurants and eateries to choose from near the Forum shops. They are a great way to rest and refuel after a long day of browsing.
Joe's Seafood, Prime Steak and Stone Crab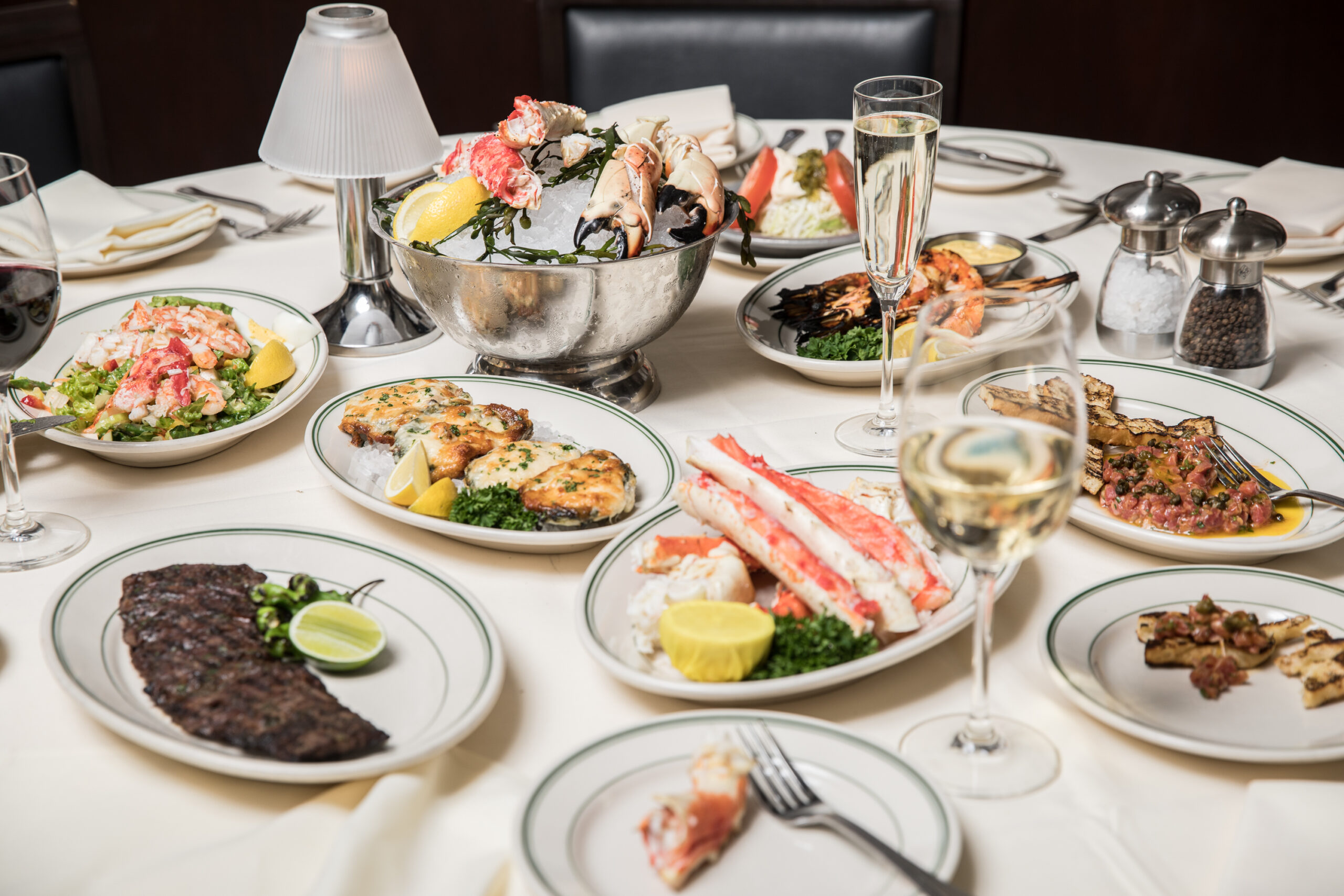 Home to daily fresh seafood from all around the world, Joe's Seafood offers various dishes well worth trying. One of their signature dishes is the Florida stone crab claws, served with a rich mustard sauce.
Carmine's Italian Restaurant
Carmine's is especially popular among families and is focused on providing dishes that would please guests of all ages. The food is also served family-style, making it perfect for sharing. One of the signature menu items to try here is the Veal Saltimbocca.
The Palm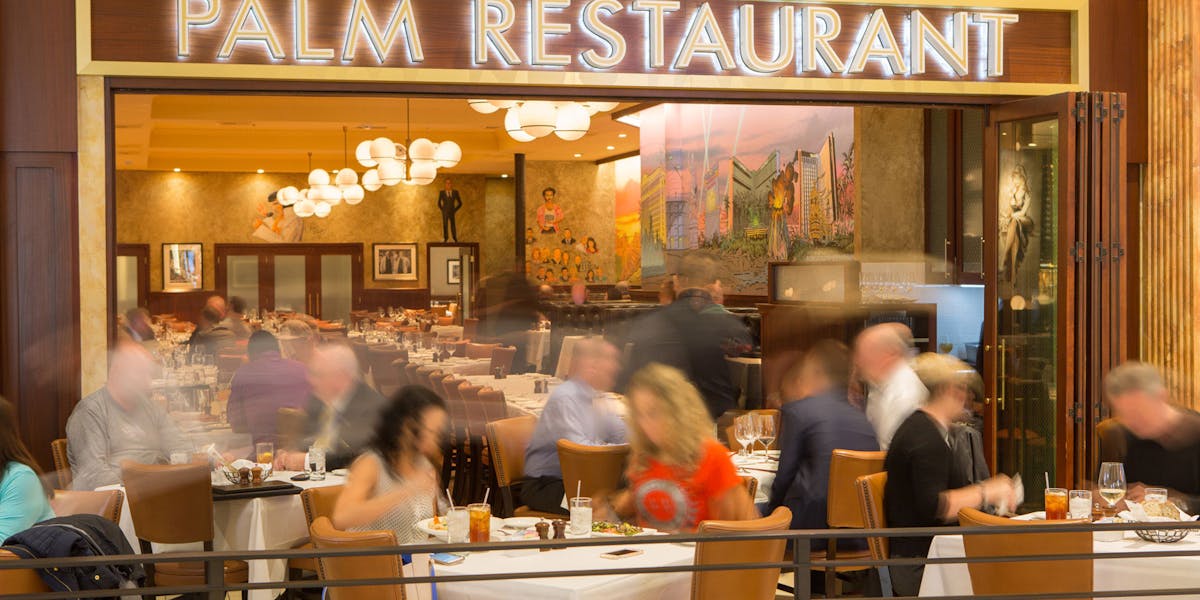 Serving delicious cuts of meat and plump lobster for years, The Palm has become a staple for any visit to Las Vegas. It offers a welcoming atmosphere, great service, and excellent food that is sure to please even the pickiest guest.
Trevi Italian Restaurant
Known for its range of brick oven-fired pizzas, Trevi Italian Restaurant offers a cozy atmosphere and great food that should not be missed on any trip to Las Vegas. Other signature dishes include entrees and pasta, such as the chicken marsala and the rigatoni Bolognese.
Water Grill
This is another great option for seafood lovers. And, once you've finished your meal, be sure to enjoy some of the Water Grill's delicious desserts and signature cocktails.
Sushi Roku
While Sushi Roku is an excellent place to enjoy some fresh sushi, this Japanese-style sushi bar offers so much more. Guests can choose between a variety of cold and hot dishes, and enjoy some of the restaurant's signature Asian cocktails.
Cheesecake Factory
The Cheesecake Factory is a popular chain with locations all over the U.S., including in Las Vegas. It offers much more than just cheesecake, with over two hundred menu items to choose from. It is an excellent option for families or those traveling in big groups.
Ciao Ciao Cafe and bar
If you're in the mood for a light meal, Ciao Ciao Café is the place to be. Here, guests can enjoy everything from Segafredo Zanetti coffee and delicious pastries to signature cocktails and sandwiches.
Caesars Palace Restaurants FAQs
Which restaurant in Caesars Palace is the cheapest?
The Forum food court is one of the best places to get an affordable meal while at Caesars Palace, with a wide variety to choose from. However, Pronto by Giada and Brioche by Guy Savoy also offer menu items for as little as fifteen USD.
Where can I find vegan and vegetarian cuisines at Caesars Palace, Las Vegas?
Caesars Palace is home to several restaurants which offer vegan and vegetarian dishes. Some of the best include Sushi Roku, True Food Kitchen, Nobu, and Hell's Kitchen.