If you are passing through Blue Ridge, Georgia, then you might be wondering about the best restaurants that the town of Blue Ridge has to offer. We have compiled this list in the hopes of providing you with a number of options.
The delicious smokey flavor of BBQ is always a favorite in the South, but you might also prefer something like country-fried steak and craft beer, fried calamari, apple butter, or even something more exciting like Cuban food.
Visitng the North Georgia mountains is a great way to work up an appetite, so it's essential to know the best restaurants in Blue Ridge where you can find southern charm or exciting fusion flavors.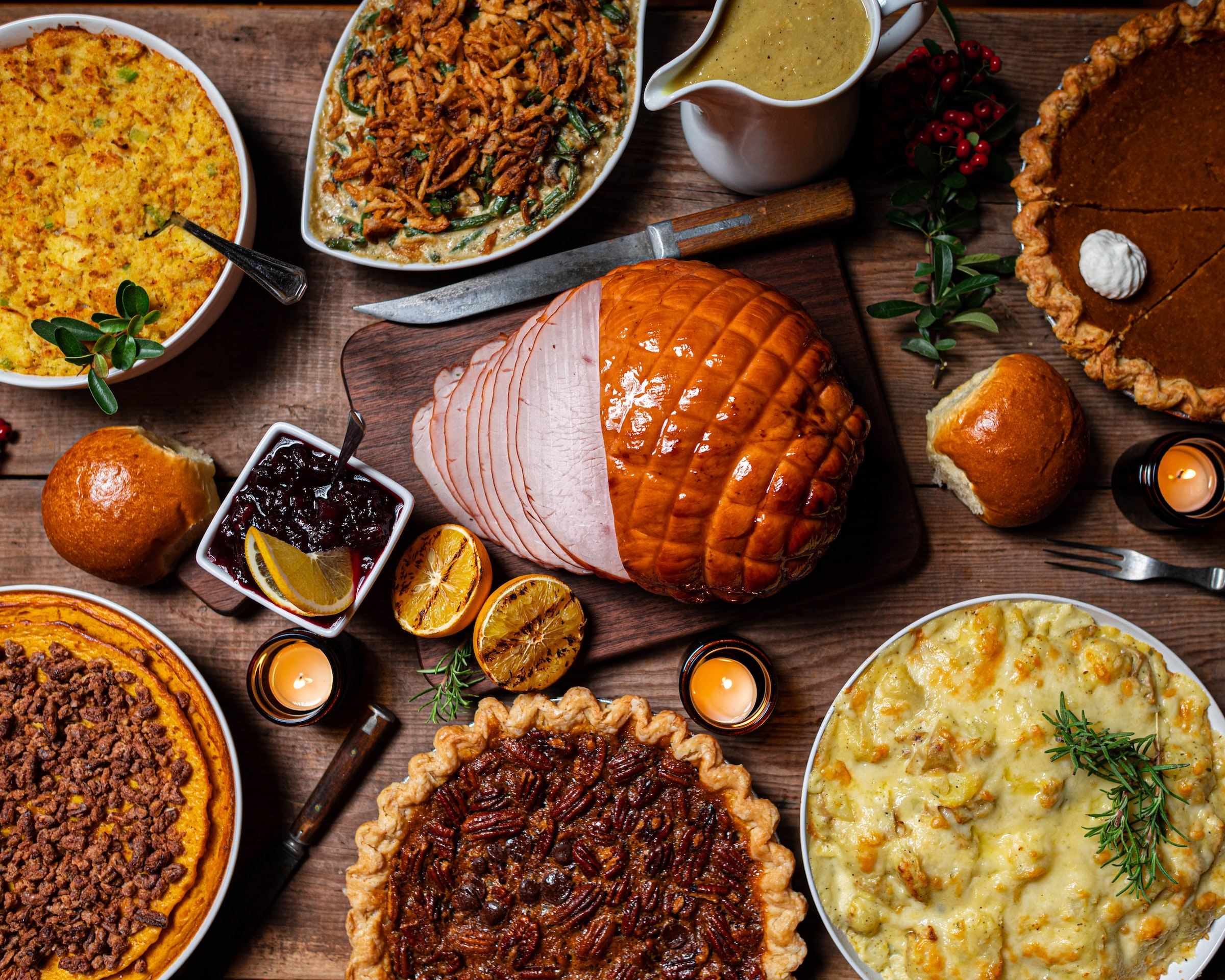 Blue Ridge Mountain Bar-B-Q
Blue Ridge Mountain Bar-B-Q is one of the most popular restaurants in Blue Ridge.
They use a hardwood smoker to prepare their daily BBQ. They are quite famous for their Special-Recipe Sauce and the Sweet Sauce. Other recommendations would include the hot crunchy pickle, Fried Pickles Loaded Baked Potato Meal, Fried Okra, and their Famous Smoked Chicken Salad. Also, try the classic BBQ Plate or BBQ Sandwich.
That being said, we do realize that most people who love BBQ will need to sample the ribs. At this Blue Ridge Mountains restaurant you can choose between a full or half rack and your ribs are joined by two sides of your choice.
FightingTown Tavern
The FightingTown Tavern takes pride in the freshness of its food. Part of their marketing includes that they do not own a freezer or microwave. They describe their food as intelligent bar food. A top recommendation is the Mammoth, which constitutes fries or crispy tortillas topped with jalapeno, tomato, onion, beer cream cheese, and spicy pork chorizo.
Among their fantastic starters that are a must-try are their Artichoke Brie Dip and Red Rocker Hummus. Favorite mains are the Bulls on Parade (a pan-seared coffee rub ribeye) or the Shrimp Lobster. Some of their best sides are the Chipotle Coleslaw and Bacon Mac & Cheese.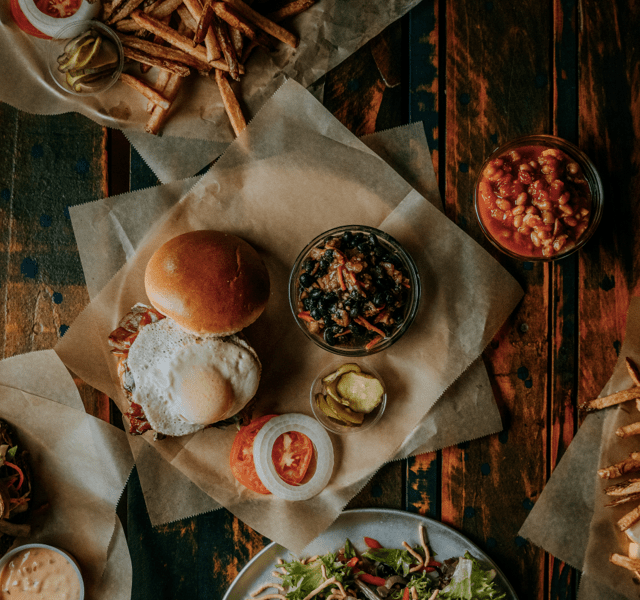 Misty Mountain Hops
Of all the restaurants in Blue Ridge, GA, Misty Mountain Hops is the most music-centric. Along with their amazing food you can enjoy live music concerts several times a month. This menu is quite adventurous compared to some other Blue Ridge restaurants.
For starters, their Fried Deviled Eggs and Fried Pickled Okra come to mind. Some sides to consider are the Fried Brussel Sprouts and Wookie Nachos. The entrees bring an even higher level of excitement with the Southwest Buddha Bowl, the Tall Boy Stacked BLT, and the Dixie Chicken Sandwich. So no matter where on the menu your curiosity lands, you will not be disappointed.
Chester Brunnenmeyer's Bar & Grill
Chester Brunnenmeyer's opened in 2014 and can be found in the Gartrell Hotel. It is quite popular among Blue Ridge locals.
Unlike most other barbecue restaurants in Blue Ridge, GA, they have a seasonal menu that relies heavily on regional produce. The Smoked Trout Dip and Baked Soft Pretzel are popular rustic appetizer options. Their Deep Fried Sticky Ribs are available as an entree or an appetizer and can be shared, unless you want it all to yourself! There is a wide selection of chicken wings to choose from, and some of their favorite entrees are the Shrimp and Grits, Seared Rainbow Trout, and Shaved Prime Rib Sandwich. You also have to try their craft cocktails during your visit.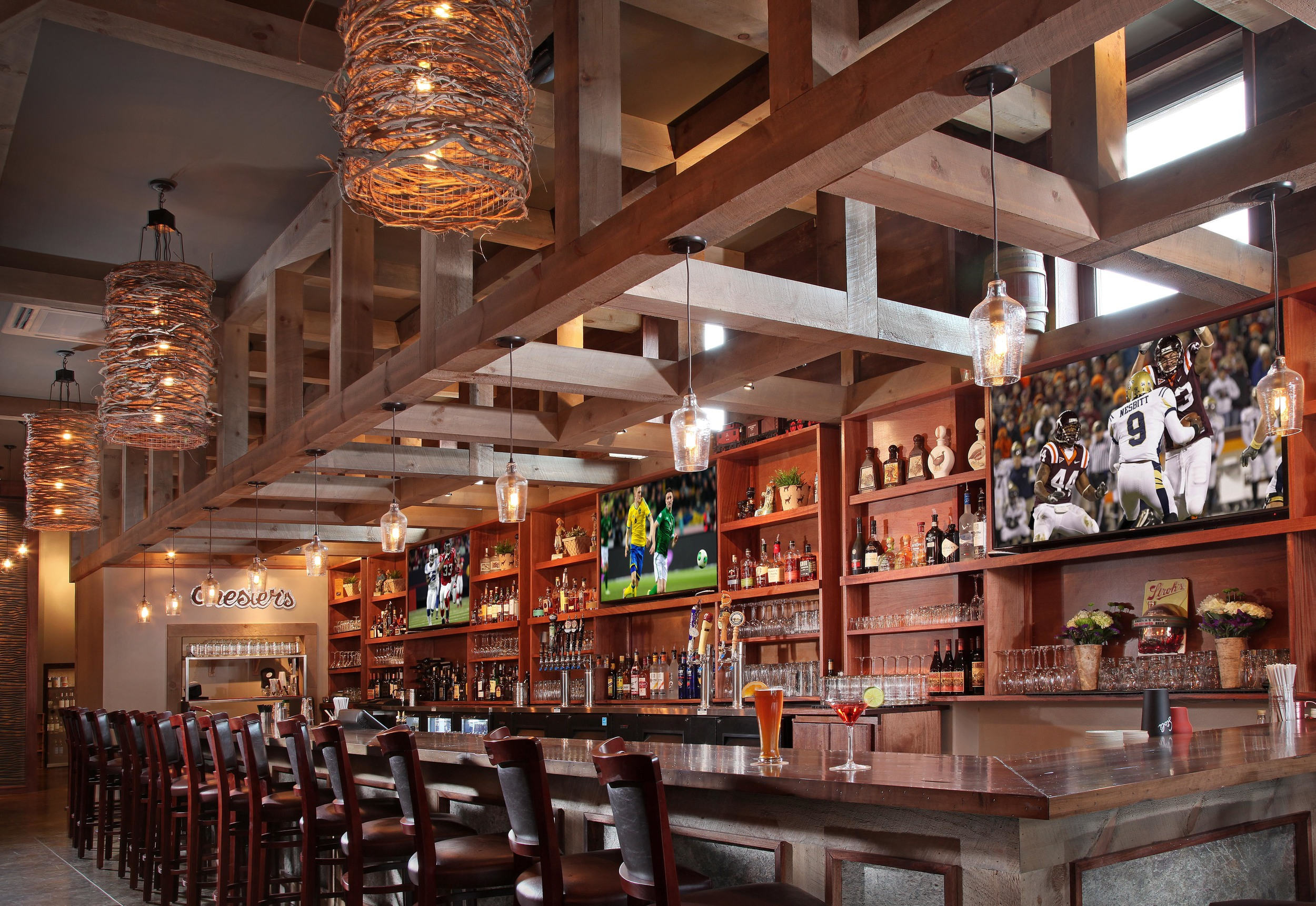 Cantaberry
While many Blue Ridge GA restaurants focus mainly on dinner, this restaurant is a fantastic lunch option! Their sandwich selection is legendary including a mouth-watering Reuben and a Turkey Bacon Avocado sandwich. Do not forget the Veggie Wrap and the BLT.
Their burger section is also great for someone looking for something more substantial than a sandwich. Popular options on this list includes the Southern Boy Burger and the Cantaberry Burger.
There is even an extensive salad selection for people who are looking for a healthier option! Try the Turkey Chef Salad, Apple Pecan Spinach Salad, and Spinach Salad. Cantaberry is a great place for a spectacular Blue Ridge lunch.
Masseria
This North Georgia restaurant adds a Mediterranean twist to traditional Appalachian dishes. They want to marry flavors of Turkey, Greece, Portugal, Spain, and France in a sustainable manner.
Neither their dinner not lunch menu disappoints and their salads are especially good! Try the Farm or Caesar salad, Couscous Salad, or Apple and Gorgonzola Salad. They also keep pasta lovers happy with hand-made pastas including Cheese or Ziti Lasagna. Their dinner menu is full of country-style Italian dishes, including Italian Brisket, Blackened Grouper, and seafood dishes.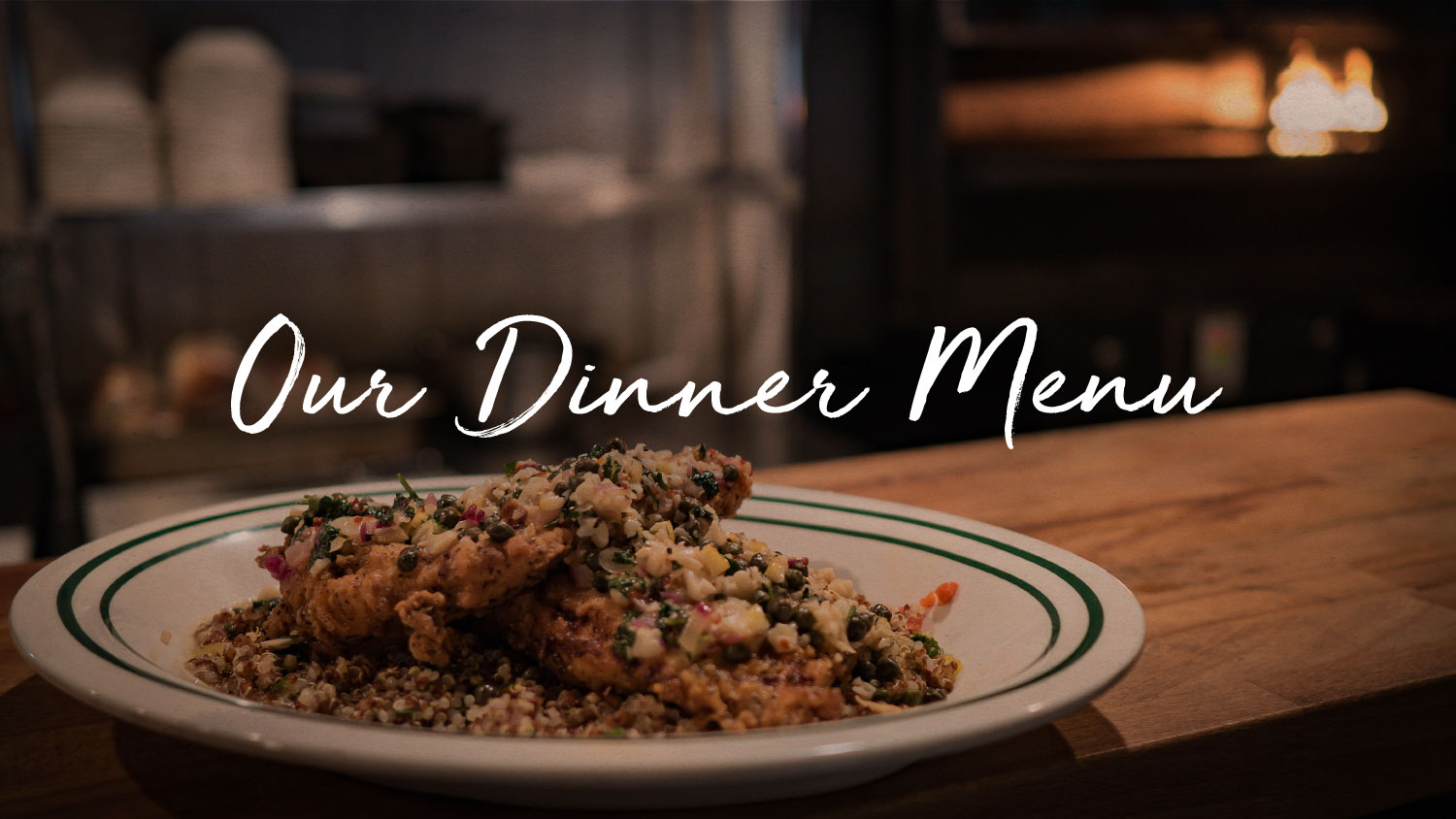 Monte Alban
Monte Alban is a favorite Mexican restaurant in Blue Ridge.
They have a fairly extensive menu that includes popular choices like enchiladas and fajitas. You can also sample their Chimichangas or Rellenos.
Their most popular enchiladas include the Big Man's Combo and the Vale, or you can try your creative flare and build your own enchilada. They also have Chiles vegetarian and Chiles Poblano stuffed peppers, not to mention an extensive vegetarian selection so that everyone can enjoy amazing dishes at this Mexican restaurant in North Georgia.
El Manzanillo
Another favorite Mexican Restaurant in Blue Ridge that offers the best kind of authentic Mexican food is El Manzanillo. They have an extensive menu including dinner options, fajitas, nachos, and appetizers. You might want to start with Jalapeno Pepper Poppers or Spinach con Queso, if you want something different, try the Fried Mushrooms and Bean Dip.
If you love Nachos then this menu will make you very happy. They have several different fantastic nacho options including the Texas fajita nachos, the Nachos de Camaron, or the Nachos Marinos. They are all available in half or full size and are great for sharing, if you like.
They kept their fajitas quite classic, offering either a chicken or beef choice, or alternatively a vegetarian option. All their fajitas are served with mushrooms, onions, bell peppers, and tomatoes to keep you nice and warm and full.
Mesquite Grill
Yet another Blue Ridge Mexican Restaurant is Mesquite Grill. In addition to authentic Mexican cuisine they also have amazing cocktails. Guacamole and Queso are prominent on the appetizer menu. Their entrees are extensive and include Mole Tradicional and Pollo con Cameron. As can be expected there is also an extensive taco selection where you can choose between numerous options including Shrimp Tacos or various Tacos from the Grill.
Additionally there are Tostadas, Quesadillas, and Stuffed Peppers to choose from, and to finish off your meal with something to satisfy your sweet tooth, their dessert menu also does not disappoint. For example, try their Fried Bananas, Flan, or even Fried Ice Cream! Some truly unique sweet tooth options in Blue Ridge.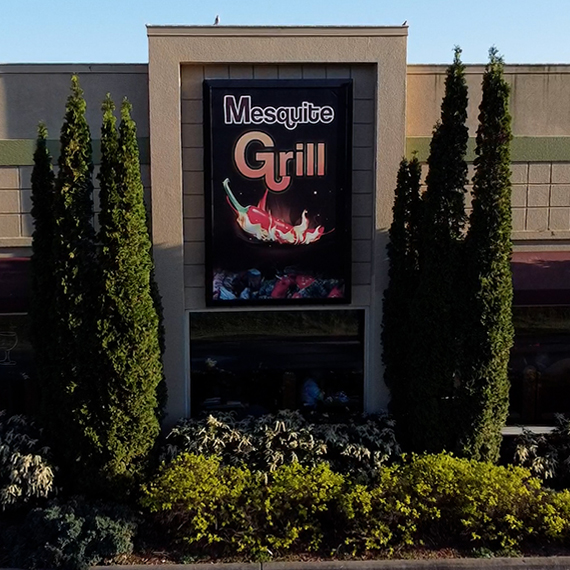 Blue Ridge Marina Boat Dock Bar & Grill
If you have spent the day at Lake Blue Ridge Marina then the Blue Ridge Marina Boat Dock Bar is one of the best restaurants in Blue Ridge to visit.
The Fried Mushrooms and Loaded Nachos are particularly popular appetizers. Their main menu includes light options like the Strawberry and Feta Salad or the House Salad. You will be able to add fried shrimp, or grilled or fried chicken to your salads.
You are not strapped for choices on this menu as you can also try the Boston Butt BBQ (if you prefer something adventurous), or the Craft Blend Hamburger or Smoked Wings. It is always a good idea to enjoy a hearty meal when you have spent the day on Lake Blue Ridge, so make sure to stop by this amazing restaurant to fill up your tank.
Blue Jeans Pizza In Blue Ridge
Blue Jeans Pizza is one of the most well-known Blue Ridge, GA, restaurants and is great for wing and pizza enthusiasts. If you want to have a good time while enjoying some comfort food then this place is ideal for you. Their pizza dough is made fresh in-house, and their menu does not skimp on any of your favorites. Calzones, pizzas, and appetizers are jam-packed.
Try their Mac & Cheese Bites, Beer Battered Fried Shrimp, or fried zucchini. But remember to leave some room for the pizza. You can choose between quite a selection of toppings!
You can also build your own calzone or you can just order the fan-favorite Philly Cheese Steak. They also have a great combination of salads and antipasti, including Caesar, Greek Salad or House Salads.
They have a drive-thru as well if you do not want to sit down for your dinner.
Harvest On Main
Harvest on Main is a sustainable, locally sourced restaurant that likes to serve traditional southern dishes with a global twist. This is one of the best Blue Ridge restaurants on our list because they are directly involved in local farming ventures which ensures that their food is some of the freshest on our list.
They have a full lunch and dinner menu for customers depending what time of the day you choose to visit. Their lunch menu has some great sweet treats, plates, sandwiches, salads, and soups. If you like seafood then their Smoked Salmon and Trout Spread is a great option for you.
A favorite local option for lunch is the House-Smoked Curry Chicken Salad, or if you are a vegetarian you can try their Vegetarian Black Bean Chili. For a light meal the Blackened Salmon BLT sandwich is also a great option.
We especially loved their dinner menu where the locally sourced produce they are known for is used to its full advantage. The Locally Caught Rainbow Trout is served with Yukon Golds, Lime Bean Stew, and Blackened Charred Corn. Their Pork Belly White Bean Stew and Duck Cassoulet are also great options, and they have extensive gluten free and seafood options.
They also cater to vegetarians with favorites like their Pasta Pomodoro or Wild Mushroom Ravioli. It is easy to see why this is one of the favorite Blue Ridge restaurants on Main St.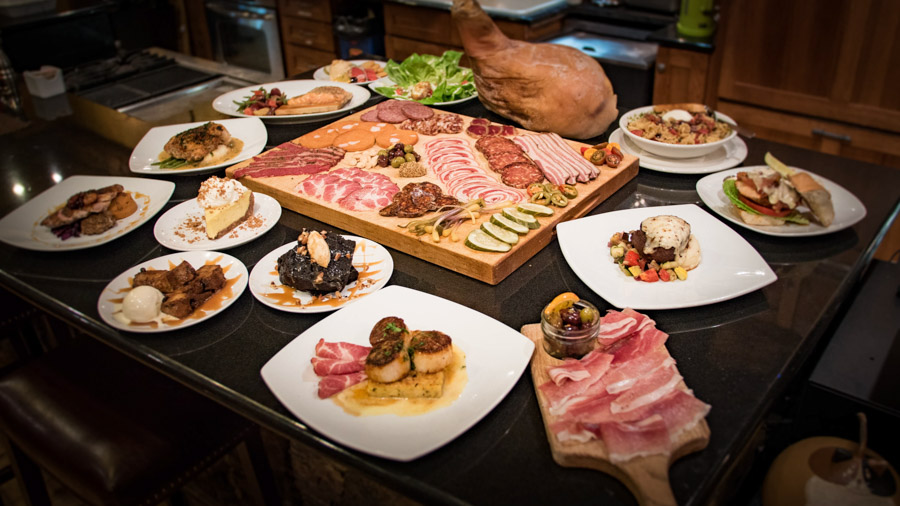 Southern Charm Restaurant
Southern hospitality is essential to this restaurant that is inspired by the deep South.
Southern charm is owned by three siblings and opened its doors for the first time in 2013. They had all run individual restaurants previously, but decided to come together to open Southern charm.
Anything you might dream about when it comes to southern food can be found on this menu. The appetizer section of the menu is to die for and offers a real treat to start your meal with. Like many dishes in the South, a large portion of their menu is deep-fried, including Homemade Onion Rings, Fresh Mozzarella Bites, Fried Pickles, and the classic Fried Green Tomatoes.
Some of their classic southern entrees include the Fried Green Tomato Burger and their famous Meatloaf Sandwich.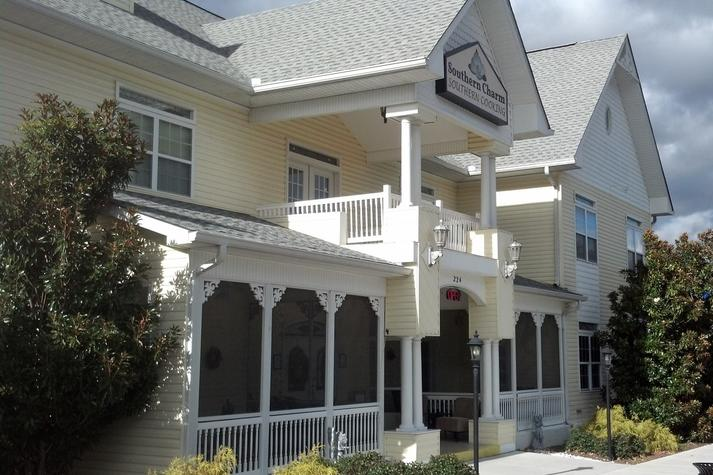 Black Sheep Restaurant
You can find the Black sheep in the Historic Butt House that was erected back in 1914 which means that this restaurant is steeped in history. The goal of this Blue Ridge Georgia restaurant is to make food that is comfortably unfamiliar.
They offer solid support for local farmers and use a lot of local produce on their menu. By extension their menu is seasonal. That being said, the menu is stocked full of delicious flavors for patrons to choose from. To name only a few favorites there are the Lamb Lollipop Chops, Tuna Nachos, and Cold Water Oysters. Their dinner selection is even more exciting.
The Frutti di Mare consists of fettuccine with tomato sauce, mussels, scallops, shrimp, and lobster. This is a major favorite among seafood lovers with its hearty rich flavors. They are also famous for their Black Sheep Meatloaf, Pan Seared Half Chicken, and Atlantic Salmon.
Over the weekend they have brunch specials like Chicken and Red Velvet Waffles.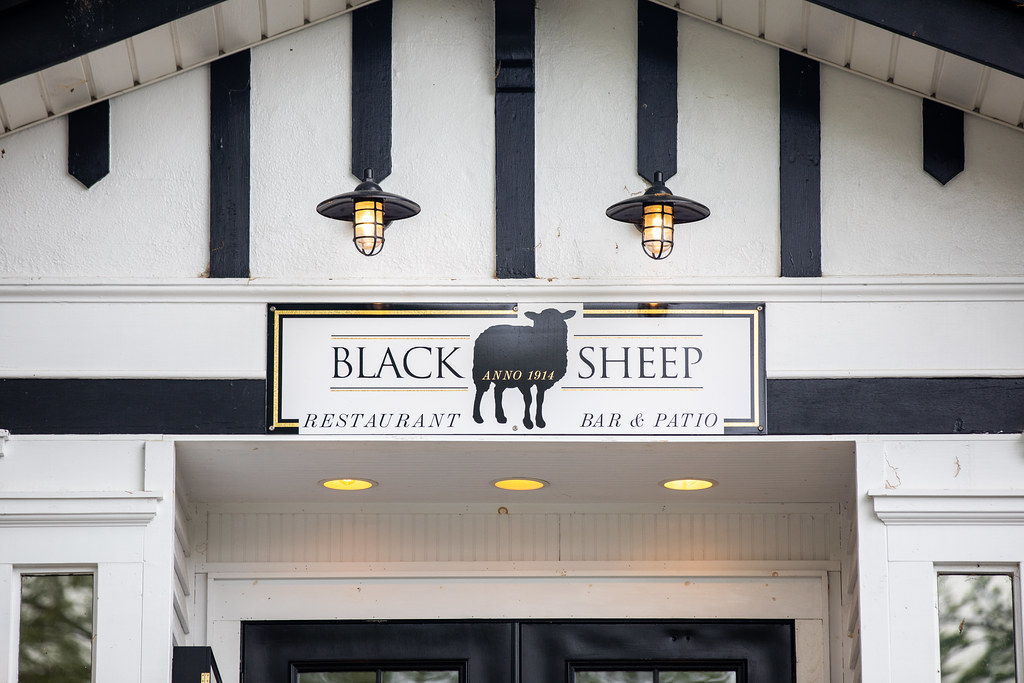 Final Thoughts
Blue Ridge is full of amazing Southern flavors and exciting things like Cuban food, breakfast biscuits, regional beers, eggs benedict, apple fritters, french toast, hot dogs, and some of the best pizza and maple bacon in the South.
We have everything from Italian, BBQ, Mexican, to Mediterranean restaurants on our list. There is colorful decor, live music, outdoor seating, and a whole range of amenities to choose from among the best restaurants in Blue Ridge!