Fondly nicknamed the "Gateway to Fort Rucker", this little town in Dale County, Alabama, has a lot to offer. One of the most popular attractions in Daleville is the U.S. Army Aviation Museum, the perfect place to visit if you're interested in American War History.
Daleville is also a great place for outdoor enthusiasts to enjoy nature and outdoor activities. There are also several restaurants and bars in the town, so visitors can relax after a long day of sightseeing.
And if you're looking for something more exciting, why not stop by Brain Busters Escape Rooms? It is an excellent attraction for families or groups of friends traveling together.
Find more fun things to do in Daleville, Alabama, in our list below
The 2 Most Popular Things To Do In Daleville, Alabama
2. Fort Rucker memorial garden
4.6 ★★★★★ (5 reviews)
Location: Fort Rucker AL
1. U.S. Army Aviation Museum
4.8 ★★★★★ (1,223 reviews)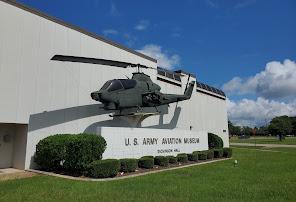 Credit: Christopher Barry, Google Maps
Location: 6000 Novosel Street Fort Rucker AL
Tel: 334 598 2508
Web Address: http://armyaviationmuseum.org/
Final Words:
Thank you for reading our list of the best things to do in Daleville, Alabama! We hope it helped you plan the perfect itinerary for your next trip to this fantastic destination. Happy travels!
Join the TouristWire community
At TouristWire, our team works tirelessly to bring you the most comprehensive itineraries and reviews to help you plan your next trip. Don't miss out, join our mailing list and our reviews delivered directly to your mailbox!
.