On the Central Oregon Coast, at Cape Perpetua, Thor's Well is one of the most dramatic ocean views on the entire West Coast. And yes, the name is not a misnomer. This is a truly awe-inspiring and spectacular sight to behold.
That being said, it is also one of the most dangerous places on the Oregon Coast if you are not careful. For many, the danger only adds to the beauty and natural wonder. Visiting Thor's Well in Oregon naturally means being extra careful and following the rules to avoid disaster. There are quite a few guides that brush over how extremely dangerous Thor's Well can be and the safety precautions that are needed when visiting Thor's Well. We have tried to include these regulations and want to encourage all visitors to take care when viewing this natural wonder.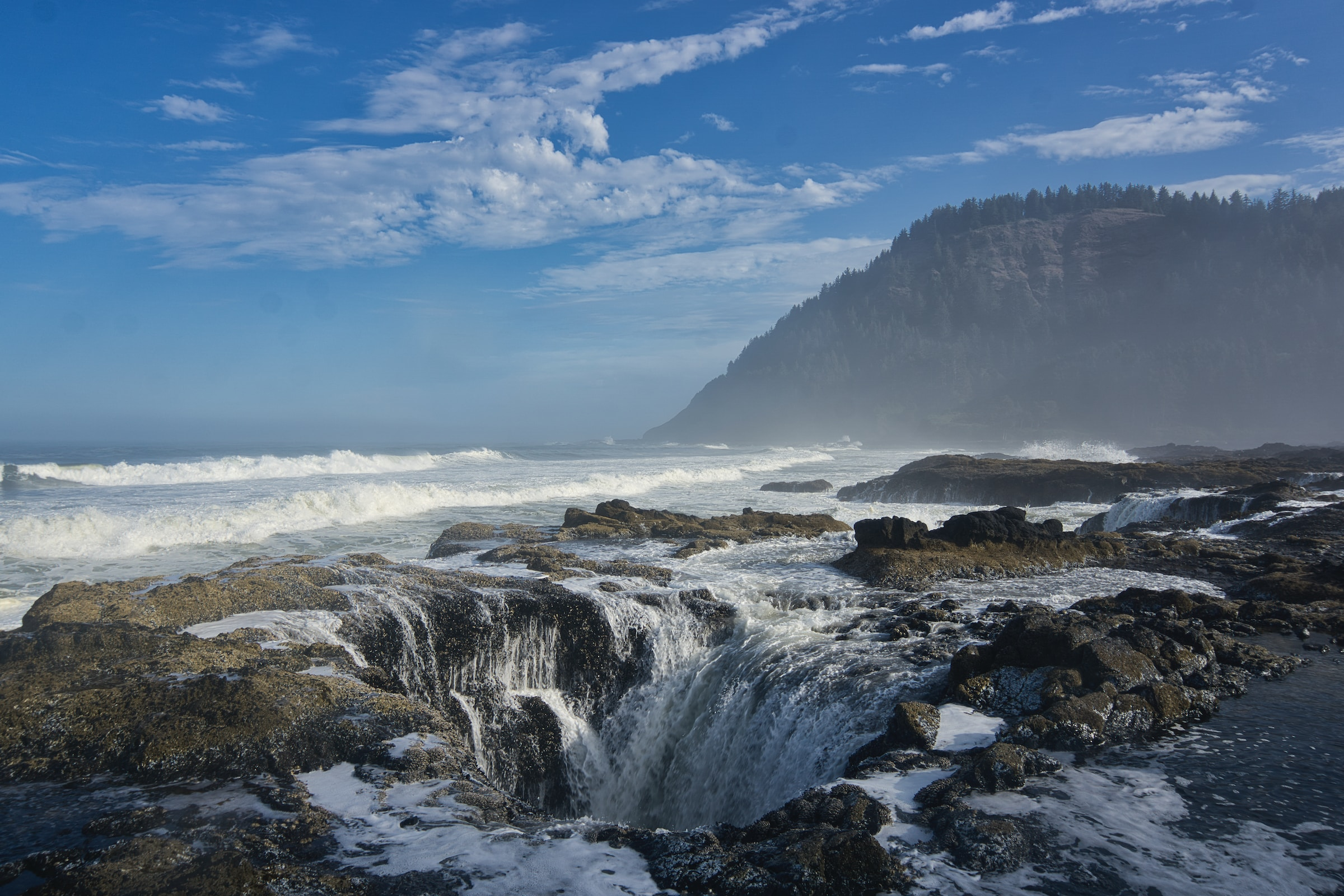 What is Thor's Well?
You will find Thor's Well in Cook's Chasm in Cape Perpetua. It is a collapsed sea cave that sits on top of a rock bed. The collapsed roof of the sea cave is just visible above the water. This makes it look like there is a hole in the Pacific Ocean. Visitors are drawn to the sea cave because of the fantastic visuals that it creates and how the tides affect the behavior of the water in and around the cave. At times there is water pouring in from the top and erupting up from within the hole. The water draining this way is quite dramatic and makes it look like the ocean is leaking.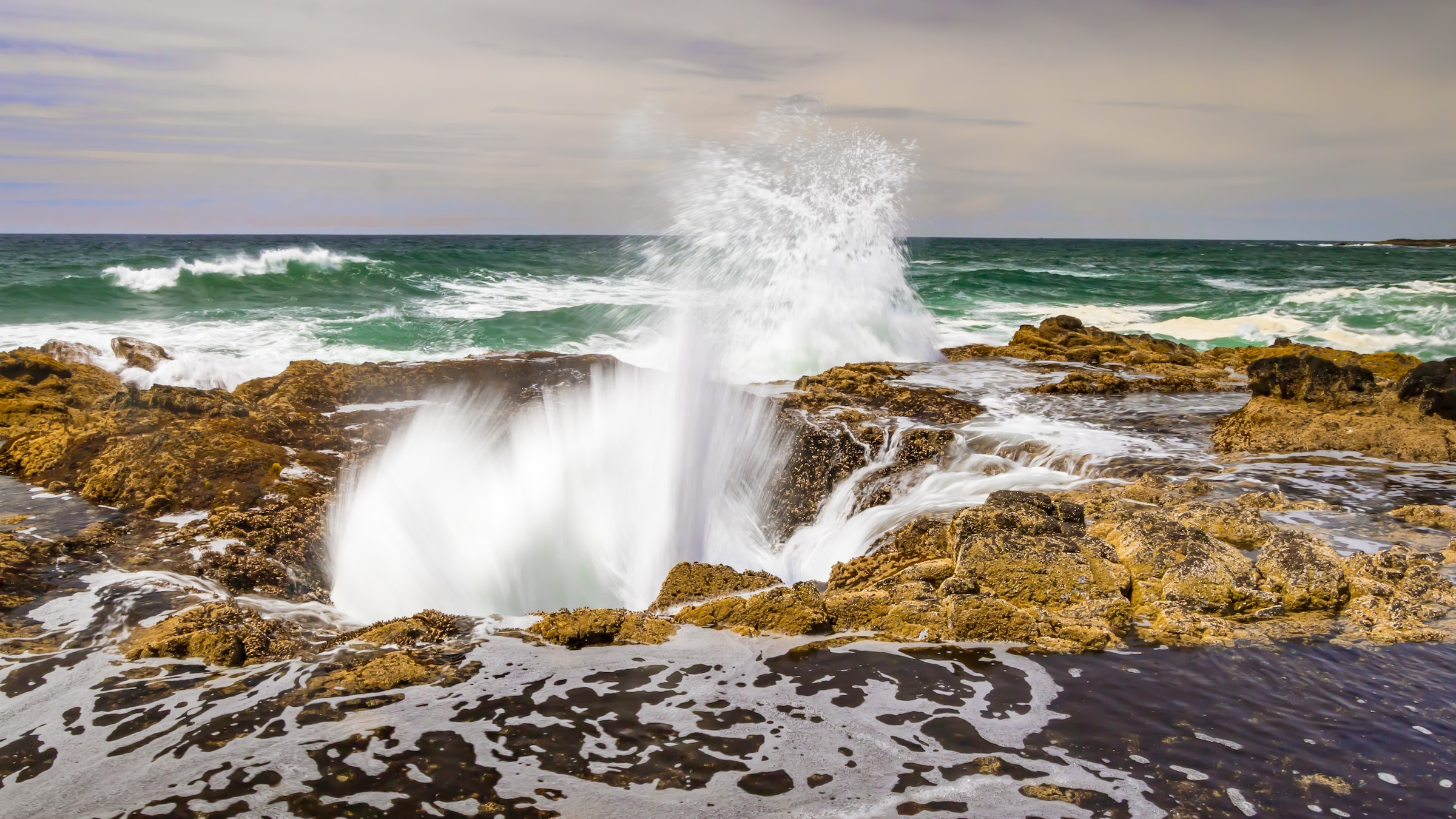 When to Visit Thor's Well?
Many guides like to state that high tide is the best time to visit, but we have found that there is much more at play than just that. In our experience the 5-to-7-foot tide (which is a specific point during a high tide) has been the best time to visit, because the wave height is almost as significant as the height of the tide. If there is no wave activity at high tide then the well is just covered. So, when you are investigating a tide schedule also remember to check out the wave schedule, which can be viewed most easily on surf reports.
When to go to Thor's Well for Epic Photographs
When your schedule is flexible and you want to get the best photos then it is best to visit when the sunset and high tide meet on the Oregon Coast and the Pacific Ocean is churning away at the Cape Perpetua scenic area. At this time of day you will view Thor's Well from the West. The glare from the water is limited, but the light projected onto Cape Perpetua makes for dazzling photographs.
Choosing the best tide for photographing Thor's Well
If you are visiting Thor's Well in Oregon specifically for photographs then you will need to understand the impact that tide height will have on your photos. As mentioned earlier, most guides will simply state that high tide is the best time to visit, but we must remember that high tide is a vastly varied concept. It is best to research accordingly and ensure that high tide is not just a 4 ft swell on the day you want to visit.
It is best not to track high or low tide specifically, but rather to focus on the height of the swell in total. There are several local websites where you can see this kind of information. Especially surf forecasts and weather websites will likely provide more information than just a high or low tide. When the tide does not swell enough the ocean water doesn't reach the cave, but if it rises too much then you will likely get wet due to the violent spray in the area.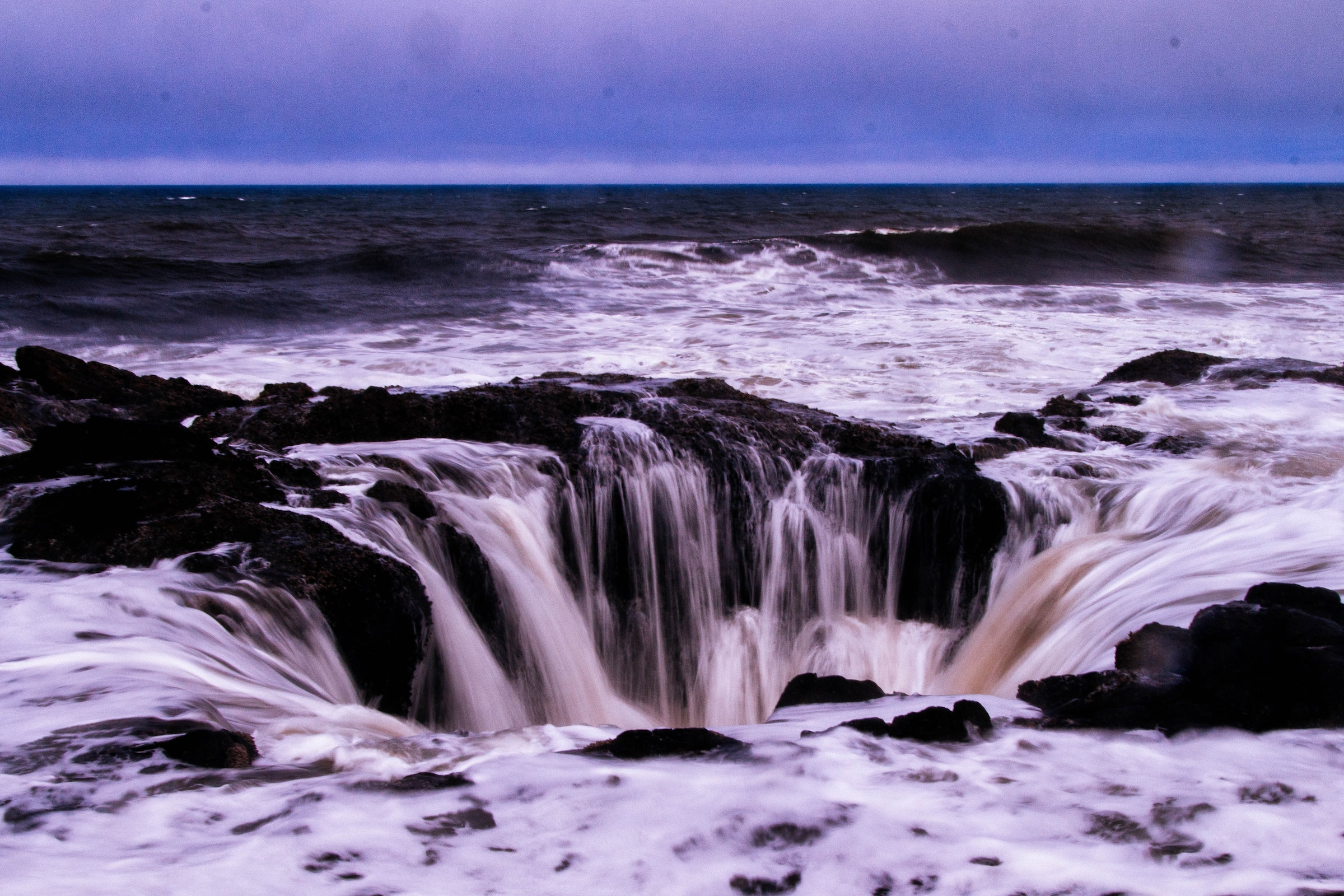 Photography at Thor's Well Oregon
Photography at the Oregon Thor's Well is extremely popular, but it can be quite a mission to accomplish. The trip, even for Oregon residents, can be long, so you really need to plan ahead so that you do not get there when the well is dry or completely submerged. We have attempted to combine some basic photography tips related specifically to Cape Perpetua and Thor's Well.
While the view of Thor's Well is decidedly unimpressive from the parking lot, simply taking the short walk at Cook's Chasm will quickly breathe life into the site of the bowl-shaped hole carved from volcanic rock. Like many tide pools in the Pacific Northwest Thor's Well can be deceptive, and although it is an alluring prospect to get as close as possible we have to urge caution. Getting too close can end in disaster! So get a sturdy tripod, research the merits of high tides, and make sure that you get the most amazing photographs, without getting close enough to fall in.
When considering which direction to photograph from we find it best to see Thor's Well as a giant angry clock. Approaching from the last staircase on the short path will get you to the circular hole at 6 o'clock. If you walk to the far side and face Thor's Well you will be at 12 o'clock. We do not advise this. Your back will be to the ocean where big waves crash over the edge without much warning. It is simply too dangerous to attempt a photograph from this angle.
Standing at 8 o'clock you will face the Cape Perpetua mountains which makes for some truly spectacular photography. However, you will get soaked at this point. You can decide for yourself whether the amazing sights in the background of Cape Perpetua are worth the ocean spray.
At the 4 o'clock mark you get the best angle to capture Thor's Well as an ocean geyser sea cave dug from wet rocks. The draining effect is most obvious from this angle and it looks like someone pulled a plug in the Pacific Ocean. If you are planning on catching a shot from this angle then you need to be very aware of the danger of sneaker waves that reach up from this side and can push you right into Thor's Well. Your equipment will also be in danger here as the spray from the back can be heavy and unpredictable.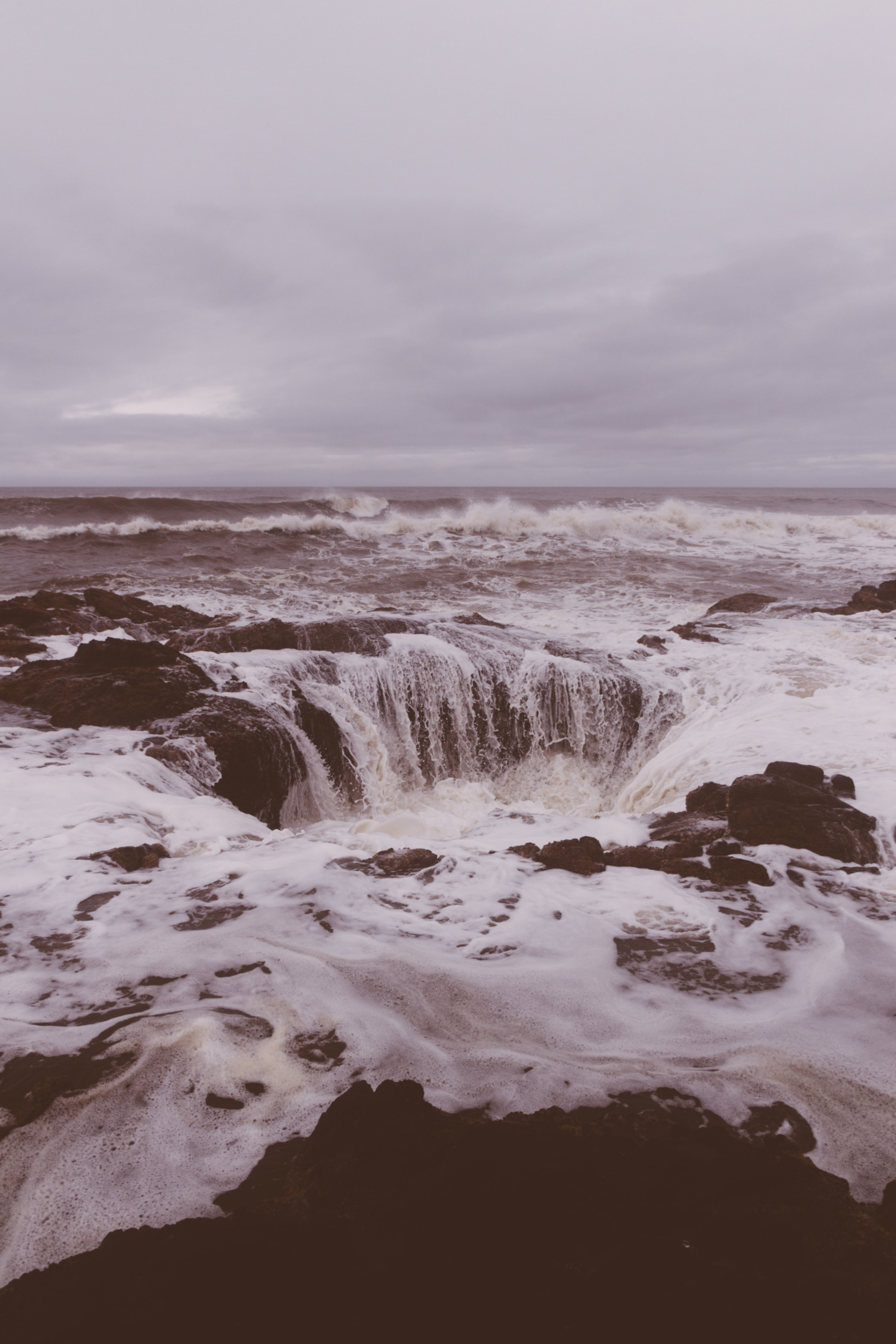 Finding Thor's Well in Oregon
At the Cape Perpetua Scenic Area on the Oregon Coast you will have to travel to the Cook's Chasm parking lot to access Thor's Well. To get to the well you will then follow the wall on the right. There is a trail with a sign indicating the path to the well. When you get to any forks, keep left. There are three staircases at the Cape Perpetua scenic area that you will need to go down before you reach the shoreline. You should be able to see the well while you are still on the trail.
If you want to get closer to Thor's Well there will be some rough terrain to get across, including slippery volcanic rock, so you should wear good shoes. Flip Flops are definitely not the best idea. Technically, you can see Thor's Well from the Cook's Chasm parking lot, but it is quite far off, and you will most likely want a closer look – we would recommend trying to stay above the shoreline if possible, and if you do climb onto the sharp volcanic rock to take the utmost care.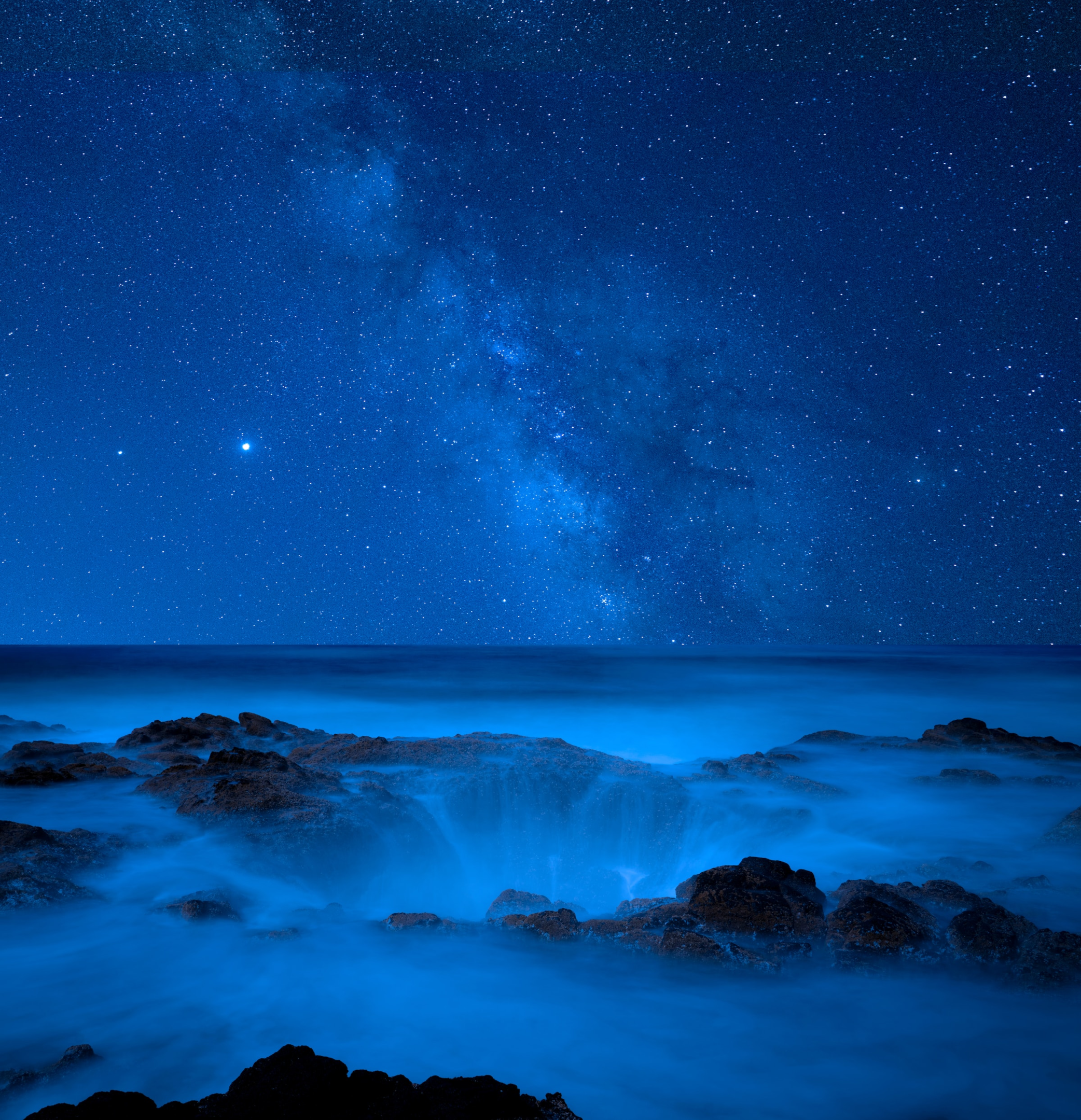 Things to See near Thor's Well Oregon
The Cape Perpetua area is full of beautiful and exciting places to visit, but many people come to the Oregon Coast with the hope of visiting Thor's Well. Even the trip to Thor's Well along the Oregon Coast is absolutely beautiful.
Yaquina Head Lighthouse
This is also one of the most popular attractions along the Oregon Coast for ocean photos. It can be found around 31 miles North of Thor's Well and if you plan to go there for ocean photography, then we suggest visiting at sunset.
Heceta Head Lighthouse
The Heceta Head Lighthouse is only around 11 miles South of Thor's Well. Just below the Heceta Head Lighthouse is a beautiful beach where you can spend a relaxed day on the Oregon Coast. There is also a short hiking trail that leads up to the Heceta Head Lighthouse. Much like Thor's Well and several other attractions on this list, it is great to photograph at sunset.
Devil's Churn
Thor's Well is the more well-known attraction in Cape Perpetua, but the nearby Devil's Churn is no less impressive. Devil's Churn is a massive crack in the rocky shoreline that fills up with ocean waves until the water going out and the water coming in crash together spectacularly. If photography is your thing, we have to admit that no photographs of Devil's Churn that we have ever seen have done it justice. The Devil's Churn is definitely something you need to see up close with your own eyes to truly get an idea of the absolute magnitude of the location.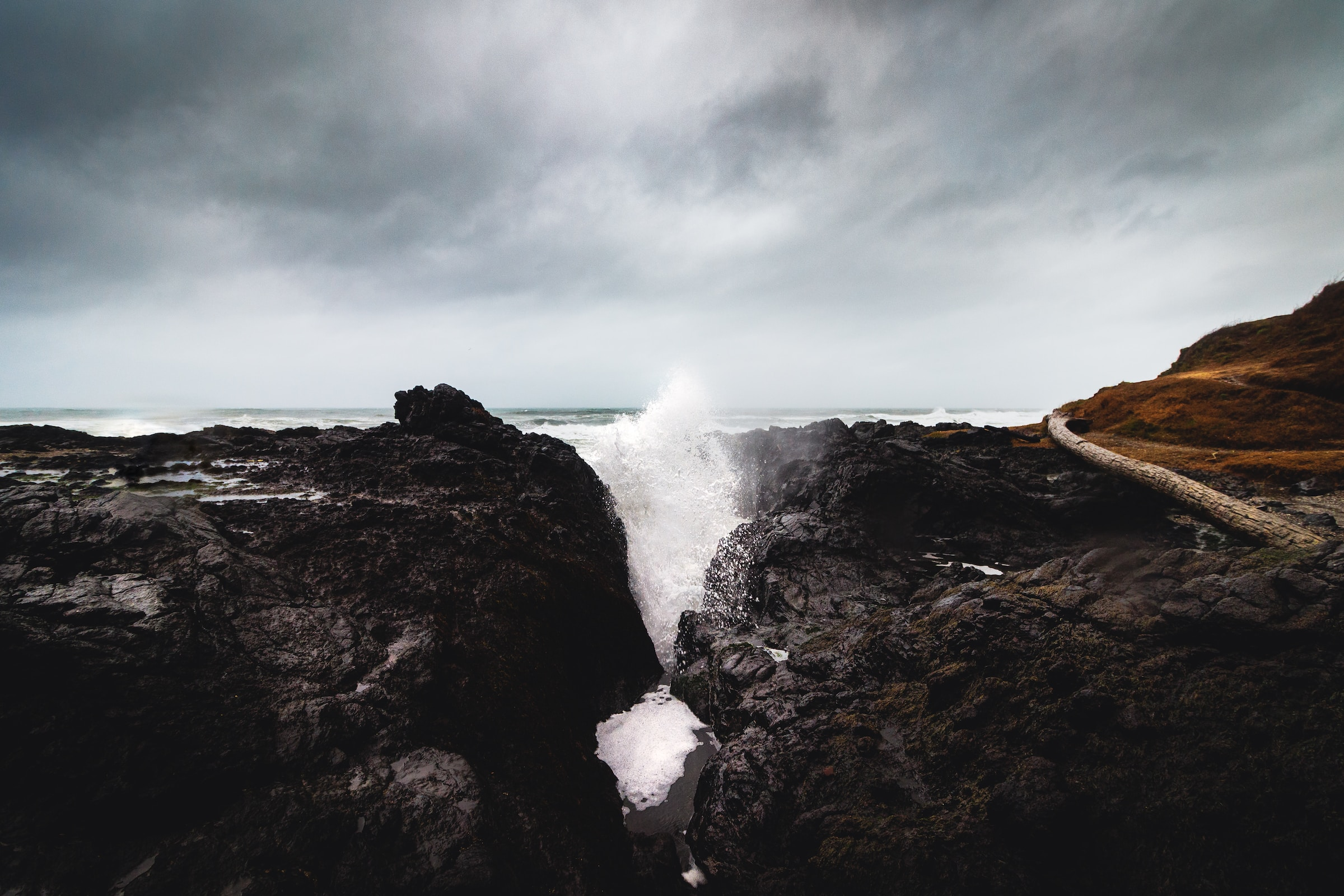 Spouting Horn
To get to Spouting Horn you will park in the Cook's Chasm parking area which is the same parking lot as the one to reach Thor's Well. Similar to Thor's Well, the Spouting Horn is only worth a visit when the tide is high enough. When it is below 6 ft there is no eruption. Pressure builds below the rocks which causes ocean water to spray violently from a kind of blowhole in the rock. Spouting Horn is also close enough to visit on the same day that you visit Thor's Well.
Safety at Thor's Well
We cannot stress enough how important it is to stay safe at Thor's Well. Visitors should not forget that one wrong step can put their lives at risk.
Our number one piece of advice that we can give is to never try to look directly into Thor's Well.
If you slip here, or a wave takes you, there is no real prospect of rescue, so we have to urge you to stay at a safe distance where you cannot fall in. The underwater cave makes it easy for incoming waves to break long before reaching visitors if you are standing at a safe distance. At a certain point you might be pushed back by a large wave, but it is not easy to be pulled forward at that point. Sneaker waves are common, and even standing at a safe distance sometimes will mean that a sneaker wave will drench your equipment.
One of the major concerns for many repeat visitors is that someone else will take a wrong step when trying to photograph Thor's Well, and will be pulled into the chasm which will result in the site being closed to the public. A few yards can make such a difference to your life and the future of the site itself.
Furthermore, if you are not used to the movements of the ocean it is best to spend quite a bit of time observing the area before venturing down. Conditions can change drastically in a few minutes, and most people will spend about an hour at Thor's Well. Ocean waves come in sets, so even when it seems quite calm for 10 minutes, that can change in a heartbeat and a sneaker wave can take your camera, your phone, or your life…
Personal Safety at Thor's Well
The best way to ensure your safety from the unpredictability of the Pacific Ocean, is to stay at a safe distance from the hole in the ocean. This way you might get wet when the waves crash, but you will not be swept away. When visiting Thor's Well, remember the golden rule: Do not turn your back on the ocean – large sneaker waves can come out of nowhere. There are really enough places to view the awe of Thor's Well from a safe distance. You can also explore Cook's Chasm via the Captain Cook Trail, which is a short half-mile loop that takes you all over the local area, including Thor's Well. But remember that the tide pools are not the only thing you need to be wary of. When the wind is blowing the steps and terrain can be quite wet, which is a risk for slipping. Regardless, however, you are very likely to get wet one way or another.
Services and Accommodation near Thor's Well
Quite a lot of information is available at the Cape Perpetua Visitor Center. You can find out about history, geography, and tides at the Cape Perpetua Visitor Center, and you can stop by on the same day as your visit to Thor's Well as the center is close to Cook's Chasm. There are also public bathrooms here.
There is also a campground at Cape Perpetua, but in order to stay overnight visitors will have to make a reservation in advance. Overnight parking is usually not allowed in just any parking lot in the area. There is also overnight accommodation in the Oregon Coast town of Yachats.
Final Thoughts on Thor's Well, Oregon Coast
Thor's Well is probably one of the most exciting and frightening locations to photograph along the Oregon Coast. A local legend like Thor's Well is a truly spectacular experience, and the story behind how the Norse god Thor created the well is really amazing, and definitely something you need to ask about at the visitor center. We will not spoil the story here. Here where the ocean is so violent that the cave roof eventually collapsed lies both extreme beauty and extreme danger for visitors.